If you have a garbage disposal, you may notice an occasional or lingering odor that is around your sink. You may think that food waste going down a clean sink with running water wouldn't smell like garbage over time, but it does. This is very common and happens to just about all of us.
The issue though is that it's not easy to clean your garbage disposal. So how do you get rid of the odor? Try this easy homemade garbage disposal deodorizer with essential oils for simple and easy, all-natural cleaning and deodorizing.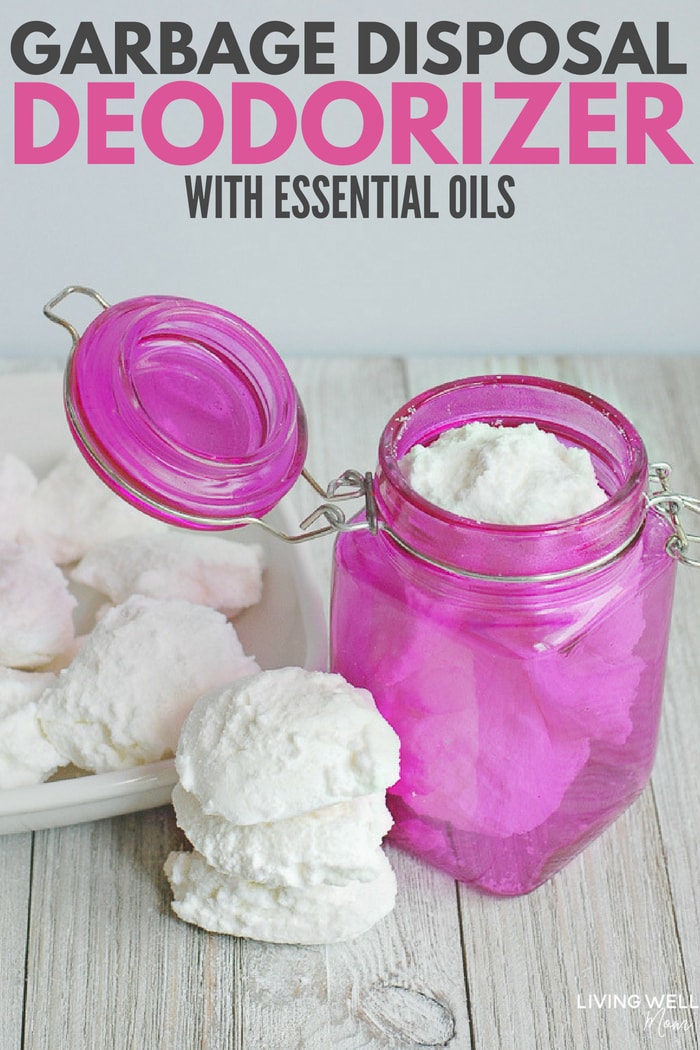 As a bonus, I'll show you how to make a super quick powder to drop into your garbage disposal in addition to instructions for how to make garbage disposal bombs. (Scroll to the bottom for this recipe.)
Homemade Garbage Disposal Deodorizer with Essential Oils
The ingredients for making this DIY garbage disposal deodorizer are inexpensive and there's a good chance you already have them around the house.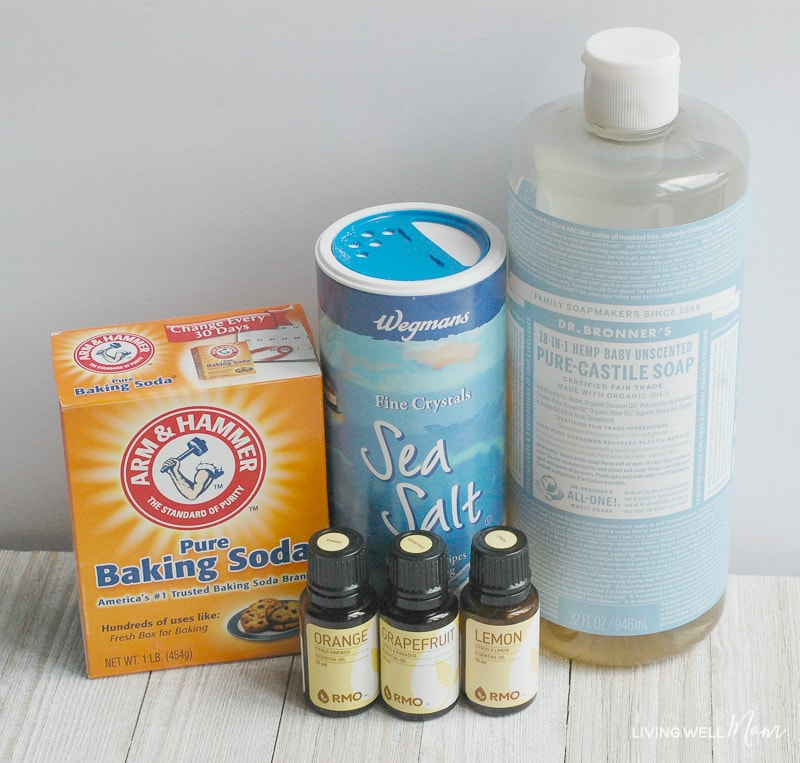 What You'll Need:
*You can choose other essential oils – the above listed are my favorites. Other ideal essential oils for cleaning your garbage disposal can include:
How to Make Homemade Garbage Disposal Deodorizer
Start by putting 2 cups of baking soda in a medium-sized mixing bowl. Then pour in 1 cup of salt. I used fine crystal sea salt, but any fine crystal salt is fine.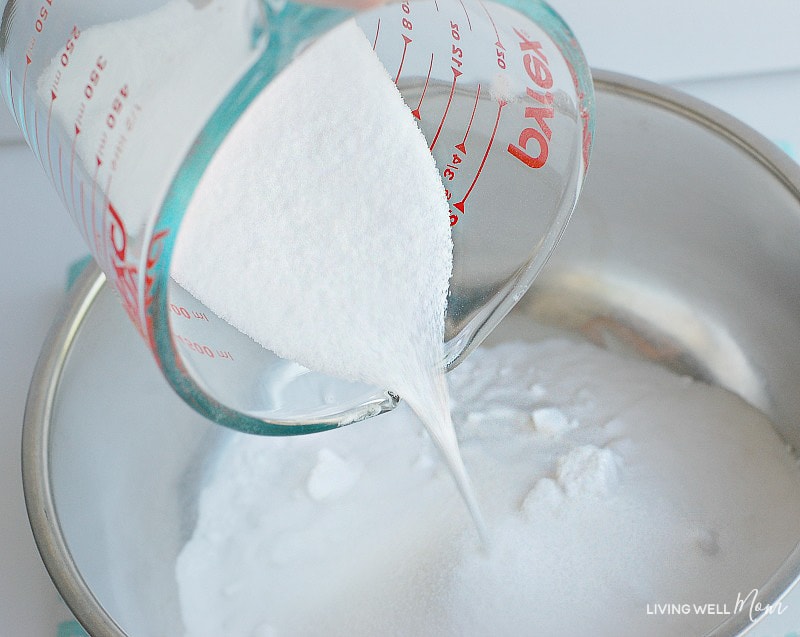 Measure out 1/2 cup of water, plus 1 1/2 cups castile soap in a glass measuring cup.
Slowly pour the soap and water mixture, a little bit at a time, into the baking soda and salt mixture. Stir.
Do not add ALL the liquid as you don't want the baking soda mixture to be overly wet. Just add enough liquid, a little at a time, until it reaches a consistency where you can pack it together, but not too wet where it won't hold its shape.
If you do pour in too much liquid, simply add a little more baking soda until you get the correct consistency.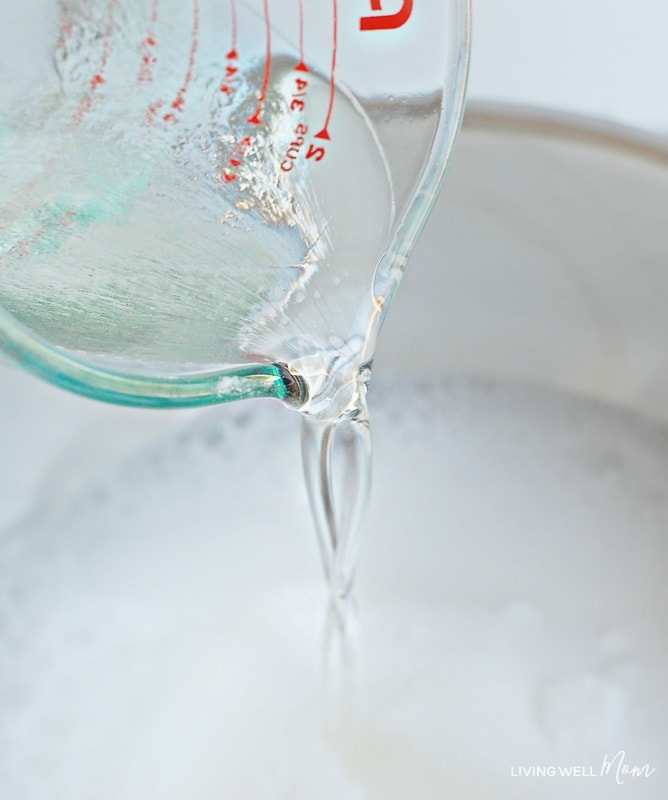 Now it's time to stir in your essential oils.
I choose citrus oils because they are wonderful for cleaning and deodorizing, plus I love the scent.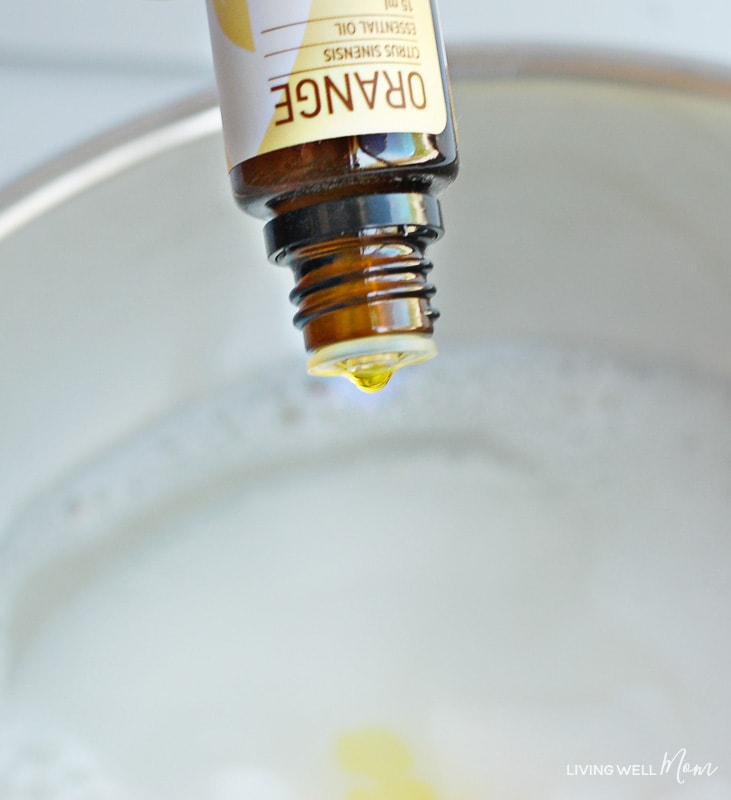 Stir in 10 drops each of lemon, orange, and grapefruit essential oils. You could also use lime. You can make any combination you'd like, but I'd have at least 30 drops total to this mixture.
Next, use a tablespoon and scoop spoonfuls of the baking soda mixture onto a parchment paper-lined baking sheet.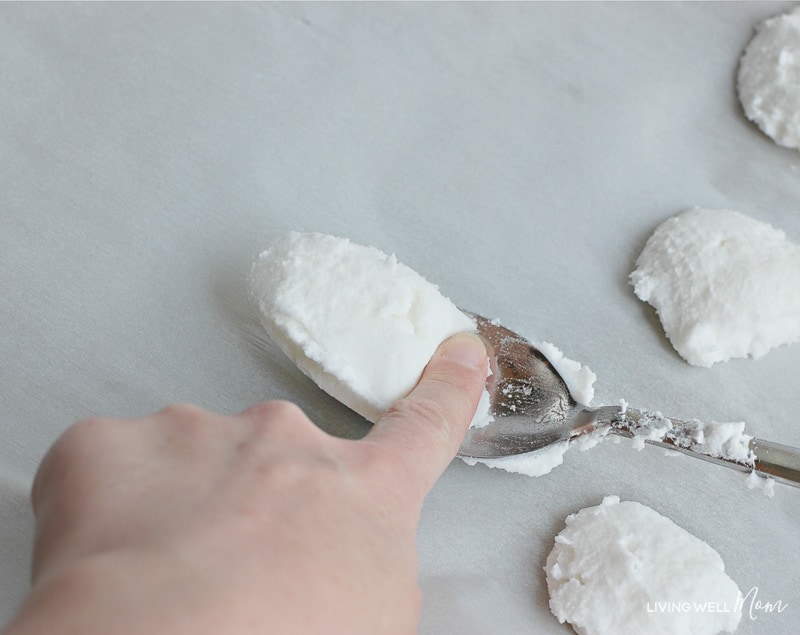 It doesn't have to look pretty (remember these will be going down your garbage disposal soon!) You will want your "drops" to be flatter vs round because it will dry out faster that way.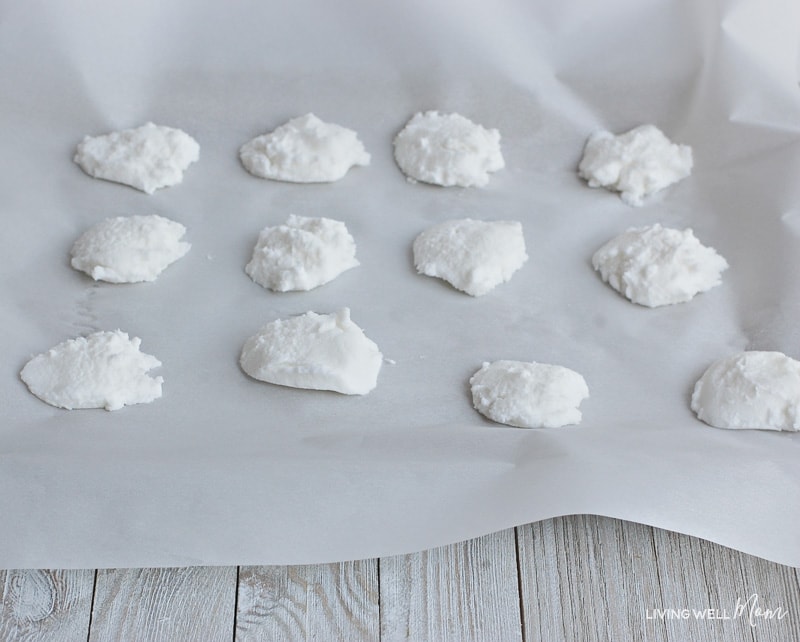 You can let your garbage disposal deodorizers air dry for a day or two or place them in the oven at 175 degrees for an hour and a half to two hours until they are dry.
Store them in an airtight glass container and keep them under the sink until you are ready to use them!
How to Use Your Homemade Garbage Disposal Deodorizers
When you start to smell a "not so fresh" garbage disposal, run some hot water in the sink and drop in a garbage disposal deodorizing bomb.
Turn the hot water on for a second or two. Then allow the deodorizer to sit for a few minutes as it deodorizes.
Finally, turn the water on and rub your disposal for a few more seconds. It should be freshened and clean now!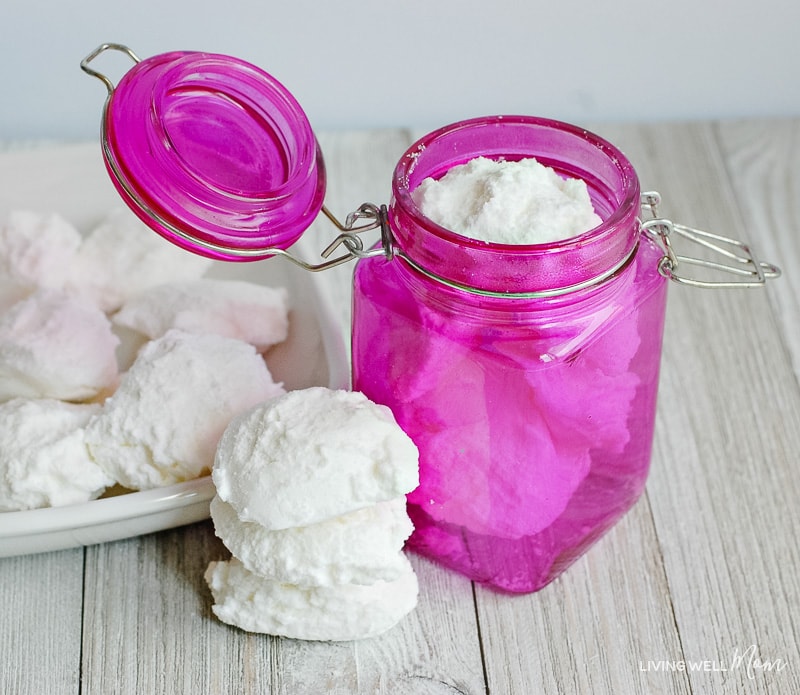 DIY Garbage Disposal Deodorizing Powder
If you don't want to take the time to make individual garbage disposal deodorizing bombs, you can create a dry powder mixture and add some to your sink directly when you need it. For that, you will need:
5 ounces citric acid (find it here) You do not get any citric acid from the essential oils since the oils are extracted from the fruit rinds. If you want this extra bonus acidic cleaner, then try this method.
8 ounces baking soda
Add 30 drops of essential oils. Stir this mixture well and store in an airtight glass container (don't store in plastic as the citric essential oils can corrode plastic.)
Add 2 tablespoons once a month to your garbage disposal.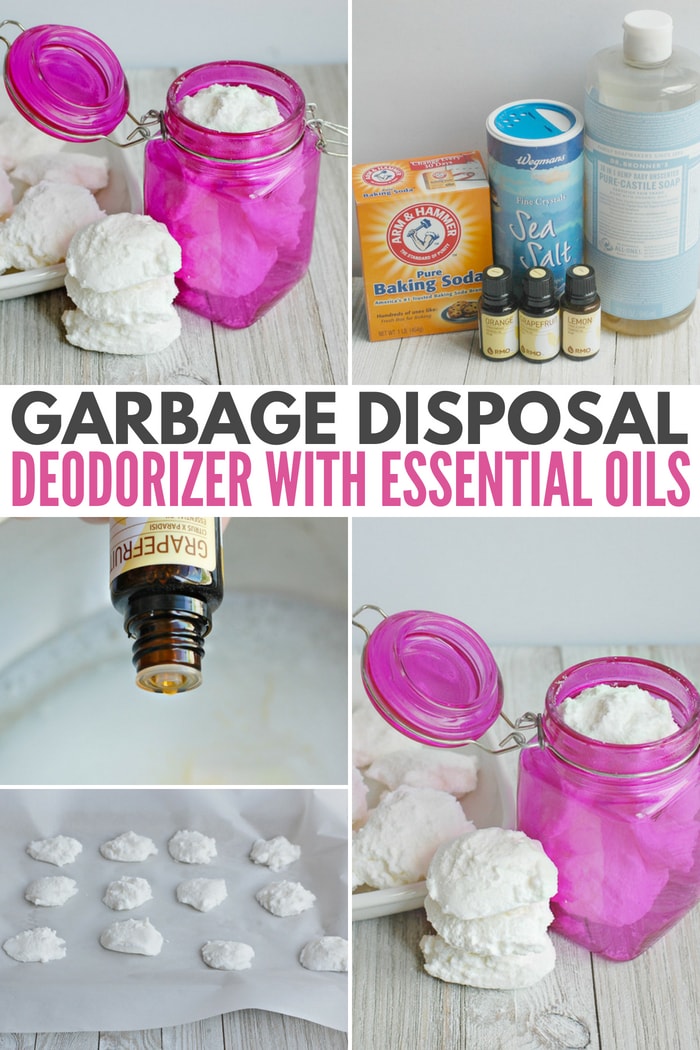 Want some other great ways to use your essential oils around the house for cleaning purposes? Check these out:
Which Essential Oil Brand is Best?
For the best results, you will want to choose a high-quality essential oil brand that is 100% pure and offers third-party testing for quality control. Read this post for more info on how to choose essential oils that work for you and your family (beyond the brand.)
My favorite essential oil company is Rocky Mountain Oils, followed by Eden's Garden, and Ancient Apothecary by Dr. Axe
.