When you see how simple it is to switch over to a natural homemade cleaner, you'll be surprised that you haven't already done so after seeing how easy and cost effective this is! I use Dr. Bronner's castile soap in this homemade cleaner recipe. It costs around $16 for 16 oz. That 16 oz could easily fill 50 spray bottles full of cleaner. That's about $0.32 per bottle (and that's an approximation, it could be even cheaper!)!
Not only is this All Natural Homemade Cleaner with Castile Soap inexpensive, but it's easy to make and works very well too. And the best part? It's non-toxic, so you don't have to worry about you or your children breathing nasty chemical fumes as you clean. In fact, this homemade cleaner smells so amazing, you may find yourself cleaning more often!
How to Make Homemade Cleaner with Castile Soap:
What You'll Need: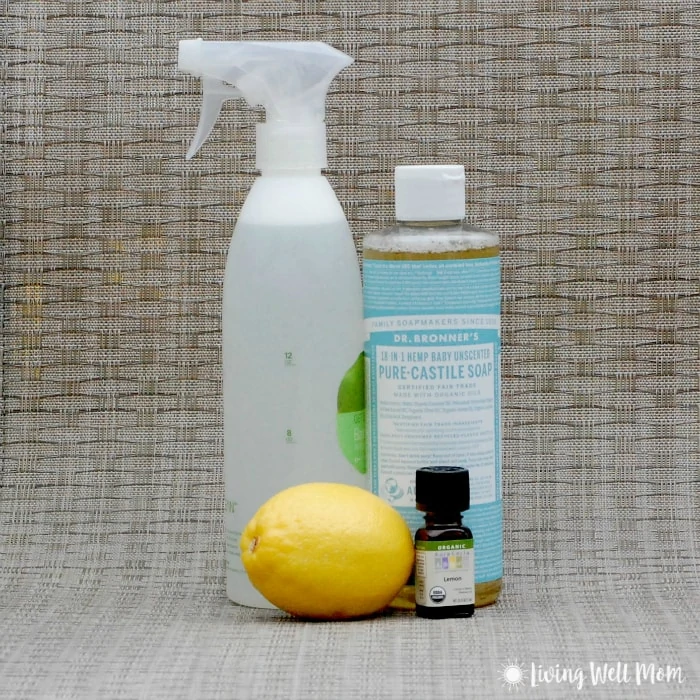 Take your empty spray bottle and put a small squirt of Dr. Bronner's liquid castile soap in it. Just add enough so that it covers the bottom of your bottle and that's it. Dr. Bronner's is so concentrated, that if you put in too much soap, you'll end up having to do a lot of rinsing and it could leave your surface feeling sticky.
Add 10-15 drops lemon essential oil. Swirl around a bit to mix together and slowly add hot water to the top of the bottle.
That's it – your homemade cleaner is done!
I would recommend shaking your bottle a bit before each use just to be sure the oils are well mixed in the soap. The smell is amazing! So much more refreshing that other cleaner fumes that I feel like I need to hold my breath to avoid coughing.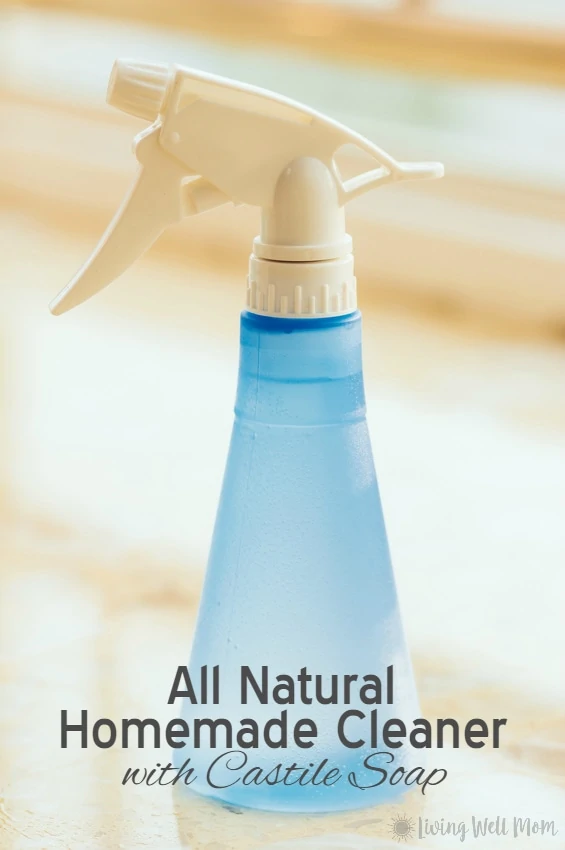 Plus this homemade cleaner really works! I've found it to work just as well as any harsh cleaning chemical and it's so much safer and nicer to use too!
As you can see right on the bottle of Dr. Bronner's castile soap, there are many different homemade cleaners you can make using just this one product. Take a look at #8 – that is this easy all-purpose cleaner recipe! It doesn't mention adding any essential oils, but you can customize your own bottle with your own oils. You could add lavender, rosemary, or for intense disinfecting purposes, add some Young Living Thieves essential oil
!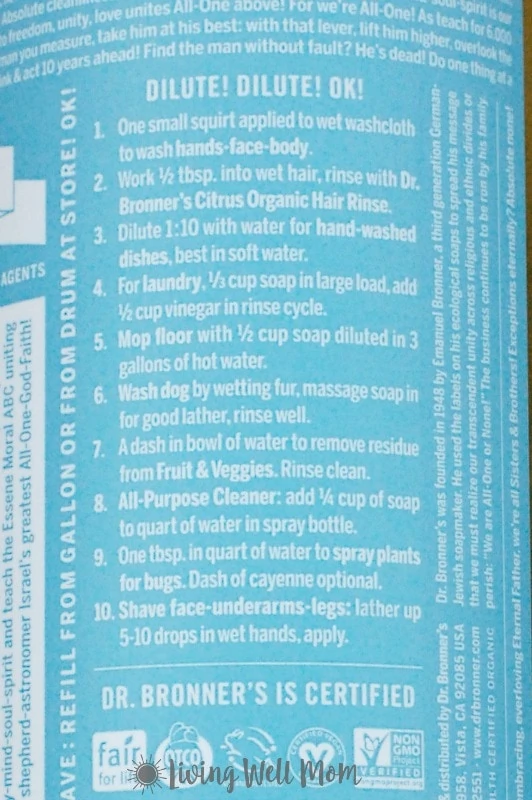 #9 is also interesting in that we can use this mild castile soap as a natural pesticide! I did not use this brand specifically, but I have used diluted Seventh Generation dish soap to keep aphids off of my roses – and it totally worked!
I'd love to hear what you use for natural cleaning products in your home. What actually works? Not just a current fad on Pinterest. For example, I used to make my own laundry detergent using borax, bar soap, and soda wash. It was cheaper for sure, but it beat up my clothes. They faded more quickly and my shirts were filled with cotton pills much more quickly. No thank you!
What make-at-home cleaning or household products have you tried that have worked? Or not?