If you ever deal with dry, cracked, even painful cuticles, a simple DIY cuticle oil can be very helpful for nourishing and moisturizing your nails. Not only will it strengthen your nail bed, but it can even help with nail growth too!
Today, I'll show you how to make your very own homemade cuticle oil using essential oils. It's all-natural and very easy to make!
I highly encourage you to add this DIY cuticle oil recipe to your nail care routine. You will be glad you did.
This nourishing DIY cuticle oil can help with hangnails, cracked, dry skin around your nails, and makes a doing your own manicure at home fun and easy!
Erika Bragdon is a Certified Essential Oil Coach from the Essential Oil Institute.
Looking for a more solid option? We have an easy nourishing cuticle butter recipe too, using shea butter and essential oils.
Essential Oils for Cuticle Care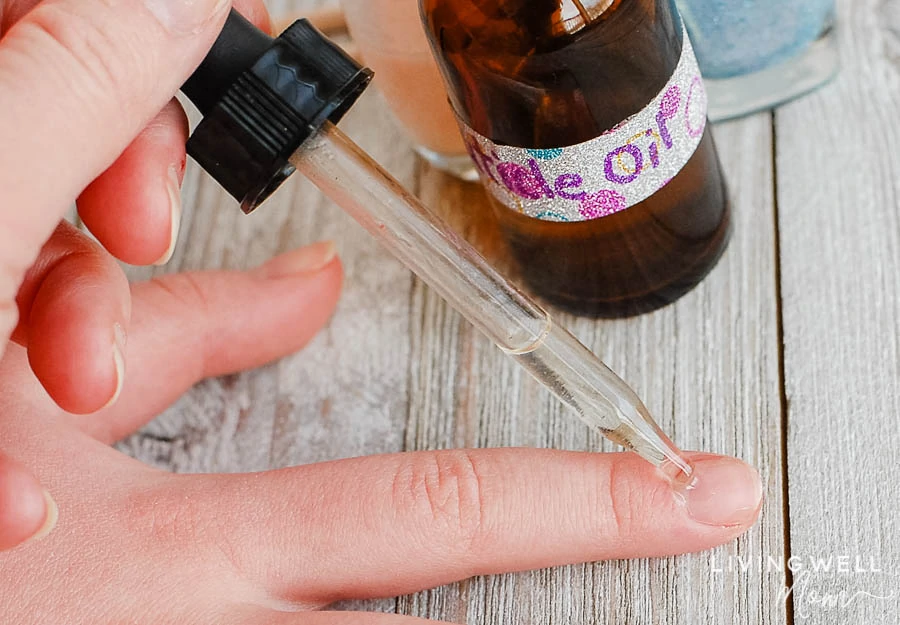 Essential oils have been a game-changer for my skin care and beauty routine. But, how do you know which essential oils are best for nail and cuticle care?
Here is a list of the best essential oils for dry skin that's a great reference to check out. And if you suffer from oily or acne-prone skin, check out this post on how to use essential oils for acne and pimples.
I recommend and use the following essential oils in my own DIY cuticle oil, however, you can mix and match your favorites for your own personalized blend.
Geranium Essential Oil – is wonderful for moisturizing skin. It has anti-inflammatory properties which may be helpful for soothing irritated cuticles.
Frankincense Essential Oil – has the potential to help with new skin regeneration, while calming and soothing irritation.
Peppermint Essential Oil – is cooling and I love the feeling when I rub it on my cuticles.
Lavender Essential Oil –one of the most popular essential oils for good reason. It has many benefits for skin health, including soothing and supporting overall skin health.
A few other essential oils I recommend and sometimes add to my homemade cuticle oil are:
DIY Cuticle Oil Ingredients
Ready to get started? Your nail bed will thank you! If you have brittle nails or dry cuticles like I do, this recipe will be your new go-to self-care treatment. To make it, you'll need to have:
*Note: if you don't have fractionated coconut oil, you could substitute it with avocado oil
or olive oil
. Other carrier oils that can work well include sweet almond oil and grapeseed oil.
Vitamin E is one of the best oils for your skin, so don't skip out on that one.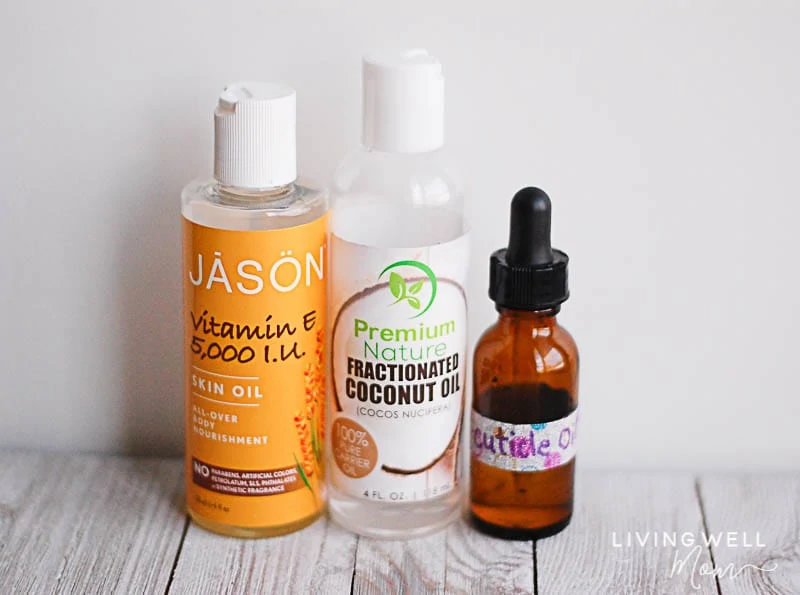 Which Essential Oil Brand is Best?
For the best results, you will want to choose a high-quality essential oil brand that is 100% pure and offers third-party testing for quality control. Read this post for more info on how to choose essential oils that work for you and your family (beyond the brand.)
My favorite essential oil company is Rocky Mountain Oils, followed by Eden's Garden, and Ancient Apothecary by Dr. Axe
.
Cuticle Oil Directions
For this cuticle oil recipe, you will need around 30-40 drops of essential oils for a 1-ounce mixture of cuticle oil.

Add:
15 drops lavender oil
10 drops geranium oil
10 drops frankincense oil
5 drops peppermint oil
You may choose to use a small funnel to help you drop the essential oils into your glass bottle.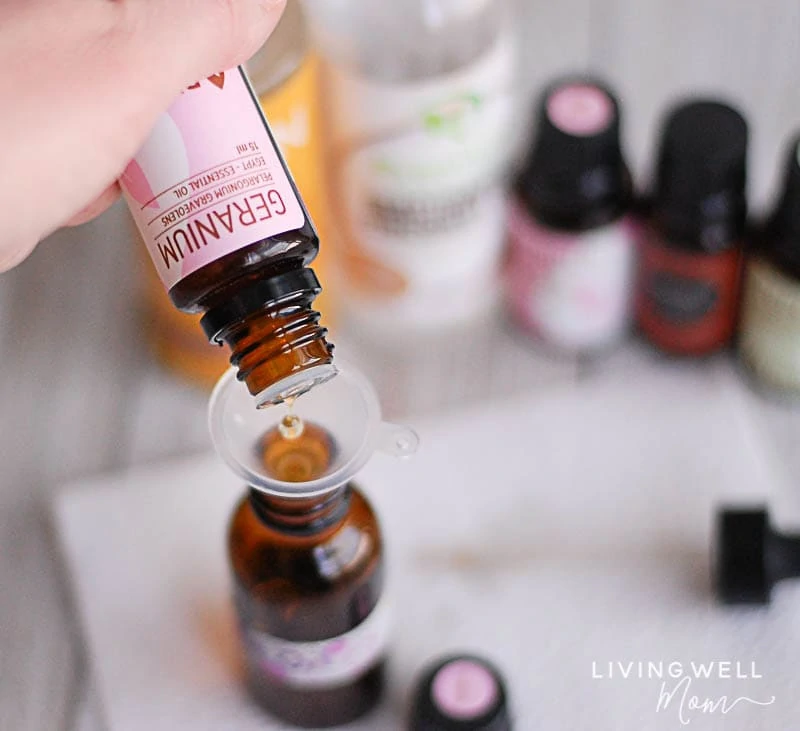 After you add your essential oils, add 1 teaspoon of vitamin E oil
.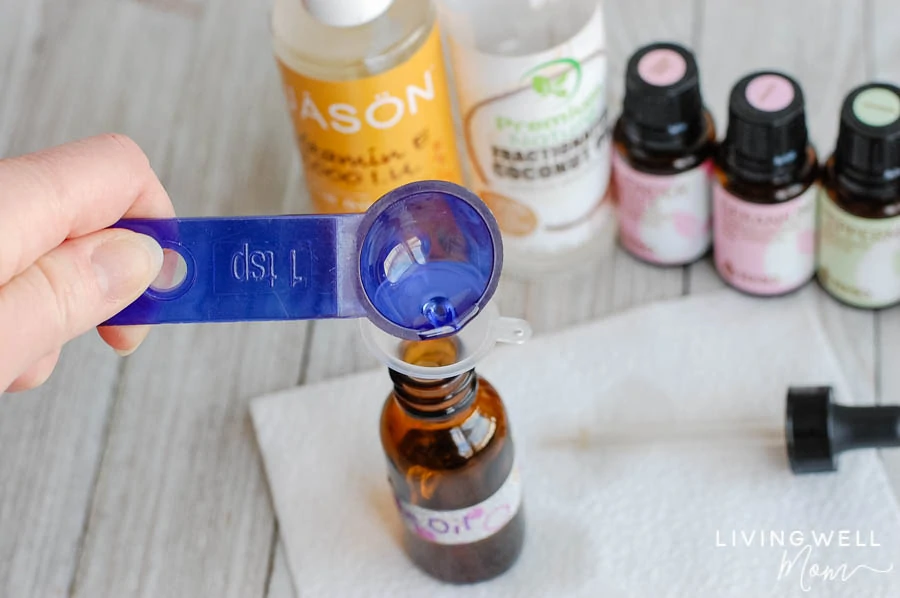 Top off the rest of the bottle with fractionated coconut oil
(or avocado or olive oil) or fill half-way with fractionated coconut oil and the remainder with jojoba oil.
Screw the top of the dropper bottle back on the top and gently flip the bottle back and forth a few times to mix all of the oils together.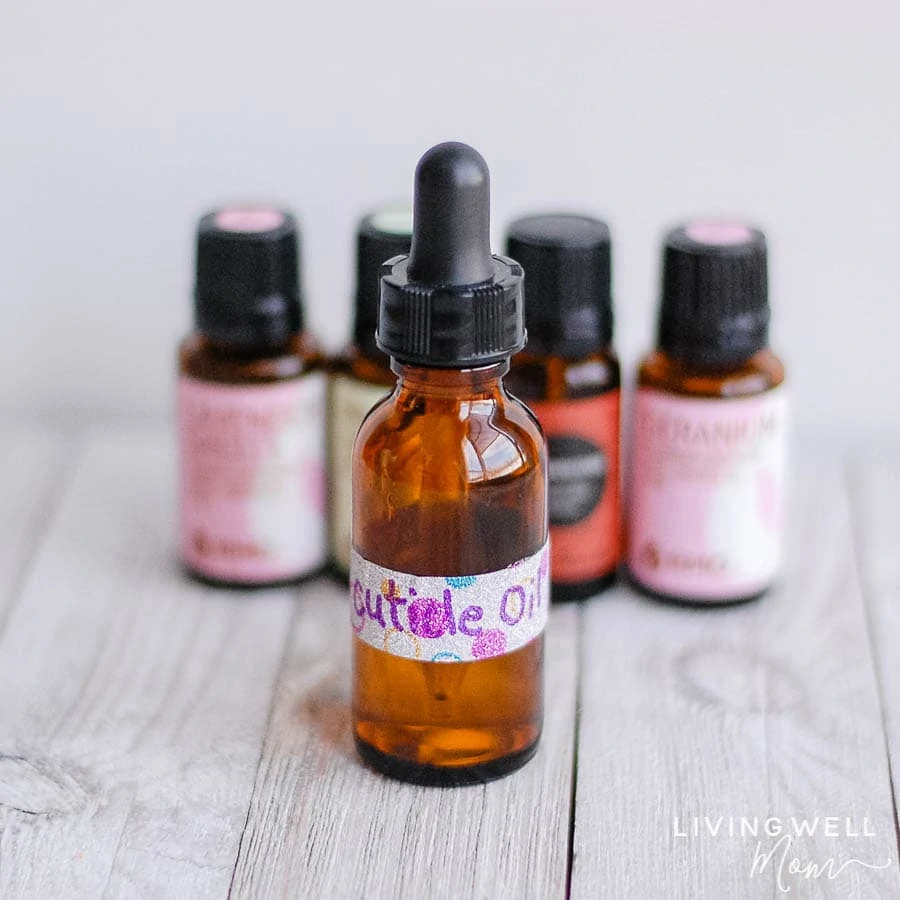 How to use Cuticle Oil
First, make sure to shake your cuticle oil before each use.
Then, drop 1-2 drops of your cuticle oil onto your cuticles and gently massage it in.
If you are doing a manicure at home, apply this oil first and rub it into your cuticles. Then you can use a cuticle pushing tool to push back any overgrown cuticles. The cuticle oil will make this really easy to do!
Next, follow up with your favorite nail polish for a fun, pampering at-home manicure.
Lastly, end your at-home mani with some hand cream – I love this DIY lavender cream!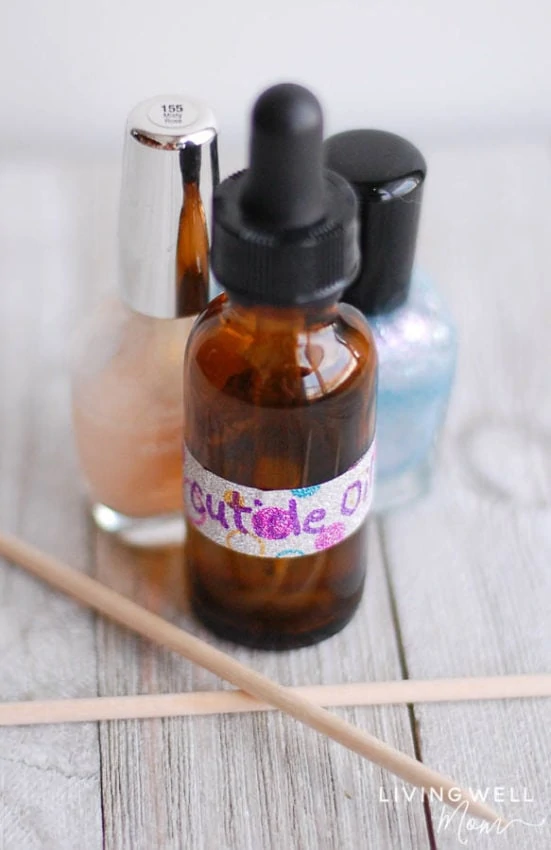 You don't have to limit the use of this just to cuticles by the way. This combination of essential oils, vitamin E oil, and coconut oil is great for all of your skin! If you have some extra dry spots on your hands, rub this oil combination on those as well!
Plus, don't forget to check out my easy cuticle cream recipe for a slightly different but also nourishing for your nails option!
More Ways to Use Essential Oils
Print
Nourishing DIY Cuticle Oil with Essential Oils
This simple homemade cuticle oil recipe uses natural ingredients to soften dry, cracked cuticles, plus it's easy and takes just 2 minutes to make! Perfect DIY non-toxic skin care idea!
Author:
Prep Time:

5 minutes

Total Time:

5 minutes

Yield:

1 ounce

bottle

1

x
Category:

homemade

Method:

homemade

Cuisine:

homemade
Instructions
Add 30-40 drops of essential oils to your 1 oz glass bottle.
Add 1 teaspoon Vitamin E oil
Fill the rest of the bottle with fractionated coconut oil and/or jojoba oil.
Screw on the top and shake well to mix the oils.
Apply to your cuticles as needed for nourishing hydration and healing.
Notes
Shake well before each use.
Keywords: homemade, cuticle oil, essential oils, diy, fractionated coconut oil, jojoba oil
Copyright © Living Well Mom. All content and images are copyright protected. Please do not use my images without prior permission. If you would like to republish this recipe, please re-write the recipe in your own words. Alternatively, you may link back to this post for the recipe.