Now that winter is fully upon us, our skin can take a toll in this cold and dry weather. To give our skin a little extra TLC, I'm going to show you how to make these really easy homemade coconut oil lotion bars. With just 3 all-natural ingredients, it'll moisturize even the driest of skin.
I've been using these coconut oil lotion bars every night on my two-year-old's dry and sensitive skin, plus my own dry hands. This is some amazing stuff that smells glorious and keeps your skin from being too dry and cracking this cold weather season.
How to Make Homemade Coconut Oil Lotion Bars:
What You'll Need: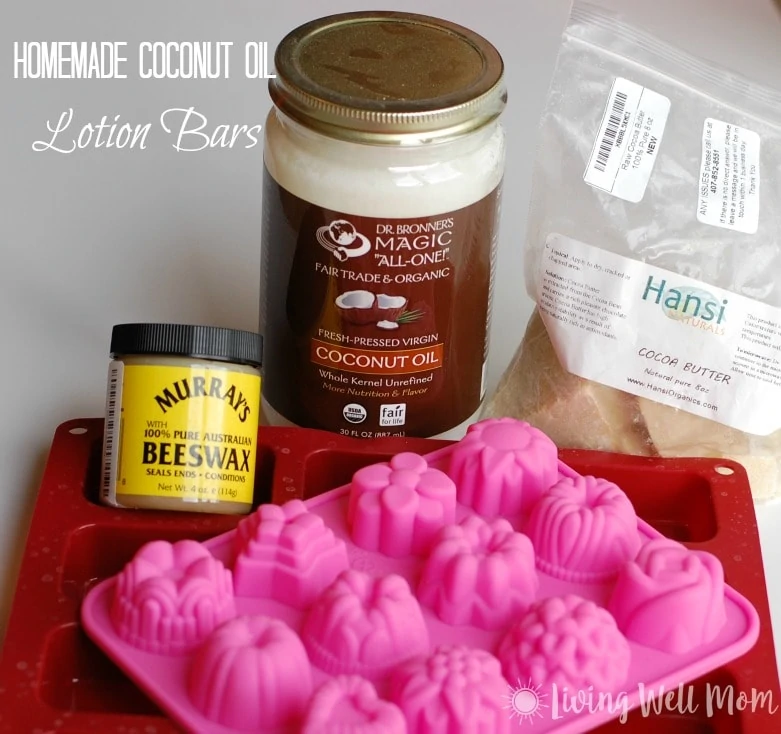 Homemade Coconut Oil Lotion Bars Recipe:
You will need a 1:1:1 ratio each of the coconut oil, cocoa butter, and beeswax. Because I ordered just 4 oz of beeswax initially, I used that as my ratio and then also added about 4 oz of cocoa butter and coconut oil, all to a saucepan.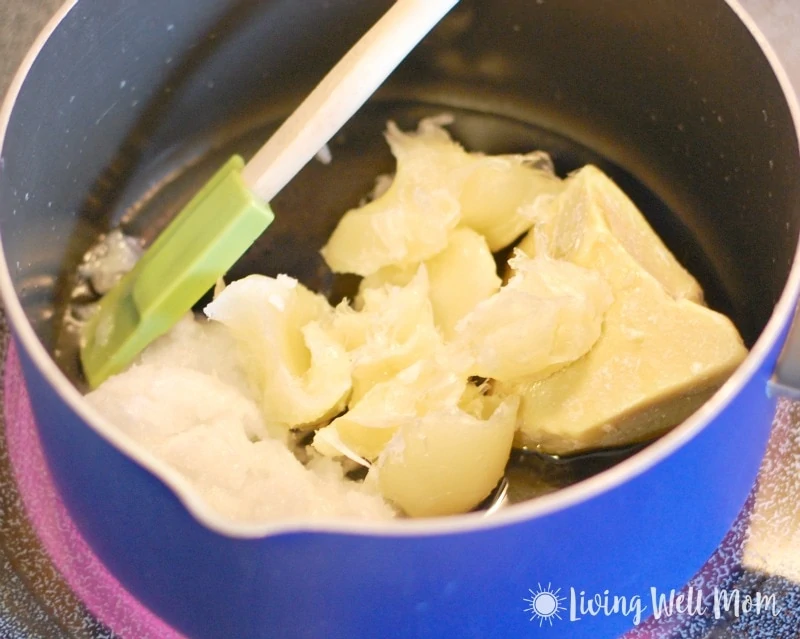 Turn to medium heat and stir until completely melted.
My bars came out a bit on the soft side when I made this the first time. I think it was because the Murray's Beeswax was soft. I tried again with Beeswax bars
and that gave me a firmer lotion bar. I know there are many coconut oils, cocoa butters, and beeswax brands out there. So I would recommend doing the 1:1:1 ration to start. If you need a firmer bar, then add more solid beeswax. If you want a softer bar, add a bit more coconut oil. None of your ingredients will ever go to waste because it is so easy to re-melt and pour these until you get the consistency you want.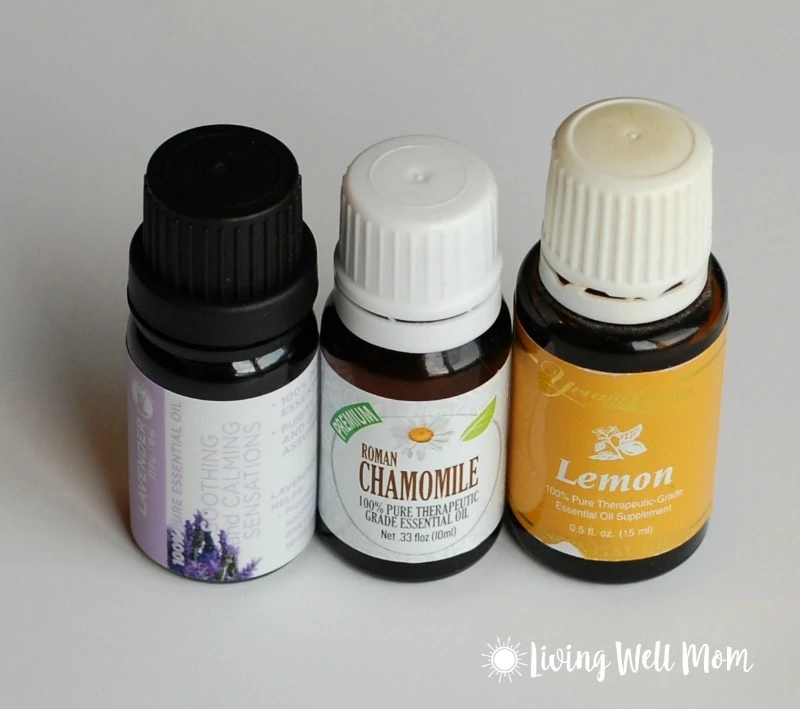 I also added about 20 drops each of lavender
, chamomile
, and lemon essential oil
s to the melted lotion bar mixture. But you can whatever combination or amount you like, depending on the scents and strength you prefer.
I found the chamomile over-powered the lavender and lemon, so I try to add more lemon compared to the chamomile for a better balance. But again – this is up to you, what oils you have on hand, and of course the scents you want added. The coconut oil, cocoa butter and beeswax already smell amazing just by themselves, so adding essential oils to your coconut oil lotion bars is totally optional.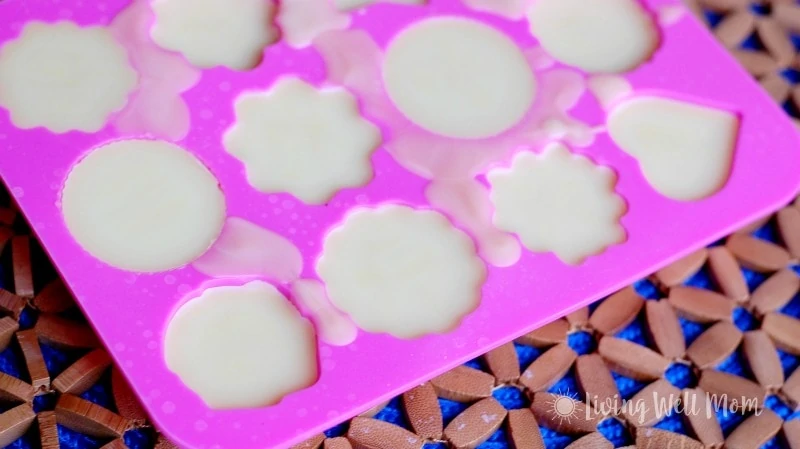 When all of the oil, wax and butter are melted, pour it into your mold. I used a Purex glass measuring cup – but even with that, the pouring was not perfect and you may make a bit of a mess. 🙂 It will take a couple of hours for the bars to harden and cool. Then they will easily pop out of the mold.
A little bit of this homemade coconut oil lotion goes a long way and lasts a long time. I have more than enough here for me and my family this season and am happy to give some of it away as gifts.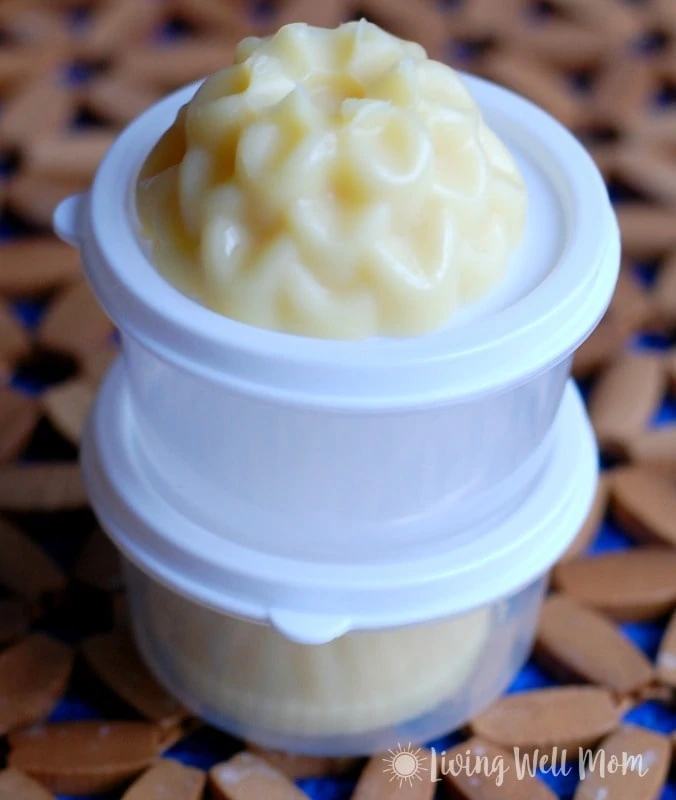 I'm planning on giving these lotion bars as gifts to other steering team members at my local chapter of MOPS (Mother's of Pre-Schoolers) that I'm involved in. I needed something to hold the lotion though so it was easy to throw in your purse, or put with your other toiletries in the bathroom. I went to the Dollar Tree and found these small and adorable plastic containers. They came in a pack of 10 for just $1 – perfect!!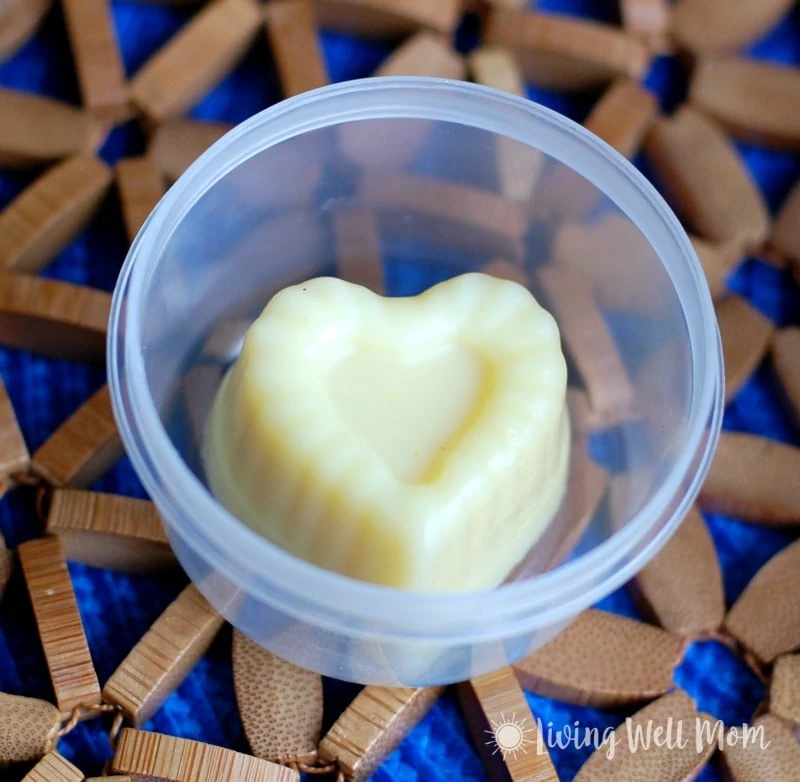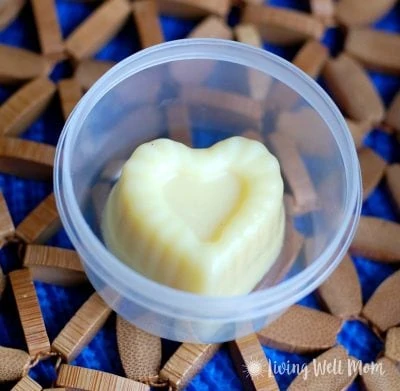 Homemade Coconut Oil Lotion Bars are great for Valentine's Day gifts too!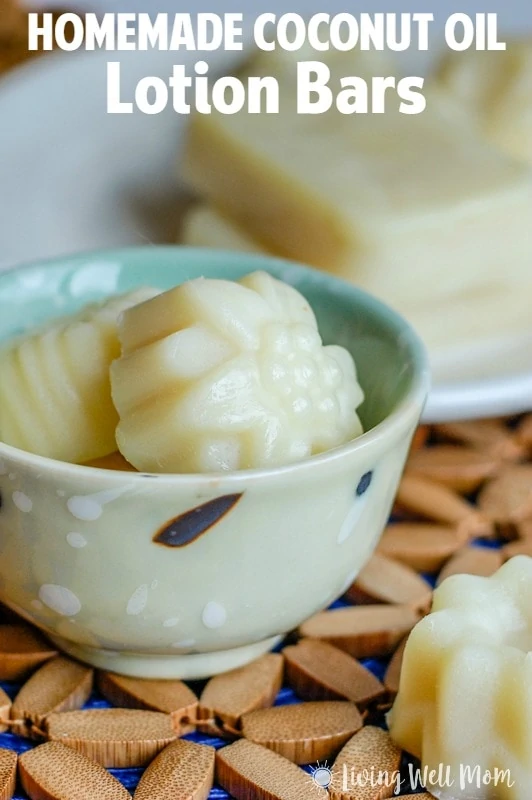 If you are looking for more all-natural, homemade stuff – check these out:
Homemade Liquid Foaming Hand Soap
Easy Lavender Goat Milk Soap Recipe