This is a guest post by Laura from Our Oily House
This homemade dish soap is very economical and cuts through grease like a champ. It is made using all-natural ingredients and cleansing essentials oils. With just 3 ingredients in this recipe, you will be able to put it together in no time.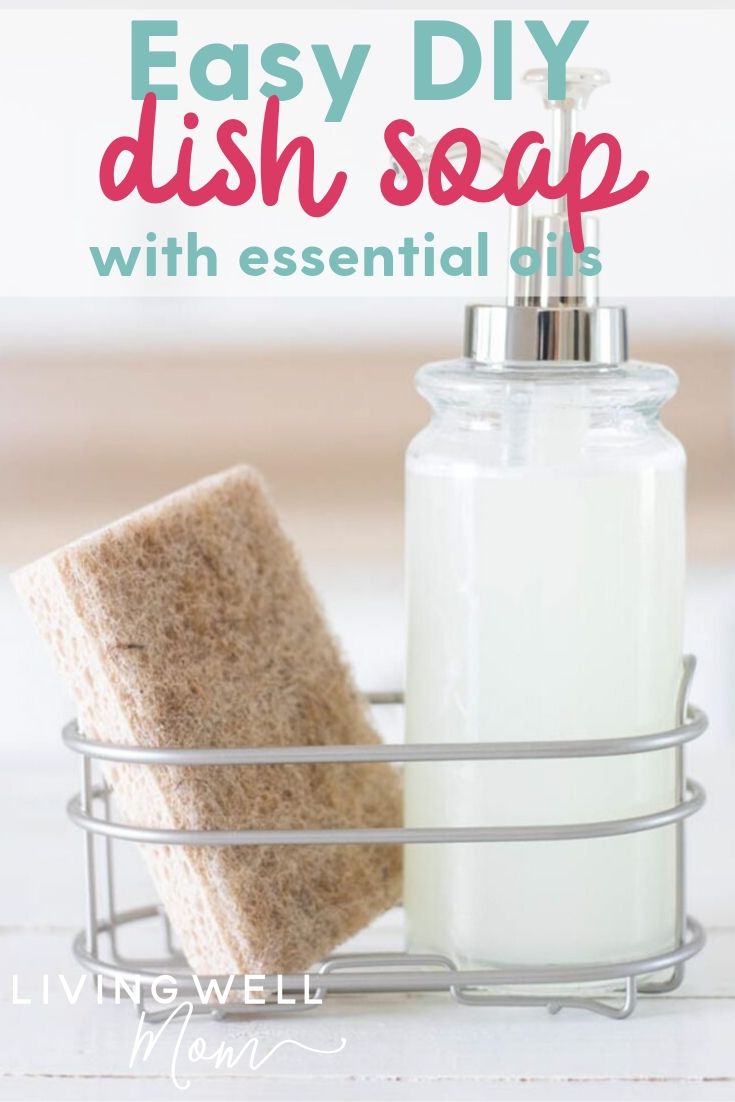 I started making my own dish soap as soon as I received my first set of essential oils, and haven't looked back. It works so well, and I love that it is all-natural. This dish soap recipe can be made in a spray bottle, foaming dispenser, or a regular soap dispenser.
Sometimes the thought of making products is daunting, but I promise this is way easier than you think. You can whip it up in less than a minute, and you probably have the ingredients on hand.
If you aren't as old fashion as me and use a dishwasher, I have a recipe for that too! Yup, you can even make dishwasher soap pods that are natural, cost-effective, and work great.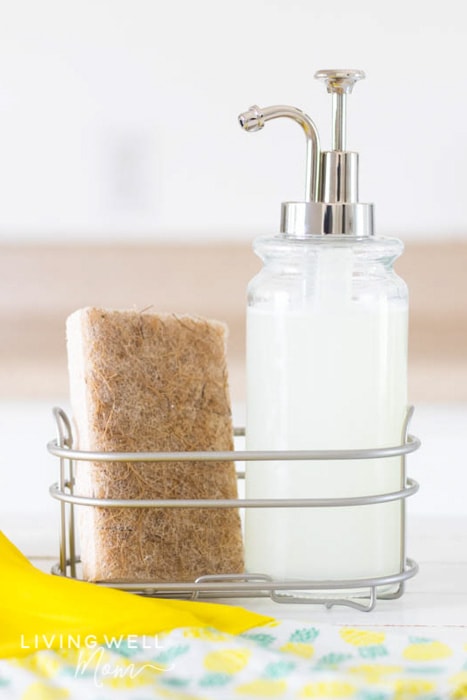 Economical DIY Dish Soap
Making your own dish soap can save you lots of money, cut down on toxic products in your home, and is much better for the environment. This DIY dish soap suds up and cuts really well through grease.
After experimenting with several recipes, I settled on the one with the least amount of ingredients.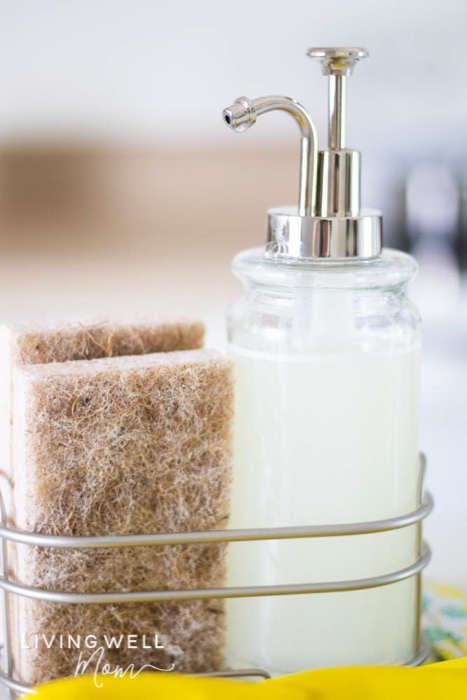 Homemade Dish Soap Recipe
For this dish soap, you will need castile soap, essential oils, and water. It is that simple!
I tried other recipes using washing soda and baking soda but found this one to work best.
Castile Soap
Castile soap can come in liquid or bar form, for this recipe we will be using the liquid form. It is a very concentrated soap made out of vegetable oils. Most commonly made with olive oil, but can also be made with coconut oil, hemp oil, or avocado oil.
Castile soap is a natural disinfectant that can kill germs, bacteria, and cut grease. It works great for washing dishes, and it will leave your hands moisturized and smooth.
It comes in handy when making soaps and shampoos too!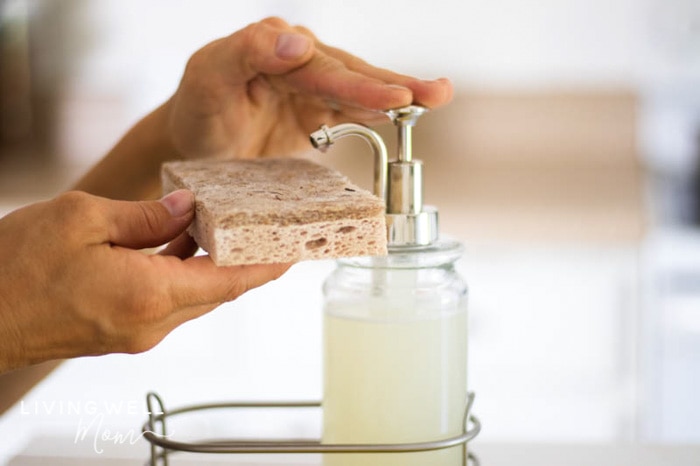 Essential Oils in Homemade Dish Soap
You can use a single oil or a blend of essential oils in your dish soap recipe. I list a few of my favorite blends below, notice that lemon is in every single blend. This is because lemon essential oil is a natural degreaser and a natural antibacterial.
I tend to stick to citrus oils because of its fresh scent and cleansing properties.
Here are a few of my favorite blends:
Wild orange, lemon, lime
Lemon, grapefruit, tangerine
Thyme, lemon, lime
Lime, lemon, clove
Lemon, lavender, wild orange
Tea tree, lavender, lemon
Thyme and lemon
Peppermint and lemon
You will notice that the main ingredient of this homemade dish soap is water. It is best to use distilled water or boiled tap water to preserve your dish soap longer.
If using tap water, boil for 15 minutes and then allow it to cool before pouring it into the spray bottle or soap dispenser.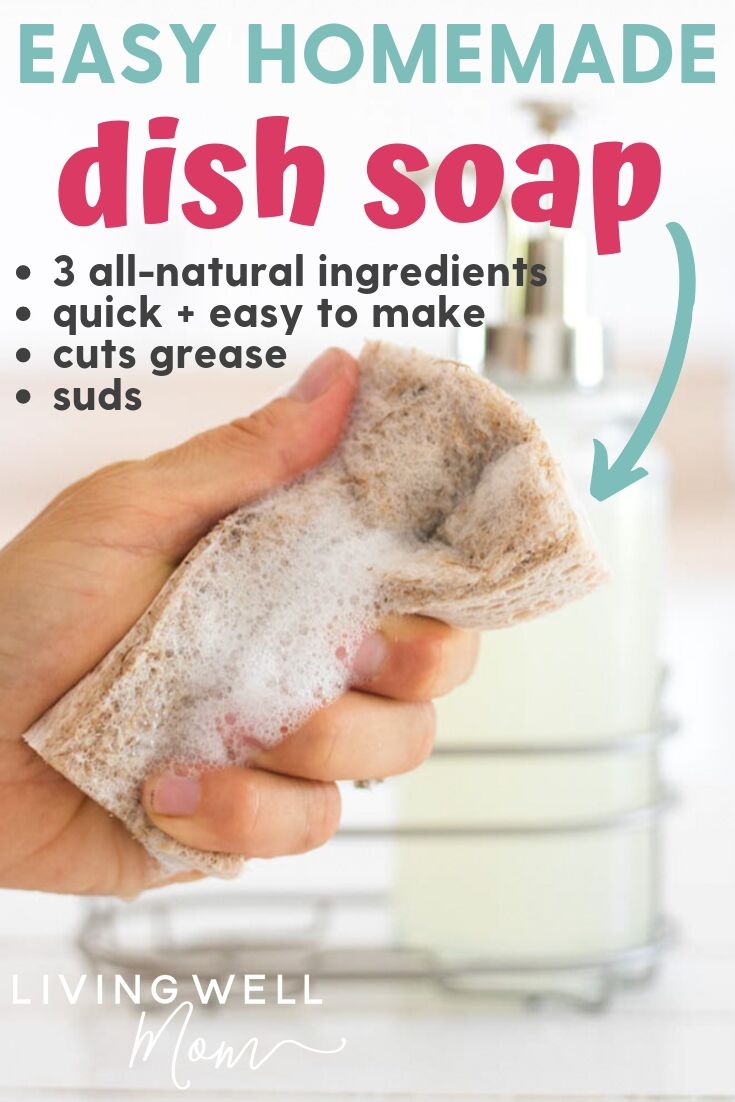 How to Make Homemade Dish Soap
Dish Soap Ingredients / Supplies:
*It is always best to use glass or stainless steel for any essential oil recipe. Over time essential oils can break down plastic and cause it to corrode.
Pour castile soap and essential oils into your soap dispenser.
Fill the rest of the dispenser with water.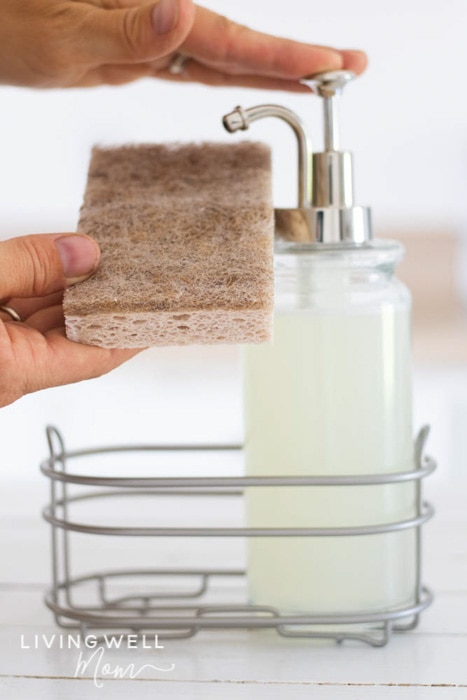 The beauty of this dish soap is it works the same as any store-bought kitchen soap. No change will be necessary to your washing routine.
Just remember that this dish soap is made from a concentrated soap and potent essential oils and a little can go a long way.
More Easy Homemade Cleaning Recipes: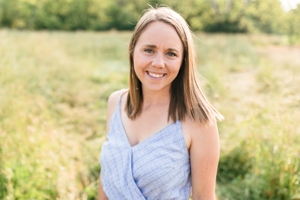 About the author: My name is Laura. I am a stay at home mom of 4 and strive to live a simple and natural lifestyle. After using essential oils for several years, I decided to start my blog, Our Oily House, to share my tried and true recipes and oily testimonies. My blog has become my passion and creative outlet; you will find essential oil DIYs, natural remedies, and healthy recipes.