Have you ever wanted a natural way to deodorize your bathroom? This "Before-You-Go" DIY poo pourri spray is easy to make, and you can create your favorite scent. Plus, this recipe only requires three things – a spray bottle, isopropyl alcohol, and your favorite essential oils!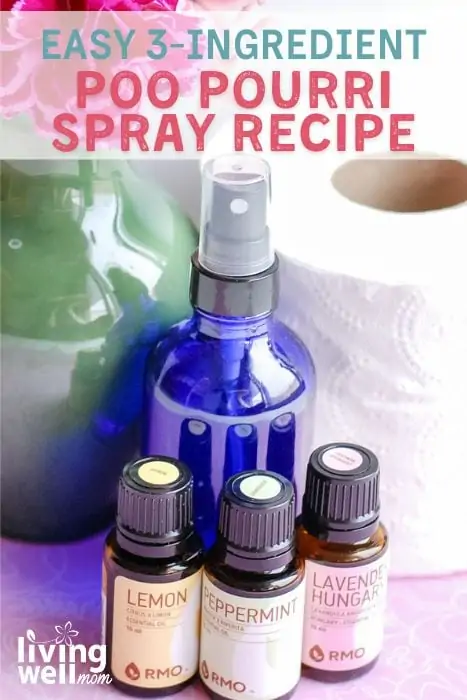 Non-Toxic Bathroom Spray
Each year my mother insists on buying me the name brand "Poo-Pourri" and puts it in my Christmas stocking. (gee – thanks, mom!) But I do have to say it works really well.
Unfortunately, there are no ingredients listed on the bottle. And there IS a warning to use in a "well-ventilated area" along with additional warnings to "keep away from children," "avoid eye contact," etc.
My first thought was that if our bathrooms were ventilated enough, we wouldn't need anything else to cover up the odor, right? Hmmm, I wonder how safe this product is.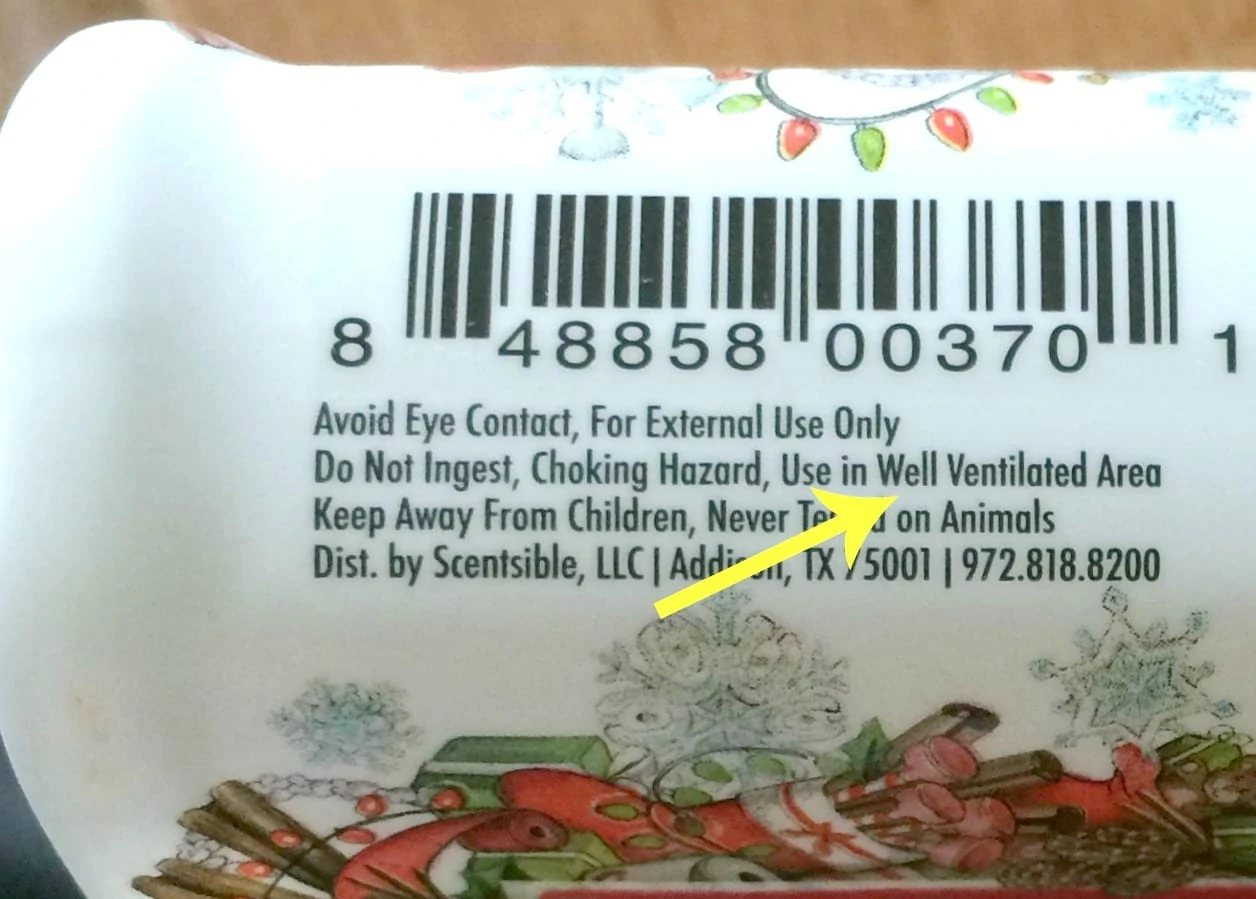 As a general rule, I try to avoid using artificial fragrances and toxic chemicals in our home.
So I put my natural alternatives thinking hat on and started brainstorming how to accomplish the same goal in a way that didn't cause me more concern than benefit.
That's why I'm glad that essential oils provide an easy alternative that uses natural ingredients. Today, I'll show you how to make this homemade "Before You Go" poo pourri bathroom spray.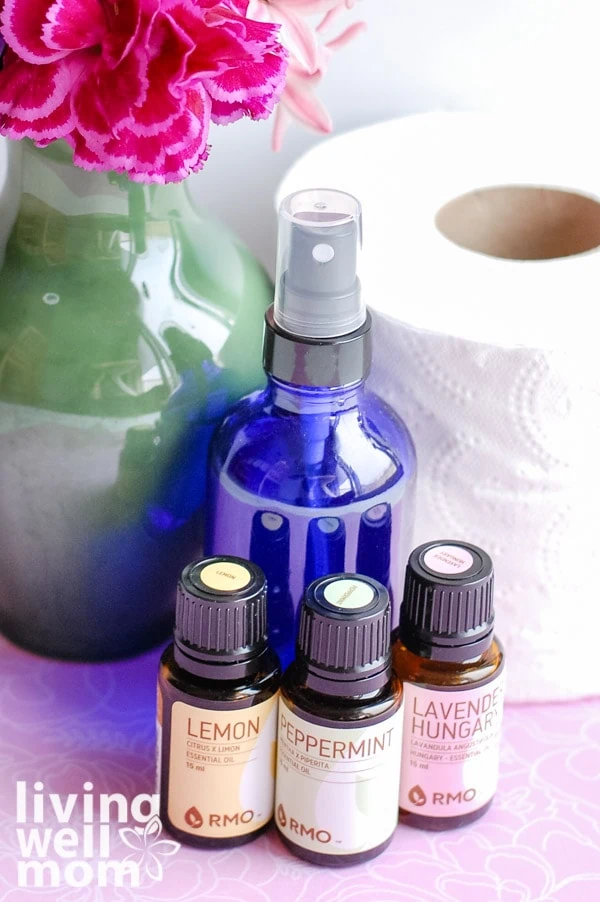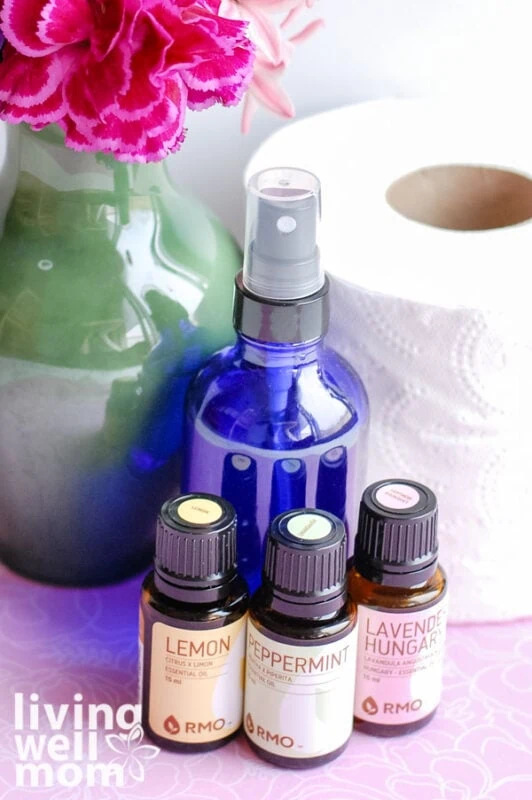 Which essential oil brand should I use?
I always recommend choosing a high-quality essential oil brand that is 100% pure and offers quality control through third-party testing.
Rocky Mountain Oils is my favorite essential oil company, with Eden's Garden and Ancient Apothecary by Dr. Axe coming in as close seconds.
All three companies offer superior products at an affordable price. Check them out:
DIY Poo Pourri Spray Supplies Needed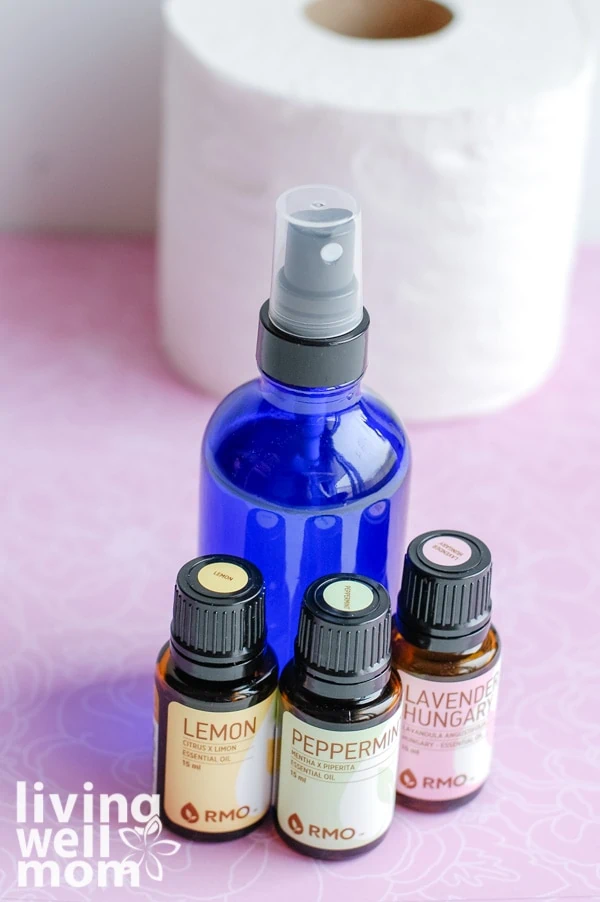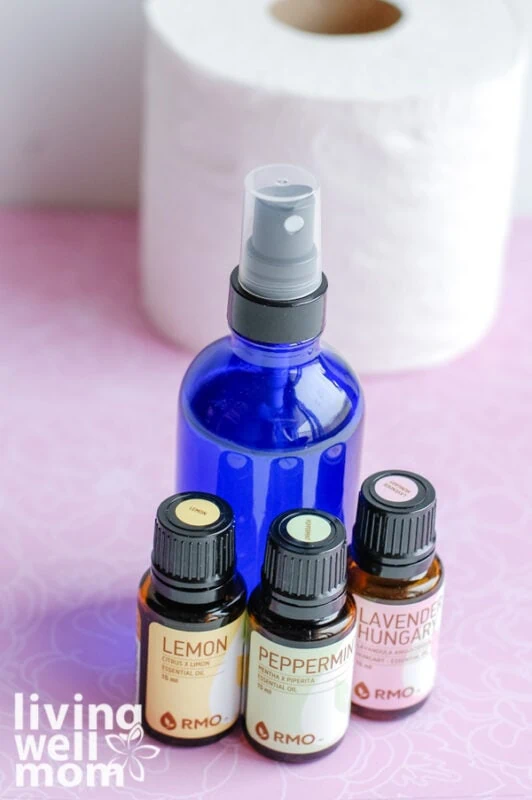 How To Make DIY Poo Pourri Toilet Spray
Here's the basic process for making this recipe. For more details, please check the full printable recipe card down below.
Step 1
To start, add 1 tsp of rubbing alcohol to your empty glass 4 oz bottle.
I used one of the plastic measuring cups that come with children's liquid ibuprofen. I bent it a bit, so it was easy to pour into the small hole of the glass bottle. One of those medicine droppers could work well too.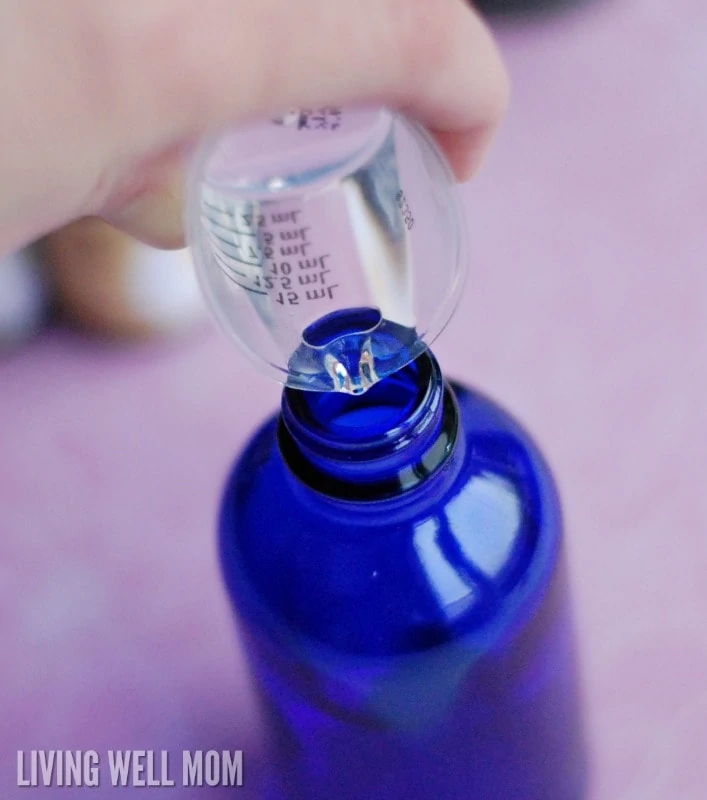 Step 2
The next step is to add your essential oils of choice. I started with 15 drops of lemon essential oil.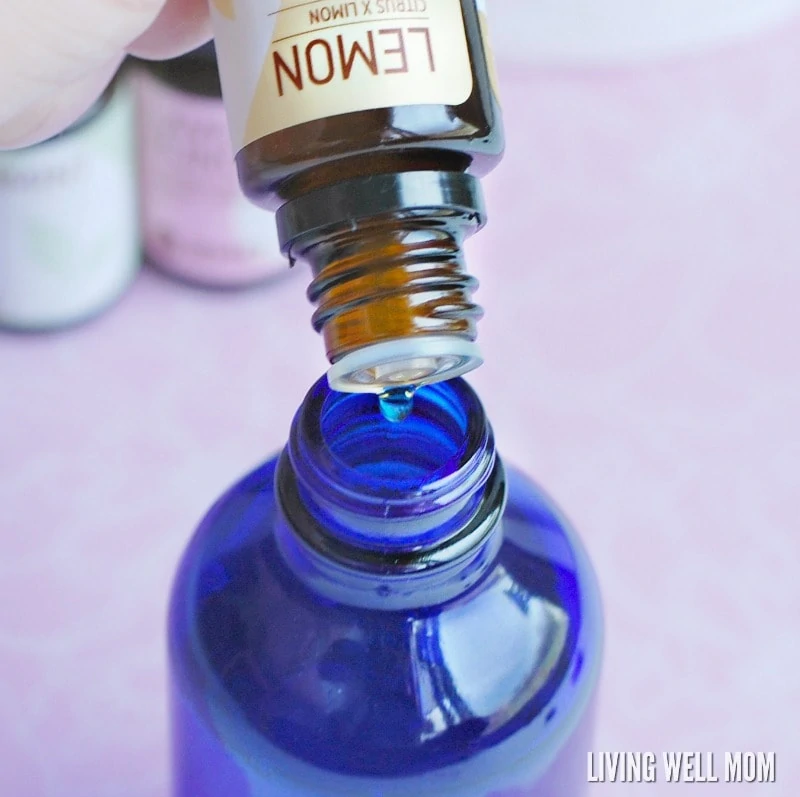 Step 3
Then I added 15 drops of peppermint essential oil.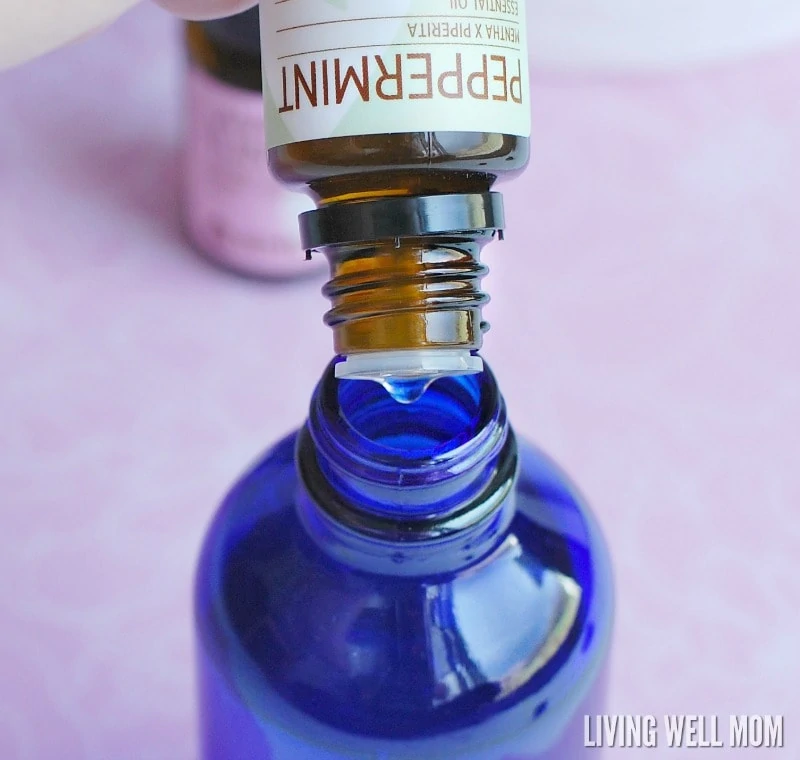 Step 4
Finally, I added 15 drops of lavender essential oil.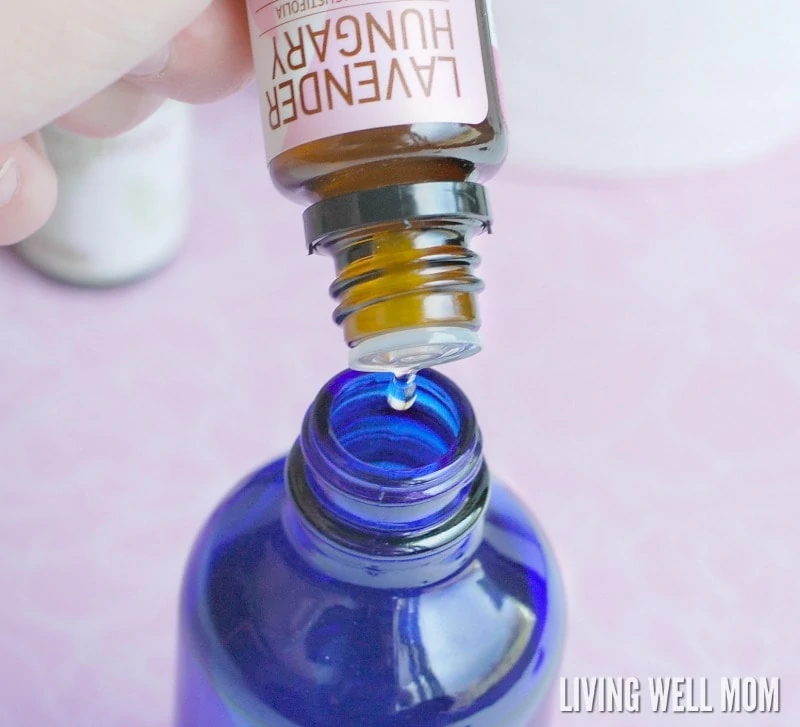 Step 5
Once the alcohol and essential oils are added to the empty glass bottle, just fill the rest of the bottle with distilled water and shake it to combine everything.
Now you can test your DIY poo pourri recipe by spraying it in your bathroom!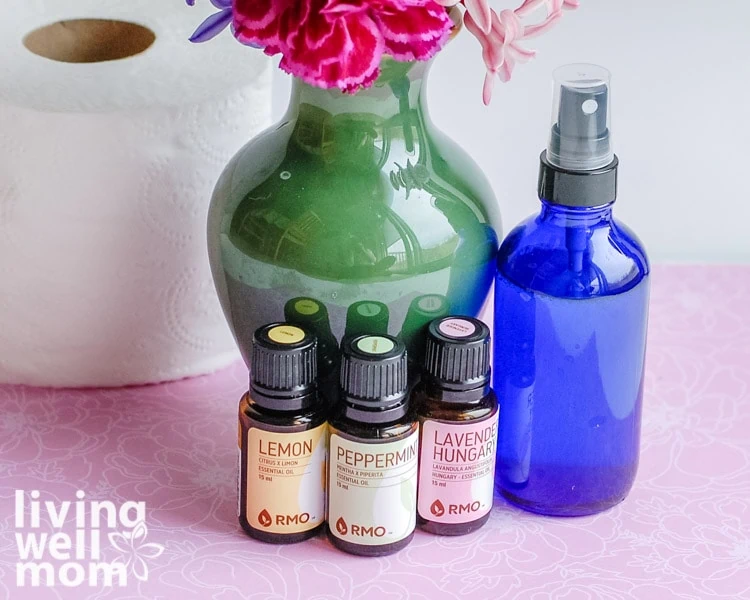 How To Use Your Homemade Poo Pourri Spray
Now that you have your own bathroom spray that's made with healthy ingredients you can feel good about using, here's how to use it effectively:
Spray your homemade poo spray first "before you go" right in the toilet bowl. The alcohol and essential oils should create a barrier of surface tension on the toilet water to trap the odor.

Spray again after you go for even better odor coverage.
This works great just as an everyday room air freshener as well!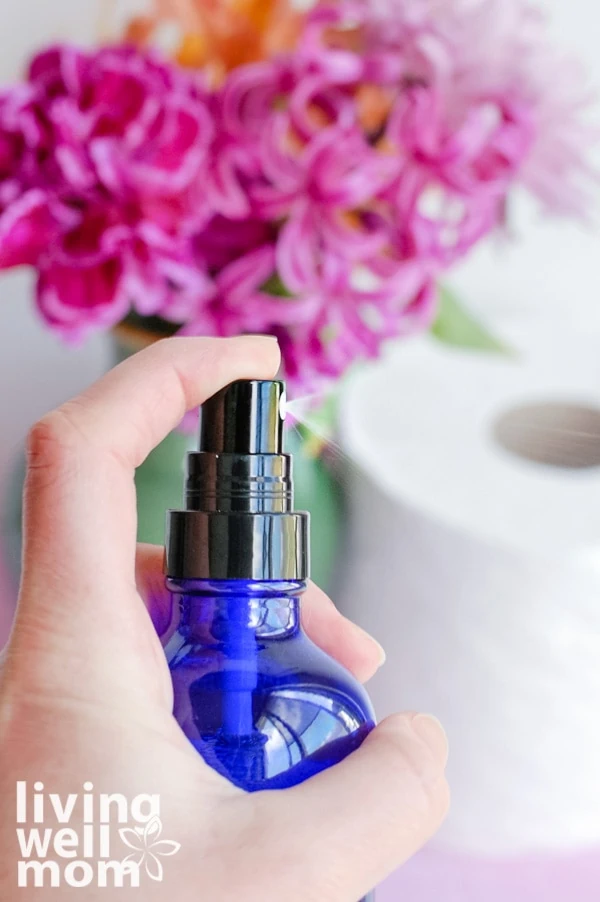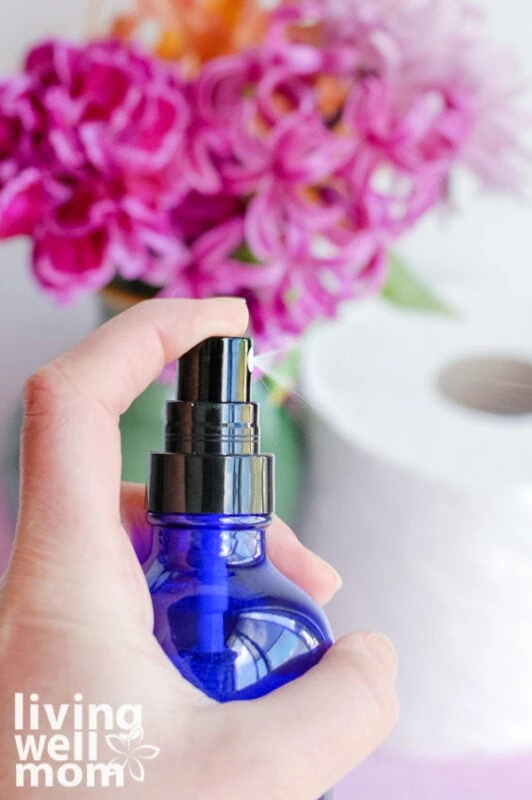 DIY Poo Pourri Tips And Notes
Be sure to use a glass bottle for this because citrus-based essential oils (like lemon, lime, grapefruit, bergamot, etc.) will corrode any plastic bottles.
You can play around with different combos you like best. I found that using at least one citrus scent in the blend covers bathroom odors better than just a flowery scent alone (like if you were just to use lavender oil.)
Create some seasonal blends for homemade "before-you-go" bathroom spray. Pleasant seasonal scents could include cinnamon-orange for the fall, pine-scented for Christmas time, and a lemon-rose combo for the spring.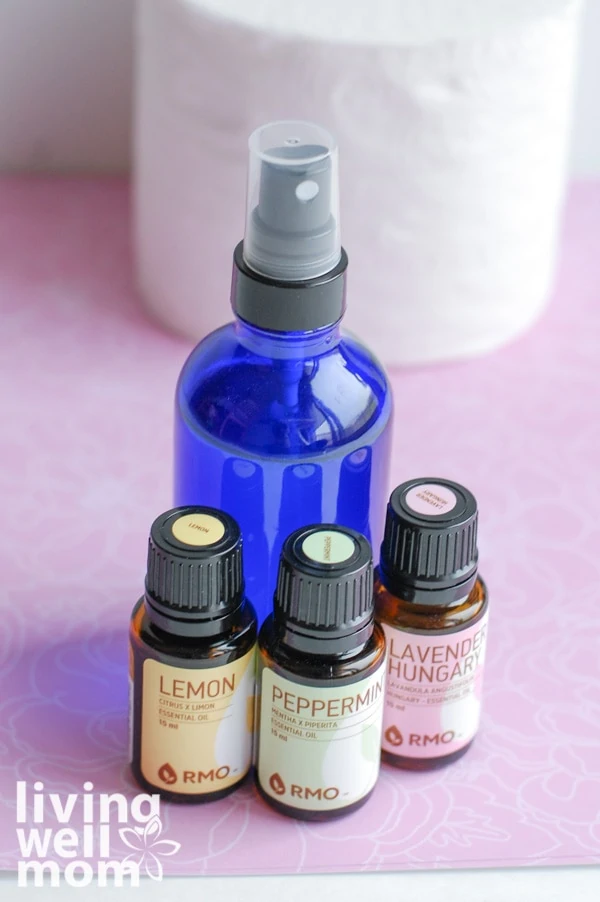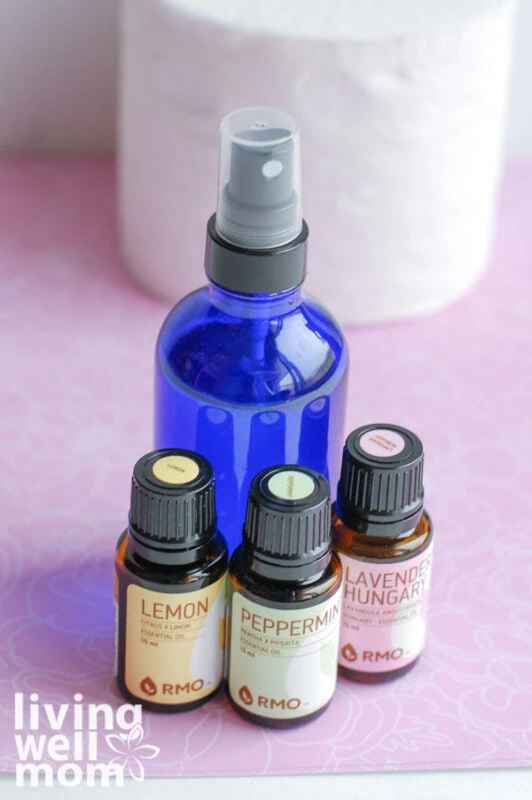 DIY Poo Pourri FAQs
Here are a few questions that I often see readers ask. If you have a question but don't see it answered below, please leave it in the comments!
Why does Poo-Pourri work so well?
Think of those embarrassing moments when you were a guest at someone's house and had "to go," only to leave a stinky bathroom behind that you know people smelled. Nobody likes that. Ewww.
This kind of spray works by creating an oily barrier on the surface of the water in the toilet bowl, so that all the stink is trapped while the toilet emits lovely essential oil scents. Weird, but it works!
This DIY poo pourri ditches the harsh chemicals in favor of the power that essential oils provide to kill odor.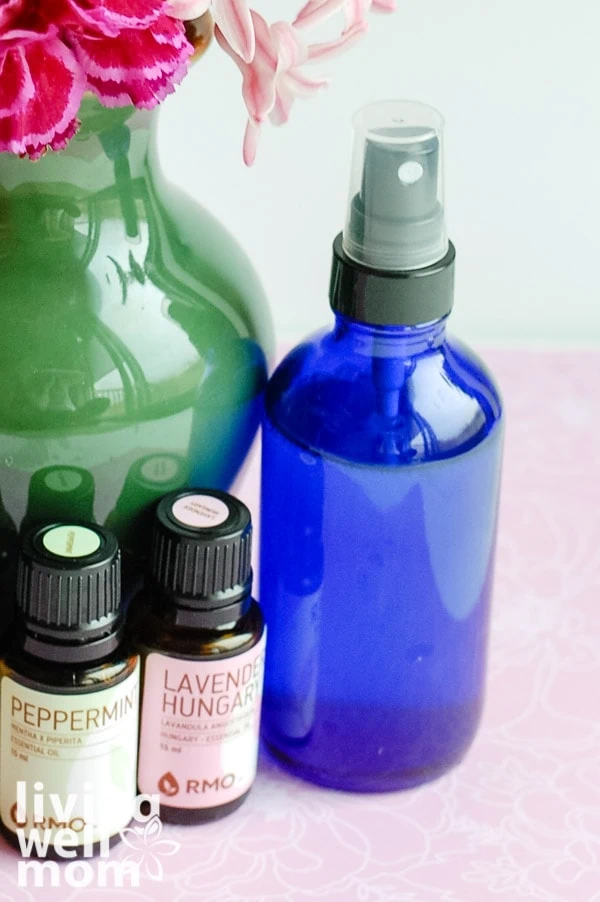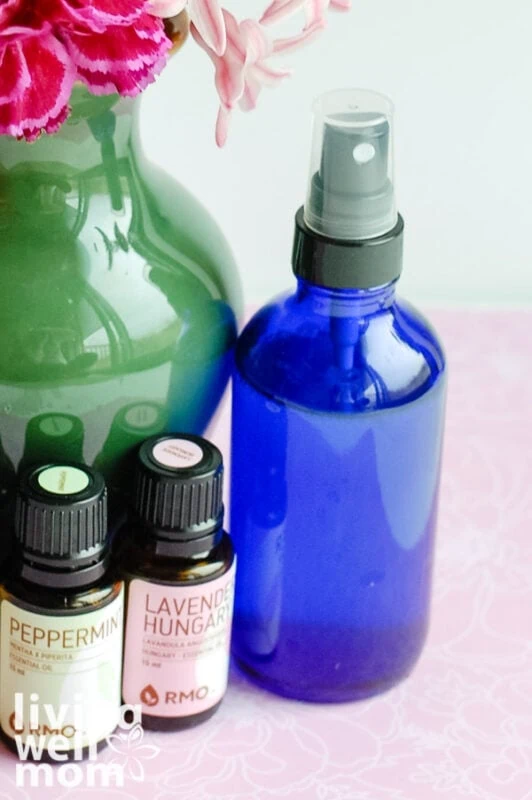 How do you deodorize a bathroom naturally?
Essential oils have the ability to eliminate unpleasant smells. All you need are a few drops of essential oils in a small bottle of spray to freshen up a bathroom.
I do highly recommend using at least one citrus essential oil because they have particularly strong deodorizing capabilities.
Why use rubbing alcohol in poo pourri spray?
Rubbing alcohol helps dissolve essential oils into water-based sprays so that the ingredients mix. If you don't have rubbing alcohol or would prefer not to use it, you could substitute it with witch hazel.
I hope you love using this homemade poo spray! What DIY toilet spray blend ideas do you have that you could share with us in the comments?
More Essential Oil DIYs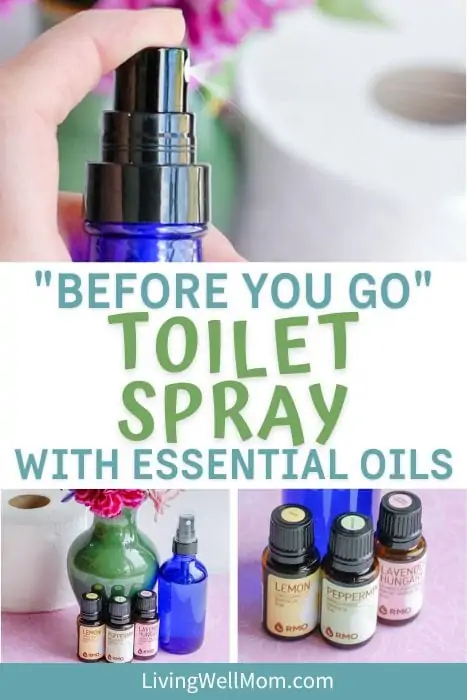 Print
DIY Poo Pourri "Before-You-Go" Spray
Make this easy essential oil spray to naturally deodorize your bathroom before and after you "go."
Instructions
Add 1 tsp of isopropyl alcohol to an empty glass 4oz spray bottle. A plastic measuring cup that comes with kids' liquid ibuprofen works well for this.
Begin adding the essential oils. I started with 15 drops of lemon essential oil
Then I added 15 drops of peppermint essential oil.
Lastly, add 15 drops of lavender essential oil.

Fill the rest of the bottle with water. Then shake it up to mix everything together.