Have you ever wanted a natural way to deodorize your bathroom? This homemade "Before-You-Go" bathroom spray is easy to make and you can choose your favorite scent. And it only requires three things – a spray bottle, isopropyl alcohol (often called rubbing alcohol), and your favorite essential oils!
Each year my mother insists on buying me the name brand "Poo-Pourri" and puts it in my Christmas stocking. (gee – thanks mom!) But I do have to say it works really well. Unfortunately, there are no ingredients listed on the bottle and there is a warning to use in a "well-ventilated area" along with additional warnings to "keep away from children," " avoid eye contact," etc. If our bathrooms were ventilated enough, wouldn't we not need anything else to cover up odor? I wonder how safe this product is.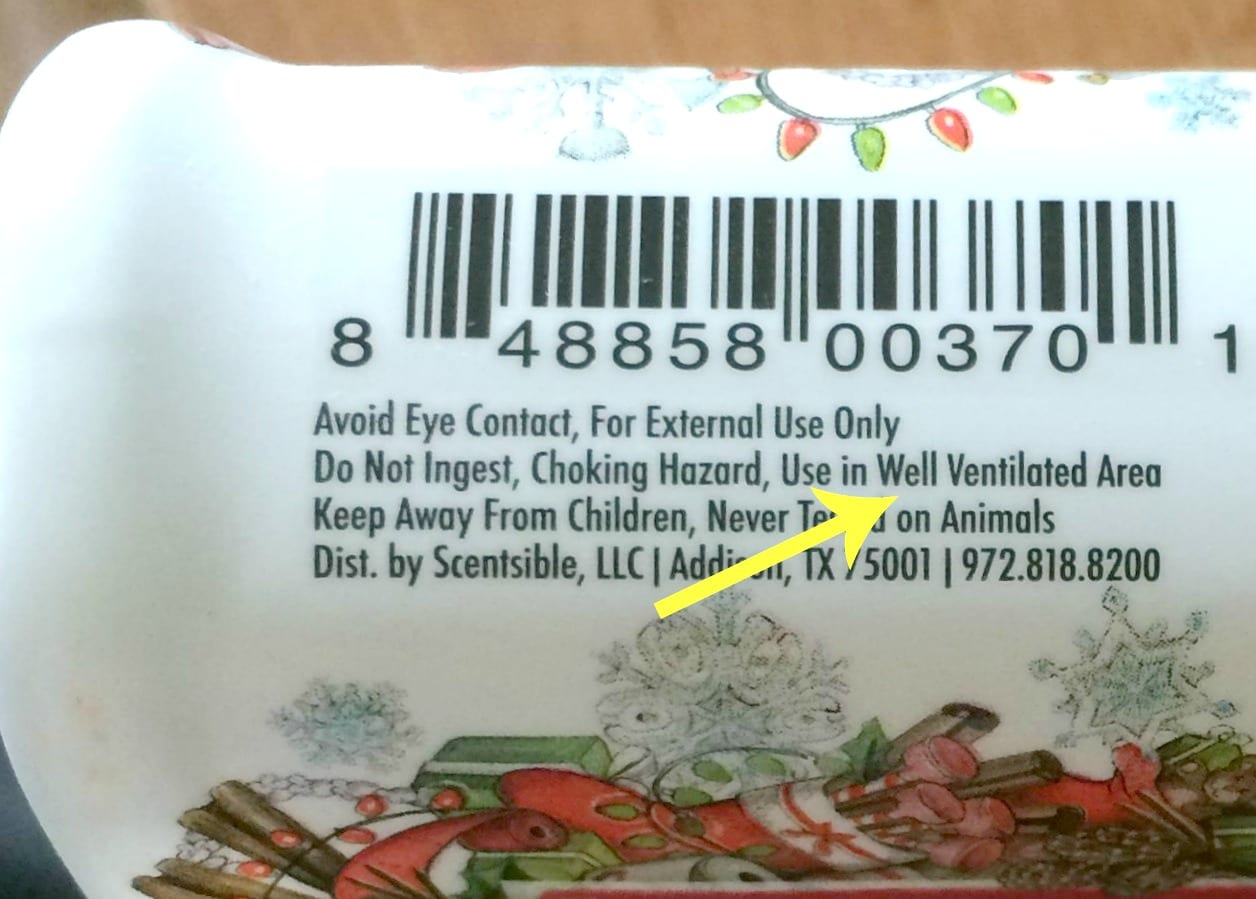 That's why I'm glad that there is an easy alternative with more natural ingredients. Today, I'll show you how to make this homemade "Before You Go" bathroom spray.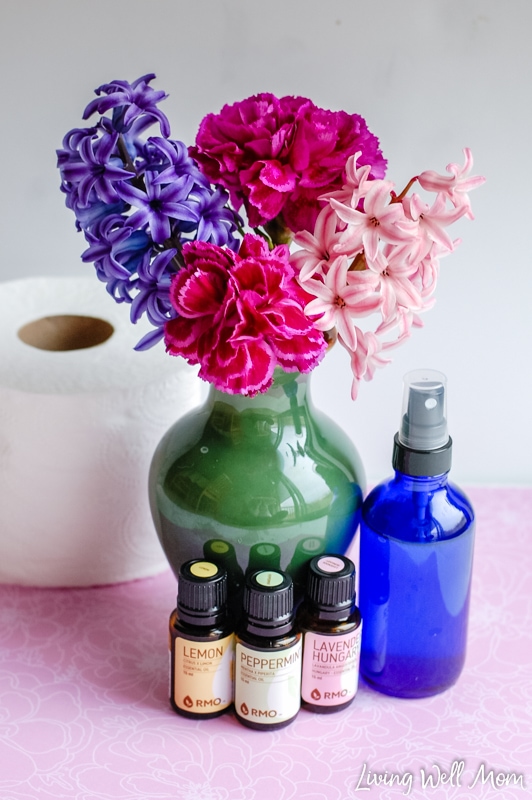 What You'll Need to Make Homemade "Before-You-Go" Bathroom Spray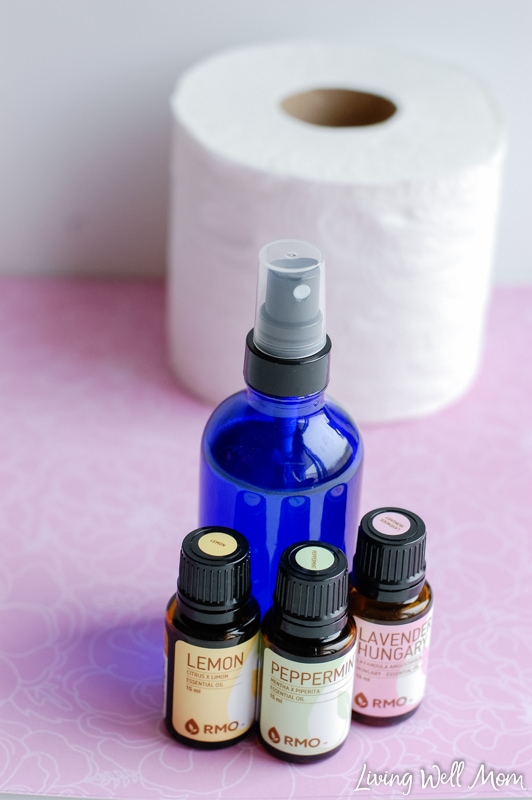 Be sure to use a glass bottle for this because any citrus-based essential oils will corrode any plastic bottles (like lemon, lime, grapefruit, etc.)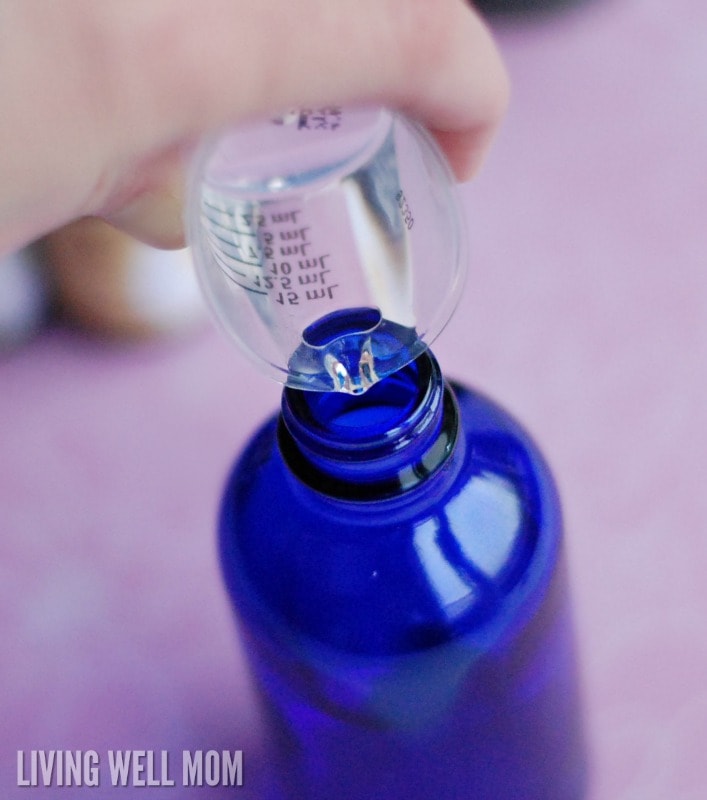 To start, add 1 tsp of isopropyl alcohol to your empty glass 4oz spray bottle. I used one of the plastic measuring cups that come with kids liquid ibuprofen. I bent it a bit so it was easy to pour into the small hole of the glass bottle.
The next step is to add your essential oils of choice. I chose to start with 15 drops of lemon essential oil.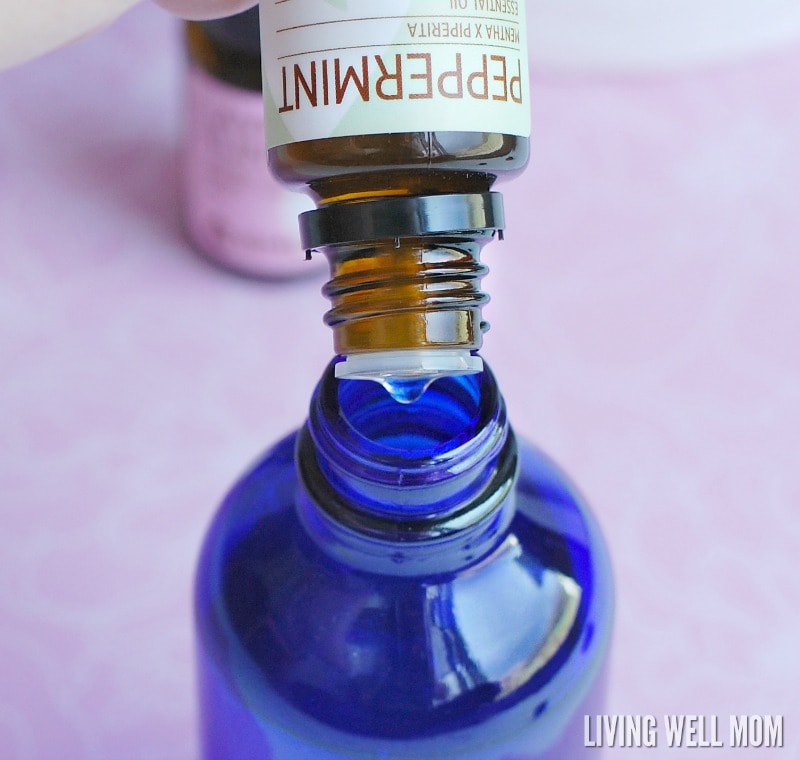 Then I added 15 drops of peppermint essential oil.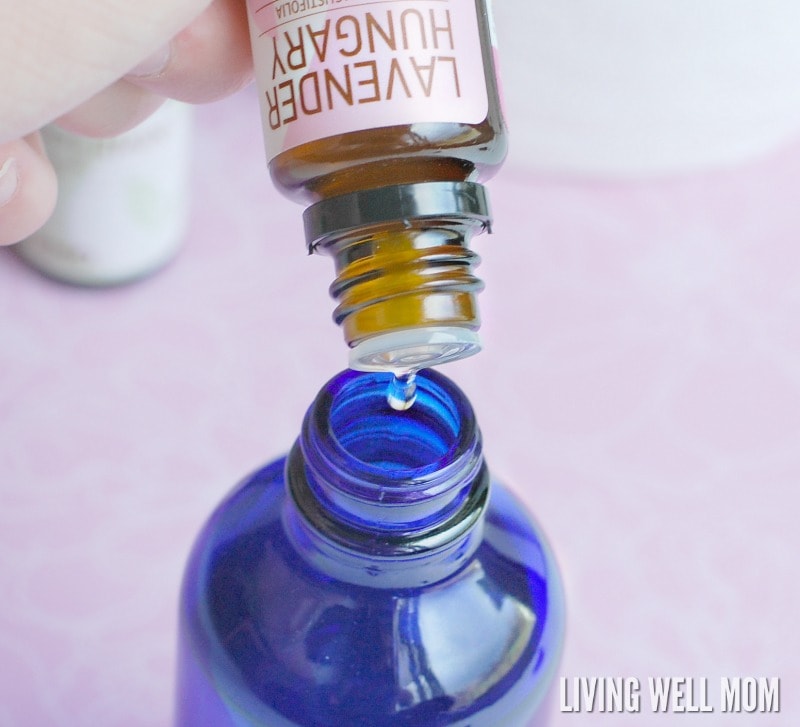 Lastly, I added 15 drops of lavender essential oil. You can play around with different combos you like best. I found that using at least one citrus scent in the blend covers bathroom odors better than just a flowery scent alone (like if you were just to use lavender alone.)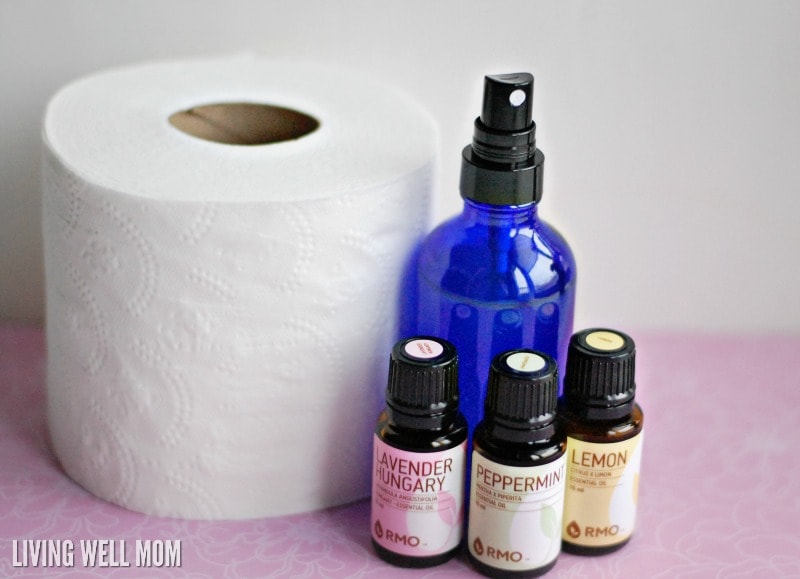 Once the alcohol and essential oils are added to the empty glass bottle, just fill the rest of the bottle with water.
Now you can test your "Before-You-Go" bathroom spray.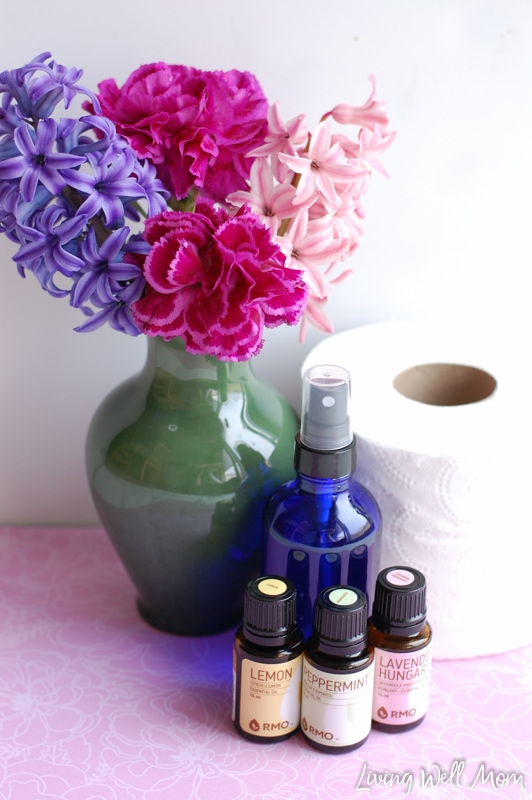 How to Use Your Homemade "Before-You-Go" Bathroom Spray
Spray your homemade "before-you-go" bathroom spray first "before you go" right in the toilet bowl. The alcohol and essential oils should create a barrier of surface tension on the water to trap in the odor. Spray again after you go for even better odor coverage.

This works great just as an everyday room air freshener as well!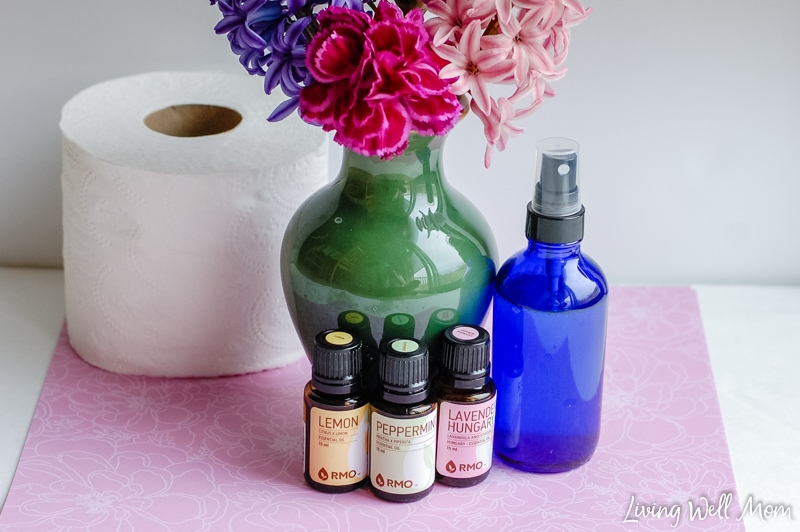 It would also be fun to create some seasonal blends for homemade "before-you-go" bathroom spray, like a cinnamon orange for the fall, pine scented for Christmas time – and a lemon rose combo for the spring.
What blend ideas that you could share with us in the comments?
For More DIY inspiration, check out these posts:
All-Natural Homemade Body Wash
Homemade Epsom Salt Foot Bath with Lavender
Natural Homemade Foaming Face Wash
Homemade Coconut Shaving Cream
Homemade Rosemary Citrus Goat's Milk Soap
How To Make Easy Homemade Bath Bombs With Essential Oils
Easy All-Natural DIY Toilet Cleaner Fizzies