No one loves cleaning the toilet, but I've found an easy way to do it naturally with DIY toilet cleaner fizzies! Not only do they look cute (what other toilet cleaner can make that claim?!), they're fun to watch while they fizz in the toilet bowl! Let's just say that my 2 year old daughter has never been so "helpful" in wanting to help me clean the bathroom before!
I'll show you to make this easy homemade cleaner today…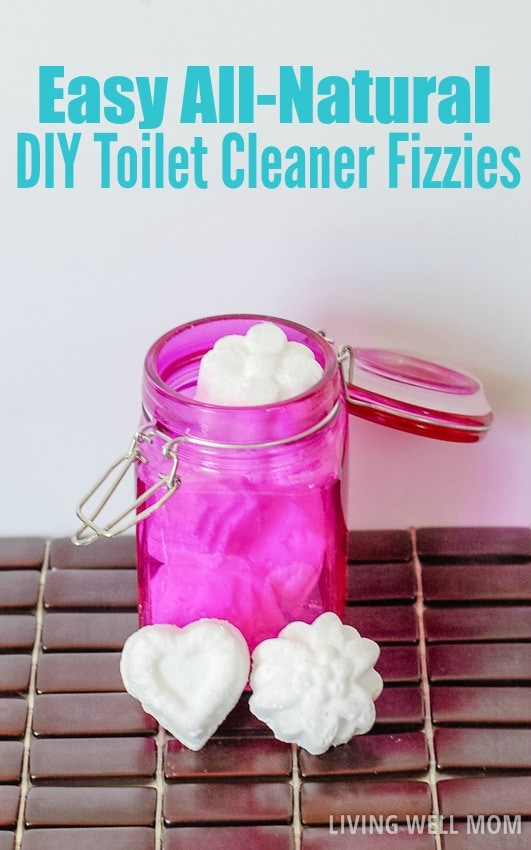 What You'll Need to Make All-Natural DIY Toilet Cleaner Fizzies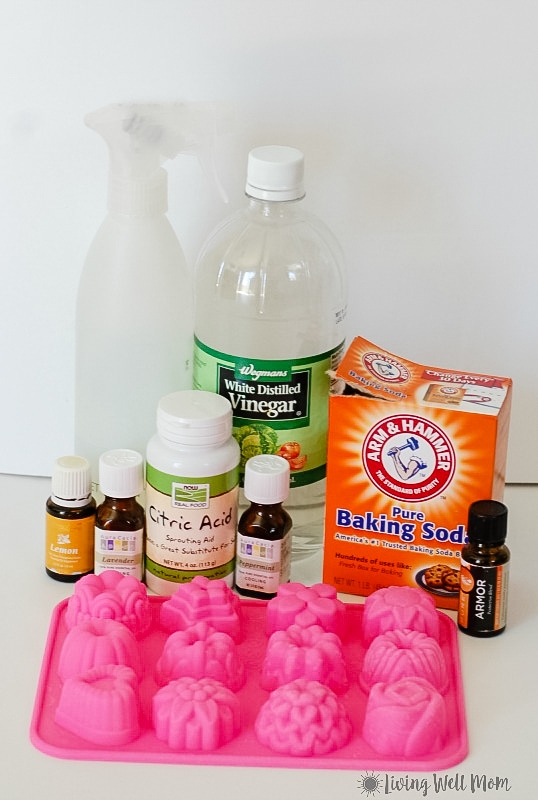 In a large bowl, stir together baking soda and citric acid until well combined.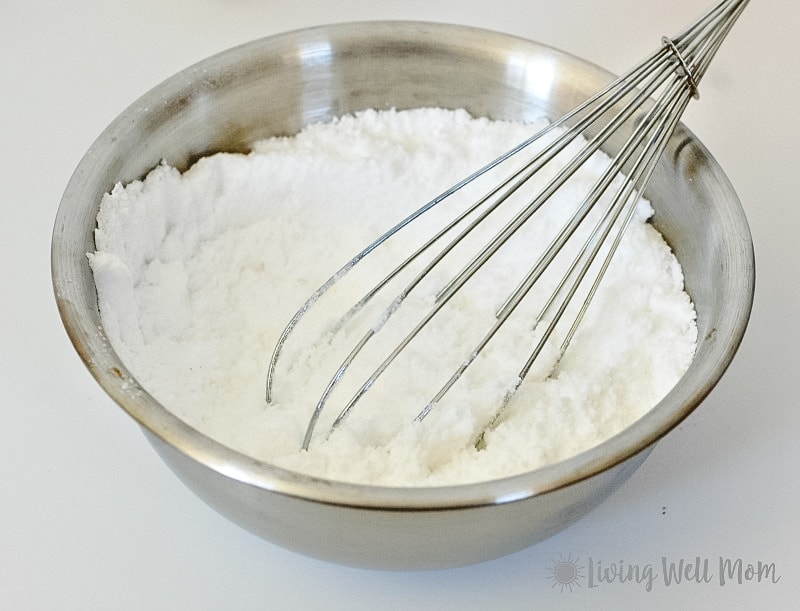 Add the essential oils and stir to mix thoroughly. I recommend using a metal whisk as it does a great job of breaking apart the drops of oil throughout the mixture.
Place vinegar in spray bottle and spritz baking soda mixture lightly. You will see a small fizzing action, but it will quickly stop. You do not want to soak it or you will cause the fizzing reaction (baking soda + vinegar reaction) to occur too much and it won't be effective for cleaning.
Spritz and stir, then repeat. Continue doing this until it is just barely misted enough so that it sticks together when squeezed but not dripping. You want it to be moldable like wet sand – but just barely wet!
Here is the fun part where you can either get the kids involved, or pretend you are on the beach making your own sand castles! 🙂 Take a handful of the mixture and firmly press it into each of the 12 silicone molds. You may see them "grow" a bit from the vinegar + baking soda reaction as it dries. I just kept pushing them firmly into the mold to keep their shape. It will take a couple of hours for your toilet cleaner fizzies to fully dry. I let them sit over night before I popped them out of the molds.
Pop them out of the molds and store them in a mason jar or similar container. That's how you make all-natural DIY toilet cleaner fizzies!
Simply drop one of the fizzies into the toilet, let it fizz for a couple minutes, then scrub your toilet clean. You'll love how clean your toilet is without any chemicals either!!
Don't be surprised if your kids suddenly want to help you clean! They'll love the fizzing action with this DIY toilet cleaner!
Looking for more ways to clean using essential oils? Check out these posts: