Having a long day? If so, I've got the perfect thing to give you a little budget-friendly self-care at home. These DIY bath bombs are a breeze to make with essential oils and items from your pantry, and they'll add that special spa-like quality to your next bath!
Life throws curveballs our way and can be stressful at times. As moms, we know that to be true for ourselves, but it's also true for our kids! That's why I've shared several different ways to relieve stress for the whole family, including a DIY stress ball for kids and tips for finding less stress and more joy for moms.
Whether it's me or one of my kids that are in desperate need of a relaxing experience, one of my favorite ways to relieve stress is to soak in the bathtub.
A luxurious bath is one of the most effective ways to let go of what's bothering you and just enjoy the moment. Toss in a bath bomb, and you have an effervescent spa-like retreat right at home.
Unfortunately, buying bath bombs can be a budget buster.
But I have great news: you can EASILY make your own bath bombs, and today I'm going to show you how. These easy homemade bath bombs are perfect for a DIY pampering session for yourself (or your kids)!
I've infused this DIY bath bombs recipe with lavender and chamomile essential oils because both are known for their relaxing qualities. This way, you can enjoy a little aromatherapy during your bath too.
I recommend you double the batch and give some to a fellow mom in need. These make great DIY gifts because everyone loves them! Make sure to keep a few for yourself, though. 😉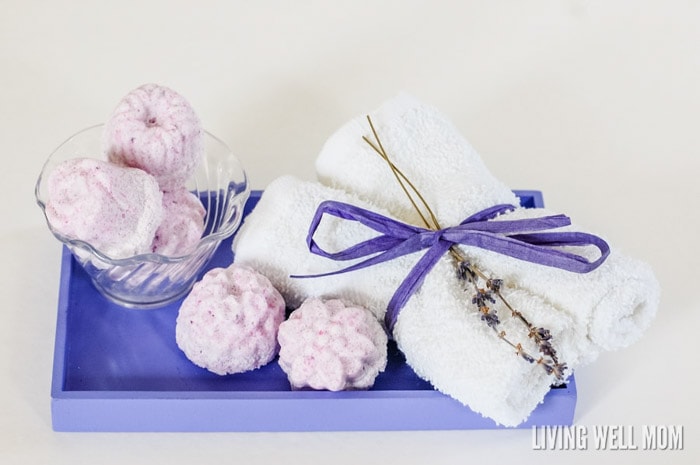 Supplies
Here's everything you'll need to make this project. You probably already have most of these supplies at home!
*Note: You can use any combination of your favorite essential oils. Just remember, a few drops go a long way!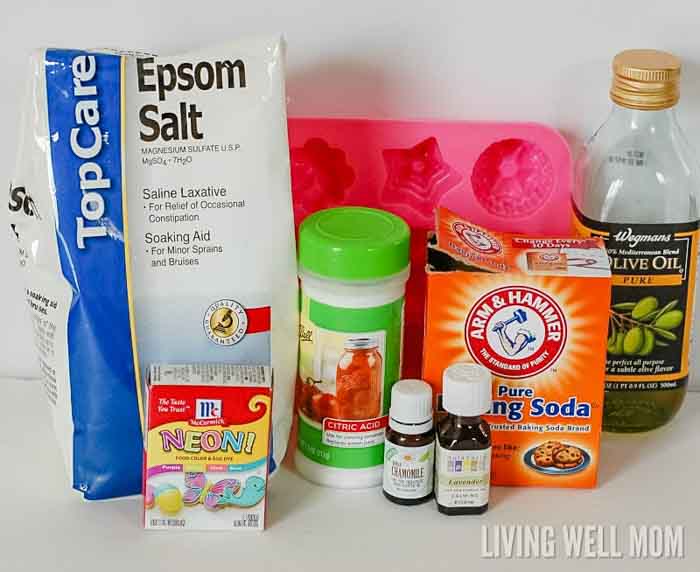 How to make DIY bath bombs
You're going to love how simple this project is! Just follow these instructions, and in a short time, you will have several homemade bath bombs that you can give as gifts or use to pamper yourself.
Step 1
Combine together the dry mixture first (baking soda, Epsom salt, and citric acid) in a large bowl.
Step 2
Then, pour 3 teaspoons of olive oil and 1 teaspoon of water into your mixing bowl. The mixture will fizz a bit after you add the water.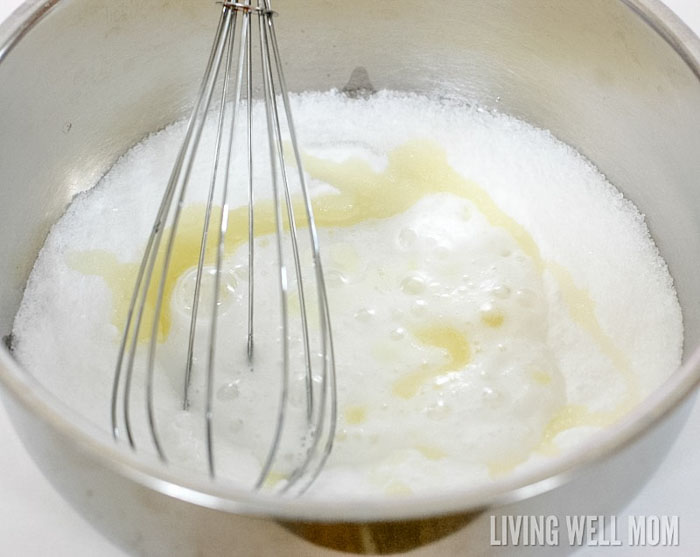 Step 3
Mix well with the whisk. Add the essential oils and mix again.
Note: I used 15 drops each of lavender and chamomile. Remember, you do not have to use these oils – you can make a combo of your choice. Lavender and chamomile go nicely together, have a nice scent, and are ideal oils to create a relaxing bath, so that's why I chose these.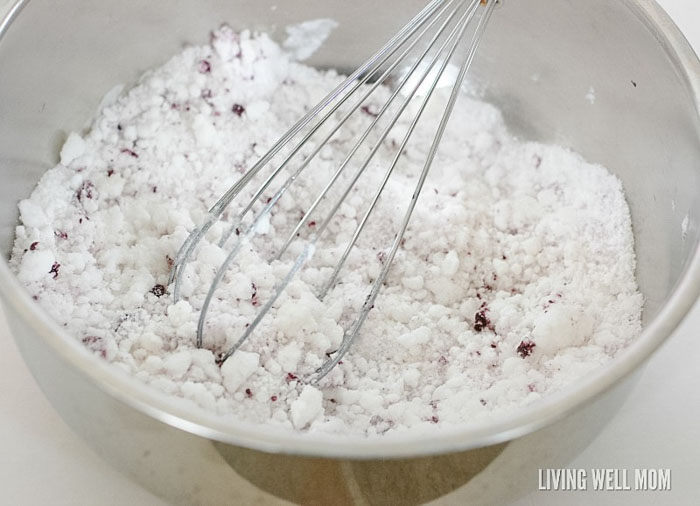 Step 4
Next, add 3 drops of food coloring. Since we are using lavender oil for these homemade bath bombs, I chose to use neon purple food coloring
.
Stir in the food coloring well until it is blended and there are no big clumps of colored powder. The mix should only have enough moisture to just barely hold together.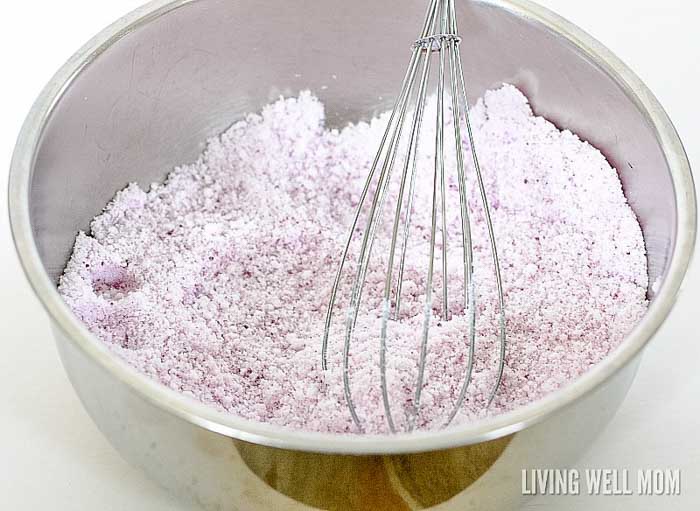 Step 5
The next part is fun and a good time to get the kids involved (if they haven't been helping you already with the stirring.) This part makes it feel like you are on the beach building sand castles!
Take the moist bath bomb "sand" and firmly compact it into the silicone mold. This step can get a bit messy, so I recommend doing it over a cookie sheet for easy clean-up.
Pro Tip: Once you fill in your silicone mold, GENTLY tap it on the counter to release any air bubbles that may be trapped inside your mixture.

Let them dry fully for 1-2 days, gently pop out and enjoy!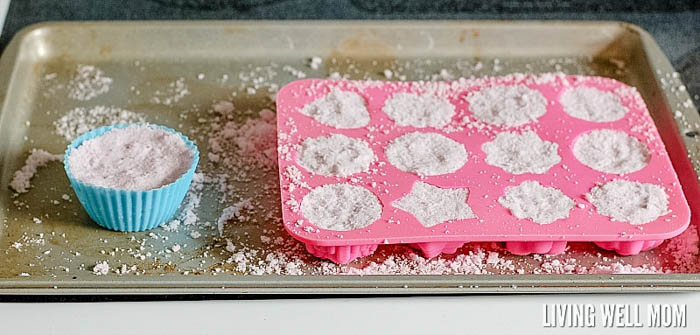 DIY bath bombs notes and tips
With the amount this batch makes, there was enough left over for a larger bath bomb that I put into a silicone cupcake mold. (This is the extra special bath bomb just for mom!)
If you use different bath bomb molds, you may have more or less mix left over.
The bath bombs may expand a bit in the mold while drying. You can push them back down into the mold. Keeping them in a cool place while they are drying will help minimize how much they expand. When they're fully dry (24-48 hours), gently pop them out of the molds.
FAQs
I've been making our own bath bombs for a while now, and I tend to see some of the same questions repeatedly about them. I'm answering a few of them below in case you had the same question too!
How do I store DIY bath bombs?
I recommend storing your homemade bath bombs in a glass jar (or another airtight container) in a cool place with low humidity. If it is warm or the sun beats down on them, they can melt and stick together.
It's also very important to keep any moisture away. Make sure your hands are completely dry before reaching for one of these, or you'll inadvertently activate them all!
How do you use bath bombs?
Not only are bath bombs easy to make, but they're easy to use. All you have to do is drop the bath bomb into the bathtub and watch it start to fizz. You can (and should) be in the bath while it's fizzing to take advantage of the pampering benefits.
Adults love using bath bombs as a relaxing part of a bath. But kids DELIGHT in the experience, so if your kids don't like taking baths, using bath bombs can be a game-changer.
Do DIY bath bombs make good DIY gifts?
Yes! And the best part is that they are completely customizable because you can change the essential oils, fragrances, and color, so you can tailor them to anyone.
For example, peppermint and eucalyptus would be a good invigorating and uplifting mix.
What is the price difference between buying bath bombs and making your own?
The cheapest I can ever find bath bombs in stores near me is about $2.50 – $3.00 per bath bomb. I've occasionally seen them on Amazon for around $1.75. However, these bath bombs cost me roughly $0.50 each to make! If you enjoy a rejuvenating bath bomb experience, making them is definitely more affordable.
I hope you love this DIY bath bomb recipe as much as we've enjoyed it. I've made a few batches of easy homemade bath bombs with essential oils for myself, for my kids, and to give as gifts. They are fun in the tub with a fizzing action the kids love – and I love the relaxing powers of the essential oils.
More DIY body product inspiration
If you love DIY bath and beauty products with essential oils, check out these other ideas.