Here is an easy DIY shower cleaner recipe that is an amazing soap scum remover. You can make this homemade shower spray with just 4 easy ingredients and it's powerful and gets rid of any soap scum grime that has been building on your bathtub, shower, and glass doors! It's simple to make and all you do is spray it on, wait a few minutes, then wipe away. So easy!
I would say that this is the best DIY shower cleaner because it is so easy to make, and so effective for cleaning!
A Powerful Homemade Shower Spray
Ingredients Needed to Make Your Vinegar Shower Cleaner:
This DIY cleaning recipe makes 16 oz.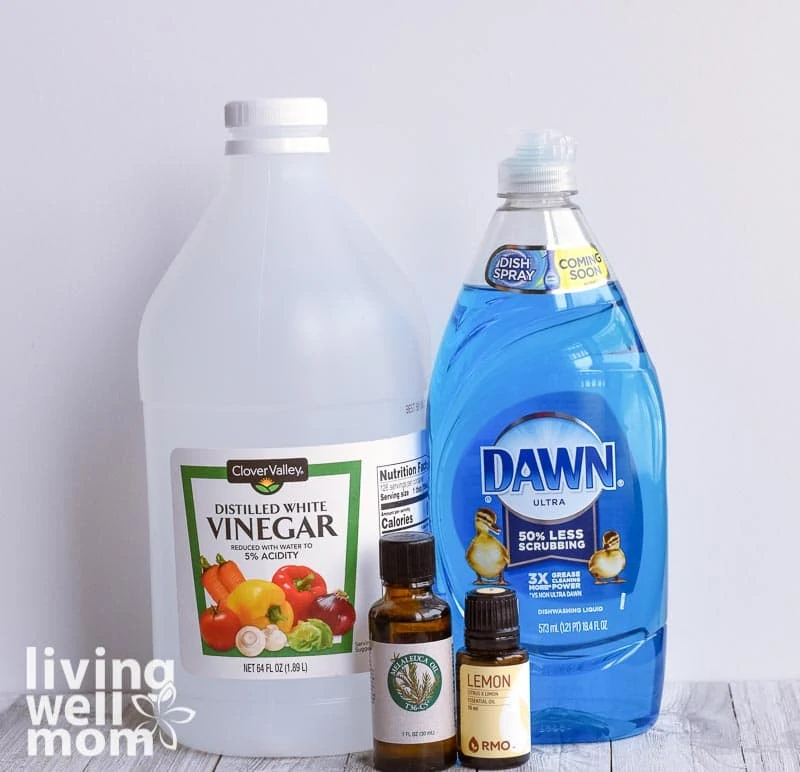 Video Tutorial:
How can I make my own homemade shower spray that is a great soap scum remover?
This Shower Soap Scum Remover with Dawn, vinegar, and essential oils can be mixed up in less than 5 minutes!
You will use a 2:1 ratio of distilled white vinegar to Dawn dish soap.
Step #1 Start by pouring 2/3 cup of Dawn Dish Soap into your glass measuring cup.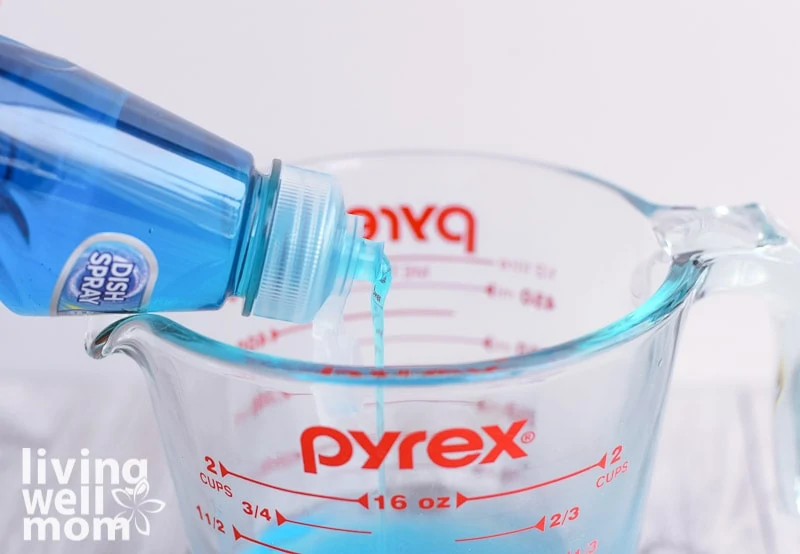 Step #2. Then add 1 & 1/3 cup of distilled white vinegar.
Why Is Vinegar Good For Cleaning Showers?
Vinegar is made up of about 4% acetic acid. Distilled white vinegar has a pH of around 2.4 – making it a stronger acid than coffee or orange juice. The acid in vinegar is what can dissolve away soap scum, hard water stains, general laundry stains, or even glue residue from stickers. Vinegar is also the main ingredient of this DIY Natural Fruit and Veggie Wash Spray & Soak. We often find soap scum and hard water stains in our shower which is why vinegar is the main ingredient in this soap scum remover DIY tub cleaner.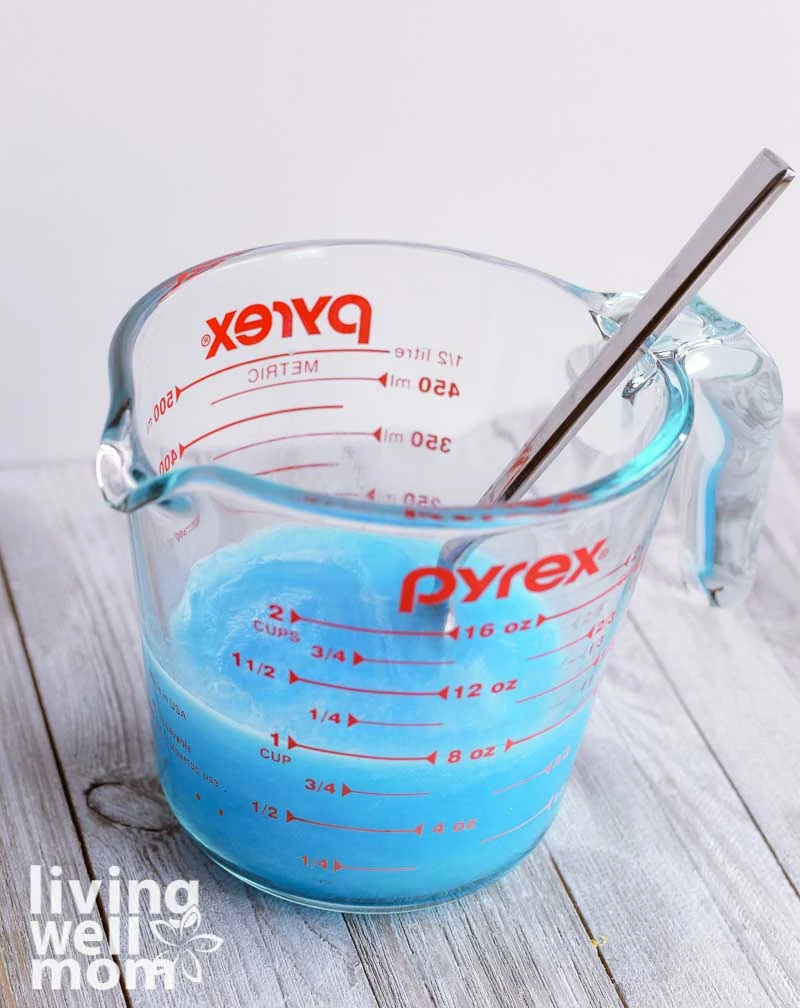 After you have mixed the vinegar with the dish soap, its time to add essential oils.
The best essential oils for cleaning your tub or shower are lemon and tea tree essential oils. Lemon is great because it helps cut through grime and soap scum. Tea Tree essential oil has antibacterial, antifungal properties that can help prevent mold. A third optional essential oil you may want to use is thyme because it can help prevent mold as well!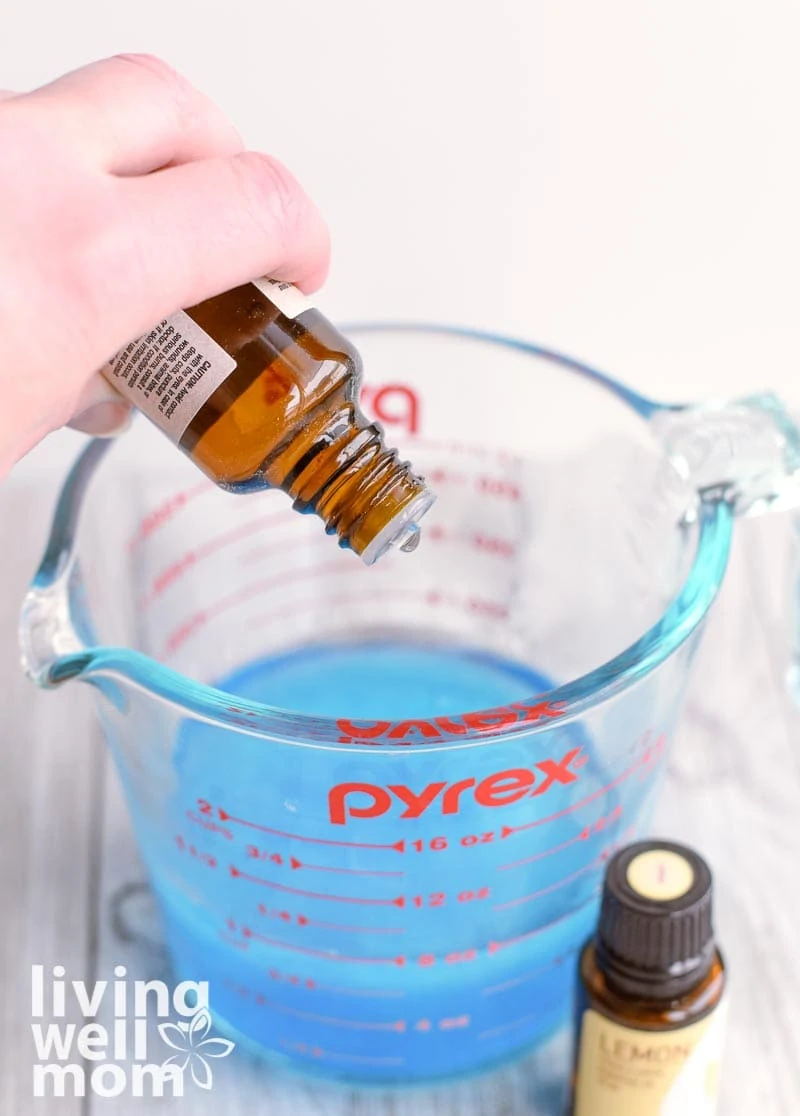 Step #3 To continue making your DIY bathtub cleaner, add 10 drops each of lemon and tea tree essential oils. (Optional add thyme essential oil too.)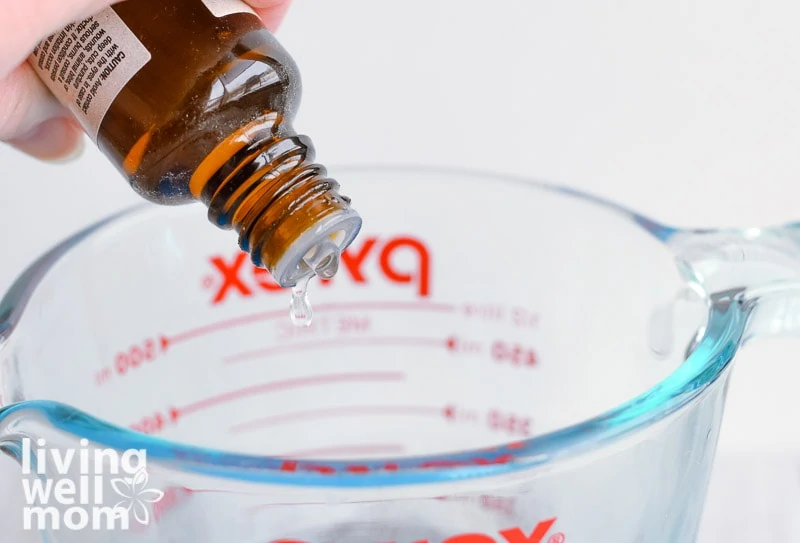 Step #4 Stir up these ingredients well and pour them into your 16 oz. glass spray bottle.
Go here where you can download these free printable labels for both this soap scum remover recipe and the daily shower cleaner recipe. I've also included a label with the ingredients for your convenience.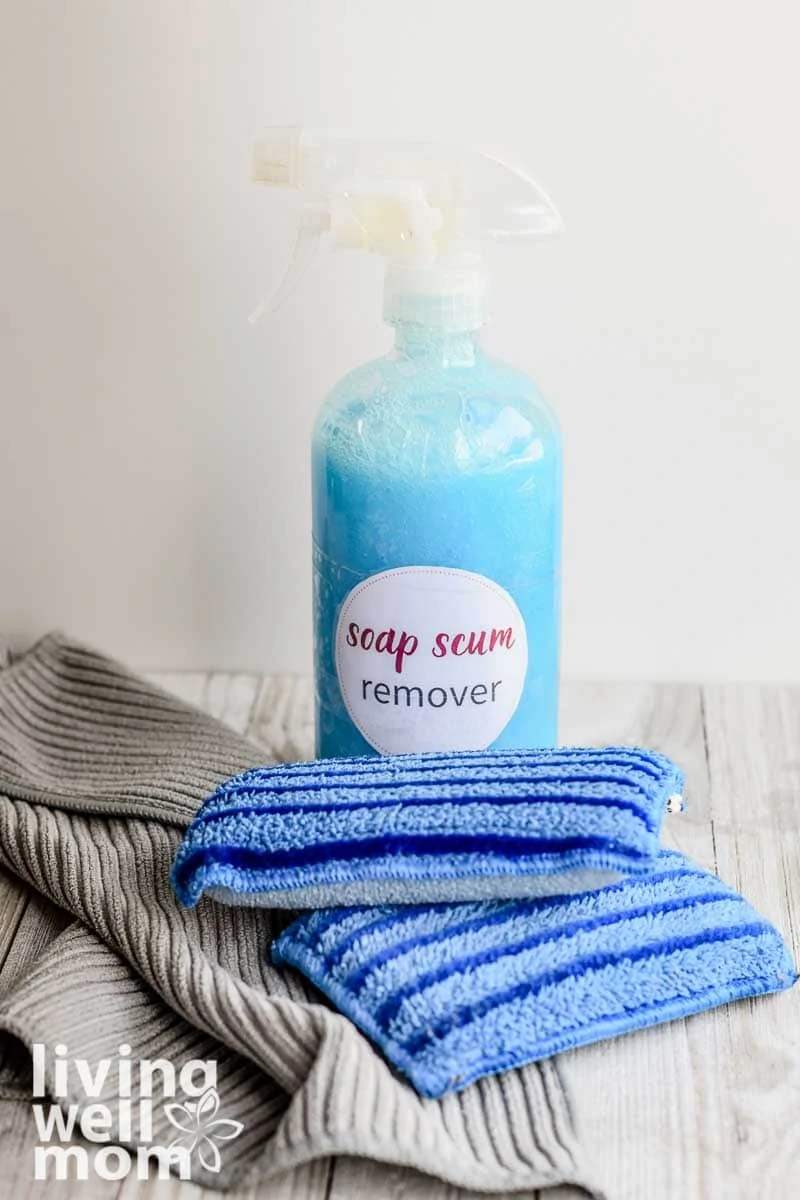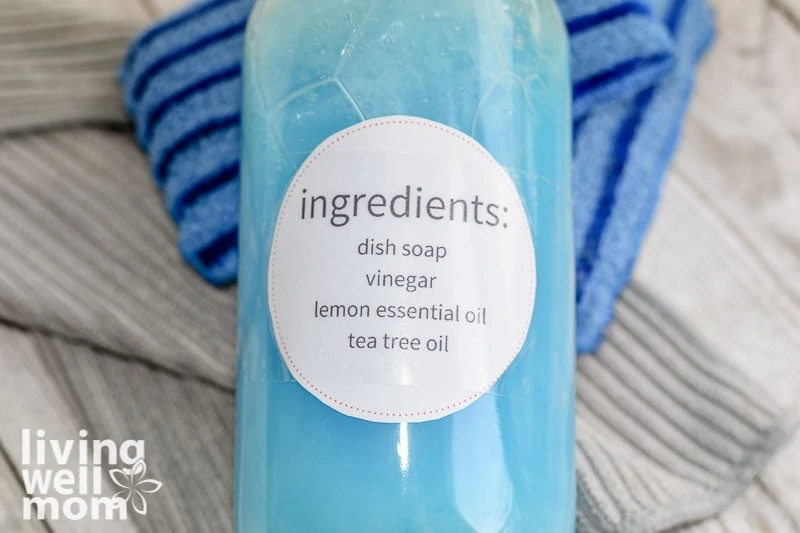 How to Clean Your Shower:
When you spray your cleaner, you may want to turn your shower fan on because there is an intense odor from this combination. I will say though, while I do not like the smell of vinegar and actually avoid using it in homemade cleaners, the addition of the dish soap and essential oils makes it bearable enough for me to want to use!
Spray on your homemade shower spray and let it sit for about 5 minutes to give it time to cut away at some grime you may find in your tub.
Then use a damp sponge and wipe it away! You may need to use a little elbow grease, depending on how thick the layer is of soap scum, but this will do the trick of removing it!
Bonus shower cleaning tip: I have a shower/tub combo and there is a lip where the shower wall meets the tub. It is the most difficult place in my bathroom to keep clean because of a lot of grime that builds up where the two meet. It is also too small of an area for a sponge to get into. My secret to cleaning this is to use a shower water pick that can be used to clean your teeth. After I installed one for my dental health – I realized how amazing it was at reaching in that crack and squirting out all of the gunk that is seemingly unreachable!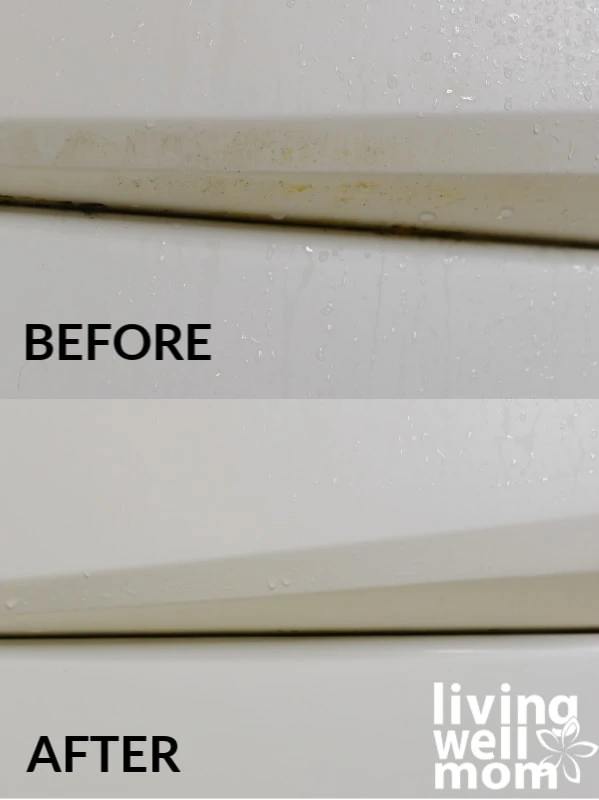 How to Remove Soap Scum (from shower doors and walls):
You can see in my before and after picture below that, there was noticeable soap scum build up on my tub floor. After you spray it with the DIY tub cleaner and scrub it with a sponge, it disappeared! The same is true for shower doors and shower walls as well!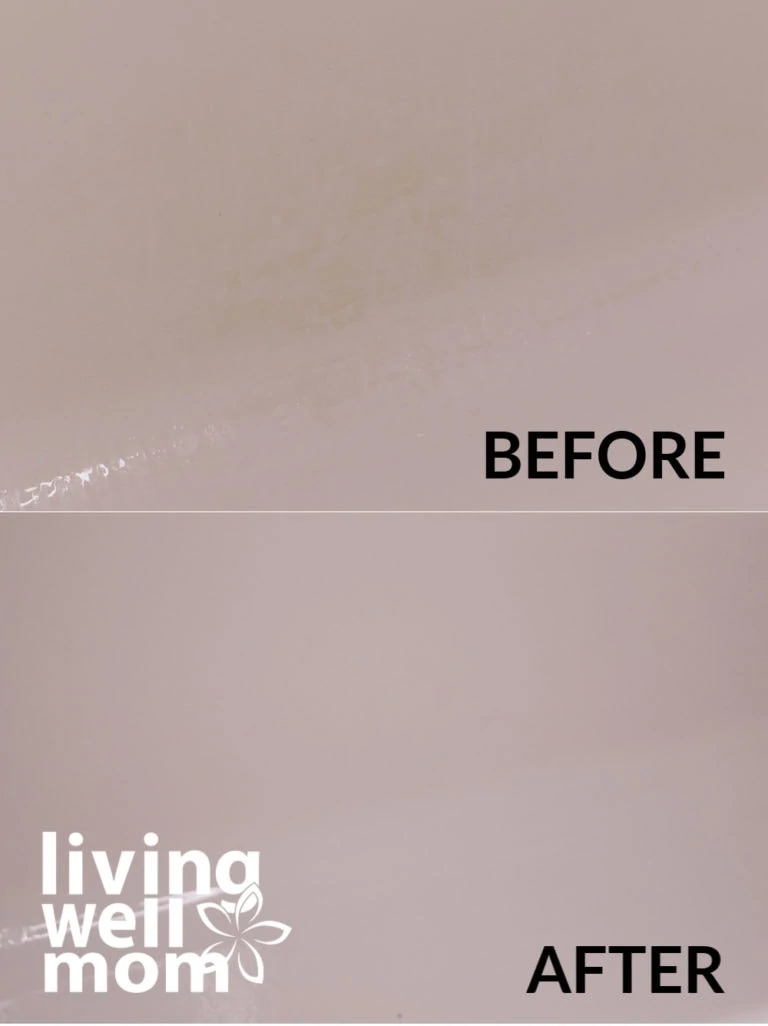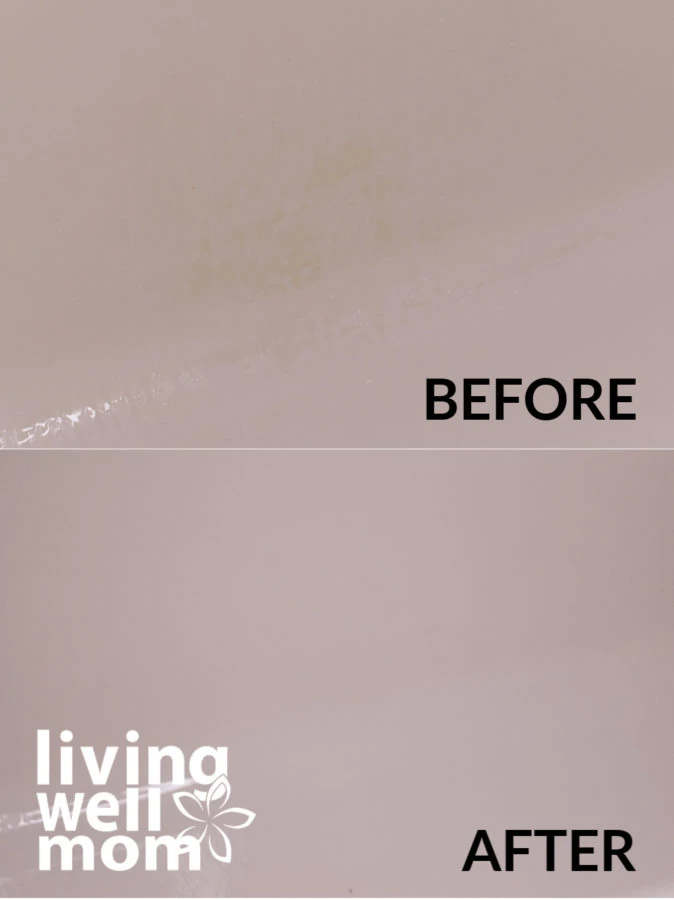 If you are looking for a DIY shower cleaner that is easy to make and is actually effective at cleaning, then this recipe is all you need!
If you use this, I'd love to hear this works for you, especially compared to commercial shower cleaners. (Personally we found this worked better and I am more comfortable using this with my family because there are less chemicals!)

Which Essential Oil Brand is Best?
For the best results, you will want to choose a high-quality essential oil brand that is 100% pure and offers third-party testing for quality control. Read this post for more info on how to choose essential oils that work for you and your family (beyond the brand.)
My favorite essential oil company is Rocky Mountain Oils, followed by Eden's Garden.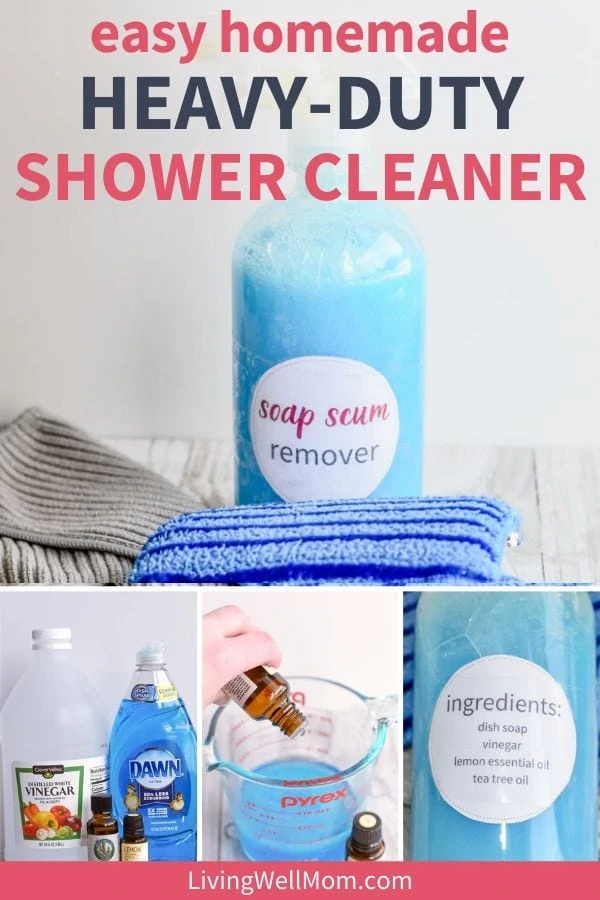 For More Natural Cleaning Recipes, check these out:
Print
Homemade Soap Scum Remover Recipe
A simple yet powerful homemade cleaner that will remove stubborn soap scum and built-up grime and keep your bathtub/shower sparkling clean.
Author:
Prep Time:

5

Total Time:

5 minutes

Yield:

16 oz

1

x
Instructions
Start by pouring 2/3 cup of Dawn Dish Soap into your glass measuring cup.
Then add 1 & 1/3 cup of distilled white vinegar.
Add 10 drops each of lemon, tea tree and thyme (optional) essential oils
Stir up these ingredients well and pour them into your 16 oz. glass spray bottle.
To clean: spray generously on your tub and shower walls and let sit for 5 minutes. Use a damp sponge to wipe down and scrub off soap scum.