Making your own homemade shampoo for kids is a great way to cut out unnecessary toxins, while also creating a custom DIY shampoo that you'll feel totally safe lathering your child's scalp with.
Whether you already live a 100% natural/organic lifestyle, or are trying to make small changes when you can (like me), this post is for you. This is a VERY easy way to get rid of unnecessary chemicals in your bathroom and in your child's personal care products.
Today I'm going to show you how to make
all natural homemade shampoo for kids.
This is just as easy as the
all-purpose cleaner
I showed you a bit ago, with similar ingredients in it as well. In fact, this homemade shampoo for kids smells so amazing, you may want to use this on your own hair too!
Benefits of Homemade Shampoo
I know making your own DIY shampoo may seem like a ton of extra work, but I promise you it isn't. Not only is this a super easy recipe to put together, but the benefits are well-worth any extra effort. Here are just a few of the benefits you can get with homemade shampoo for kids.
Customizable Formula
The shampoo recipe below is a basic one, but the benefit of making your own is you can customize it and add to it as needed. I opted to use lavender in this recipe as it is gentle (and smells great!), but you can swap it out for something else if your child has different needs.
All-Natural
Before I had kids, I could have never imagined actually making a DIY shampoo for them. But once I started learning about all the ingredients within those shampoo bottles on the shelves, I vowed that I would make my own instead. I love that I can rub this directly into my child's scalp without worrying about harmful, irritating ingredients.
Simple DIY Shampoo
Equally as important as the two benefits above is that this shampoo is easy to make! You only need 3 ingredients (1 of which is optional but recommended), and about 2 minutes of time to whip up a batch. Trust me, this DIY is easy!
Economical Solution
Last but not least, homemade shampoo is insanely affordable. The cost of kids' items can add up quickly, so it's nice to have a win here and there. This DIY shampoo costs pennies on the dollar when comparing to big brand organic shampoos.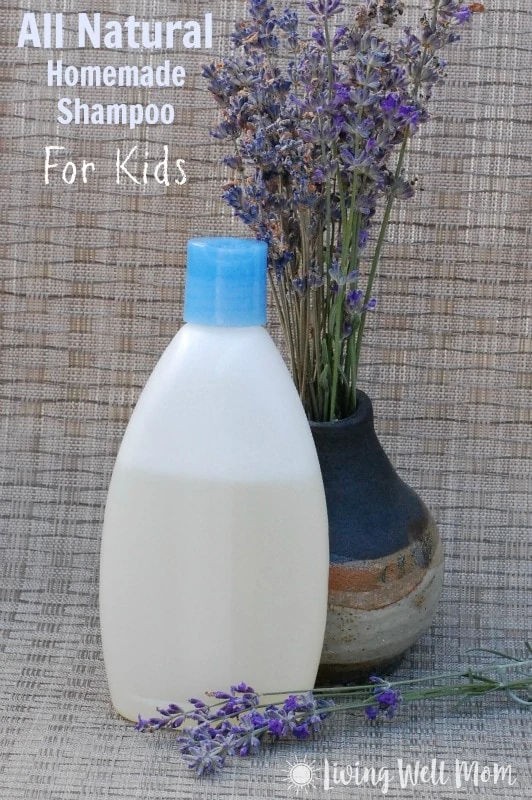 Pin the image above to save the shampoo recipe for later!
How to Make Homemade Shampoo
Okay, now that you know why it's worth your time to make DIY shampoo, let's chat about how to actually do it. As I promised, this DIY is simple and quick—two things every mom needs!
Supplies for DIY Kids' Shampoo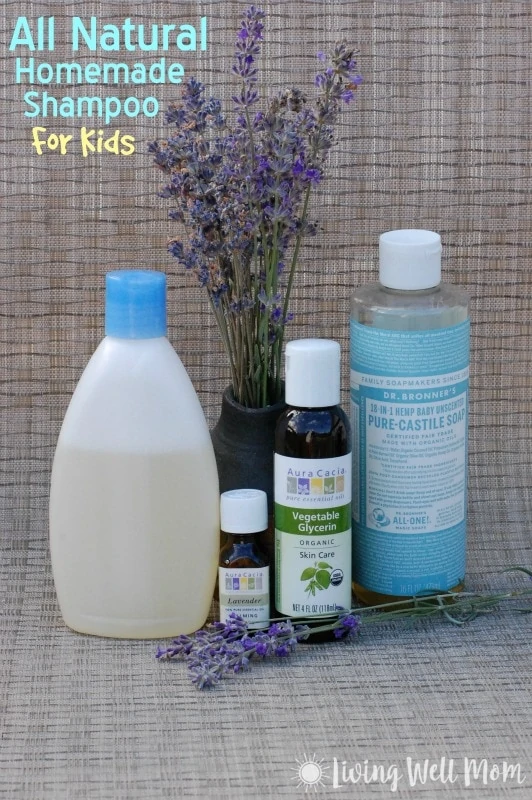 How to Make Homemade Shampoo for Kids
For this homemade shampoo, you will want to dilute Dr. Bronner's castile soap to a 1:1 ratio. You can add one cup of water to your empty shampoo bottle and add one cup of the liquid castile soap to your bottle.
Then add 1 tsp. of glycerin. The glycerin is important because this is what makes the shampoo sudsy. The castile soap is a great cleanser, but it doesn't get very sudsy on its own. If your kids like to play with bubbles in the tub, that's where the glycerin comes in. Plus, somehow it doesn't feel like shampoo without the fun suds!
Then add 10-15 drops lavender essential oil (or your favorite essential oil) to your shampoo. Swirl around a bit to mix together, and your shampoo is ready to use.
That's it – your homemade shampoo for kids is done! Easy like I promised, right?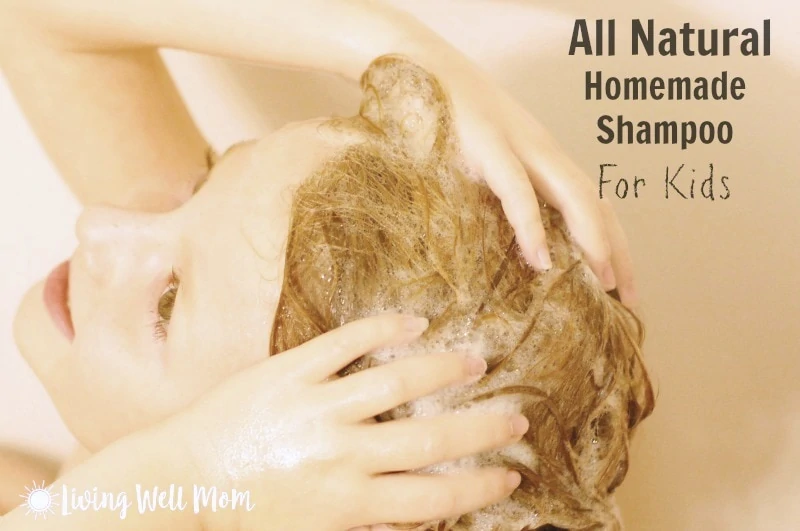 Other Natural Solutions to Try
By the way, you can make your own homemade body wash with the same exact ingredients as above (just at a different ratio). Here's my recipe for an all-natural homemade body wash. If you are making one, you might as well double up and make the other. 🙂
I'd love to hear what you use for natural health and beauty products. I am a big fan of this Easy Lavender Goat Milk Soap recipe – another natural way to keep yourself clean!
If your child happens to have a flaky scalp like one of my kids do, this Natural Flaky Scalp Treatment has been a total game-changer for our family.
I'd love to hear what other natural solutions you've implemented as a family—I'm always open to learning from other moms!