If you have ever dealt with a dry, flaky scalp you know how uncomfortable (and even embarrassing) it can be. There are a ton of products out there that claim to get rid of it, but I prefer to go about things without chemicals and harmful ingredients whenever possible. That's why I started researching natural remedies for dandruff in the first place. Not only have I found an easy method that works for me, but it's 100% natural!
My kids are prone to getting flaky scalps, especially this time of year when it's so cold and the heat is on, resulting in a very dry environment. Also called dandruff, flaky scalp can be very unsightly and annoying. Even my husband and I occasionally get a little "flaky scalp."
Well, no longer!
Natural Flaky Scalp Treatment
Since I try to avoid chemicals, including the ones found in many of the typical dandruff shampoos and treatments, I have found perhaps the most simple of natural remedies for dandruff out there! This simple flaky scalp treatment remedy that works wonders on this common winter problem.
Recommended by our family doctor, this is an effective natural alternative to harsh chemicals. It's safe to use on young children (my doctor okayed this when Luke was two and we used it without any issues) and also works well for adults.
Plus, this natural remedy for dandruff is so easy and so natural, you'll probably wonder (as I did!) why you didn't think of it sooner! (Unless you already have, in which case, pat yourself on the back!)
How to Make a DIY Natural Dandruff Treatment for a Flaky Scalp
Okay, let's get down to it! This effective treatment just takes a few minutes to put together.
Natural Flaky Scalp Treatment Ingredients
This simple DIY only requires a couple of ingredients (literally!).
coconut oil: coconut oil is moisturizing and can also help balance the pH of your skin.
tea tree oil: tea tree is anti-fungal, and can help reduce the itchiness of a flaky scalp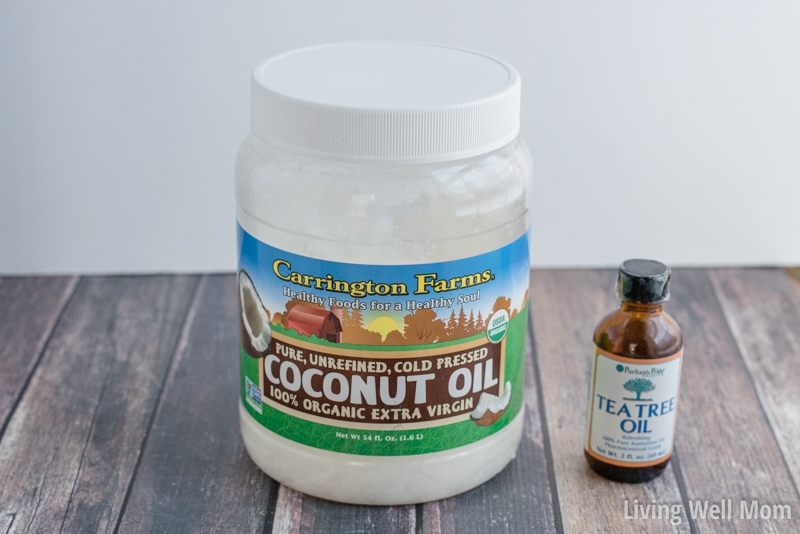 I don't have the best brand of tea tree oil and it still works very well so don't worry too much about the quality for this particular remedy.
*Update: Since writing this post back in 2016, I've become a Certified Essential Oil Coach from the Essential Oil Institute. So I'd definitely suggest using a high quality oil for the best results. As for tea tree oil, I prefer Eden's Garden.
How to Make and Apply this Natural Flaky Scalp Remedy
Here's Luke, the youngest of my four children, and he agreed to let me take photos of him as I show you all how I treat his flaky scalp. As you can see, he's got some icky flakes going on.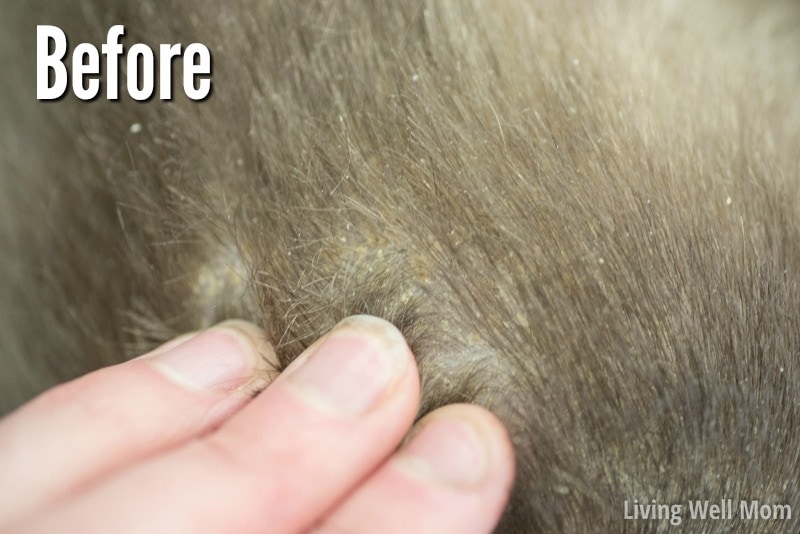 Start by melting a spoonful of coconut oil between your hands.
By the way…I asked my husband to step in for this part because it's a bit tricky to warm up coconut oil in your hands while taking photos. It kinda wasn't something I wanted to try, you know?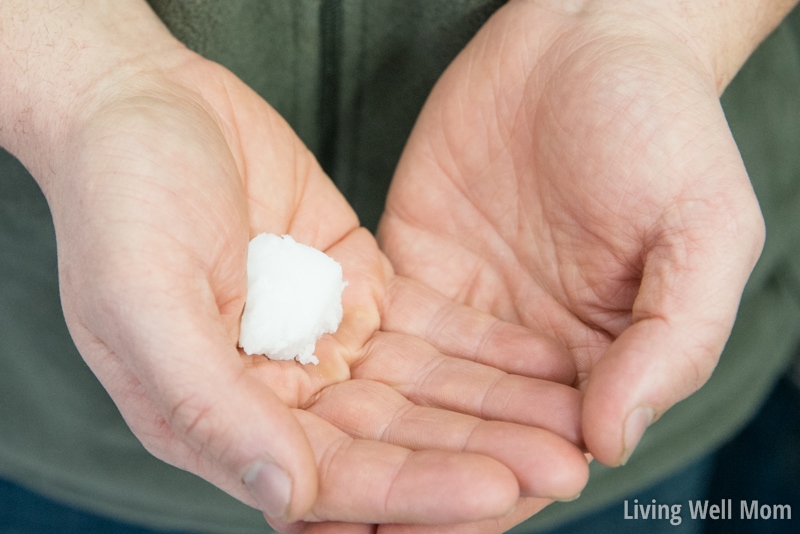 The warmth of your hands will melt within a minute or so.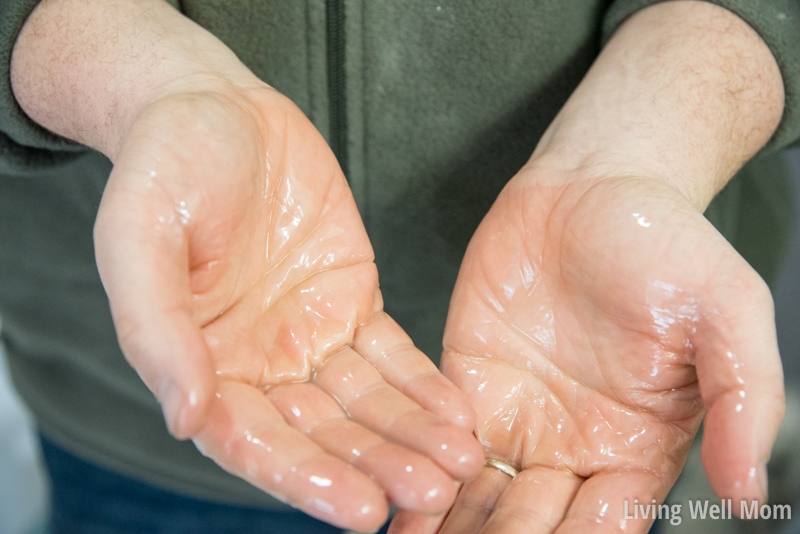 Add a couple of drops of tea tree oil. I use less for my younger children and more if there's a lot of dandruff for my older kids.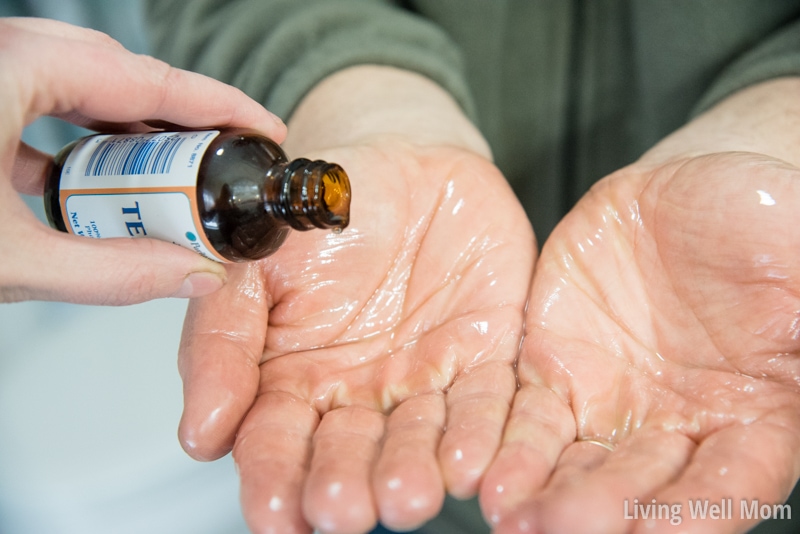 Rub the coconut/tea tree oil over the scalp, working it in especially where the flakes are most common.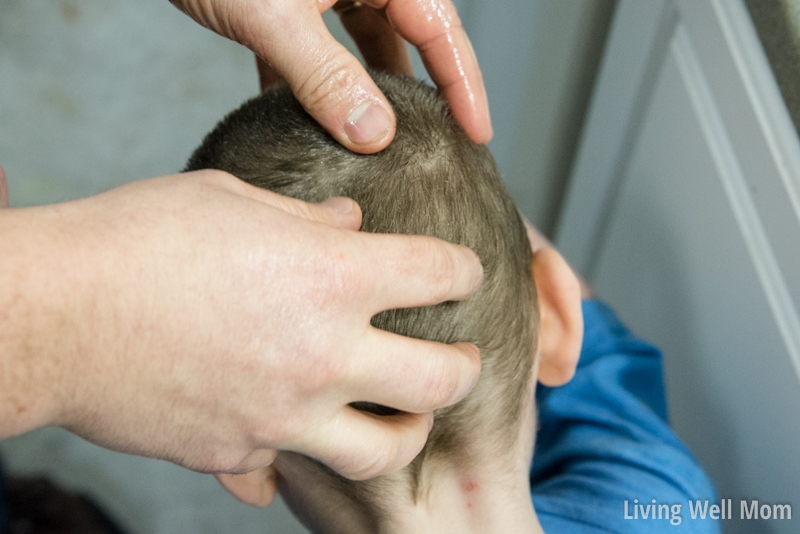 You'll need enough coconut oil/tea tree oil to cover all the flaky areas; add more as needed.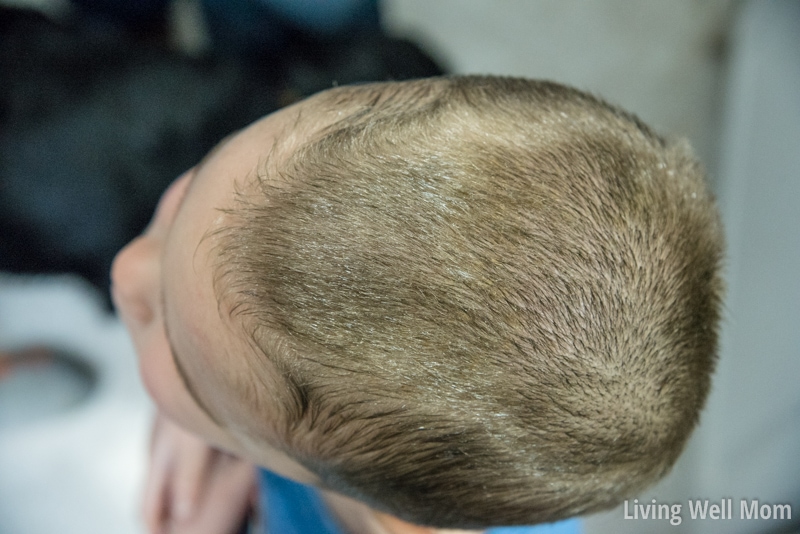 Let it sit for about 20 minutes or so, then scrub well with shampoo to remove the now-loosened flakes. I personally have my kids use our natural homemade shampoo for kids.
This sounds really weird, but I use a fine-toothed flea comb
for my boys' hair because it gets all the little flakes out so quickly and painlessly.
Shampoo and rinse two or three times to remove the coconut oil completely.
Here is Luke after our all-natural flaky scalp treatment. See how much better?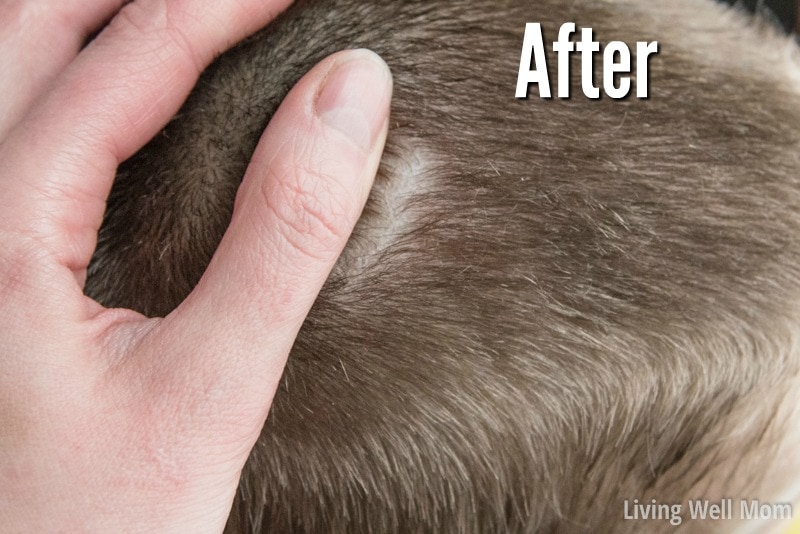 How to Use This Flaky Scalp Treatment on Kids with Long Hair
This method is very easy with boys who have short hair. If your children have long hair, it will be a little trickier to apply the coconut oil and later rinse out, but it still works quite well.
I use this flaky scalp treatment on my daughter with her thick long hair too.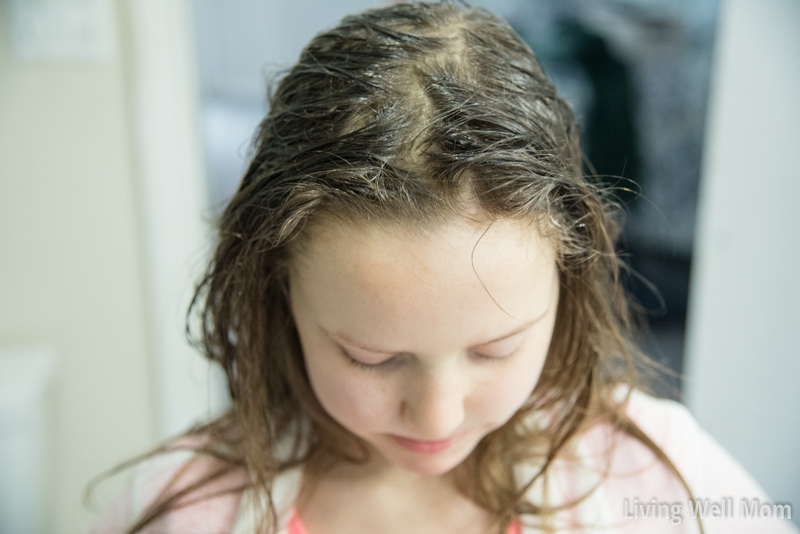 I had to use my own favorite natural shampoo
to get the coconut oil out of her hair because our homemade kids' shampoo didn't quite cut it with the amount of coconut oil in her hair. But, she was flake-free by the end!
Despite the additional time spent on Emily's hair, this all-natural flaky scalp treatment is still worth it! And with short hair, this method is a breeze!
Have you tried any natural remedies for dandruff before? I'd love to hear about them!
Make sure to pin any of the images to find the instructions later!