Facial toner pads can be wonderful for your skin, whether you have oily, acne-prone skin or dry, prone-to-wrinkles skin and everything in between. Today, I'll show you how to make DIY facial toner pads using essential oils and other all-natural ingredients.
You can make your very own homemade facial toner pads in just 5 minutes or less and you'll end up with a cleansing and refreshing new skincare option.
You can get a list of the 12 best essential oils for dry skin here.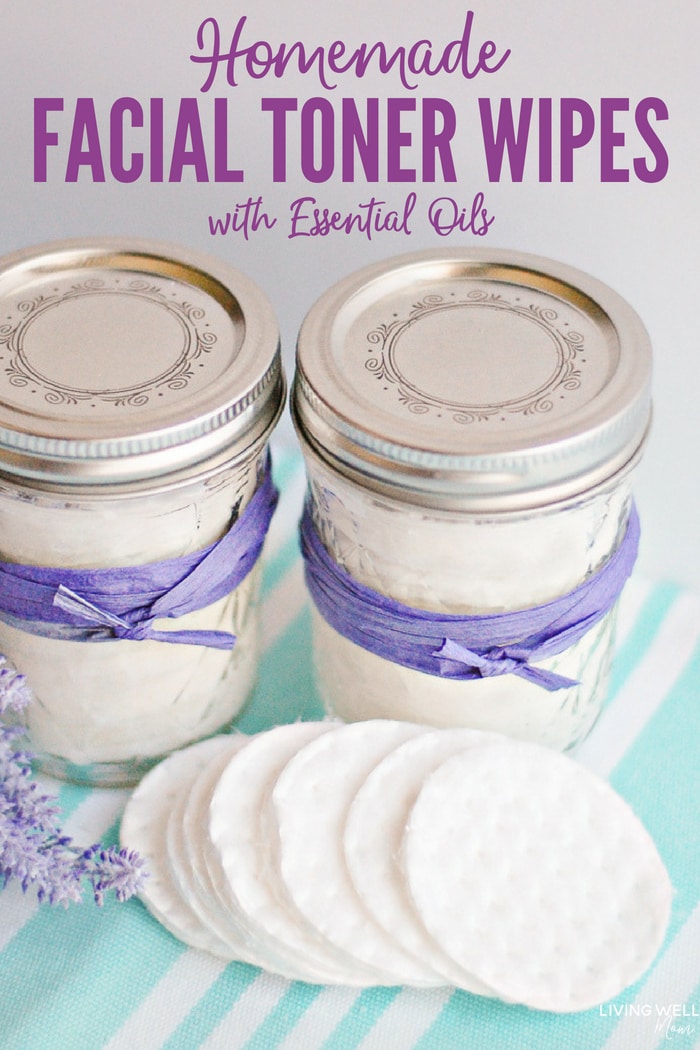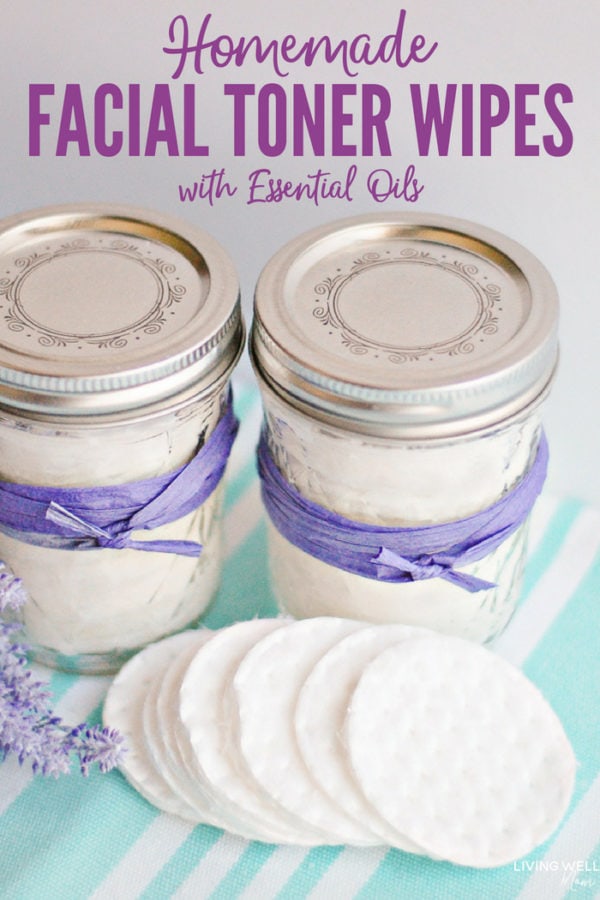 How to Make DIY Facial Toner Pads
What You'll Need:
glass measuring cup
Cotton face pads (you can also find these at the dollar store)
1/2 cup of Witch Hazel (I love Thayers

Alcohol-Free

Witch Hazel with Rose Water)
Water
1 tablespoon of vitamin E oil
20-30 drops of your favorite essential oils for skincare (check out my list of the best essential oils for dry skin here)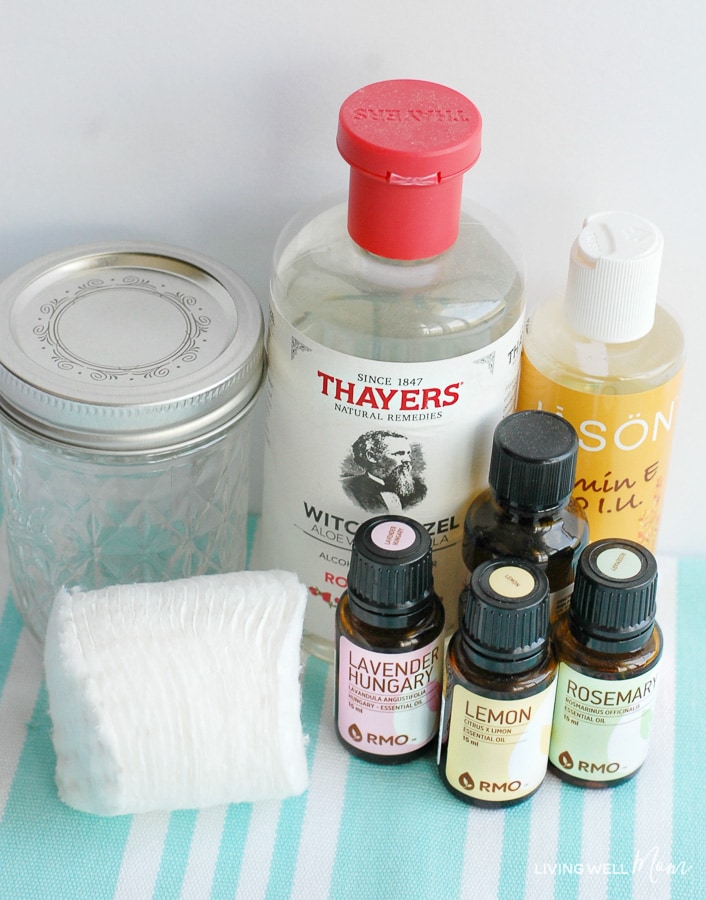 Start by filling your glass measuring cup with 1 and 1/2 cups of water. Then add 1/2 cup of the Thayers Witch Hazel.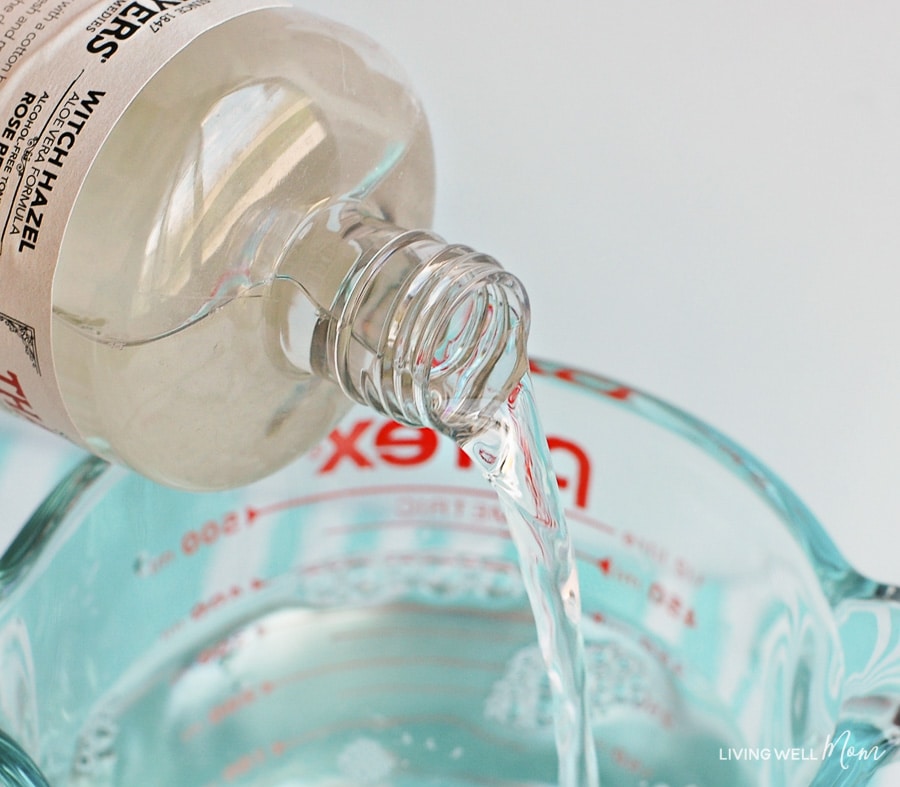 The Thayer's brand of witch hazel smells amazing since it has an added rosewater scent. I also like this brand because there is zero alcohol.
I personally am not a fan of adding alcohol to my face since I already have oily skin, and if I add alcohol, it dries it out and turns my oil production on high – making my oily skin even more oily! Just something for those of you fellow oily-skin sufferers out there to be aware of.
After you have combined the water and witch hazel, add one tablespoon of vitamin E oil.
Then add 20-30 drops of your favorite essential oils.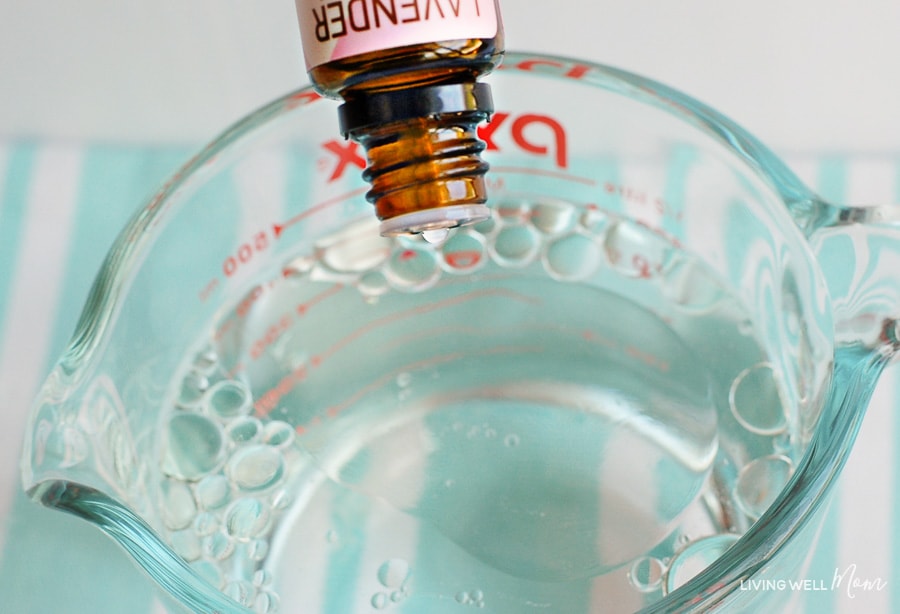 My personal favorite combo for my DIY facial toner pads is lavender, rosemary, tea tree, and lemon* essential oils.
Again, you can use mix and match different combinations of essential oils to make a blend that's most beneficial for YOUR skin.
For oily, breakout prone skin, check out this list of recommended essential oils for acne.
For dry, wrinkle-prone skin, see these recommendations for essential oils for dry skin.
For sensitive, easily irritated skin, try one or more of these essential oils:
These oils may be helpful for skin issues, like rosacea
lavender
myrrh
geranium
cedarwood
frankincense
patchouli
lemongrass
juniper berry
coriander
wintergreen
*Safety Note when using citrus oils, such as lemon, grapefruit, bergamot, orange, etc: avoid direct sunlight for up to 12 hours or be sure to use SPF protection after using citrus oils as they may cause photosensitivity.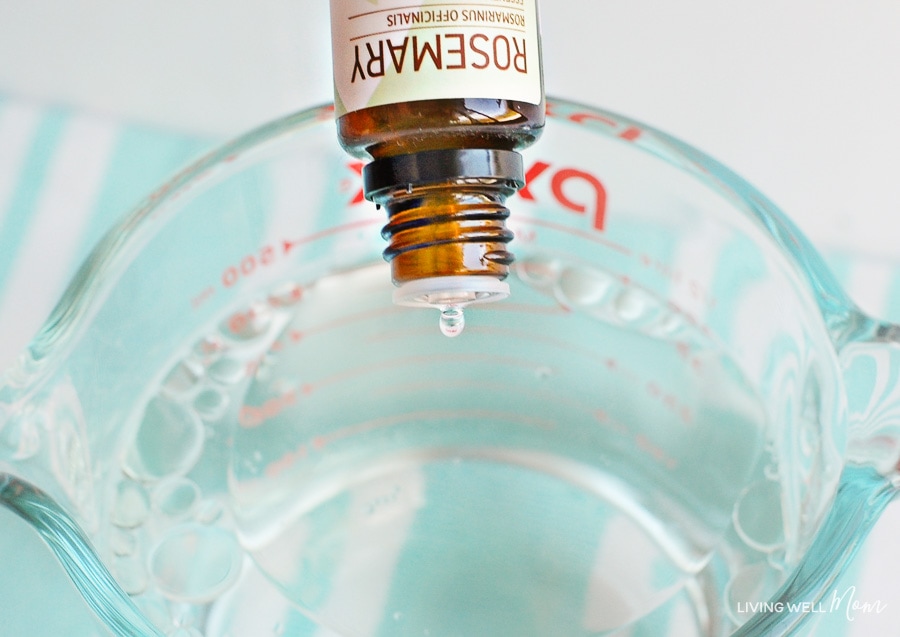 Grab an 8oz mason jar and fill it halfway with dry cotton pads. Then pour in your toner solution so it just covers and completely saturates the cotton pads that are in the jar.
You can see in the picture above how this half is completely soaked with toner solution.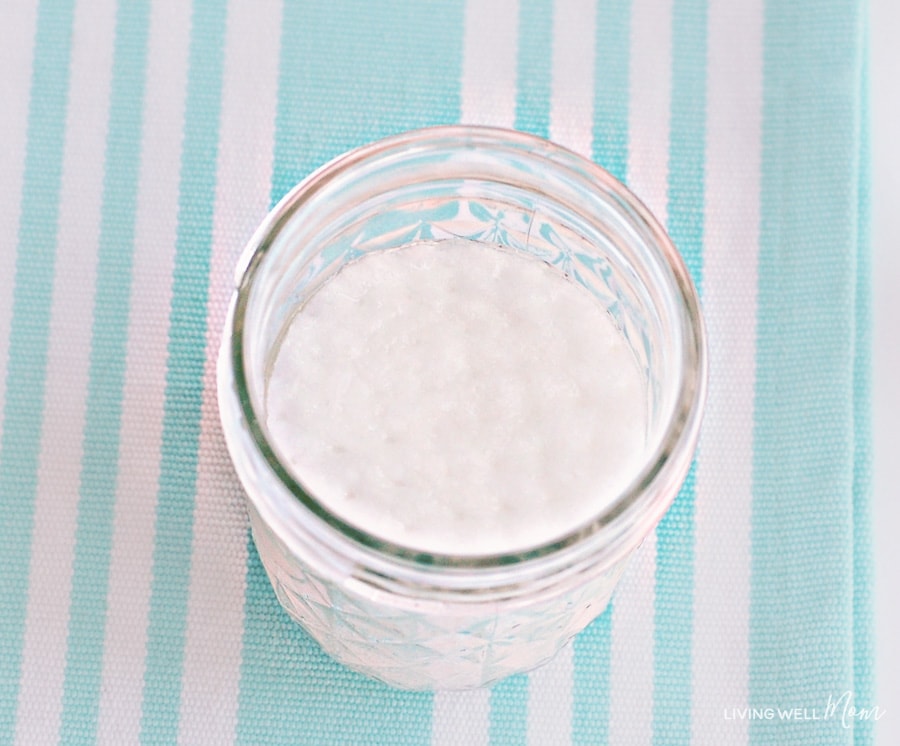 Fill the rest of the jar with more dry cotton pads. Push down until you fill the liquid soaking up in this new layer of dry pads.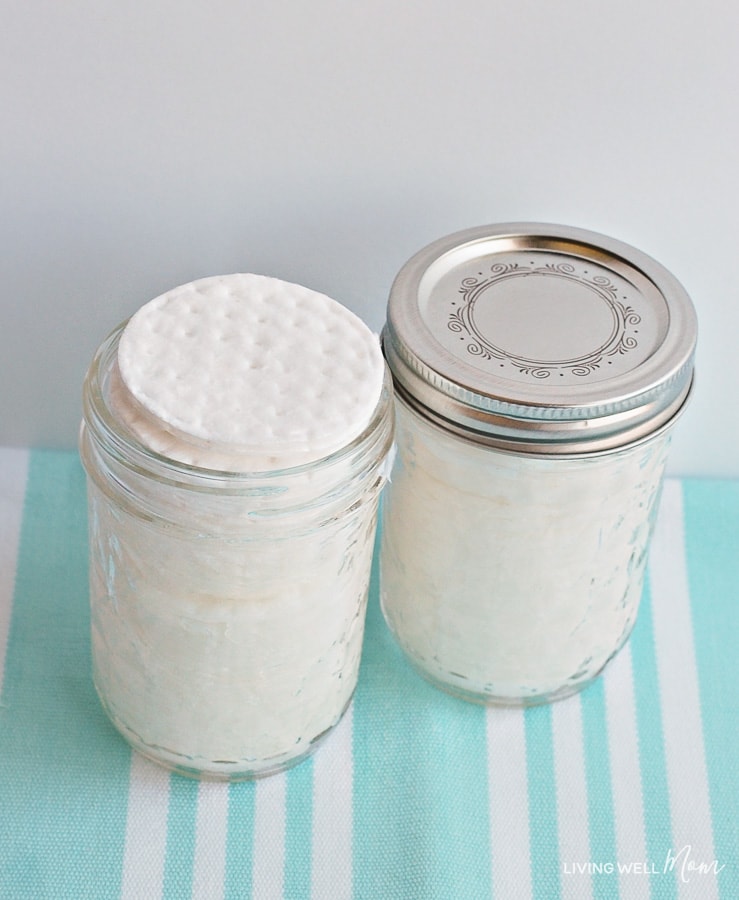 Close up the jar and the toner solution will evenly distribute in the pads so that you get the perfect amount of wetness – not too dry and not dripping wet.

There are many essential oil combinations you can try and you can mix and match too as you try them out in your DIY refreshing facial toner wipes!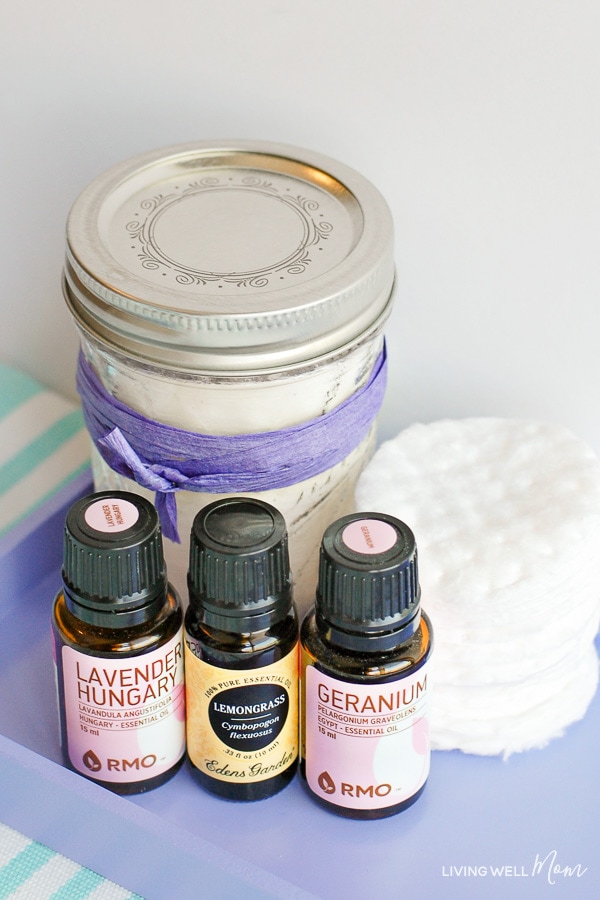 I leave a jar of these DIY facial toner pads in my bathroom and when I'm extra sweaty or oily from being outside or working out and can't shower right away, I grab one of these facial pads and give my skin a quick wipe down.
They smell amazing and are wonderful in this warm weather when temperatures and humidity are turned up, and my skin feels icky in the middle of the day.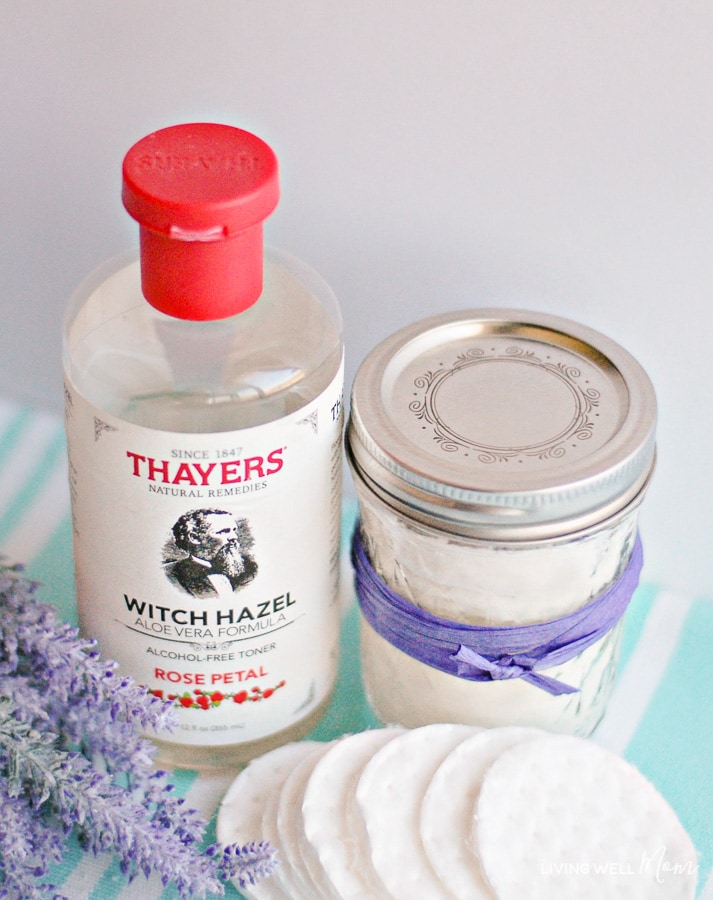 Here are some more homemade bath and beauty products that you can make for yourself at home: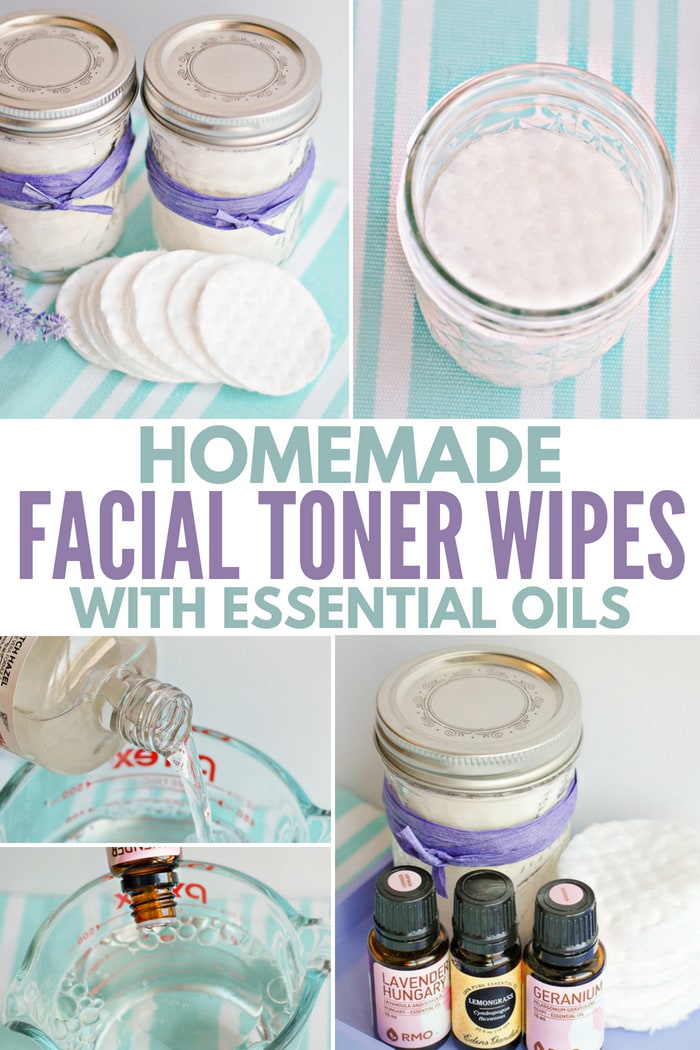 Which Essential Oil Brand is Best?
For the best results, you will want to choose a high-quality essential oil brand that is 100% pure and offers third-party testing for quality control. Read this post for more info on how to choose essential oils that work for you and your family (beyond the brand.)
My favorite essential oil company is Rocky Mountain Oils, followed by Eden's Garden, and Ancient Apothecary by Dr. Axe
.