I have a wonderfully easy homemade crockpot peppermint lotion recipe to share with you today, that also involves minimal clean-up! The ingredients are all natural and great for very dry skin that likes to creep up during the cold and dry winter months.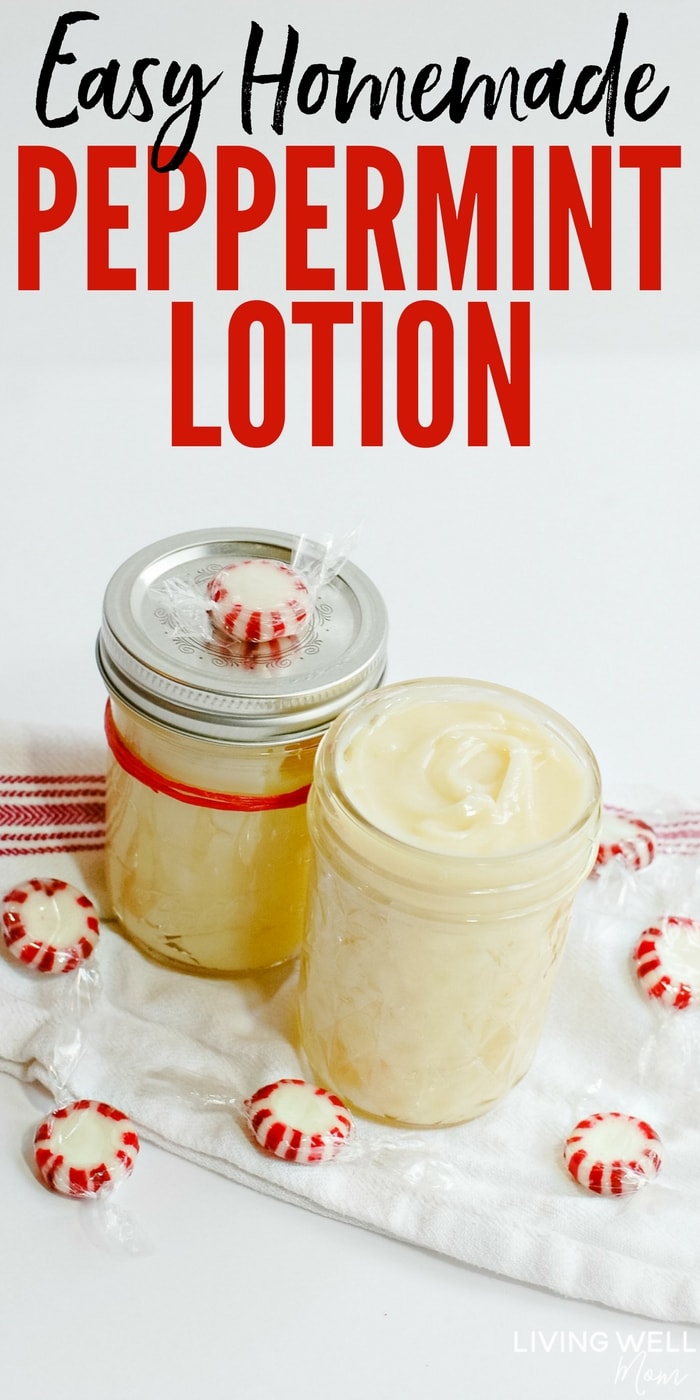 Using the crockpot for this easy homemade peppermint lotion makes it super easy, especially with the clean-up since we use a slow cooker liner! This is a great lotion to have on hand this winter or even makes an awesome gift this Christmas season!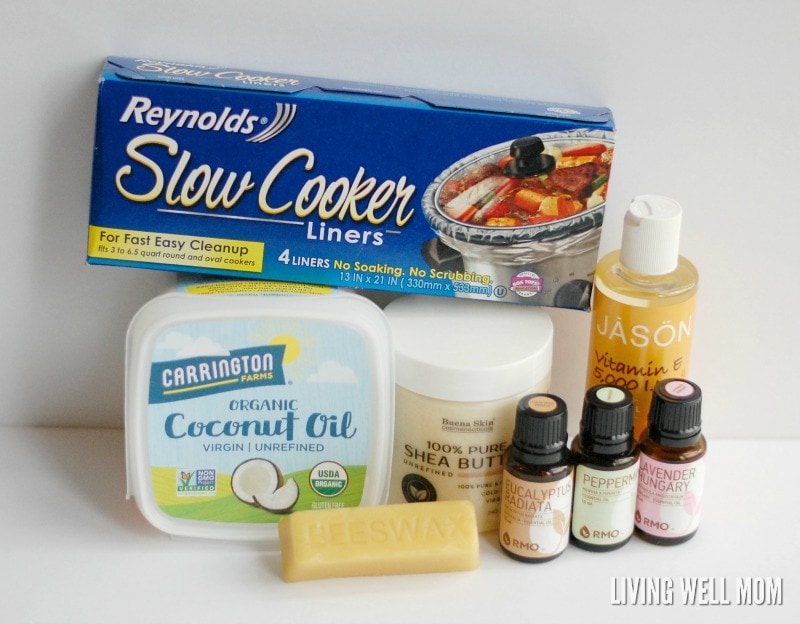 Ingredients needed to make your own easy homemade crockpot peppermint lotion: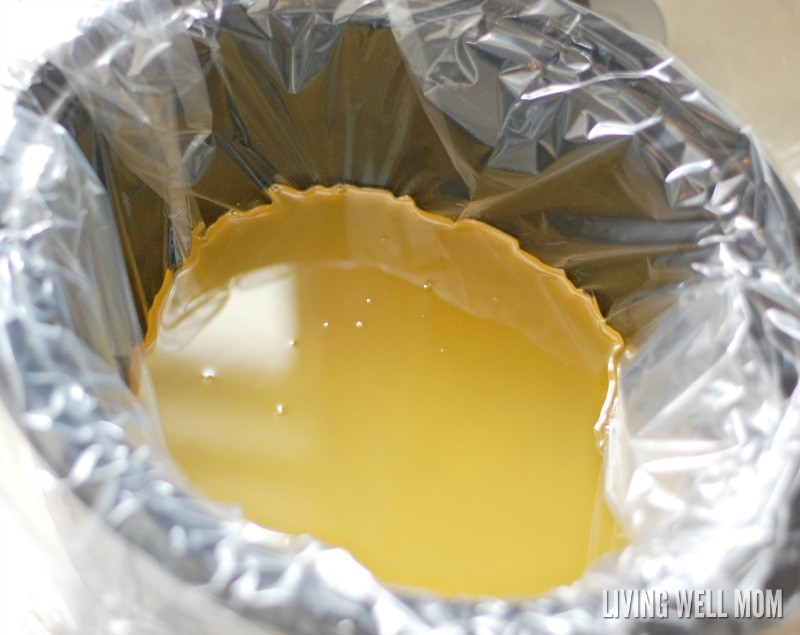 The first thing you will want to do is to add a slow cooker liner to your crock pot. I've made homemade lotions in the past, and one of the most annoying parts about it is the clean-up.
Since we are dealing with a combination of oils and waxes, cleaning out a saucepan can be a huge pain. But when using the low setting on the crockpot plus the liner, it makes this super easy to make and clean-up!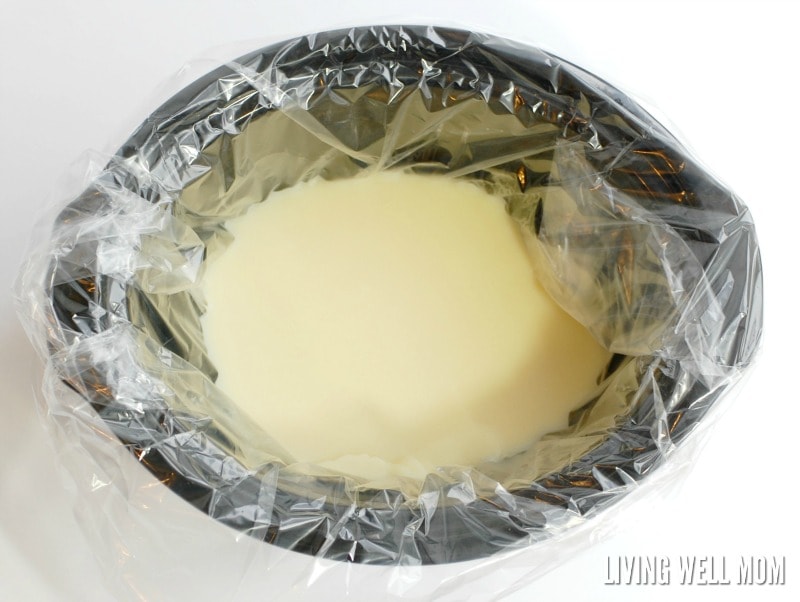 To make your lotion, add 1 cup of coconut oil, 8 oz or 1 cup of shea butter, 2 tablespoons of vitamin E oil, and 2 bars of the 1 oz organic beeswax.
Turn your crockpot on the low setting and walk away while all of this moisturizing goodness melts together.
Once it is fully melted, stir the ingredients together well, and then add your essential oils.
Add 20 drops of peppermint essential oil. Another option if you want a couple of more oils like I did, you can split up the 20 drops of essential oils between peppermint, lavender, and eucalyptus.
Another blend I like is chamomile, lavender, lemon, and frankincense. These essential oils can also be found in Eden's Garden.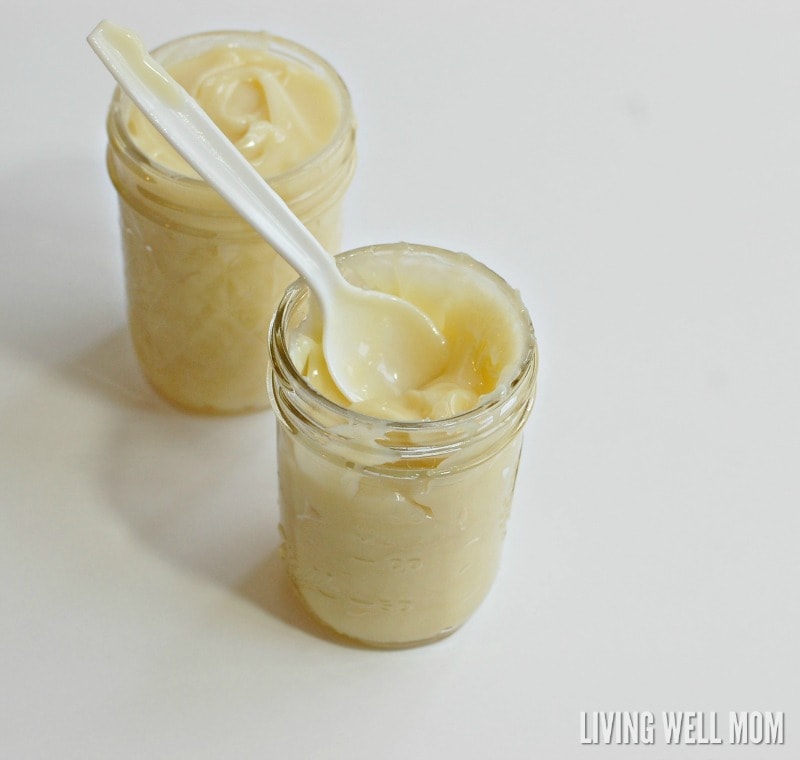 When the lotion is cool and no longer a liquid, you will want to use a plastic spoon to scoop the lotion into mason jars for storage.
I used a plastic spoon just for easy cleanup and tossed it in the garbage when I was done. You can use a metal spoon, but again, I am trying to make this as easy and mess-free as possible.
Once they are in the jars, you scoop the lotion out with your fingers. I don't recommend using a mason jar soap dispenser lid
to squirt out this lotion as it is a bit too thick at room temperature for that to work well.
Once you have scooped out as much lotion as you can from inside the liner, you just toss the greasy liner into the garbage! Clean-up couldn't be easier!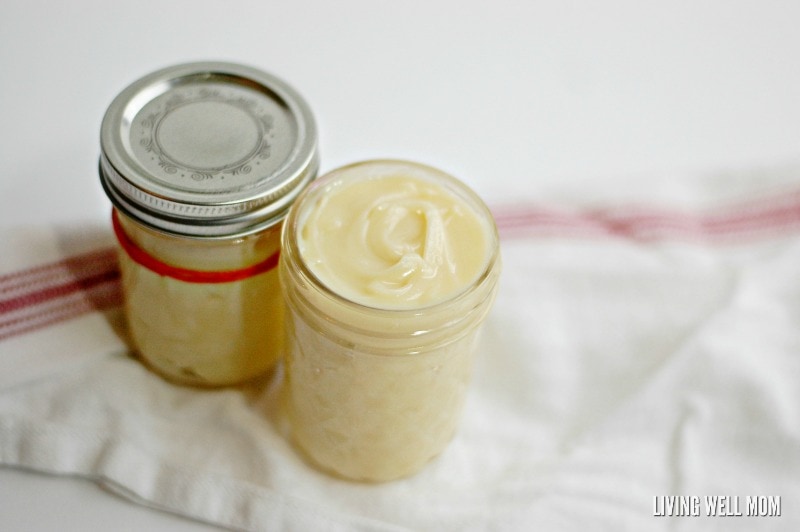 A little bit of this lotion goes a long way and is amazing for very dry skin. This is a greasy lotion – so it is best used at bedtime.
For a full pampering, I'd recommend slathering your hands in this easy homemade peppermint lotion in the evening and sleeping with thin cotton gloves to hold in the oils while you sleep.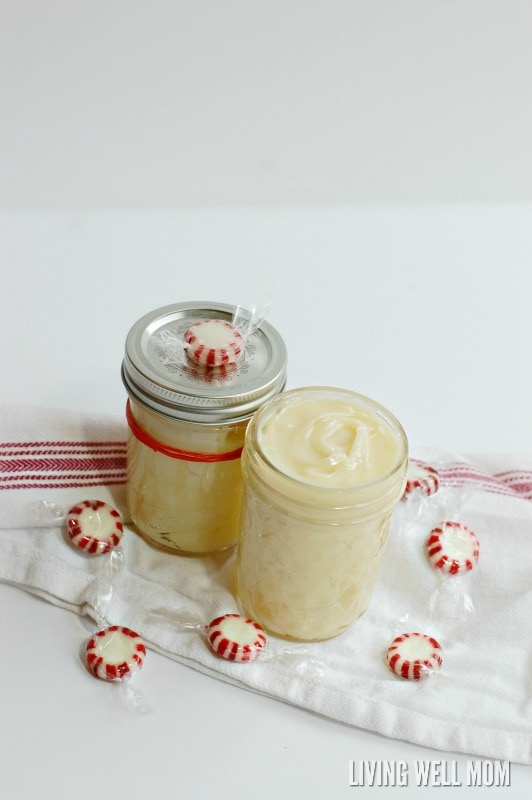 I use this lotion on my daughter's dry skin after bath time since her skin gets really dry in the winter. I slather her up all over – arms, stomach, legs, and then immediately put on her fleece footie jammies so that her skin gets fully moisturized while she is sleeping.
Since I put lavender in this batch, it is also calming at bedtime. Plus lavender is just amazing at healing anything having to do with skin, so I love adding it to any skin product I make!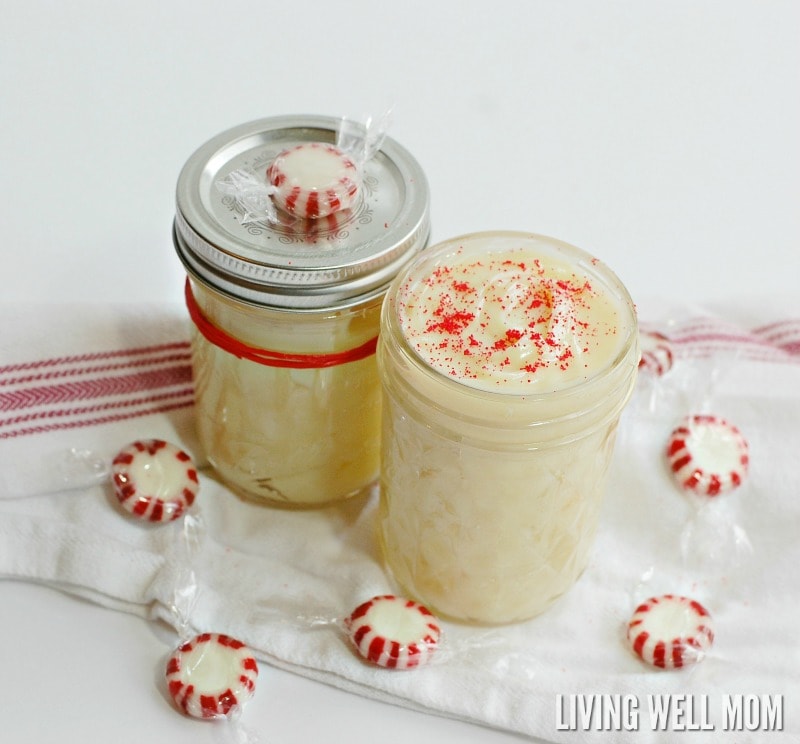 I also recommend giving yourself a nice foot soak with this Homemade Epsom Salt Foot Bath with Lavender. After the soak, apply this lotion for your feet – especially if you have cracked heels.
Put some of this homemade peppermint lotion on before you add a pair of fuzzy and warm winter socks, and your feet will get some pampering at night while you are sleeping.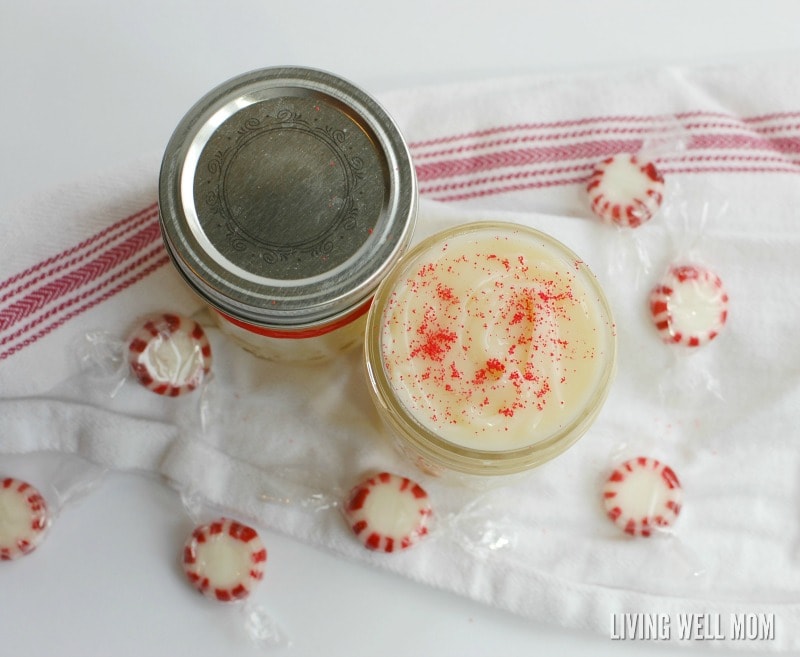 I added just a bit of red jojoba beads (I found them on Etsy) in this image. It may be fun to add if you are giving this as a gift, but by no means is it a mandatory ingredient.
You could even put this in baby food jars to stretch this batch a bit further if you wanted to make gifts out of this recipe.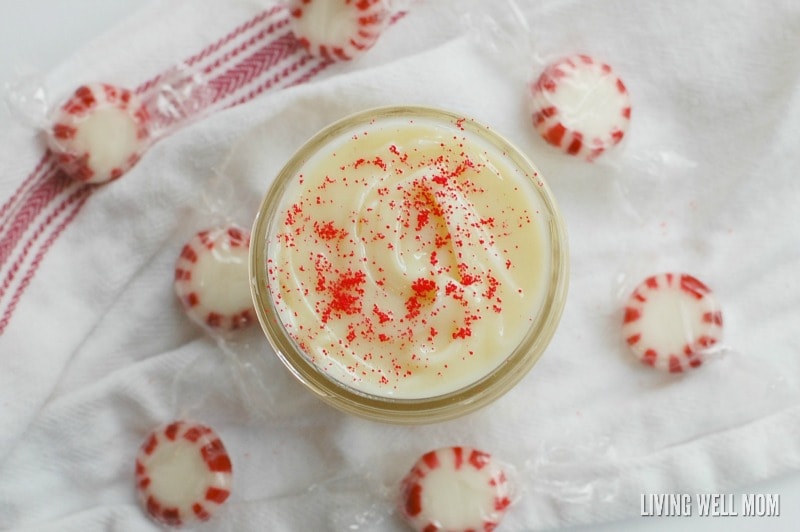 When you try this homemade peppermint lotion, come back and let us know what you think!
It is a thick, luxurious, and intense moisturizer that is both natural and healing. It smells amazing with the peppermint, eucalyptus, lavender combo and is a must-have in your personal supply cabinet this winter!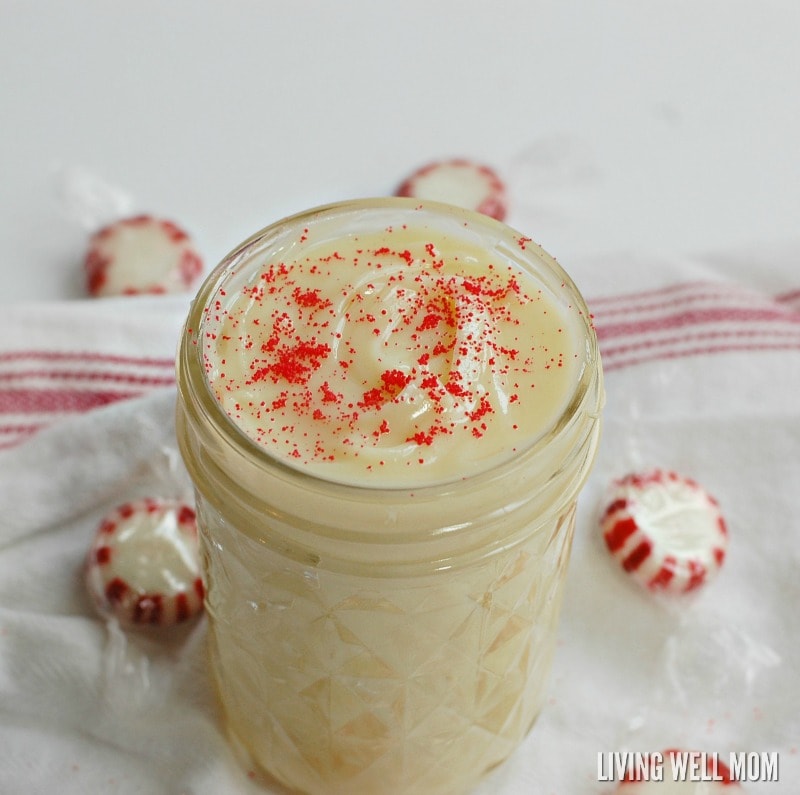 Looking for more winter season essential oil DIY ideas? Check out these posts:
Homemade Coconut Oil Lotion Bars
Homemade Foot Cream with Peppermint
Homemade Epsom Salt Foot Bath with Lavender
Homemade Peppermint Sugar Scrub
Easy 3 Ingredient DIY Peppermint Lip Balm
Homemade Peppermint Goat Milk Soap