I'm going to show you how to make DIY Christmas Candles that make a wonderful homemade gift. Be sure to make enough to keep one or two for yourself.
Once you light one, the Christmas cheer will spread with the smell of fresh pine and frankincense!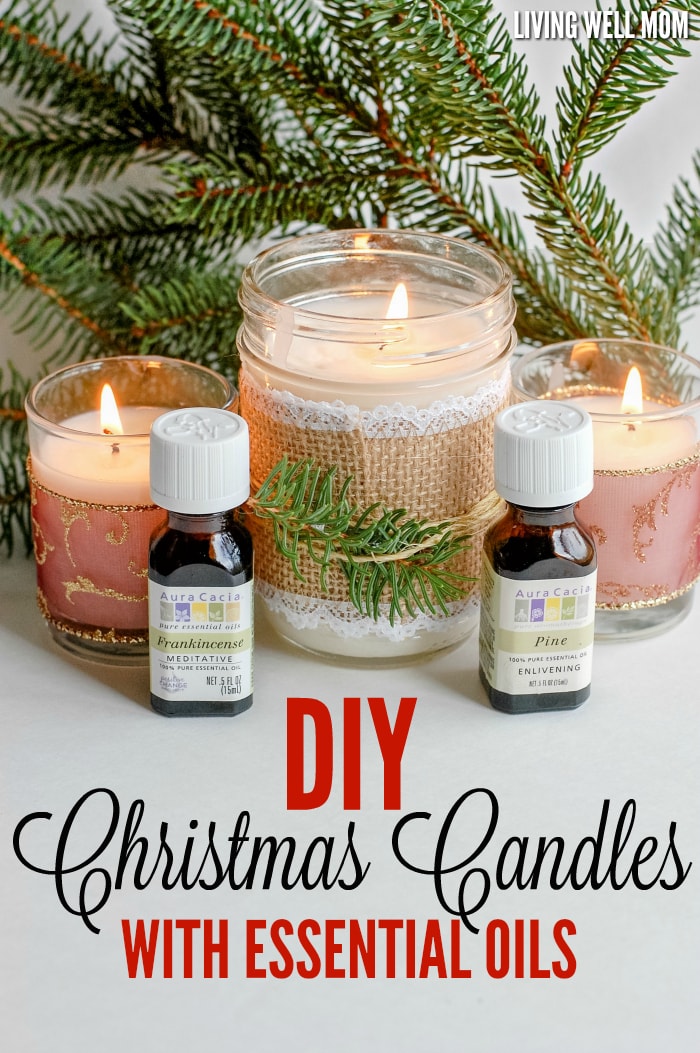 You can make these DIY Christmas Candles in a variety of sizes, such as glass votive candle holders
or mason jars
. You can even use cleaned out glass jars from your recycling bin for this project!
What you'll need to make your DIY Christmas Candles: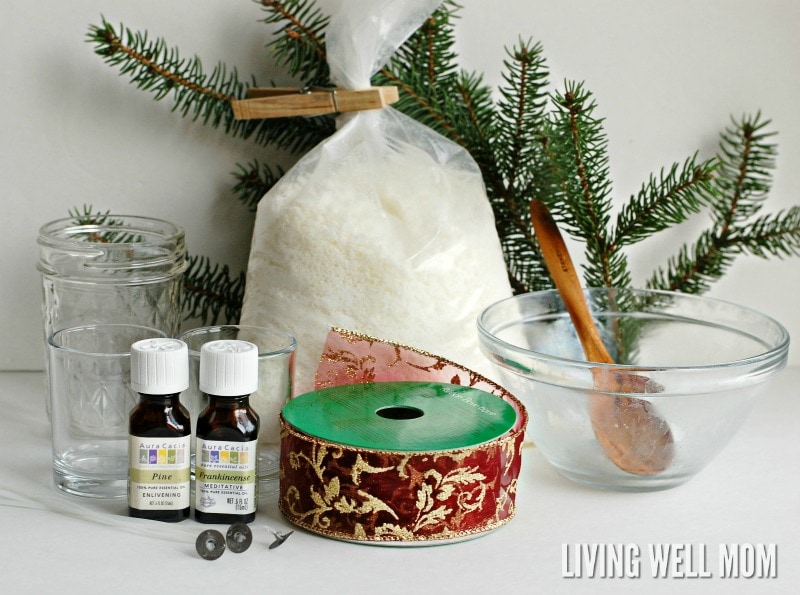 I chose pine and frankincense essential oils for these Christmas candles because they are just a lovely combination for this time of year. Plus when you smell the frankincense, it reminds us of the historical miracle that is the reason for the season! But don't be limited by just these two scents. There are other Christmas Essential Oil Blends that you can choose from to create many varieties of DIY Christmas candles.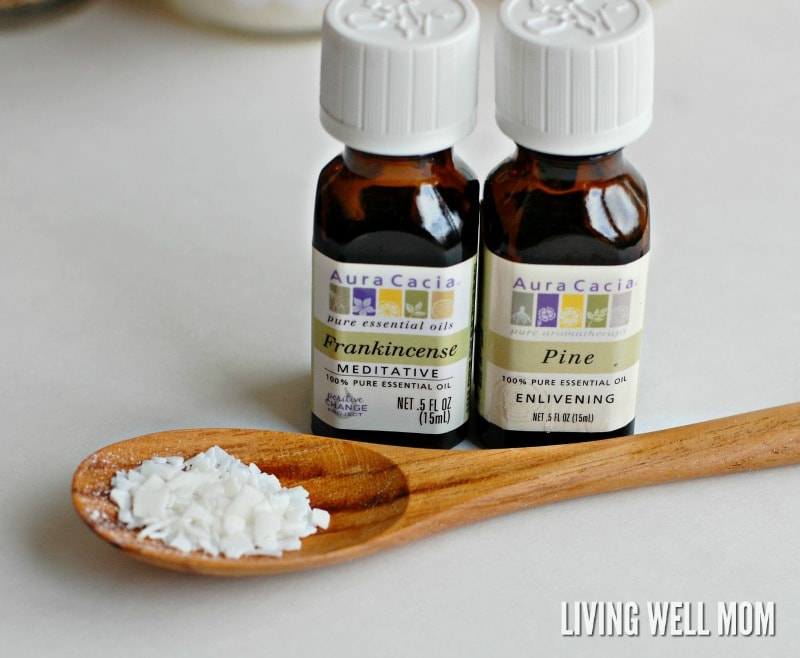 The first step in making your DIY Christmas candle is to melt your soy wax in a double boiler. Start with 3 cups of soy wax pellets – which is enough for one 8oz mason jar and 2 votive candle holders.
You can simply put your glass measuring cup in the sauce pan with a couple inches of boiling water. I recommend a glass measuring cup because of the easy-to-pour spout. After using just a glass bowl myself, I wish I had the spout!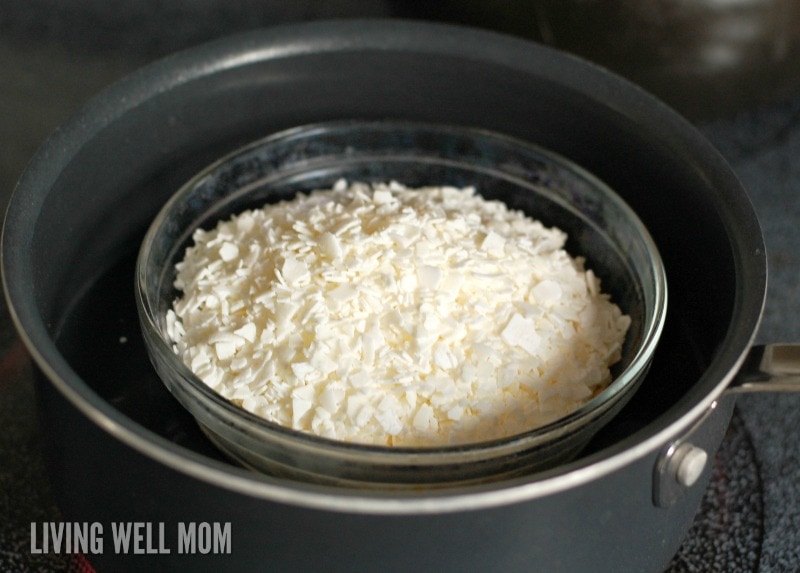 While the wax is heating up and melting, you can add your essential oils to the wax. I recommend at least 30 of each pine and frankincense essential oil for the 3 cups of wax. If you want a very potent smelling candle, then up your oil amount to 45 drops of each! With 30 drops, the aroma is subtle and not overbearing. It was not as strong as a Yankee Candle smell would be and some may say it was just a little too weak. So play around with the amount of oil you use depending on your scent strength preference.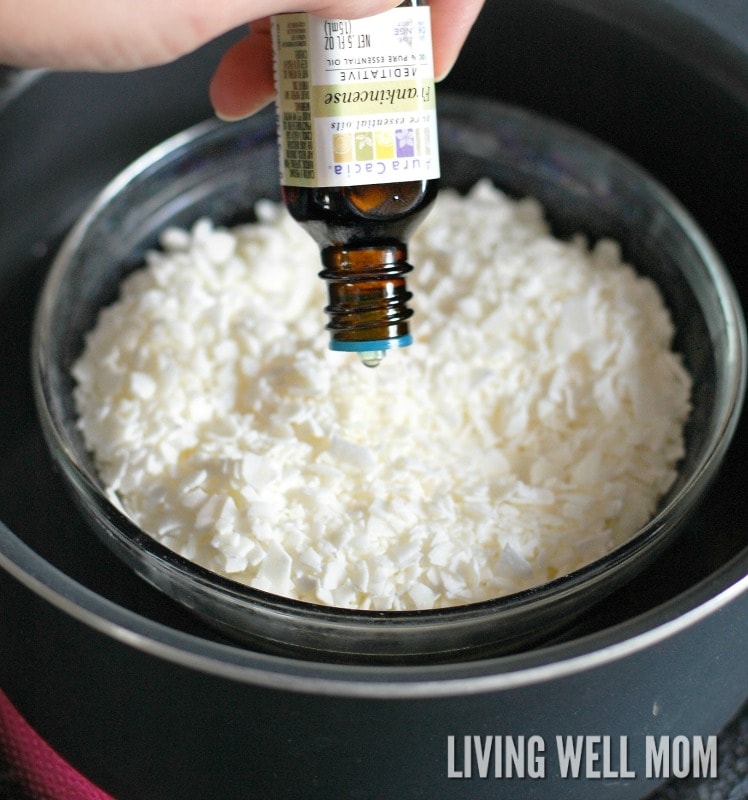 When the wax is melted in the double boiler, take a plastic spoon and drip just a little bit of wax at the bottom of your glass containers. While that bit of wax is still liquified, quickly "glue" in your wick. Hold the wick in place until the wax is cool and hardened. If you do this step first, it will help hold the wick in place and keep it in the center when you fill up the rest of the jar with hot wax.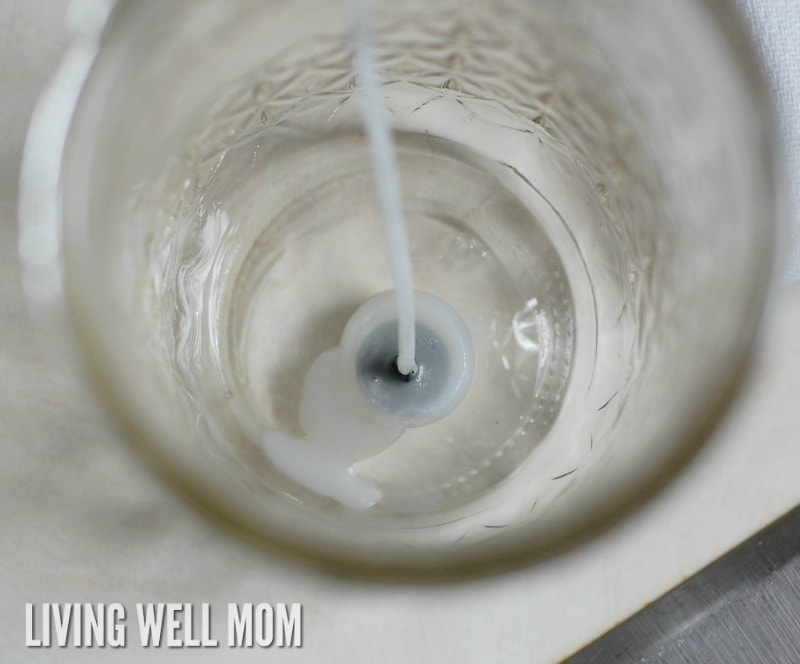 Pour in the melted and scented wax to fill your jar. I use 2 popsicle sticks to keep the wick in place while the wax is cooling and hardening.
It will take a good 45 minutes or so for the wax to cool and harden. Keep your jar in an area that will not get bumped while it is cooling. You can stick this in the refrigerator to speed up the cooling process.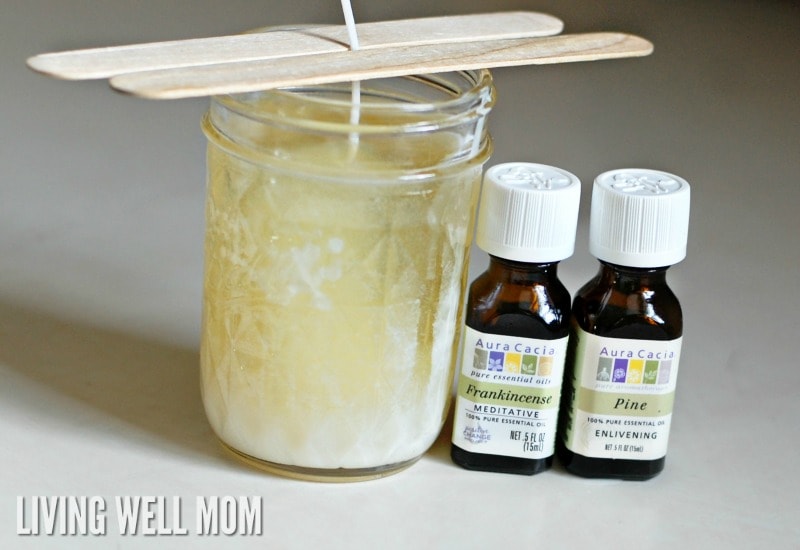 Once your candle is back to a solid state, go ahead and trim the wick.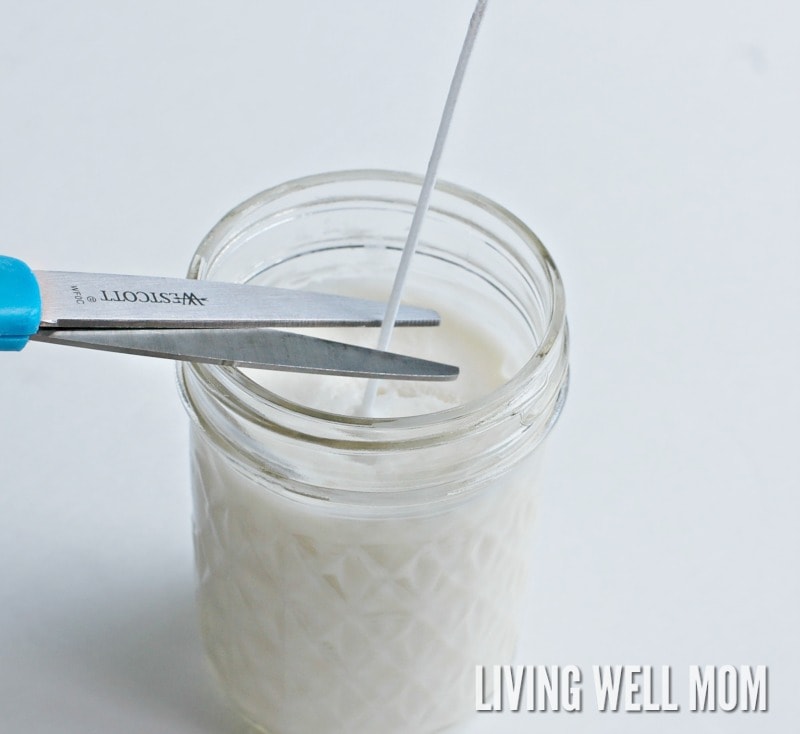 Below are two votive size and one mason jar DIY Christmas candle! Even though they smell like Christmas, they don't look like Christmas. So now its time to add a little Christmas flare to our candles.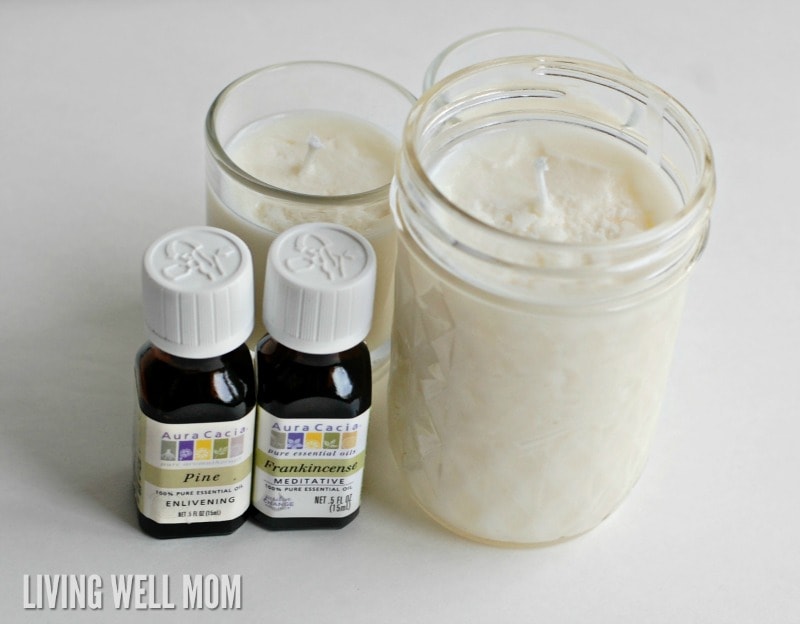 I hot glued some burlap ribbon and tied a sprig of evergreen with twine around the center of my mason jars.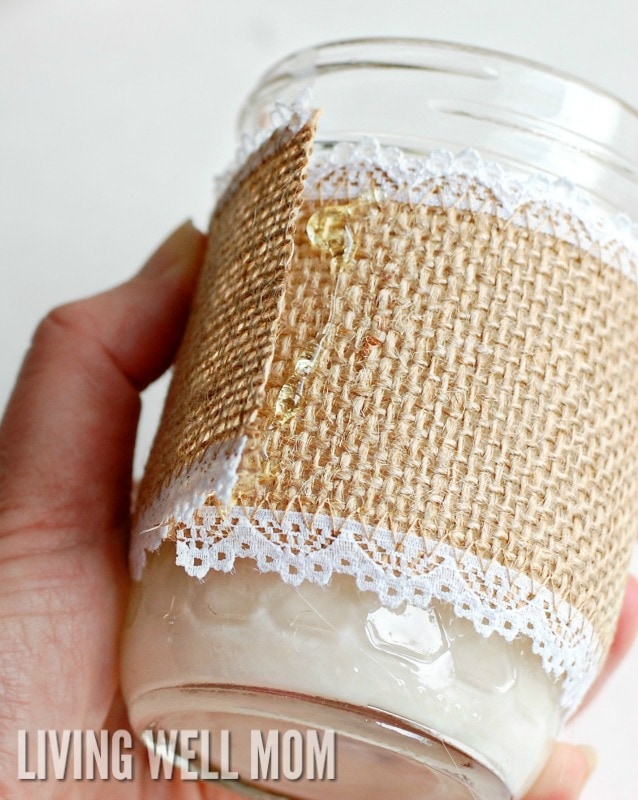 I also had some Christmas ribbon on hand that I glued around each of the votive candles.
The sky is the limited here – be creative as you spruce up your DIY Christmas Candles!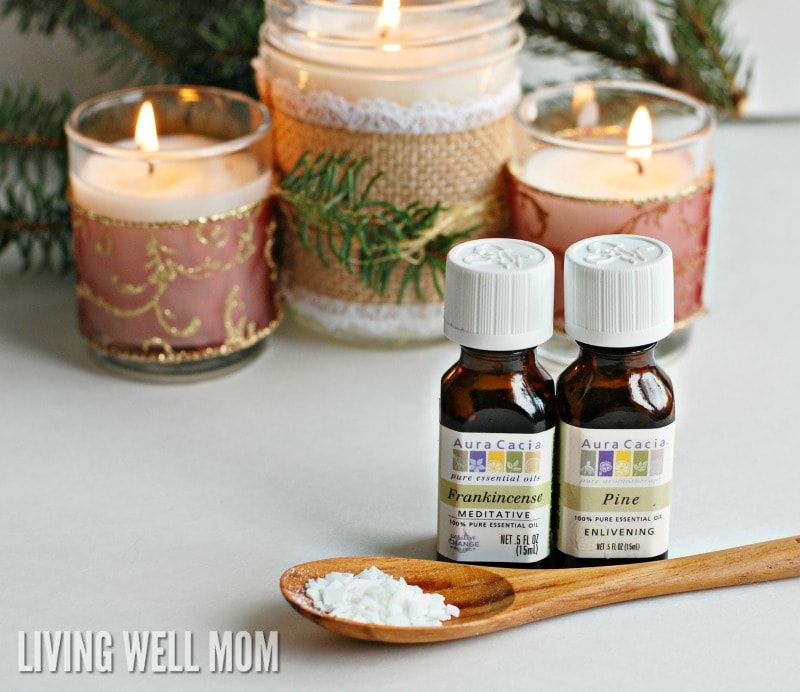 Do you have old Christmas candles that are burned down and need new life? You could use this same technique of melting down the wax and pouring it into some new containers! This is a great way to re-purpose and minimize waste – and make last year's candles new again for this burning season!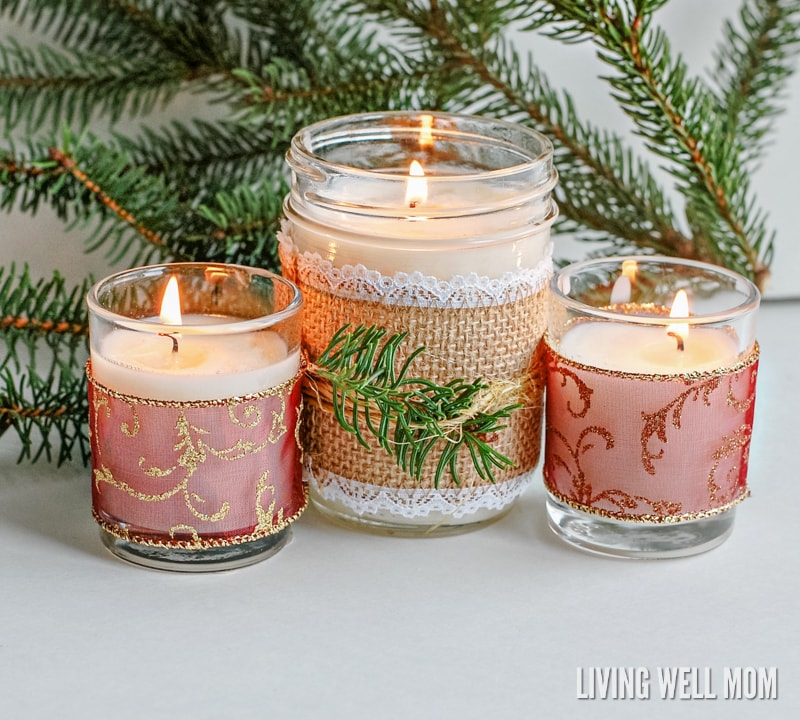 Now that you can master making your own DIY Christmas candles, keep this idea in mind 6 months from now when you want to make your own homemade citronella candles to keep the mosquitoes at bay!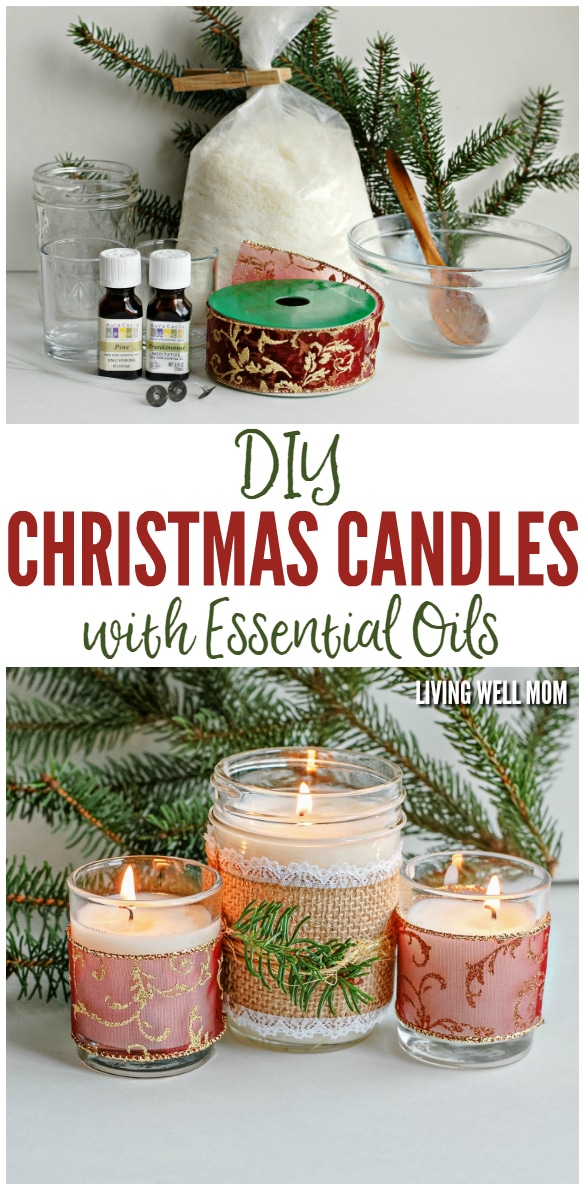 Here's some other easy homemade gift ideas:
Peppermint Goat's Milk Bar Soap
Homemade Foot Cream with Peppermint