The scents of a freshly cut live Christmas tree, cookies baking in the oven, and peppermint candy canes all bring me straight back to the most wonderful time of the year when I was a young girl.
One of my favorite ways to recreate those joyous times with my family, especially when I'm too busy to bake cookies or my kids have eaten all the candy canes, is to make a DIY air freshener made from Christmas essential oils. They're so easy to make and are a wonderful way to spread Christmas cheer through your home during this heartwarming holiday season.
You'll want to make more than one, so you can keep one for yourself and put one in a holiday gift basket for a friend!
Erika Bragdon is a Certified Essential Oil Coach from the Essential Oil Institute.
What is a Room Spray?
Room sprays are a quick and inexpensive way to make the house smell good! Made from natural essential oils and no chemicals, all you have to do is spritz it around your home for a lasting effect.
Room sprays are an easy way to keep your home smelling fresh and hide odors. You can spray them on fabrics, carpets, upholstery and even holiday decor to infuse your space with fragrance.
While you can purchase ready-made room sprays, they're easy enough to make at home with some water and essential oils. That's exactly what I'll show you how to do in this post!
Essential Oil Air Freshener Ingredients
4 oz glass spray bottle – be sure to get glass as some of these essential oils will corrode a plastic container
Witch hazel (I prefer Thayers Rose Petal Witch Hazel)
Christmas essential oils – I'll list each below as I show you the 5 different versions
water – I recommend using distilled water if possible
Which Essential Oil Brand is Best?
For the best results, you will want to choose a high-quality essential oil brand that is 100% pure and offers third-party testing for quality control. Read this post for more info on how to choose essential oils that work for you and your family (beyond the brand.)
My favorite essential oil company is Rocky Mountain Oils, followed by Eden's Garden, and Ancient Apothecary by Dr. Axe
.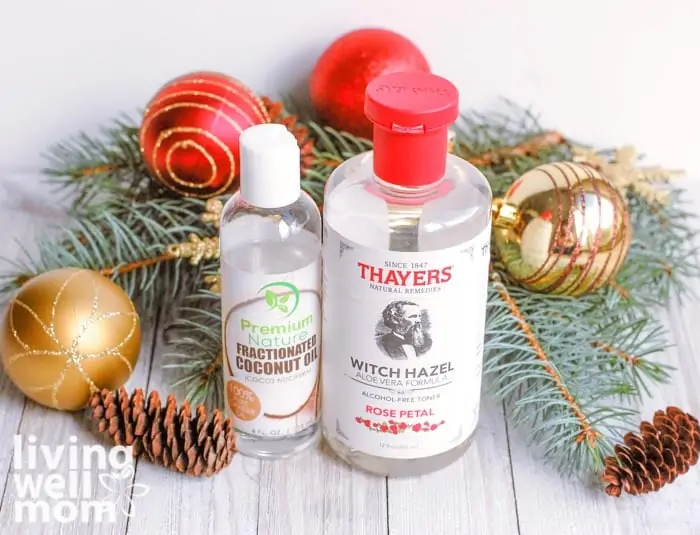 How to Make a Christmas Room Spray with Essential Oils: 5 Scents to Try
First, grab your empty glass bottle and add 2 tsp. of witch hazel and 1 tsp. fractionated coconut oil to it.
The addition of both of these helps the essential oil molecules spread out in the water for an evenly scented spray.
Then, choose from one of the five recipes below and add your essential oils accordingly!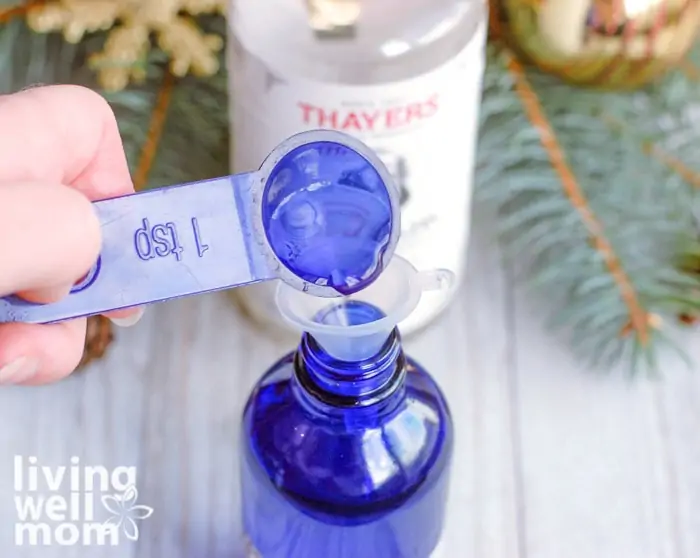 1. Peppermint Mocha Room Spray
The first Christmas DIY air freshener spray uses an essential oil blend from Rocky Mountain Oils called Peppermint Mocha. It smells just like it sounds – and if you want your house have a minty coffee shop aroma, then this is for you!
Add 10 drops of this oil to the witch hazel and fractionated coconut oil. The fill the rest of the bottle with water. Shake well and give it a spritz!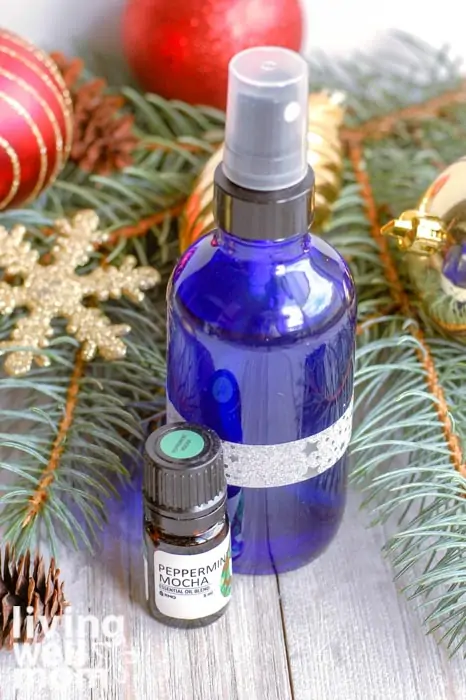 2. Eggnog Latte Room Spray
This second version also uses a blend from Rocky Mountain Oils called Eggnog Latte. The fragrance is wonderful! There is actually a Fall Holiday Latte Kit that has these latte blends in them if you want to get more than one and save on the bundle.
Add 10 drops of Eggnog Latte to your witch hazel and fractionated coconut oil, then fill the rest with water. When your holiday party attendees are enjoying a cup of eggnog, spritz this around the room to enhance the flavor and sensory experience!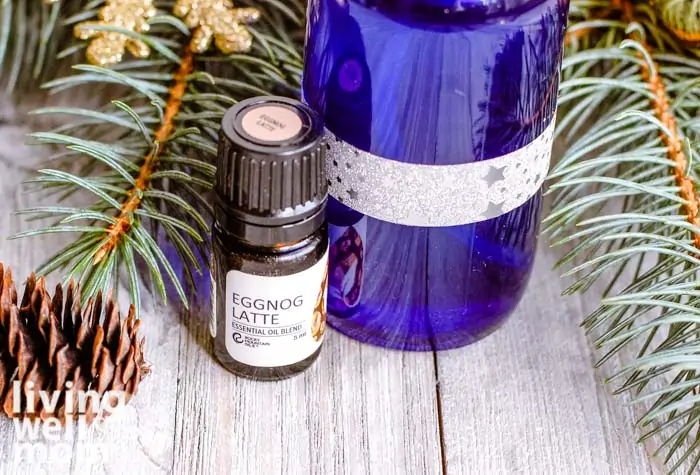 3. Nutmeg, Pine, and Orange Christmas Room Spray
For this next blend, you will need three different oils: Nutmeg, Pine, and Orange. Add 6 drops of pine, 1 drop of orange and 2 drops nutmeg.
Orange and nutmeg are stronger oils, which is why you want to be sure to use the 6:1:2 ratio drops of essential oil for this one so that the orange or nutmeg aren't overpowering the pine that we want to stand out.
After you've added the oils to the witch hazel and fractionated coconut oil, top the bottle off with water and you are done!
This is one of my favorites to add to pinecones. I absolutely love the notes of citrus, spice, and earthiness together.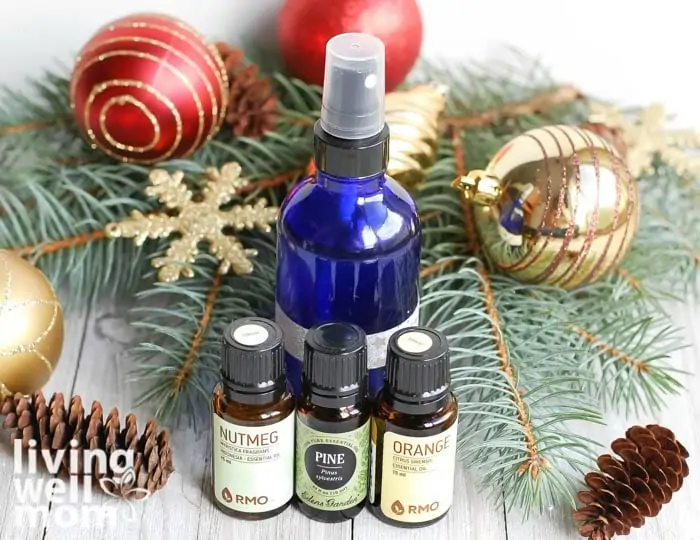 4. Pine and Wintergreen
This next seasonal blend uses Pine and Wintergreen. You'll want to add 6 drops of pine and just 1 drop of wintergreen. Like the previous blend, wintergreen is more powerful than pine, and we just want a hint of wintergreen behind the main scent of pine.
Shake up your bottle of witch hazel, fractionated coconut oil, pine & wintergreen essential oils with water. Then, spray this in the room your Christmas tree is in.
It will either enhance the authentic scent of a real Christmas tree or give your artificial tree a bit of a real pine scent that will put everyone in a great holiday spirit kind of mood.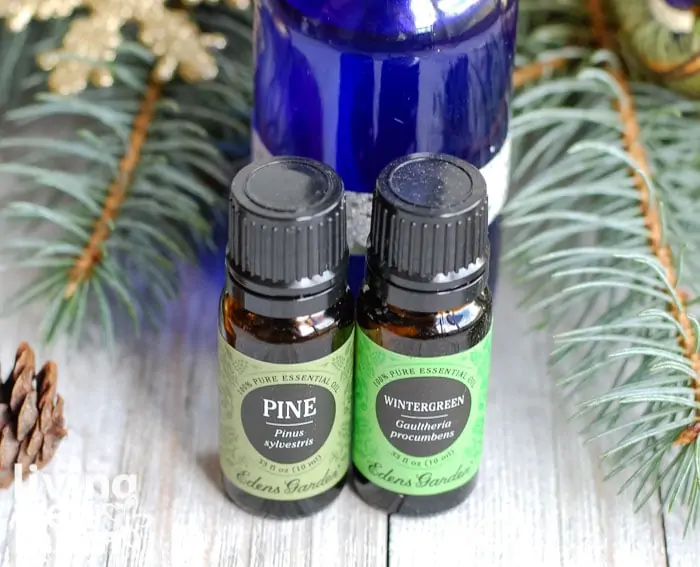 5. Christmas Tree Blend
I call this last one my Christmas Tree blend because it smells just like a fresh Christmas tree with that lovely pine scent!
This Christmas tree air freshener has Fir Balsam AFFILIATE LINK, Cedarwood, and Frankincense. This is the most woodsy scented of the 5 different blends I shared here today. If you want to picture going on a sleigh ride in the woods on a calm and snowy night, then this is the blend you want to make!
Add 4 drops of balsam fir, cedarwood, and frankincense to your bottle of witch hazel and fractionated coconut oil. Then, top off with water. You have a lovely scented Christmas Tree air freshener!
Each of these 5 Christmas DIY air freshener sprays with essential oils have a variety of atmospheres where they will enhance a seasonal experience. It is amazing how these holiday and seasonal scents really can boost your mood and set the tone for a joyful Christmas gathering.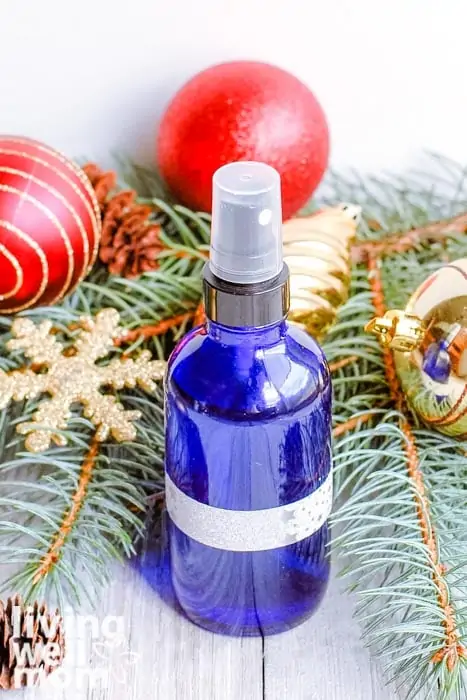 Want to try even more scent combinations? Here are 8 more essential oil spray recipes that you can use all year long!
How to Use the Essential Oil Air Freshener
There are so many ways you can use this spray. A few of my favorites include:
Spray your artifical Christmas tree to add scent. Just make sure to avoid any special ornaments so they don't get stained with oil!
Add scent to real pinecones – I love gathering up pinecones on my walks, but unlike pine needles, they don't have much scent to them. Place the pinecones in a bowl and give it a few spritzes of Christmas room spray.
Scent greenery – similar to a Christmas tree, you can also spray garlands and greenery.
Add scent to a wreath – want to make a great first impression? Give your wreath some Christmas scent!
Whether you are rocking around the Christmas tree with some eggnog or enjoying a romantic date night without the kids, you'll find a blend here that will freshen the air and warm your heart. Merry Christmas season to everyone! Enjoy the little things this time of year. Yes, even things like the aromatherapy these DIY air freshener sprays will bring you!
Diffuser Christmas Recipes
By the way, you can also diffuse essential oils to add Christmas cheer to your space. But, the recipes for diffusing differ from the room sprays. Grab my free download with the best diffuser recipes in an easy, printable PDF!
Get your free download:

More Christmas Essential Oil Ideas: