Today I'm going to show you how to make a DIY essential oil diffuser you can use on your Christmas tree! It really is just a Christmas ornament using porous lava beads that will slowly diffuse the aroma of the essential oils you add.
This DIY Essential Oil Diffuser is great if you have an artificial Christmas tree and still want that authentic smell of pine in your homes. If you have a real evergreen tree, you can also use these to create your own Christmas aroma at different areas of your home. Combine the natural pine from your tree with a complimenting seasonal fragrance like frankincense!
What You'll Need to Make this Christmas Tree Essential Oil Diffuser:
*Note – do not be limited by my color selections. You can mix and match your bead colors – I'm just showing you one example with what I had on hand. I found a Christmas bead mix
and some multi-colored lava beads
that would also look fantastic!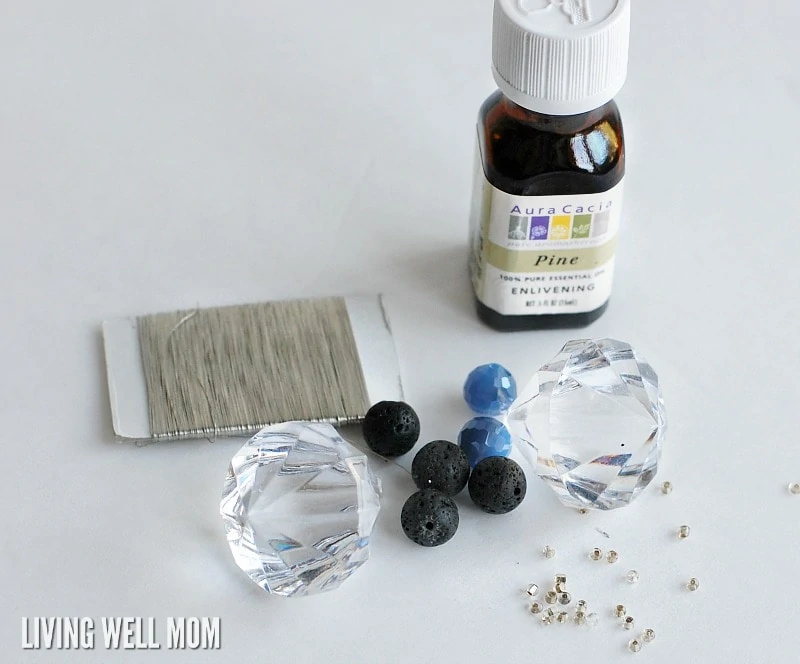 To start, cut a length of your bead wire to be about 16″ long. There will be some extra slack that I measured in that will make this easier for tying.
Then thread the tear drop bead on first.
Next, take 5 seed beads and string them on each side of the tear drop bead.
Then take both of the wires and string them through the first lava bead. (You might have some lava beads left over from when you made your mosquito repellent bracelets a few months ago!)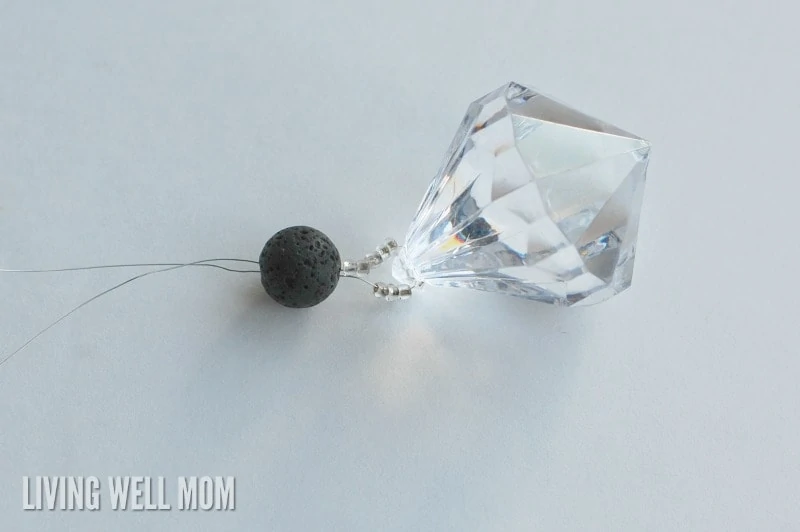 Repeat this process until you have threaded three sets of seed beads in between three different large round beads. I used a non-lava bead in the very middle. Tie off into a knot and make a second knot after a few inches for hanging purposes. Trim off the access wire.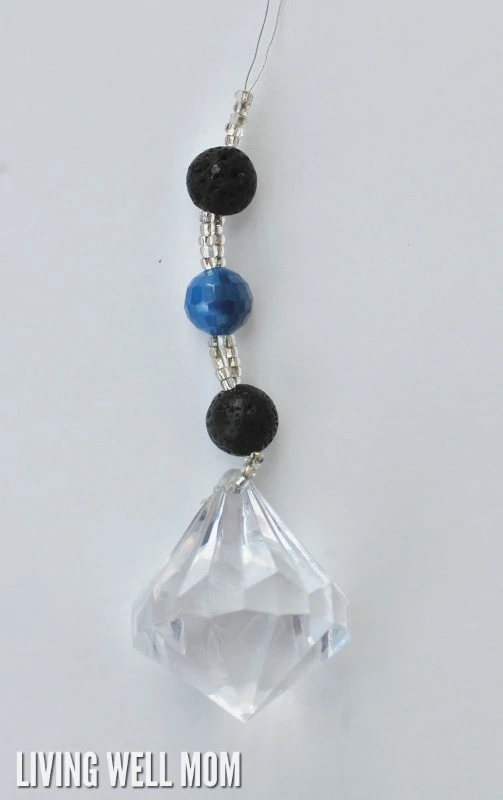 Because I have an artificial tree and want the scent in my home of a real tree, I used just pine essential oil on my essential oil diffuser ornament. But do not be limited by just this one scent!
You can experiment with other seasonal scents like frankincense
or even orange
and cinnamon
! There are plenty of Christmas essential oil blends
that you could also drip on your essential oil diffuser ornament.
When applying your oils, you may need to lay your ornament flat – or just angle it a bit and let 2-3 drops of essential oils fall onto the lava beads. If you have other porous ornaments on your tree (anything made with unvarnished wood that you don't mind if it has an oil stain on it) would also work! Experiment with scents and blends and enjoy the extra aroma that makes it feel like Christmas!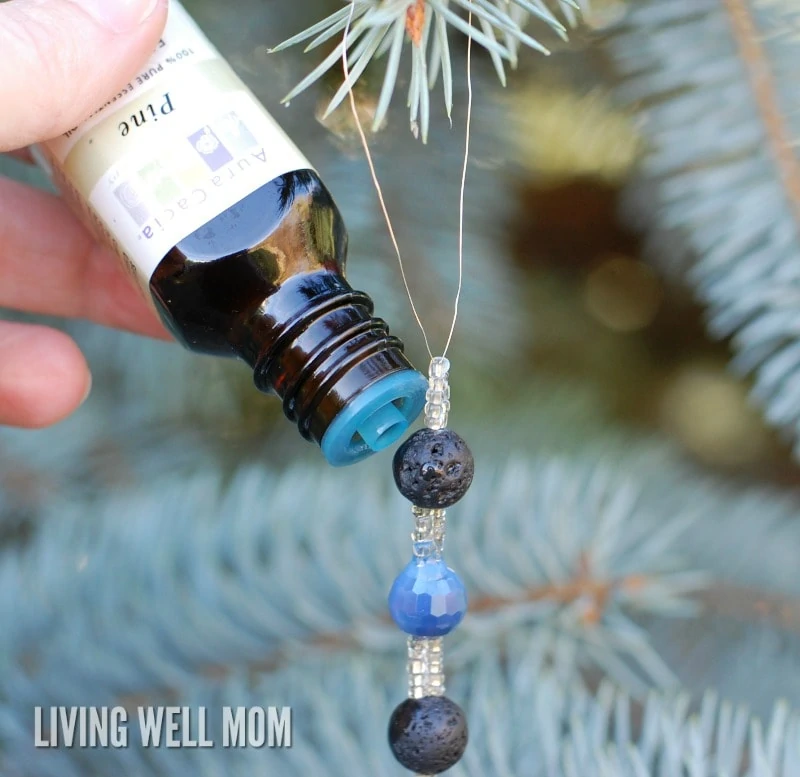 If you are thinking about using this essential oil diffuser for the Christmas tree as a gift, you could combine one of these essential oil diffuser ornaments plus a bottle of pine essential oil in a festive gift bag! Sounds like a great teacher gift, or a great gift for a friend who you want to introduce essential oils to!

Looking for another easy way to scent your Christmas tree? Try these 5 Christmas room sprays!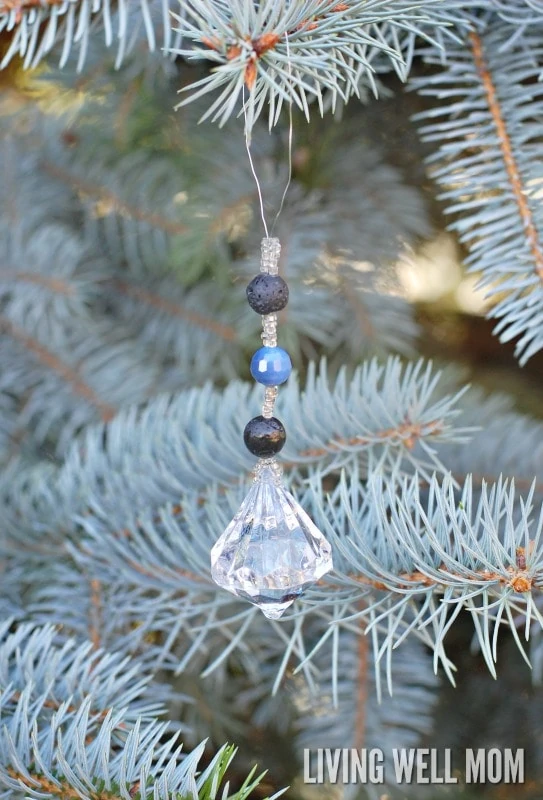 Other than pine or frankincense, what other essential oils could you see yourself using on your tree this year?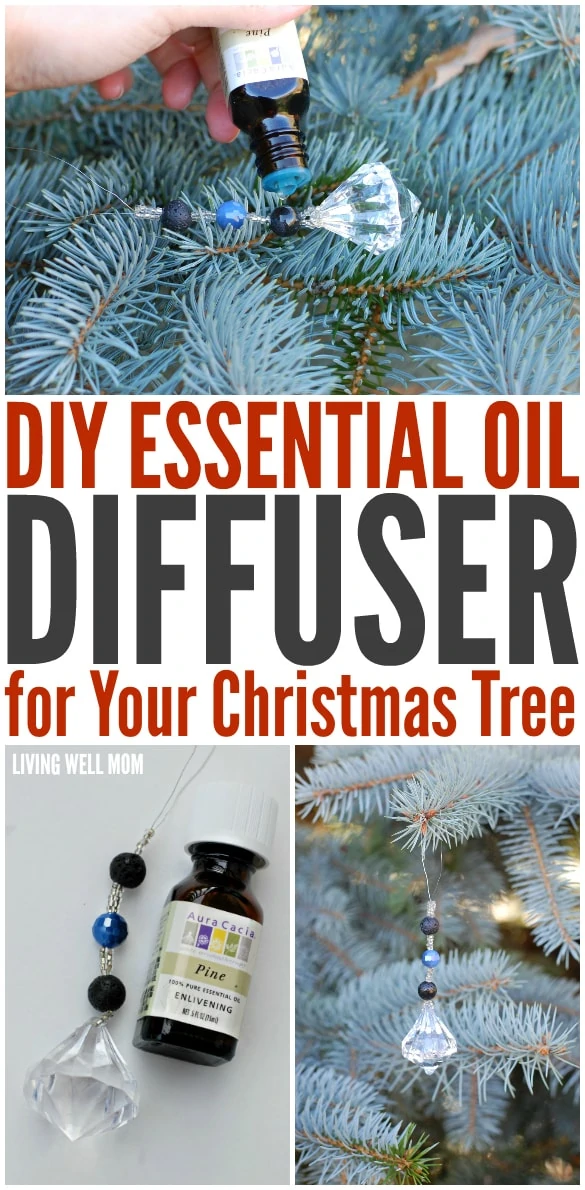 For more DIY gift ideas with essential oils, check out these posts: