If you are anything like me, your family loves spending time outdoors. But spending time outside can quickly become less enjoyable when you are attacked by blood-thirsty mosquitoes! That's exactly why I came up with this DIY mosquito bracelet. It's effective and free from any potentially harmful chemicals!
Summer is the time of year when we all enjoy outdoor time – camping, hiking, picnics, or simply relaxing in the hammock with a good book. And then, the not-so-good: those pesky mosquitoes intent on itchy bites!
But in this blog post, I've got an all-natural solution for those annoying pests – a DIY mosquito bracelet made with essential oils. This is a simple DIY that really works!
Why not Just Use Bug Spray?
Sure, bug sprays can be effective, and they certainly have a time and place where they can be useful. But my family spends so much time outdoors that as a mom, I personally don't feel great about continually slathering my kids in bug spray that can cause skin irritation and other issues.
Instead, I wanted to find something that was made with natural ingredients while also offering hours of protection from mosquito bites. I also wanted to make an affordable solution That's exactly why I came up with this simple mosquito bracelet.
If you prefer to use bug spray but want a natural solution, I highly suggest you check out my homemade essential oil mosquito repellent spray.
Essential Oil Diffuser Bracelet
You may have already seen my post on how to make a diffuser bracelet for essential oils. This mosquito repellent bracelet is very similar! This time we'll use two specific essential oils that work wonders as insect repellents: citronella and tea tree oil.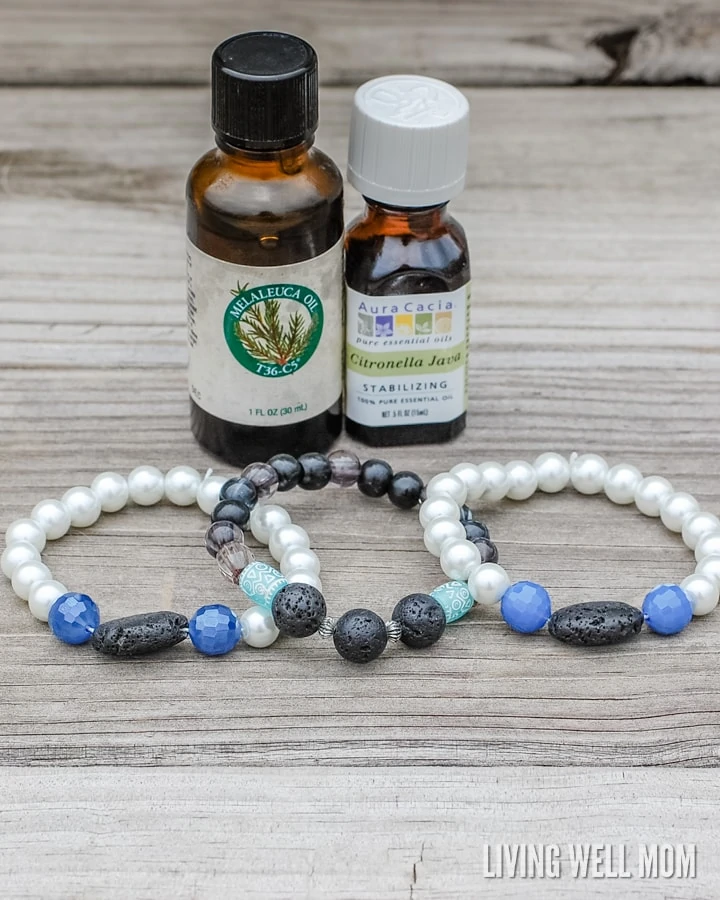 Today, I'll show you the very simple step-by-step instructions for making a DIY Mosquito Repellent Bracelet with Essential Oils.
What You'll Need to Make a Mosquito Repellent Bracelet:
Bug Repelling Essential Oils ↓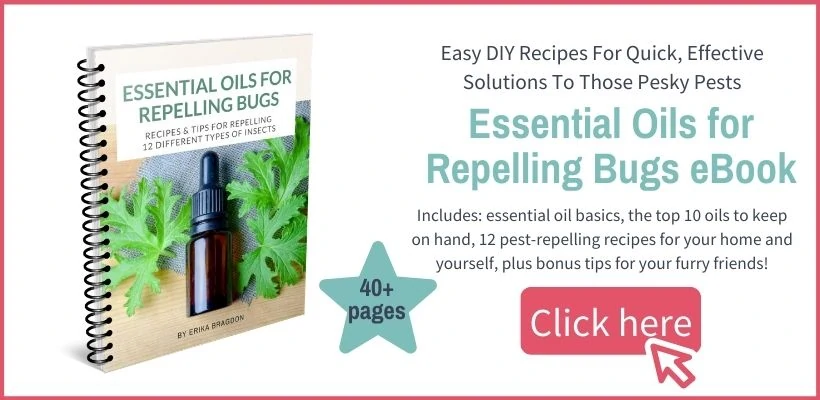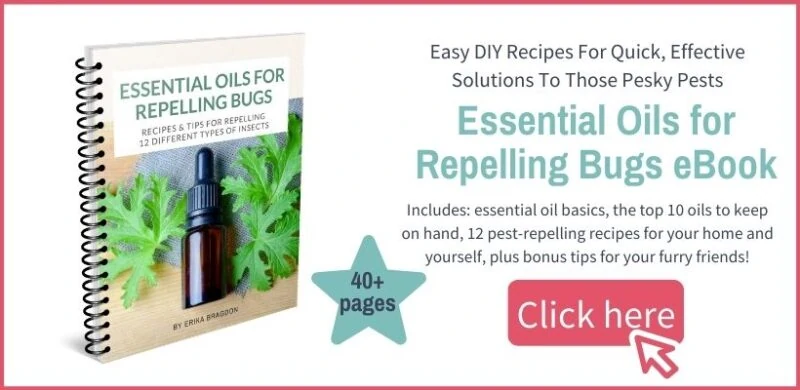 How to Make a DIY Mosquito Bracelet

These bracelets are really easy to make! If you can string beads on elastic, then you can make these all day long!
One tip I have for the elastic: =if your elastic starts to unravel at the end, just place some nail polish on the end and let it dry. It's much easier to string your beads this way because the nail polish stops the unraveling!
String your beads and tie off your bracelet so it's long enough for your wrist. In the middle of your bracelet, place one or two lava beads that will hold the essential oils. I liked the oval and flat beads as the oil soaked in a bit better on the flatter surface rather than round lava beads.
Drop 1-2 drops each of tea tree oil and citronella essential oil on your porous beads.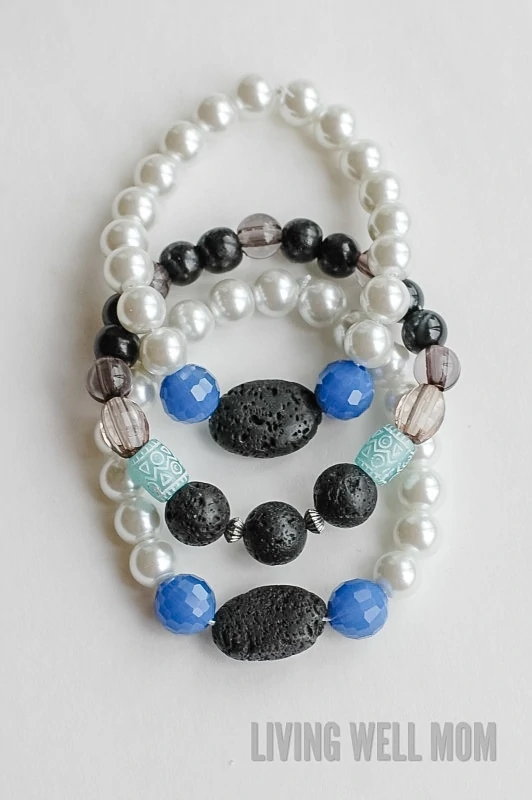 I would advise dedicating this bracelet to just citronella and tea tree oils without using any others. The scent of citronella is strong – and it will just stay with that bracelet for a really long time. I wouldn't expect you to wear this to a Friday night cookout and be able to wash it and wear just lavender oil on your bracelet the next day.
I would recommend you set this one aside and use this bracelet as just your insect repellent bracelet.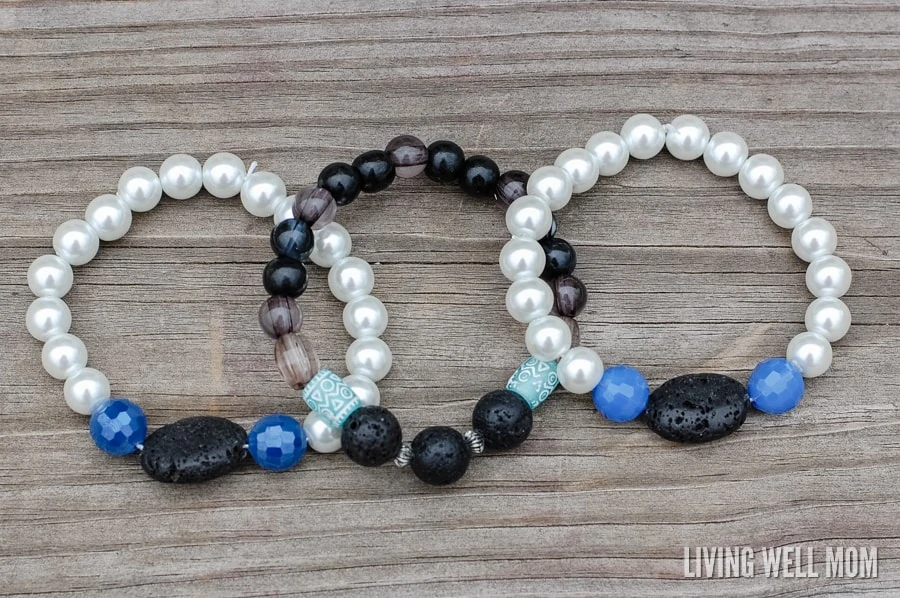 Do mosquito bracelets actually work?
Yes, this natural solution really does help keep mosquitos away. However, I find these to be most effective when I use them in tandem with other smart solutions. When I know I'll be in an area heavy with mosquito activity, I wear long clothing. I also stay away from standing water and try to stay indoors during sunrise and sunset when bugs are most active.
You can get creative with these too! I now have one of these bracelets attached to my iPhone armband; now each time I go running, I won't forget to wear my all natural DIY Mosquito Repellent Bracelet! The bugs have significantly stopped "bugging" me while I'm out for a jog.
A reader also suggested making an anklet with one of these, which I think is a great idea too!

More Ways to Repel Bugs with Essential Oils
If you liked this essential oil mosquito repelling bracelet, you might like these other natural bug repelling ideas too: