Repel mosquitoes, ticks, flies, and other pests with these DEET-free, homemade bug repellent lotion bars using essential oils and other natural ingredients. They're safe for the whole family, including kids and babies!
If you've ever wondered how to repel mosquitoes without bug spray, this lotion bar recipe is your answer. It works very well as a DIY mosquito repellent. Plus, it's perfect for travel, hiking, sporting events, camping, etc. because you don't have to worry about spills or messes in your purse or luggage.
There are two more advantages to using this DIY bug repellent lotion bar compared to bug sprays:
We've noticed we need to apply less frequently than other natural DIY insect repellents because the essential oil scents tend to last longer.
It also nourishes and moisturizes the skin due to the shea butter, coconut oil, and beeswax ingredients. You don't get that with typical bug sprays!
How do you make an effective natural insect repellent?
An effective natural bug repellent uses natural ingredients like essential oils to keep insects away. Essential oils tend to work well because they can disguise your scent from mosquitoes and other annoying pests.
The downside is you typically need to reapply more frequently than non-natural, DEET containing repellents however this lotion bar does last longer than DIY sprays.
How to Make Homemade Insect Repellent Lotion Bars
Did I mention this essential oil bug repellent recipe is REALLY EASY to make? It is! All you need are a few simple ingredients, essential oils, and a silicone mold (you can find them at Amazon, Target, Hobby Lobby, Walmart, for just a few dollars.)
You'll need:
*This recipe is enough to make 5 medium-sized lotion bars if you use the insect bug silicone mold.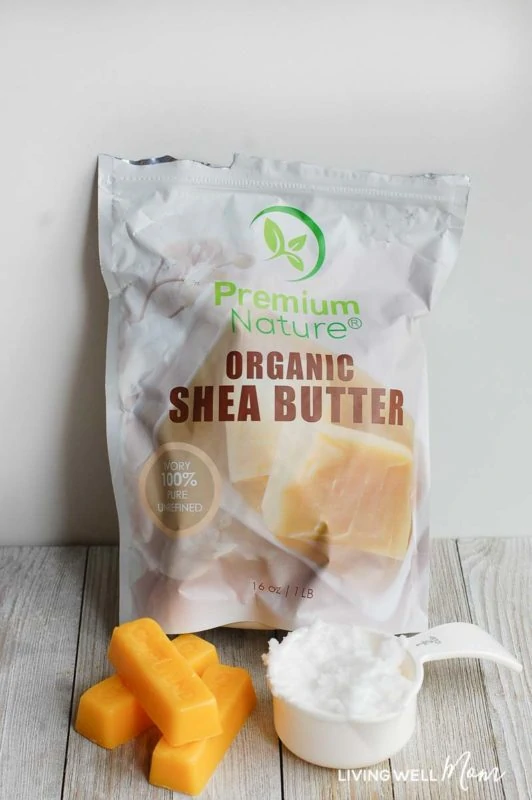 Step 1. Add lotion bar ingredients to a glass, microwave-safe measuring cup (Pyrex is my favorite.)
If you prefer not to use a microwave, you may use a small saucepan on the stove over low-medium heat.
Add 2 ounces of beeswax, 1/2 cup of organic shea butter and 1/2 cup or coconut oil to your glass measuring cup.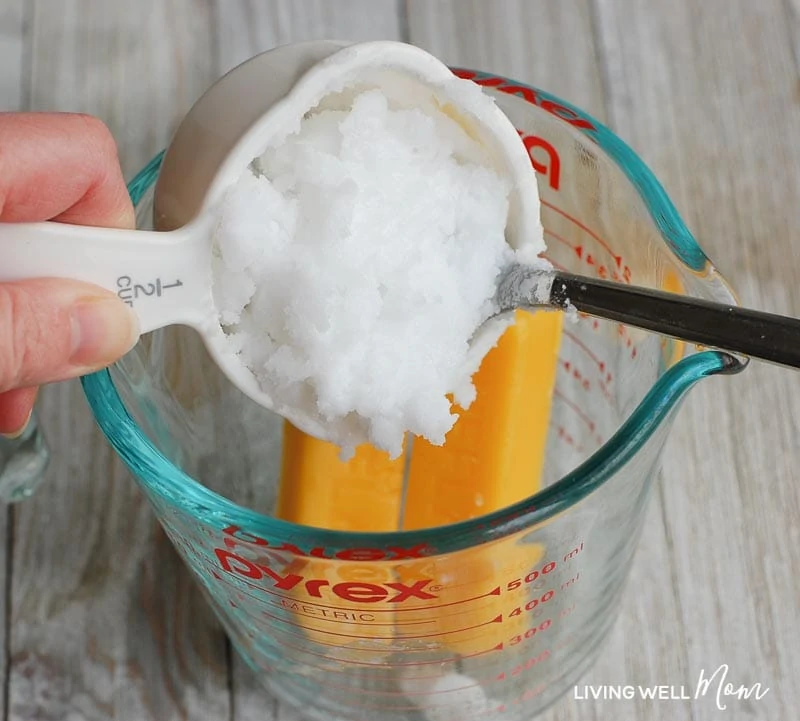 Step 2. Melt the ingredients.
You will need to heat them up enough for them to melt together. Start by microwaving in 30-second intervals, stirring in-between, until the coconut oil, beeswax, and shea butter is fully melted.
Or stir occasionally over low-medium heat over your stove.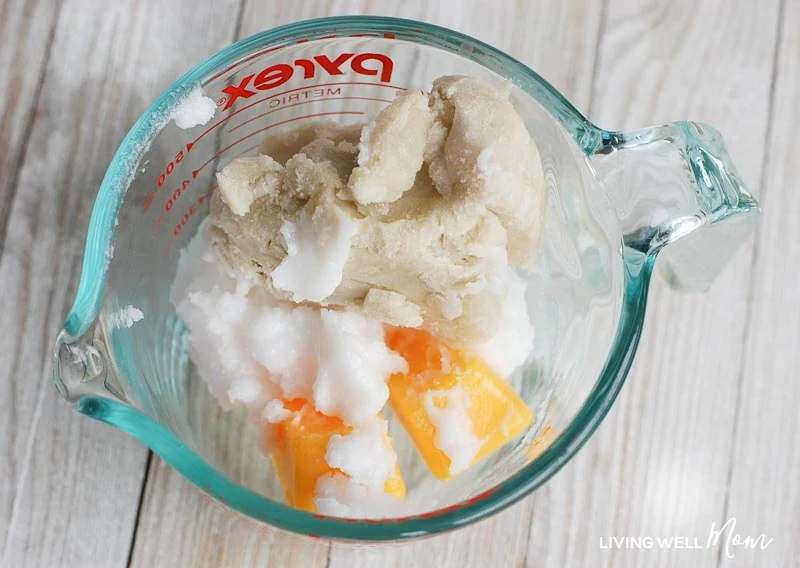 The beeswax takes the longest to melt – so breaking it up and stirring more in-between heatings will help to dissolve it faster.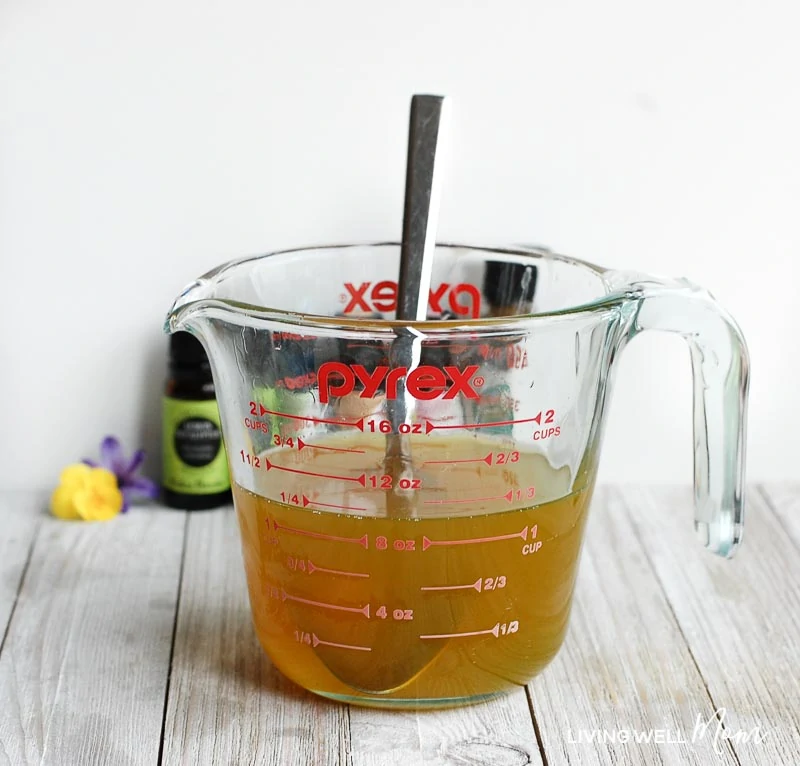 Step 3. Add essential oils.
Here is the homemade insect repellent fully melted before you add the actual insect repelling ingredients – which are the essential oils.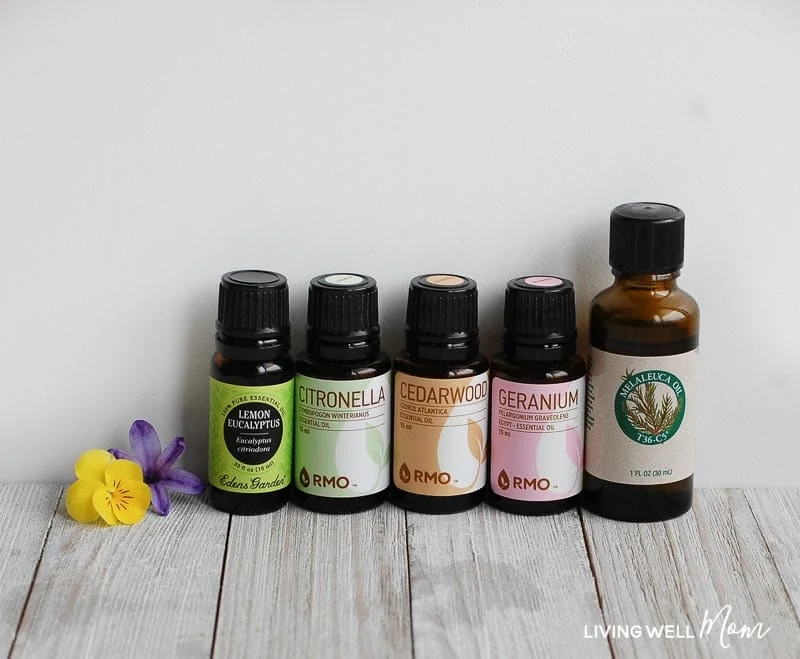 You will need 10-15 drops each of the following essential oils:
Lemon Eucalyptus Essential Oil
Citronella Essential Oil
Cedarwood Essential Oil
Geranium Essential Oil
Tea Tree or Melaleuca Essential Oil
Note: if you plan to use these DIY bug repellent lotion bars for babies or very young children, use 4 drops of each essential oil.
Step 4. Stir until well blended.
After you add your essential oils, stir again until the mixture is well blended.
Step 5. Pour into the molds.
Then you can get your silicone mold and pour the liquid into your mold.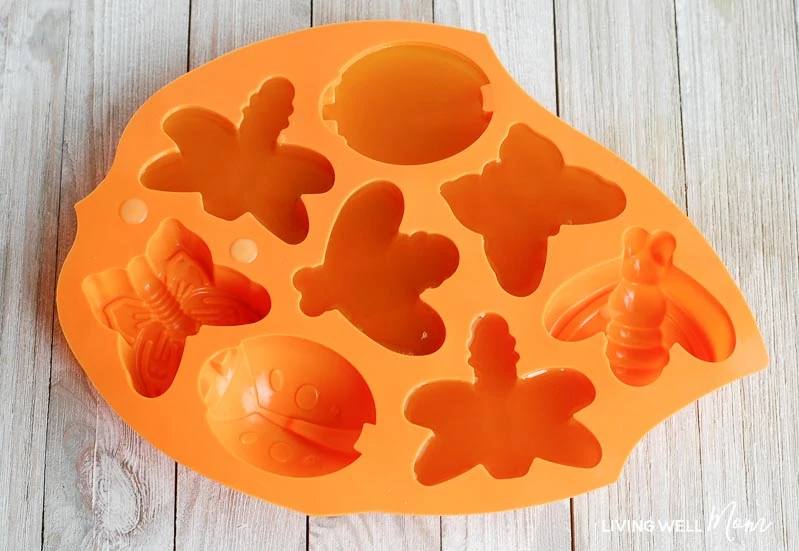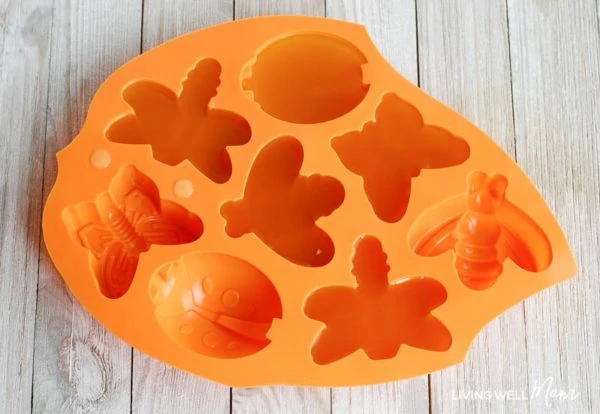 Here are the poured insect repellent lotion bars before they are cool.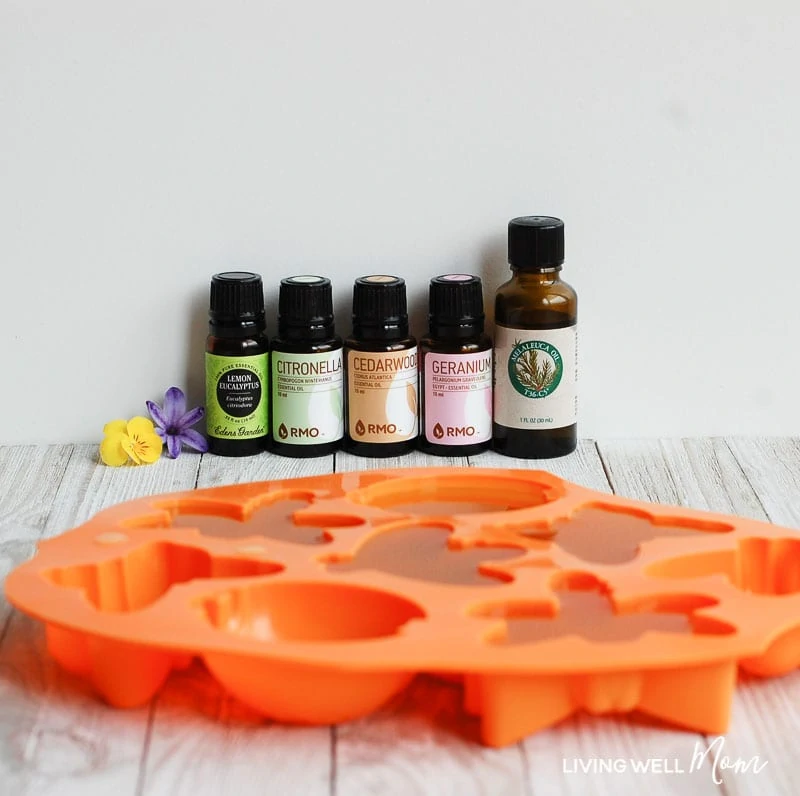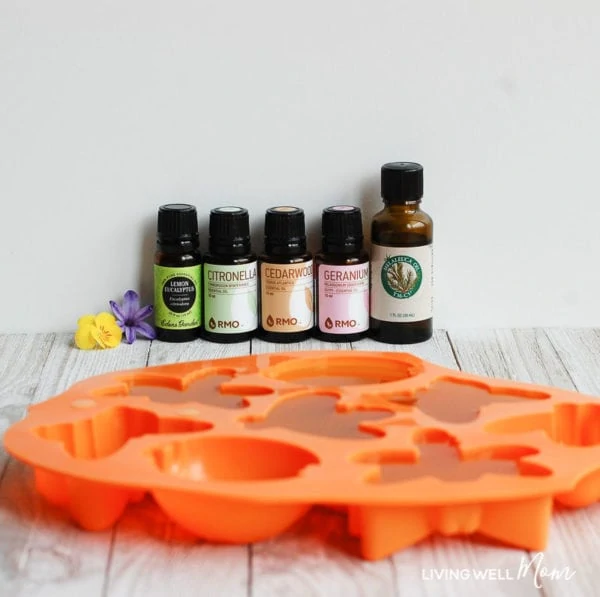 Step 6. Cool for 24 hours.
Let these sit untouched for 24 hours to fully cool and harden.
I personally love the bug shaped mold and think these are really cute. The kids love rubbing on "bugs" to keeps bugs away!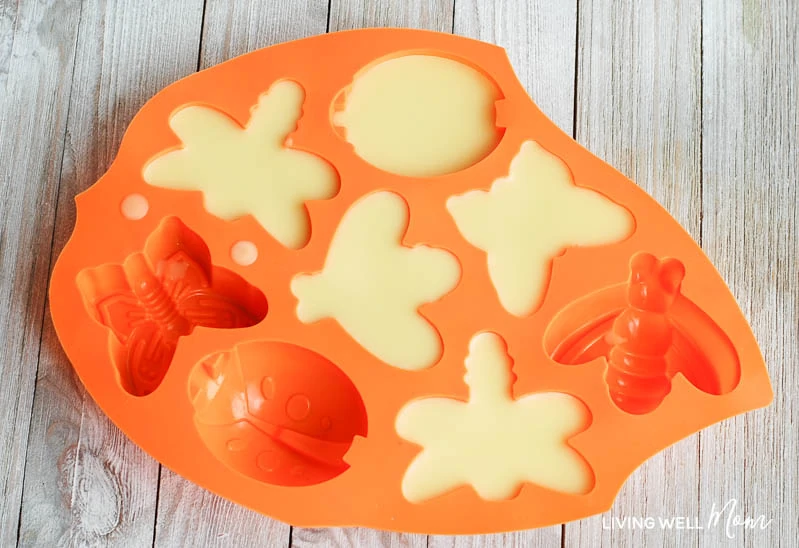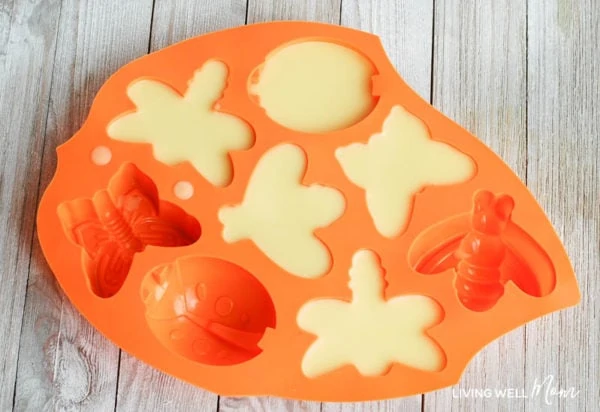 Step 7. Remove from the molds.
After you have waited 24 hours for your DIY mosquito repellent lotion bars to cool, you can pop them out of the mold.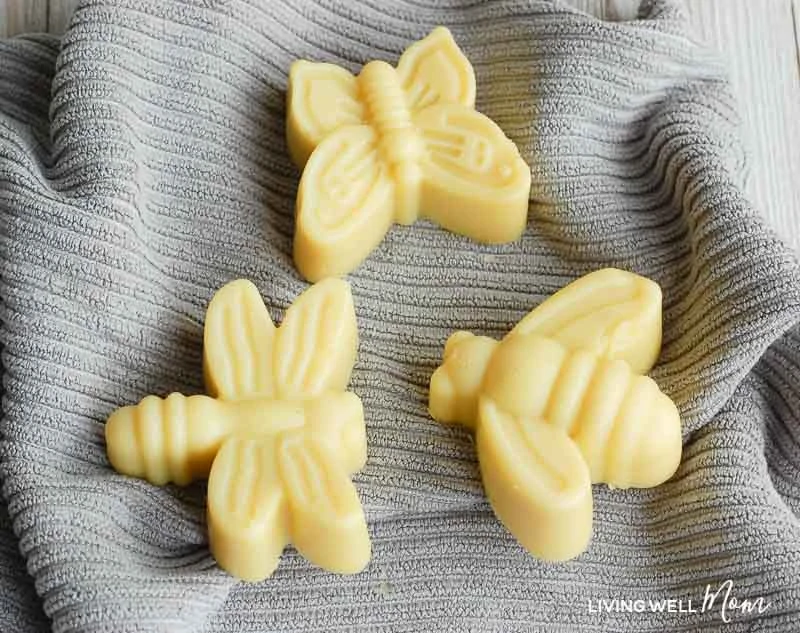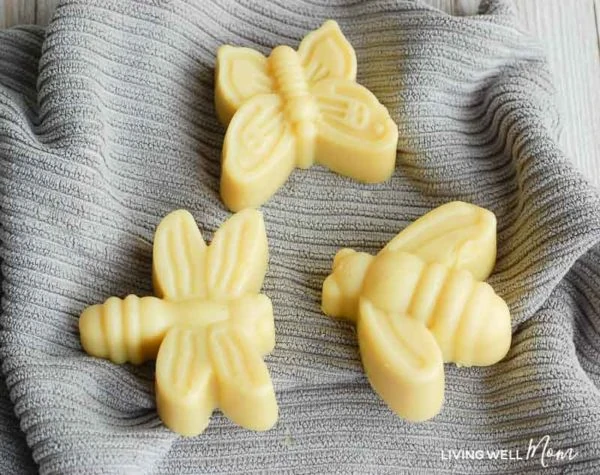 Remember that these are lotion bars are not soap bars, so they will feel softer and the lotion will rub off on your hands right away. I recommend getting a small plastic bag or container (such as these here
) to store your bug repellent lotion bars in when they are not in use.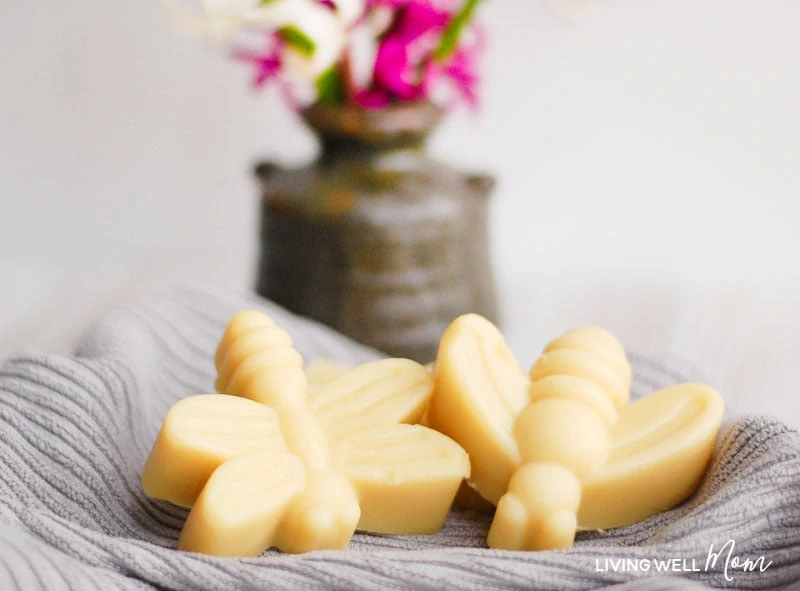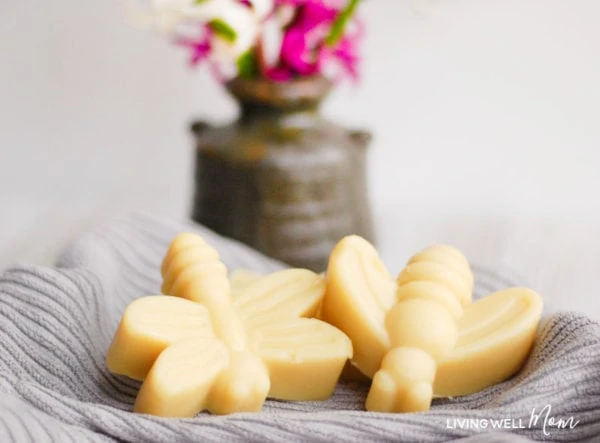 Add one or two of your DIY bug repellent lotion bars to your purse and pass them around at sports games. Always have one on hand before hiking or camping!
Bug Repelling Essential ↓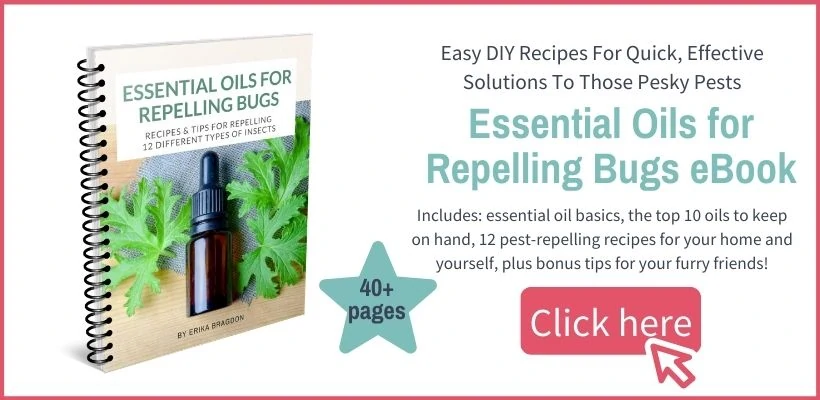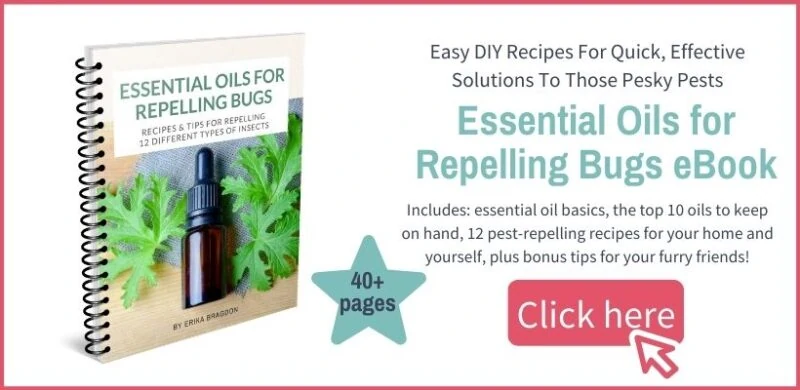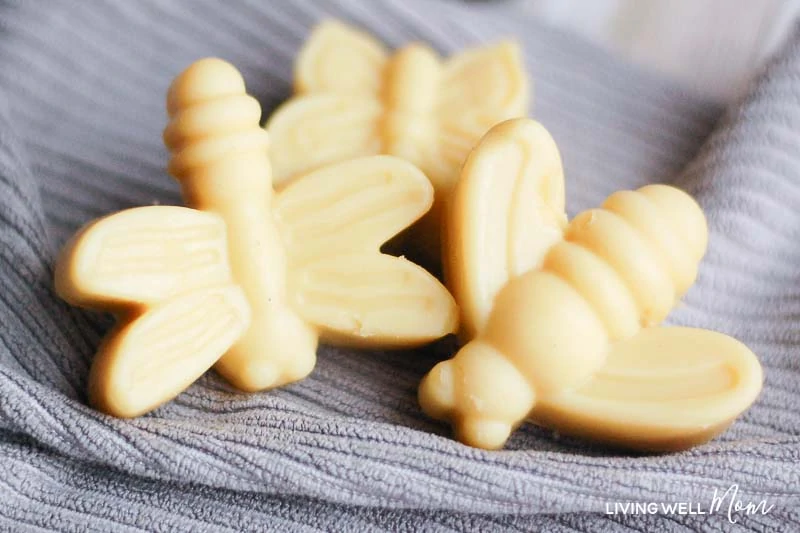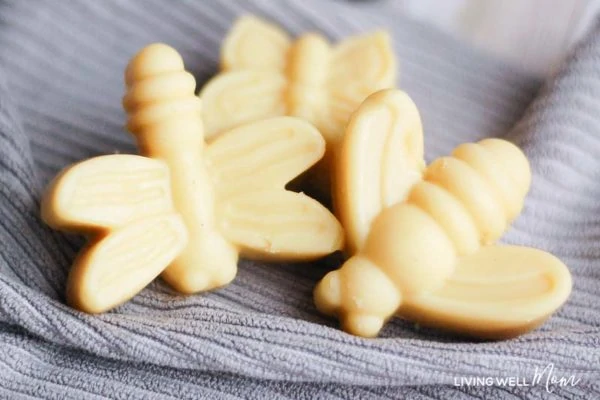 These lotion bars do have a strong scent, but in my opinion, they smell much better than a commercial bug spray. Not to mention, its a relief knowing that when my kids rub this on their skin, they aren't rubbing on toxins such as DEET.
Bug Repellent Lotion vs Lotion Bars
I recently wrote a post on how to make a bug repellent lotion. Both recipes contain the same essential oils, so how do you choose which one to use?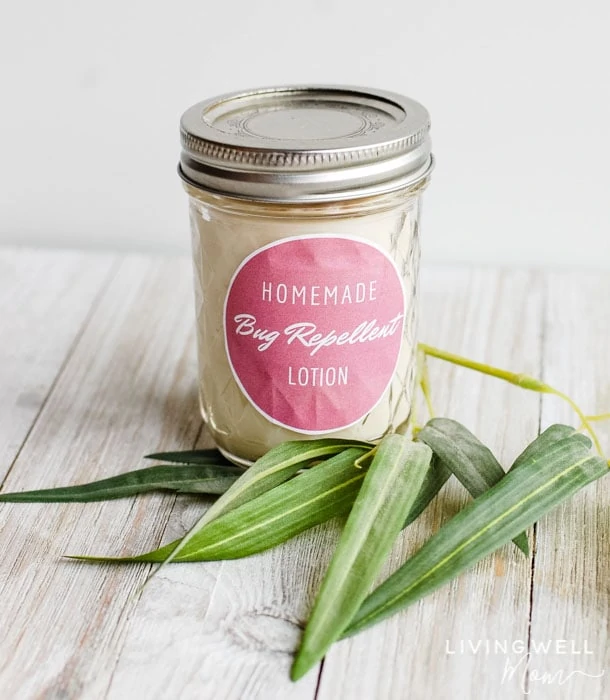 I believe the bug repellent cream works wonders, but the lotion bars may be a better option to use if you are swimming often or traveling. There are more beeswax and shea butter in the bars than the cream, which will help seal in the scent and will stay on your skin longer if you are in and out of the water. I also recommend the bars for traveling so you don't have to worry about the lotion melting and leaking into any luggage. This homemade bug repellent lotion bars recipe also has fewer ingredients making it a little simpler to make too.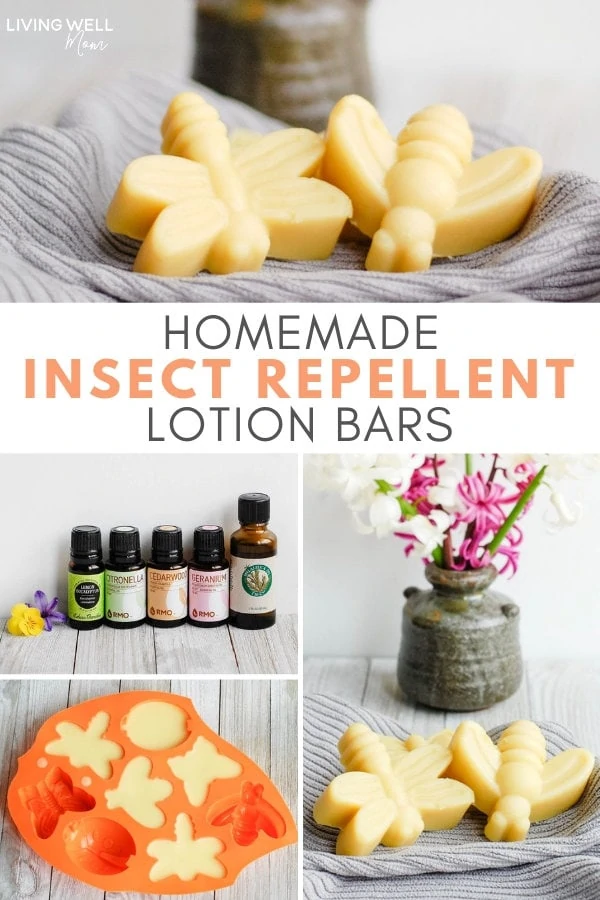 Which Essential Oil Brand is Best?
For the best results, you will want to choose a high-quality essential oil brand that is 100% pure and offers third-party testing for quality control. Read this post for more info on how to choose essential oils that work for you and your family (beyond the brand.)
My favorite essential oil company is Rocky Mountain Oils, followed by Eden's Garden, and Ancient Apothecary by Dr. Axe
.

Print
Homemade Insect Repellent Lotion Bars
Keep away mosquitoes, ticks, and other pests with DEET-free, natural bug repellent bars with essential oils. Perfect for travel, hiking, camping, and backyard use.
Instructions
To make your natural bug repellent, add 2 oz of beeswax, 1/2 cup of organic shea butter and 1/2 cup or coconut oil to a glass, microwave safe, measuring cup.

Microwave in 30-second intervals, stirring in-between, until the coconut oil, beeswax, and shea butter are fully melted.
Add the essential oils.
Stir again until well blended and pour into your mold
Let it cool for 24 hours before you pop your lotion bars out of the mold
Store in a plastic bag or small plastic container
Notes
Avoid high heat or your bug repellent bars will melt.

Want to know how else you can use essential oils to protect you while outdoors? Check out these ideas: