We all love when the warmer weather comes back to us each spring – but with that warmer weather often comes more bug bites. If you are a fellow bug magnet I have an easy recipe for you today showing you how to use essential oils for itchy skin plus a few other supplies to create a DIY bug bite stick!
I do have another bug bite relief recipe here at Living Well Mom – a DIY essential oil roller blend for mosquito bites. This one works very well for our families and many others.
But many folks prefer using an itch stick for relief. And that's exactly what I'll show you how to make in this post in just minutes.
This easy homemade bug itch stick contains coconut oil and beeswax along with select essential oils for itchy skin. The result can be soothing, calming, and itch-relieving!
You'll only need 6 ingredients for this homemade "itch stick" recipe. It also makes several sticks, enough to probably last you the whole summer!
**Please note that these homemade "itch sticks" are not for severe allergic reactions or rashes. This is for topical use only for itch relief for minor bug bites. Please see your doctor immediately if you or your child are having a severe allergic reaction or rash.**
Essential Oils for Itching
The magic of these sticks are all in the essential oils! By choosing the bet essential oils for itchy skin, you can alleviate the discomfort of bug bites. Here are my top recommendations:
Firstly, I chose lavender oil because it's excellent for skin ailments. I've used it many times to relieve itchy bug bites, poison ivy, even burns. It's helped ease my children's mosquito bite itchiness many evenings. Lavender essential oil may also help reduce inflammation from bug bites and speed up the healing process. This kid-friendly oil is also perfect for sensitive skin!
Peppermint is cooling, again relieving the itchiness on the skin. It also acts as an inflammatory and should help soothe itchy irritated skin.
Basil is another great essential oil that can work very effectively to bring relief from insect bites. (I forgot to include Basil in our photos, oops!)
This is the perfect trio of essential oils to quickly bring relief from those pesky bugs that put a damper on lovely, warmer weather. I use these three for my own bug bite itch stick, and would recommend you do the same!
If you are looking for other options or are not a fan of the scent of the above oils, here are some more essential oils for itching:
Homemade "Itch Stick" Supplies
1 oz of beeswax – I ordered this kind and used one of the 1 oz bars (it comes with 5)
2 heaping Tbsp coconut oil – this is the perfect carrier oil thanks to anti-inflammatory properties and its ability to retain a solid mass
10 drops each of lavender and peppermint essential oils. You can also add a few drops of basil essential oil.
Slow cooker and one Slow Cooker Liner – optional, I'll also show you how to make this bug bite itch stick in the microwave too!
Containers to hold your itch relief cream – I used these lip balm tubes
Decorative Washi Tape (optional)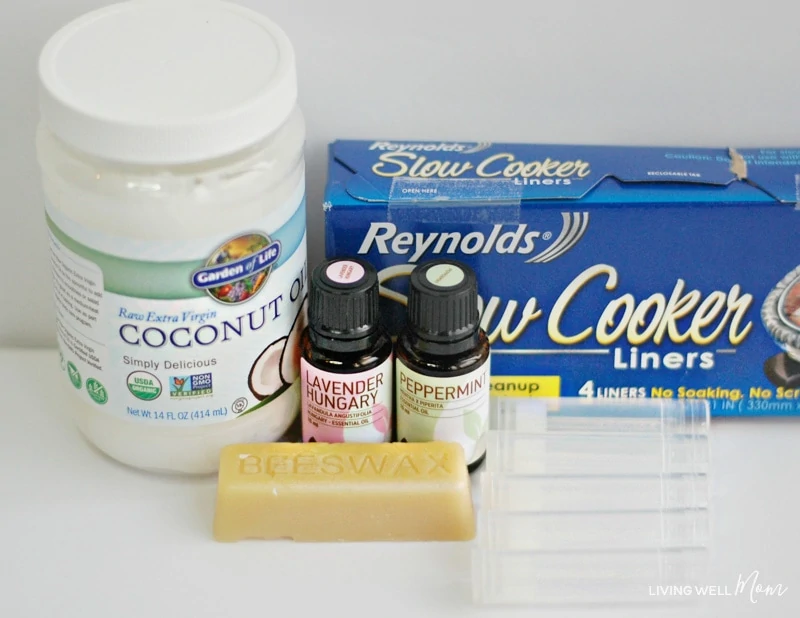 Step by Step Directions for Making a Bug Bite Stick
There are two methods you can use to make this bug bite stick. First, you can make it in a crock pot, which is how I typically do it. However, if you are in a hurry or don't own a slow cooker, I've included instructions for making this in the microwave as well!
Slow Cooker
The easiest way I've found to make these homemade "itch sticks" is by using your slow cooker and a slow cooker liner. This makes clean up a breeze!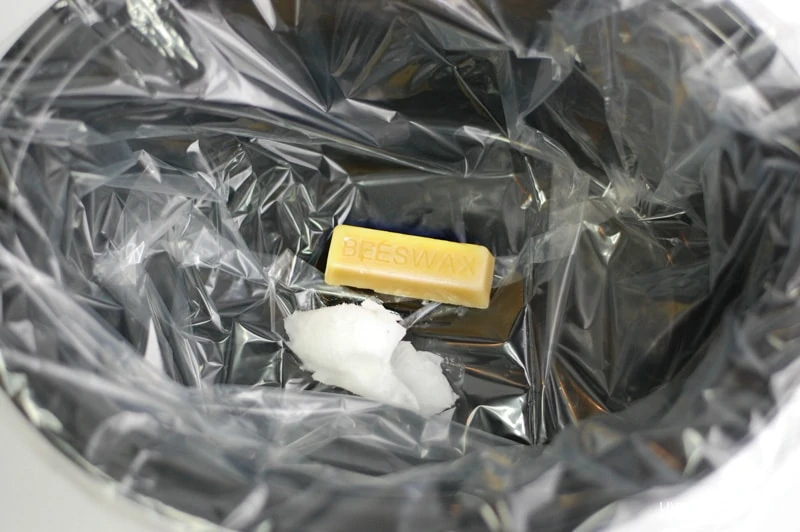 To start making your itch relief sticks with essential oils, add one ounce (one bar) of bee's wax, 2 tablespoons of coconut oil, 10 drops of lavender…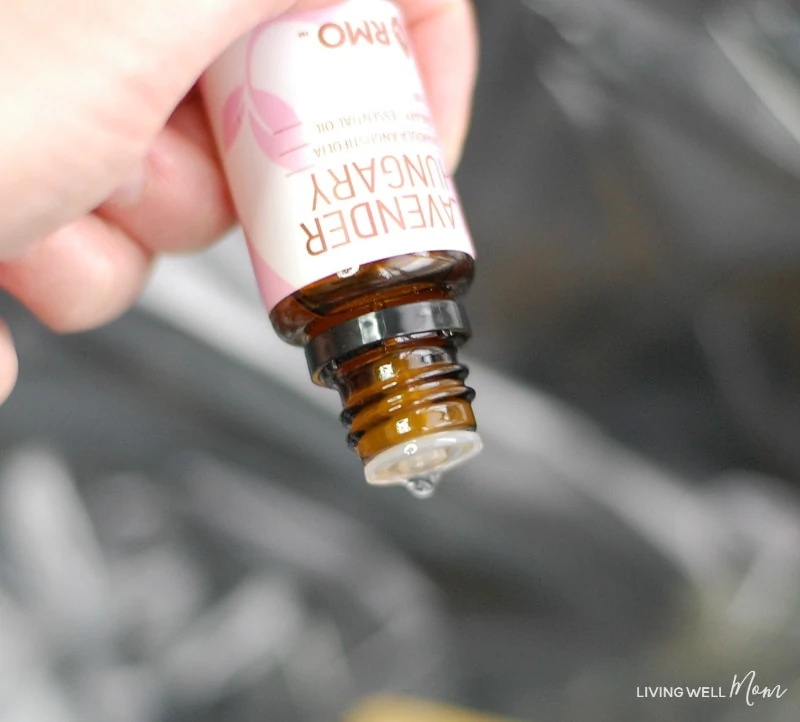 …and 10 drops of peppermint oil to your slow cooker. You can also add a few drops of Basil essential oil if you choose.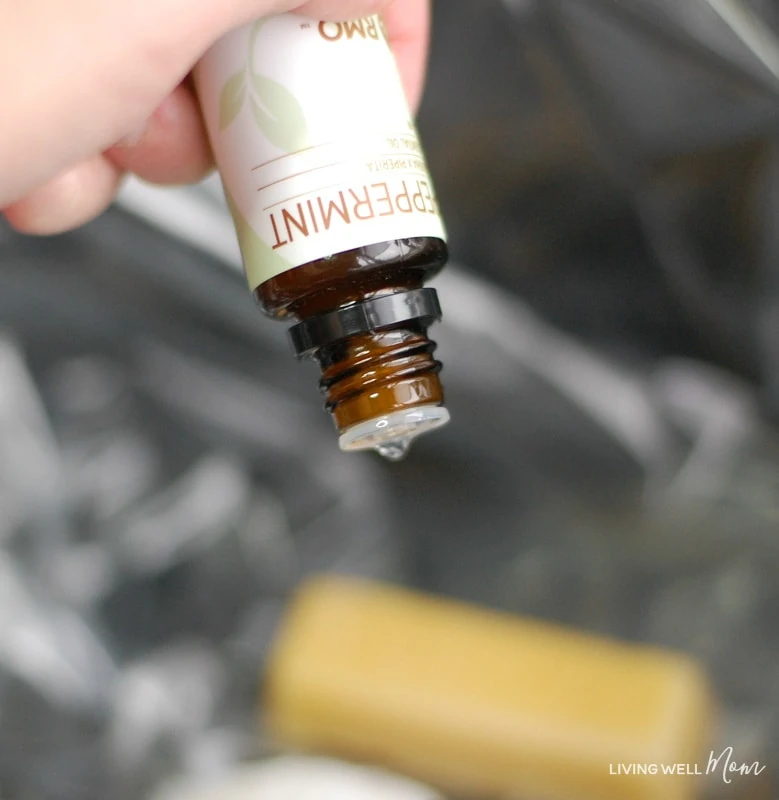 Turn your slow cooker on to the warm setting and let it warm up until it all melts (usually 30-60 minutes.)
Next, pull out the melted beeswax and oils mixture and twist the liner so that you will kind of use it like a frosting bag.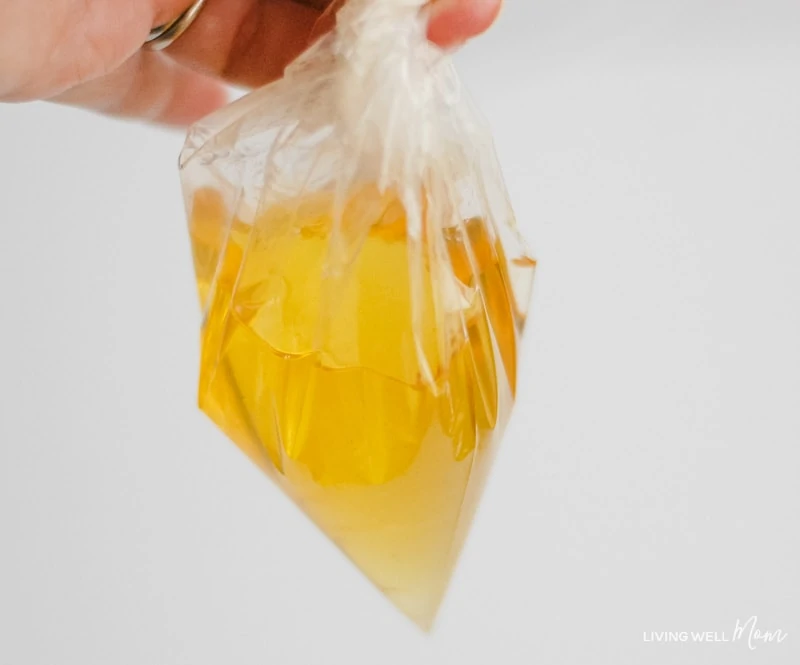 You will snip a tiny hole in the corner of the slow cooker liner and use that as a "spout" to fill each plastic lip balm container with your melted oils.
This process can be a bit messy as you have to quickly aim and get the liquid oils into the small tube. You will want a piece of newspaper under the tubes while you fill them. You may want to wear gloves as the plastic bag is pretty hot from the slow cooker.
Additionally, you will probably need to wipe the outside of the tubes when they are cool, as some of the oil may have dripped while filling them.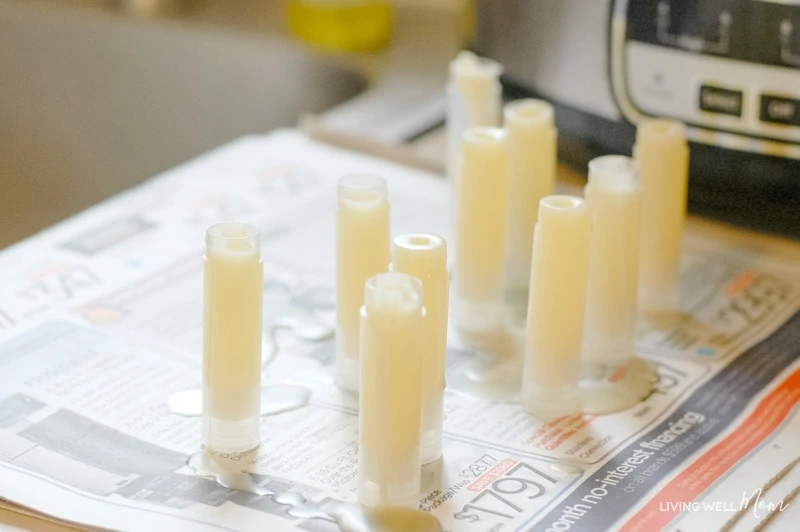 When you are done filling the tubes, simply throw out the slow cooker liner, making clean up as easy as possible!
Microwave
Alternatively, you can easily make this in the microwave.
Rather than heating the ingredients in the slow cooker, heat them together in a microwave-safe container (like a glass measuring cup) in the microwave at 30 second increments, stirring in between.
Do not heat the essential oils at the beginning; they should be added after everything else is melted so the properties are retained.
Then pour the liquid carefully into the lip balm containers. As you can imagine, this is easiest when done with the spouted glass measuring cup I recommend!
How to Use the Bug Bite Sticks
I love the convenience of these itch relief tubes for bug bite relief. I let my kids have one by their beds in case an itchy bug bite wakes them up in the middle of the night. This is way easier than having them come to me asking me to put essential oils on their bites.
These homemade itch sticks are also great to carry in your purse or hiking backpack! They work with all kinds of itchy bites and stings from bees, wasps, hornets, chiggers, fire ants, sand fleas, horseflies, mosquitos, deerflies, and more!
To get effective relief, just apply to the affected area and let the bug bite stick work its magic!

Caution: do not leave your homemade "itch stick" in a hot car or out in the sun. The coconut oil will melt, leaving you with a liquefied mess.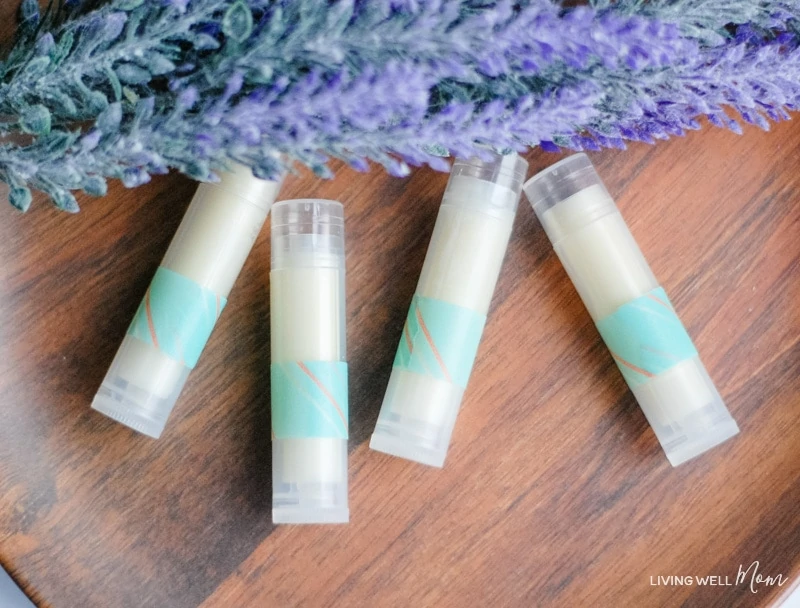 Bug Repelling Essential ↓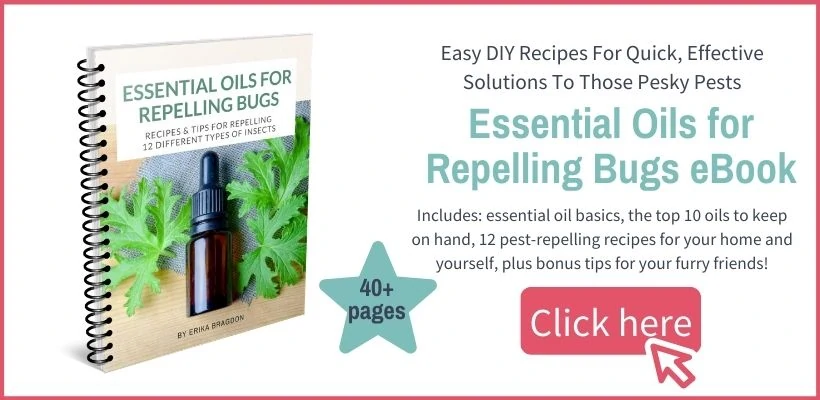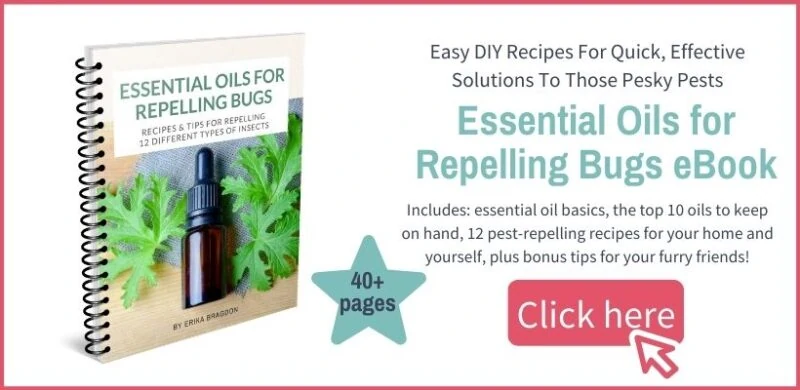 I finished my homemade "itch stick" with decorative washi tape for a pretty finish.
You can also use a label maker, stickers, or even a permanent marker to label your itch sticks.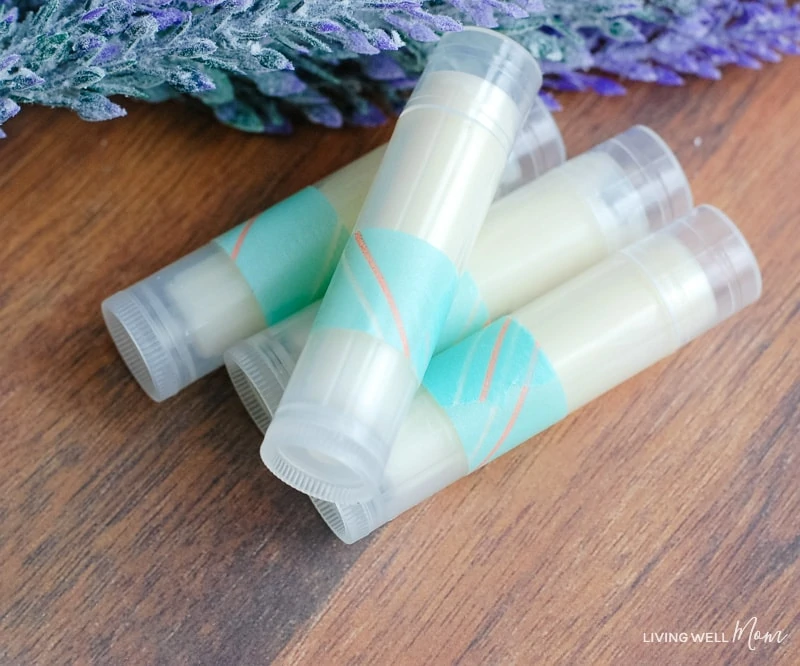 I hope your homemade "itch stick" will bring you and your family all natural relief from bug bites thanks to the essential oils and other ingredients.
More Ways to Use Essential Oils for Bugs