The winter season can bring about dry, chapped lips. Do them (and yourself) a big favor and soothe them with this easy DIY peppermint chapstick recipe.
Plus, if you're looking for an easy stocking stuffer, teacher gift, or just a natural way to pamper your own lips this winter, this is it! You won't want to miss this EASY DIY peppermint lip balm recipe!
You only need 3 ingredients and about 10 minutes to make this homemade lip balm. Yes, truly!
The Perfect Homemade Gift: DIY Peppermint Chapstick
This DIY peppermint chapstick is one of those simple hmemade recipes that I return to year after year. It's become somewhat of a tradition in my home to whip up a batch or two of these. Then, we set them aside as gifts. We keep a small bowl of these on the table if we entertain guests, and encourage them to grab one or two to take home.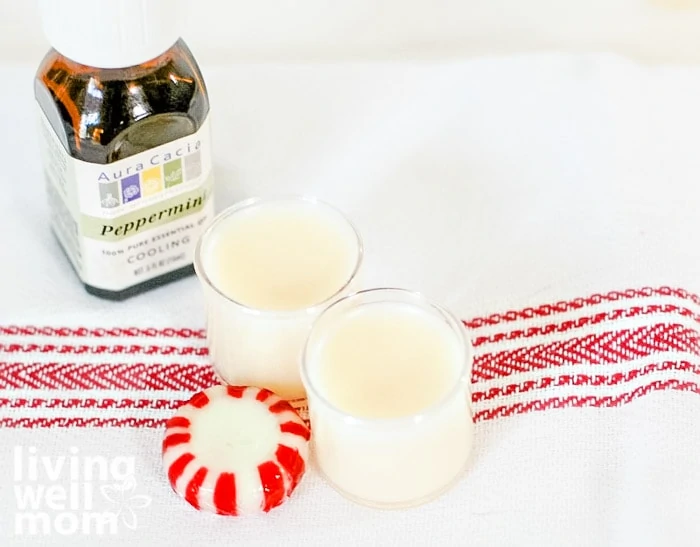 I also use these as a fun stocking stuffer for family members when we do Christmas with our extended family. People say they look forward to it all year – the cooling peppermint combined with the soothing beeswax is a winning combination.
Of course, this mint lip balm makes a great teacher's gift too. Pair this with some peppermint lip scrub for a cute gift set she'll love!
You can make a large batch all at once so you'll have plenty of DIY Peppermint Lip Balms to give away this holiday season. You never know when you'll need one, so don't forget to stash a couple aside for yourself too!
How to Make Peppermint Chapstick
Let's talk about how to make this simple, soothing lip balm. Remember, you can easily double or triple the batch!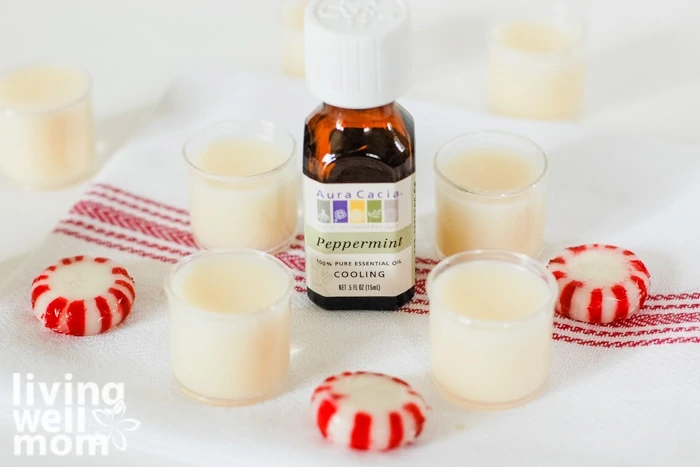 What You'll Need to make DIY Peppermint Lip Balm:
1 oz of beeswax – Beeswax is the perfect lip balm base, as it is both soothing and has antibacterial properties to protect your lips. Plus, it is very easy to work with and inexpensive too.
3 heaping Tbsp coconut oil – Similarly, coconut oil is ultra-moisturizing and also antibacterial.
10-15 drops of peppermint essential oil – Peppermint is a "hot" oil that packs a powerful punch. This means a little goes a long way! It's worth noting that this oil can be irritating to skin if not diluted properly, so be cautious as you add the drops!
Containers to hold your lip balm – You can use whatever container you like. I tend to use these little plastic containers, but this year, I may switch the peppermint chapstick over to the more traditional lip balm tubes. tin containers work well, too!
How to Make the DIY Peppermint Chapstick Step-by-Step
Begin by adding the beeswax and coconut oil into a sauce pan. Heat on low on your stove top until both are completely melted.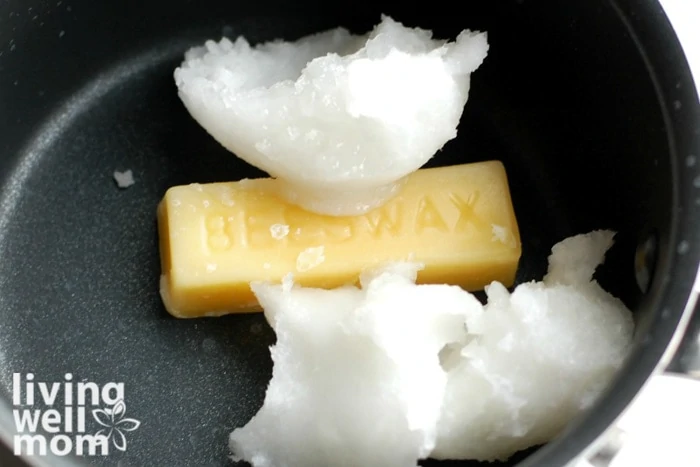 Then pour your melted mixture into a pourable container with a spout. I love my glass Pyrex measuring cup
for this!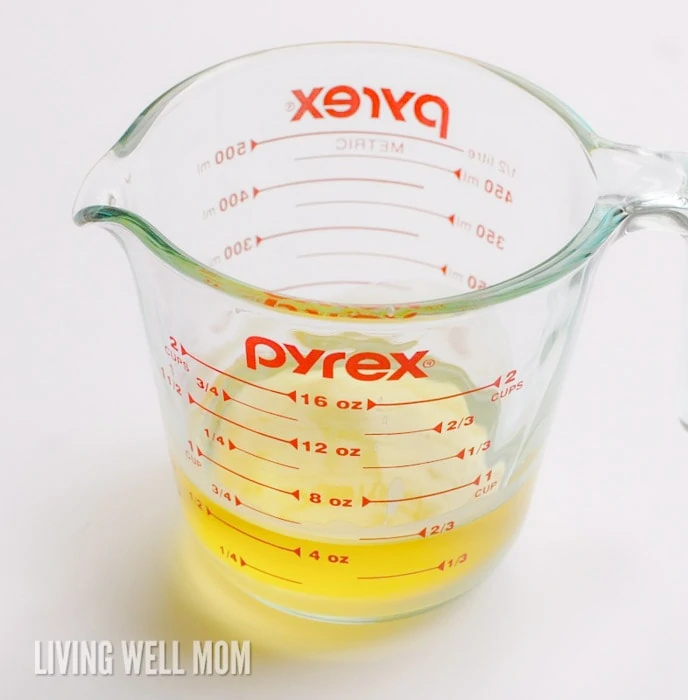 Add 10-15 drops of peppermint essential oil to your mixture and stir it in. You can vary this a bit. Add 5 more if you really want yours to have a stronger peppermint scent and have the lip balm tingle a bit more on your lips when you apply it. This isn't very tingly on your lips by the way. You just feel a bit when you first put it on.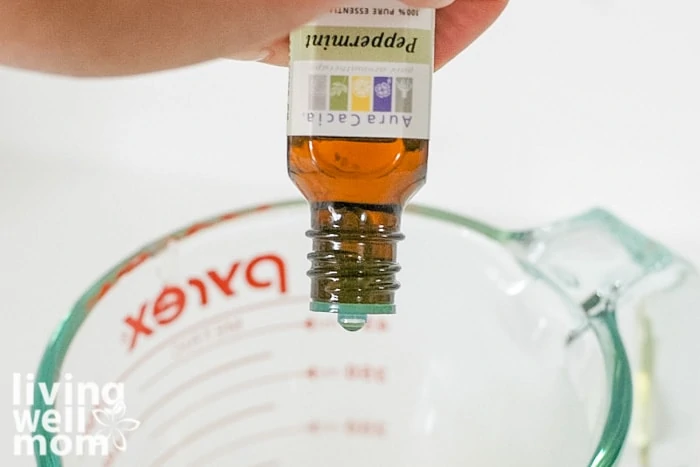 Your DIY Peppermint Lip Balm is done! See how easy?
Now just pour it into your waiting containers. If you have really small containers, or are nervous about pouring without making a mess, you could get some glass droppers
, but it's really not that messy.
You could tie a ribbon around a candy peppermint and wrap that around the lip balm as a cute gift wrapping idea!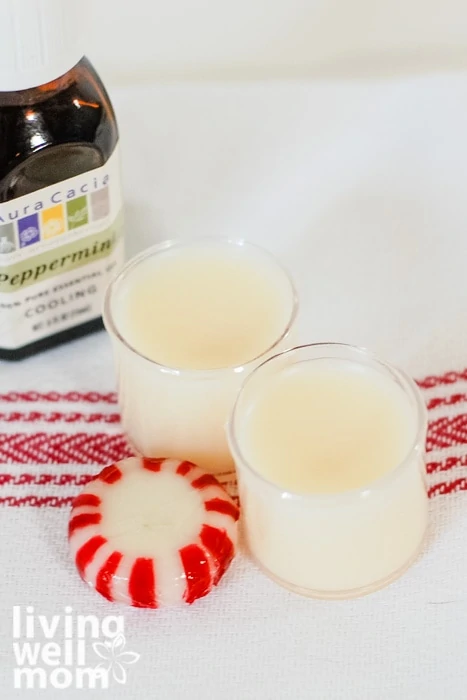 I'll be making extra of this homemade peppermint lip balm to give as gifts to my daughters' teachers, bus driver, and friends at my mom's group this year! Of course I'll stick one or two in my own purse as well.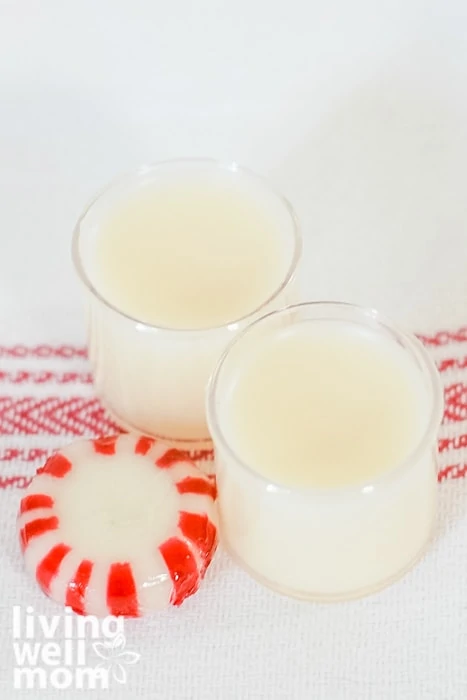 Want to make a complete natural bath and body product gift basket? Make this Peppermint Goat's Milk Bar Soap and Homemade Foot Cream with Peppermint along with this peppermint lip balm for the perfect trio!
Pin the image below to save the DIY peppermint lip balm recipe for later.