This moisturizing homemade peppermint sugar scrub is so simple, you'll have it whipped up in no time! With just four basic ingredients, this gentle exfoliant can be used on dry skin to leave your complexion feeling soft and smooth.
This easy, all-natural recipe can be made in just 5 minutes and makes a great DIY Christmas gift! In fact, I've even included free printable labels for you to use too.
Invigorating Peppermint Sugar Scrub
Are you feeling stressed, sore, and tired from the daily grind? I know I am! Mom life is incredibly busy between running errands, making meals, keeping the house clean, and taking care of the kiddos!
I am always looking for easy, effective ways to pamper myself a bit – and this is one of my favorites!
Get a quick pick-me-up with this DIY Peppermint Sugar Scrub! It's so easy to make in just 5 minutes. No long, complicated DIY to leave you feeling even more exhausted. 😉
Give yourself a little bit of self-care today with this simple recipe that will leave your skin feeling soft and smelling amazing!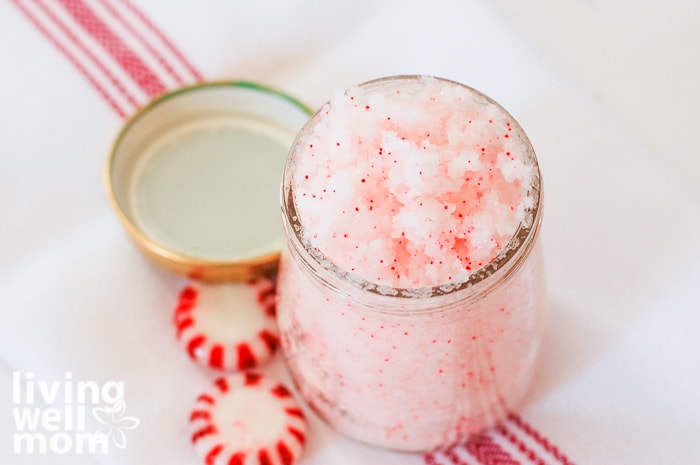 The Perfect DIY Christmas Gift
Even better, you can make this DIY homemade peppermint sugar scrub a 2-for-1 win. Simply double (or more) the recipe below. Then keep a batch for yourself while also creating a lovely homemade sugar scrub to give as a gift!
Your recipient will love the pepperminty scent. It's a wonderful holiday smell that is bold and refreshing, especially when combined with the natural sweetness of sugar.
I've included a free printable label below for you to add to the mint scrub. It elevates your gift just a bit and lets the recipient know just what they are getting this holiday season.
If you want to make it a spa basket set, you can also add this homemade peppermint lotion along with it! Don't be intimidated – making this DIY lotion is easy too!
Free Printable Peppermint Sugar Scrub Labels:
I've created some pretty labels just for you. Grab them for free here:
What does this peppermint sugar scrub do?
naturally exfoliates for softer, smoother skin
is great for revitalizing dry skin
helps remove blackheads
pampers and relaxes
can be used on arms, legs, and even your face (avoid your eyes, of course)
Mint Scrub Ingredients:
This peppermint sugar scrub makes a great all-natural alternative to store-bought lotions and moisturizers, which can often be full of not-so-great ingredients. With this recipe, you know exactly what's going on your skin!
All you need is a few simple things:
1/4 cup coconut oil
3/4 cup of sugar (tip: use fine-grained sugar whenever possible as this is gentler on your skin – do not use raw sugar, which has larger grains that are rougher on your skin)
5-10 drops of peppermint essential oil
1 tablespoon of red jojoba beads (these add a burst of color and extra exfoliation. they aren't absolutely necessary for this DIY to work, but they do bring enough benefits that I'd recommend adding them to the recipe.)
baby food jar or small mason jar for storage
free printable peppermint scrub labels
ribbon or twine if you're making this as a homemade gift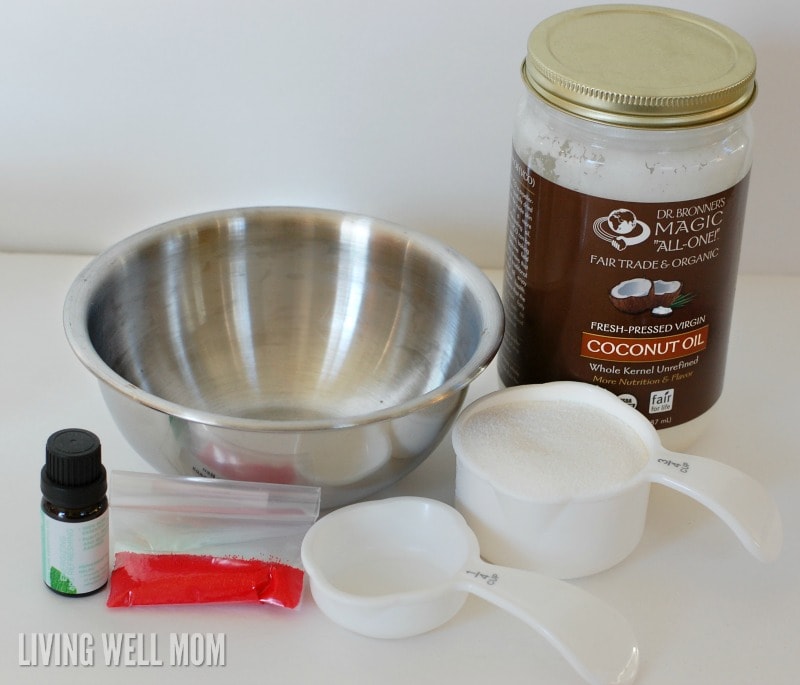 How To Make Homemade Peppermint Scrub:
The good news is that it takes about 5 minutes to make this homemade peppermint sugar scrub recipe, and it's super easy! Here are the easy instructions:
To start, grab a mixing bowl and add 1/4 cup of coconut oil with your 3/4 cup of white sugar.
You may need to put your coconut oil in the microwave for a few seconds to soften it up if it's colder than 70 degrees in your house.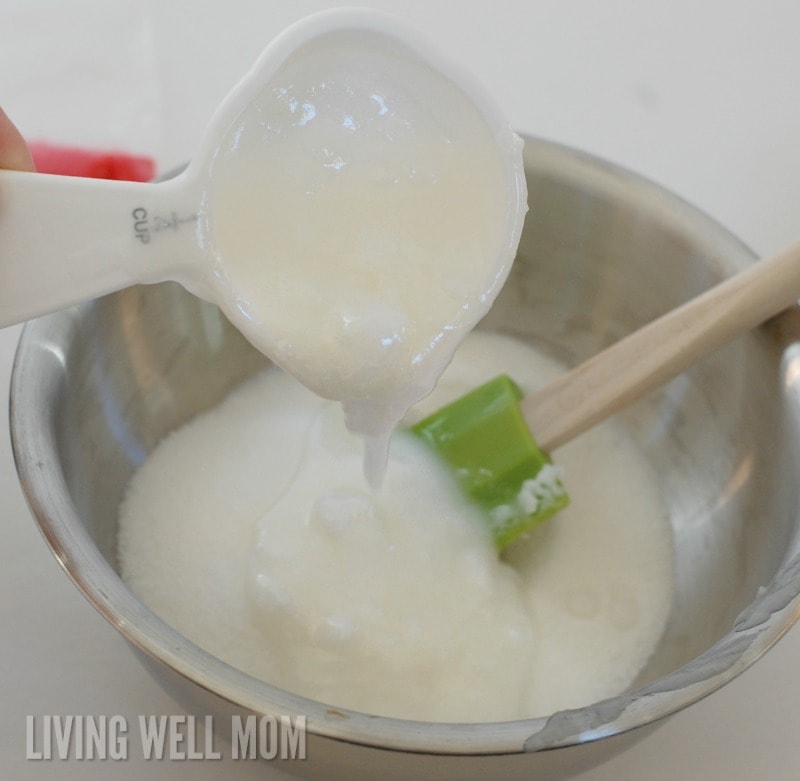 Next, add a tablespoon of red jojoba beads.
These are optional and not 100% necessary for a sugar scrub, but the pop of color they give just makes this sugar scrub that much more fun!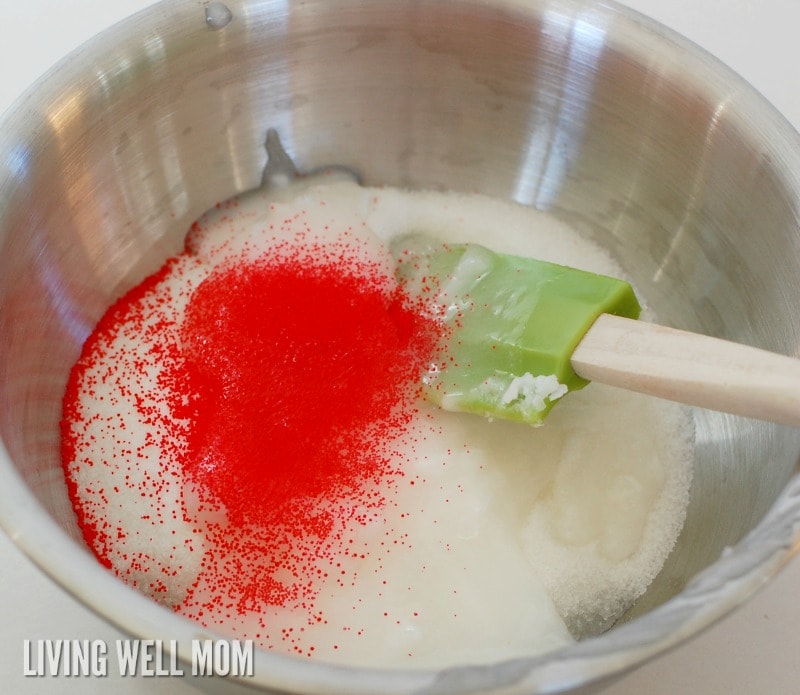 Then add about 5-10 drops of peppermint essential oil to your mixture.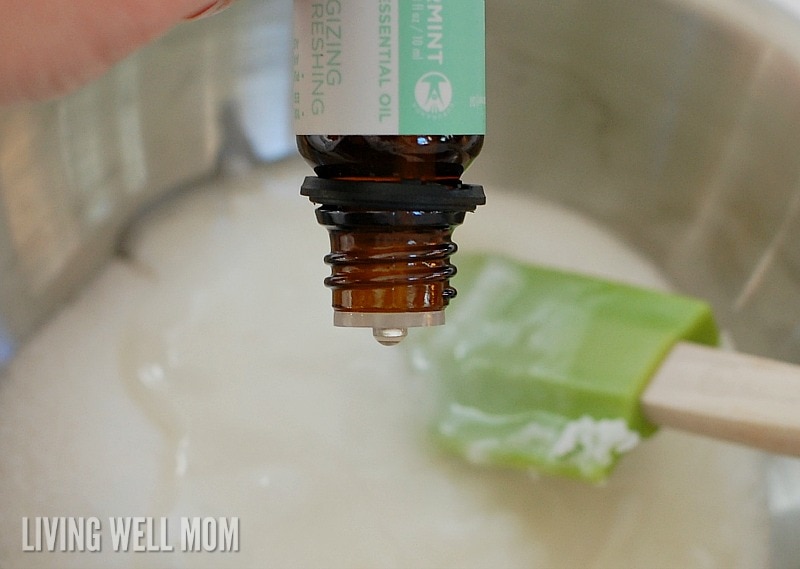 Stir all of that together until it is well mixed and the jojoba beads are evenly spread.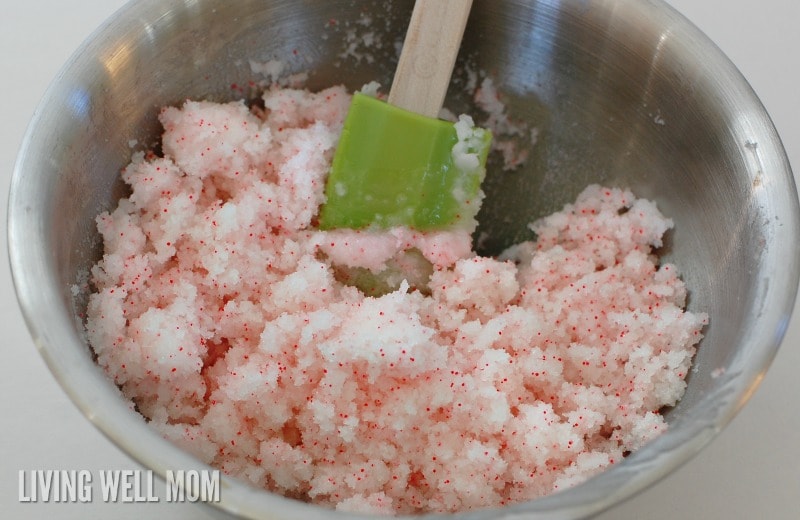 Store it in a baby food jar (like pictured above) or get a small jam mason jar. This amount would fill two baby food jars or one jam mason jar.
I also spray painted the top of a baby food jar with gold spray paint so that I could use this as a gift.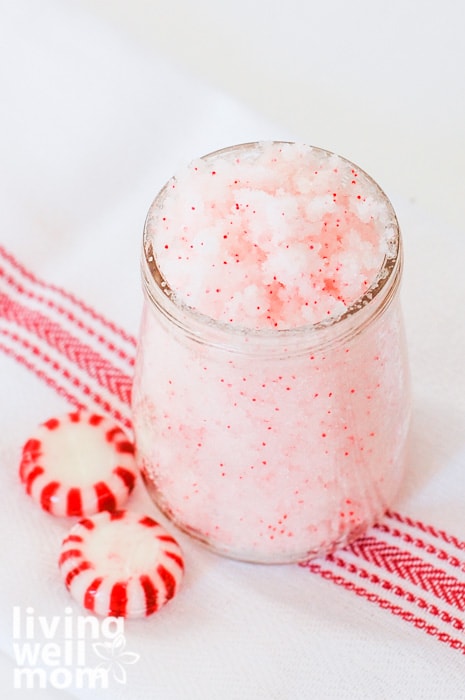 Can you believe just how easy this homemade peppermint sugar scrub is to make? Plus, I love how well it works as an all-natural exfoliator. This scrub does a wonderful job of smoothing dry skin in the winter.
By the way, if you have extra scrub supplies left, I highly recommend making this DIY coffee face scrub! It smells amazing and will leave your skin feeling fantastic.
Tips For Making This Body Scrub:
What type of sugar should I use?
Use fine-grain sugar as this will be gentler on your skin. Larger grains, like that of raw sugar, can be too rough and even cause irritation.
Can I use peppermint extract in this sugar scrub instead of peppermint essential oil?
Yes, you can. I recommend about 1 tsp of peppermint extract. You can smell the scrub as you mix it up and add a little more if you prefer a stronger scent.

Tips For Using Homemade Sugar Scrubs:
Wet your skin first for the best results – I like to apply this candy cane sugar scrub while I'm showering.
Massage into your skin using gentle circular motions – don't rub too hard, or you may cause irritation.
Rinse with warm water to remove
Pat dry, then apply your favorite lotion or oil – this helps to lock in the moisture (try our coconut oil lotion bars).
Do not use this or any sugar scrub daily – it can cause skin irritation; for best results, use this 1-2 times a week.
Do not use a sugar scrub on irritated or damaged skin – on areas of skin with sunburn, cuts, or eczema, it may be painful and cause further damage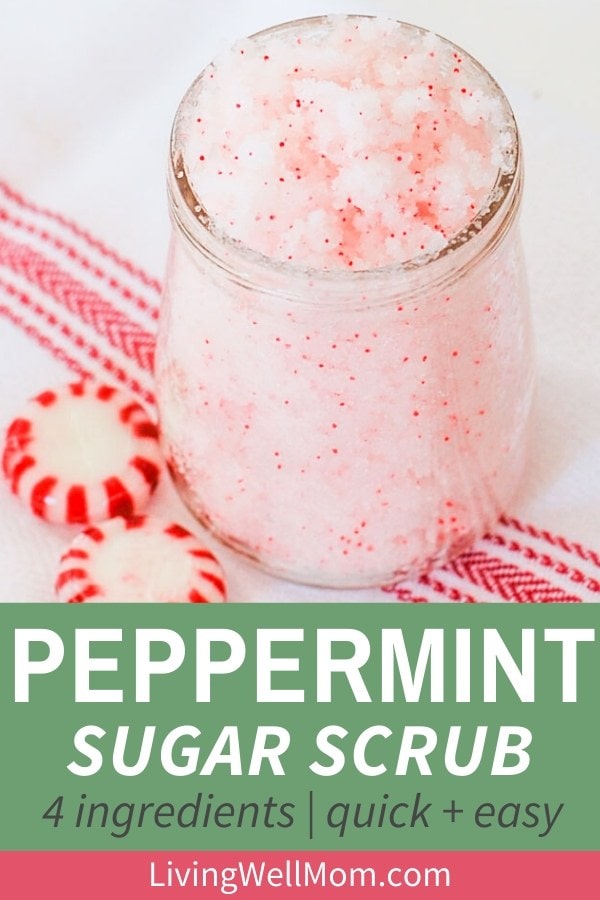 More Homemade Peppermint Body Ideas:
Print
Homemade Peppermint Sugar Scrub
With coconut oil and essential oils, this easy 4-ingredient peppermint sugar scrub will gently exfoliate tired, dry skin, leaving it soft and smooth.
Instructions
Mix the softened coconut oil and sugar together in a medium-sized bowl. Stir in the jojoba beads (optional but fun and pretty), then the peppermint oil until evenly distributed.
Spoon into a small mason jar. Keep covered.