Have you taken any time lately to pamper yourself? Moms, we all need a little time to ourselves! And I have a simple DIY homemade foot cream with peppermint to help us out!
If you combine this foot cream with the Epsom Salt Lavender Foot Soak I shared recently, you're going to love the soothing results.

How to Make Homemade Foot Cream with Peppermint:
What You'll Need:
Option #1
Option #2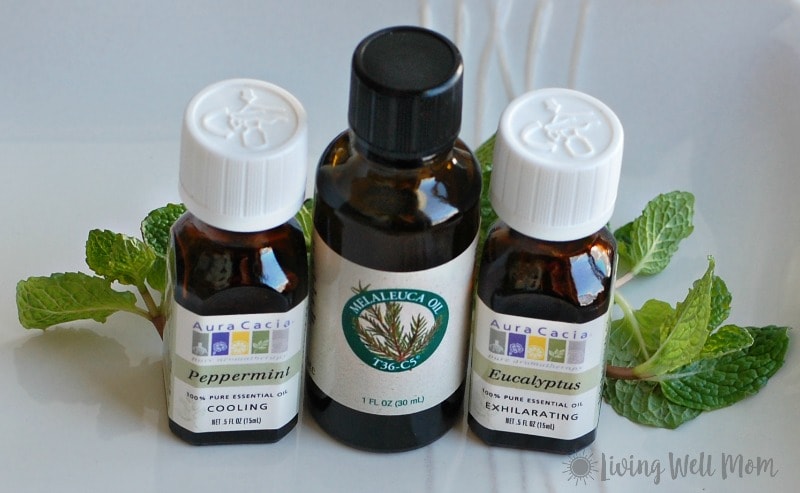 There are two ways to make your own homemade foot lotion with peppermint; both will use essential oils. I like to use peppermint, melaleuca, and eucalyptus.
Peppermint is a great for a soothing, cooling effect. Eucalyptus is also cooling and good for aches and pains. And Melaleuca is anti bacterial and anti-fungal. This trio makes a great combo for our tired feet!
Option #1: This one takes a little more work but is totally worth it!
For this one, we'll basically make the homemade coconut oil lotion bars (you can find that recipe here) and with some specific essential oils, we'll have a delightful all natural foot cream bar!
You will need a 1:1:1 ratio each of the coconut oil, cocoa butter, and beeswax. I usually do 4 oz of each. Add these ingredients to a medium sized-saucepan, turn to medium heat, and stir until completely melted.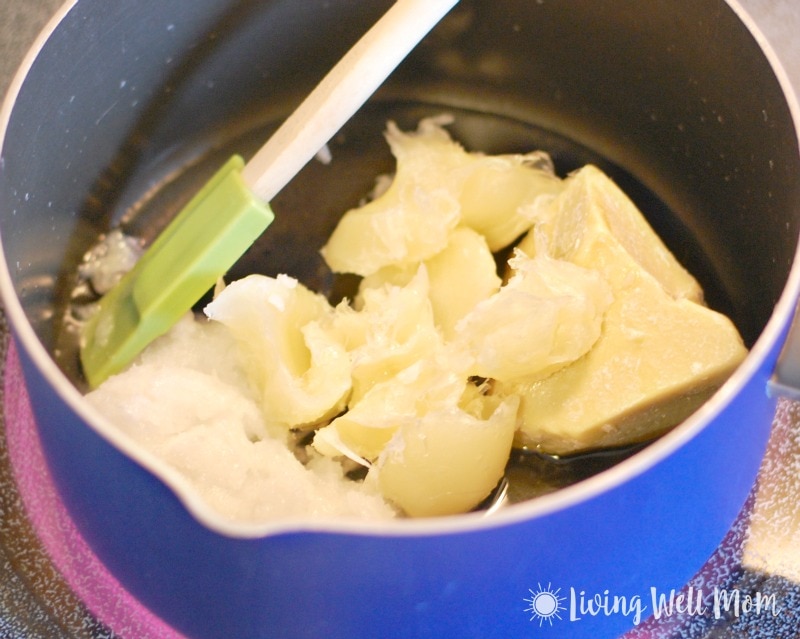 Your bars may be softer or firmer, depending on the kind of beeswax you use. You can always add a little more beeswax for a firmer bar or coconut oil for a softer bar. For this homemade foot lotion recipe, I'd go a little softer so it's easier to rub on your feet.
Next, add 15 drops of peppermint, 5 of eucalyptus, and 5 drops of melaleuca essential oils to your beeswax mixture.
Pour the mixture carefully into your silicone mold. One recipe should make enough to fill one set of molds.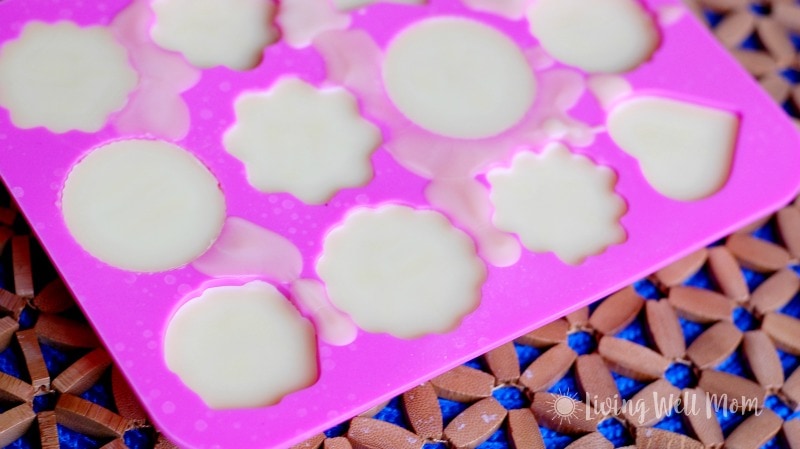 It should take a couple of hours for the lotion bars to fully set, then you can simply pop them out of the mold.
These homemade foot cream bars are just dreamy on dry, cracked feet, especially after a soothing foot soak or just before bed. Wear cozy socks and that will keep the cream working all night long as it softens and moisturizes your feet.
#2: The Easiest Way to Make Your Own Foot Cream:
Maybe you don't have time to make your own lotion bars and that's okay. You can still make a soothing foot lotion quickly and easily.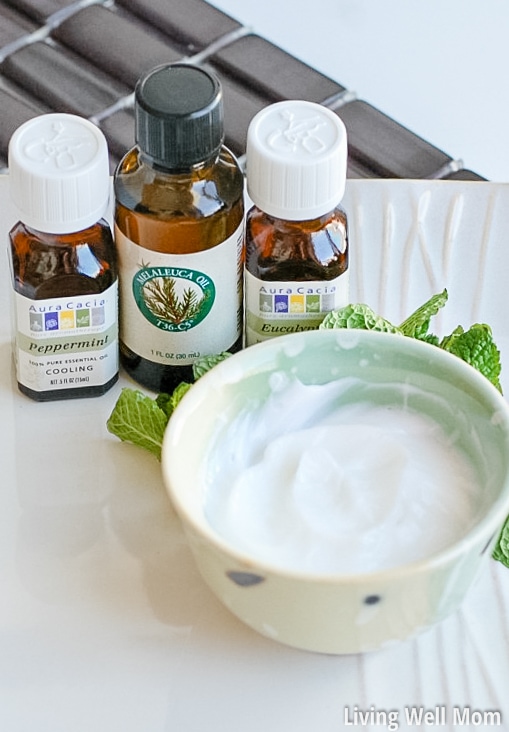 Find a cream you already like and simply add peppermint essential oil to it! My current favorite lotion is Melaleuca's Renew lotion. It smells amazing, and is paraben free (and has melaleuca oil in it!) There are other unscented and/or paraben free lotions
you can use as a base and simply add the oils you want to customize your own homemade foot cream!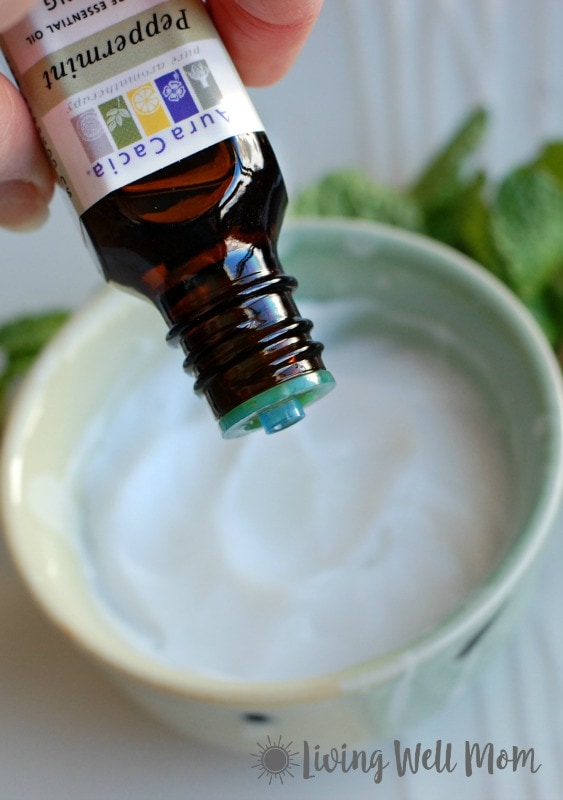 I took an empty baby food jar (4 oz size), filled it with my favorite lotion, then added 15 drops of peppermint, 5 of eucalyptus and 5 of melaleuca and mixed it together. If you'd like a more powerful cooling effect, I suggest adding peppermint oil, diluted in a little fractionated coconut oil
, directly to your feet first, before you add the lotion and massage it in.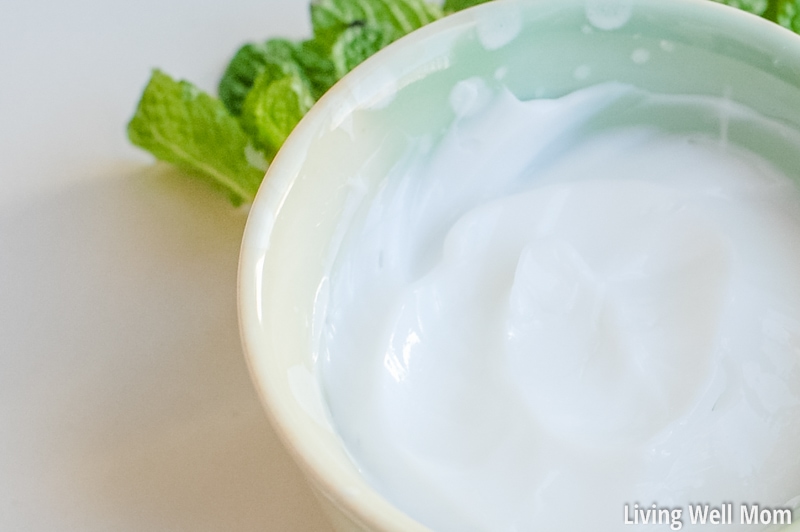 Isn't it easy to make homemade foot cream? There are many wonderful DIY bath and body pampering ideas when it comes to using essential oils.
Here's some more DIY ideas with essential oils: