Here is an easy DIY coffee scrub with essential oils that takes about 5 minutes to make. It smells like an autumn-flavored cup of coffee, exfoliates, and moisturizes your skin at the same time!
If you are joining the pumpkin spice craze this time of year, then you'll love the nutmeg and clove essential oils that are used in this scrub.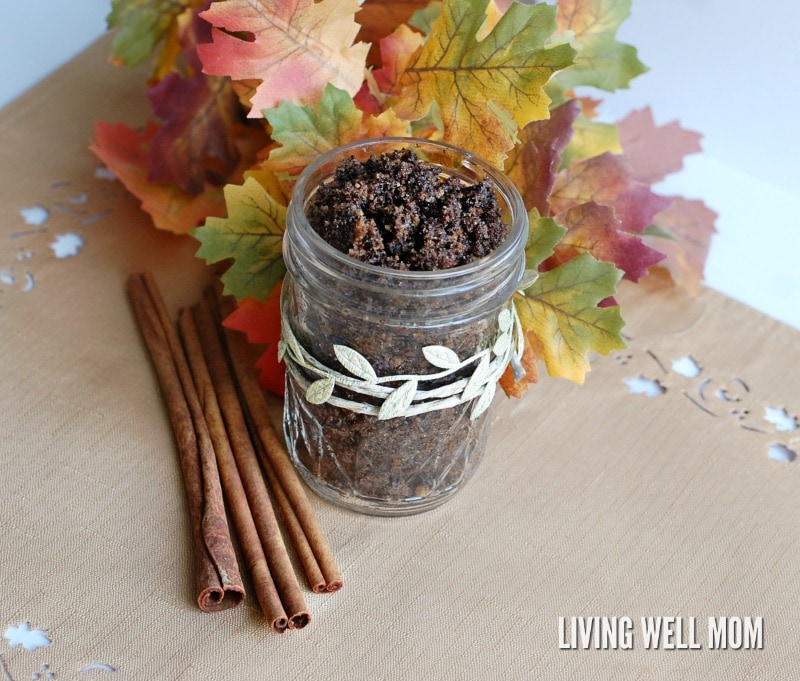 Moms – this is also a fun one to make for a ladies night out pampering event. Make some pumpkin spiced lattes and enjoy a facial using this fall scented coffee scrub!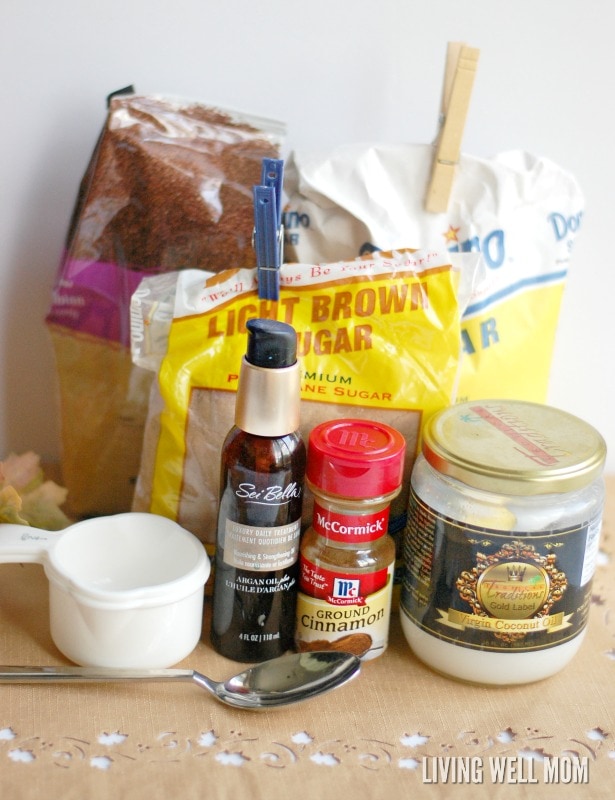 Ingredients needed to make your own Easy DIY Coffee Scrub with Essential Oils: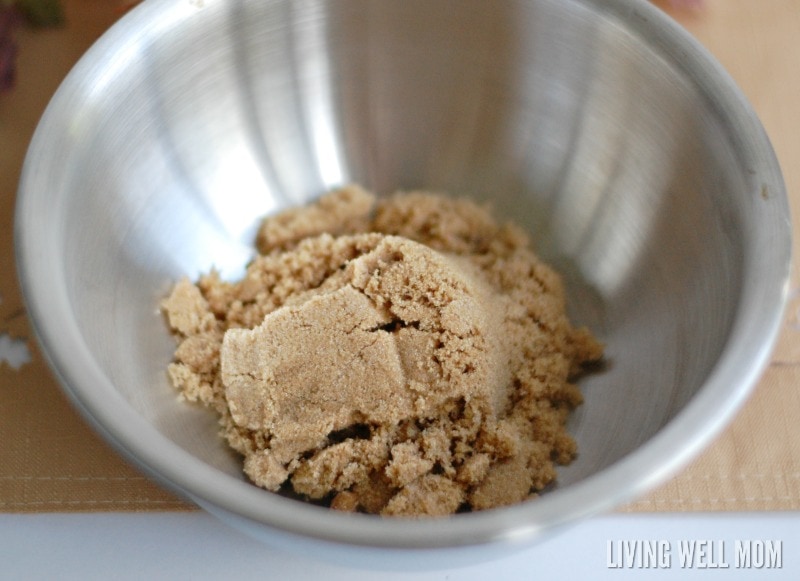 Get a medium sized mixing bowl and add 1/2 cup of brown sugar.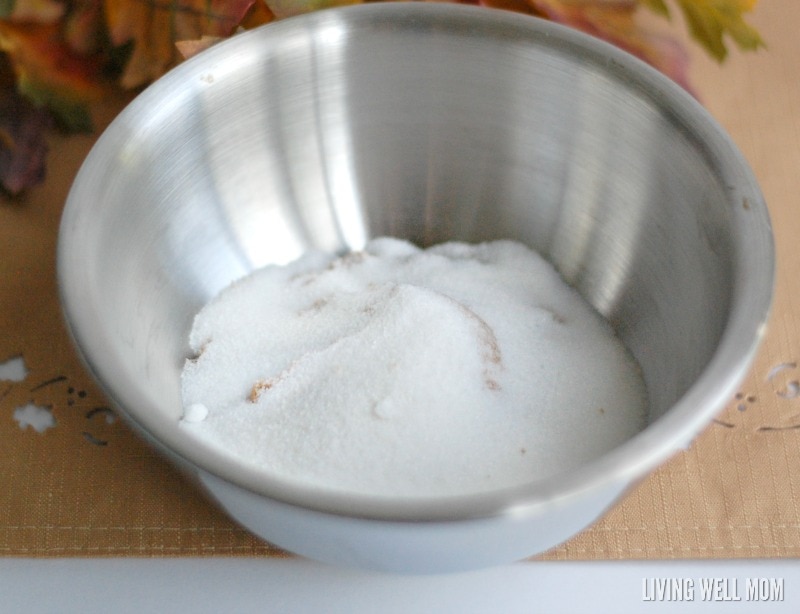 Then add 1/2 cup of white granulated sugar.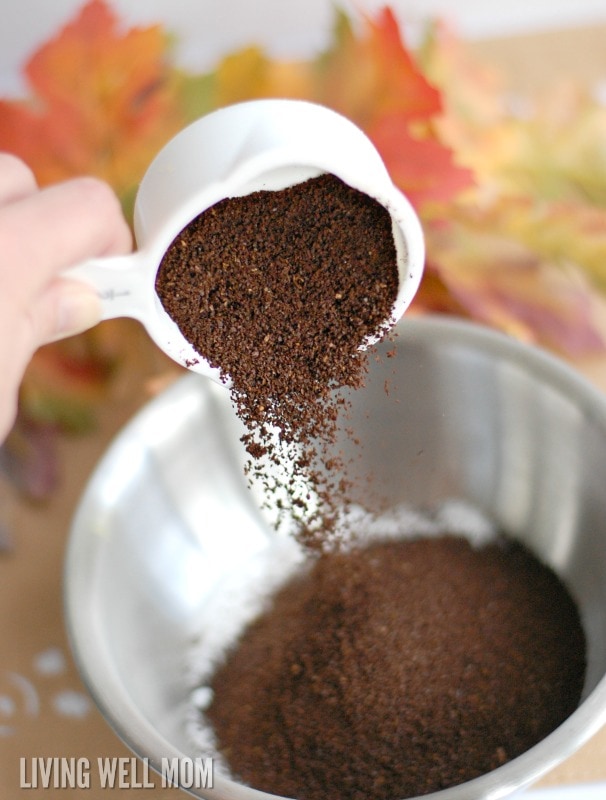 Then pour in a 1/2 cup of ground coffee. I recommend using caffeinated since caffeine has natural anti-inflammatory properties which help to calm swelling and redness on any skin you apply this too.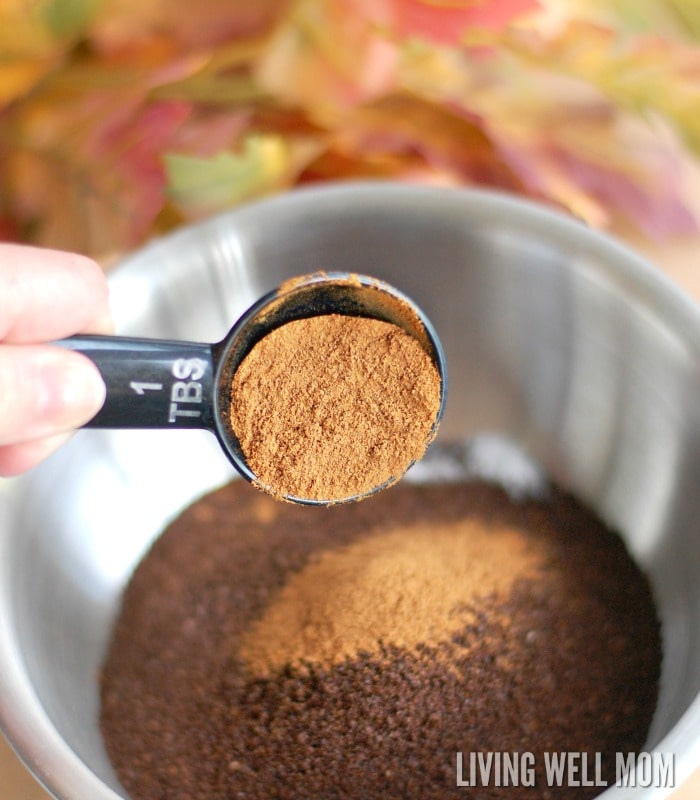 Now add in one tablespoon of ground cinnamon.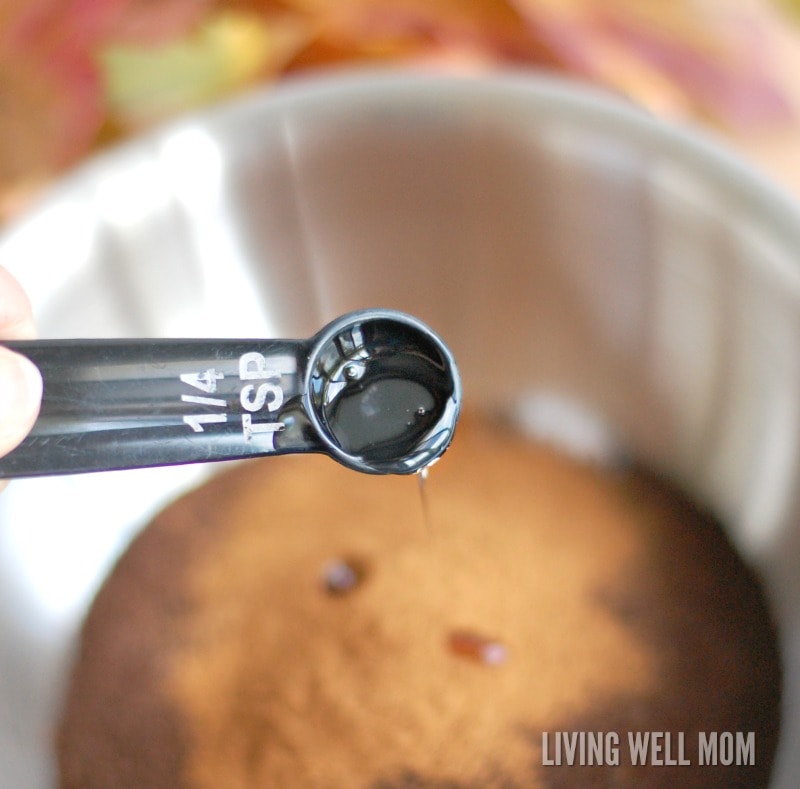 And you'll want just a small amount of either Vitamin E oil or Argan oil – 1/4 tsp – again for its moisturizing properties for your skin.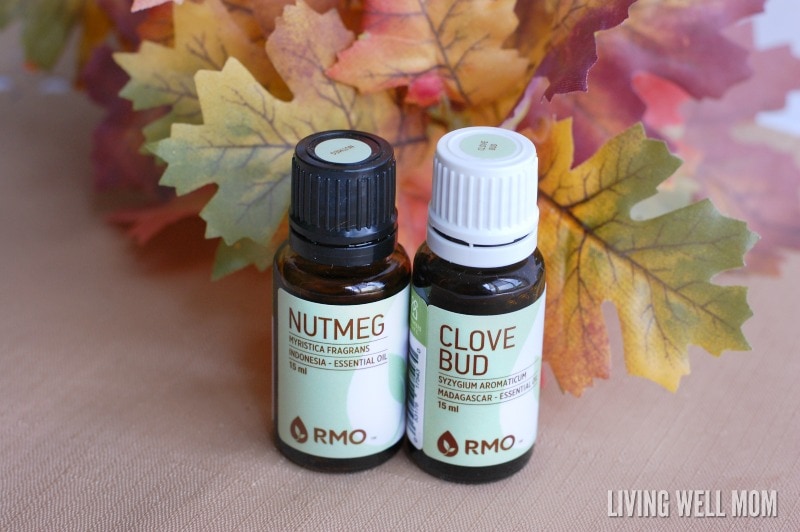 To fully make this a "fall" version of a coffee scrub, add 2-4 drops each of nutmeg and clove bud essential oil. If you want to use this scrub on your face and have sensitive skin, you may want to do a test patch of these oils first. These oils will be diluted well in the scrub, but nutmeg's full strength can be warming and clove's full strength can cause skin irritation.
Using both clove and nutmeg in this coffee scrub are beneficial because they are both naturally anti-inflammatory and anti-bacterial which can help with any skin blemishes, scrapes, or minor wounds.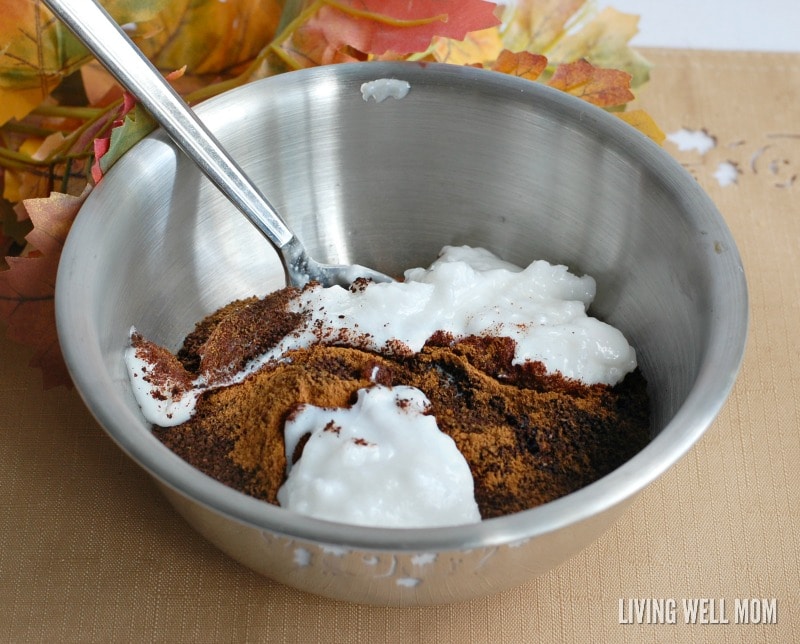 The final ingredient is coconut oil – be sure to use an unrefined virgin coconut oil that really does smell like coconut. Any coconut oil that does not have a coconut odor is refined.
Using refined coconut oil can just clog pores and may do more harm than good to any acne prone skin. If you do suffer from acne and are nervous about applying oils to your face – read this post how using coconut oil cured my adult acne! Here is another post that will show you how to make an essential oil acne recipe in a roller bottle, plus which essential oils will help the most for getting rid of pimples.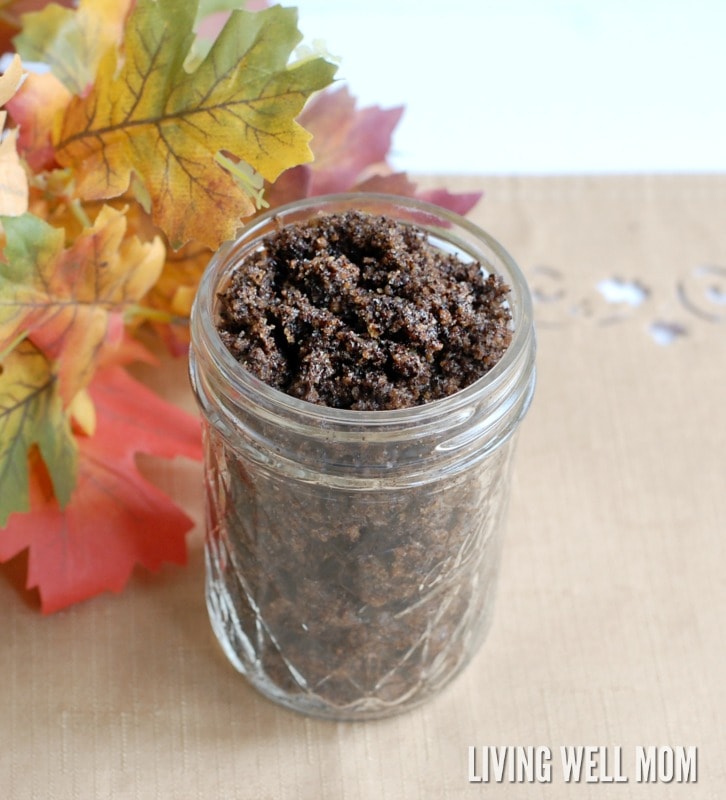 You'll want to mix this together well until it's well blended, and there are no lumps of brown sugar floating around. Then you can scoop your concoction into a glass storage container like a mason jar.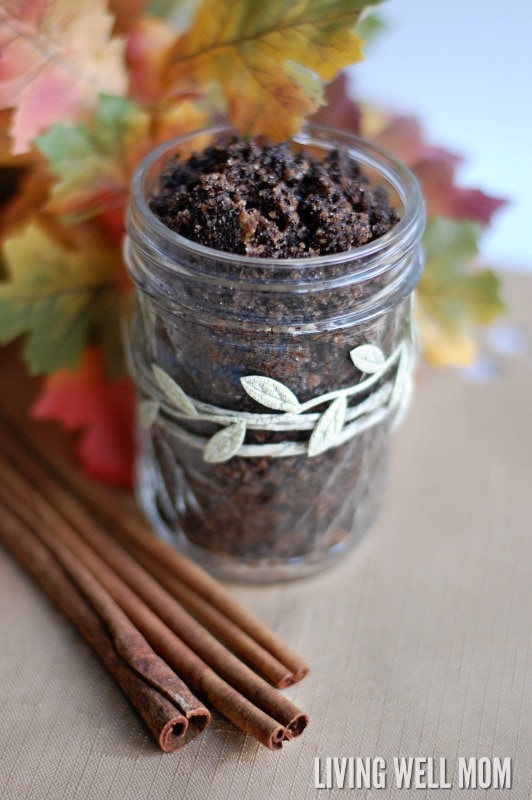 When using this on your face, use about a tablespoon and gently smooth that over your face. This has great exfoliating properties and will help remove any dry or dead skin from your face.
Don't over rub though, as you could cause your skin undue irritation. After you gently rub this on and around your face, rinse off with water using a damp wash cloth.
This is also great to use on other potentially dry skin areas like knees, elbows, and feet (especially dry heels!). Keep in mind that the smell of the coffee will linger a bit after using and rinsing. If you aren't ok with that, then you'll want to fully wash off your face/body using this foaming face wash.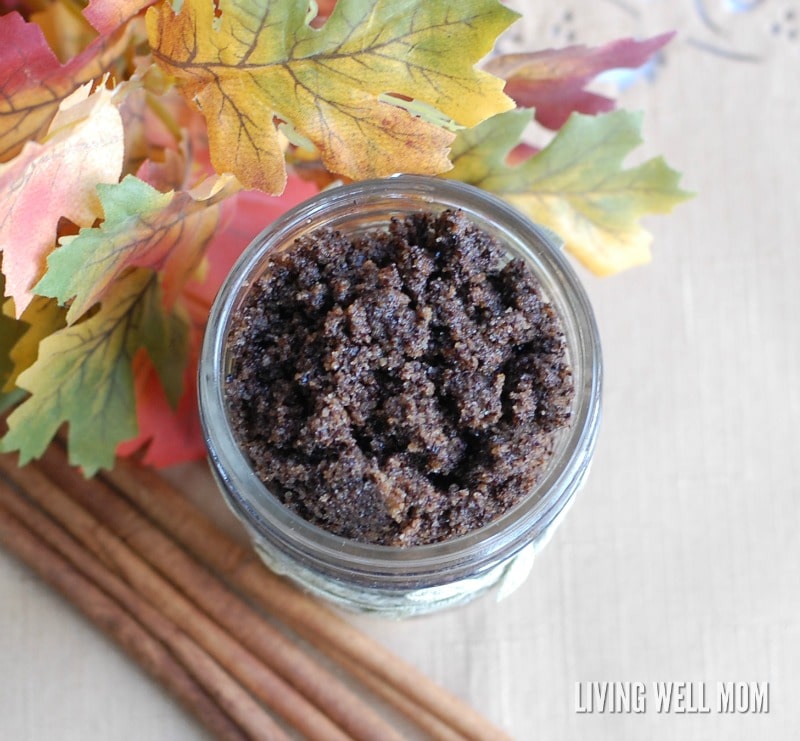 When you are done exfoliating using this Easy DIY Coffee Scrub, I recommend following up with a moisturizer – even just plain coconut oil, on anywhere you used the scrub! The fall coffee scents are rejuvenating, and you'll feel refreshed and moisturized when you are done!
Want some more ways to pamper your skin using essential oils? Check out these posts:
Homemade Peppermint Sugar Scrub
Autumn Essential Oil Blend for Your Diffuser
Foaming Face Wash with Essential Oils
DIY Face Mask with All-Natural Ingredients