Here is an easy DIY coffee face scrub made with essential oils that takes about 5 minutes to make. It gently exfoliates and moisturizes your skin while smelling like an autumn-flavored cup of coffee at the same time!
Face and body scrubs have become popular beauty products in the last several years. Many people think of them as indulgent items you only get at the spa, but they're super easy to make at home and provide many benefits.
Rejuvenate your skin by exfoliating and moisturizing it at the same time while enjoying an affordable spa-like experience at home by making your own body scrubs. My easy DIY Citrus Sugar Body Scrub with Essential Oils is ready in just 5 minutes and is a great starter body scrub.
But today, I have a new body and face scrub that you can make! This one will satisfy anyone who loves the smell of coffee and other fall scents. Say hello to my DIY coffee face scrub.
If you join the pumpkin spice craze this time of year, you'll love the nutmeg and clove essential oils used in this scrub. Ahhhh!
Easy DIY Project for Gifts or Evenings With Friends
Moms, this is fun to make for a ladies' night out pampering event. It's one of those quick-to-make projects that yield big rewards. And since it's easy to make and store in bulk (or in individual jars), it's perfect for a fun evening with friends or a gift-making event.
Make some pumpkin-spiced lattes and enjoy a facial using this fall-scented coffee scrub!
You could also make my Homemade Peppermint Sugar Scrub at the same time for holiday gifts.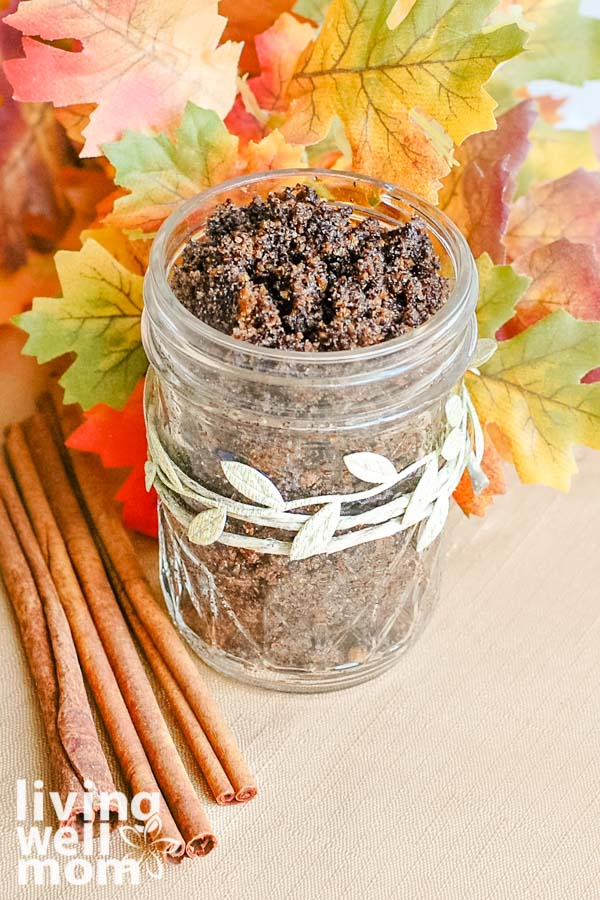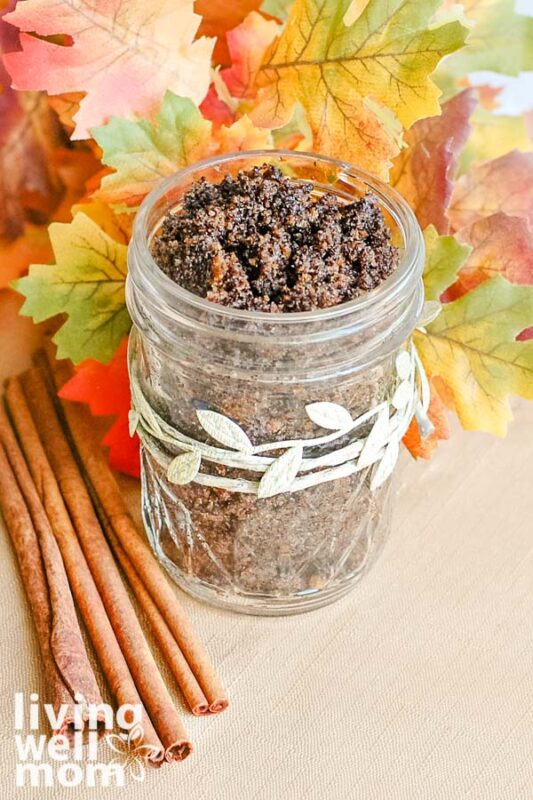 Easy DIY Coffee Face Scrub Ingredients Needed
Please scroll down to the bottom of the post for the full printable recipe.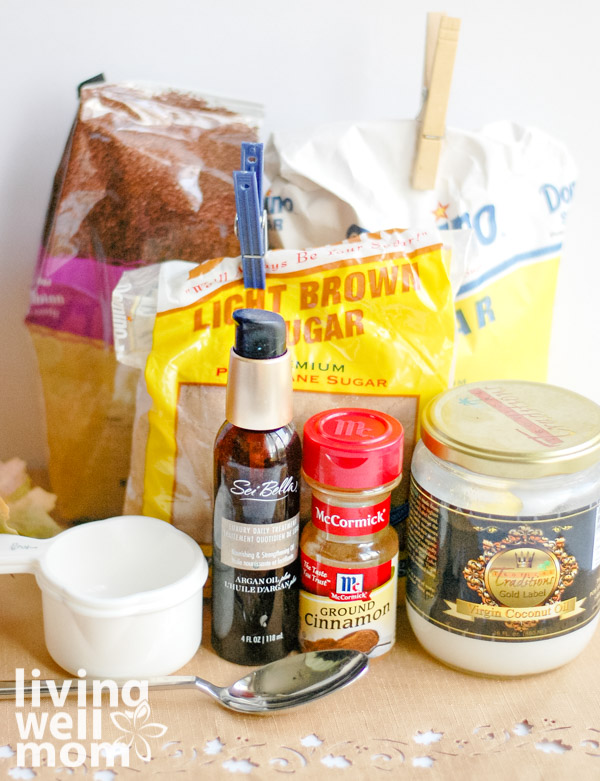 How To Make This DIY Coffee Face Scrub Recipe
Here are the instructions for making this recipe to give as a gift or create a pampering spa-like experience for yourself.
Step 1
Get a medium-sized mixing bowl and add 1/2 cup of brown sugar.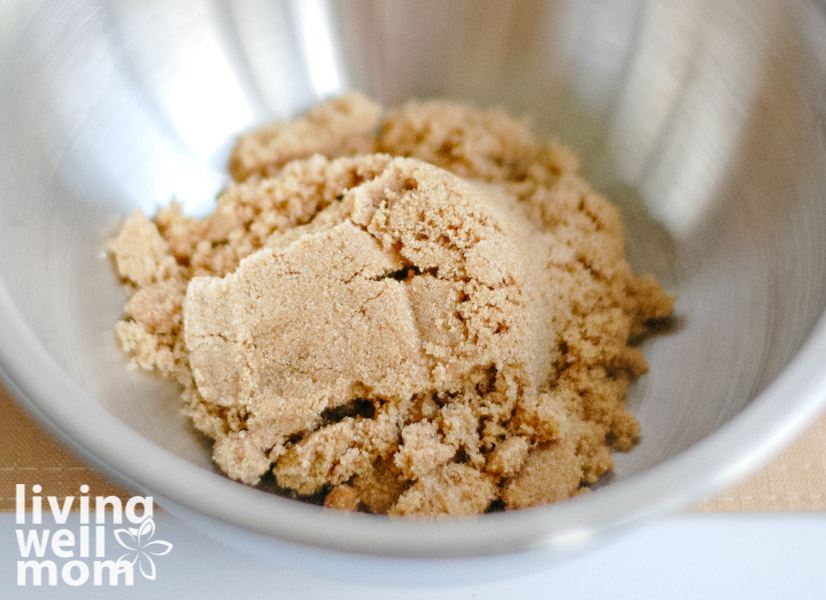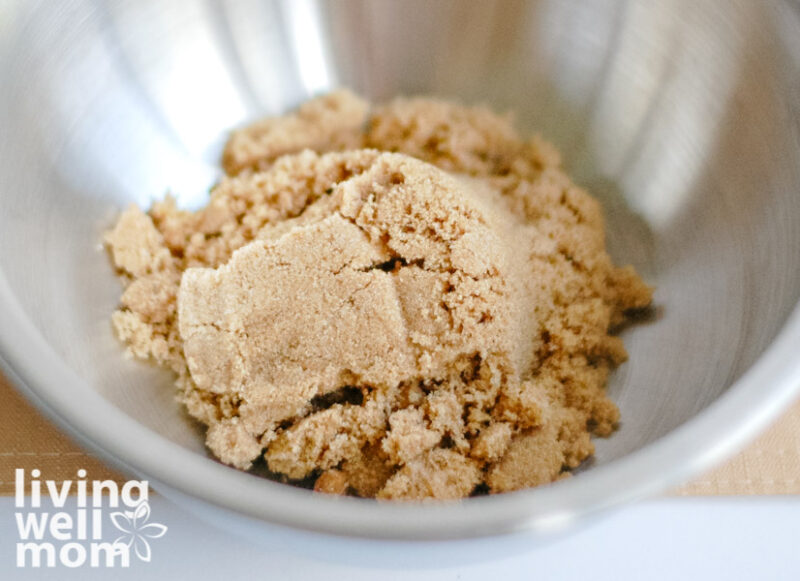 Step 2
Next, add 1/2 cup of white granulated sugar.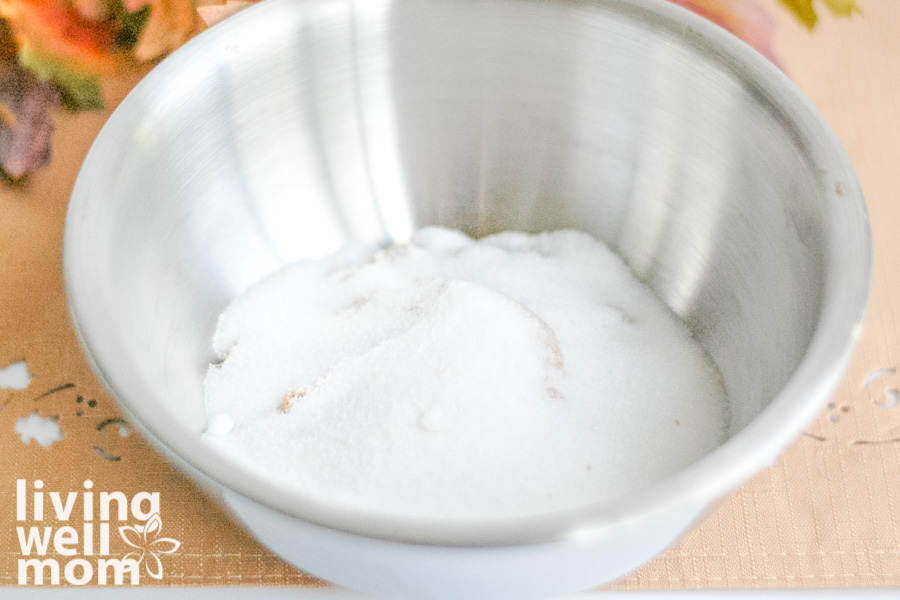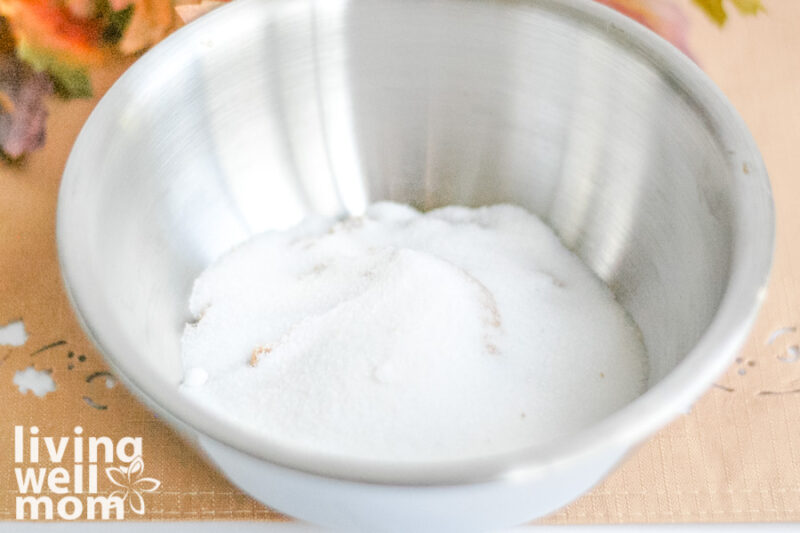 Step 3
Then, pour in a 1/2 cup of ground coffee.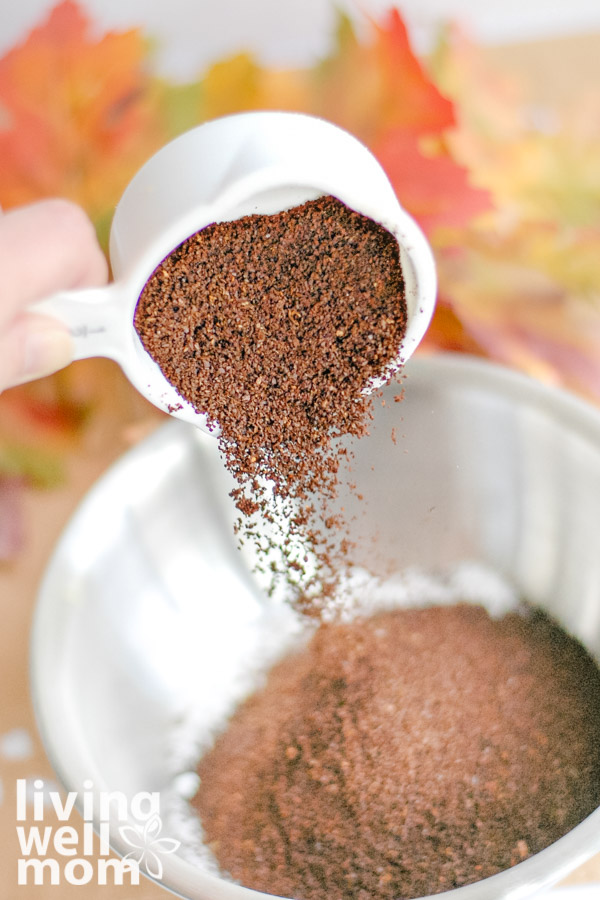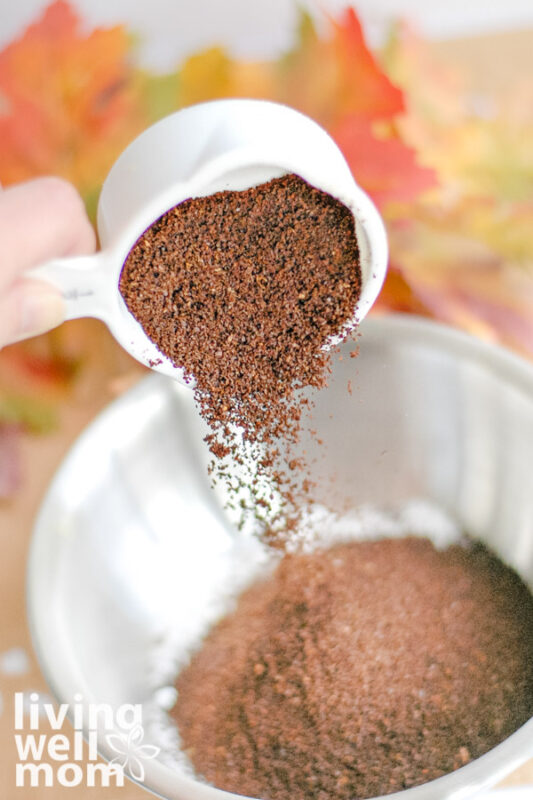 Note about the benefits of coffee: I recommend using caffeinated coffee since caffeine has natural anti-inflammatory properties, which help to calm swelling and redness on any skin you apply this to.
Step 4
Next, add in one tablespoon of ground cinnamon.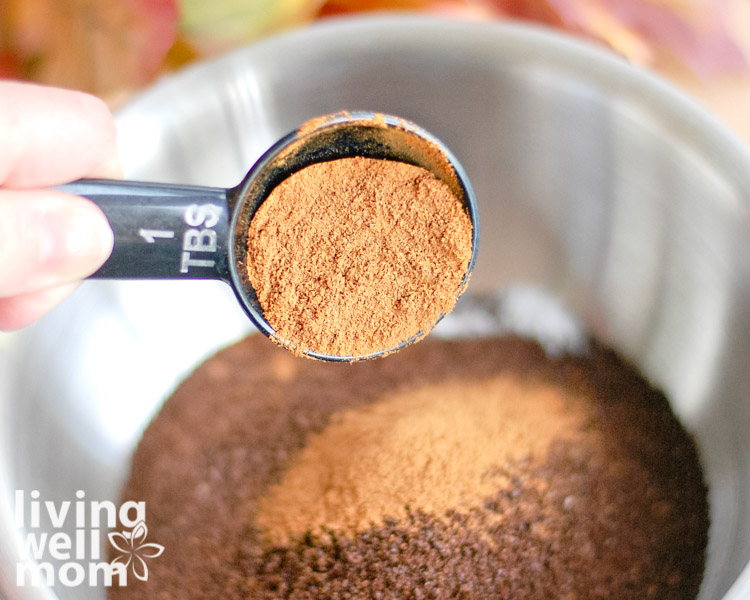 Step 5
And you'll want just a small amount (1/4 teaspoon) of either Vitamin E oil or Argan oil.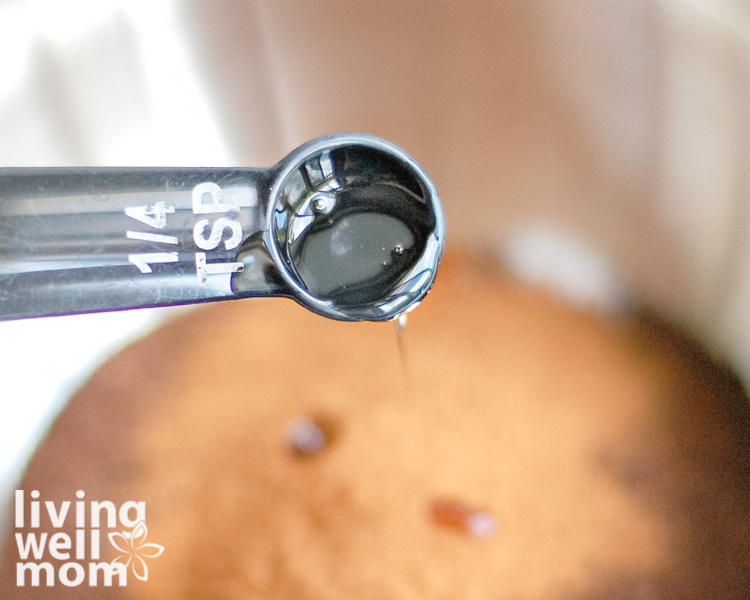 Note: The oil provides moisturizing properties for your skin.
Step 6
To fully make this a "fall" version of coffee scrub, add 2-4 drops each of nutmeg and clove bud essential oil.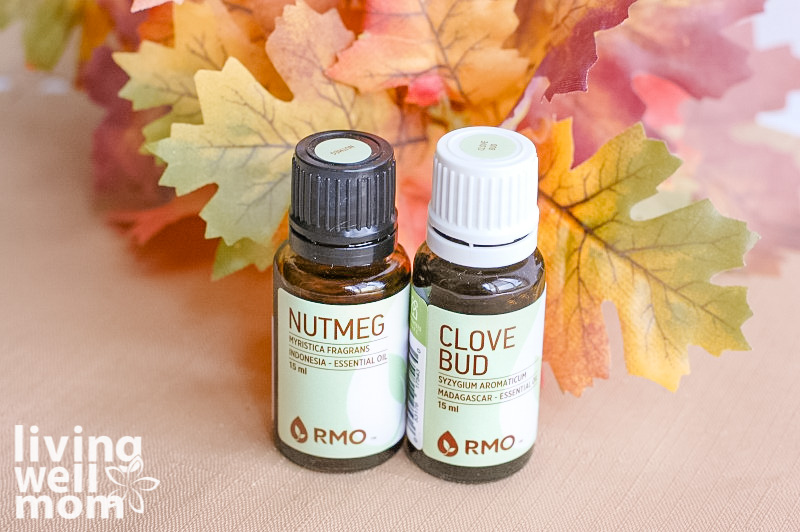 Safety Tip: If you want to use this scrub on your face and have sensitive skin, you may want to do a test patch of these oils first. They will be diluted well in the scrub, but nutmeg's full strength can be warming, and clove's full strength can cause skin irritation.
Note: Using both clove and nutmeg in this coffee scrub is beneficial because they are both naturally anti-inflammatory and anti-bacterial. Together, they can help eliminate any skin blemishes, scrapes, or minor wounds and give your skin a lovely glow.

Step 7
The final ingredient is 2/3 cup coconut oil.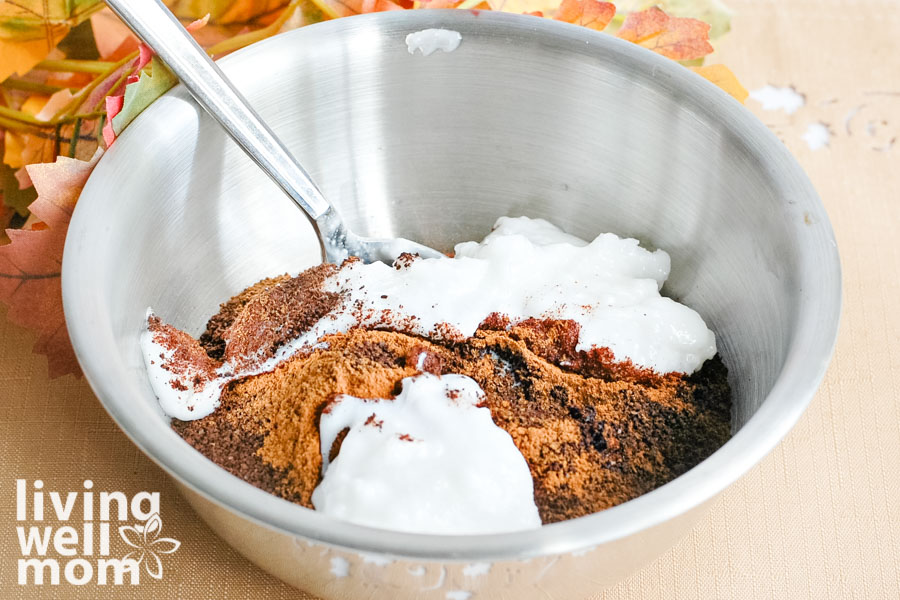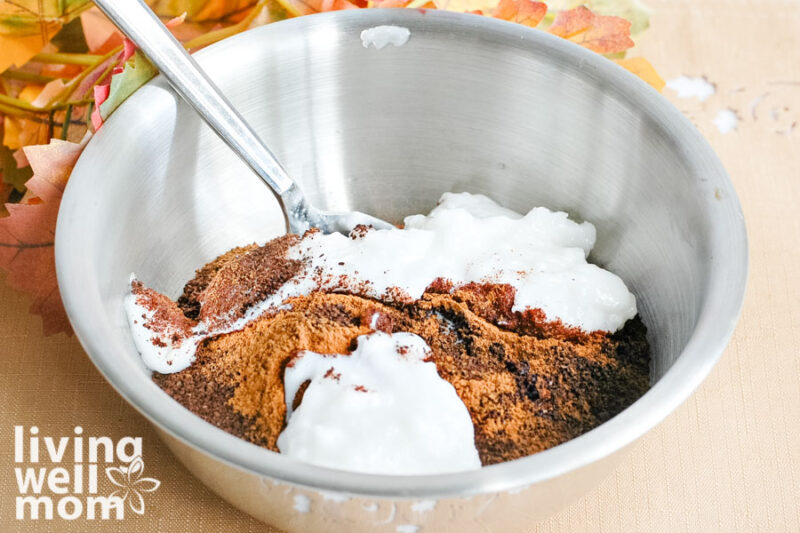 Note: Be sure to use an unrefined virgin coconut oil that really does smell like coconut. Any coconut oil that does not have a coconut scent is refined.
Using refined coconut oil can just create clogged pores and may do more harm than good to any acne-prone skin you may have. If you suffer from acne and are nervous about applying oils to your face – read this post on how coconut oil cured my adult acne!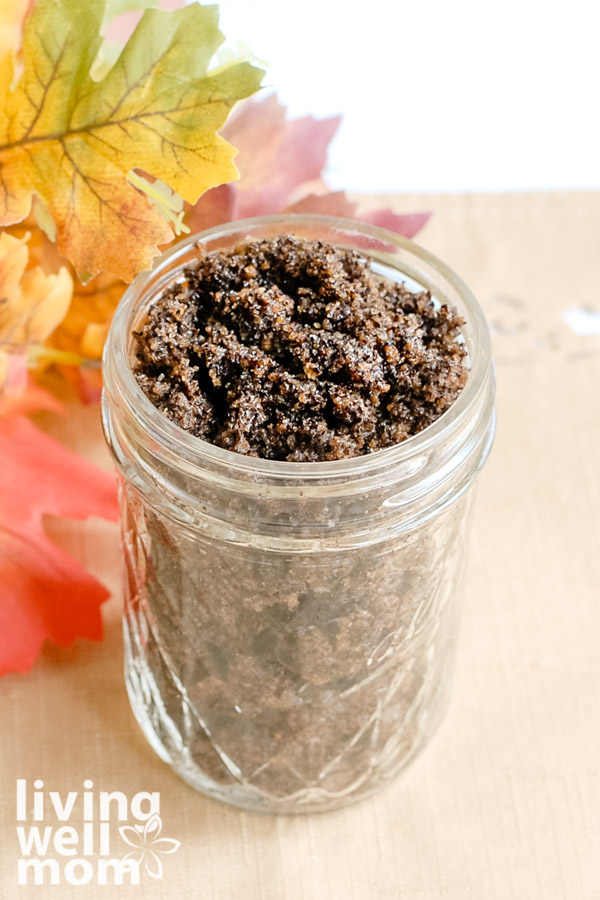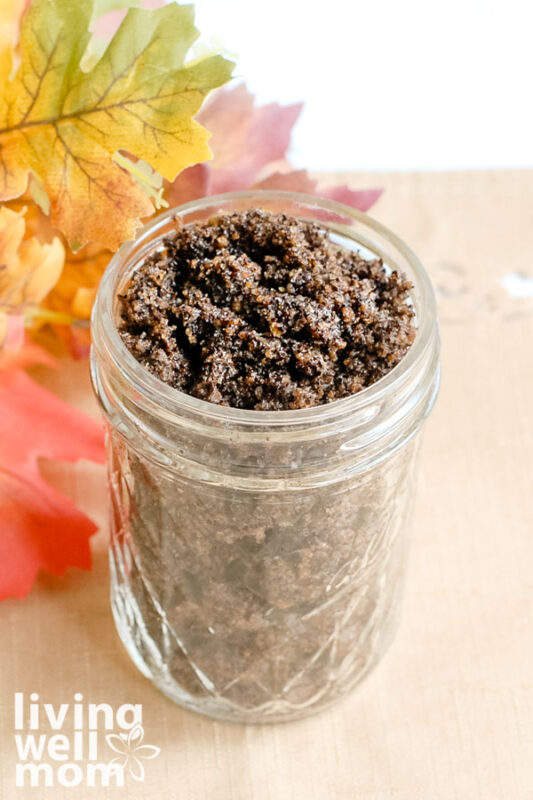 Also, check out how to make an essential oil acne recipe in a roller bottle and learn which essential oils will help the most in getting rid of pimples.
Step 8
You'll want to mix this together until it's well blended. There should be no lumps of brown sugar floating around.
Then, you can scoop your concoction into a glass storage container like a mason jar.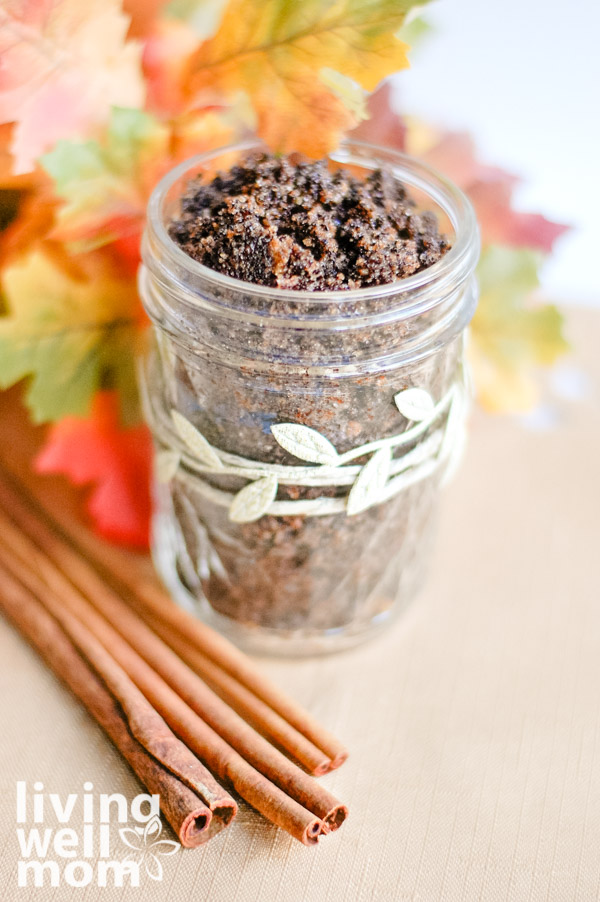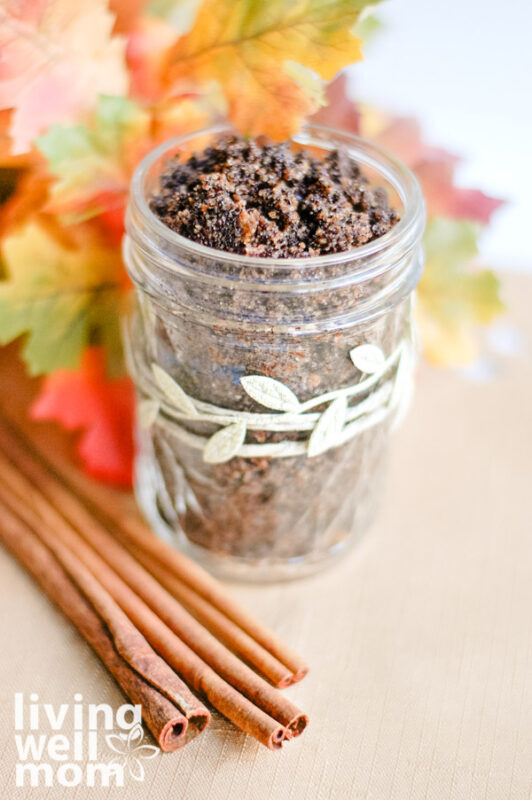 How To Use Your DIY Coffee Face Scrub
When using this on your face, take about a tablespoon of your DIY coffee scrub in your hands and gently massage it over your face in circular motions. This has great exfoliating properties and will help clear blackheads and remove any dry or dead skin cells from your face.
Take care not to over-rub, though, as you could cause unnecessary irritation on your skin. After you gently rub this on and around your face, rinse it off with warm water using a damp wash cloth and pat dry with a dry towel.
You could also use this scrub in the shower!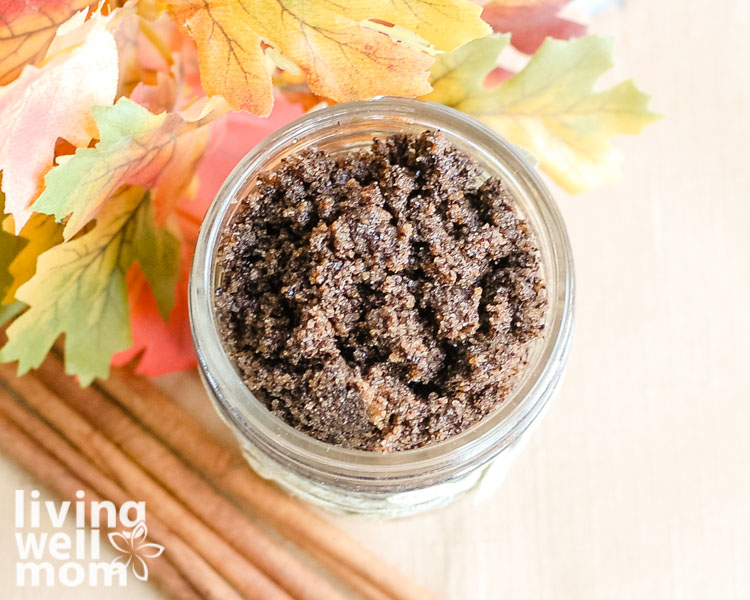 This DIY coffee scrub is also great to use on other potentially dry skin areas like knees, elbows, and feet (especially cracked heels!).
Keep in mind that the smell of the coffee will linger a bit after using and rinsing. If you aren't okay with that, then you'll want to fully wash off your face/body using this foaming face wash.
Moisturize Your Skin
When you are done exfoliating using this Easy DIY Coffee Scrub, I recommend following up with a moisturizer (or even just plain coconut oil) anywhere you use the scrub!
The fall coffee scents are rejuvenating, and you'll feel refreshed, moisturized, and pampered when you are done. If you're looking for smoother skin and improved blood circulation, I hope you'll give this DIY coffee face scrub a try!
Coffee Face Scrub FAQs
Here are a few questions that readers frequently ask about making this DIY coffee scrub. If you have a question but don't see it answered below, please leave it in the comments!
How do I store this coffee sugar scrub?
Store your coffee scrub in a glass container, like a mason jar. This scrub will last about 2-3 months when kept in a cool, dry location out of sunlight.
If you notice any odd smells or discoloration, it has likely gone bad.
Can I use old coffee grounds as a scrub?
I don't recommend using old coffee grounds to make your coffee scrub because the moisture in them can cause your scrub to go bad quickly.
However, if you prefer to use spent ground coffee beans rather than new coffee grounds, make this recipe and store it in the fridge instead of at room temperature. The coconut oil will get hard, so let a little come to room temperature before you use it.
Can I use coffee scrub on my face everyday?
Although the antioxidants and anti-inflammatory benefits of this face scrub are beneficial, using a face scrub every day can irritate the skin. It's meant to be abrasive so that it can remove dead skin cells and help give your skin a healthy glow.
But a little goes a long way. I recommend using this no more than twice a week.
More DIY Bath And Beauty Recipes
Want some more ways to pamper your skin using essential oils? Check out these posts: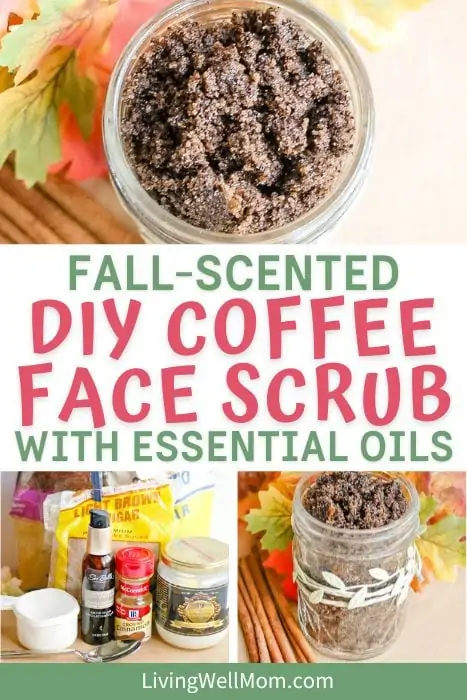 Print
Easy DIY Coffee Scrub with Essential Oils
Make an easy DIY coffee scrub with essential oils in about 5 minutes. It will exfoliate and moisturize your skin while enveloping you in the delicious aroma of an autumn-flavored cup of coffee!
Instructions
Add 1/2 cup brown sugar to a medium-sized mixing bowl.
Then add 1/2 cup of white granulated sugar.
Then add 1/2 cup of white granulated sugar.
Next, add a 1/2 cup of ground coffee.
Next, add one tablespoon of ground cinnamon.
Include just a small amount of either Vitamin E oil or Argan oil.
Now mix in 2-4 drops each of nutmeg and clove bud essential oils.
Mix in the final ingredient of refined coconut oil.
Mix this together well until it's well blended, and there are no lumps of brown sugar left.
Notes
This scrub will last about 2-3 months when kept in a cool, dry location. If you notice any odd smells or discoloration, it has likely gone bad.