Clear skin is achievable, and it may be simpler than you could imagine! Today, I'm showing you how to use coconut oil for acne.
This simple DIY acne treatment combines coconut oil with the power of lavender, lemon, and tea tree essential oils to give you a naturally clearer face (even if you've struggled with adult acne for years!).
Having acne as a teenager is tough, but acne breakouts as an adult are the worst!
I've struggled with trying to clear up acne since I was about 12. For years, I've tried just about anything to get rid of it, including skincare products with salicylic acid.
Numerous brands of oil cleansing soaps and topical creams prescribed by a dermatologist have found their way onto my face. I've even tried internal antibiotics prescribed by a dermatologist (which I really regret!).
In my college years, I used Proactiv with decent results and eventually found other cheaper brands that use the active ingredient benzoyl peroxide. But I still never had 100% clear skin unless I was pregnant.
(I think that was the only physical joy I experienced while pregnant.)
Since my pregnancy days are over, and relying on growing babies as a form of acne treatment just isn't practical, I figured I could live with the 75% clarity my skin had.
But even though I tried to ignore the annoying tiny bumps that were always on my forehead (which, medically speaking, is called subclinical acne), I realized I wasn't okay with that.
I wanted my face to be totally clear! And preferably without using unwanted chemicals.
Using coconut oil to clear up adult acne
One day, I was looking on Pinterest and read an article about someone using coconut oil to clear their acne. I thought they were crazy, and there was no way that would work – wouldn't coconut oil be pore-clogging?
Then I read the theory behind it: it says that coconut oil will help displace your face oil and add moisture to your skin. The idea is to keep your pores from living in oil-making-overdrive by trying to compensate for skin-drying products.
We had already started using All Natural Homemade Shampoo and DIY Foaming Liquid Hand Soap, so I knew firsthand how effective homemade options could be.
After some consideration, I figured I didn't have anything to lose and gave it a try. Why not!?
So, one night, about a year ago, I took the plunge and smothered coconut oil all over my face before I went to bed.
A noticeable change on the first day
The next morning I noticed a noticeable difference. My skin didn't seem any worse (as I had feared), and it actually felt moisturized and smooth. My forehead even seemed clearer!
At first, I continued to use my acne gel along with the coconut oil. But after a week, I dropped the gel and went with only the coconut oil. And my skin started looking great!
I started adding essential oils to the coconut oil for additional benefits, and the result has been fantastic. My skin hasn't looked this clear since I was a kid!
In full disclosure, I do occasionally still use my benzoyl peroxide cream along with the coconut oil routine when it's "PMS week" to combat the effects of the hormonal changes. But that's occasionally.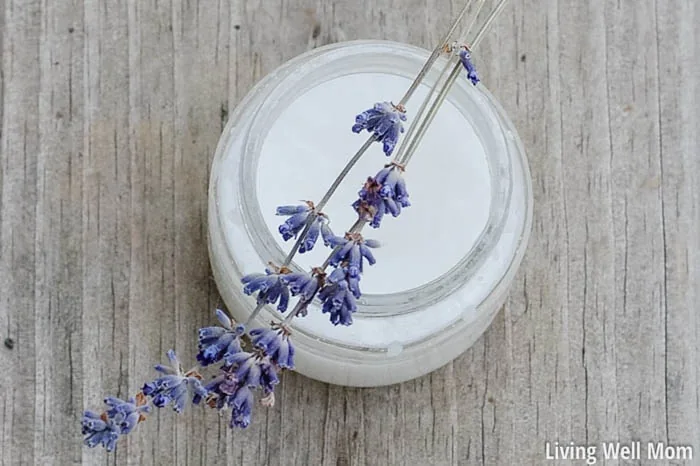 Erika Bragdon is a Certified Essential Oil Coach from the Essential Oil Institute.

Ingredients
If you're like I was and still suffer from adult acne, take the plunge and try coconut oil to clear up the acne! It's easy to make and use, and the results will blow you away. All you need to whip it up is:
Coconut oil – see notes below about the best type to use.
Essential Oils – I like using lavender, lemon, and tea tree oil; see notes below about their benefits.
Small jar – use something like these mini mason jars or a repurposed jar (I used a baby food jar).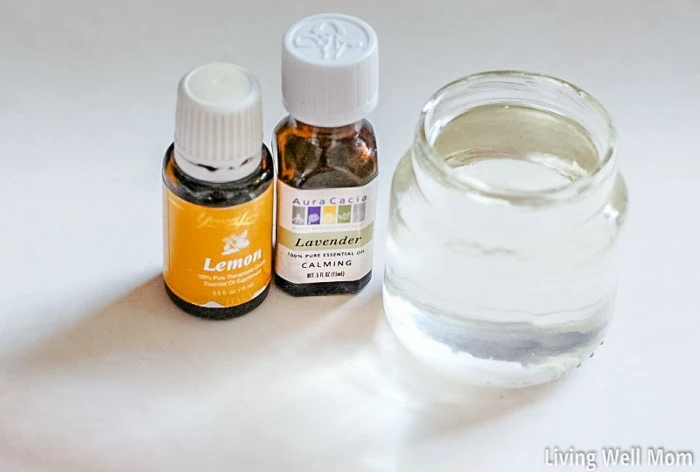 How to make your own coconut oil blend for acne
Although this moisturizer comes together easily. Follow these step-by-step instructions to whip up your own acne-fighting treatment!
Step 1
Scoop out about 1/2 cup of coconut oil and melt it in a saucepan over low heat.
Step 2
Then, add 15 drops of lavender essential oil, 8 drops of lemon oil, and 8 drops of tea tree. Mix well.
Step 3
Lastly, pour the mixture into the jar and wait for it to cool and solidify at room temperature. It will solidify in under an hour unless it's super hot in the house.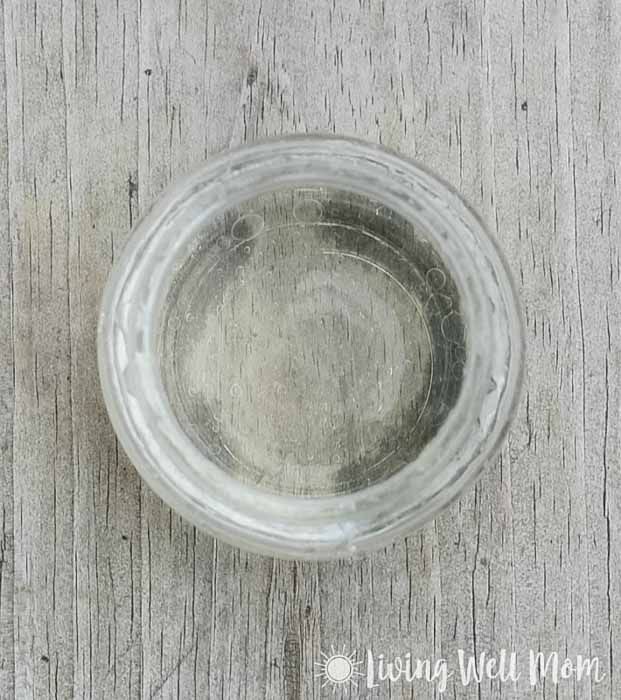 How to use coconut oil for acne
Here is the solid form of the coconut oil night cream.
I keep this in my toiletry basket in my bathroom, and it goes on my face every single night after I wash my face with my facial cleanser.
It's easy to melt a little with my fingers and smooth over my face.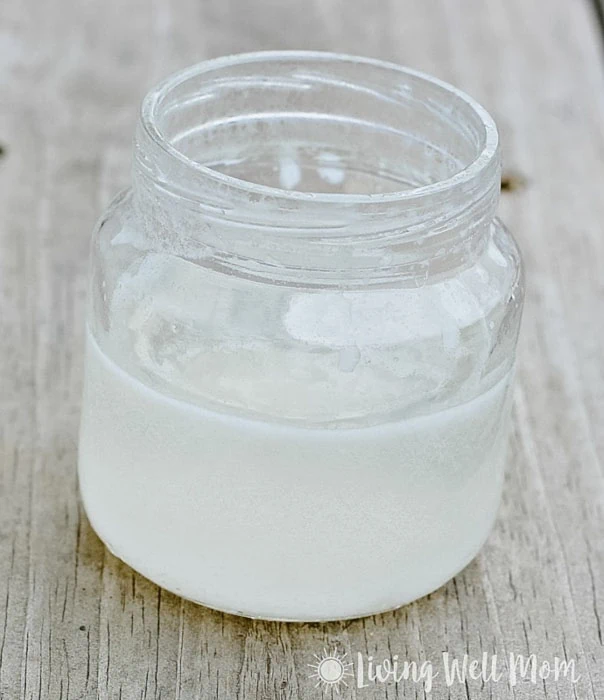 Notes and tips
Always try a patch test when testing any new skincare product to make sure that you don't have an allergic reaction or that it causes acne.
Choose the essential oils you use based on their properties: lavender oil is anti-inflammatory and awesome for skin, lemon oil is ideal for clarifying, and tea tree oil is a great disinfectant. Need another option? Learn more about the best essential oils for acne and oily skin.
CAUTION: Coconut oil is rated a 4 on the comedogenicity scale (ranges from 0-5), which means that it can clog pores. Find out more about the skin types that this moisturizer works for below.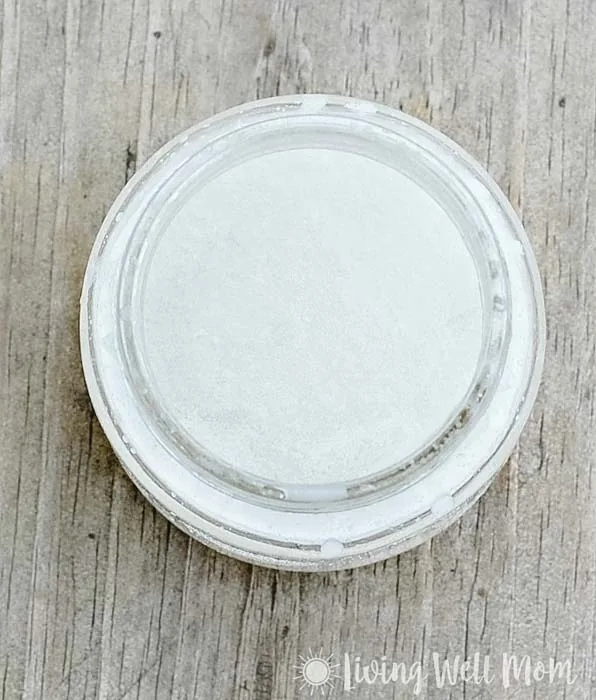 FAQs
Here are a few questions I often receive from readers about using coconut oil for acne.
What kind of coconut oil should I use?
Choose a brand that is unrefined. The refining process adds impurities that you don't want on your skin. Ideally, you want to use organic, extra virgin coconut oil because it's processed the least and contains great nutrients.
I recommend choosing an unrefined variety of cold-pressed coconut oil for your face instead of the more processed varieties used for cooking.
My favorite brand is Nutiva, but there are other great ones, like Carrington Farms coconut oil too.
Does this work for different skin types?
Yes, it does! Coconut oil works best for people who have sensitive skin, dry skin, and (sometimes) combination skin.
I wouldn't recommend using coconut oil on very oily skin because it can cause your skin to produce more oil and cause breakouts.
Can people who have sensitive skin use coconut oil for acne?
Yes, and it can be very helpful for reducing temporary redness or irritation.
If you're like I was and have acne-prone skin, take the plunge and add coconut oil for acne to your skincare routine!
Have you used coconut oil as a night cream? I would love to hear other testimonies of those with adult acne that have found it cleared after using coconut oil.
More ways to use essential oils
Looking for more uses for essential oils? Check out these posts: