This homemade lavender facial sugar scrub is easy to make and a wonderful way to pamper yourself. Using only all-natural ingredients, this sugar scrub works as an exfoliator to remove dead skin cells and moisturize at the same time. It's easy to make and only takes about 5 minutes!
Homemade lavender facial sugar scrub makes a wonderful gift for other moms who could use some pampering too.
What You'll Need for this Homemade Lavender Facial Sugar Scrub: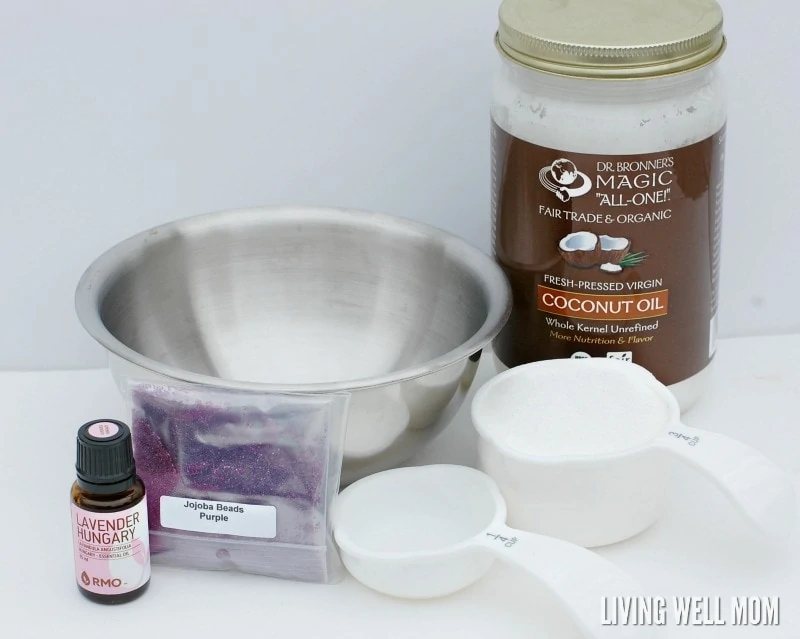 Add 1/4 cup of coconut oil to 3/4 cup sugar. You may need to put your coconut oil in the microwave for a few seconds to soften it up if it's colder than 70 degrees in your house.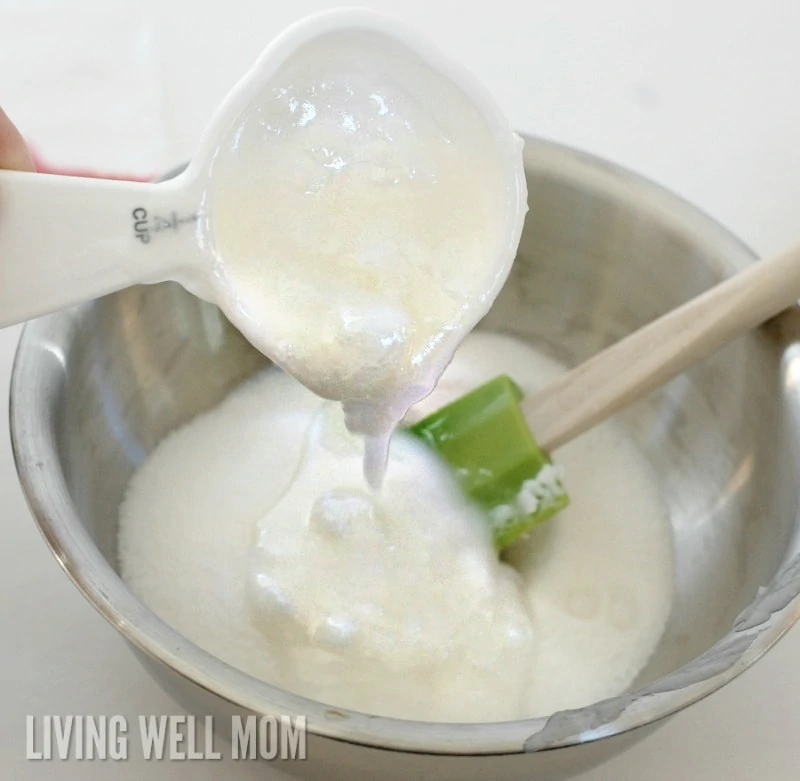 Next, add a tablespoon of purple jojoba beads. These are optional and not 100% necessary for a sugar scrub, but the pop of color they give just make this sugar scrub that much more fun!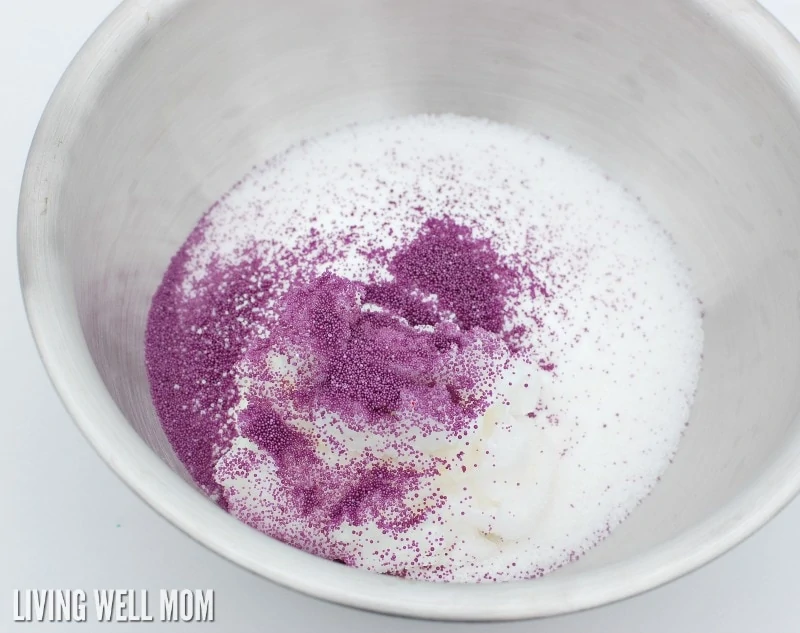 Then add about 5 drops of lavender essential oil
to your mixture.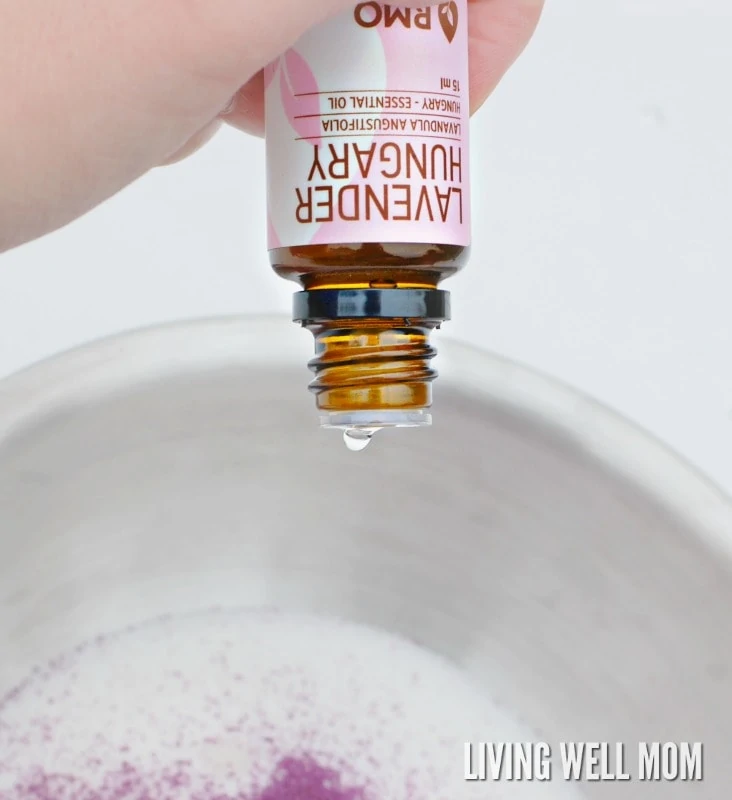 Stir all of that together until it is well mixed and the jojoba beads are evenly spread.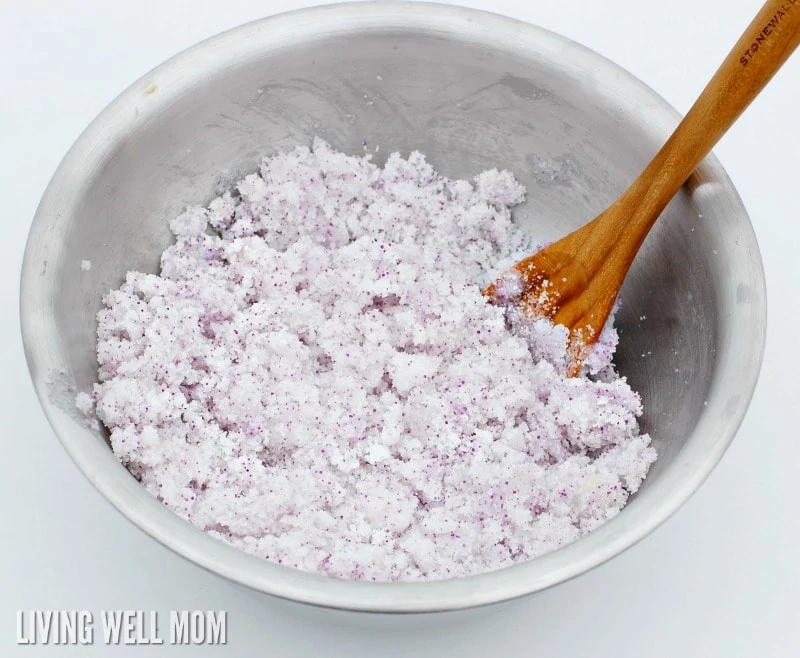 Store your homemade lavender facial sugar scrub in a baby food jar or a small mason jar. This amount will fill 2 baby food jars or one jam-sized mason jar.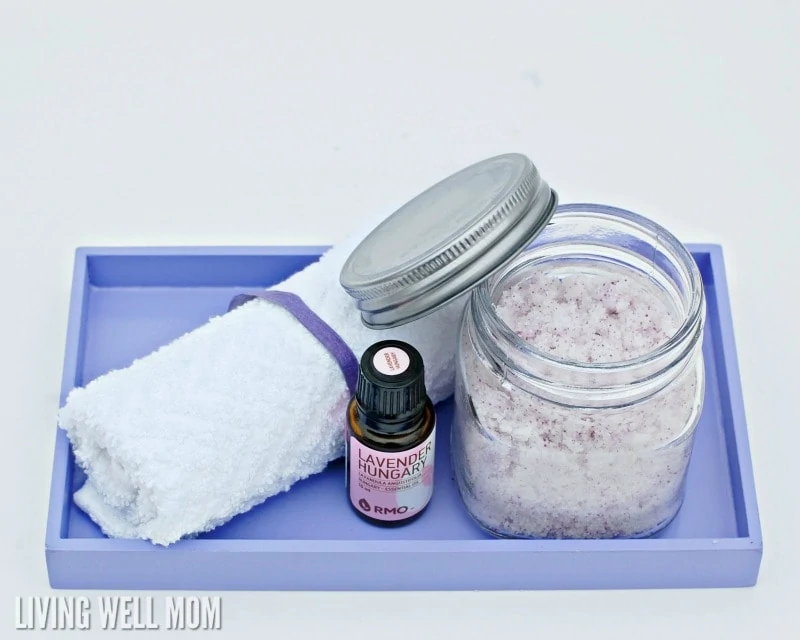 After you've tried this amazing facial sugar scrub, you'll want to share with your friends or even make them their own as a gift because it's so easy and inexpensive!
I recommend making up a nice homemade DIY bath and beauty product gift basket for yourself or a friend.
Go ahead and make this easy Lavender Goat's Milk Soap, Lavender Foaming Face Wash, Lavender Foot Soak, along with this lavender sugar scrub for the perfect combo! I was even thinking that since it is Mother's Day season, this would be a nice basket to make up for a new mom. After a little one shows up, it's easy to get lost in caring for the newborn, that the new mom is lucky to even get a daily shower! Give this to her and remind her that she will eventually get sleep and time to pamper herself again. Give her permission to use some of these items while she is transitioning into motherhood.
Looking for another easy scrub recipe? I highly recommend these DIY scrub bars! They exfoliate, wash, and hydrate skin all in one go.