Struggling with dry, dull skin or just in need of a little pampering at home? I've got the perfect thing for you: these DIY sugar scrub bars!
With only 5 ingredients, these scrub bars are easy to make and will leave your skin feeling soft and moisturized. Plus, since they are made with all-natural essential oils you'll get the added benefit of aromatherapy too!
I've included six different essential oils options in this blog post that work wonderfully. However, you can also customize the scrub bars by using any other natural oils you like!
What are scrub bars?
Scrub bars are just what they sound like: scrubbing bars that you can use to gently exfoliate your skin. However, rather than being made with abrasive ingredients, they usually contain some sort of oil or butter which helps moisturize the skin while gently scrubbing away any dead, dry skin cells.
The scrub bars I'm sharing with you today are made by combining sugar (which acts as the scrub) with soothing almond oil. A simple melt-and-pour soap acts as the base for the entire bar, so you get your soaping and scrubbing done all at once!
Just think of it as a powerhouse soap bar that will clean, exfoliate, and moisturize all at one time.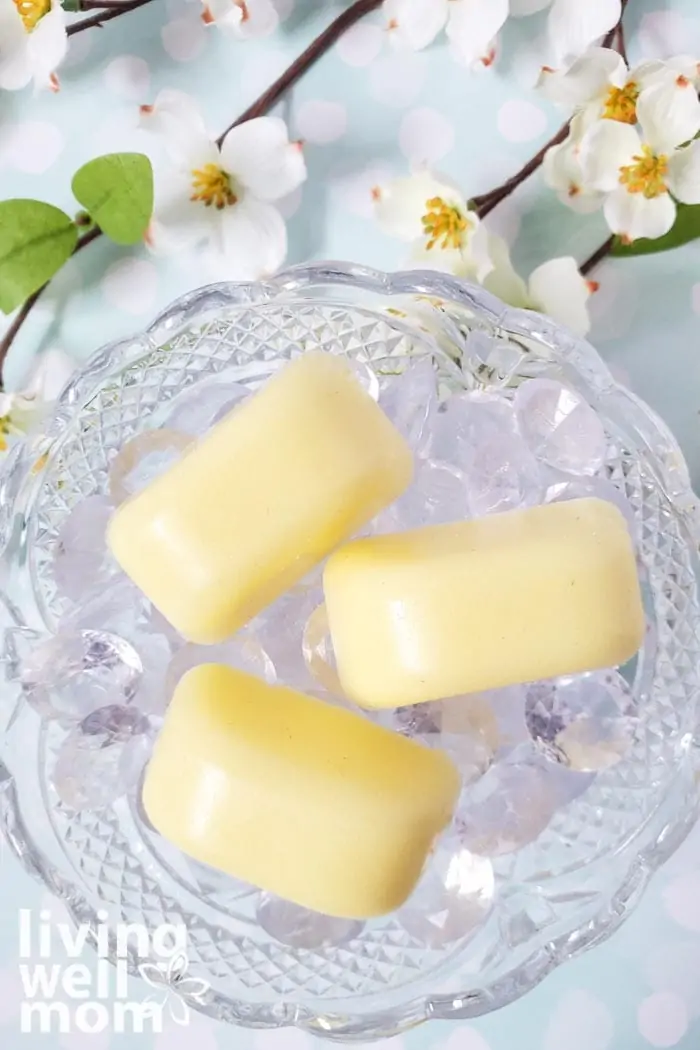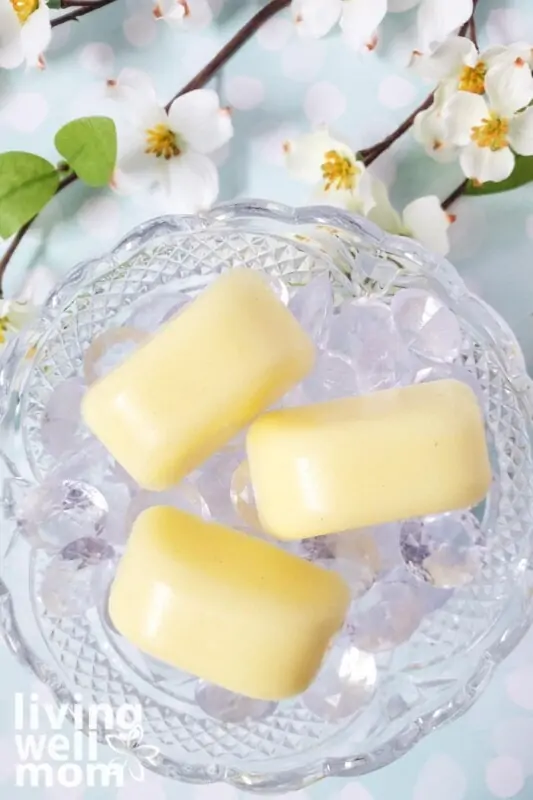 Essential Oil Combinations to Try
If you've spent any amount of time on my site, you'll know that I am a huge fan of essential oils (see proof here with dozens of essential oil recipes and uses!). The beauty of oils is that the benefit is usually two-fold.
Firstly, essential oils have properties that make them powerful, yet gentle. Depending on your skin's needs, you may opt for a moisturizing oil or one that adds extra exfoliation. Secondly, essential oils smell amazing!
So not only do you get the healing power of oils but you get some excellent aromatherapy while you are at it.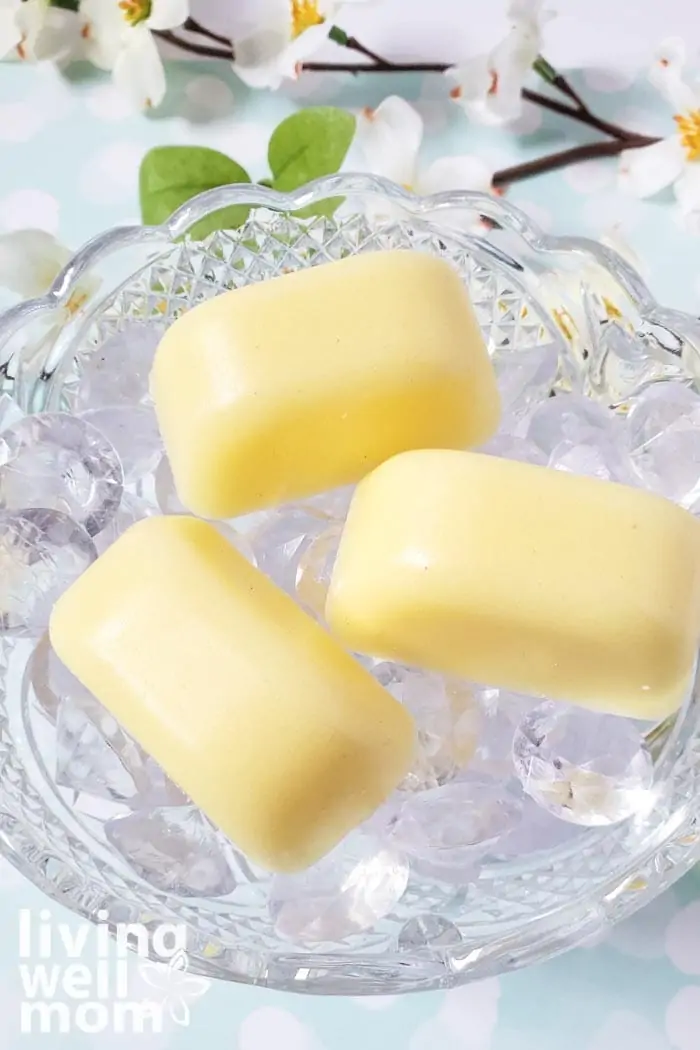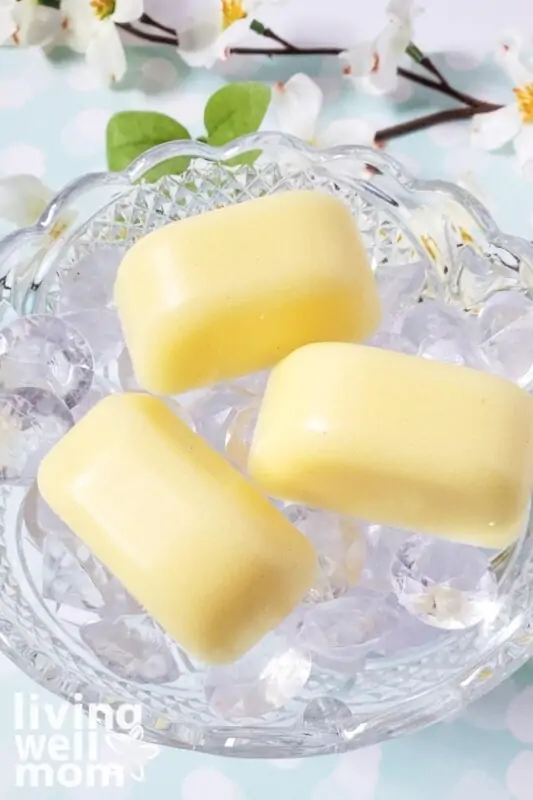 I've made these bars for years, and have played with several different scent combinations. Here are my favorites:
1) Lavender
Lavender oil is probably the most-used oil in our house! Just some of the benefits of lavender included improved sleep, natural pain relief, healing skin, and treating acne, just to name a few.
It also happens to be a very gentle oil that's safe to use on delicate skin and with children.
2) Cheerful Calm
I call this blend cheerful calm because that's exactly how I feel when I use it! 10 drops of ylang ylang paired with 10 drops of bergamot are all you need to make this lovely scent.
Ylang ylang is great for any skin, particularly aging skin. It also has a lovely floral scent. Bergamot is very useful for oily skin as it can help balance out your skin without stripping it of beneficial natural oils.
3) Citrus Joy
Love the zesty scent of citrus? Me too! Use 10 drops of sweet orange along with 10 drops of grapefruit essential oil. You'll find that citrus oils can help stimulate blood flow to your skin as well as brighten it.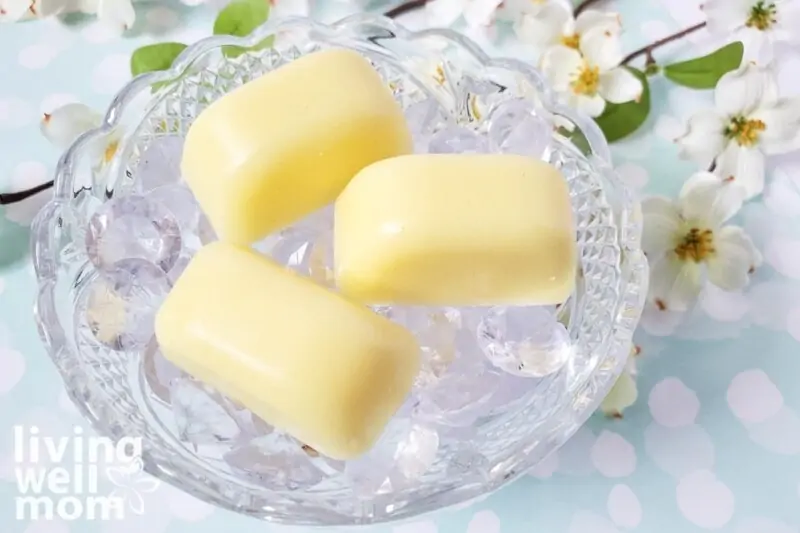 4) Peppermint
This scrub bar scent combination is perfect for when you need an extra pick-me-up. The invigorating scent of peppermint oil will help wake you up while the sugar scrub helps to refresh and revitalize your skin.
Peppermint on its own can be quite strong, so I recommend mixing 10 drops peppermint with 10 drops of wintergreen oil.
This is best for adults, or older children over the age of 10. Do not use this one for kids under the age of 10.
5) Grounded
Need to feel more grounded in life? Me too! This scent combination has been a recent favorite of mine. Simply mix 10 drops of lavender with 5 drops of geranium and 5 drops of sandalwood.
Geranium offers antibacterial properties that make it an effective tool for acne, while sandalwood can even your skin's appearance and even help minimize acne scarring.

Want another option? If you don't want to buy three oils to make this blend, I recommend this pre-mixed version called Balance. It's made with the same oils so you can just purchase one rather than three.
6) Choose Your Own Blend
Finally, you can choose your own favorite from any of these essential oil blends. If you have a particular need such as stress relief, or immunity building, there are some great options available! Just pick your favorite and use 20 drops of it in the recipe.
What You Need to Make Shower Scrub Bars
Now that we've covered essential oil blends and options, here's what else you'll need to have to make these simple scrub bars.
Note: this is what you'll need to make 7 bars. However, you can easily double or even triple this recipe if you want to make more.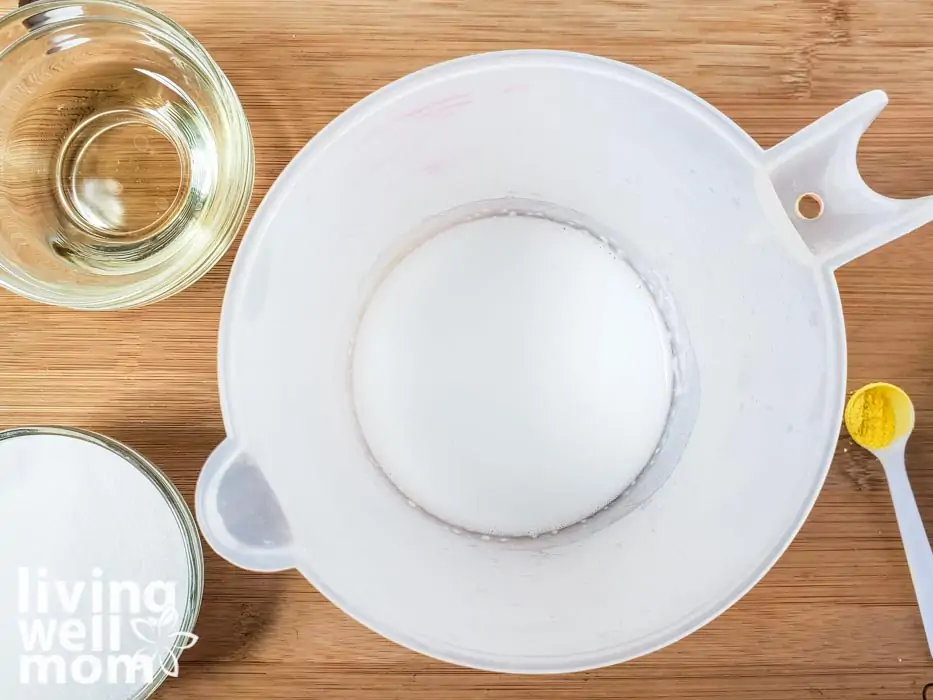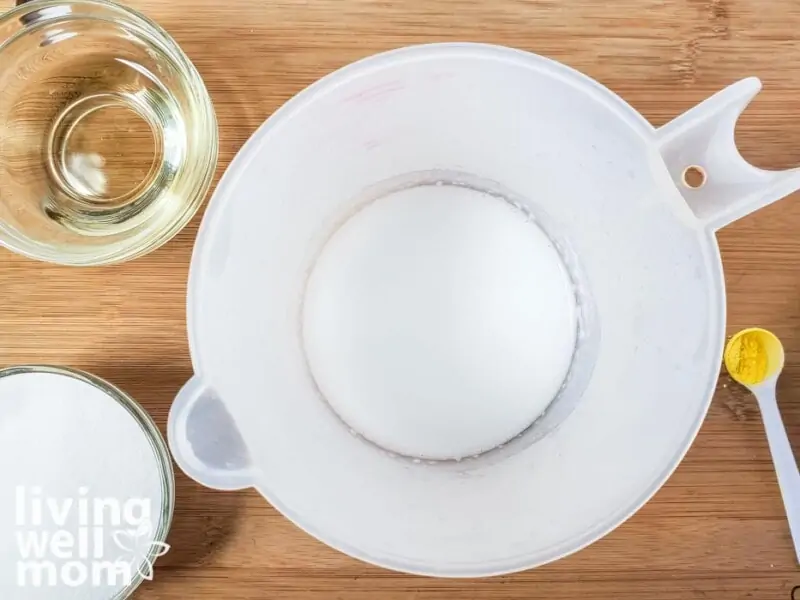 How to Make Homemade Sugar Scrub Bars
You'll be amazed at just how simple it is to make these scrub bars! In just a few simple steps, you'll have a batch of homemade scrub bars.
First, add the melt and pour soap base to a microwave-safe dish or spouted measuring cup. Heat on high for 30 seconds.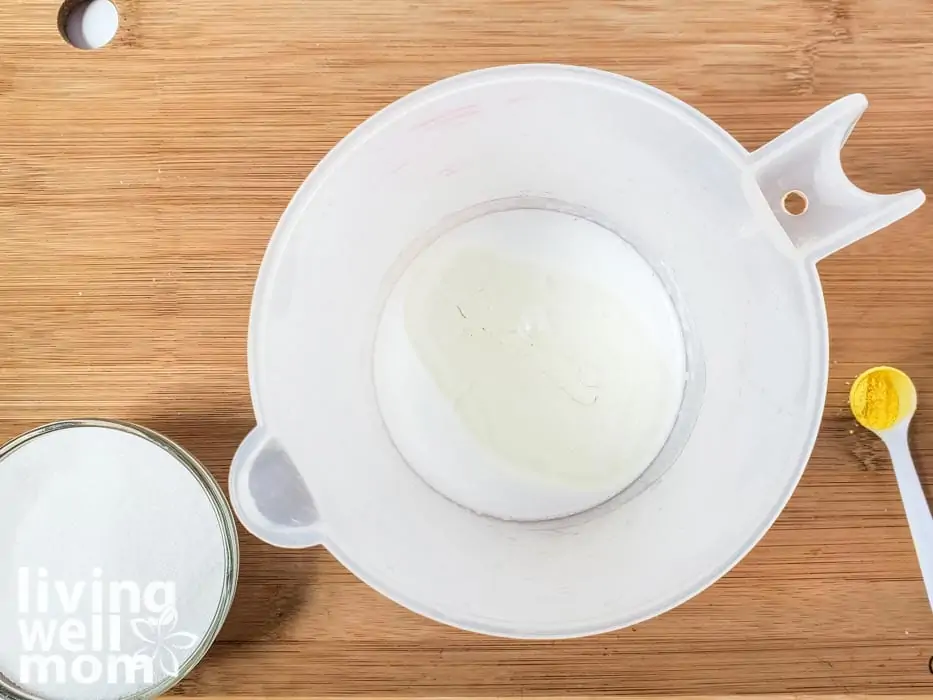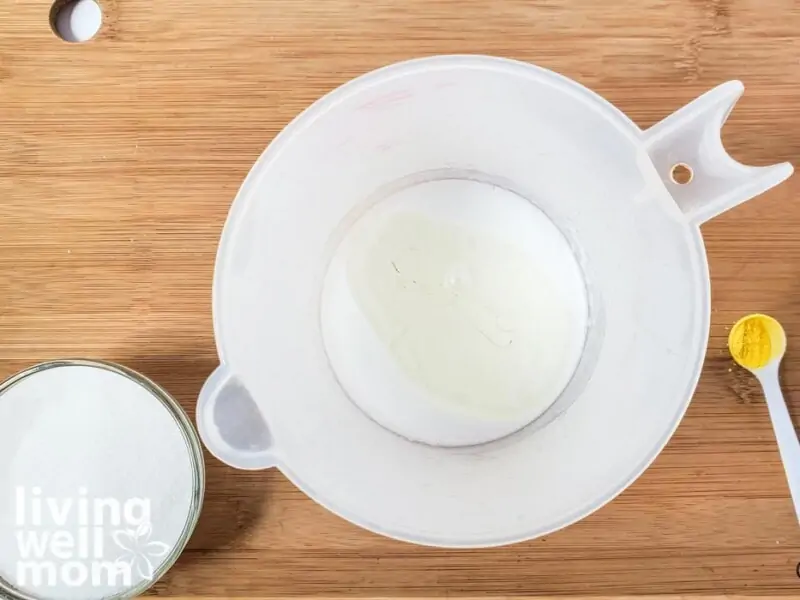 Then, add the sugar and almond oil. Stir the mixture well.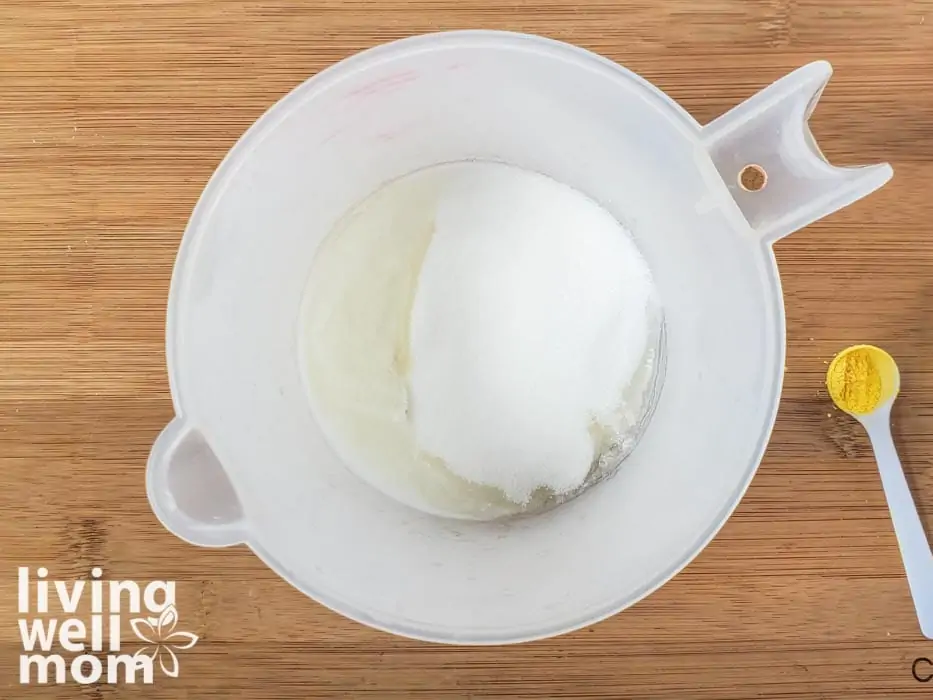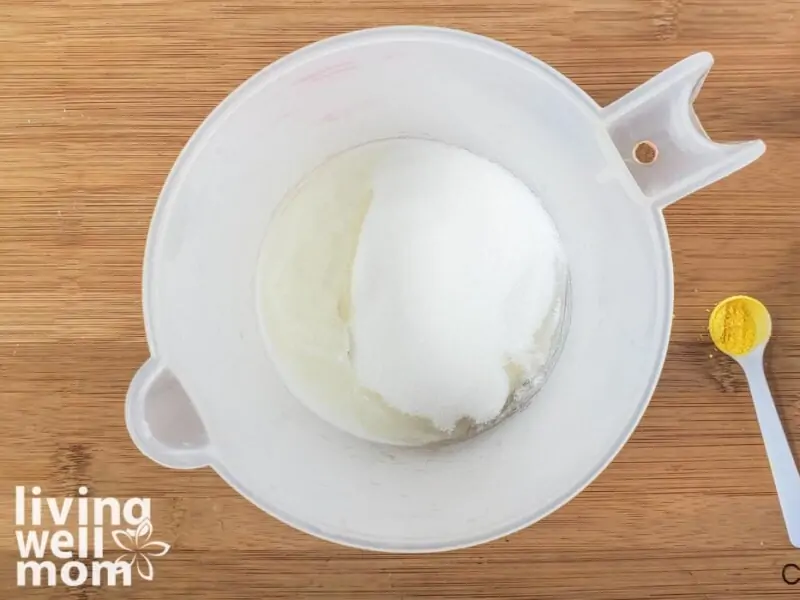 Next, add in the mica powder. Stir the mixture until the color is solid.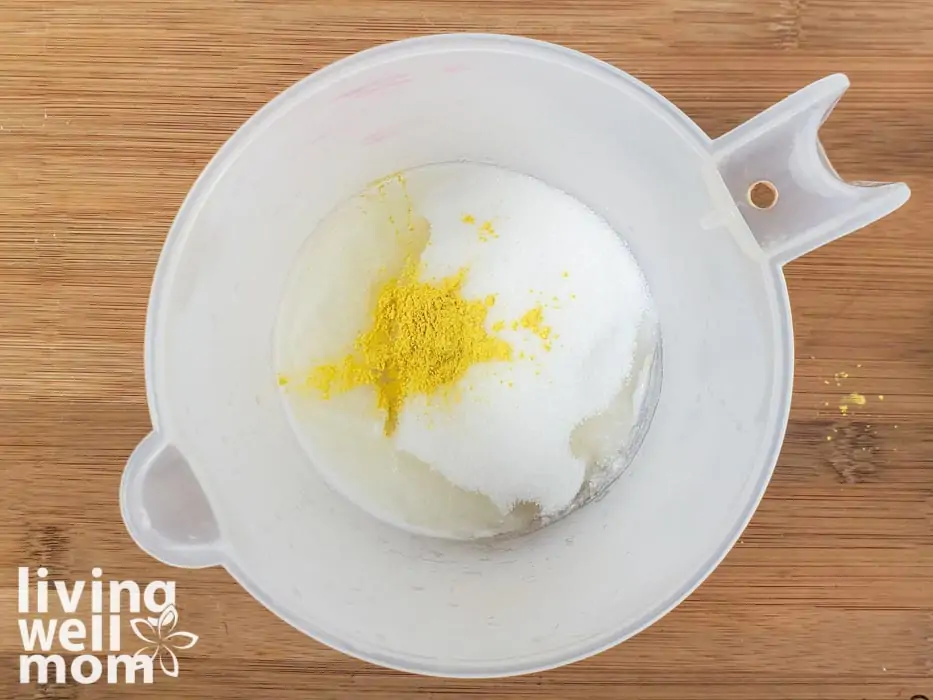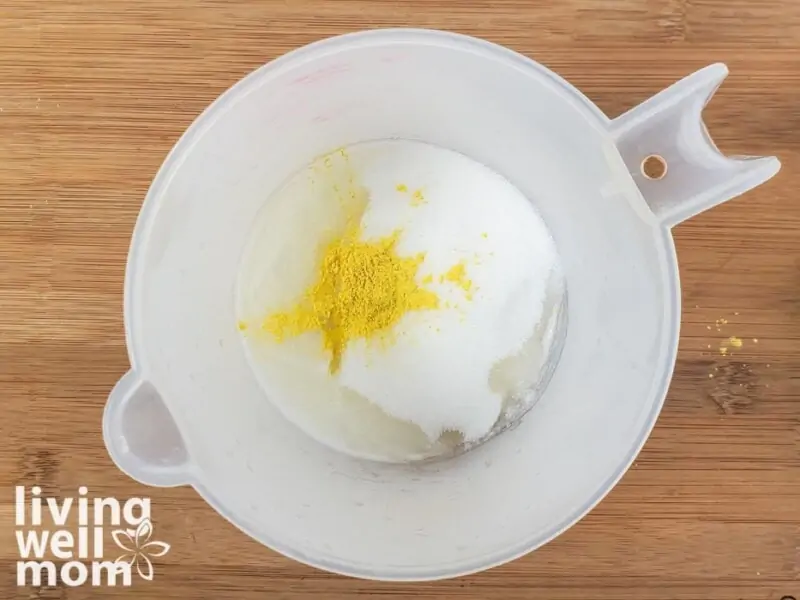 Place the microwave-safe container back in the microwave, and heat it for an additional 15 seconds.
Now it's time to add the essential oil drops. Once they are added, stir well to evenly distribute the oils.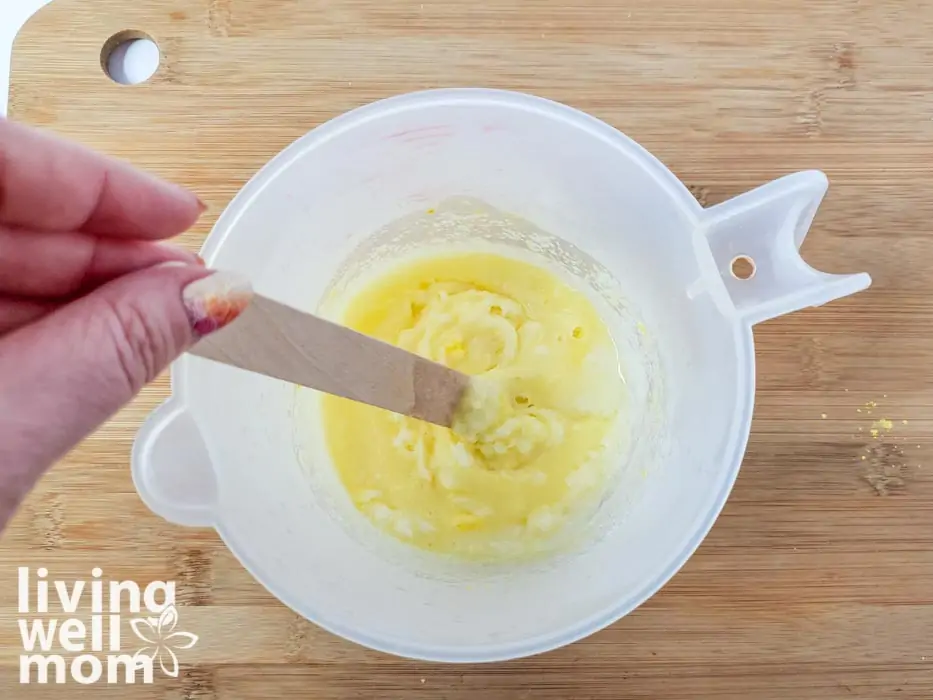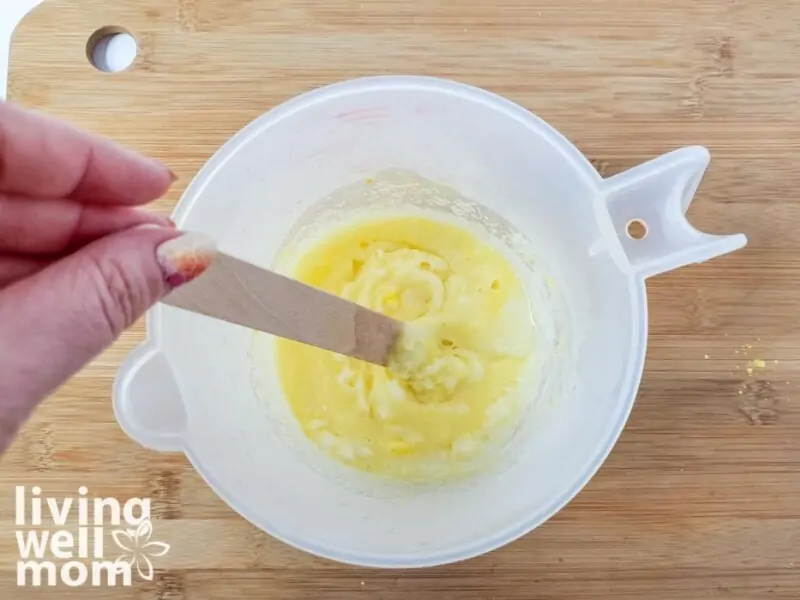 Then, pour the mixture into the ice cube tray or silicone mold. Allow to set for about 30 minutes before removing from the trays.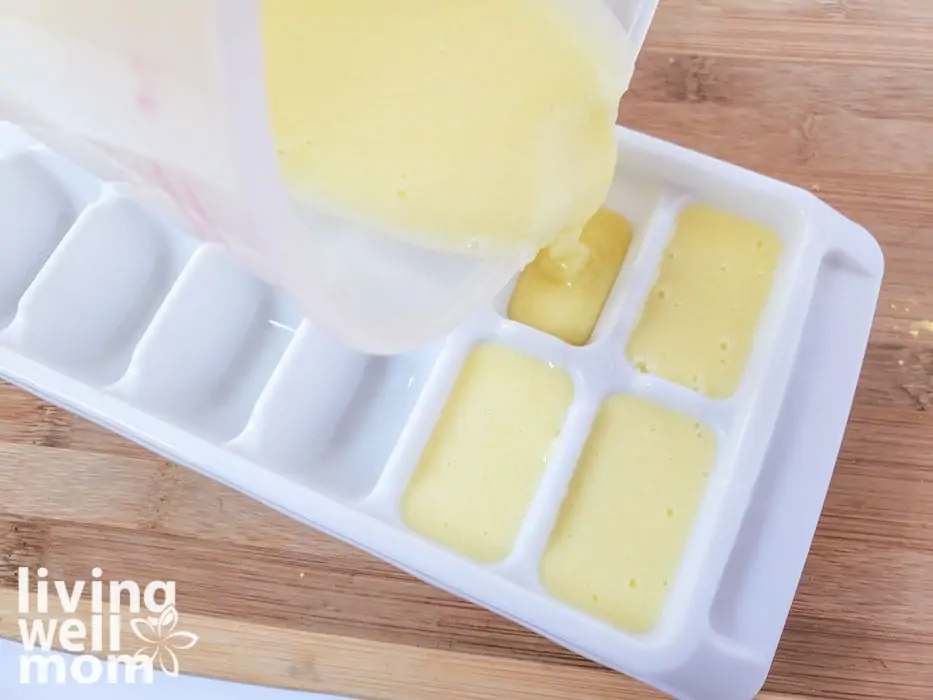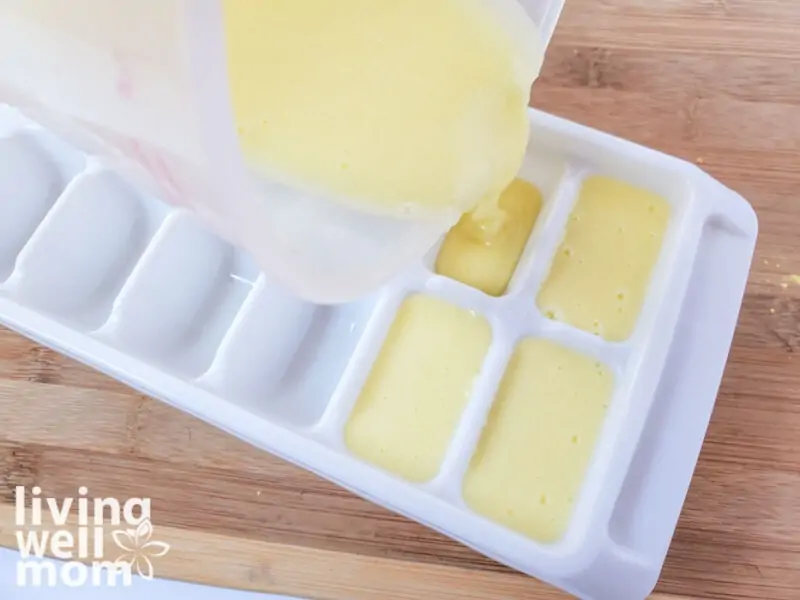 That's it! You've made your own sugar scrub bars. See how easy it is?
Storage
These bars will last for about 3 months once made. They will need to be stored in a dry, sealed container. Once you start using one, I'd recommend trying to finish it in 1-2 days (that's why we made them small).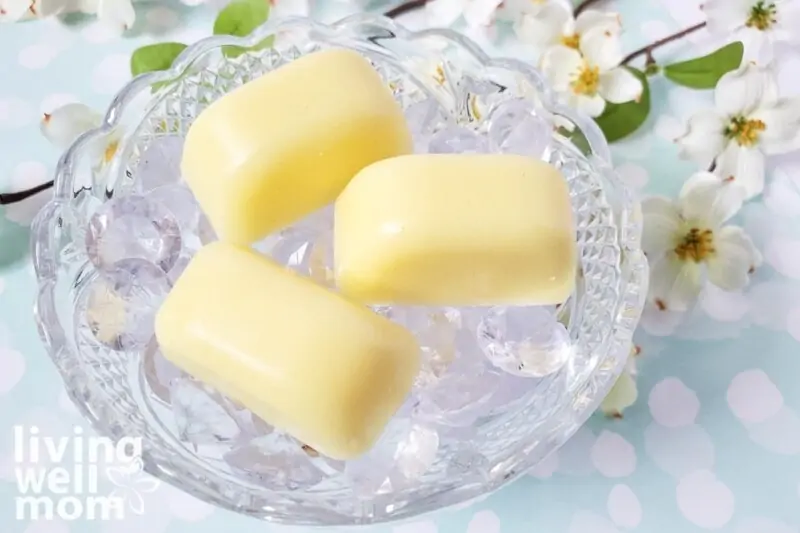 How to Use Scrub Bars
Using these DIY scrub bars is very similar to using a traditional sugar scrub (only far less messy!).
To use, simply wet your skin and then use the bar in a circular motion in 10-15 second bursts. Rinse off with warm water and pat dry. Enjoy your refreshed, healthier skin! For best results, I recommend toweling off and then applying an ultra-moisturizing lotion afterward.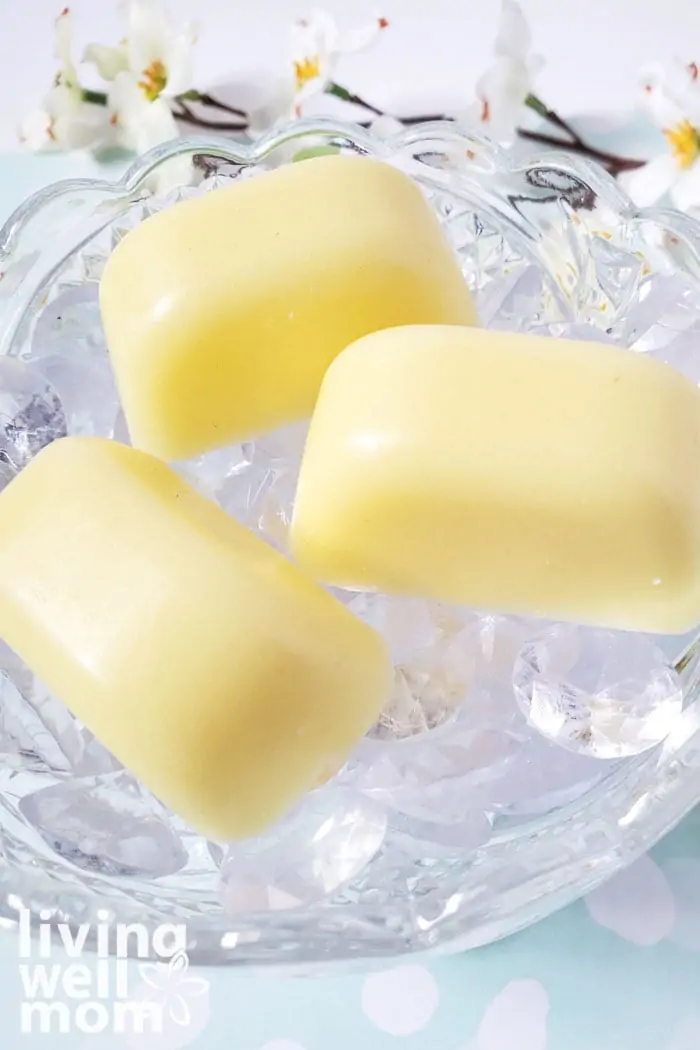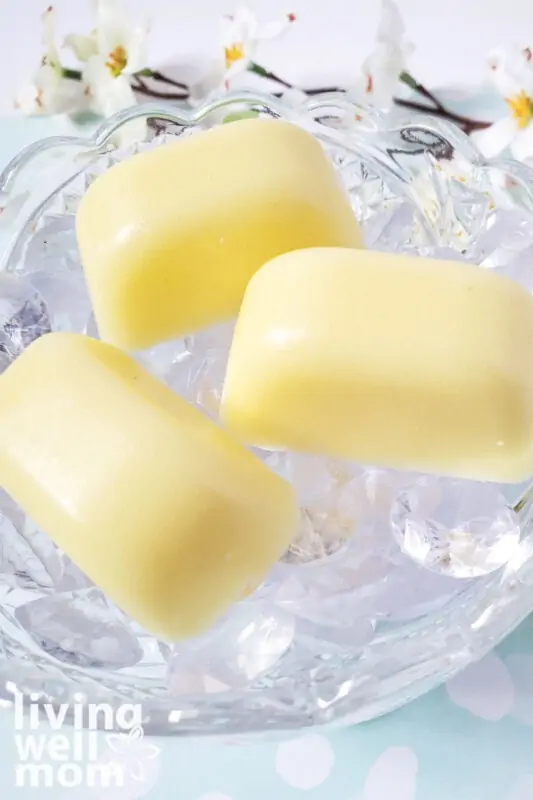 More Ways to Use Essential Oils for Healthy Skin