If you are looking for a light and moisturizing lotion, you should try out this recipe for lavender sleep cream. It is scented with heavenly lavender essential oil and filled with moisturizing shea butter and coconut oil.
This is the perfect moisturizer for your whole body and is great to use after bed or even after a hot shower. It's even great to use on your children if they need a calming boost to their skin!
If you are new to homemade skincare, this lavender moisturizer is a great DIY to get you started! You only need three ingredients, so it's very beginner-friendly. It's so easy to make that you can even get the kids involved in whipping up this dreamy moisturizer!
Lavender Night Cream
This recipe for lavender creams is one of my favorite DIY skincare products. Not only is it simple to make, but it is completely natural and free of any artificial fragrances or preservatives!
Unlike other lotions and body creams, this lavender moisturizer is made with only the purest ingredients. Scented with pure lavender essential oil, it not only smells amazing but is therapeutic as well.
This cream is perfect to use in the evening to help you wind down and get ready for bed. Lavender is naturally relaxing and will help to promote feelings of calm and contentment. Even fussy children will want to crawl into bed once they have been coated in this relaxing body cream.
Although it's great for evenings, you can use lavender creams any time of the day. Just apply as needed on your hands and feet or any other rough or dry areas. It soaks into the skin quickly and deeply nourishes your skin's layers without feeling sticky or greasy.
If you are looking for a moisturizer that does a better job than water-based creams, this DIY lavender cream is a great natural option!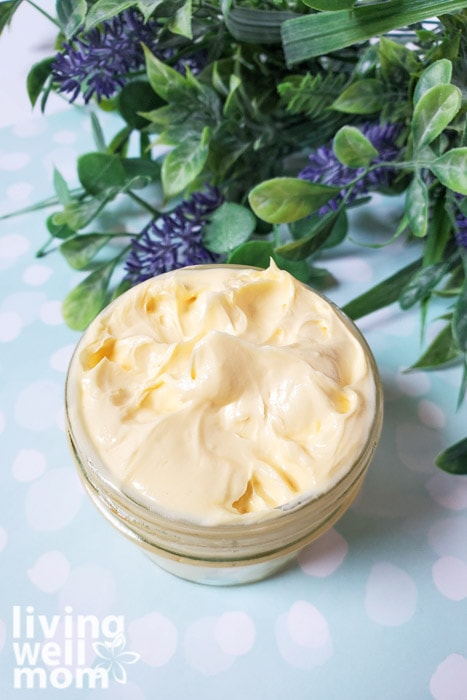 DIY Sleep Cream Ingredients
This lavender lotion is homemade skincare that contains quality oils, shea butter, and no water – making it super simple to put together. Here's what I used in this sleep cream recipe:
How To Make Lavender Cream
This quick process will create a light and buttery body cream that is perfect for moisturizing your skin – without making it oily.
First, you will need to place the shea butter and coconut oil in a microwave-safe bowl. Then, heat in the microwave for about 1 minute. If it doesn't fully melt after a minute, try 30 seconds more.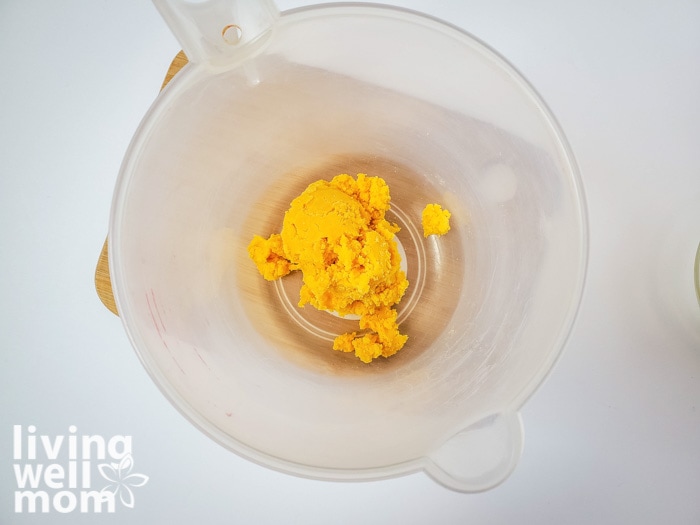 Then, place the bowl into the freezer, and allow the butter and oil to harden. After about 15 minutes, check the mixture. If it's still a little liquidy, leave it in for 10 minutes more.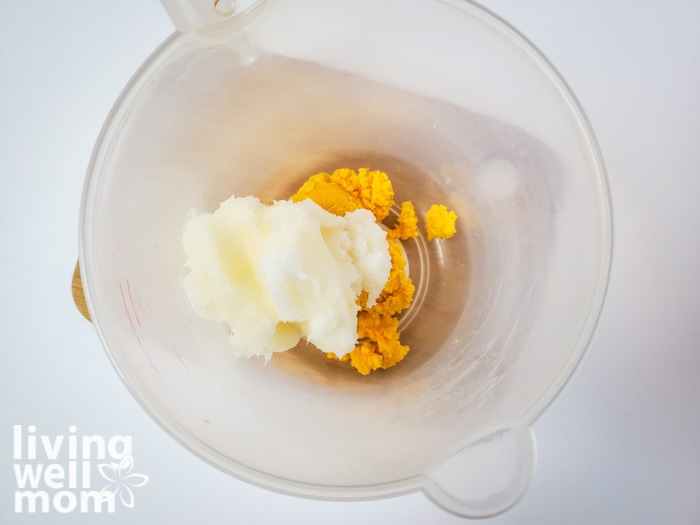 After your mixture has hardened, it's time for the fun part…whipping!
With a stand mixer or in a large bowl with a hand mixer, whip the mixture on high for 1 minute.
Then, continue to whip at a low speed for another 5 minutes until it has created a lovely cream!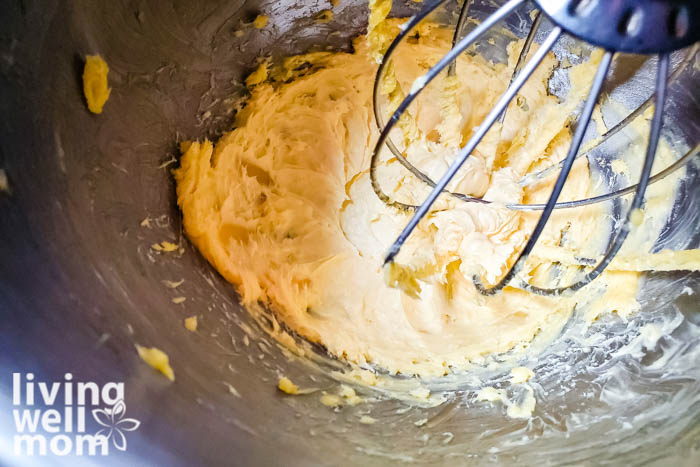 Next, add your lavender essential oil into your whipped sleep cream and mix it until fully blended.
Lastly, spoon the cream into a jar. That's it!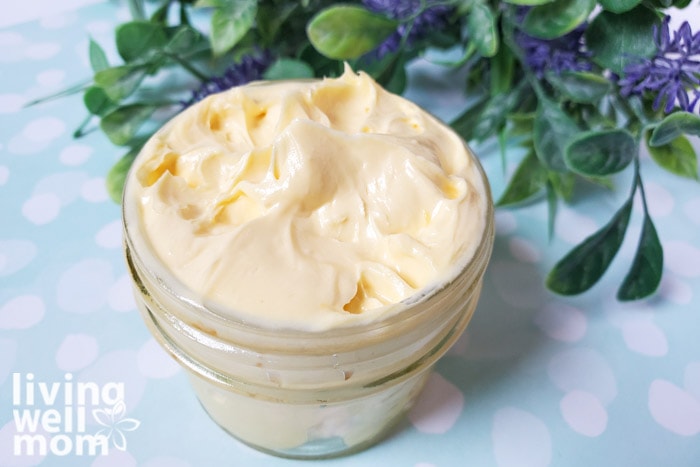 How To Use Lavender Creams
You can use this lavender moisturizer just as you would a body lotion. It is light enough to be used all over your body while still being heavy enough to give your skin a hearty dose of moisture.
The lavender essential oil is calming on the skin and according to a recent study, it also has excellent scar-lightening benefits. This makes it a great option for stretch marks or any other areas of your skin you are self-conscious about.
Lavender sleep cream can be used up to twice a day on your entire body or as needed on dryer areas like hands, feet, and knees. If you need some extra rest, try putting this cream on your feet before going to bed and let the lavender work its magic!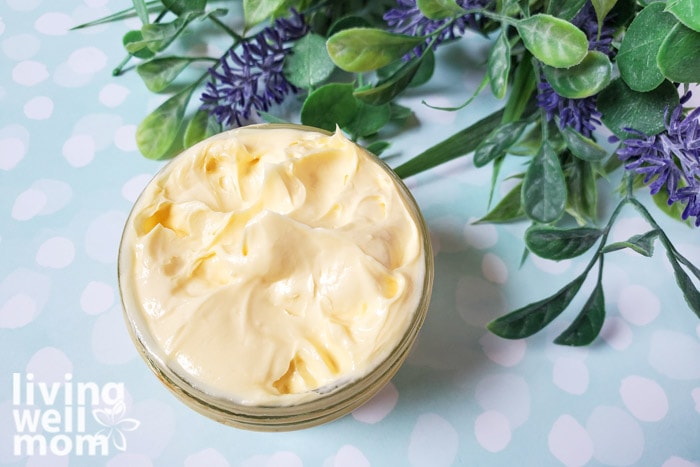 How To Store Lavender Lotion
This lavender moisturizer can last for several months without showing any signs of spoiling. This is because it is made without any perishable ingredients like water.
To keep your lavender lotion fresh, store it in a dark, dry place that has an even temperature at all times.
Avoid storing it in very moist places, as the moisture could get into the container and cause it to spoil.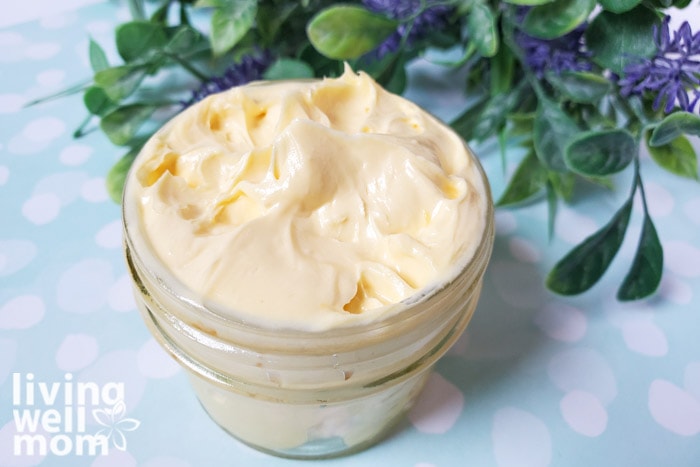 FAQS About Lavender Moisturizer Recipe
Is lavender lotion good to use before bed?
Yes! This lotion is perfect for bedtime and can help both adults and children wind down for the evening. Lavender oil is known to be soothing and helps to relax even the most anxious or restless bodies. It is also safe to use on your children to help them go to sleep faster and more soundly.
Can I use this lavender cream all over my body?
You can safely use this lotion all over your body, though it might not be good for your face if you have sensitive or oily skin. This cream is light enough that it can be used from your elbows to your feet and everywhere in between.
How long will this lavender lotion last?
As long as this cream is kept sanitary and dry, it should last for several months – if not longer. The key is to keep it out of any moist environments and not introduce water or bacteria to the cream.
Store it in a cool and dry area and only touch it with clean hands to lengthen its shelf life.
What can I use instead of shea butter?
If you do not have shea butter, I would highly recommend that you buy some! It is a wonderful skincare ingredient and moisturizes the skin very deeply. However, if you want to make this recipe without it, you could probably use equal amounts of mango butter, although I have not personally tried that.
If you don't have any kind of butter, you could potentially make this cream with only coconut oil if necessary. It won't be as fluffy or creamy, but it will still be an amazing moisturizer. Again, I haven't tried this, so I can only recommend you stick with shea butter!
Can I use other essential oils?
You definitely can experiment with other kinds of essential oils! This cream would be amazing if made with an uplifting orange essential oil. Or, you could get creative and make it with a blend of essential oils.
Some amazing blends would be lavender and peppermint, cedarwood and lavender, or peppermint and eucalyptus. Note: Do not use peppermint or eucalyptus oil on children under age 6 and always avoid using on their faces.
Just remember that with all essential oils, a little goes a long way!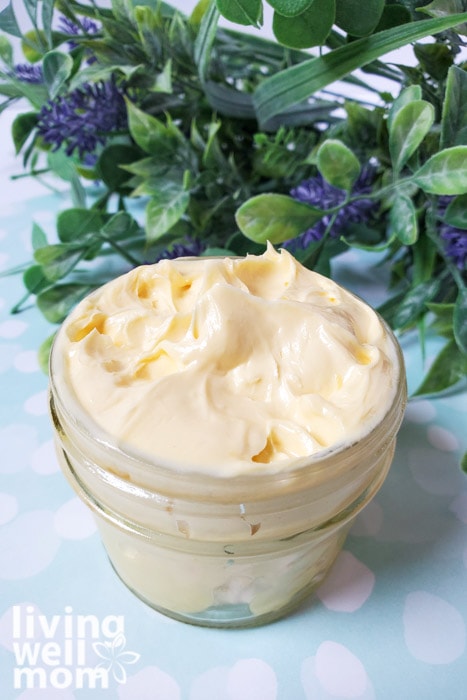 More DIY Skincare Posts
Pin the image below to save the night cream recipe for later!