Here's a homemade bath and beauty product that you will love – DIY shaving cream. This one isn't meant for the guys to use – it's just for us ladies! You won't be tempted to steal your husband's shaving cream after you make this!
Or, if you're like me and use to just use bar soap (not good, I know!), you can rid yourself of that bad habit. Instead, pamper yourself with this homemade coconut shaving cream!
Either way, it's time to ditch store-bought, chemical-laden shaving cream and make your own. This diy shaving cream recipe is quick, easy, and uses only six ingredients that you likely already have in your kitchen.
This homemade coconut shaving cream is truly luxurious and will leave your skin soft and smooth. Because it's made with simple natural ingredients and essential oils, it's much nicer and more pleasant than the "shower fresh" artificial shaving creams you buy at the store.
Benefits of Coconut Oil for Skin
Coconut oil is the base of this recipe. If you want silky smooth skin, coconut oil is the best option out there! It naturally creates a barrier on your skin that seals in moisture for extra hydration without a greasy feeling.
This is especially great if you have sensitive skin because you can get a smooth shave with reduced irritation, razor burn, or nicks.
The Best Essential Oils for DIY Shaving Cream
Essential oils are one of the most important ingredients in this diy shaving cream. They can help reduce irritation, moisturize your skin, and have the added bonus of aromatherapy too.
I typically like to use lemon oil to help brighten my skin, but have also enjoyed lavender in this cream. If you aren't sure which oil to use, I highly recommend you start with lavender essential oil.
In fact, lavender is my number one most used essential oil!
If you have dry skin, I've put together a post with the 12 best essential oils for dry skin. Any of these will also work perfectly in this recipe.
Homemade Shaving Cream Recipe Ingredients
Here's what you'll need to have on hand to whip up this mixture:
*You will need your blender for this homemade shaving cream. Instead of a "whipped" homemade shaving cream, we are making a "blended" shaving cream. This version works just as well, but the texture won't change dramatically at a higher heat like whipped shaving creams with coconut oil do. This is because coconut oil has a melting temperature of 74 degrees F.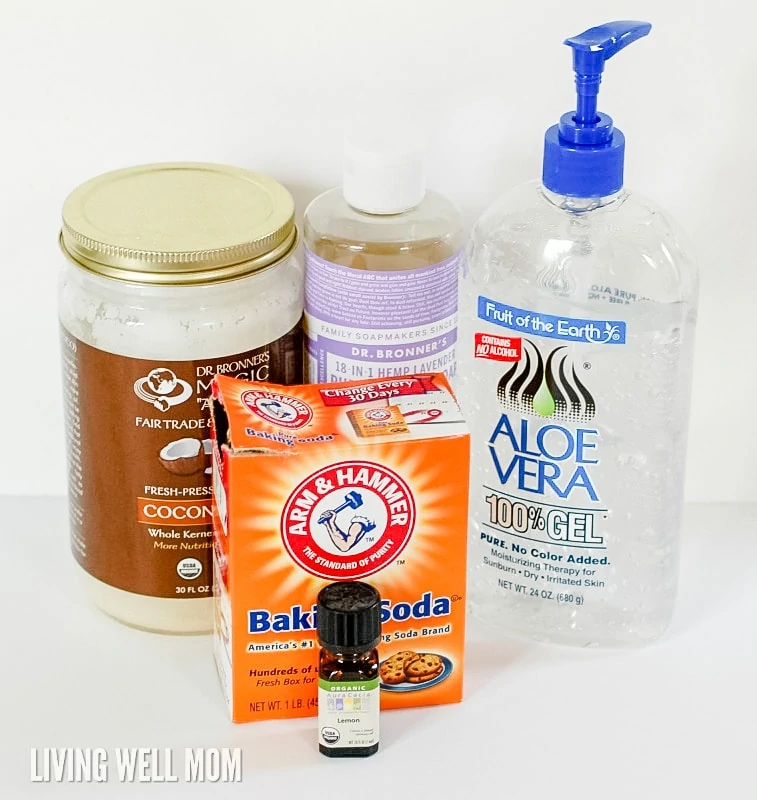 Instructions
Begin by melting the coconut oil and cocoa or shea butter in the pot over low to medium heat on your stove.
While this is melting, scoop the aloe vera into your blender.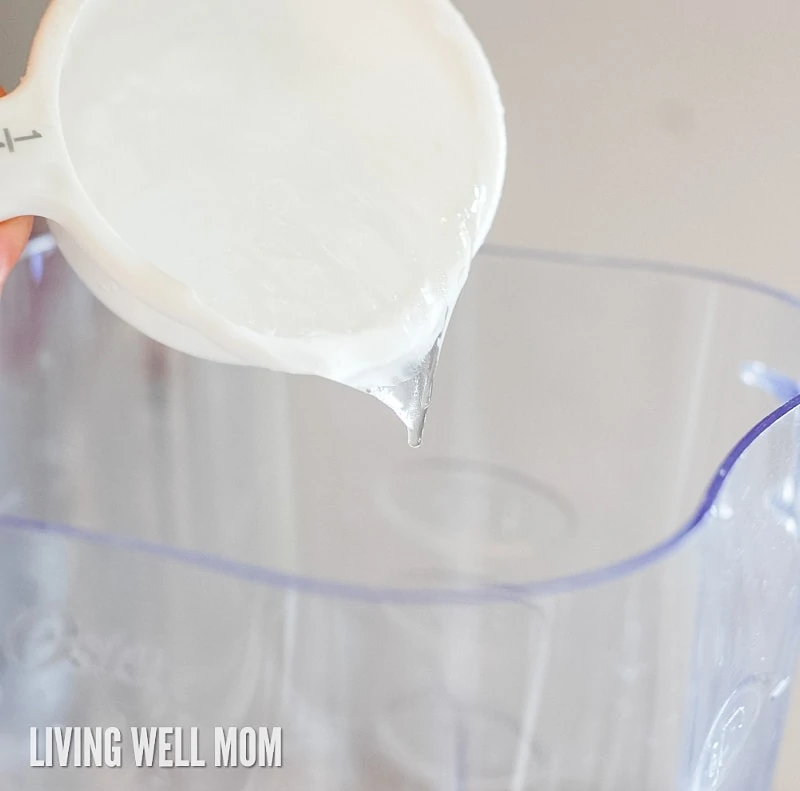 Add the castile soap and baking soda.
Next, add the melted coconut oil and shea/cocoa butter to the blender.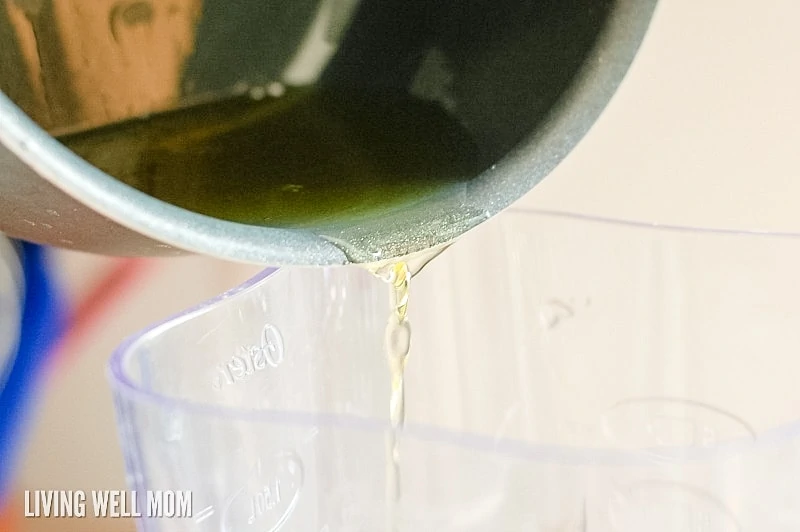 Add 10 drops of your preferred essential oil. If you prefer a more potent scent, you can add a couple more drops, but I always recommend being conservative as these oils can be quite powerful.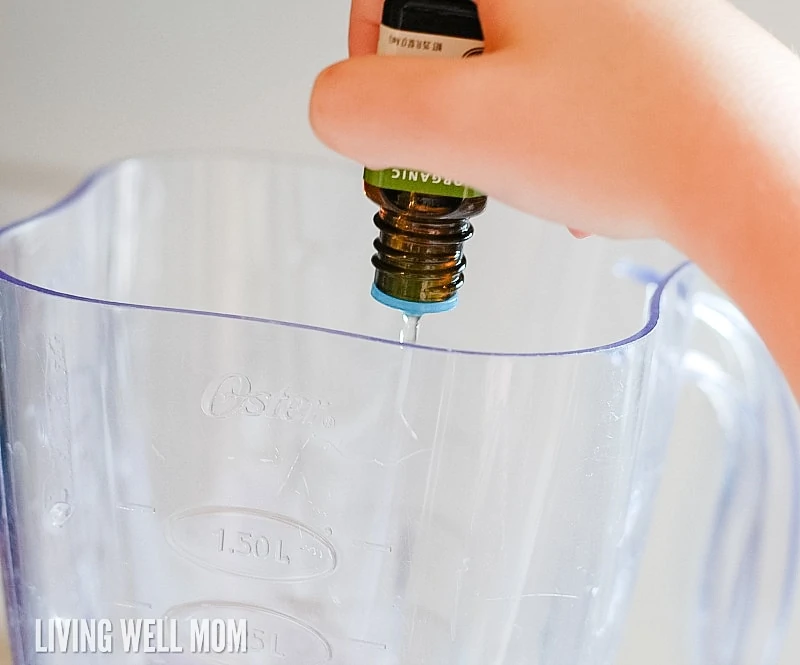 Blend on high for about 2 minutes. You need to blend it even after it looks like its mixed to be sure the oils and soap combine well. Just keep going!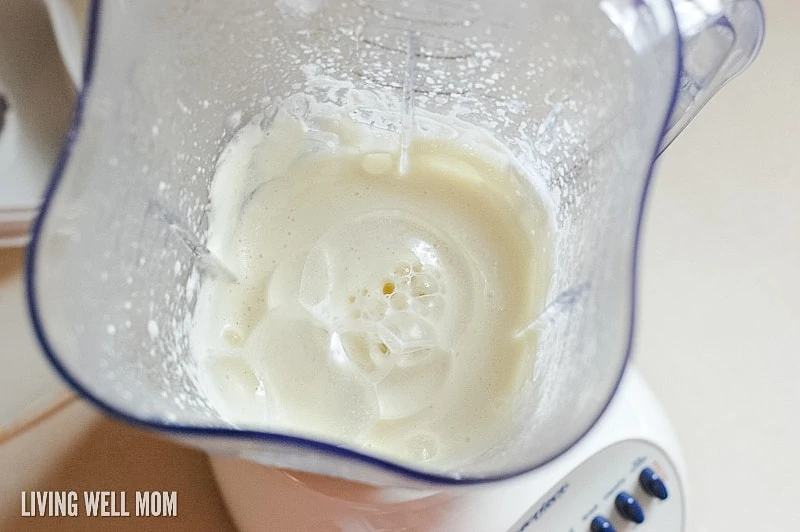 Pour the blended shaving cream into your soap dispenser. The consistency is fairly liquid-y, so the pump bottle works much better than a jar or glass bowl might. Plus, using a soap bottle keeps moisture out of the DIY shaving cream which can help prevent bacteria growth.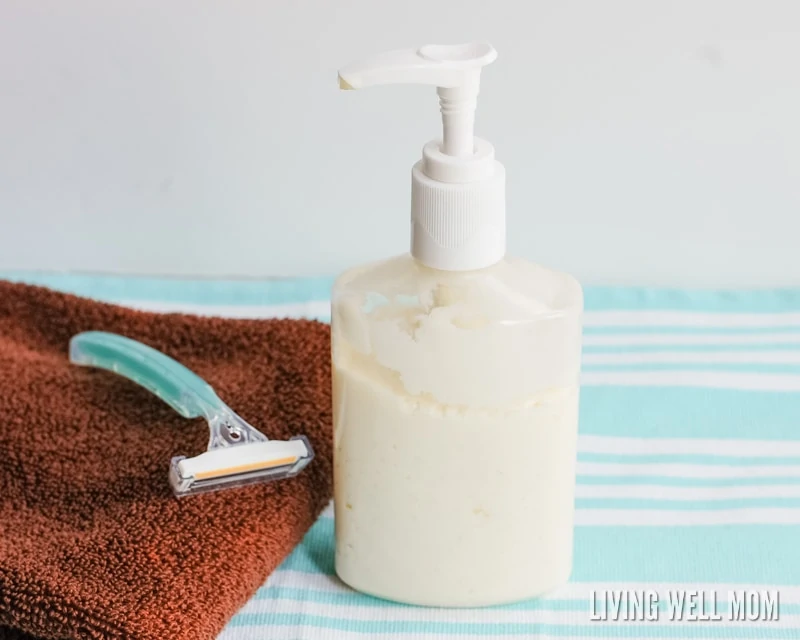 And that's how you make homemade coconut shaving cream!

How to Use Homemade Shaving Cream
Using this shaving cream is super simple. Just pump it into the palm of your hand, then rub it onto your leg, arm pits or wherever else you'd like to shave. Rinse well once you are done.
Look at that nice lather and foam it creates! I love how wonderful my homemade coconut shaving cream smells in a steamy shower! My legs come out so smooth – and I haven't nicked myself once since I started using it! (Bye, bar soap!)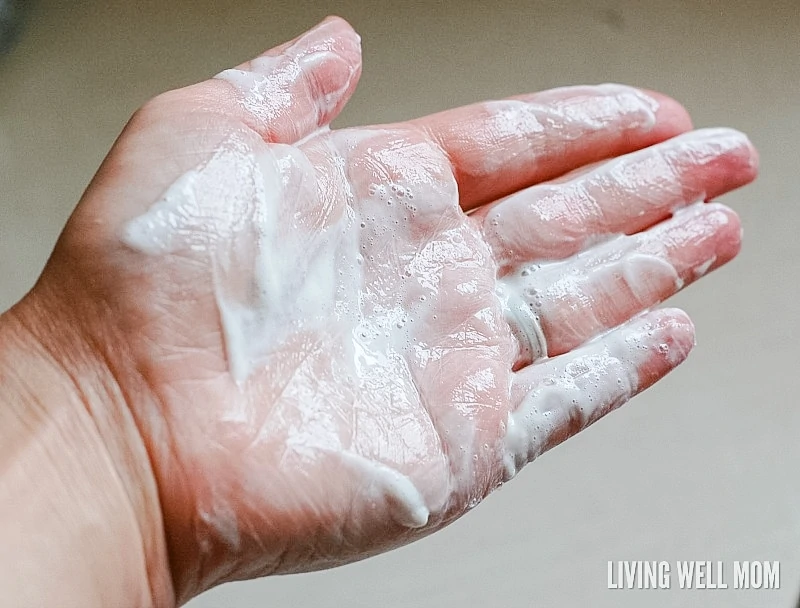 More DIYs with Essential Oils
Print
Homemade Coconut Shaving Cream
This DIY shaving cream takes just a few minutes to whip up and works beautifully!
Author:
Prep Time:

5 mins

Cook Time:

5 mins

Total Time:

10 mins
1/4 cup

coconut oil

1/4 cup

Dr. Bronner's castile soap

2 tsp

. baking soda

2 tbsp

. of cocoa butter or shea butter

1/4 cup

aloe vera gel

10

drops essential oil – I use lemon, but you can use your favorite scent such as lavender, orange, etc.
empty liquid soap dispenser (I cleaned and reused one I already had)
small sauce pan
blender
Instructions
Begin by melting the coconut oil and cocoa or Shea butter in a sauce pan over low heat on your stove.
While this is melting, scoop the aloe vera into your blender. Add the castile soap and baking soda. Then pour in the melted coconut oil and shea/cocoa butter. Lastly add 10 drops of your favorite essential oil.
Put the lid on your blender and blend for 2 minutes. Don't skip time; you want to blend more even if it looks fully blended because of the coconut oil.
When it's finished, pour into a soap dispenser and you're ready to use it!