Lavender oil doesn't only smell amazing, but it's incredibly versatile too! The properties of this amazing product can be used in so many ways that will benefit your mind and body alike! In this article, I'll share my favorite lavender oil uses as well as the benefits it provides.
In fact, I am so obsessed with this oil that I always make sure I have it on hand. If I am ever at the risk of running out at my house, I quickly make sure to restock my supply because it is really that useful!
Whether I'm feeling stressed or impatient, this is the essential oil that I turn to. Many of my recipes include lavender oil because I find it to be so incredibly impactful to our bodies and our minds – a quality we could all benefit from.
If you are new to using essential oils, lavender is a great one to start with. It is generally a hit amongst everyone with its mild aroma and soothing properties. Lavender oil is one of the more gentle oils, so it can be used on sensitive skin and even children as long as it is properly diluted.
As a Certified Essential Oil Coach from the Essential Oil Institute, I love to share all the lavender essential oil uses that I have grown to love. Check out this handful of recipes that highlight the many benefits of this all-natural essential oil.
FAQs About Lavender Essential Oil Uses
What are the benefits of lavender essential oil uses?
Lavender has so many amazing benefits for your health, body, and mind! It is such a useful oil to have around for all kinds of reasons.
Some of lavender essential oil's benefits include:
Improved sleep
Natural pain relief
Heals skin
Reduces blood pressure
Eases anxiety
Helps treat headaches
Treats nausea
Heals acne
Reduces scarring
What can lavender be used for?
Lavender essential oil is great for all kinds of things that you need in your life, and you may not even realize it! No matter the problem you have, it is one of the most useful and versatile oils on the market.
You can use for benefits such as:
Hair loss or hair growth
To heal scarring
To treat skin blemishes
As a relaxing soak
For a better night's sleep
In a diffuser to release tension
As a body massage oil
In body butters
For minor cuts and bruises
To ease tension headaches
There are so many lavender essential oil uses, but these are just a few ways to use lavender oil in your everyday life. A gentle yet powerful oil, it not only smells incredible, but it can benefit you from the inside out.
Now, let's learn some of those uses!
*Pin the image below to save the recipes for later.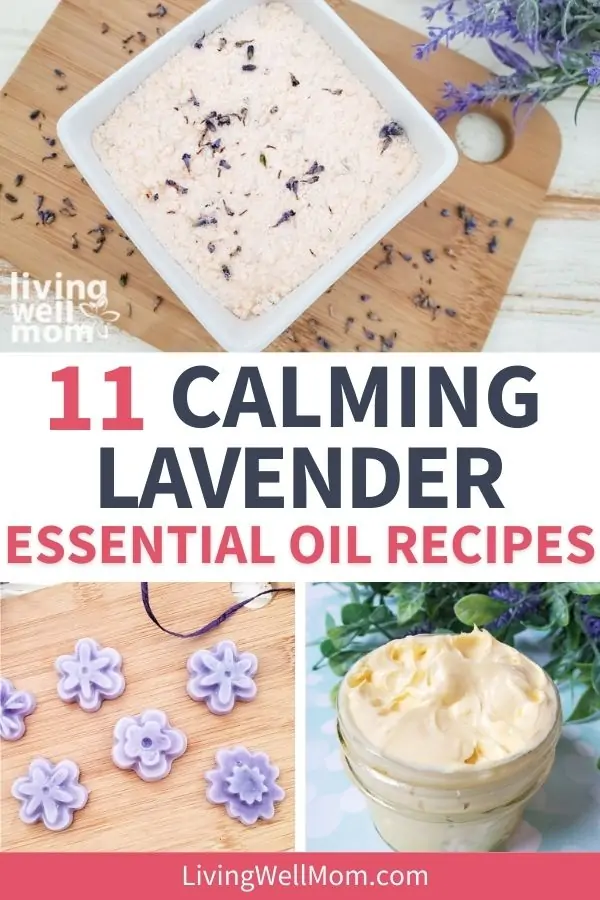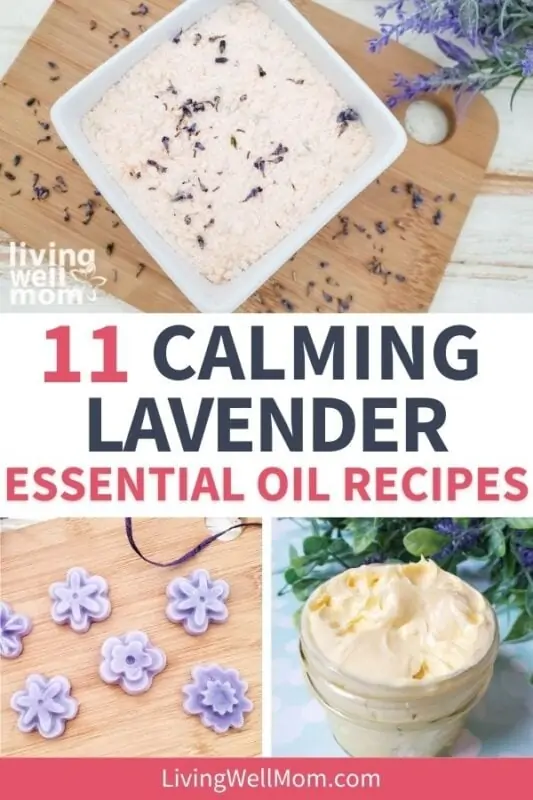 11 Uses For Lavender Essential Oil
Lavender essential oil is one of the most multi-faceted essential oils out there. And it doesn't hurt that it smells absolutely divine! One whiff and you'll be in an instant state of calm.
However, it can be a bit overwhelming to figure out how to start using essential oils, particularly if you are a beginner.
Here are a few recipes to try if you are interested in using lavender essential oil: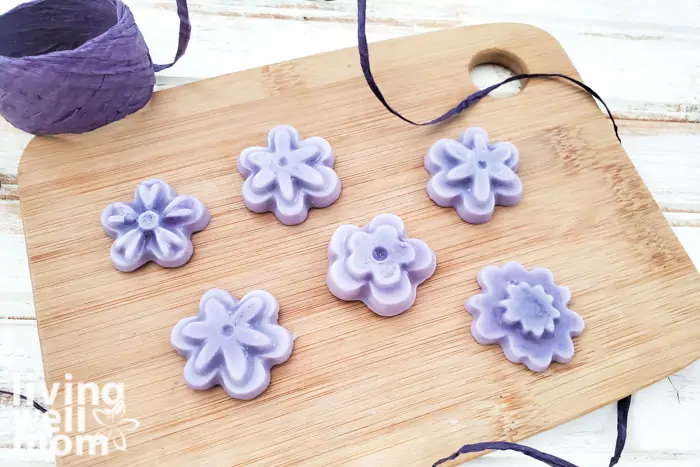 These lavender lotion bars are a great way to hydrate your skin as well as enjoy the aroma that the essential oil provides.
The bars are made of a blend of nourishing butters to create a perfectly moisturizing bar for even the dryest of skin. The lavender oil in the recipe adds a touch of calming aromatherapy while it works to nourish your body.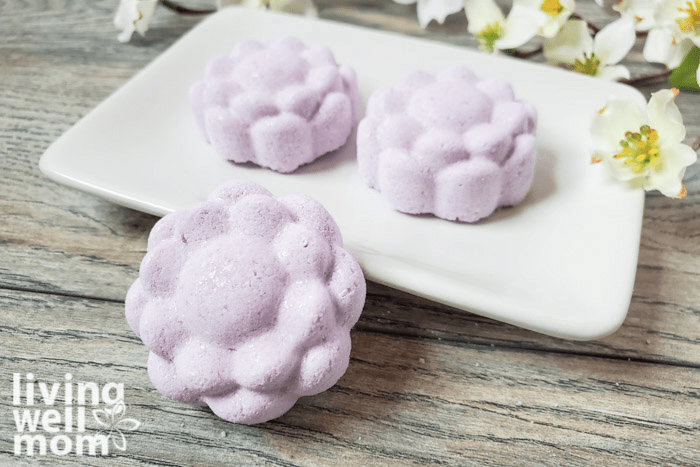 This lavender bath bomb recipe is another way to reap the aromatherapy benefits of lavender essential oil. They are simple to make and are such a fun bath product to enjoy after a long day!
For an especially relaxing night, drop one of these bombs in a hot bath and soak for a while. Pair this experience with a cup of herbal tea or your preferred beverage to wind down.
If you want to experience a strong dose of calming effects lavender, this is one of the best lavender oil uses out there!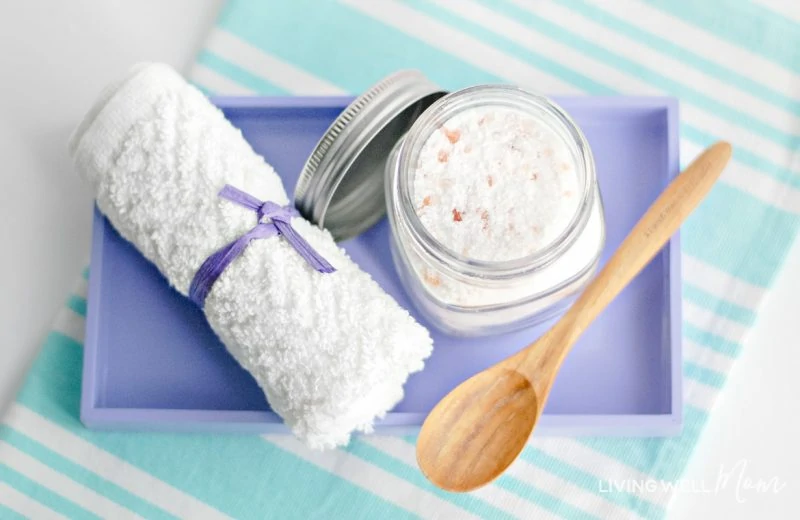 The combination of lavender and orange in these sweet-smelling salts is the perfect mix leading to ultimate relaxation. This DIY is the perfect project if you aren't quite ready to dive into making bath bombs. Bath salts are extremely easy to make. It only requires a little mixing, then you're done!
DIY bath salts are yet another excellent way to enjoy the aromatherapy benefits of using lavender. Sprinkle a cup of these bath salts into your evening bath, and you will feel relaxed and ready to slip into sleep.
As an added bonus, these bath salts will nourish your skin and leave you feeling silky and clean – even the day after.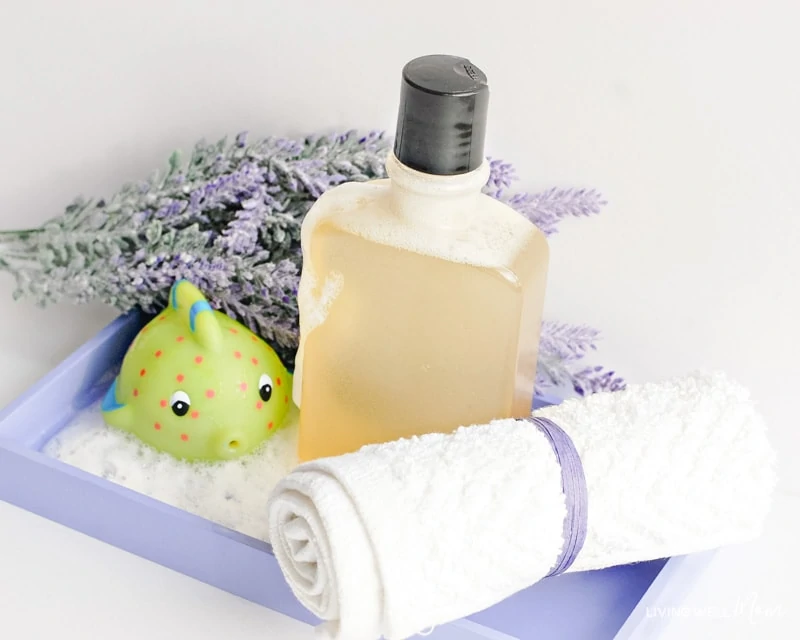 This kid-friendly homemade bubble bath is so much more soothing and natural than the stuff you can buy in the stores. Not only is it moisturizing and bubbly, but it also smells amazing and promotes an instant state of calm.
This bubble bath is perfect for fussy children or bedtime baths. It's wonderful for chilling out after a long day – for your children or for your own little bit of self-care.
And honestly, who doesn't enjoy a good bubble bath?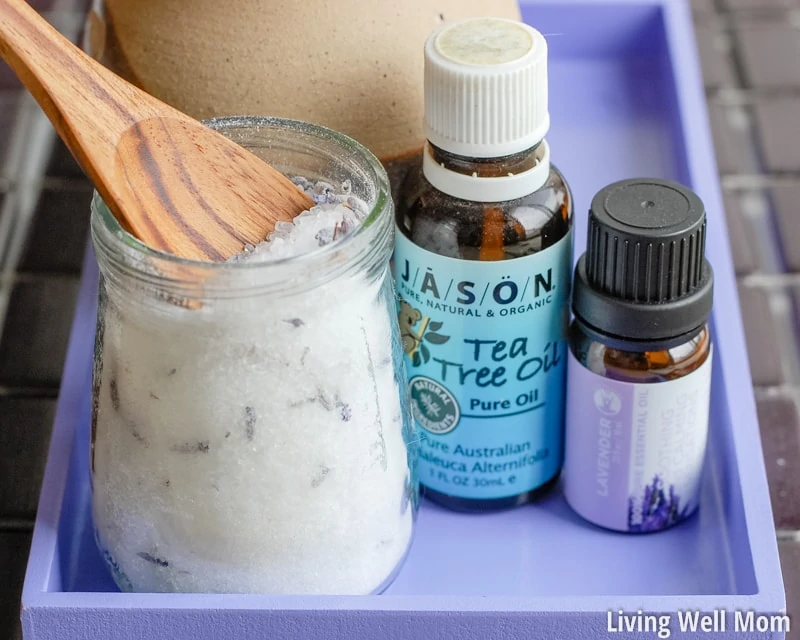 This lavender foot soak is one of my all-time favorite lavender oil uses! It's is incredibly soothing and calming on tired or sore feet after a day of being up and about.
Lavender has some anti-fungal benefits, too, which makes it perfect for foot care and hygiene. It will also leave your feet feeling refreshed and less tender.
Try out this lavender foot soak DIY to indulge in a little extra self-care when you don't have time to take a bath. It can be just as enjoyable – with all the same benefits. You can even plop down a container filled with water and this foot soak in front of the tv so you can reap the benefits while you watch your favorite show!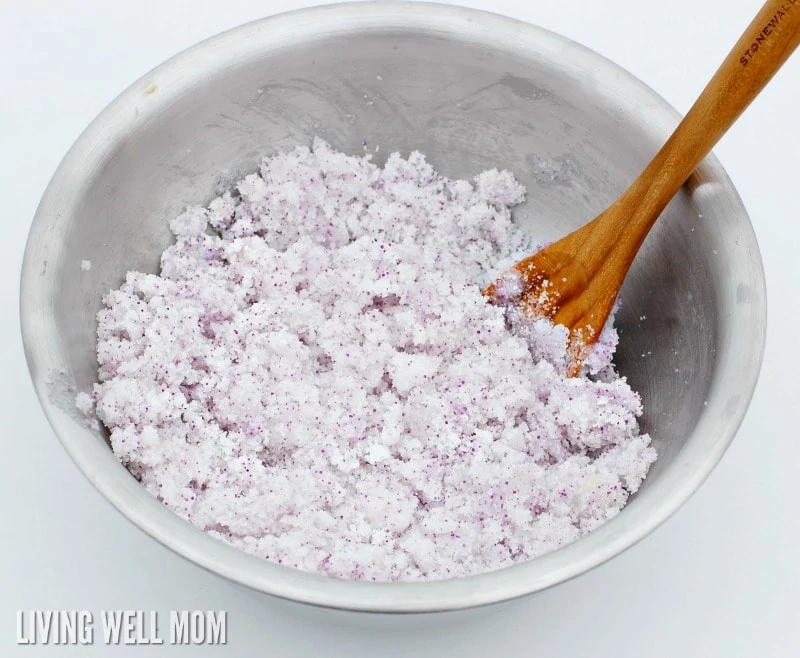 This lavender facial scrub is an all-natural facial product that energizes your skin and leaves it looking glowy and feeling fresh.
Lavender essential oil has a variety of skincare benefits, from being able to reduce blemishes and acne as well as minimize scarring. This facial scrub also helps to remove any dead skin to leave your face feeling squeaky clean, and revitalized.
Just be careful if you have very sensitive skin – even lavender oil can be irritating to certain skin types.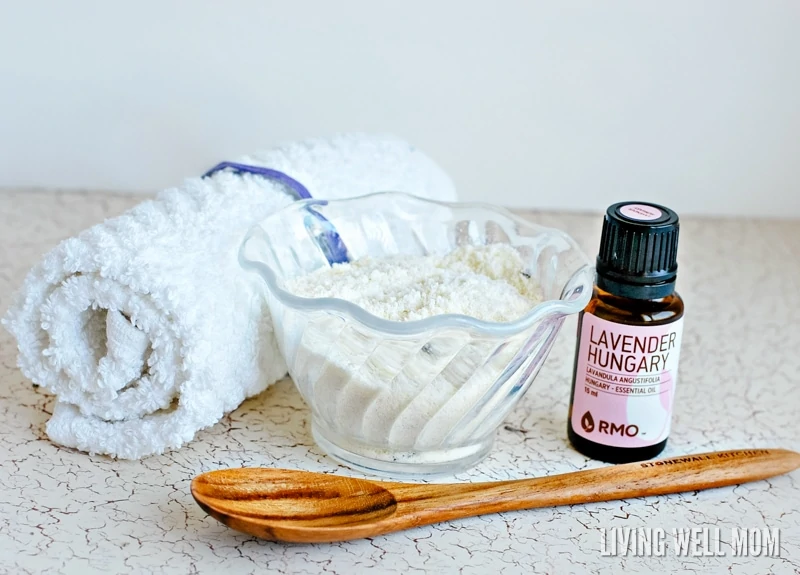 Sometimes, hot baths can be drying, which is why this DIY lavender milk bath is a perfect solution! This milk bath is a wonderful way to soothe dry or irritated skin and moisturize yourself all over.
Made with milk and Epsom salt and plenty of lavender essential oil for amazing fragrance, this recipe creates a soothing and therapeutic bathing experience.
If you wonder how to use lavender oil, this milk bath DIY is very easy to whip up, creating a skincare product full of those essential oil properties you're looking for.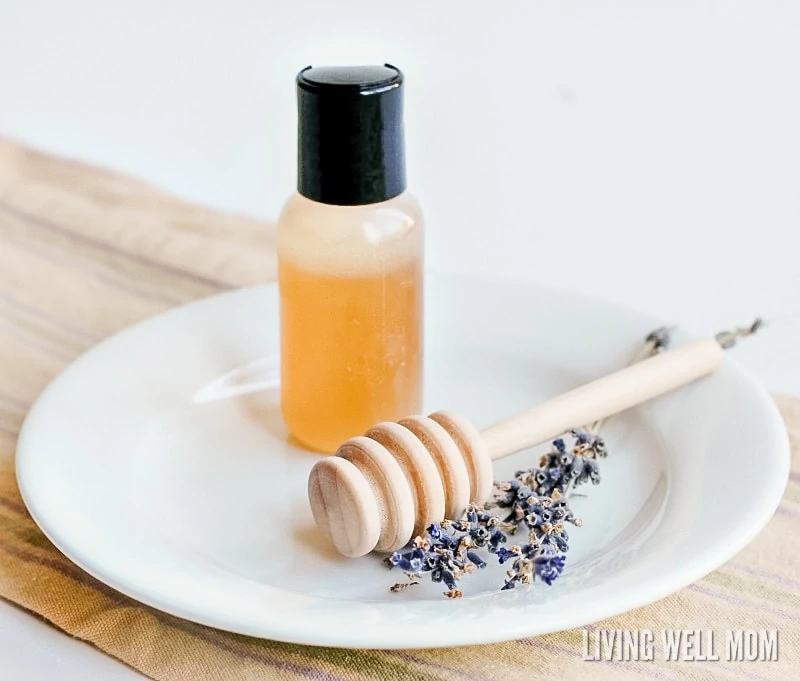 This homemade lavender and honey face wash can incorporate lavender essential oil into your regular skincare routine. It's much more natural than what you would buy in a store and is so calming to the skin.
The honey and lavender combination creates a healing and relaxing combination to soothe any skin irritation. It's also a great face wash for sensitive skin or those prone to blemishes or acne. The lavender essential oil in this face wash recipe can even help prevent other skin issues from coming up and is good for reducing scarring from previous blemishes.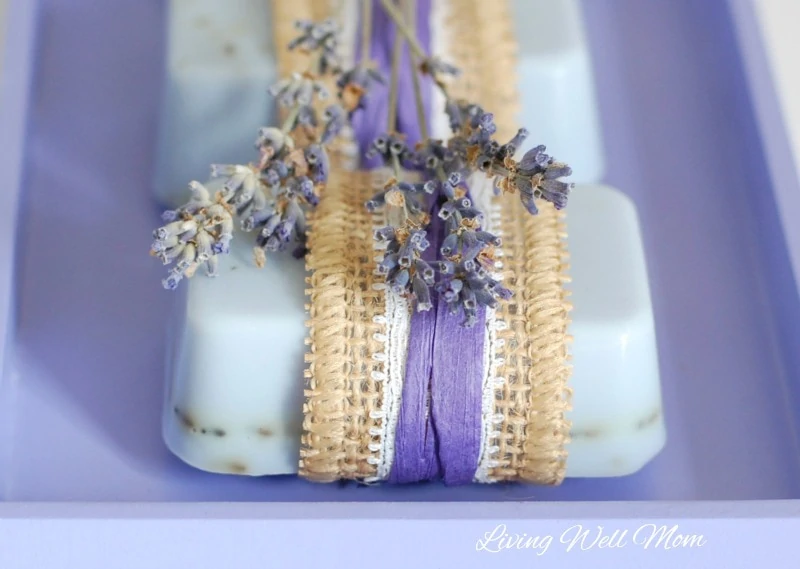 Easier to make than you might think, lavender goat's milk soap is one of the best ways to use lavender oil. This melt and pour soap recipe is beginner-friendly and yields 12 beautiful, delicious smelling bars of soap.
Lavender soap is a good option for children (or adults) with sensitive skin, as it is soothing and gentle. It naturally moisturizes the skin instead of stripping it and can help to relieve itching and dryness.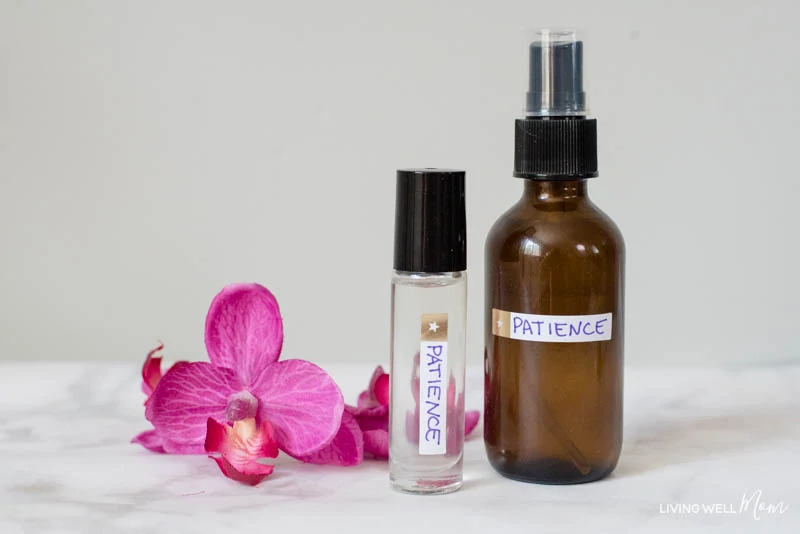 This essential oil blend for moms is a relaxing and calming blend of essential oils that includes – you guessed it – lavender! Made up of a combination of all of the most calming oils, it can be used as often as you need it…and trust me, some days you'll want it a LOT!
For those days when everything seems to be going wrong, and no one is happy, this Renew Patience Oil blend is peace in a bottle and perfect for when you desperately need a do-over. Just rub a drop or two on your wrist and breathe in deeply.
When you are feeling like you're on your last nerve and you could lose it any minute – try out this DIY recipe using lavender essential oil. This relaxing blend is just what you need.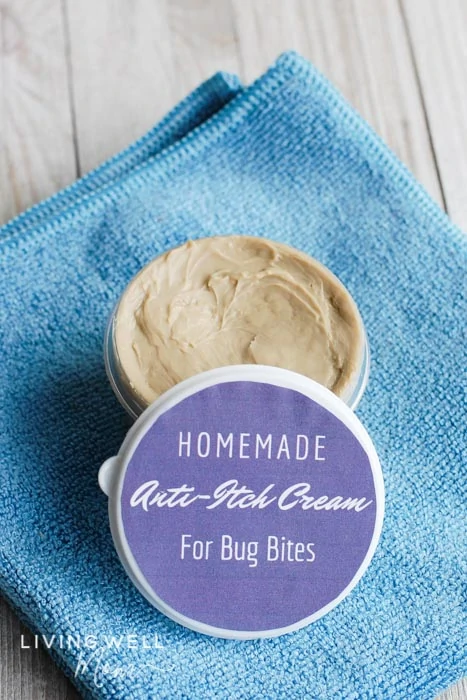 Homemade bug bite itch cream is great to have around if you have kids that love to play outside or your whole family enjoys the outdoors. A natural result of time outside are pesky bug bites unfortunately!
Insect bites can be miserable to deal with, especially if you have children who just can't keep themselves from scratching. This DIY bug bite cream solves that issue, as it's made up of some very soothing essential oils, including lavender, which reduces discomfort and itchiness. It is an absolute lifesaver to help calm the area down.
Plus, lavender oil is great at healing the skin, which can help the bug bite quickly heal up on its own.