I struggle with cabin fever or winter blues the most this time of year. To combat this, I try to go out of my way to pamper myself a bit more than I usually do. Today I'm going to show you how to make a simple epsom salt foot bath with lavender and tea tree oil. I will show you how to make a big batch of it for four uses! You can simply store the extra in a jar or pass it along to friends or family as a great DIY gift!

What You'll Need for this Epsom Salt Foot Bath:
2 cups of Epsom Salt
3 Tablespoons of baking soda
10 drops of lavender essential oil
7 drops of tea tree essential oil
Dried lavender flowers
Empty glass jar to store it in (mason jar
or empty baby food jar will work!)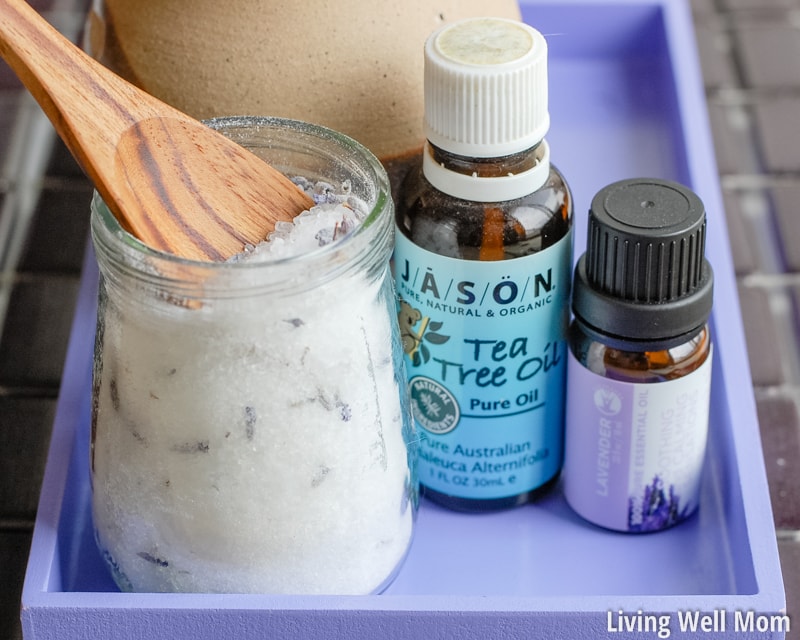 How to make your Epsom Salt Foot Bath:
Pour 2 cups of epsom salt into a mixing bowl. Add 3 tablespoons of baking soda and stir until combined. Add about a 1/4 cup of dried lavender flowers. (this is an approximate amount – add enough until it looks good to you.) Lastly, add your lavender and tea tree essential oils and stir well.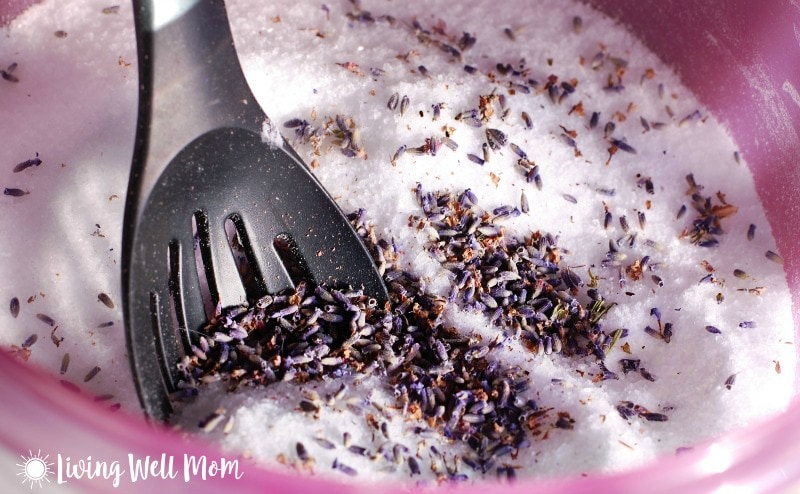 Then pour into a glass container until you are ready to use it. (mason jars or empty baby food jars work great!)
When you are ready for your Epsom salt foot bath, fill up a water basin with warm water. Add 1/2 cup of the foot bath Epsom Salt mixture. I also recommend adding 3-5 additional drops of each oil (or just lavender if you prefer) when you are actually doing the foot bath. That way the aromatherapy will be a bit more intense and lovely! Grab a cup of hot tea, sit back, relax, and enjoy! When you are ready to dump the water out, you can pour through a kitchen strainer first to catch the lavender flowers if you don't want them to clog up your drain.
If you would like to mix up a batch or two as a gift, go ahead and print the tag HERE! I printed mine out in a 2.5″ X 3.5″ wallet size.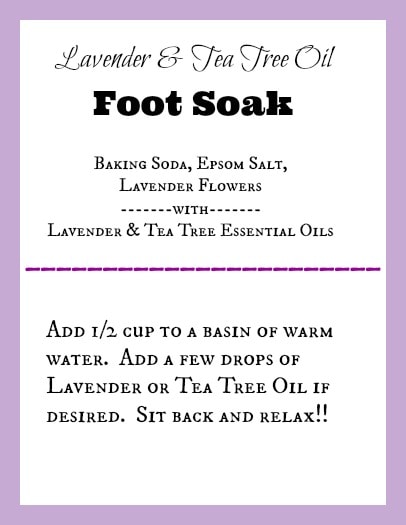 I filled clean baby food jars and covered the top of them with some white felt. I finished each off with some purple raffia to tie on the tag. This is a great one to pin now and save for a Mother's Day gift idea!
Looking for more easy uses for essential oils? Check out these posts: