Here's a universal truth: mommin' ain't easy. Even though our kids are worth every single second of stress and worry, it's crucial that us moms take care of ourselves too. Of course, that seems like the ultimate catch 22 at times, but I cracked the code for how to get a quick burst of stress relief anytime, anywhere: this DIY calming essential oil blend!

Motherhood can challenge the most patient, loving mom, especially if you have a child with higher needs, such as autism. It's common to put everyone and everything in front of your own needs and before you know it, you're exhausted, overwhelmed, anxious, and running on empty.
The simple truth is: if we don't take care of ourselves, we won't be okay. And if we're not okay, our children won't be okay either.
Calming Essential Oil Blend – Self-Care in a Bottle
Self-care doesn't have to be complicated, time-consuming, expensive, or any of those things that tend to stop us from actually doing something for ourselves. It can be as simple as taking 2-3 minutes to put a calming essential oil blend together.
Today, I'm going to show you how to make one of my favorite essential oil combos. This calming essential oil blend specifically for us moms. This calming essential oil blend for moms is called "Renewed Patience," because it may help reduce frustration while restoring peace and balance.
With 3 ways to use it – a diffuser recipe, a roller bottle, and a DIY essential oil spray – you can pick your favorite or make all three!
Erika Bragdon is a Certified Essential Oil Coach from the Essential Oil Institute.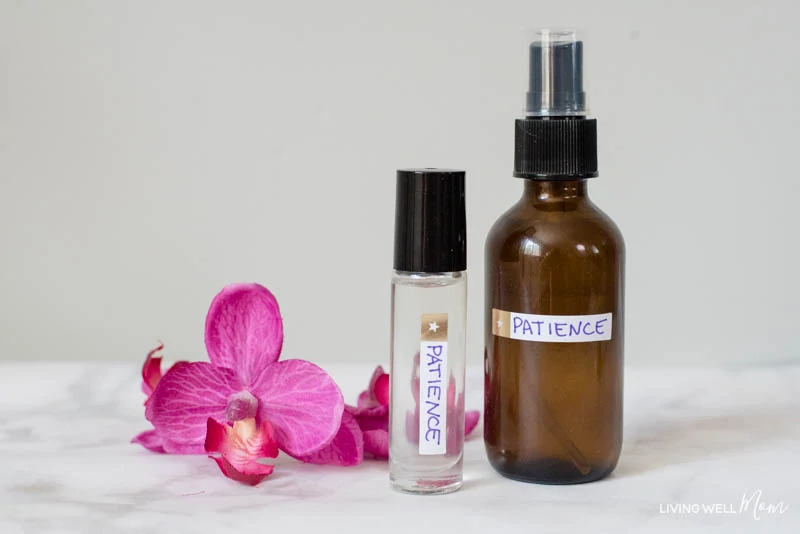 When you're running low on patience, this blend of essential oils for frustration can help you take a deep breath and calm down.
I put this Renewed Patience essential oil blend in the diffuser or use it as an essential oil roller bottle (I quickly roll it on the back of my neck, temples, and wrists) and find that I'm calmer, better able to process everything that's thrown at me at once, and my patience is renewed.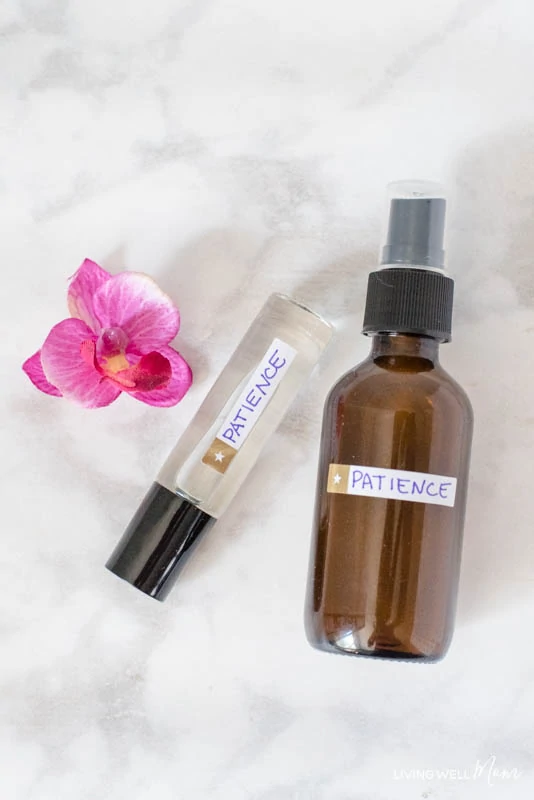 This Renewed Patience calming essential oil blend isn't magic, but I definitely notice a difference when I use it compared to when I don't.
I hope you'll also experience less frustration and renewed patience with this simple calming essential oil blend for moms.
You can use this essential oil blend with your children as well; just use fewer drops depending on their age(s). Or check out my "Bye Bye Overwhelm" essential oil blend for children here.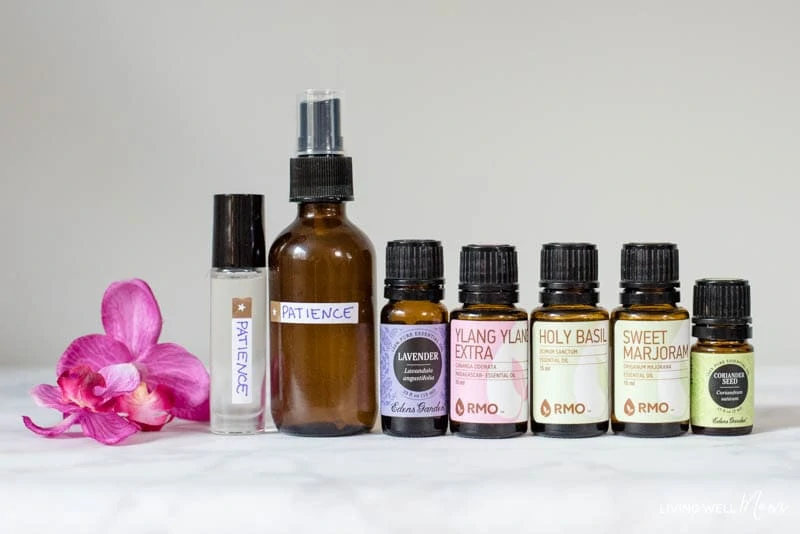 How to Make the Renewed Patience Essential Oil Blend for Moms (3 Ways)
Calming Oils in this blend:
Holy Basil essential oil is an essential oil with adaptogen benefits, meaning it's great for stress-relief and may help balance cortisol levels. (It's also fantastic for supporting the adrenal glands and thyroid too.)
Lavender essential oil is one of the most popular and well-known essential oils for calming and stress-relief.
Ylang Ylang essential oil has many amazing benefits, including a quieting effect on negative emotions such as frustration, anger, low self-esteem, and can act as a mood booster. As a result, it may help increase energy while decreasing depression. It's one of my personal favorite essential oils and my #1 go-to for fast stress relief.
Marjoram essential oil can help calm and restore a sense of peace and balance. Plus it may help boost your immune system and for some, can help relieve headaches!
Coriander essential oil is relaxing and may help reduce anxiety. It's also excellent for supporting the adrenal glands (are you often exhausted? Read this post on how your adrenal glands may be the culprit and what you can do about it.)
Together, these 5 essential oils pack a powerful punch against stress, overwhelm, and frustration.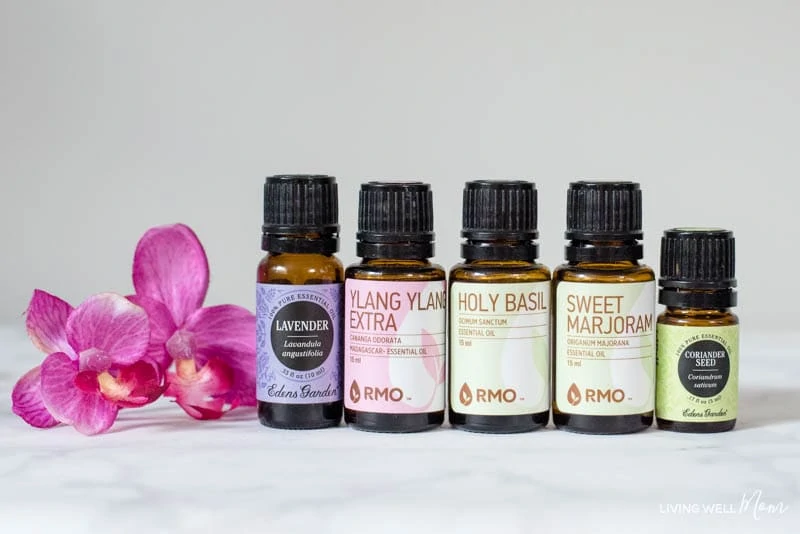 Which Brand Should I Use?
For the best results, you will want to choose a high-quality essential oil brand that is 100% pure and offers third-party testing for quality control.
My favorite essential oil companies are Rocky Mountain Oils, followed by Eden's Garden, and Ancient Apothecary by Dr. Axe
.

You can find those oils here:
Rocky Mountain Oils – buy here and get free shipping on any order
Eden's Garden – buy here and get free shipping on any order OR order through Amazon
Ancient Apothecary by Dr. Axe – you can order directly from his website or through Amazon
Here is how to use this blend of essential oils:
Renewed Patience Essential Oil Diffuser Blend
Use 1 drop of Holy Basil, Lavender, Ylang Ylang, Marjoram, and Coriander in your diffuser
.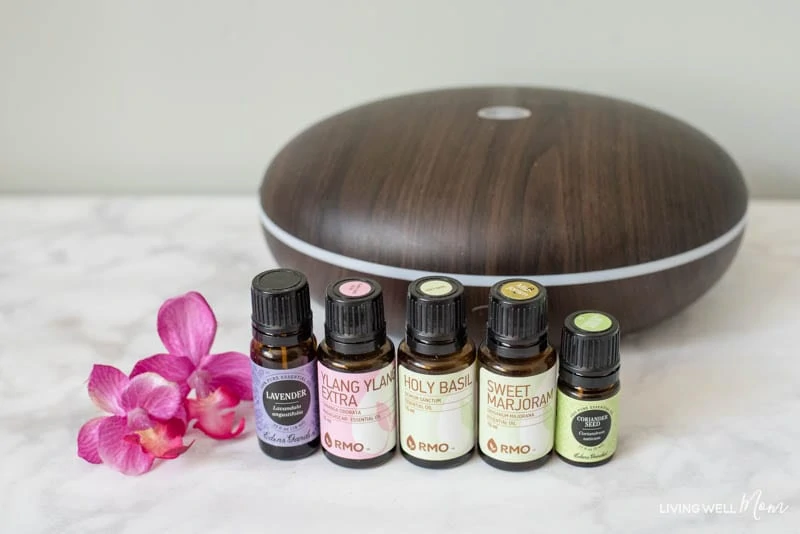 Diffuse whenever and wherever you need renewed patience.
I often use this diffuser blend in our living room as it's helpful for my children as well as me.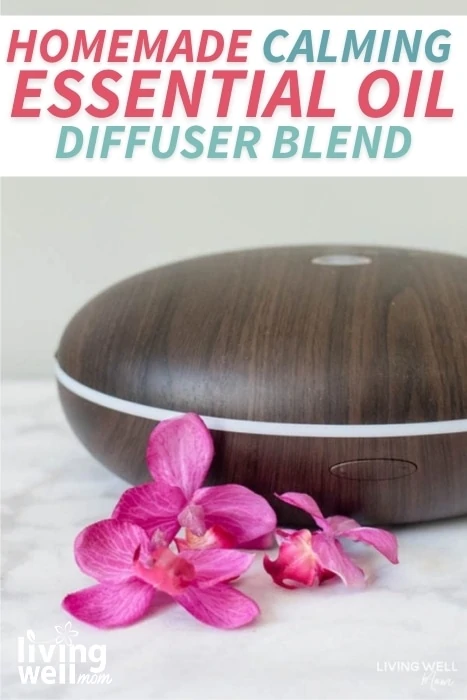 Renewed Patience Essential Oil Roller Blend
You'll need a 10ml roller bottle
and your favorite carrier oil (I use this
fractionated coconut oil.)
Add…
2 drops Holy Basil
3 drops Lavender
2 drops Ylang Ylang
1 drops Marjoram
1 drops Coriander
…to your roller bottle. Fill with fractionated coconut oil, cap, and shake before using.
Don't forget to label it too!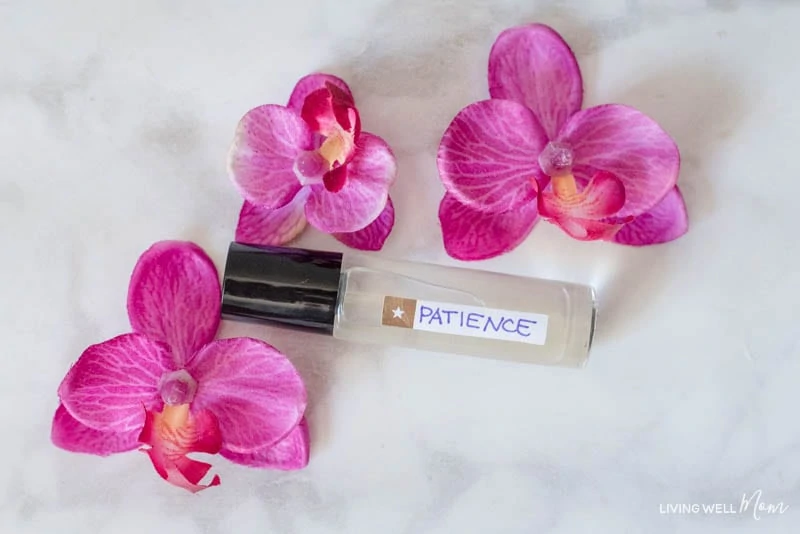 Roll your essential oil roller onto the back of your neck, temples, &/or wrists whenever you need to take a deep breath and calm down.
Renewed Patience Essential Oil Spray
You'll need:
Add the essential oils first.
6 drops Holy Basil
10 drops Lavender
8 drops Ylang Ylang
3 drops Marjoram
3 drops Coriander
Next, fill the bottle about 1/3 full with witch hazel. Then add a couple tablespoons of fractionated coconut oil (I eyeball it instead of measuring – you don't have to be exact). Then fill the rest of the bottle with distilled water (or well water.)
Shake well each time before use.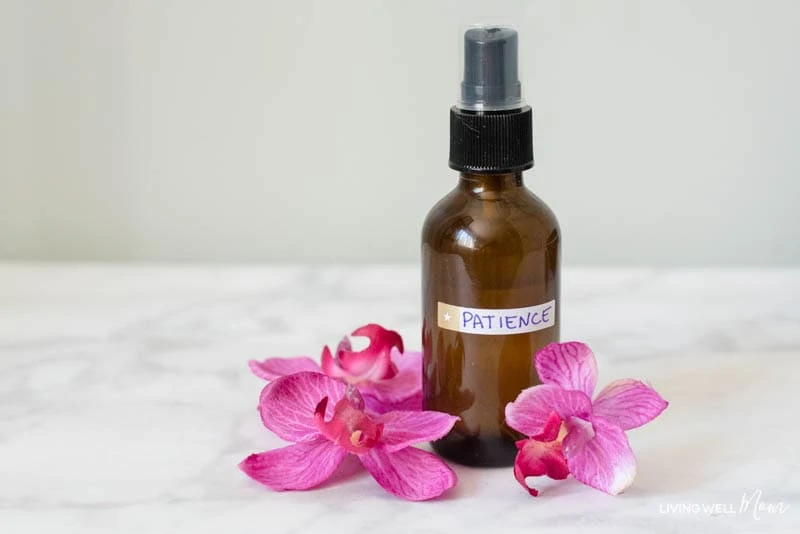 Spray your "Renewed Patience" essential oil spray around the room, on yourself, in your vehicle, on your bed, etc.
Whether you choose the diffuser
, roller bottle
, or essential oil spray
, I hope you enjoy this Renewed Patience calming essential oil blend for moms as much as I do.
Use as needed and use it often, especially at first.
More Ways to Use Essential Oils:
Pin the image below to save the blends for later.