The school season can bring overwhelm and anxiety to all of us, including our kids. Thankfully, there's an easy and effective way to calm the entire household! Today I'm going to show you how to make an easy DIY blend filled with calming oils for kids. This is great to keep on hand during stressful situations where you might need a little help in calming down a kid (or even yourself!).
There's both a roller bottle and an essential oil spray version of this recipe for two easy-to-use methods. I have officially dubbed this kid-safe essential oil blend "Bye-Bye Overwhelm."
Just because it's filled with calming oils for kids doesn't mean you can't use it too! You can also try this relaxing essential oil blend for yourself. After all, we moms have a ton on our plates between getting everyone to school, after-school activities, homework, and so much more.
Here's how to make my Bye-Bye Overwhelm calming oils for kids blend!
Erika Bragdon is a Certified Essential Oil Coach from the Essential Oil Institute.
Which calming oils for kids work best?
First of all, if you are new to essential oils, please take the time to read this post about common sense essential oil safety. We want to be extra cautious, particularly because this blend is meant to be used on children's delicate skin.
There are many calming essential oils out there, but I wanted to find ones that were the most child-friendly. So, the six calming oils for kids that I chose to use for this relaxing blend are:
Each of these has calming traits that will help you (and your little ones) relax. However, it shouldn't be so relaxing that it turns into sedation and makes you want to just take a nap. 😉
Instead, these calming oils for kids should help take the edge off the nerves that are kicked into high gear during stressful moments at school or home.
I have found this blend works best when all six of the oils listed above are used. However, if you don't have them all on hand, you can omit the spikenard and patchouli.
Other potential calming oils for kids that may be helpful include chamomile, vetiver, or orange essential oil.
Once you find the right blend for your family, you can do so much with it! Use it to make the roller and spray below, or even try it out in a DIY foaming hand soap.
Which essential oil brand is best?
For the best results, you will want to choose a high-quality essential oil brand that offers 100% pure oils and also offers third-party testing for quality control. Read this post for more info on how to choose essential oils that work for you and your family (beyond the brand).
My favorite essential oil company is Rocky Mountain Oils, followed by Eden's Garden and Ancient Apothecary by Dr. Axe
.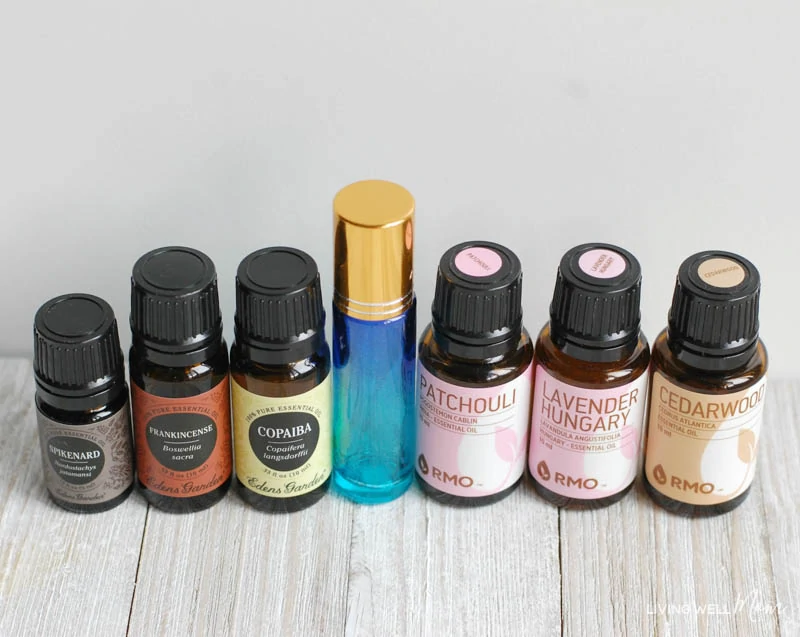 How To Make "Bye-Bye Overwhelm" Calming Essential Oils Blend
Okay, let's talk about how to make this blend. I'm going to give you two different methods – a roll-on and a spray. Choose whichever works best for your family…or just make both!
Supplies Needed
You'll need to have:
Note: If you don't have all of the above oils, I highly recommend using at least lavender, cedarwood, copaiba, and frankincense. Those are our favorites, but the whole combination works very well together.
Step-by-Step Instructions for Relaxing Spray with Calming Oils for Kids
First, I'm going to show you how to make the spray for a little aromatherapy.
Spray these oils around before school, while kids are working on difficult homework, or studying for a test. Or spritz some in their bedrooms on school nights so the scent can help calm them down if they are nervous or experiencing anxious emotions at bedtime.
This can also be great for teachers to use in their classrooms to help calm kids' nerves with this new school year upon them. Or they could even spray it all over the room during tests!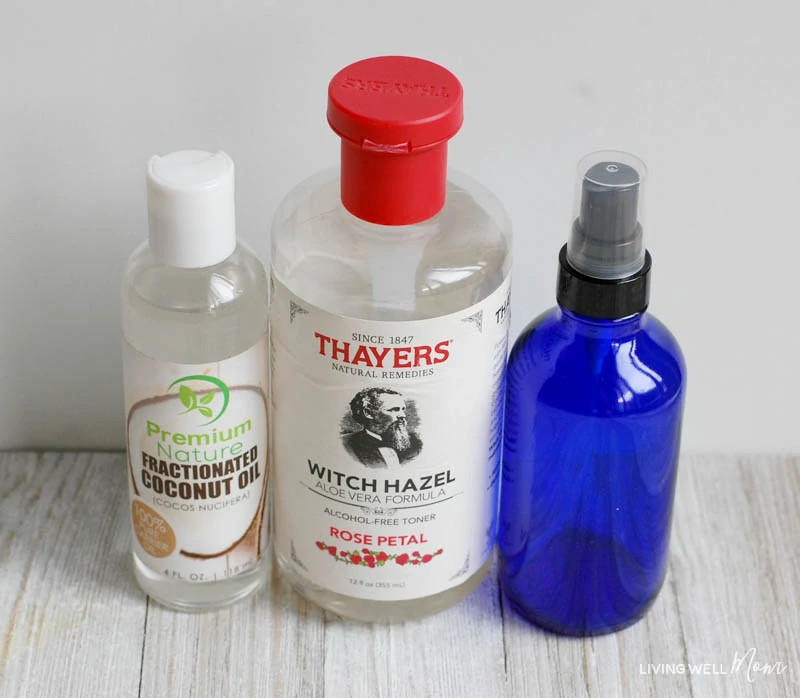 For this spray, you will want to add 4-5 drops each of spikenard, frankincense, copaiba, patchouli, lavender, and cedarwood essential oils to your empty 4 oz. glass bottle. (Note: use 3 drops each for children under age 10.)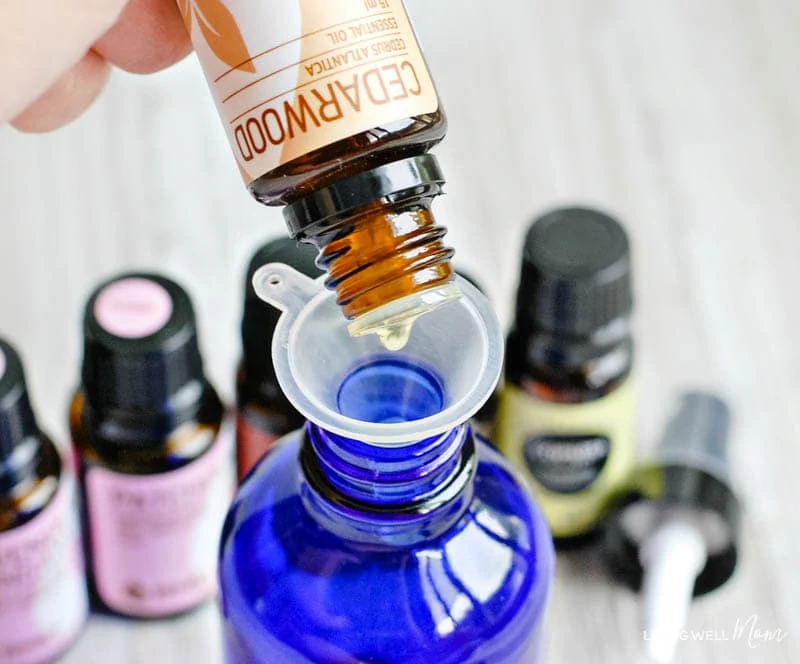 Then add 3 tablespoons of Thayer's Rose Scented Witch Hazel. I like using the rose-scented version because it adds a pleasant floral smell to the oil blend, but you can use the unscented version if you prefer.
Next, add one tablespoon of fractionated coconut oil. The addition of coconut oil helps mix the essential oils in with the water and witch hazel. After the coconut oil is added, top off the rest of the 4 oz bottle with water.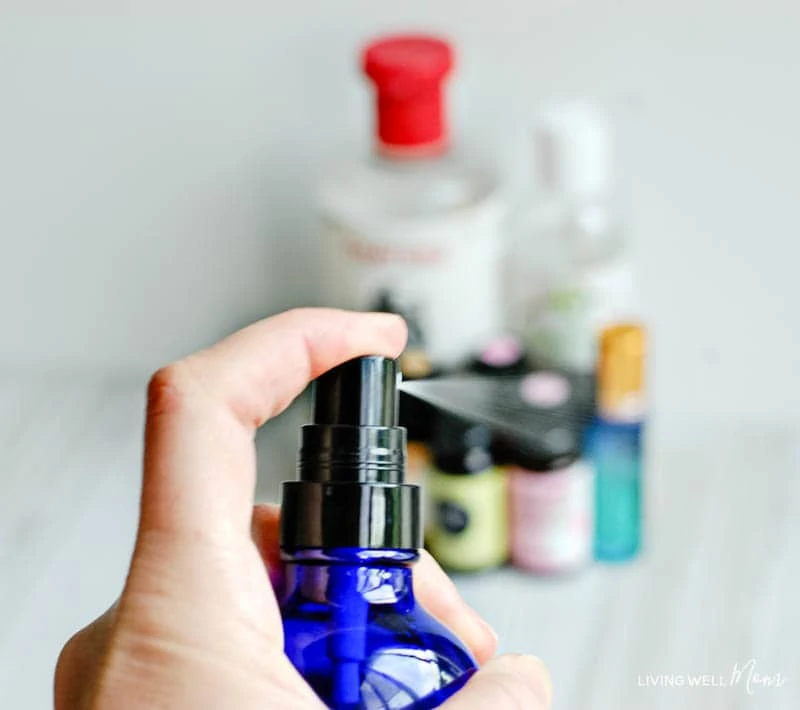 Shake your bottle gently and spray in a room where you want to encourage a calming effect so family members can regain focus and overcome feelings of being overwhelmed.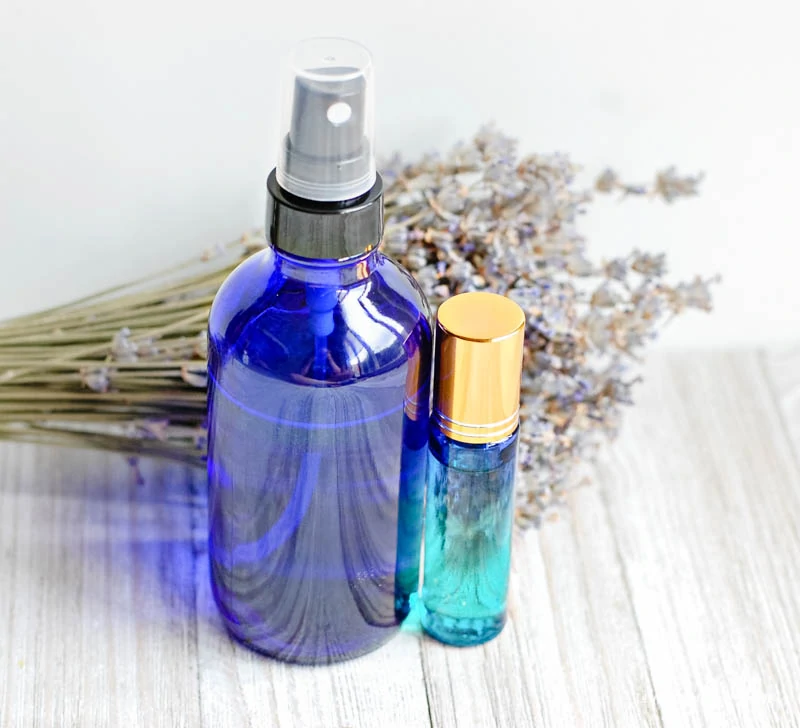 How To Make DIY Calming Oil For Kids An A Roller Bottle
You can also put this blend in a roller bottle so it can be applied to the skin. Adding it directly to your skin is a more potent way to get the relaxing oils to work their magic. The rollerball is also great because you can stick one in your kids' backpack so they bring it to school and apply it as needed.
(Note: you may want to send a note to your child's teacher &/or school nurse letting them know, especially if your children are younger. I do this, and the school is great about it!)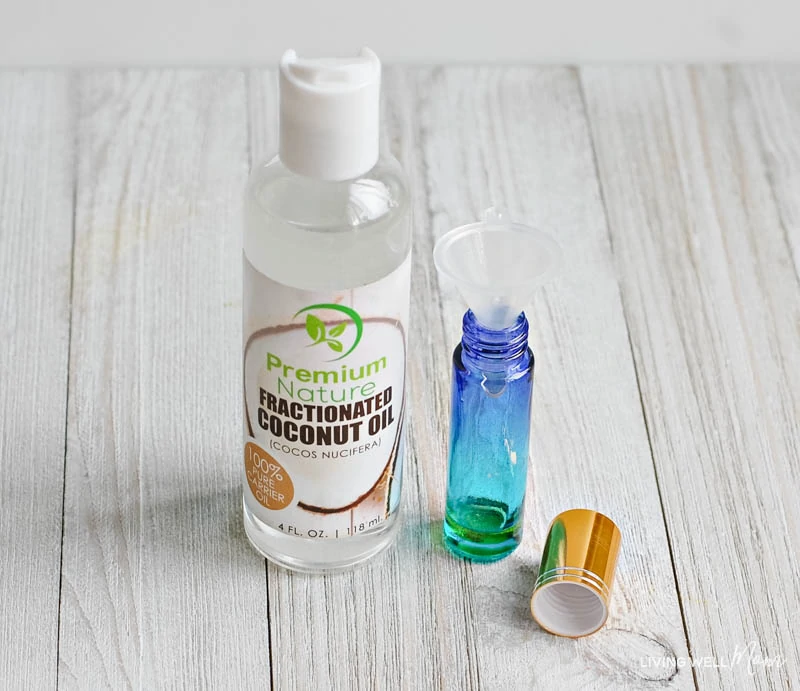 For this roller bottle recipe, start by getting the small funnel that comes with the roller bottles and add that to the top.
Then, add 2 drops of each of the 6 oils: spikenard, frankincense, copaiba, patchouli, lavender, and cedarwood essential oils. This makes for a total of 12 drops of essential oil per roller.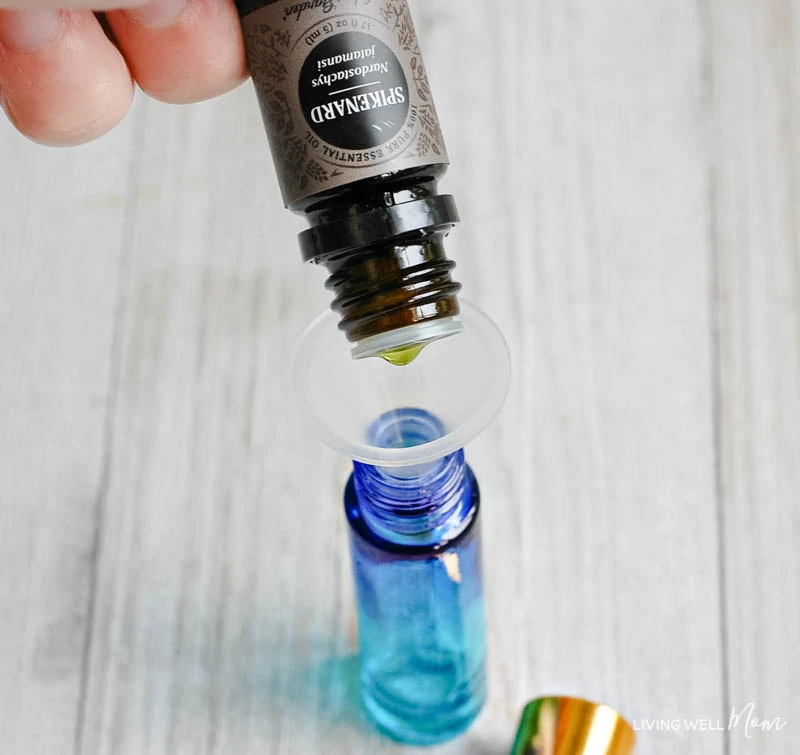 OR, if your child is younger than 5 or 6, decrease the amounts to 1 drop each for a total of 6 drops of essential oil.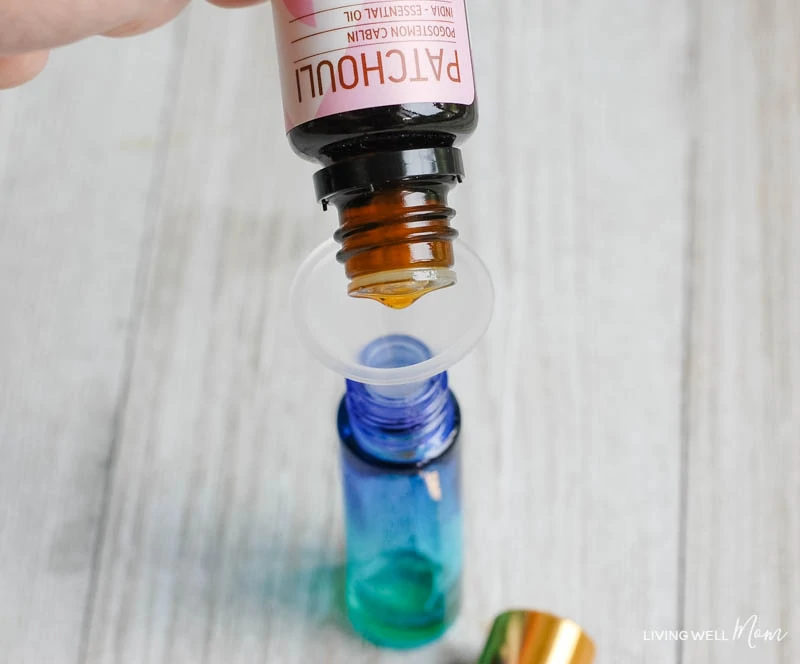 Then, add one teaspoon of fractionated coconut oil and top off the roller bottle with water. You can pop the roller top back in, and your DIY relaxing essential oil roller bottle is ready to use!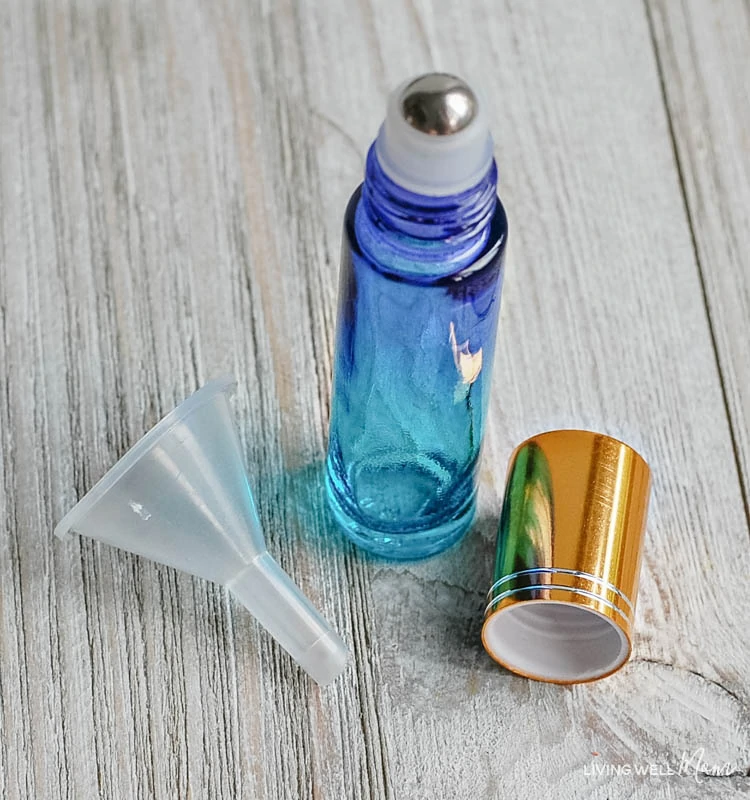 I would recommend rolling this on your child's feet if they are feeling very overwhelmed at home. At school, or for easier/faster use, swipe this on their wrist(s) or the back of their neck as needed.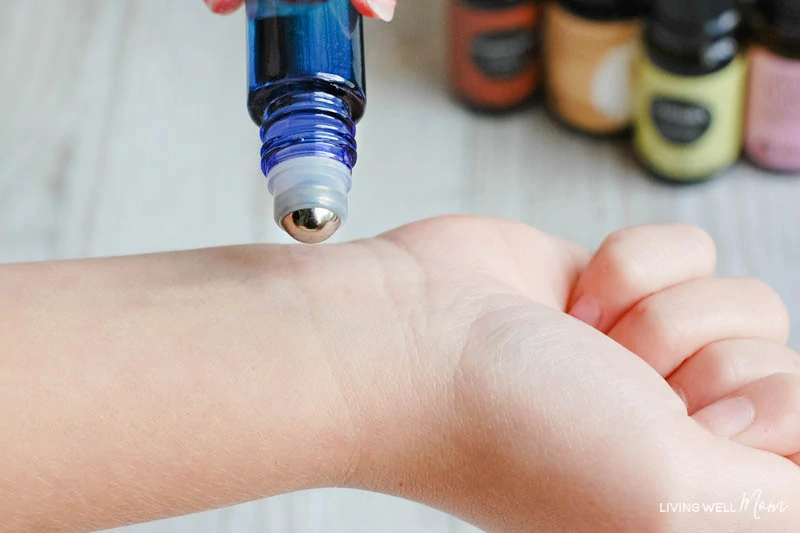 How To Use This Calming Oil Blend
When we face overwhelming situations, it's a good idea to take some extra deep breaths and remind ourselves that we are not in full control and that we will be okay. Our kids need our guidance to teach them these same coping mechanisms.
And it's good to have a few helpful tools in our "back pocket" too, like this blend of calming essential oils for kids (and adults)! Basically, pull this blend out and use it anytime you or your kids are feeling overwhelmed with emotions. It will help relax the nervous system and help you feel calmer.
Moms – feel free to stick one in your purse so it's available when you want to use it for yourself or when you're out and about with your children and they're having meltdowns (or close to it). I've done that, and it's been invaluable.
However, this is also great for us moms too! I love this blend! I keep a bottle in our bedroom and spray the linens with it before bed on particularly stressful days.
The addition of this essential oil blend for kids can also be a great tool to help soothe nerves when they are running high.
FAQs
Here are a few common questions I see readers ask on this topic. If you don't see your question answered below, please leave it in the comments!
Why do you use fractionated coconut oil in this blend?
Essential oils are potent, so a little goes a long way. Carrier oils help to dilute and dissipate essential oils for better absorption and proper dosing to maximize the effectiveness of essential oils.
This is especially important when using any essential oils that may create a burning sensation on the skin. I recommend always diluting essential oils when using them with children.
Can I use other oils as carrier oils?
Yes! I prefer using fractionated coconut oil because it's a light oil that is non-greasy and absorbs into the skin quickly. It has a very mild fragrance and generally doesn't cause an allergic reaction.
However, if you don't have fractionated coconut oil or prefer to use another carrier oil with calming oils for kids, the good news is that you have many options! Some of the most common carrier oils are olive oil, jojoba oil, grapeseed oil, and sweet almond oil.
Could I diffuse this blend in our home?
Yes! If your child (or you) is going through a stressful time and experiencing general anxiety, you could absolutely diffuse essential oils to help everyone in the home feel more at peace. Diffusing calming oils for kids has a similar effect on the nervous system as using the spray bottle.
When diffusing this blend, I recommend starting with a dose similar to what you would use in a roller bottle: Add two drops of each oil to your diffuser and omit the carrier oil. Diffuse for 20 minutes at a time before school, after school, before bed, or whenever you or your child experience anxiety.
If you try that ratio and decide you want it just a little stronger, try adding one more drop of each oil. You don't want it to be overpowering – the aroma should be softly in the background to promote relaxation.
Hopefully, everyone will have a peaceful transition as school starts up again. Inevitably, we will all encounter a time when feelings of anxiety take over. I hope you can make this blend of calming oils for kids and add it to your tool chest as a way to help you keep moving forward, whatever comes your way!
More Essential Oil Blend Inspiration
Do you love these calming oil blends for kids and want more ways to use relaxing essential oil blends? Try these: