I'm so excited to share this calming bath salts for kids DIY with you. It's been a go-to bathtime staple for my kids for years. This simple recipe has helped them wind down and made our bedtime routine so much easier!
Making these bath salts is simple enough that your kids can help you put them together, which is an added bonus. Not only is it fun, but when the project is complete, they can enjoy taking baths in their homemade concoction!
Erika Bragdon is a Certified Essential Oil Coach from the Essential Oil Institute.
The Best Soothing Essential oils to Use
I know many of you are already avid essential oils users, but maybe haven't branched out past using the more common oils like lavender, peppermint, or tea tree.
This DIY uses an essential oil that is personally a fairly new one for me – vetiver.
Vetiver is very helpful in many ways, which is why it's the main essential oil in this calming bath salts recipe. It is a wonderful tool to add to your aromatherapy toolbelt.
Vetiver also has a woodsy smell to it. I opened it and immediately thought that it smelled like Home Depot in a bottle! When you smell it, you'll know what I mean. But it is very calming and relaxing.
The lavender combines beautifully with the vetiver to give the woodsy smell a nice floral tone that adds to the calming effect of this combination.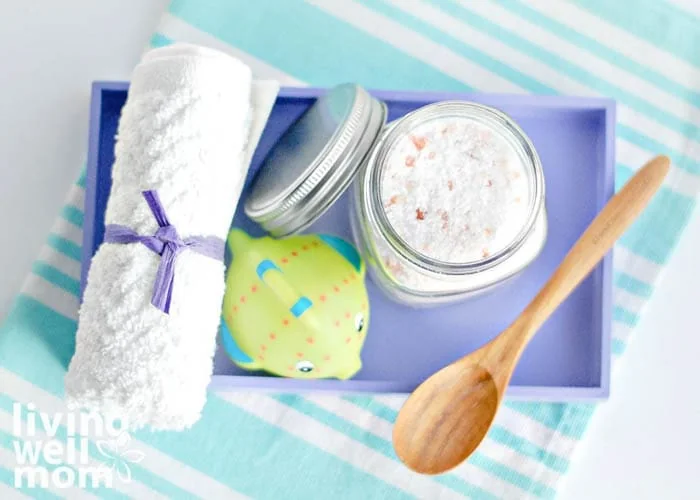 For these calming bath salts for kids, I recommend using 10 drops of lavender and 10 drops of vetiver. However, if you don't have those oils on hand, or want to try something else, there are some other scent combinations I recommend!
I have found each of these recipes to work very well in promoting relaxation and calm in my own children (as well as myself!):
Supplies Needed
Now that you have an idea of some of the best oils to use, here's what else you'll need to make these kid-friendly calming bath salts.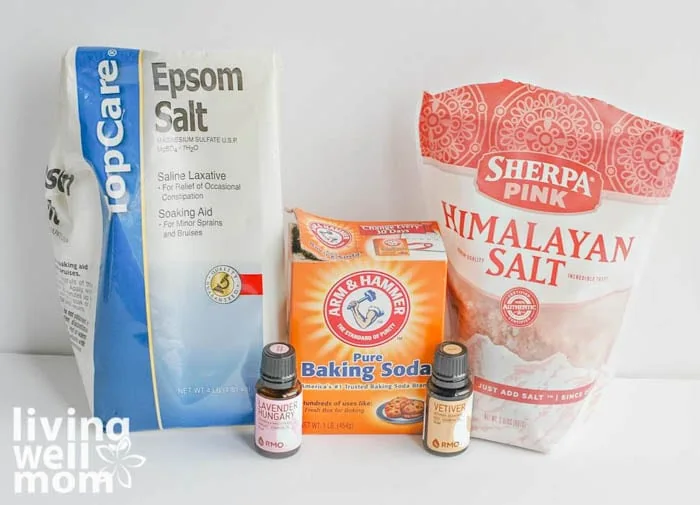 How to Make Calming Bath Salts for Kids
Now that you have your supplies ready, let's jump into how to make these kid-friendly relaxing bath salts!
First, you'll need a bowl. Essential oils can sometimes react with plastic, so I highly recommend a glass or stainless steel mixing bowl.
Start by adding 1 & 1/2 cups of Epsom salt, 1/2 cup of sea salt, and 1/3 cup of baking soda to your bowl.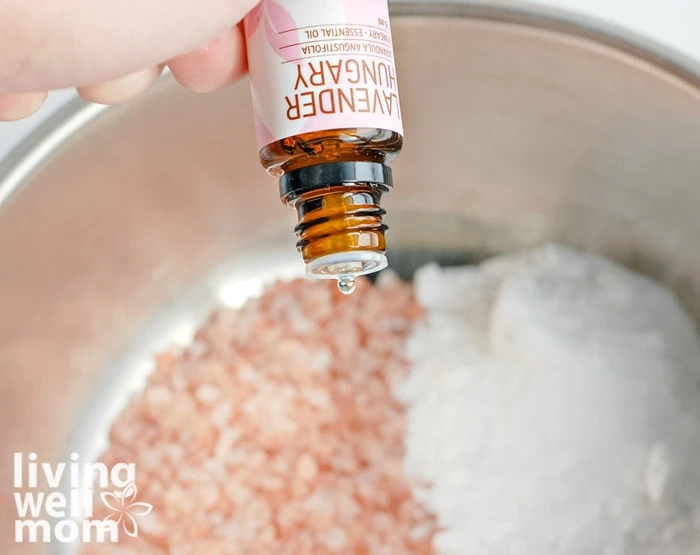 Next, add 10 drops each of lavender and vetiver essential oils. You will only use a small amount in each bath, so the quantity will be safely diluted.
Note: after you've tried the bath salts a few times, you may choose to increase the number of drops slightly if you feel additional calming is needed. Just keep in mind that oils are very potent! A little goes a long way.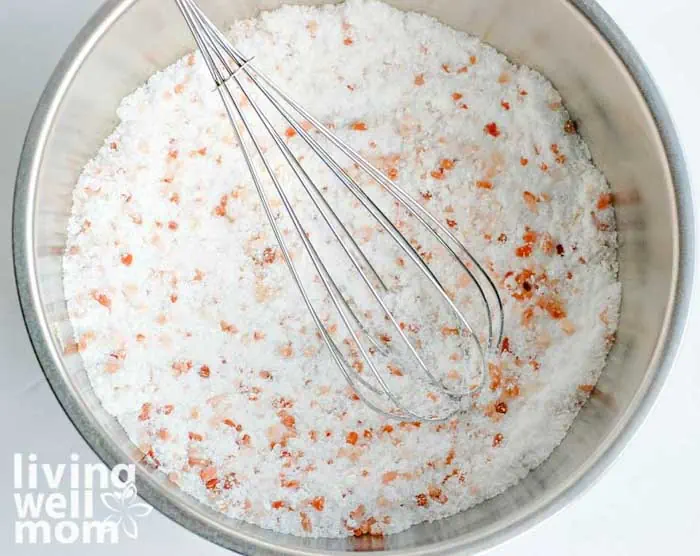 Now it's time to mix it up. You will want to use a whisk to mix this up well.
Vetiver is more viscous and thicker than other essential oils, which makes it clump more easily with the dry ingredients. Be sure the clumps are not seen to ensure the oils are spread evenly throughout the batch.
And that's it! You've made your own relaxing bath salts!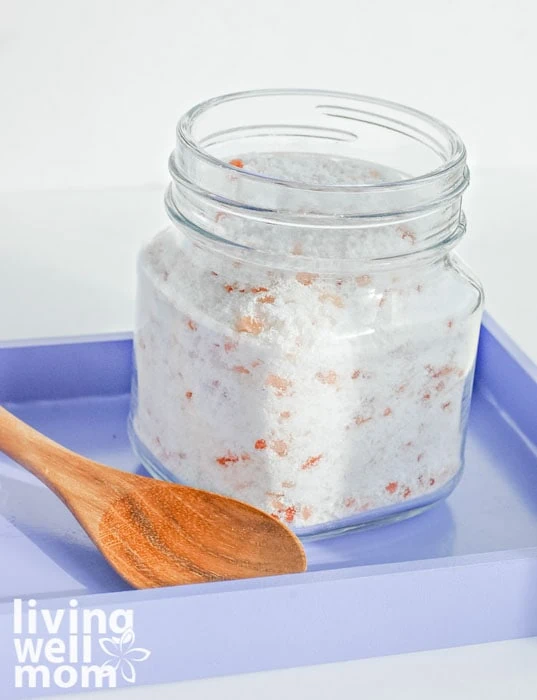 Storage + How to Use
These oils will need to be stored in a glass jar with a lid. I like to use a mason jar. Keep the jar somewhere cool and dry like under your bathroom sink (here's how I organize my bathroom sink cabinet!).

To use this bath salt is simple. When it's bath time, use one or two tablespoons full and add to your warm bath water. You can do it while the water is running and allow the water to help dissolve the salts. Or, if you forget, you can add it once your bath is full. Just use your hand to stir it around a bit.
Then, let your child relax and enjoy!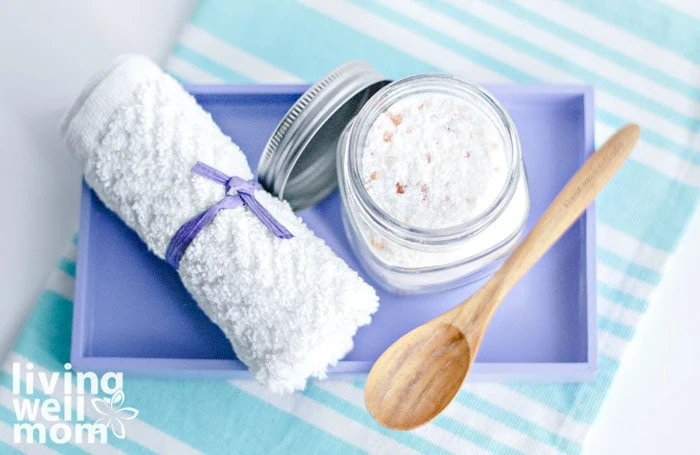 Other Ways to Use These Bath Salts
Who said these are just for kids? Moms, I give you the go-ahead to test this on yourself first before you add it to your kids' bath. 😉
You can also just use the oils on their own. I put on some lavender and vetiver on my feet last night before bed. 20 minutes later, I was totally falling asleep on the couch!
It really is a wonderful calming combination that is great if you are looking to calm your kids or help with a great night's sleep!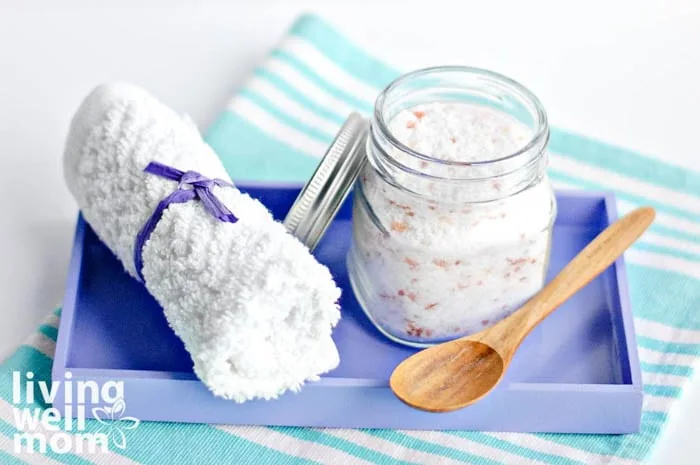 As an added bonus, you may find that these calming bath salts are great for kids with autism. I recommend starting with less essential oils so as not to overwhelm your child with the scent. Hopefully, in time, they'll love relaxing in a soothing bath.
These bath salts also make an awesome gift for pretty much anyone in your life! Who wouldn't love a relaxing, peaceful bath before bed?
However you use them, enjoy (and sweet dreams!)
More Ways to Help Children Relax