I'm so excited to share this calming bath salts for kids recipe with you, because it uses an essential oil that is personally a new one for me – Vetiver.
I know many of you are already avid essential oils users, but I haven't branched out past using the more common oils like lavender, peppermint, tea tree, or others that you'll find in the essential oil resource section here.
Vetiver is very helpful in many ways which is why it's the main essential oil in this calming bath salts recipe.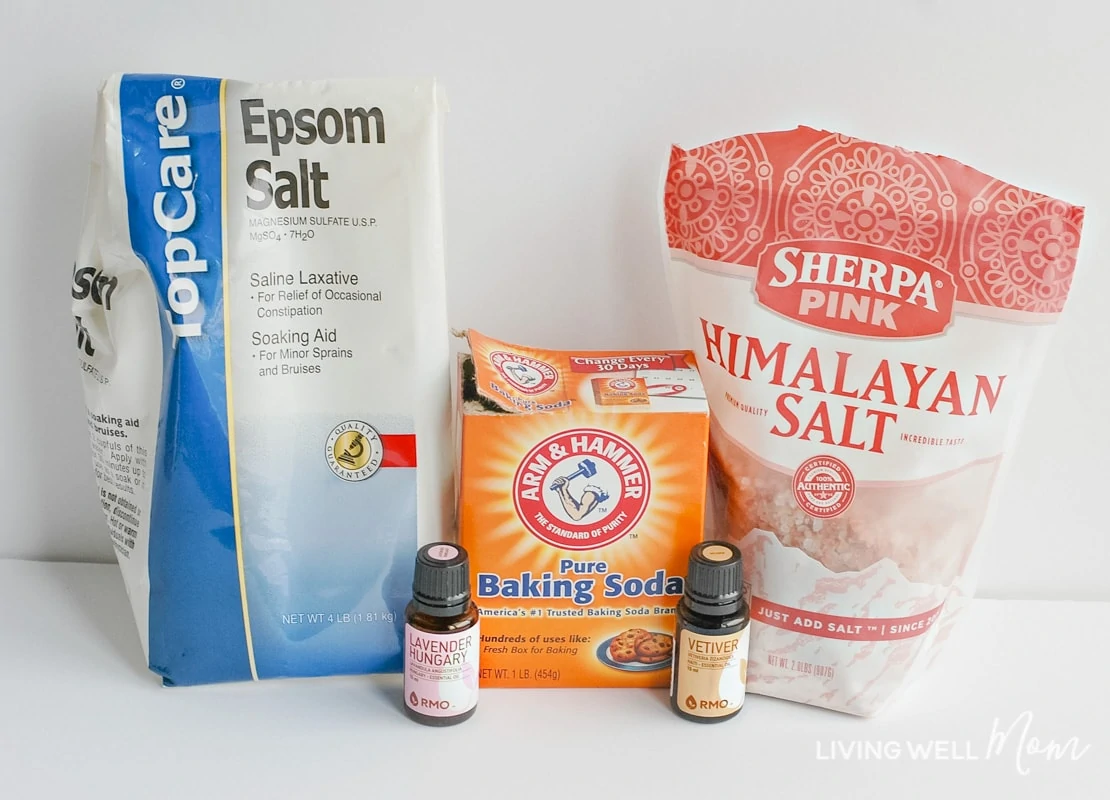 Ingredients needed to make your own calming bath salts for kids: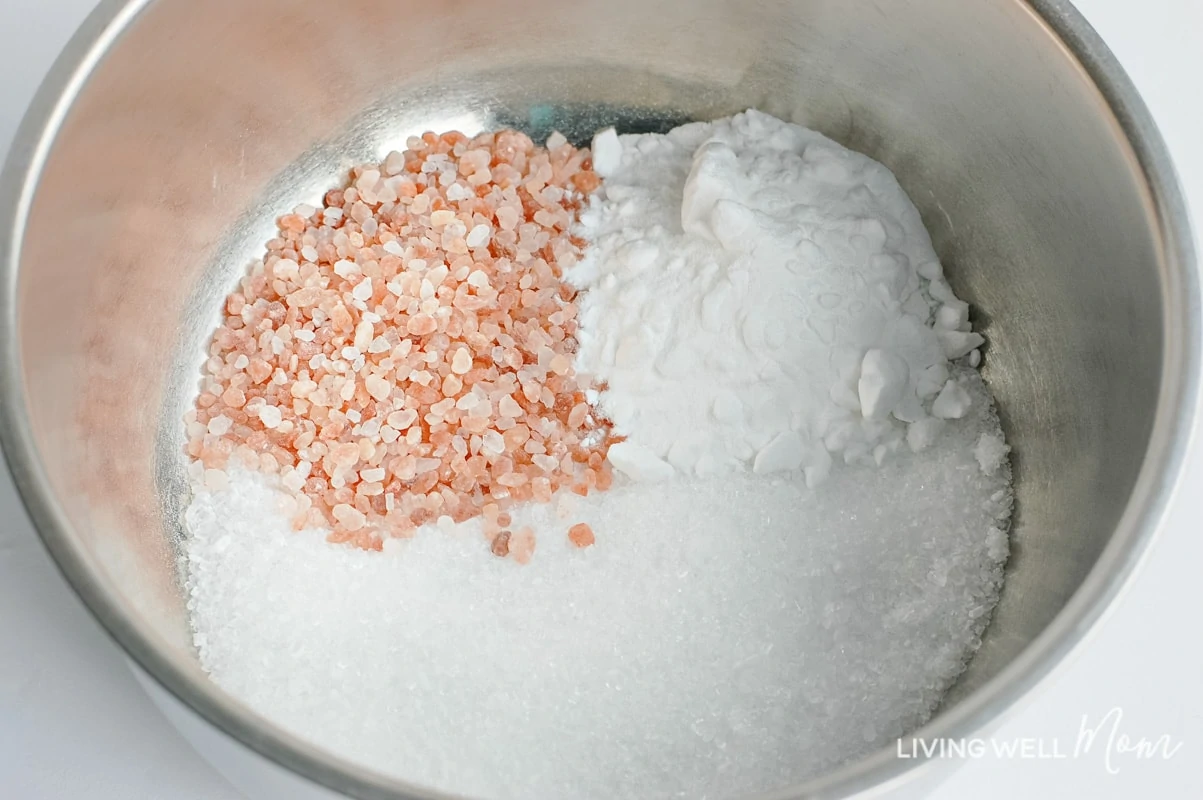 Start by adding 1 & 1/2 cups of Epsom salt, 1/2 cup of sea salt, and 1/3 cup of baking soda to a mixing bowl.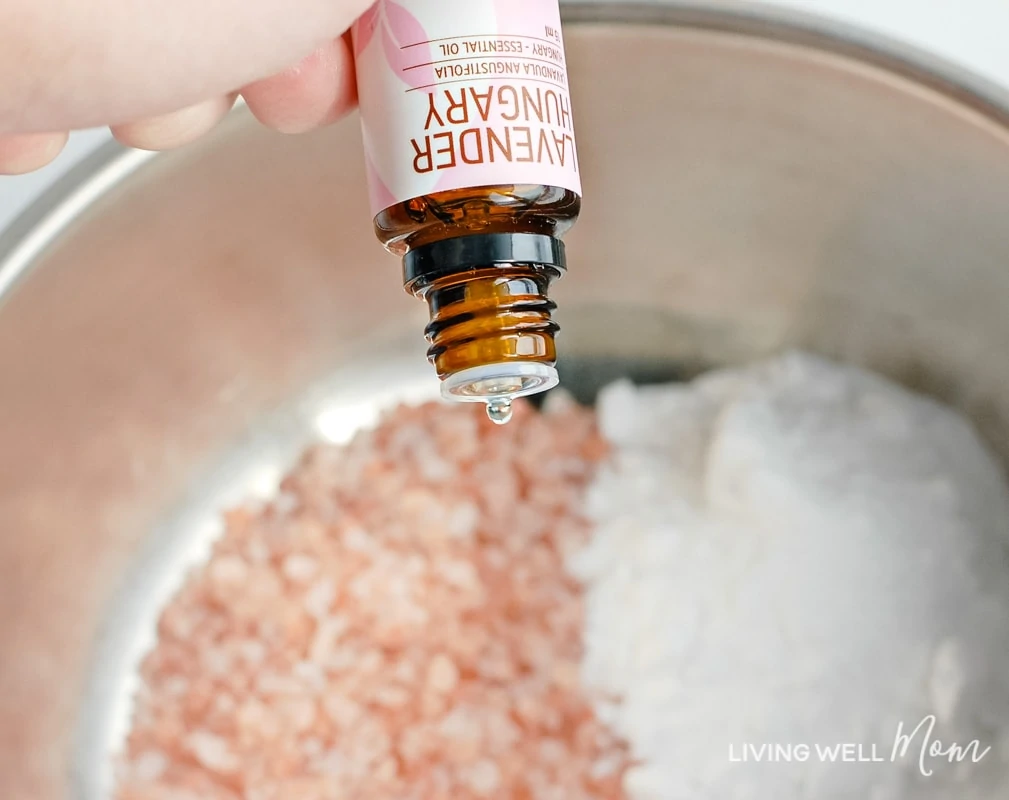 Then add 10 drops each of lavender and vetiver essential oils. You will only use a little amount in each bath so the quantity will be diluted.
Note: after you've tried this calming bath salts recipe a few times, you may choose to increase the number of drops slightly if you feel additional calming is needed. Remember oils are very potent!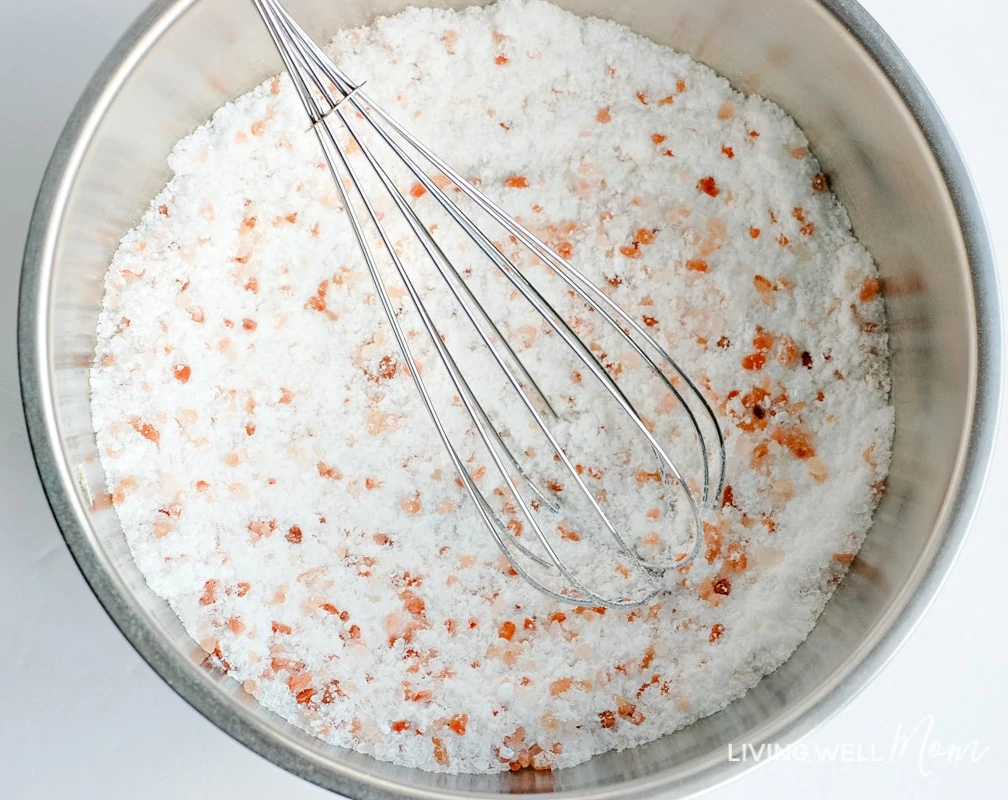 You will want a whisk to mix this up well. Vetiver is more viscous and thicker than other essential oils, which makes it clump more easily with the dry ingredients. Be sure the clumps are not seen to ensure the oils are spread evenly throughout the batch.
Vetiver also has a woodsy smell to it. I opened it, and immediately thought that it smelled like Home Depot in a bottle! When you smell it, you'll know what I mean. But it is very calming and relaxing.
The lavender combines beautifully with the vetiver to give the woodsy smell a nice floral tone that adds to the calming effect of this combination.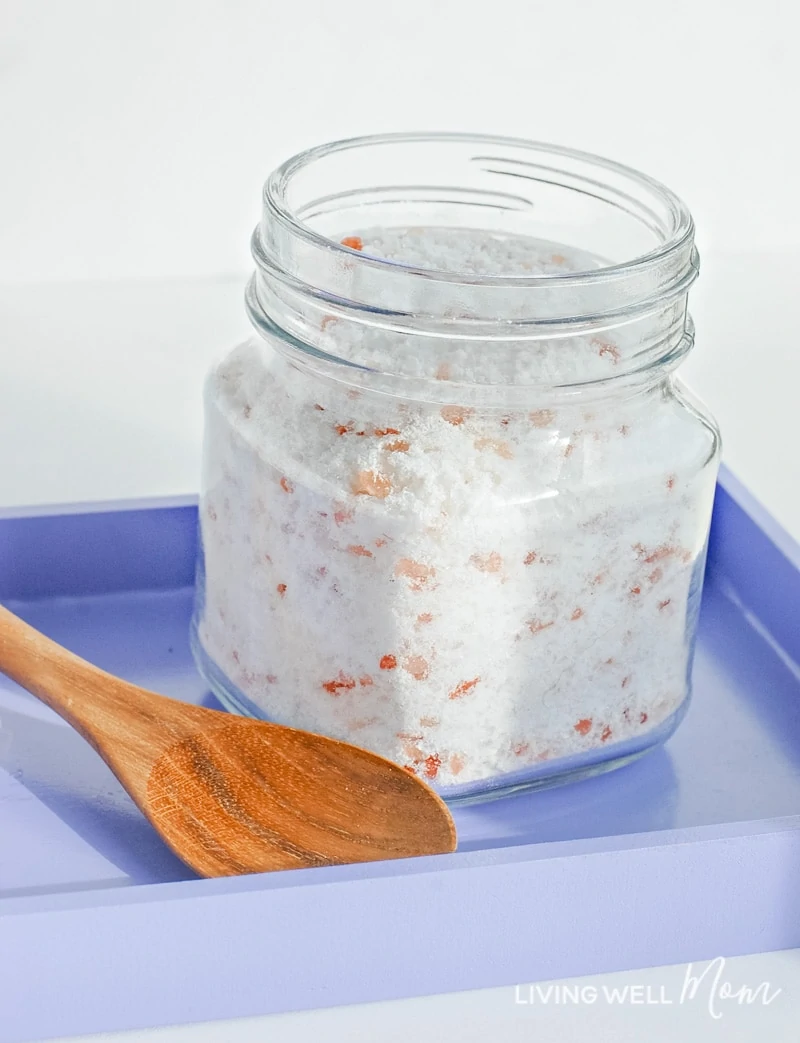 Then you will want a glass jar to store your bath salts in. When its bath time, use one or two tablespoons full and add to your warm bath water.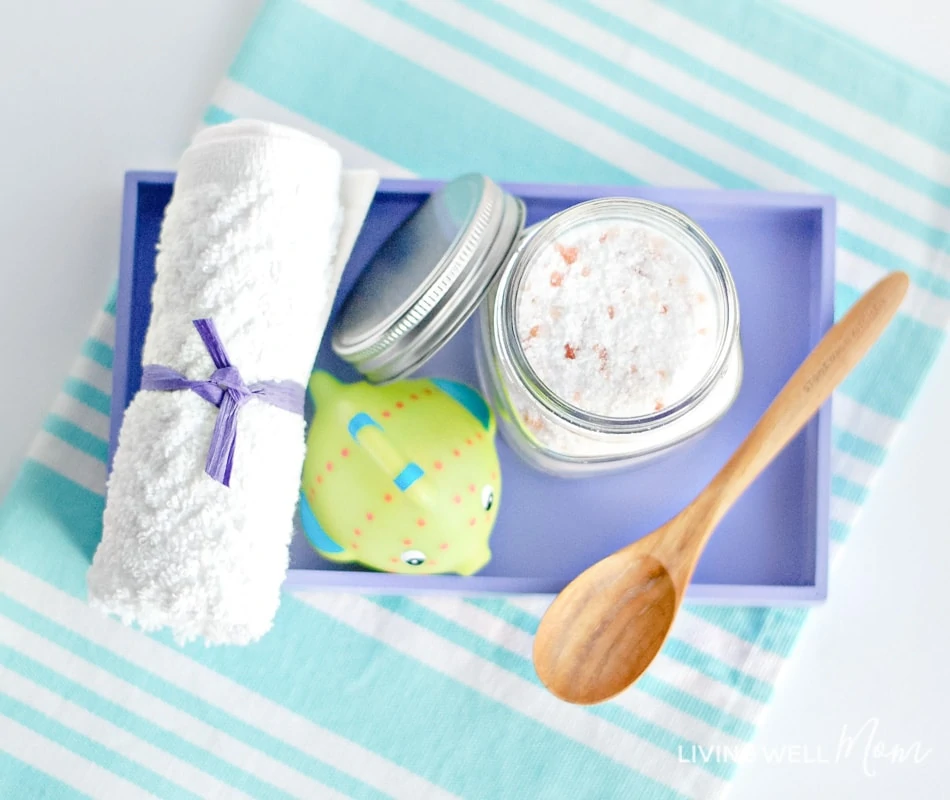 Go ahead moms and test this on yourself first before you add it to your kids' bath.
I put on some lavender and vetiver on my feet last night before bed and 20 minutes later I was totally falling asleep on the couch!

It really is a wonderful calming combination, that is great if you are looking to calm your kids or help with a great night's sleep!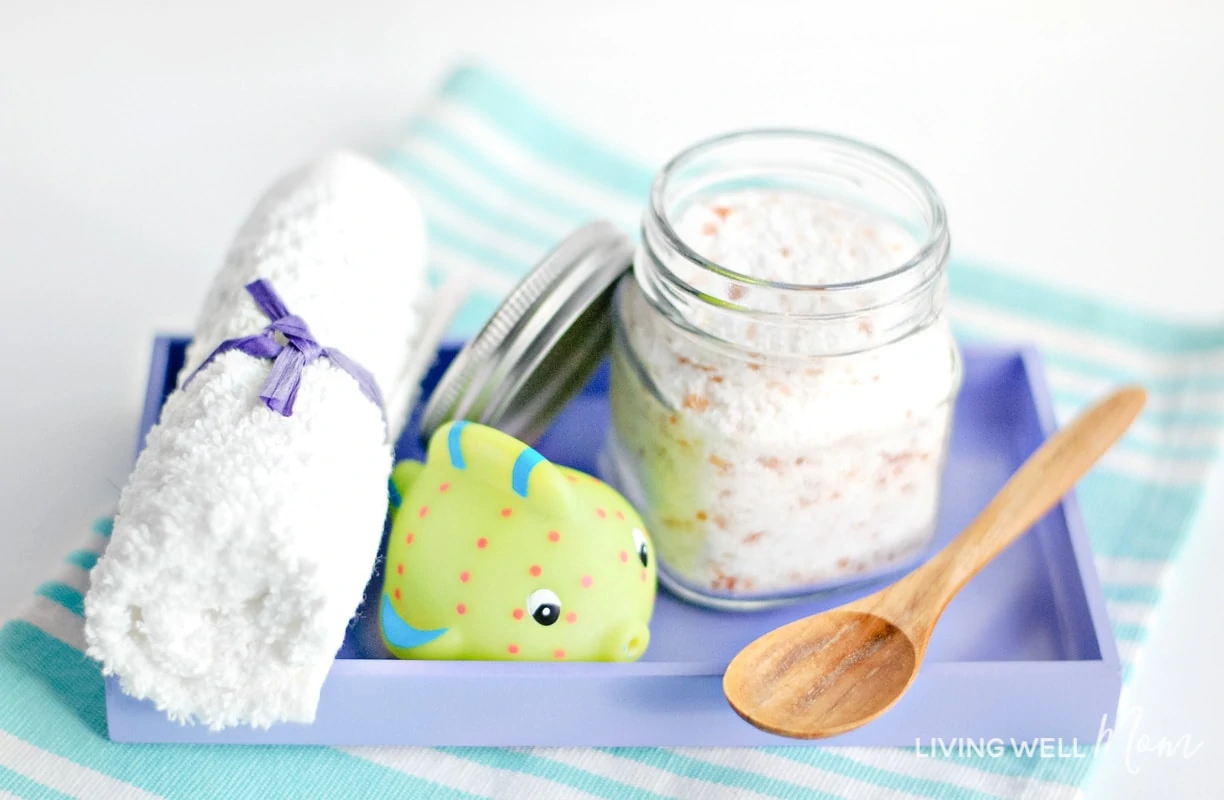 As an added bonus – these calming bath salts are great for kids with autism. I recommend starting with less essential oils so as not to overwhelm your child with the scent and hopefully they'll love and relax in a soothing bath. This may be a great way to establish a nighttime routine and/or help them fall asleep more readily at night.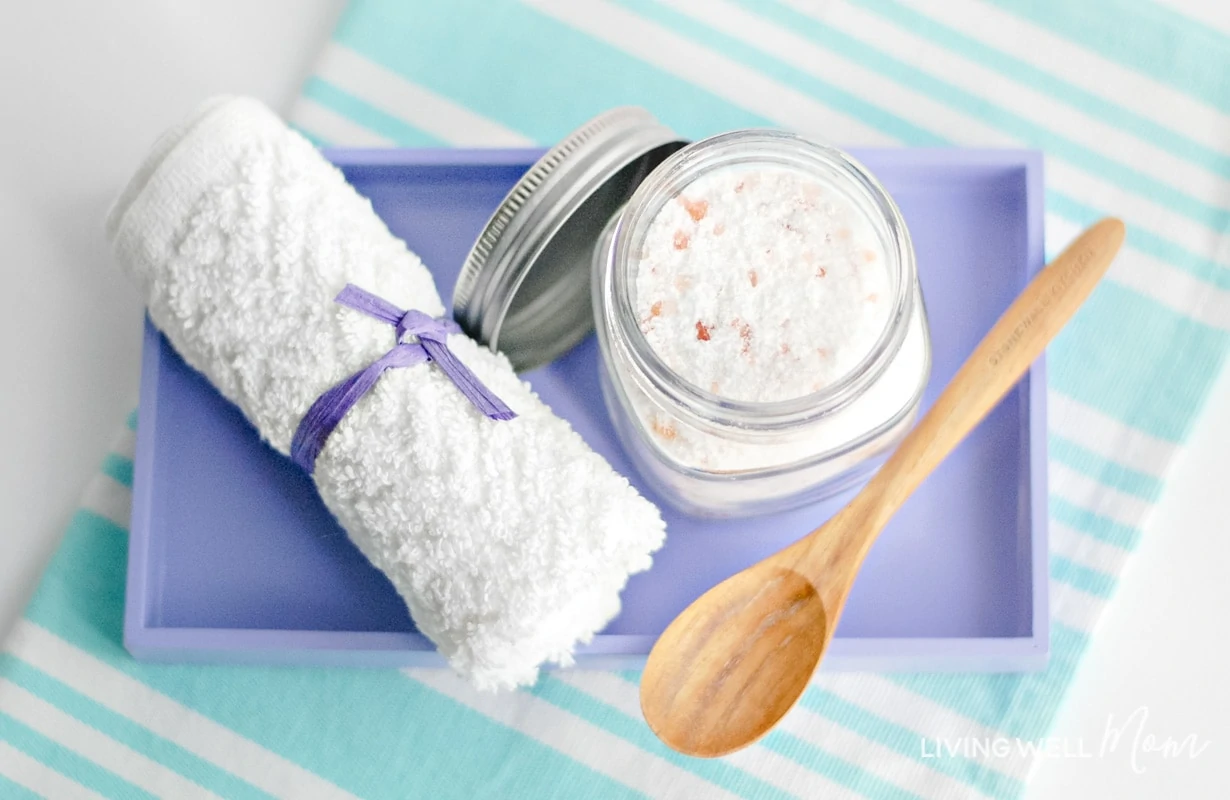 Looking for more kids DIY bath & body products or tips for calming kids? Check these out:
How To Make An Essential Oil Diffuser Necklace for Kids
"Calm and Collected": the DIY Essential Oil Blend for Kids with Autism
All Natural Homemade Shampoo for Kids
Easy Homemade Natural Hand Sanitizer