Looking for a natural way to help your kids settle down and relax? This homemade pillow spray for kids has worked wonders for my four children and practically guarantees sweet dreams! Not only is it ultra-effective but it's inexpensive to make and very simple to put together. I'll show you how you can make this spray in just minutes.
Ever wonder why at the end of the day, when your kids should be beyond tired, they still can't settle down or easily fall asleep? It can be so frustrating when you are also exhausted and just want to be done for the day!
I get it because it's happened to me with my children too. And I've found an amazing DIY relaxing sleep spray that works wonders for helping my children calm and fall asleep more easily at night. With essential oils and other natural ingredients, it's fast and easy to make and you can customize it to you/your child's favorite essential oils too!
Erika Bragdon is a Certified Essential Oil Coach from the Essential Oil Institute.
What is a sleep spray for kids?
Sleep spray taps into the magic of aromatherapy by using fragrance to help your mind relax. Just like an adult may enjoy spritzing pillow spray in the evenings before bedtime, this calming blend of fragrances helps your child relax in the evenings.
This natural sleep aid is made with pure essential oils and can be used by the whole family. When used in conjunction with a nighttime routine, I've found this spray to be incredibly effective to promote restful sleep.
Supplies Needed
Making this "magic" spray is incredibly simple. All you need are a few items: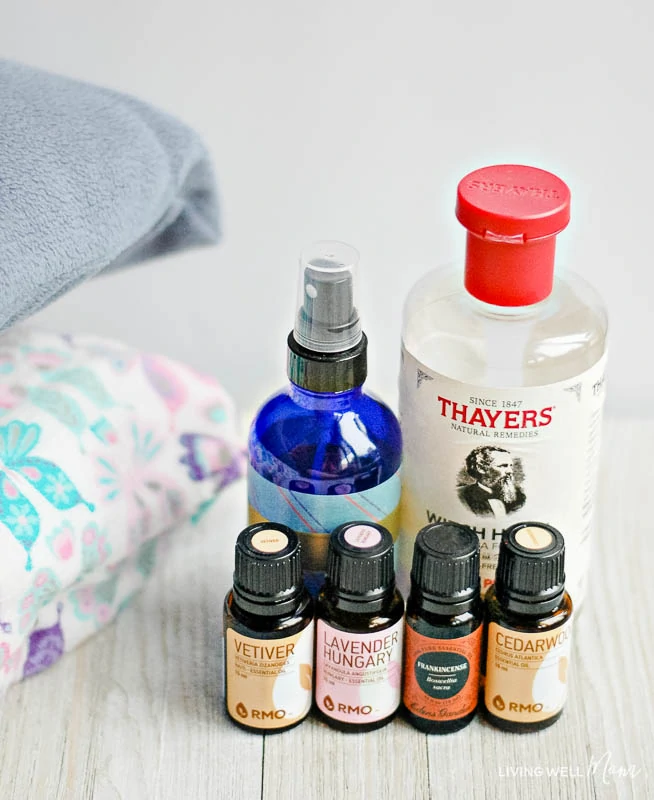 Each of these essential oils is known for its relaxing properties. This is why I chose them for this relaxing pillow spray for kids.
Lavender promotes sleep and is relaxing.
Cedarwood is calming and releases nervous tension.
Frankincense also releases tension and brings an emotional balance. (I use it in our favorite "Calm and Collected" essential oil blend for kids too.)
Vetiver is very stabilizing and known for relieving stress.
In my personal experience, Vetiver has helped me fall asleep faster than all the others!
Again, you can use other essential oils that work well for your child. I also recommend Chamomile, Copaiba, or Spikenard.
Which Essential Oil Brand is Best?
For the best results, you will want to choose a high-quality essential oil brand that is 100% pure and offers third-party testing for quality control. Read this post for more info on how to choose essential oils that work for you and your family (beyond the brand.)
How to Make this Relaxing Pillow Spray for Kids
As I mentioned before, this spray is super easy to make.
Begin by adding 2 tablespoons of Thayer's witch hazel to your empty glass spray bottle. You may find it helpful to have a funnel on hand for this. I like how Thayer's is infused with rose water. This adds one more scent to the mix which makes it quite lovely.
Follow that by 5 drops each of frankincense, vetiver…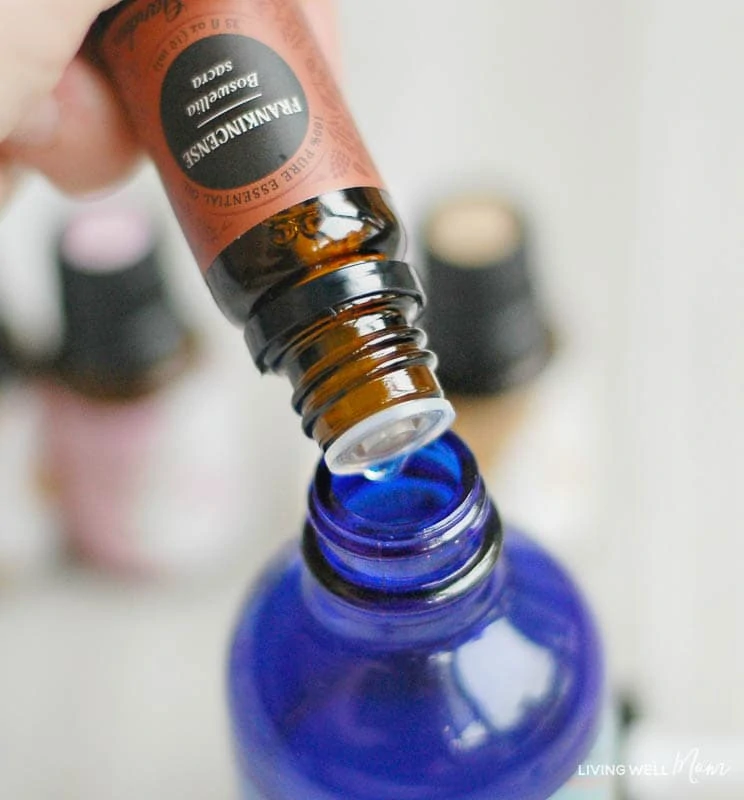 ….and 5 drops each of cedarwood and lavender. That's 20 drops total.
Then top off the bottle with water and gently shake until it is mixed.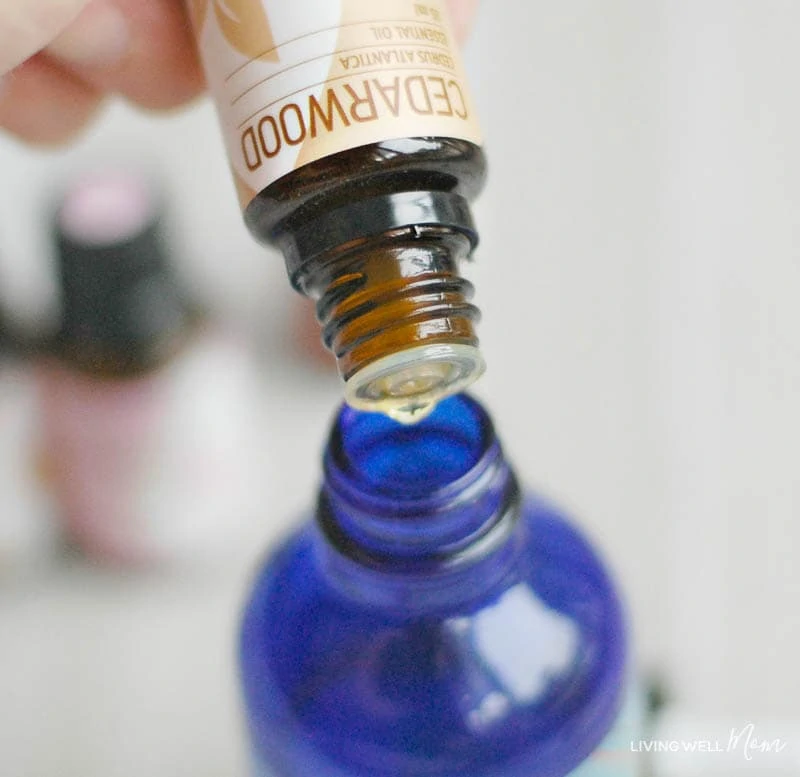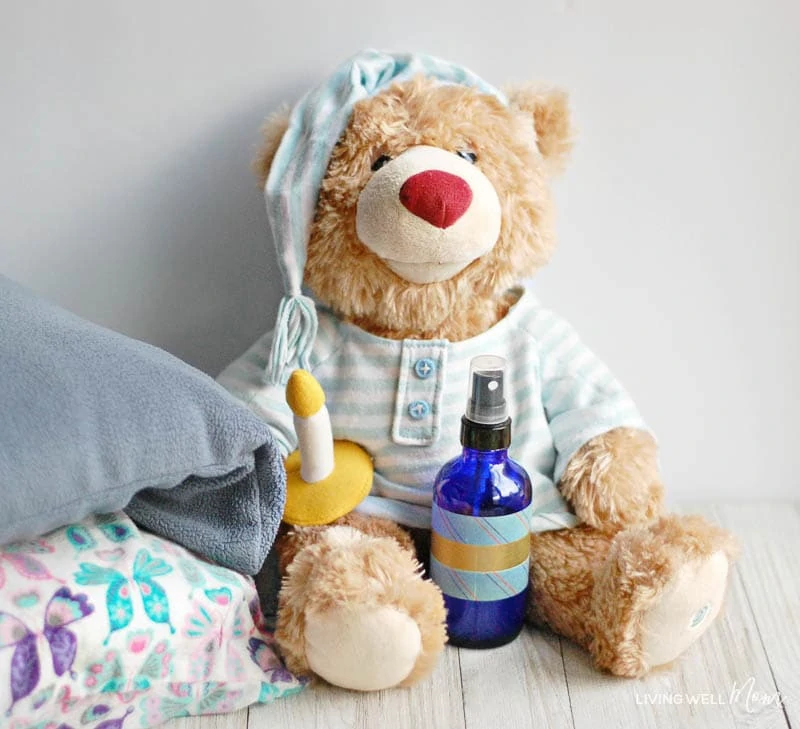 You can also play around with the quantity of essential oils. I recommend starting with a low amount (20 drops total, as listed in the instructions) but you can increase the amount slowly if 20 drops don't seem to be working.
Also, try different combinations of essential oils. Perhaps, Lavender, Cedarwood, Copaiba, and Chamomile will work well for your child. Try it out and see!
Tip: I covered my bottle with some washi tape
as an easy way to make our pillow spray bottle look nice. You could also use a label maker
or sharpie
for a simpler label.

I call our pillow spray "Sleepy Time Spray", but call it whatever works for you!
How to Use the Relaxing Pillow Spray
Each night when bedtime rolls around, grab your essential oil pillow spray. Shake well, and spritz it a few times on your child's pillow. If your child has a special stuffed animal or blanket they like to snuggle and hug, spritz that with this blend too!
Using it night after night will be calming for the mind and body. You or your child may also correlate the scent of this blend with sleep time, which can also help at night.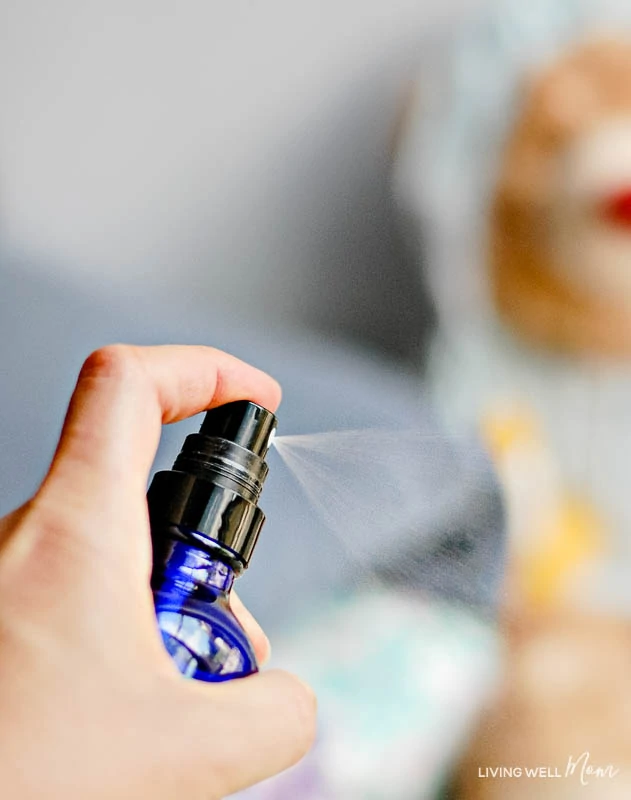 Spraying this nightly is recommended, but you can use it during the day as well. Having it on hand during times where hyperactivity or stress is unusually high during the day may come in handy. At those times, spray this in the room and tell your son or daughter to take some deep breaths to help calm or focus their minds.
I've found this to work very well in children with ADHD and autism too!
Moms – you too can benefit from this! You may as well make a double batch so you have a bottle of DIY Relaxing Pillow Spray by your bed as well as your child's!
More DIYs with Essential Oil for Kids