Looking for an easy goat milk soap recipe? Look no further than this lavender soap! It smells incredible and feels positively luxurious on your skin.
Even better? It takes less than an hour to make 12 bars! This recipe is perfect for anyone – even if you are new to soap making. Whip up a batch and use it to pamper yourself or gift to friends.
The Benefits of this goat milk soap recipe
Before we dive into how to make this simple soap, I'd like to share the why behind it and the benefits of goat milk soap itself.
Let's be honest: Motherhood can be an overwhelming and time-consuming role. The vast majority of us don't have much time to think about taking care of ourselves. But this easy DIY soap is one of the best ways to indulge in a little at-home spa treatment!
Not only does using the soap give you some likely much-needed aromatherapy and pampering, but I found the process of making it to also be quite relaxing! There's something satisfying about stirring up the ingredients and knowing you are making your own soap bars. It's a pretty cool feeling!
So why goat milk? Goat milk is filled with properties that can help soften and moisturize the skin, especially if you have dry skin like I do.
This particular goat milk soap recipe is also very gentle on the skin, so it's great for kids and adults alike.
While there are several scents that work well with a goat milk base, I opted for lavender. Lavender essential oil has calming properties that can help reduce stress and anxiety—and it just smells awesome!
It's also my favorite essential oil because it can be used in so many ways. You can read about the benefits and uses of lavender oil here!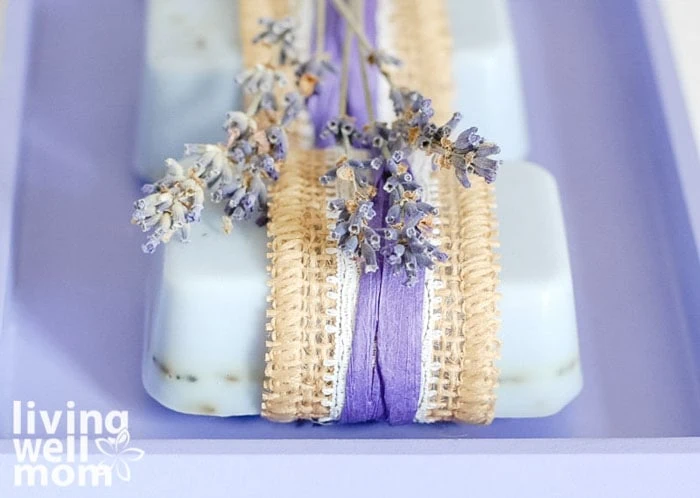 Supplies needed
Now that you know why this is a must-make recipe, let's chat about what you'll need to whip up a batch!
This is what you'll need to make 12 bars. As you'll see, there's nothing difficult to work with here – no lye mixture or anything needed.
Plus, if you'd like to gift these soap bars, you may want to have some decorative tape, burlap, ribbon, or raffia to wrap them in.
Note: The ingredients and supplies may cost a little initially, but since you can reuse them over and over (aside from the soap base), you will save a lot of money in the long run!
Goat milk soap recipe
First, grab your supplies. Start with the soap base. It comes in a large block, but it cuts easily with a kitchen knife.
Slice the soap base into strips, then cubes, and place them inside the microwave-safe measuring cup.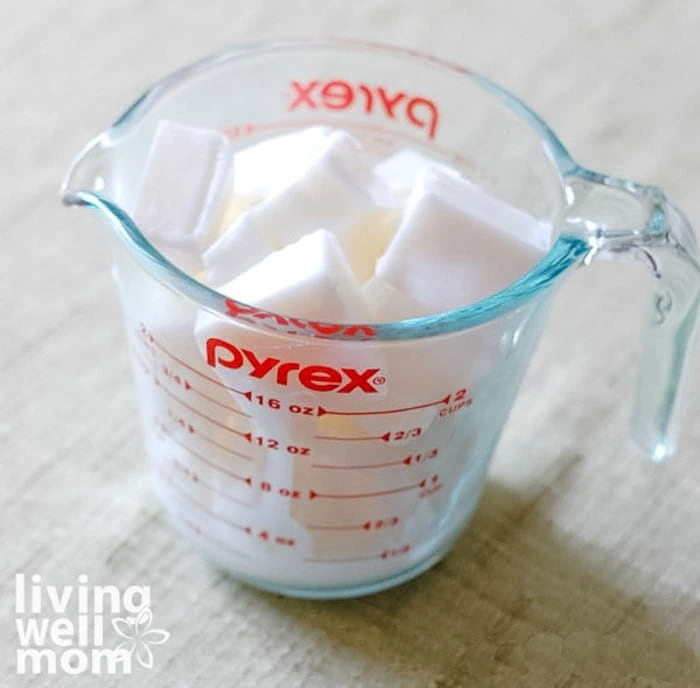 Next, melt the soap in the microwave in 30-second increments, stirring well in between to ensure that the soap is completely melted.
It took a minute and 30 seconds for each batch to 100% melt, but the timing depends on your microwave.
My glass measuring cup was only big enough to melt half of the soap at one time, so I ended up making 2 batches out of the 2 lbs of soap base.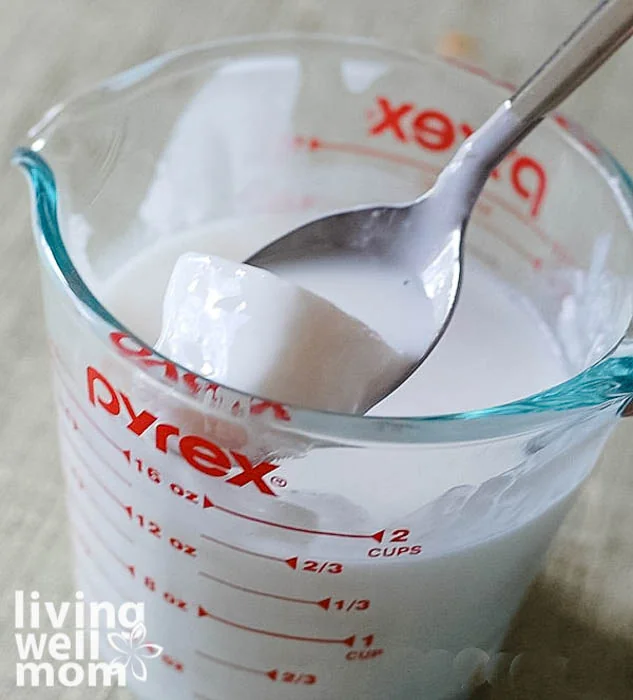 Next, combine about 10 drops of red soap coloring and 10 drops of blue into an empty drop container and shake well. You now have purple coloring! Add 7 drops of the purple color to the melted soap and stir until the color is even throughout.
Then, add 15-20 drops of lavender essential oil and mix well.

Lastly, sprinkle in some dried lavender and give it a good stir.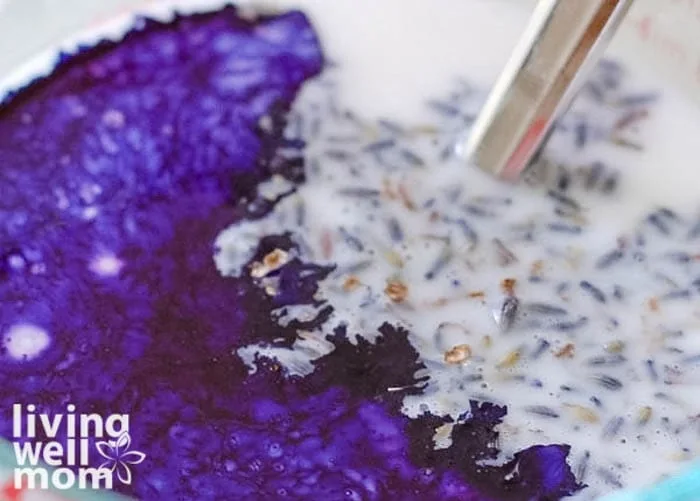 Next, pour into the soap mold and let it sit for at least 45 minutes to cool. Once the bars are cooled and hardened, they are ready to use!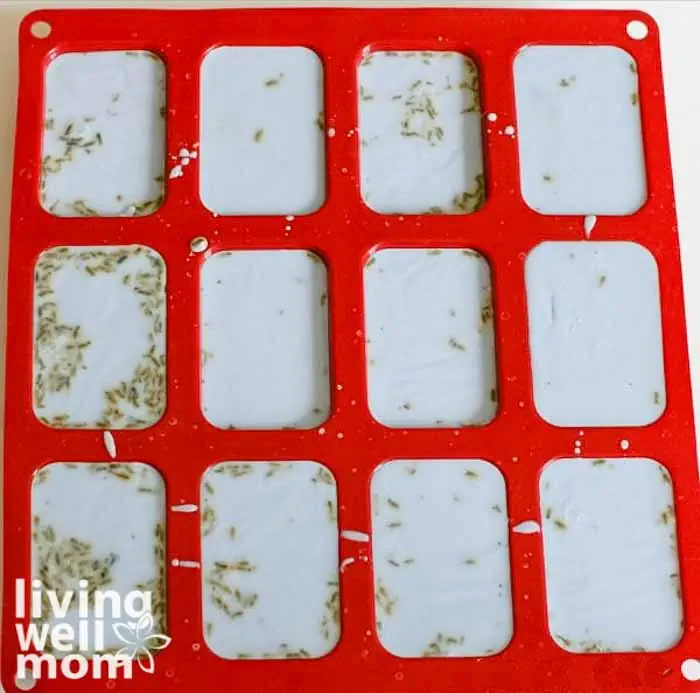 Bonus: Time to decorate! I found some burlap ribbon with lace and some purple raffia on clearance at Walmart. I thought that was the perfect combo to wrap these up and make them even more delightful as a gift. However, use whatever you want to wrap your bars as a personal touch. 🙂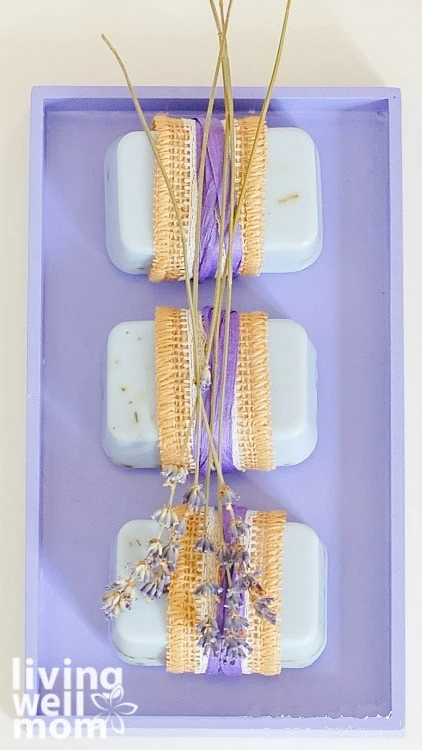 If you decide to make your own, I'd love to see some pictures and hear about your experience! This is a very versatile goat milk soap recipe where you can add different scents and experiment with creating your own custom bar of organic soap!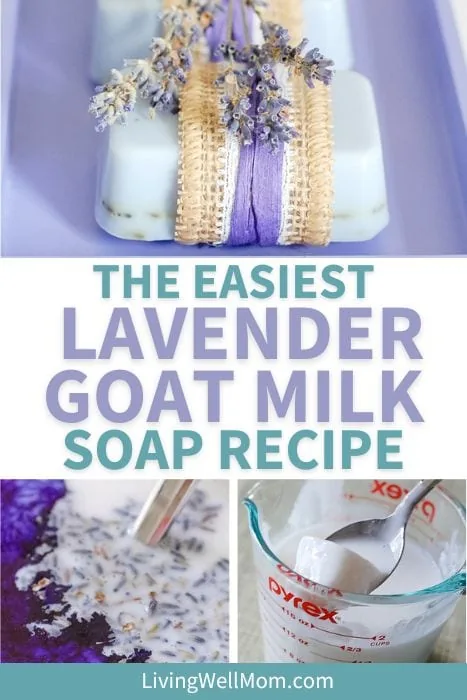 More DIYs with lavender