This homemade face cream uses only 4 ingredients and is ready in just minutes. Whipped up with coconut oil and shea butter, this night moisturizing cream smells incredible and will nourish dry skin.
When the blustery winds of winter start blowing, your face takes a beating. That dry, cold air just seems to suck the moisture right out of any exposed skin.
I used to have horribly dry, cracked heels until I made my cracked heel cream. Trust me, nothing else worked until I made this gem. Now I have heels I only used to be able to dream about.
Anyone who lives in a dry climate also knows how dry air can negatively impact the way skin feels (and looks). Combine a dry climate with a cold wind, and you have a recipe for dry, painful chapped skin. Ouch!
Simple Nourishing DIY Face Cream
For me, last winter was especially bad. I tried every facial moisturizer I could get my hands on, and it was just never enough. My face almost constantly felt dry and raw.
And just like when I developed my cracked heel cream, I knew I needed to tackle the dry skin on my face.
I did some experimenting with different formulas, and now I am ready to share my homemade face cream with you!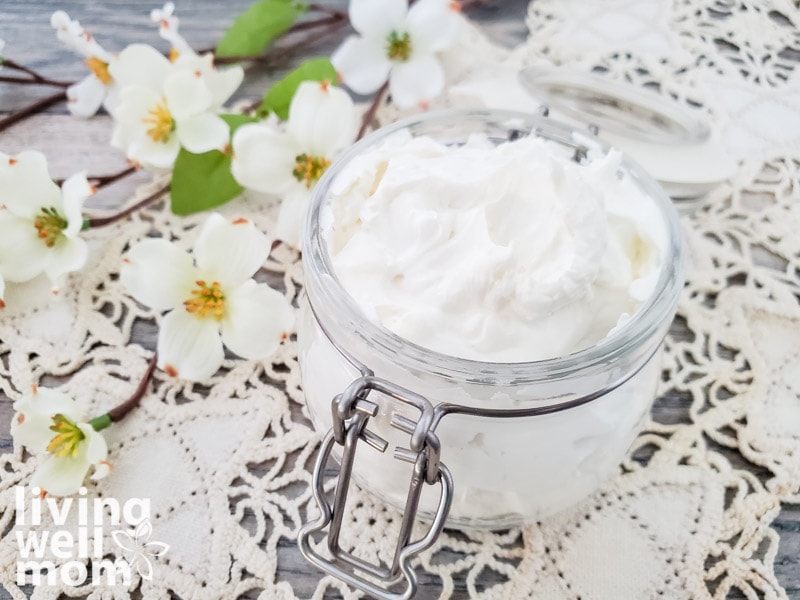 Benefits of the DIY Face Cream Ingredients
Coconut oil is a wonderful natural moisturizer that's also loaded with antioxidants. In addition, it acts as a carrier oil to evenly distribute the essential oils throughout the cream. Coconut oil is semi-solid at room temperature, but it quickly melts at skin temperature and absorbs quickly, leaving your skin feeling soft and smooth.
Cocoa butter contains many vitamins and fatty acids, making this ingredient a common one in homemade body products. It works wonders for hydrating the skin and can even help reduce UV damage.
Vitamin E oil provides many benefits for your skin, including moisturization, soothing inflammation, and preventing UV damage.
Orange essential oil boosts circulation (which helps skin stay hydrated), shrinks the appearance of pores and has a clean, fresh scent. Lavender would be another wonderful and soothing option!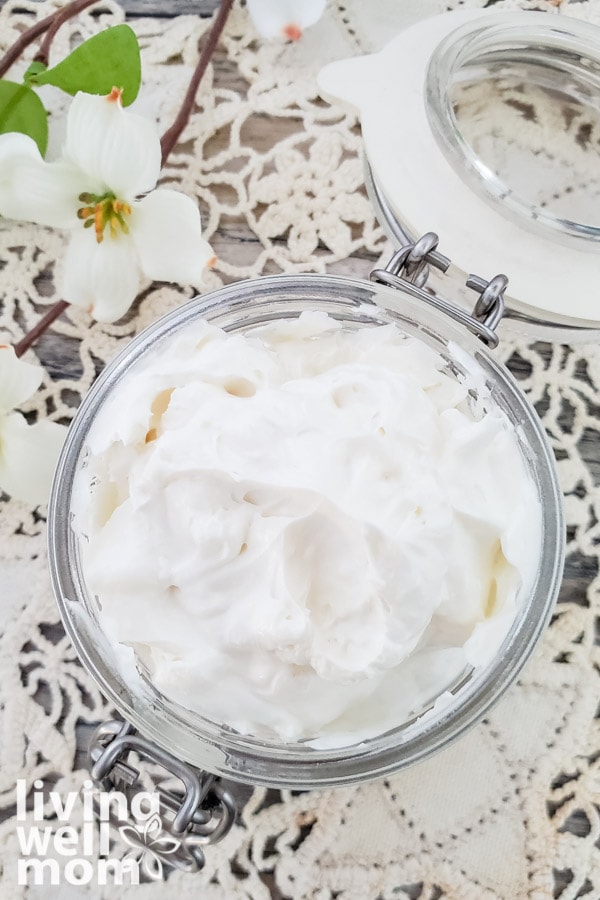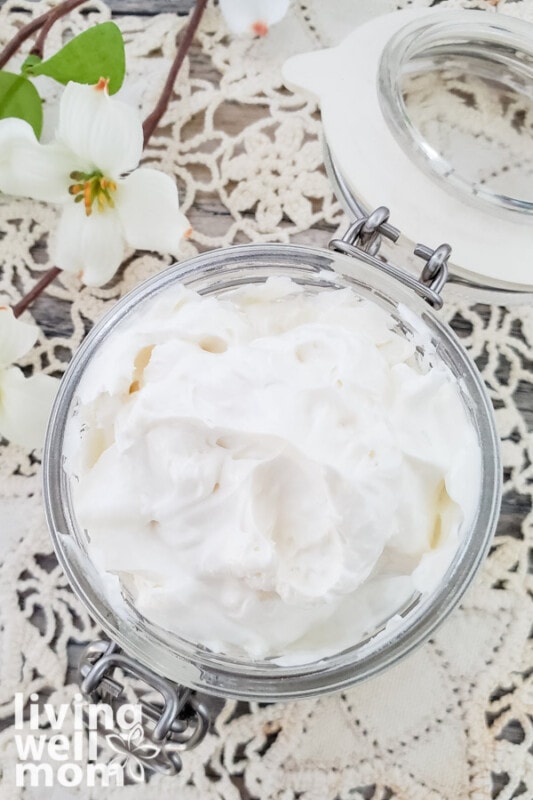 Homemade Face Cream Ingredients Needed
Here's what you'll need to gather and combine to make your own DIY whipped face cream. I love that there are only 4 simple ingredients in this recipe, so you know exactly what you're putting on your skin.
And it works – that's the best part!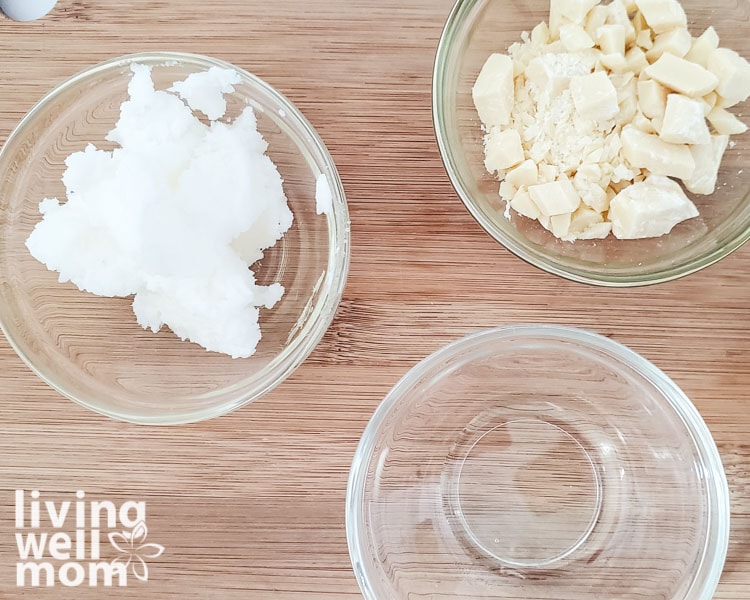 What's the best brand of essential oils to use?
I recommend choosing a high-quality essential oil brand that is 100% pure and offers third-party testing for quality control. And when it comes to your skin, you can never be "too choosy"!
This is a topic that's worth diving into as you invest in oils. I'm passionate enough about it that I wrote an entire post about how to know which essential oils to buy.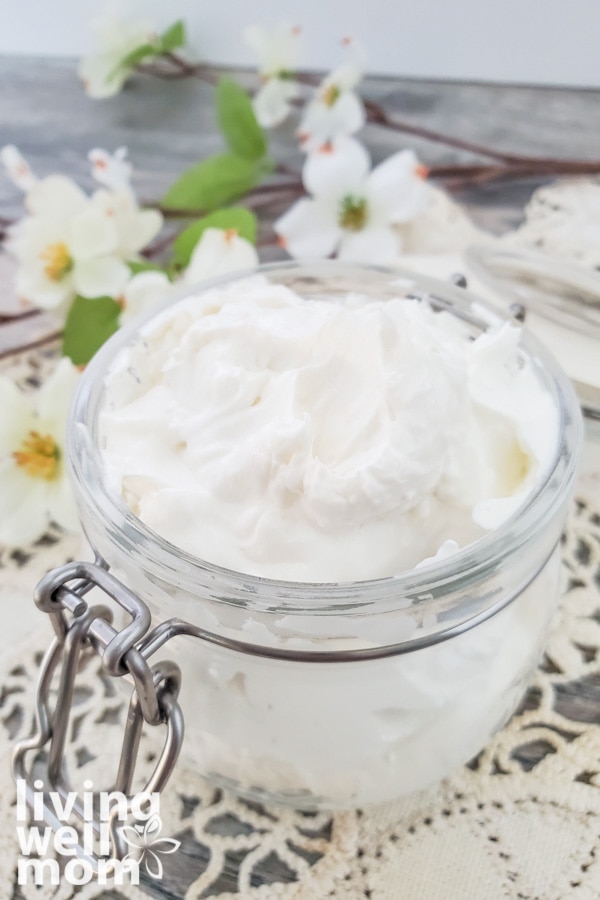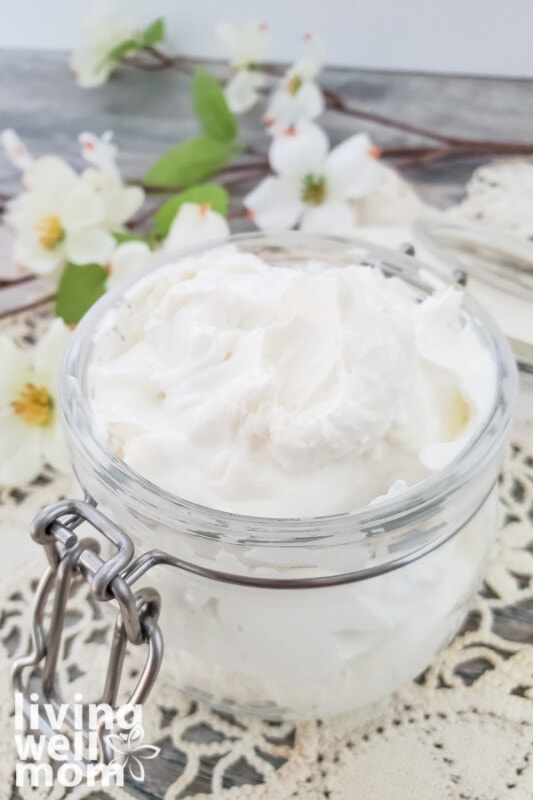 How to Make DIY Whipped Face Cream
Ready to get started? If the thought of making your own homemade face cream seems overwhelming, don't worry! It's super simple to whip up.
And more importantly, you're going to love how it makes your skin feel without unwanted chemicals!
Step 1
Add cocoa butter and coconut oil to a microwave-safe dish (such as a glass bowl or large measuring cup) and heat in 1-minute increments. You'll need about 3 minutes total, or until they're fully melted.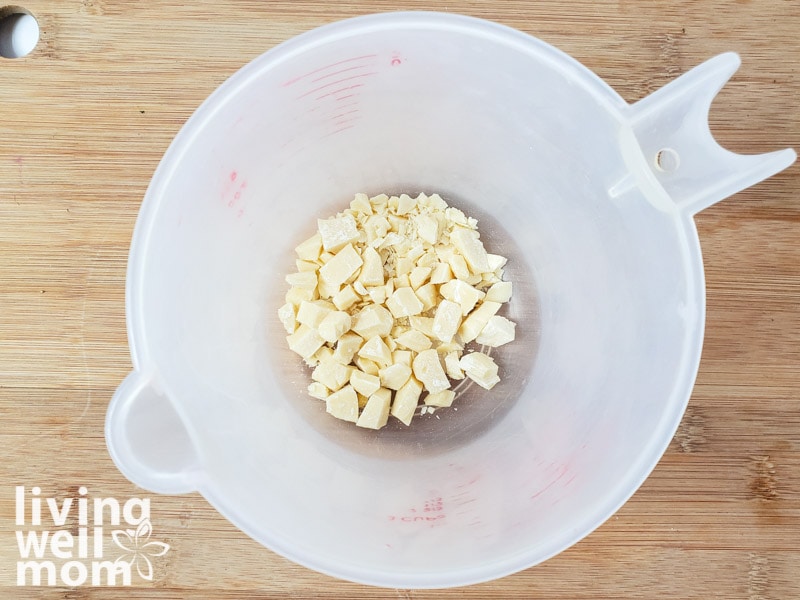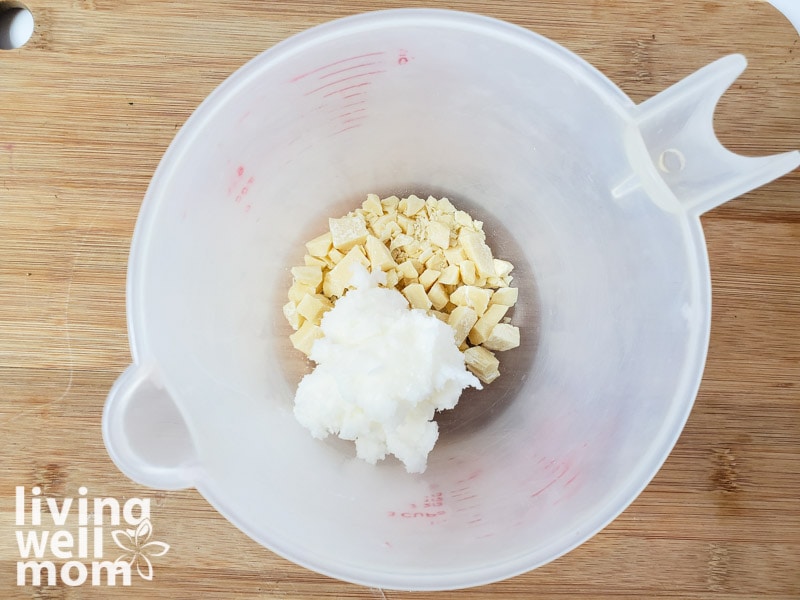 Step 2
Let cool for 5 minutes.
Step 3
Add vitamin E oil and essential oil. Stir to blend evenly.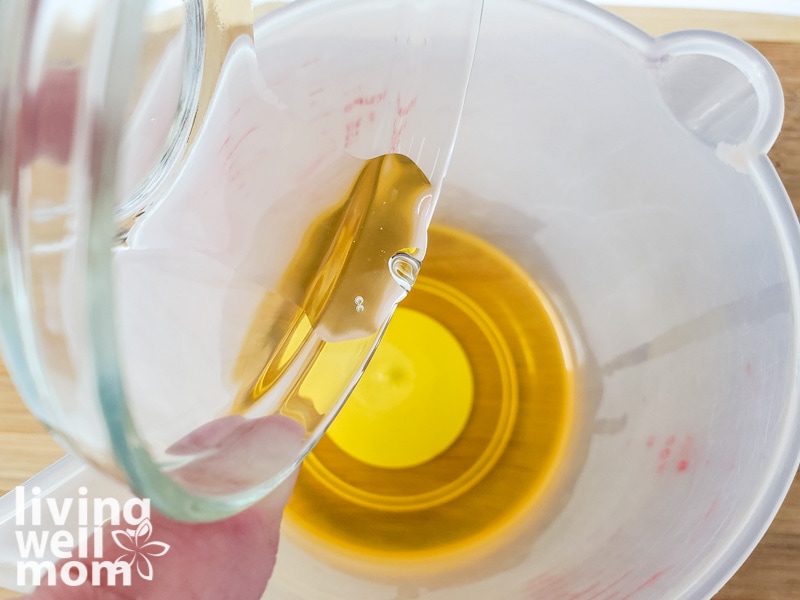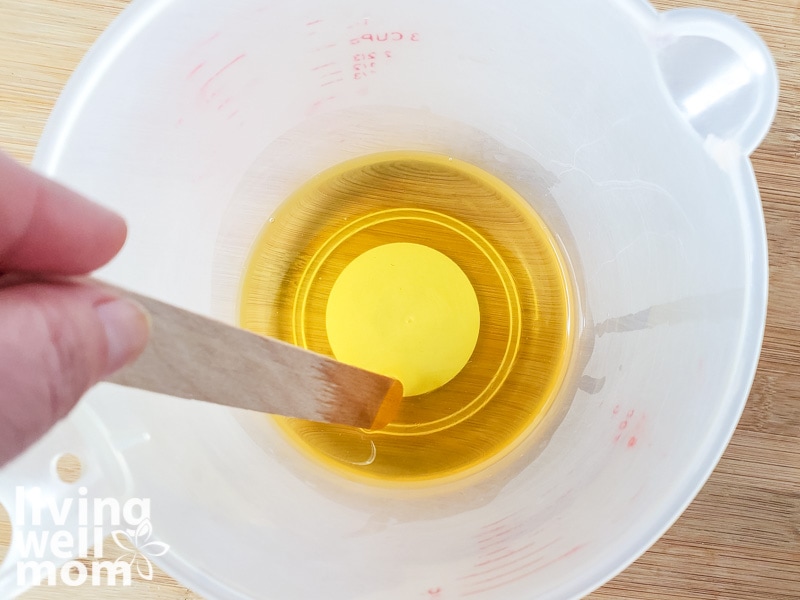 Step 4
Cover and freeze until the oil mixture starts to set and is no longer liquid (about 20 minutes).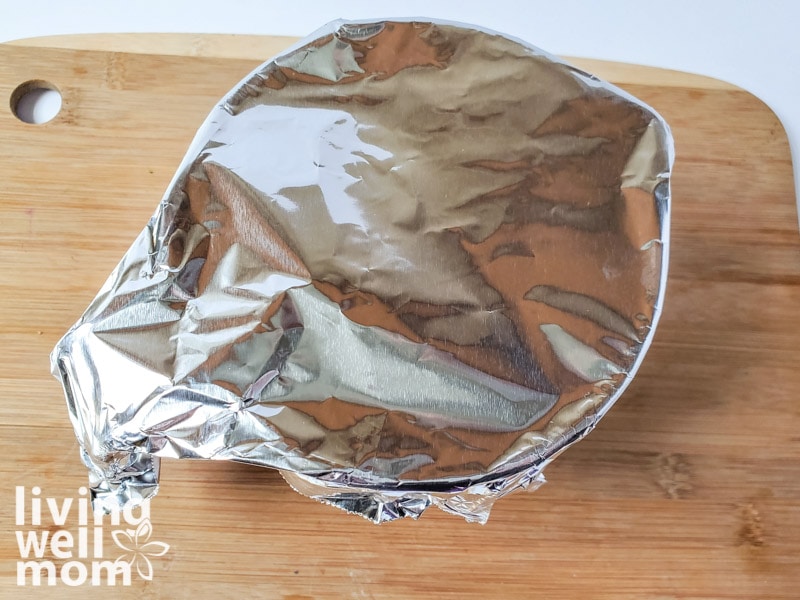 Step 5
Whip in a stand mixer or a bowl with a hand-held mixer on high for 5 minutes until the mixture is light and creamy.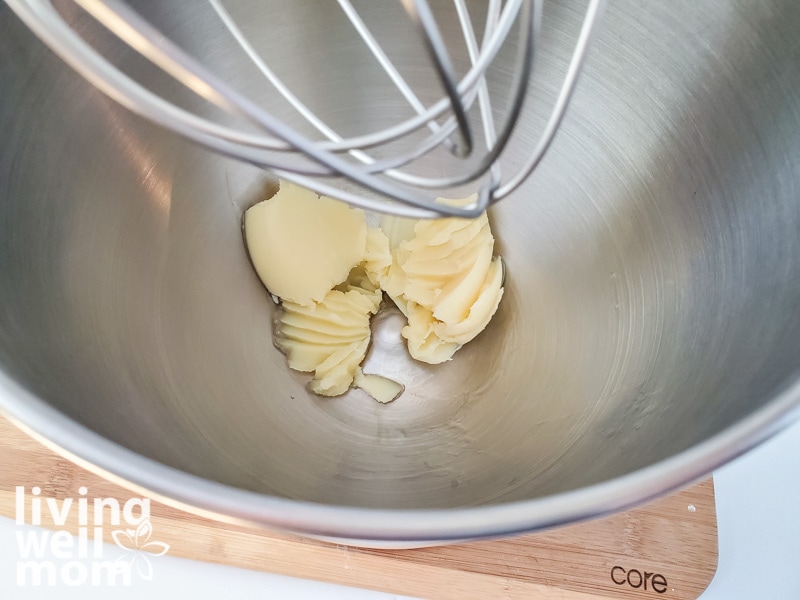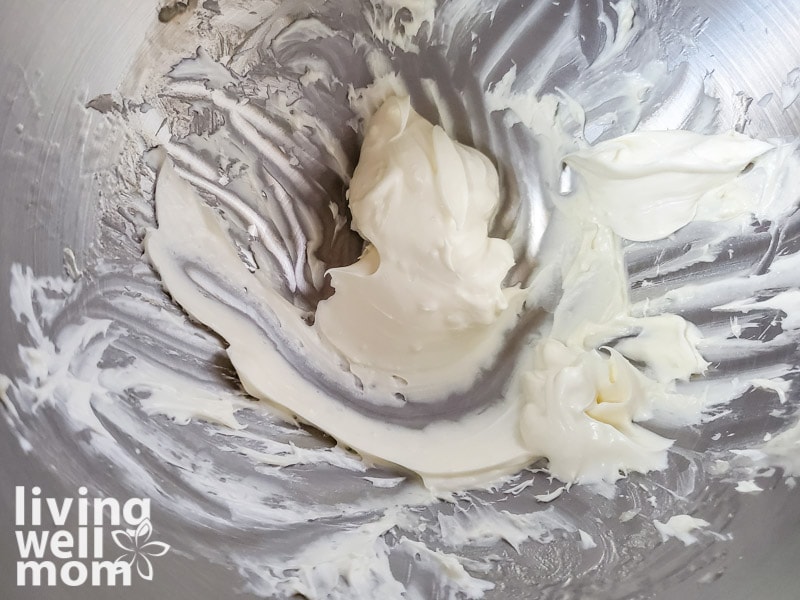 Step 6
Your homemade whipped face cream is done! Store it in a glass jar in a cool, dry place.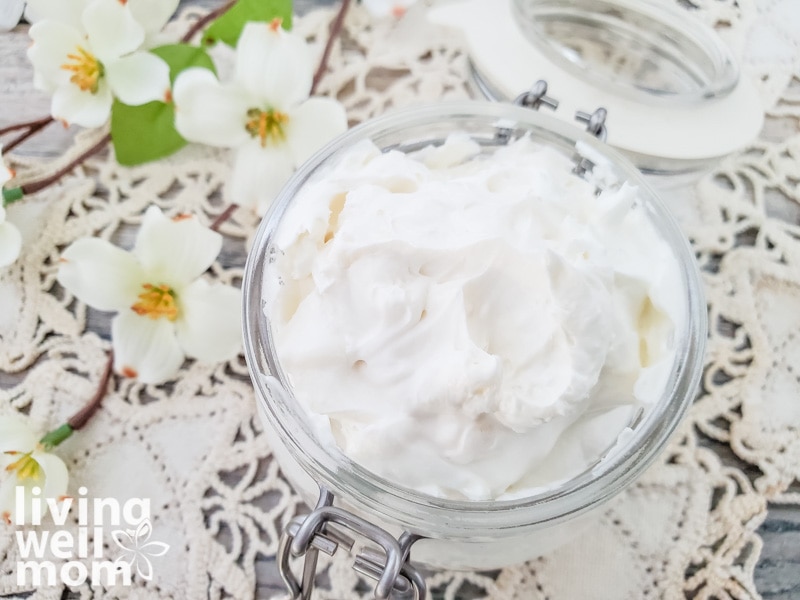 How to Use Homemade Face Cream
To use this DIY face moisturizer, I recommend first washing your face. The water and exfoliation will open your pores so that your skin can soak in more of the moisturizer.

Gently pat your face with a towel to remove excess moisture – you don't want to fully dry the skin. Then, apply a small amount to your face and gently rub it in.
This DIY face cream is gentle enough to use every night if you want to.
FAQs
Here are a few questions I commonly see readers ask about making their own whipped face cream. If you have a question you don't see answered below, please leave it in the comments!
How do I store homemade face cream?
I recommend keeping it in an air-tight glass container (like a mason jar) in a cool, dark place. Do NOT put it in the refrigerator though as this will cause the coconut oil to solidify and it won't be "whipped" any longer.
Not only will it stay fresh, but when you apply it, you will feel extra refreshed yourself!
How long will this DIY face cream stay fresh?
Since this recipe is very natural and doesn't contain any preservatives, it's best to use it within 1-2 weeks. However, I've used mine for up to a month with no issues.
Note: If you notice an odd smell, I recommend discarding this homemade moisturizer. Since it's so easy and inexpensive to make, it's better to be safe than sorry.
Can I use a blender instead of a mixer?
Yes – I have found that an immersion blender works just as well as a stand blender for blending and whipping lotion. A typical blender might be more of a challenge, but I haven't tried that method personally.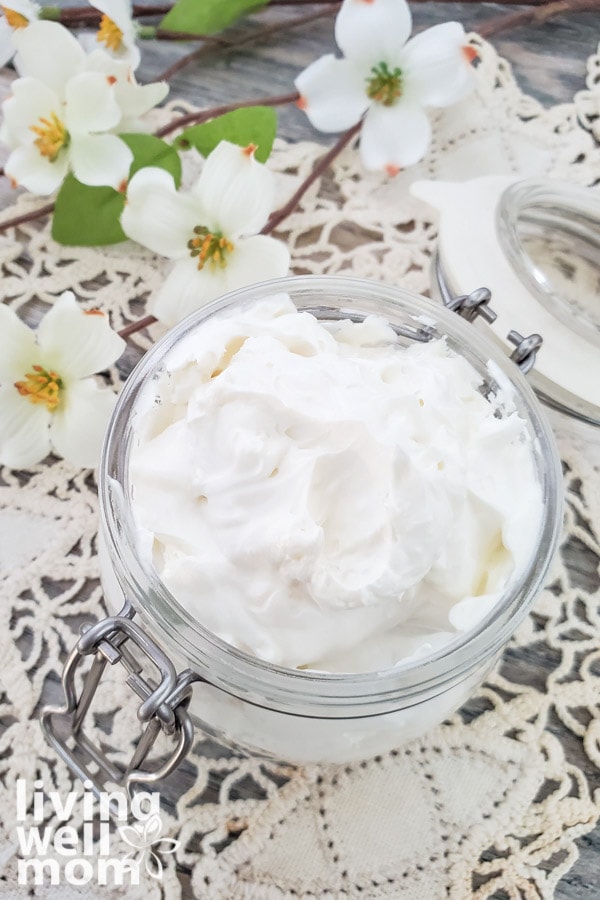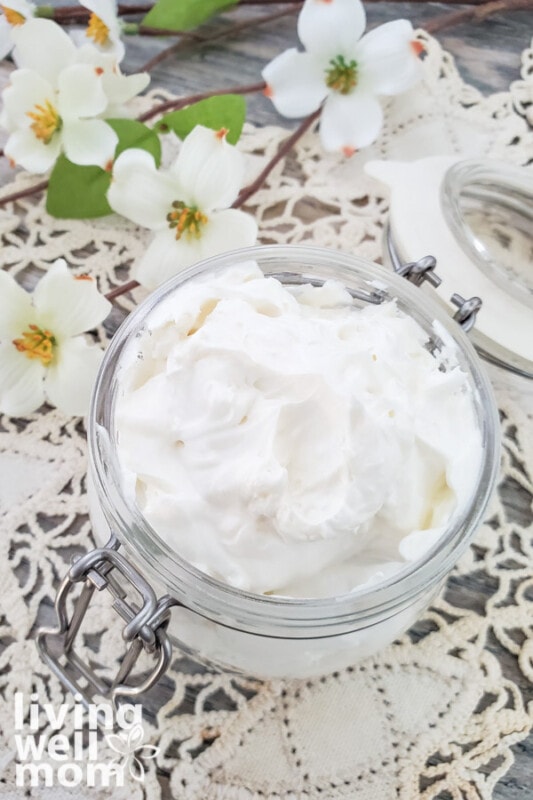 Does this homemade face cream work for every skin type?
If you have normal skin, this can be your go-to face cream. I have dry skin, and it works well for me too.
If you have acne-prone or sensitive skin, it will likely work well. However, you may need to make a few minor adjustments, like not using it every day or changing (or eliminating) the essential oil.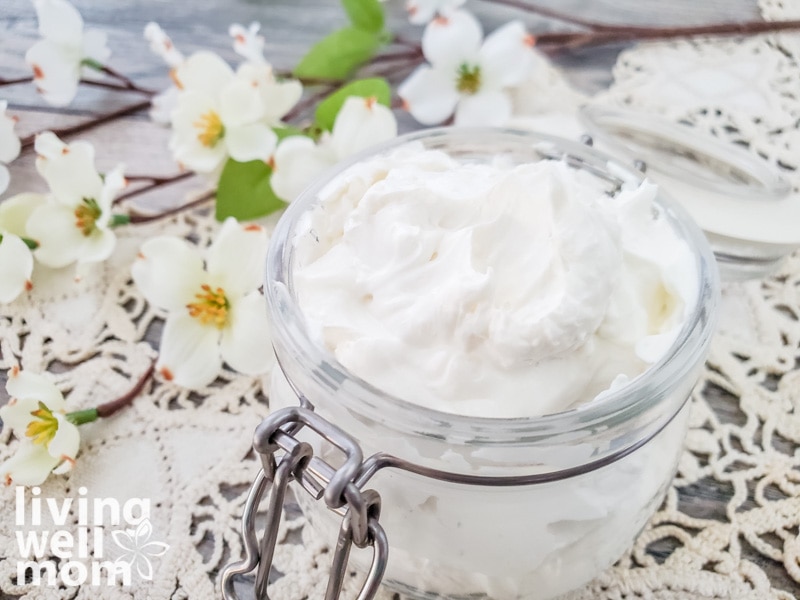 I hope this homemade face cream keeps your face feeling smooth and fresh and makes winter a little easier this year!
Pamper Yourself with These Homemade Ideas
If you love homemade beauty products, you'll love these recipes!