Have you heard of an essential oil Himalayan salt diffuser before?
It's one of the simplest ways to diffuse essential oils in your home, office, or anywhere you desire. These simple little diffusers are all the rage right now and for good reason – you don't need a diffuser, electricity, or water.
All you'll need to make your very own essential oil Himalayan salt diffuser is a small container or bowl (simple or fancy – your choice), Himalayan pink coarse salt, and your favorite essential oils or essential oil blend.
These little diffusers are much cheaper than typical diffusers, costing just pennies if you choose to use a bowl you already have on hand!
How to Make an Essential Oil Himalayan Salt Diffuser
What You'll Need:
*I found my small "finger bowl" at the Christmas Tree Shop, but you can find one almost anywhere. Keep an eye out at your local thrift store or yard sales for pretty, fancy bowls that catch your eye or if you're super frugal or want to try this NOW (I totally don't blame you there!), use a small dessert bowl or mug you already have in the house. You can also find a selection of small finger bowls on Amazon
.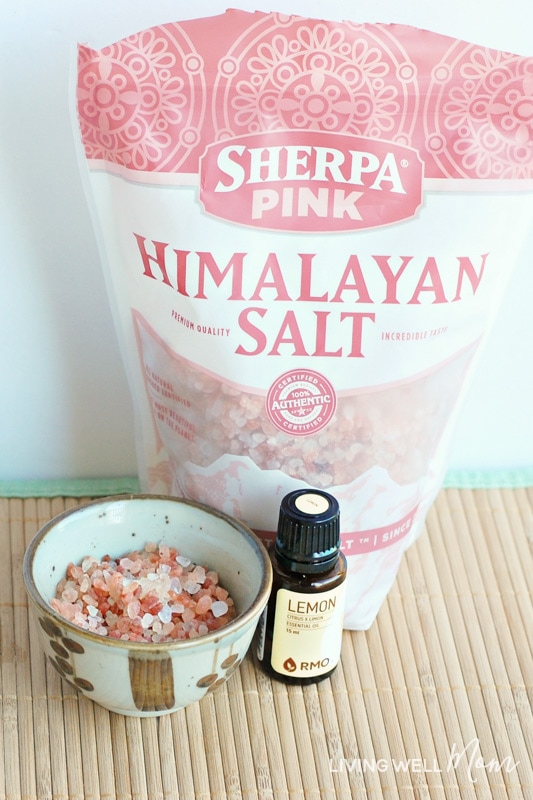 How to Put Together Your Essential Oil Himalayan Salt Diffuser
This is probably one of the easiest DIY essential oil projects I've ever shared with you.
Pour some coarse pink Himalayan salt into your small bowl. You don't have to measure even, but of course, you can if you choose to.

Add a few drops of your favorite essential oils. Mix and match to find your favorite blend.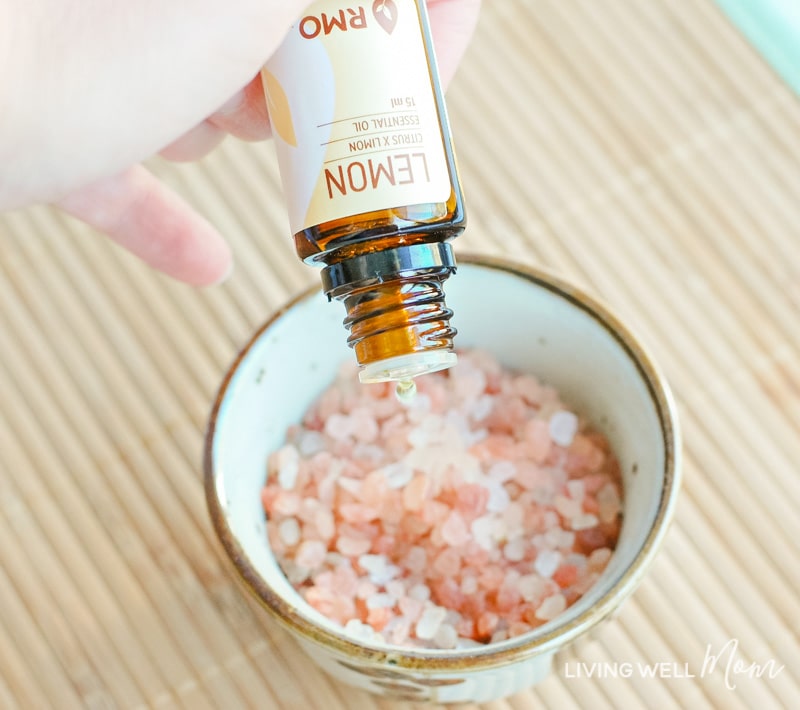 Place your essential oil Himalayan salt diffuser anywhere you like. (Obviously if you have small children, it's best to keep it out of their reach.)
Here are a few ideas for places you can use your salt diffuser:
windowsill
nightstand
dresser
bathroom counter or even the back of the toilet
on the side of the bathtub
on the TV stand or entertainment center
end tables or the coffee table
computer or work desk
kitchen counters
the kitchen table
entryway tables – a nice way to greet your guests!
near a radiator
….where will you put your essential oil Himalayan salt diffuser?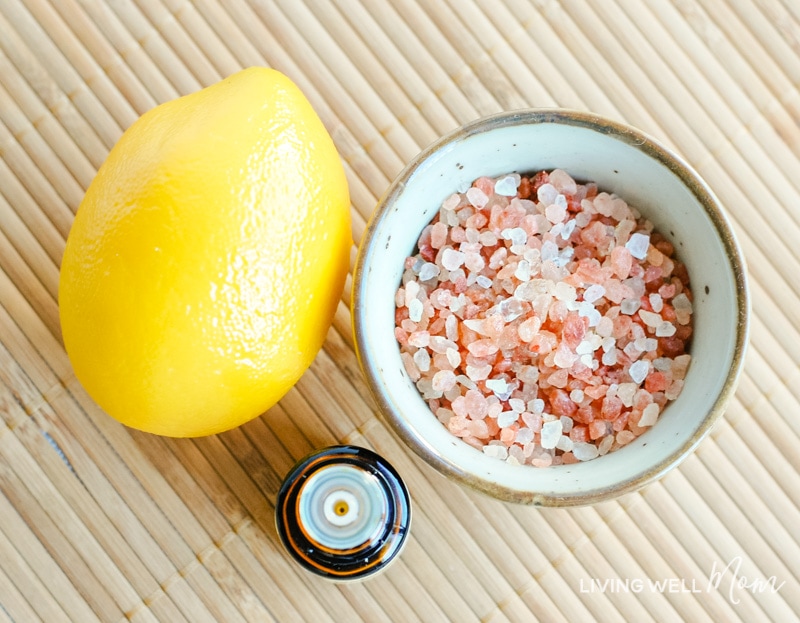 One of the other nice advantages of this little salt diffuser is that you can easily change out the oils you want to diffuse by either creating a "blend" by mixing it with oils you've already put in the salt OR by recycling the salt and starting fresh.
How do you recycle the himalayan salt? Use it in a relaxing bath!
This simple idea is SO easy and inexpensive, you can have multiple mini essential oil Himalayan salt diffusers set up in all the rooms of your house. Or just one. It's up to you.
I love how easy this is to have seasonal blends in my bathroom like this autumn blend or Christmas blend. You could even put a bowl in your office and add the focus blend to it. You also don't need to worry about having a plug nearby like you do with a water diffuser.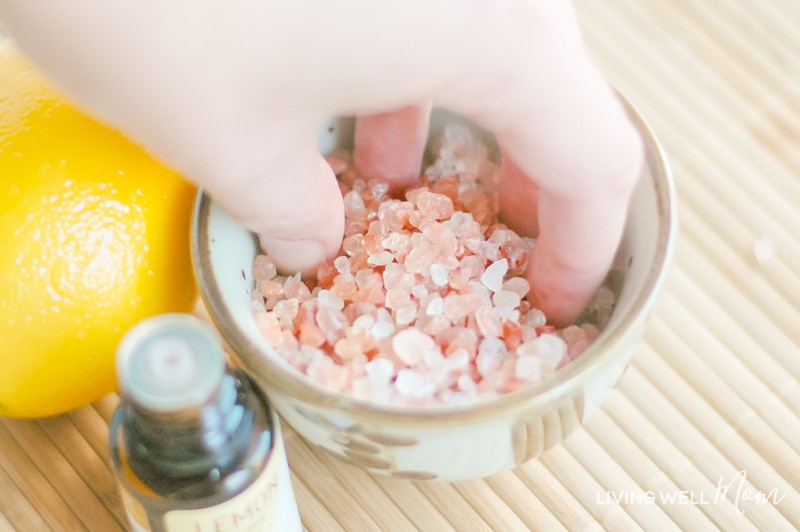 I have my Himalayan salt diffuser sitting on top of my bathroom sink. I add a few drops of oil to it a few times a week and stir it up a bit.
When I see it near my soap, I give it a little stir to kick-start the diffusing process again and then proceed to wash my hands. You'll need to add a few drops of oils every few days to keep the aroma lingering.
If you are new to using essential oils, this is a super easy way to diffuse them in your rooms.
You could also make a lovely gift basket with the items needed to make an essential oil Himalayan salt diffuser and give to a friend. You could even include an immune boosting blend (RMO) and give this as a care package for a friend fighting a nasty cold or the flu. (Check out this post for 12 Essential Oils for Fighting the Flu Naturally)
This diffuser is very portable, very versatile, and most importantly, very easy to make and use! Not to mention its just simple and pretty too! 🙂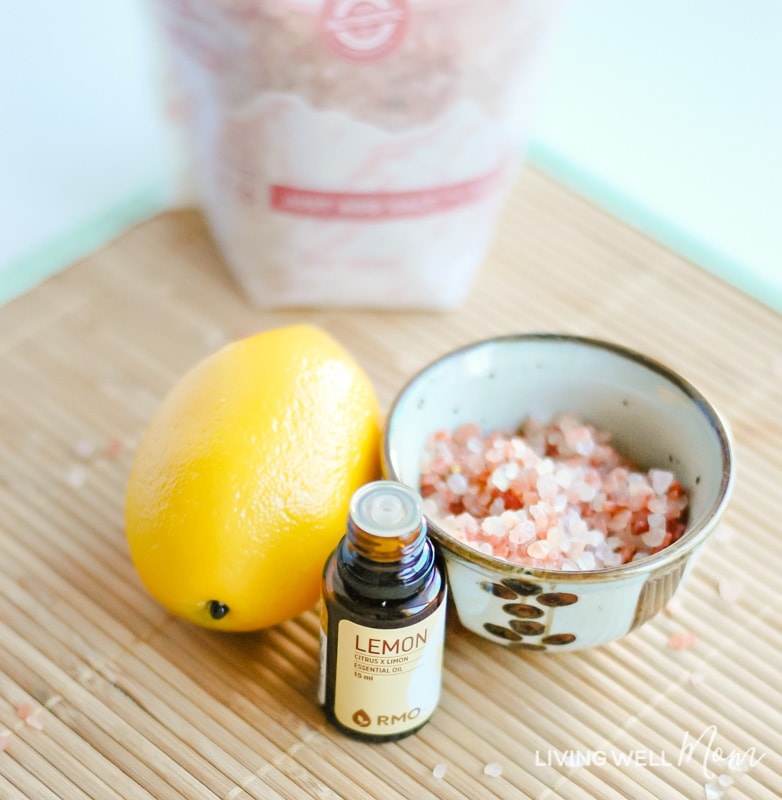 Looking for more ways to use essential oils in your home? Check out these posts: