There are few things more annoying than having to swat at those teeny, tiny flies in your kitchen while you're trying to eat. After years of trial and error, I'm happy to say I've found the best fruit fly trap ever!
In fact, if you are looking for natural ways to get rid of fruit flies, I have two different ways to do it! One is a natural fruit fly trap that uses apple cider vinegar to lure the flies and the other way is to use repelling essential oils with a spray that fruit flies will despise!
So if you are like me and have left a rotten banana on top of your fridge without realizing it until the fruit fly swarm moved in, no worries! I have a solution for you!
How to Get Rid of Fruit Flies
Before you even begin making a fruit fly trap or a fruit fly repellent essential oil spray, there are two basic things you should take care of first.
First, if you have fruit lying around your kitchen that you have brought home from the store, go ahead and wash it before you store it. You may have brought home fruit fly eggs from the store without realizing it—eek!
Second, if you know where the source of your fruit flies is coming from, then clean it up, or move it so that their source of food is not easily accessible to them…like my hidden rotten banana on my fridge, ahem.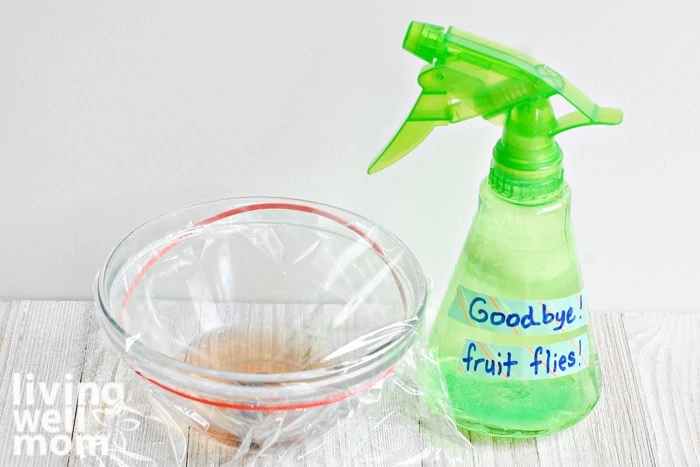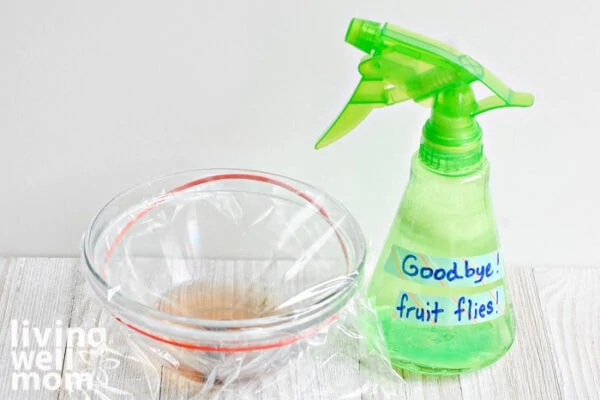 How to Make a DIY Natural Fruit Fly Trap
After you have done that, you still may have fruit flies in your house looking for food. So let's give them the food they are looking for in the form of this apple cider vinegar trap. It's super easy to make and will help you say buzz off to those guys once and for all.
DIY Fruit Fly Trap Supplies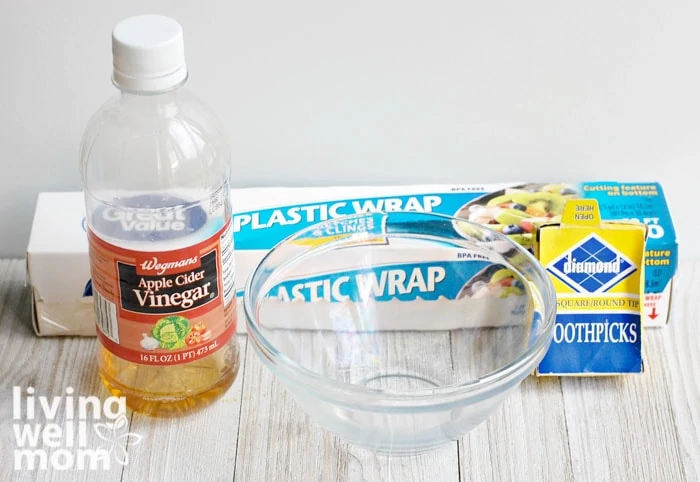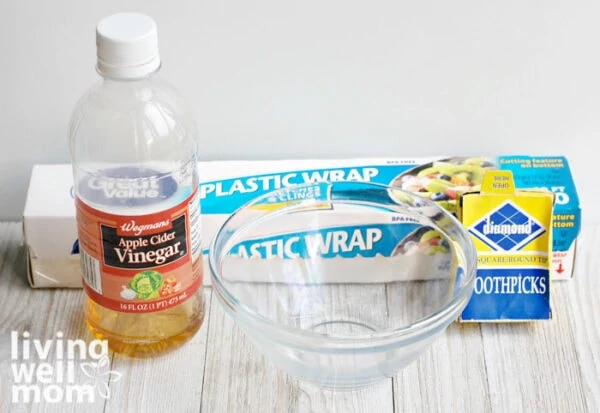 How to Make the Apple Cider Vinegar Fruit Fly Trap
Like I mentioned above, this DIY fly trap is so easy! First, grab an empty glass jar or bowl and add some apple cider vinegar to the bottom.
Next, add a small piece of fruit to the bottom which will add some more attractive "flavor" for those flies to look for.
Then cover your jar or bowl with saran wrap and secure it with a rubber band.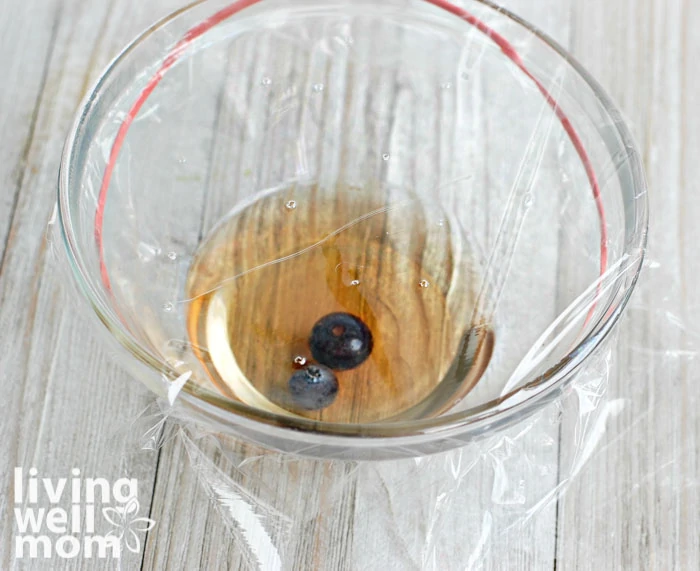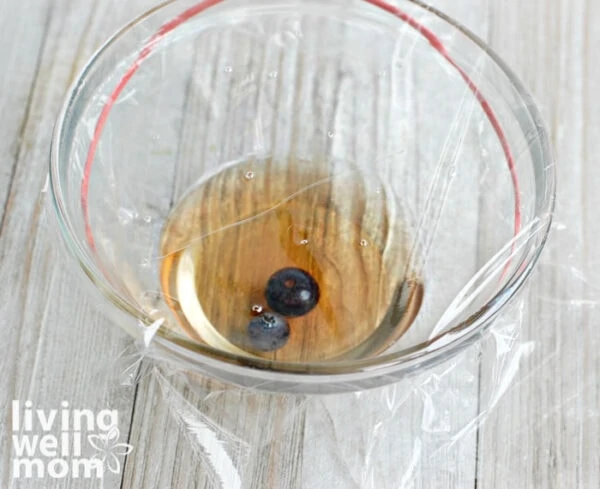 Now you need to poke some holes in the plastic wrap, either with a fork or toothpick.
I like to take a fork, poke it in the wrap and rip it a little bit. I've found that if the holes are too small (just a toothpick poked through for example), the fruit flies aren't as interested (maybe it's too much work for them to get in the trap?). But you don't want it too big either because that will allow them to escape.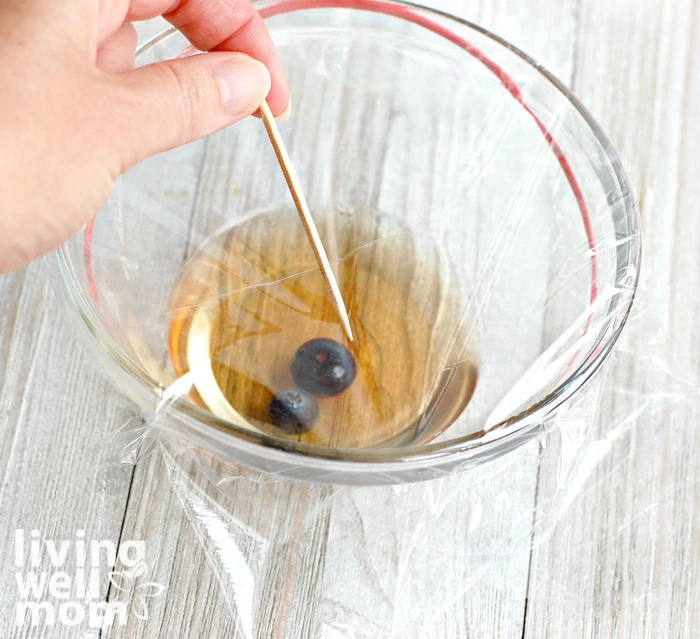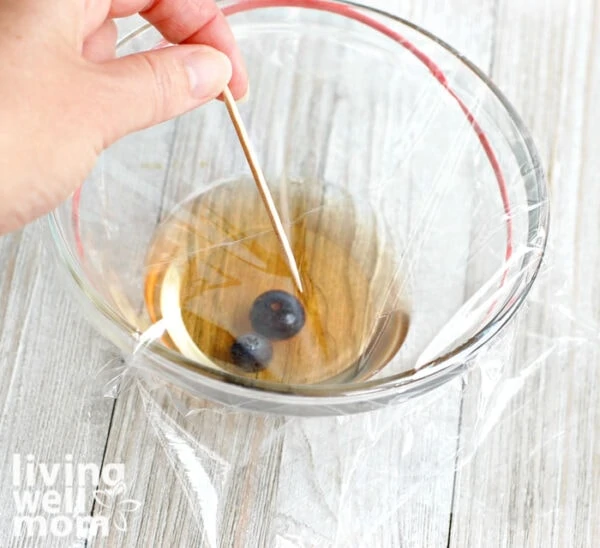 Leave your DIY natural fruit fly trap out for a few days in your windowsill or other areas near the fruit flies and you'll be amazed at the number of flies that will congregate inside the jar or bowl! It's equal parts disgusting and satisfying.
Once you've collected your unwanted kitchen pests in your apple cider fruit fly trap, you can dump the contents outside. If there are any still alive, then they can go find a food resource outside of your home!

Bug Repelling Essential ↓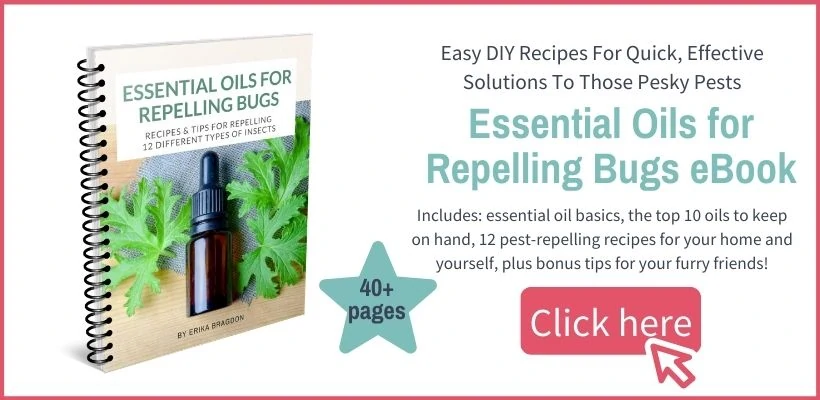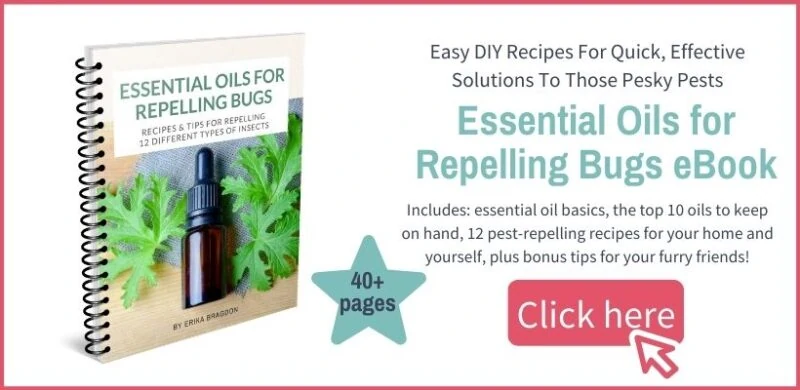 How to Make a Fruit Fly Repellent Essential Oil Spray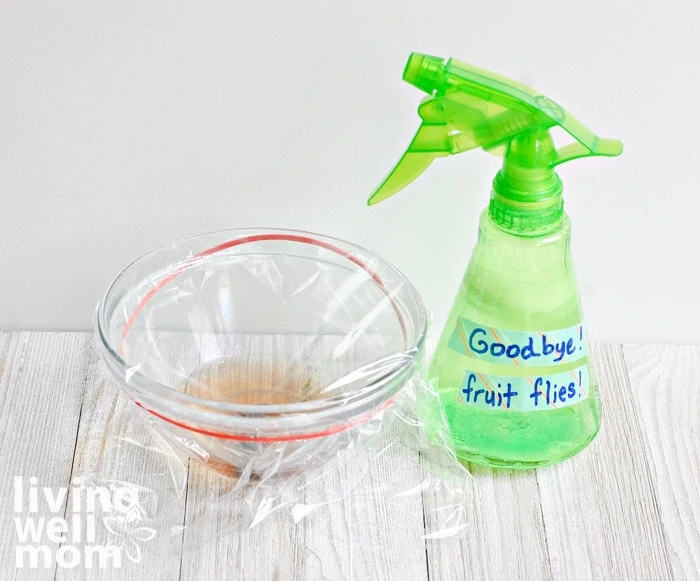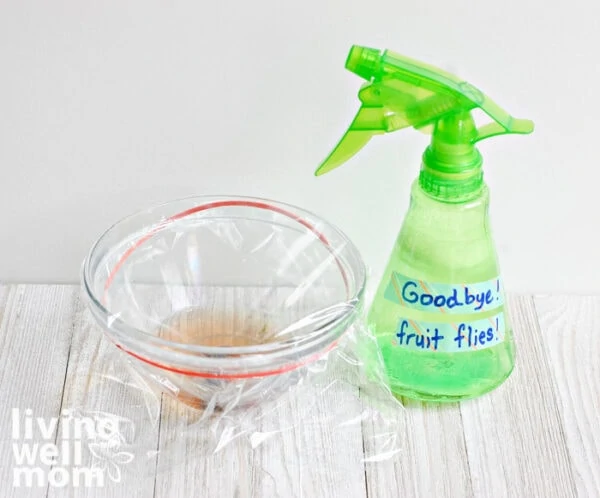 The second way to naturally get rid of fruit flies is by making a fruit fly repellant spray. There are several ways to do this, but this simple method uses essential oils fruit flies hate!
DIY Fruit Fly Repellent Spray Supplies
*Read my post here on what to look for when buying essential oils (beyond the brand.)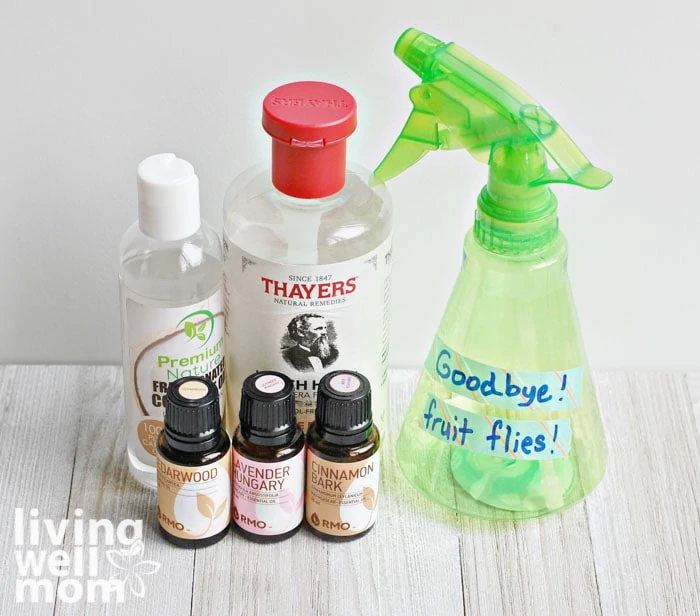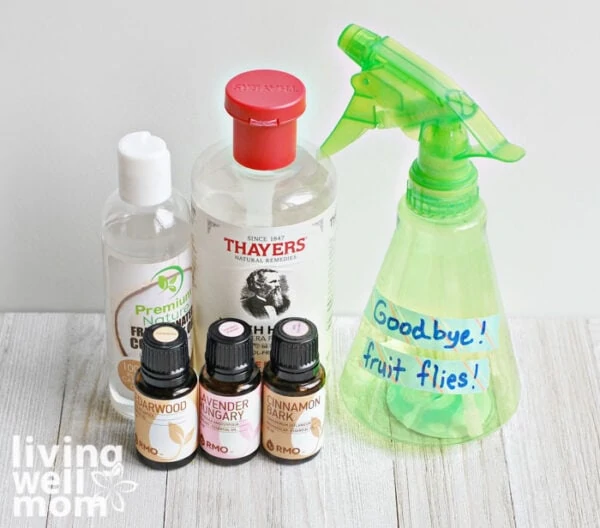 How to Make the Fruit Fly Repellent
Grab your empty spray bottle and add 3 tablespoons of witch hazel and 1 tablespoon of fractionated coconut oil.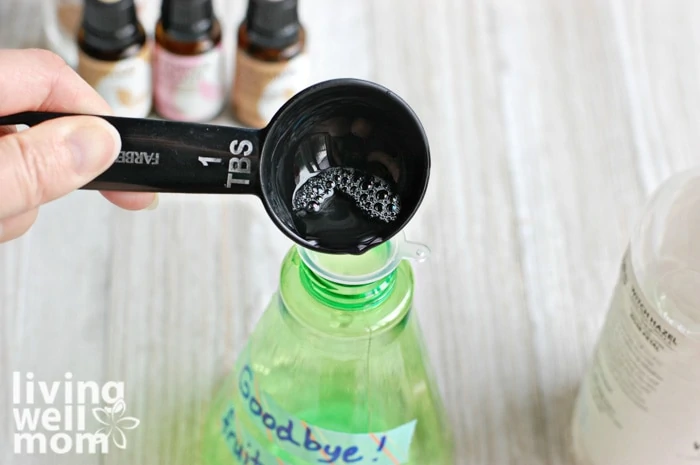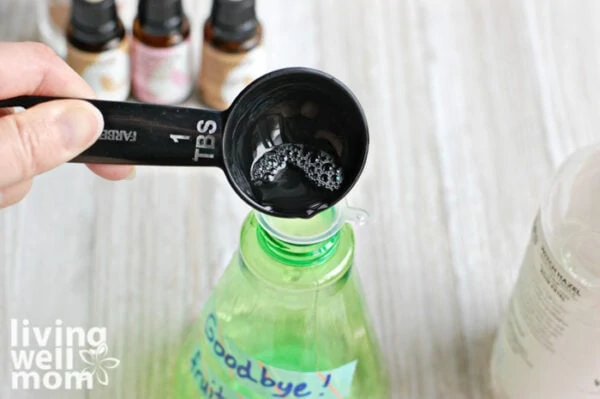 Then add 10 drops each of lavender, cinnamon, citronella, and cedarwood essential oil.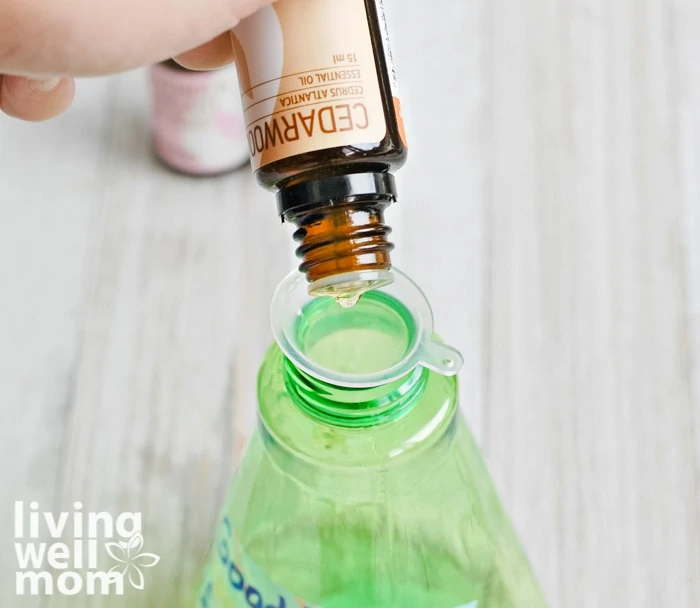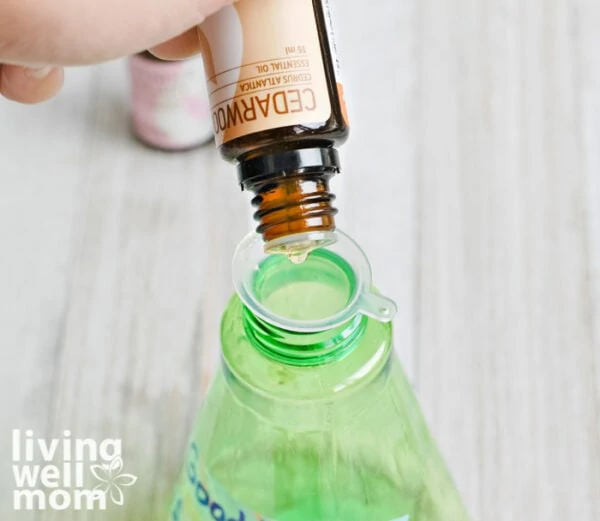 Then, fill the rest of the bottle up with water. Next, close the spray bottle and give it a good shake before spraying. Find the source of where the flies like to hang out and spray away!
The witch hazel helps the essential oil molecules spread out evenly in the blend, and the coconut oil is an emulsifier which also helps the essential oils distribute evenly in the water. This should keep your sprays effective!
Add Lavender to the Fruit Fly Repellent
I have also read (but have not officially tried) that fruit flies dislike lavender. If you have some lavender in your garden, bring some in and put it in a vase to help deter fruit flies.
You could even add a few drops of lavender essential oil on a sponge and leave that near where they like to hang out. That way even if you use your sponge in the kitchen, the lavender oil will be great for your skin and will keep that area smelling nice…at least in our human opinion.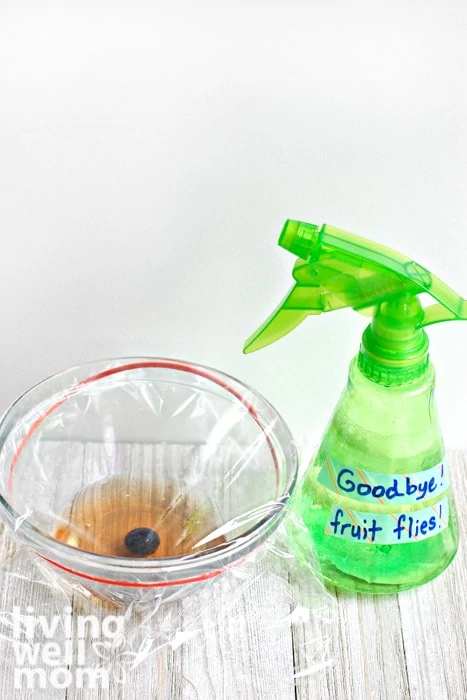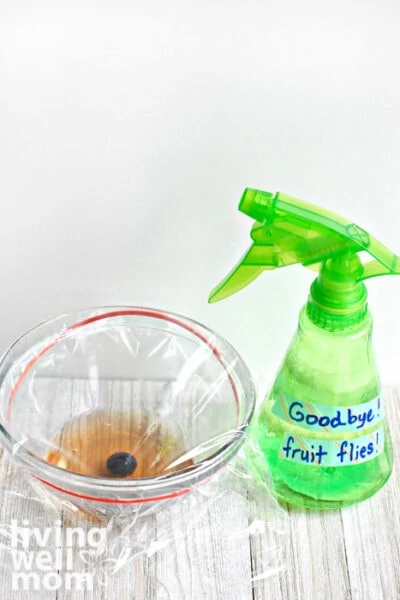 Which Essential Oil Brand is Best?
I often get asked what the brand I recommend the most is for DIYs like this. For the best results, you will want to choose a high-quality essential oil brand that is 100% pure and offers third-party testing for quality control. Read this post for more info on how to choose essential oils that work for you and your family (beyond the brand.)
My favorite essential oil company is Rocky Mountain Oils, followed by Eden's Garden, and Ancient Apothecary by Dr. Axe
.
If you try this DIY fruit fly trap or essential oil repellent spray, please come back and leave a comment to tell us how well it worked for you! If you have more essential oils or other ways you have used to deter these pests, leave those in the comments as well!
Looking for more ways to get rid of pests using essential oils? Check out these posts:
Print
DIY Natural Fruit Fly Trap + Essential Oil Spray
Get rid of fruit flies fast and naturally with this DIY natural fruit fly trap and essential oil repellent spray recipe.
Instructions
Add 3 tablespoons of witch hazel and 1 tablespoon of fractionated coconut oil to your empty spray bottle.
Add 10 drops each of lavender, cinnamon, citronella, and cedarwood essential oil.
Fill the rest of the bottle up with water. Close and shake well before spraying. Spray where the fruit flies are.
Pin the image below to save the recipe for later.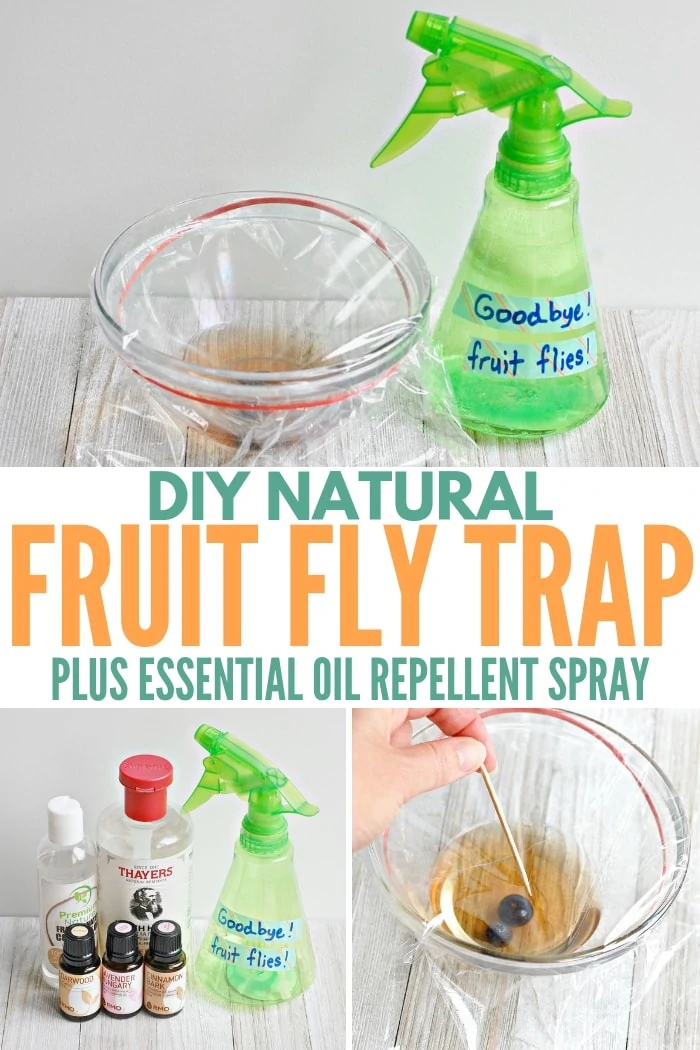 https://amzn.to/2ZAvnqy