The warm summer months are the perfect time for picnics, barbecues, and spending time outdoors with family and friends. Unfortunately, it's also the time for pesky mosquitoes that can ruin your fun. Instead of using harsh chemicals to repel these bugs, why not try making your own DIY citronella candles?
Citronella candles are everywhere this time of year and for good reason – they really do help keep those pesky mosquitoes away! Of course, you can run to the store and buy a few candles. But where's the fun in that? Instead, try making homemade citronella candles.
Homemade citronella candles are surprisingly easy to make using only all-natural ingredients, and they smell great too! In this blog post, I'll show you how to make citronella candles in just a few simple steps.
As an added bonus, you can also add specific essential oils that can help ward off biting horse flies too!
Benefits of Citronella Candles
There are many benefits to using citronella candles. This is especially true if you make them yourself with essential oils and other natural ingredients.
First of all, citronella oil itself is a natural mosquito repellent. Most people know this, but did you know that it's also effective against other flying insects like gnats and flies? Candles made with citronella oil can help keep your outdoor space bug-free so that you can enjoy the summer months without worry (and without potentially harmful bug sprays).
Another benefit of citronella candles is that they can help create a relaxing and pleasant ambiance. While bugs can't stand the scent, most humans find that the citrusy smell of citronella oil is refreshing and invigorating, making it the perfect addition to any outdoor gathering.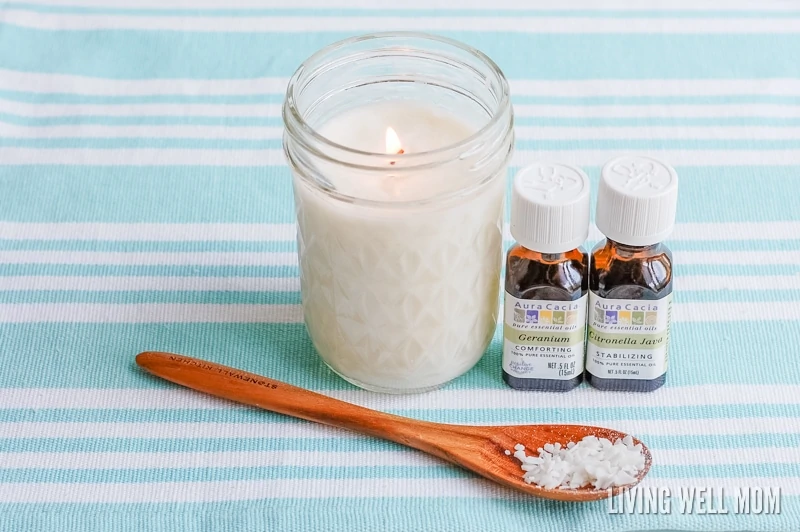 Lastly, DIY citronella candles are much cheaper than store-bought options, and they're also an eco-friendly way to upcycle old containers in your home such as mason jars or old tin containers.
Now that you know some of the benefits of using citronella candles, let's take a look at how to make them and keep the bugs at bay for good.
DIY Citronella Candle

Supplies

What You'll Need: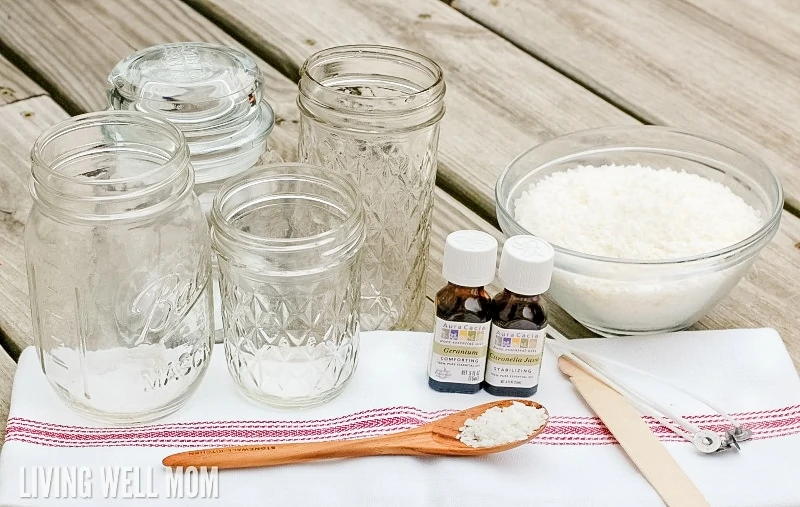 Instructions: How to Make Citronella Candles
The first step in making a homemade citronella candle is to melt your soy wax in a double boiler. You can simply put your glass measuring cup in the saucepan with a couple of inches of boiling water.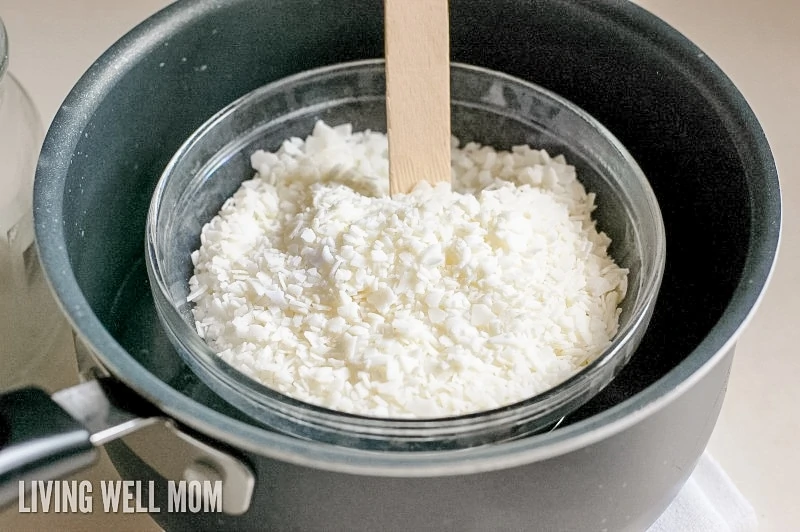 One note on your jars – you don't have to only use mason jars. I had a few different-sized glass jars at my house and made a variety of sizes. However, I did find the 8oz sizes are the easiest size – for placing your wick (read down a couple of steps), and for lighting your candle later.
Go ahead and use empty glass jars you have at home. But if you don't have any, or you want to make a bunch and use them as gifts – then I totally recommend getting a dozen 8 oz glass jelly jars.
For each 8 oz candle you make, you will need about 2 cups of soy wax chips. The 3 lb bag of soy wax chips should get you at least (8) 8oz glass jar candles.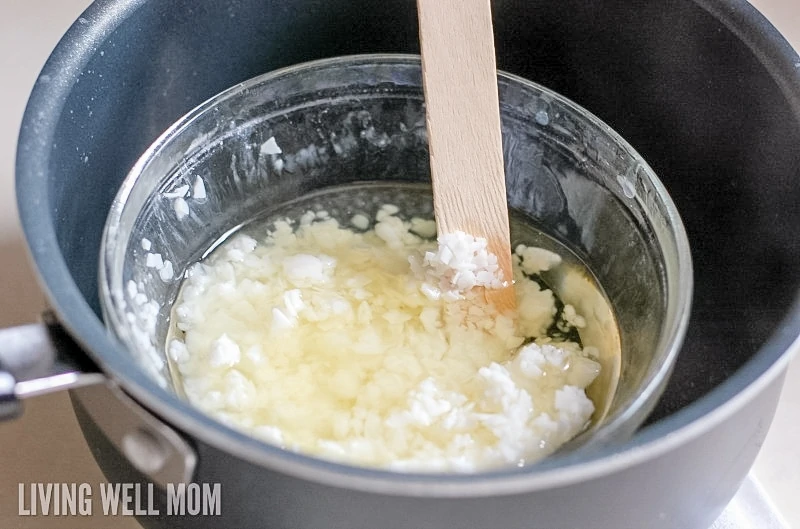 I suggest using disposable popsicle sticks to stir your wax while it is melting. This wooden "handle" won't get hot while you stir. Plus, you don't have to worry about cleaning it (cleaning wax is a huge pain!)
Use citronella and geranium essential oils for your homemade citronella candles. Read this post here about the 5 must-have essential oils you need for camping and why I suggest using geranium with your citronella. This bonus oil really helps get rid of the biting horse flies. It's not a magic wand that makes the flies completely disappear, but they are way less likely to land and bite when the geranium is nearby.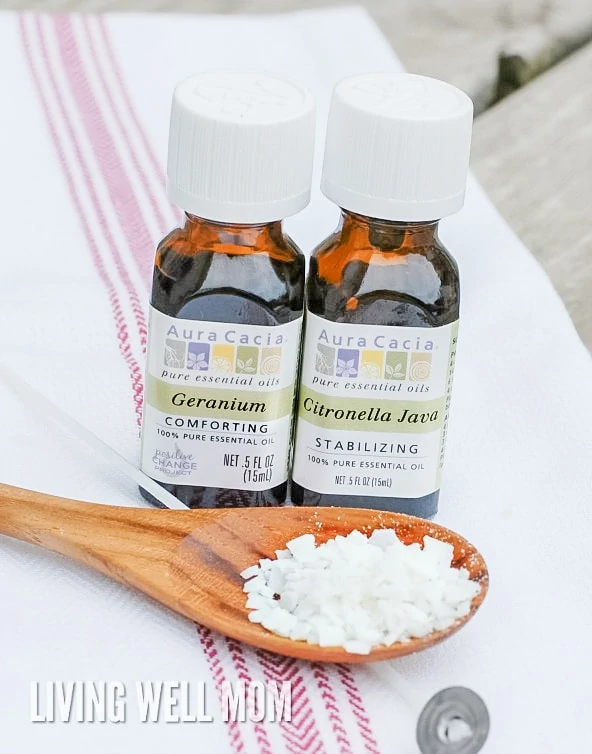 Use a 2:1 ratio for the citronella and geranium oils. For the 8 oz jars, add 16 drops of citronella and 8 drops of geranium.

It gets a little tricky making sure your wick stays straight and in the center when you pour in your melted wax into your 8oz glass jar. One tip is to put a few drops of wax at the bottom of the jar, then place the wick in it. You can also use a hot glue gun to hold it in place.
Make sure the wick is centered and let it cool and harden. This will help it stay in place when you pour in the rest of the melted wax.
When your wax is melted, use a pot holder to pull out your glass measuring cup from the saucepan and pour the melted wax into your jar.
I used 2 more popsicle sticks to hold the wick in the center while I waited for the wax to harden.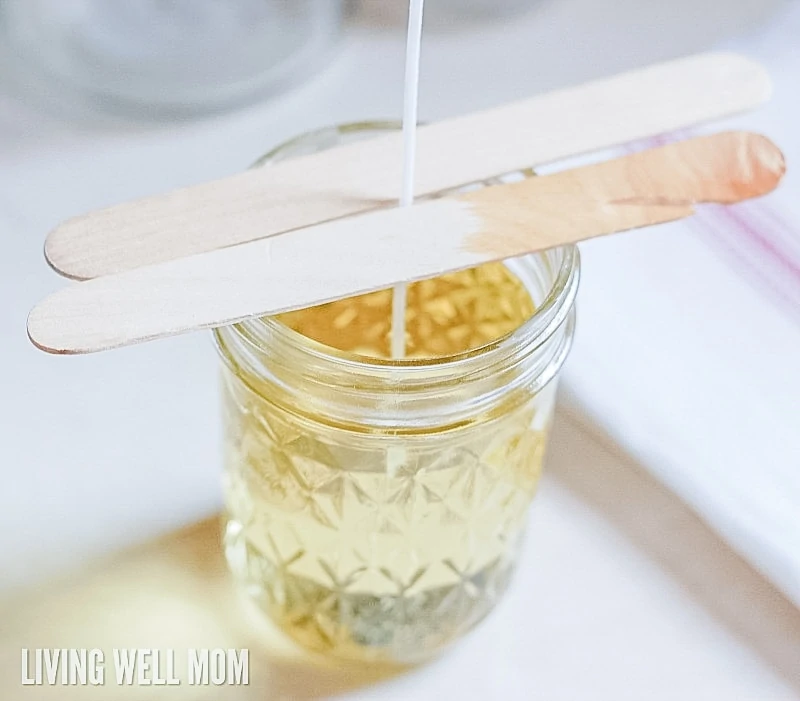 It will take a couple of hours for your wax to cool and harden. When it does, then you can go ahead and trim the wick.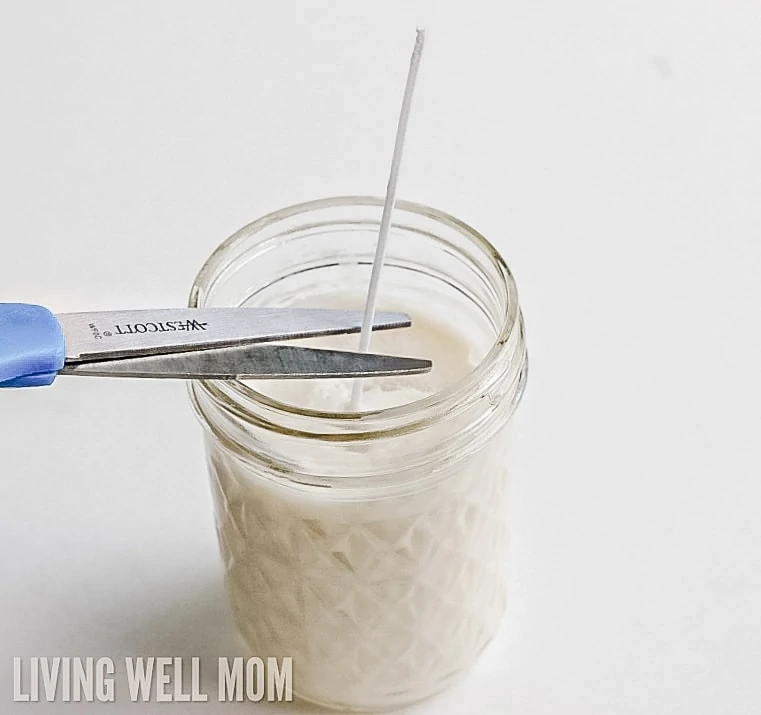 Now your homemade citronella candles are ready to use! Bring them camping, keep them outside on your deck or patio area, or have one on a nearby table when you weed the garden!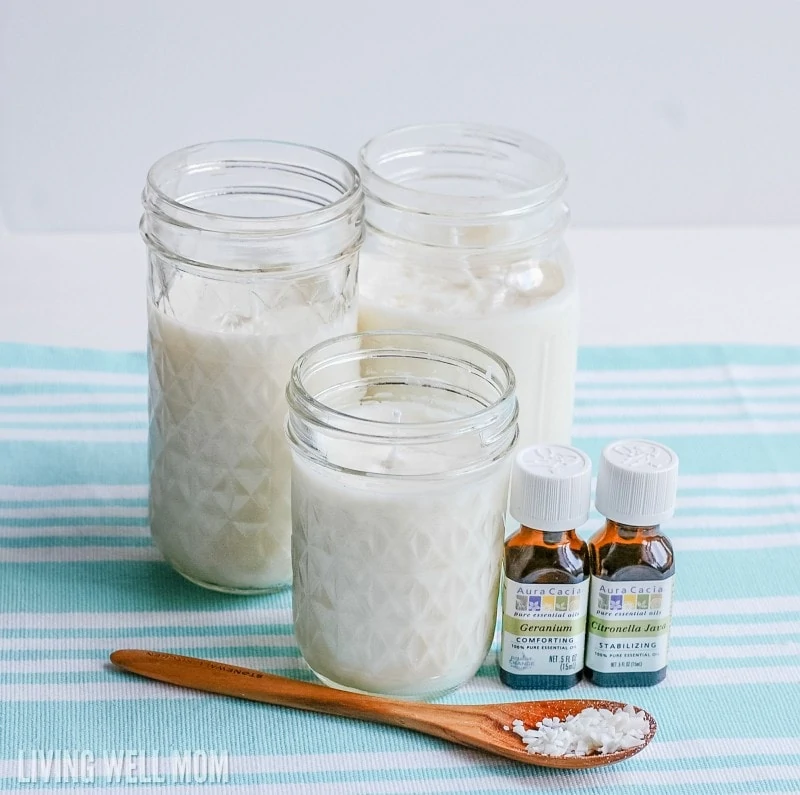 There are noticeably fewer mosquitoes and flies around when I have my homemade citronella candle lit!
Bug Repelling Essential Oils↓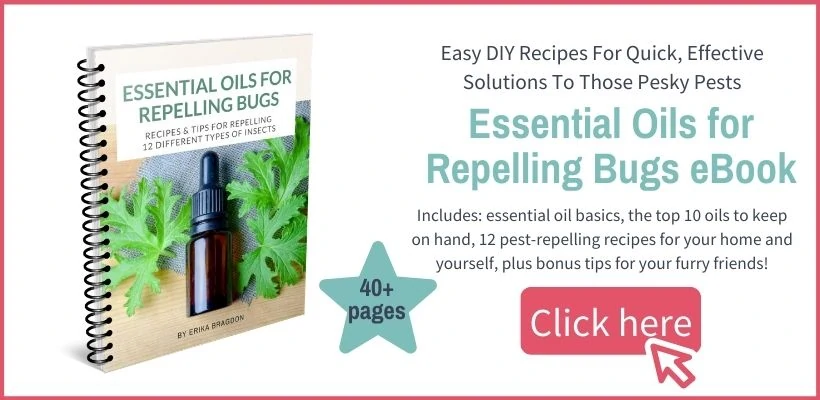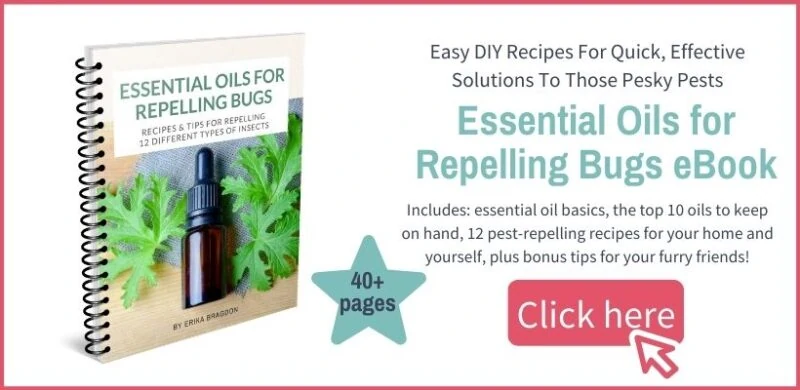 More Ways to Repel Bugs with Essential Oils