Fire ant bites can be painful, itchy, and downright unpleasant. Luckily I've got an all-natural fire ant bite remedy that can alleviate the discomfort quickly.
I live in New Hampshire, far up in the north, and we're fortunate enough to not have fire ants where we live. However, I experienced my first fire ant bite recently when I was visiting family in Texas. Ouch!
My First Experience with Fire Ants
Those darn little ants look innocent (very similar to our harmless "sugar ants" up north), but they are not!
Okay, so the fire ant bite wasn't THAT horrible and I'm sure to the average person in the south, fire ants are just part of life and not that huge of a deal. Me? I called my husband and told him I got bit by a fire ant and his reaction was, "Oh NO! Are you OKAY?!" (Yes, my sister-in-law was laughing at our "Yankee/northerner overreaction", but to us, it was completely new!)
But regardless of one's perspective, fire ant bites DO burn and sting.
Thankfully, I was able to quickly put together a mix of essential oils for ant bites that helped alleviate the pain, burning, and itching.
Erika Bragdon is a Certified Essential Oil Coach from the Essential Oil Institute.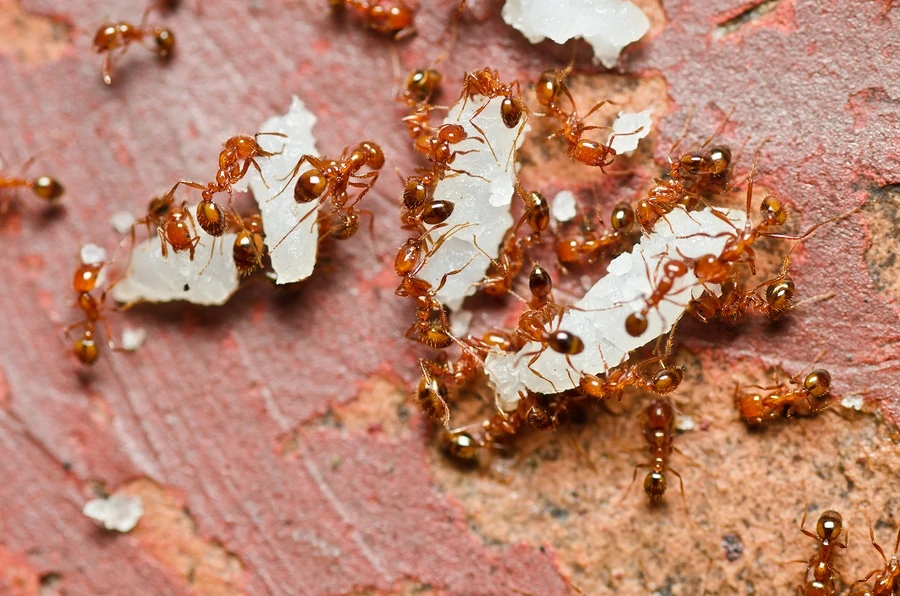 Try to Avoid Fire Ant Bites
Of course, the best "solution" is to avoid getting bitten by a fire ant in the first place! But for me, at least, they seemed to come out of nowhere even though I was carefully avoiding their nests. When I was bitten, I literally stepped one foot off the back patio area onto the dirt and grass and two minutes later, I jumped at the burning sting on my left foot.
My sister, who also lives in Texas, confirmed it was, in fact, a fire ant on my foot. (I was wearing flip-flops.) There were three other fire ants swarming on my foot too, but I quickly brushed them off and was luckily only bit once.
My sister was bitten three times on her ankle. She was wearing shoes and apparently they don't care and WILL climb up higher and find flesh to bite. Yikes!
Nasty mean ants! We checked that area later and there was no sign of any ants there later. (Is that normal for ants to attack you for merely stepping on the ground? Apparently so.)
By the way, this is what a fire ant dwelling looks like—if you see one of these, run!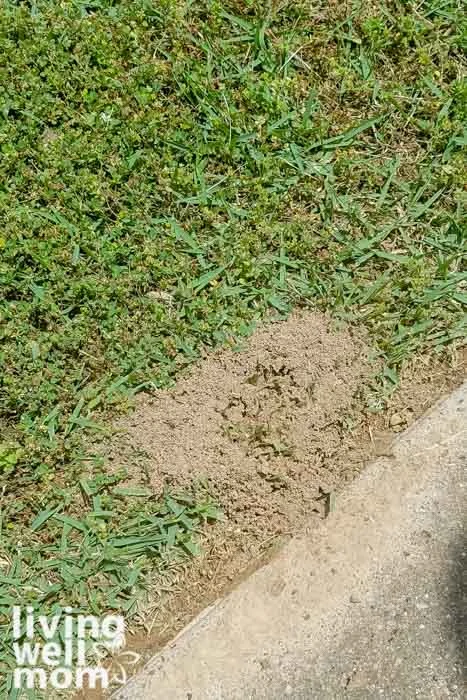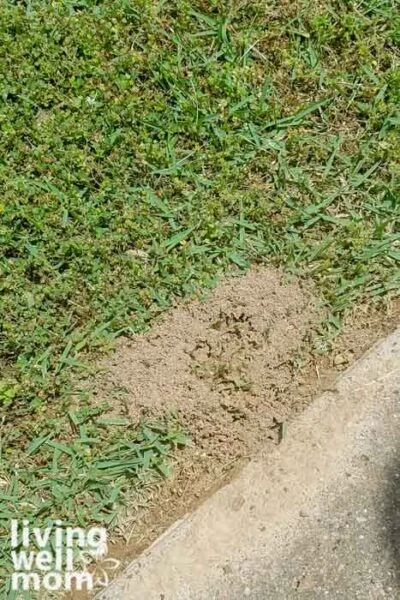 But, accidents happen and if you step on one of these guys, you'll definitely want this natural fire ant bite remedy with essential oils.
Natural Fire Ant Bite Remedy
My brother is a paramedic and shared an interesting ant bite remedy that effective and fast. Here's what to do if you are attacked by fire ants.
Easy Ant Bite Remedy #1 – Hot Water
Run the affected area under hot water, being careful not to burn yourself. Hot water will help neutralize the venom and ease the stinging and itching.
If the bite is on your foot or leg (as will usually be the case), you can run hot water into your bathtub as you hold your foot or leg under the running water. Again be careful you don't burn yourself. You want the water to be as hot as possible without causing more pain.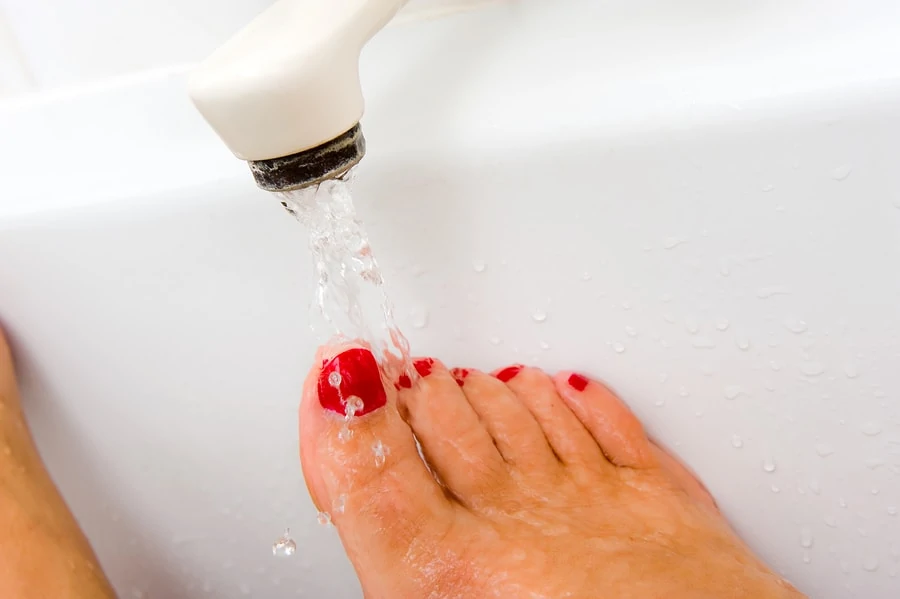 Do not try this for young children as you don't want to burn them. I only recommend this for older children, teens, or adults who can monitor the water temperature themselves.
My sister and I both tried this hot water ant bite remedy and it was quite helpful; the burning sensation eased quickly.
Ant Bite Remedy # 2- Essential Oils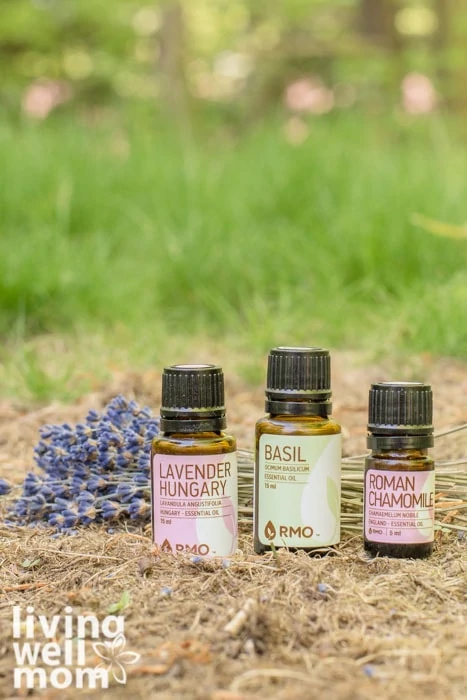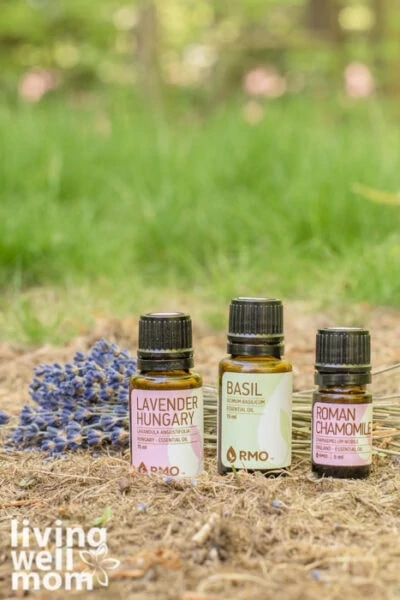 The other option is to use essential oils for ant bites. With a bit of experimenting, I found the best combination for treating these painful bites.
Lavender Essential Oil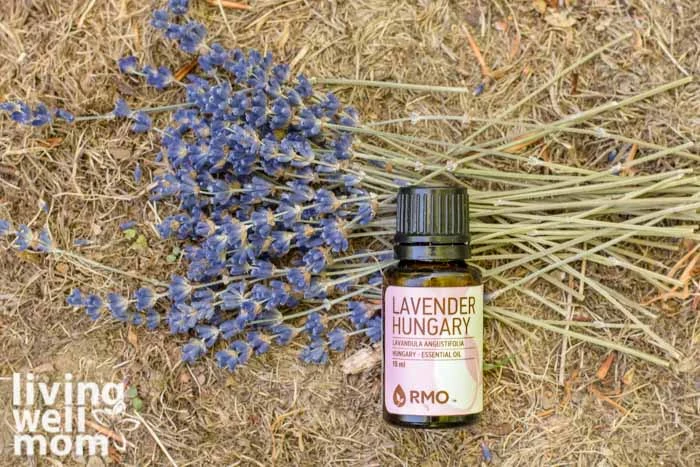 My favorite fire ant bite remedy is to use lavender oil. It will ease the pain of the bite naturally and it's safe and gentle enough for most, including young children. It also works VERY well.
Lavender works well because it has soothing and inflammatory-reducing properties and can help ease the pain, inflammation, and irritation from fire ant bites.
I use Lavender essential oil (species: lavender Angustifolia) from Eden's Garden as an ant bite remedy.
I also recommend and use Rocky Mountain Oils, while Dr Axe's Ancient Apothecary is another excellent essential oil brand.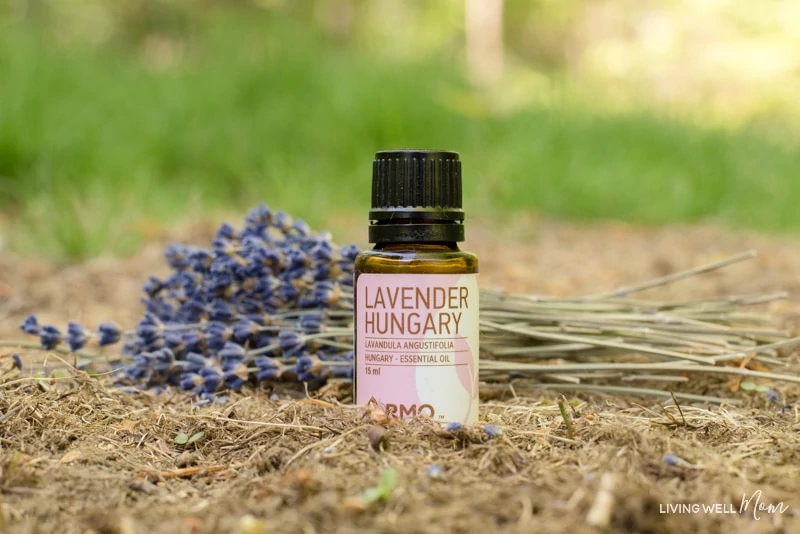 How to Use It:
Add a teaspoon or so of carrier oil (I use fractionated coconut oil) to the palm of your hand, along with 1-2 drops of lavender essential oil and gently apply to the fire ant bite.
You may need to apply diluted lavender essential oil to the bite several times.
In my experience, the lavender essential oil eased the irritation and pain for about 15 minutes, so I applied more lavender oil every 15-20 minutes for about an hour. After that, I forgot about the bite because the irritation, including pain, burning, stinging, and itching, completely disappeared and did not come back.
Lavender essential oil was very effective as a natural fire ant bite remedy.
I wish I had thought to take a photo of the initial bite to show you a before/after, but I was too surprised at what had happened and didn't think about it. This photo below is less than 24 hours later and you can barely see anything. I did the hot water trick immediately afterward and applied lavender oil several times.
My little niece was bitten by a fire ant and over a week later, you could still see the red welt by her little toe. This was with no essential oils applied.
Because lavender essential oil is so gentle, you can safely use diluted amounts on young children and even babies (hopefully you wouldn't ever need to with a baby, but you never know!) Just be sure to dilute!
More Essential Oils for Fire Ant Bites: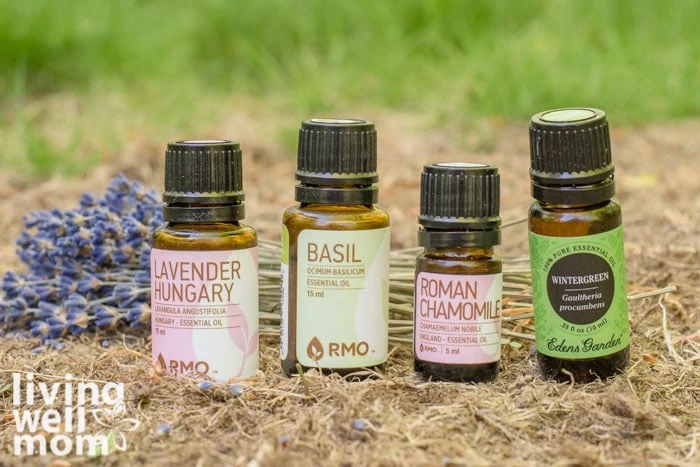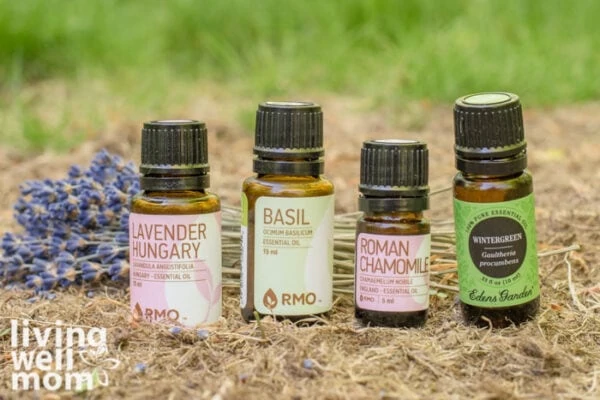 Roman Chamomile essential oil (I use species Chamaemelum Nobile) can be helpful for calming and soothing the bite area. (Buy from Eden's Garden | Rocky Mountain Oils | Amazon)
Basil essential oil (species: Ocimum basilicum) can be helpful for relieving itching. It's one of my favorite essential oils for relieving mosquito bites too. (Buy from Eden's Garden | Rocky Mountain Oils | Amazon)
Wintergreen essential oil (I use species: Gaultheria procumbens, although I have no reason to believe other wintergreen species wouldn't be effective) may help ease pain due to its chemical compound of methyl salicylate, which has been shown to help naturally relieve pain. (Buy from Eden's Garden | Rocky Mountain Oils | Amazon)
Safety Note: DO NOT use wintergreen essential oil on children under age 10; it is not safe because it has a similar chemical makeup to aspirin. Be sure to dilute and never use wintergreen internally as the methyl salicylate is NOT safe for internal use. (I wouldn't recommend internal use of essential oils in this case, but just in case someone thinks about it, it's good to know that it is NOT safe to use wintergreen internally.)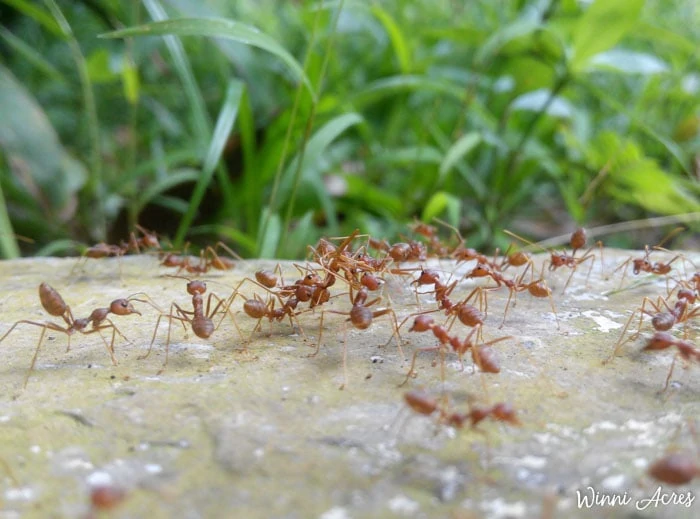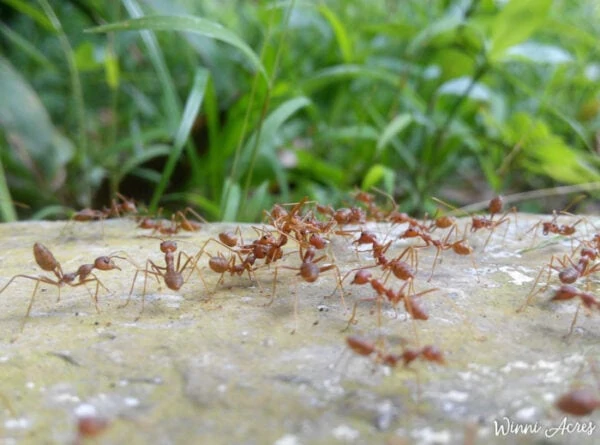 While obviously, the best option is to not get a fire ant bite in the first place, now you see that there are simple, inexpensive and easy-to-use home remedies for fire ant bites that can naturally bring fast relief.
Do you have any natural solutions for fire ant bites?
Just pin it below to find the instructions later!