I have an easy, melt-and-pour, citrus-scented homemade goat milk soap for kids recipe to show you today. It's easy enough for kids to help you make and they will enjoy not only making their own bar soap but also helping choose the scent too. And it may even inspire them to scrub extra hard behind their ears and knees because they helped make it!
If you've never made your own melt and pour soap before, you'll be pleasantly surprised at just how easy it is, and how much fun it can be to customize your own soap bars!
Homemade Citrus Goat Milk Soap for Kids Recipe
What You'll Need:
This goat milk soap for kids recipe is enough to make 12 bars.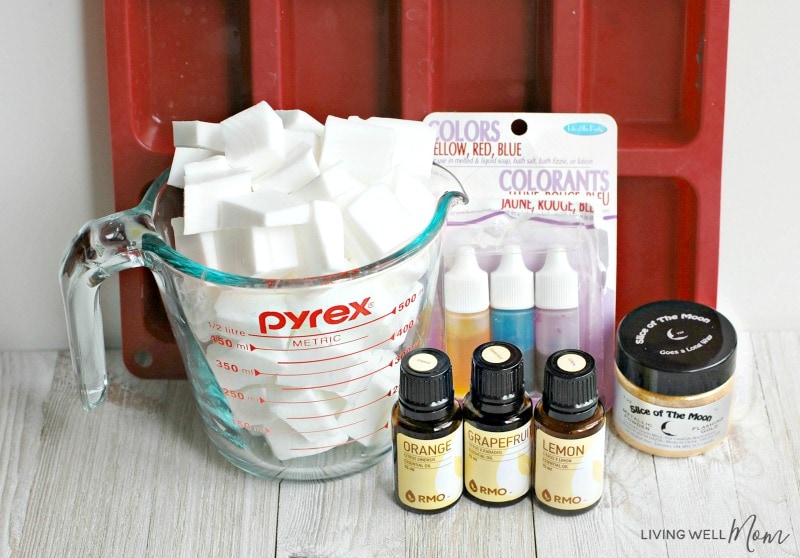 First, take your 2 lb block of goat's milk soap base and cut it into strips, and then cubes. The large block of the goat's milk soap base is smooth and silky, and it cuts easily with a kitchen knife. Depending on the age of your children, you may want to take care of this step yourself instead of them doing the cutting.
Place the soap cubes inside the microwave safe measuring cup. My Pyrex glass measuring cup holds about half of the soap (1 lb) – so I made these citrus soap for kids bars in 2 different batches.
Microwave your soap cubes for 1 minute. Take it out and stir the cubes as they start to melt.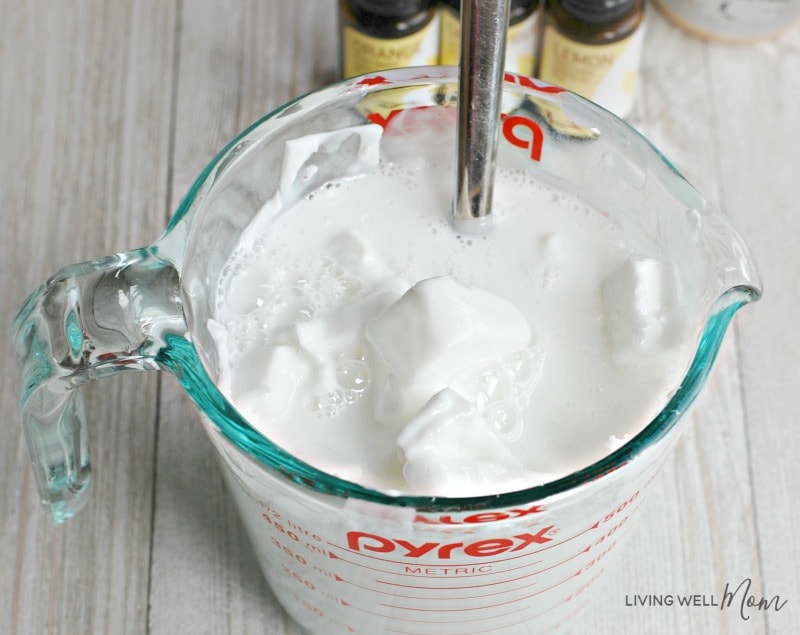 Put it back in the microwave for another 30 seconds and stir again. Repeat until all of the solid soap is melted.
Once the soap is melted, it is time to add the color, the scent, and the sparkle! Let's start with the color. I wanted a light orange color because I decided it would go well with the citrus scent.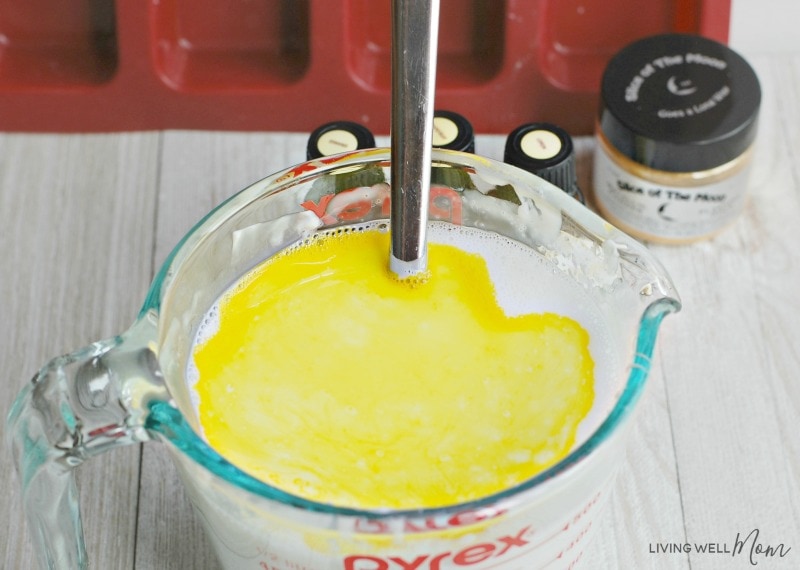 To get a pale orange, I used 20 drops of yellow soap color and 10 drops of red. If you want a bolder orange (and if your kids just want to experiment with soap colors, then, by all means, double that amount and see what you get!)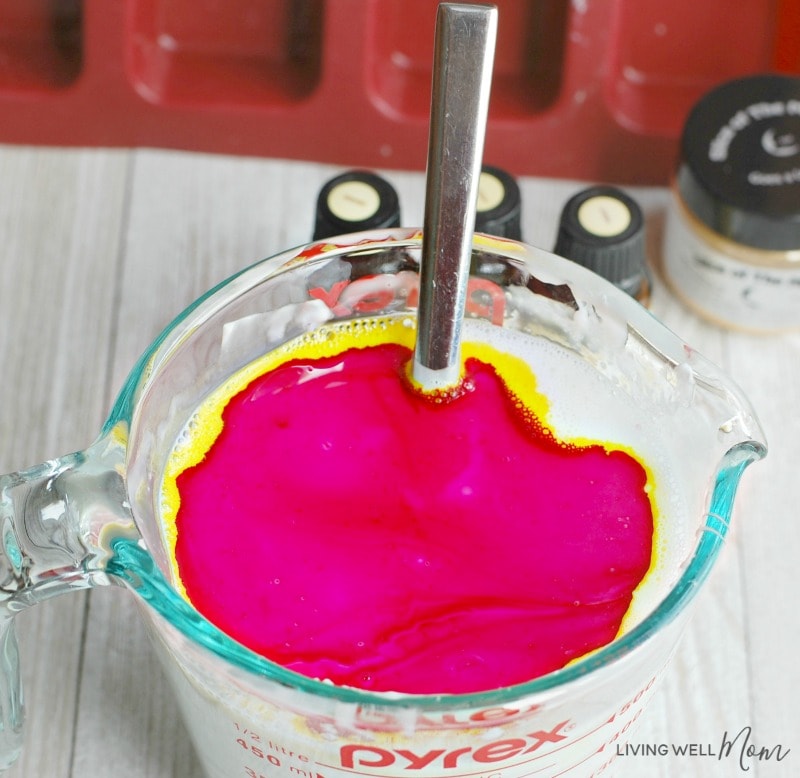 Once you start stirring your melted goat soap, you'll see the colors begin to mix and blend into a soft orange.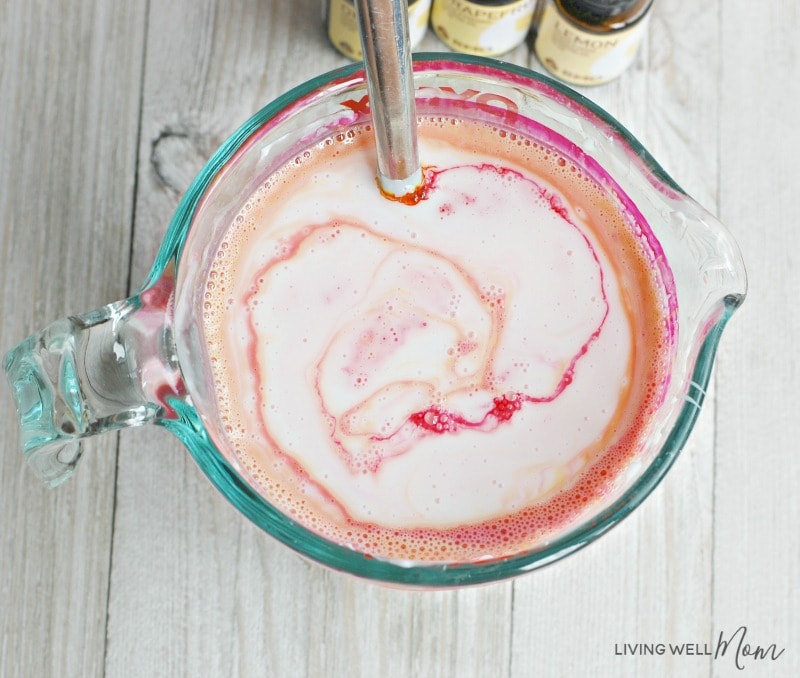 Continue stirring until you get a nice solid, pale orange color. Again, if your kids are helping you with this step, then let them experiment a bit more with the color and make it bright yellow if you prefer! (I suggest about 40 drops of just yellow color.)
Now it's time to add a bit of sparkle! This is an optional step, but I love adding mica powder to my soaps. This is the same material that makes lipstick and eye shadow sparkle as well – so let's add some to our soap!

Add about one tablespoon of the gold mica powder. Add half at a time and stir well in between. You will need to stir this really well as it tends to clump into tiny mica powder balls and adding half at a time will help it spread out more evenly.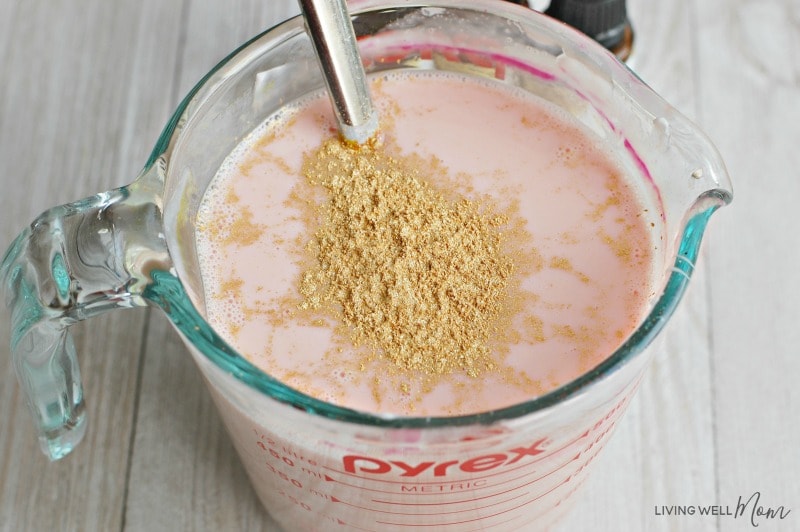 Now for our citrus scent – I chose three citrus oils – lemon, orange, and grapefruit – and added 15 drops of each.
If you are making this soap for children younger than 5, you can decrease the essential oils to 10 drops each.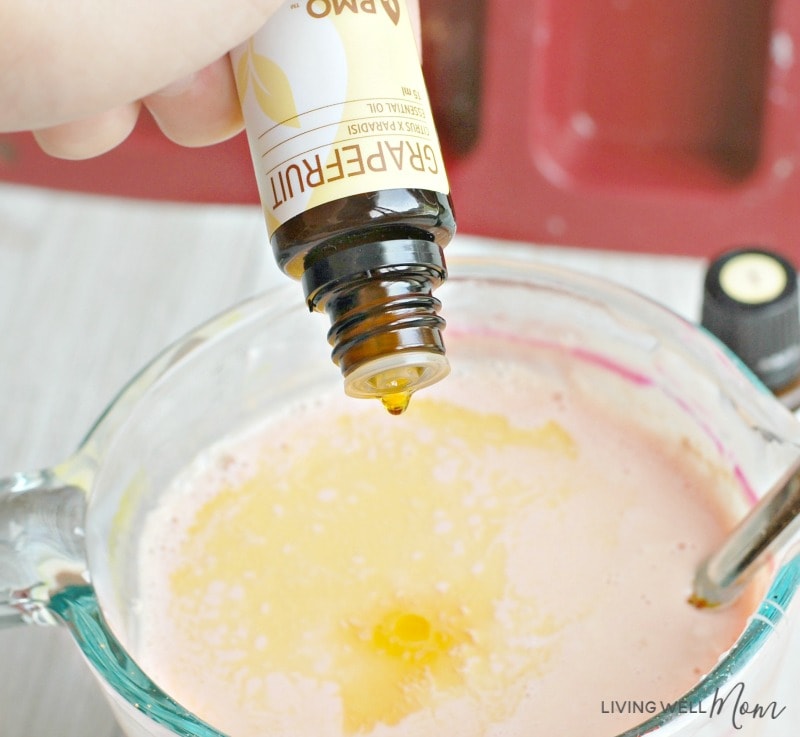 These citrus essential oils blend very nicely together, but if you prefer one of these citrus fruits over the other, then feel free to adjust the amount of essential oil drops you add.
After you have added the color, sparkle, and scent, you may need to put your soap back into the microwave again for 30 seconds to make sure it's hot and pourable. (sometimes it cools too much during the mixing stage.) Once it's hot enough, go ahead and pour your bars into the silicone mold.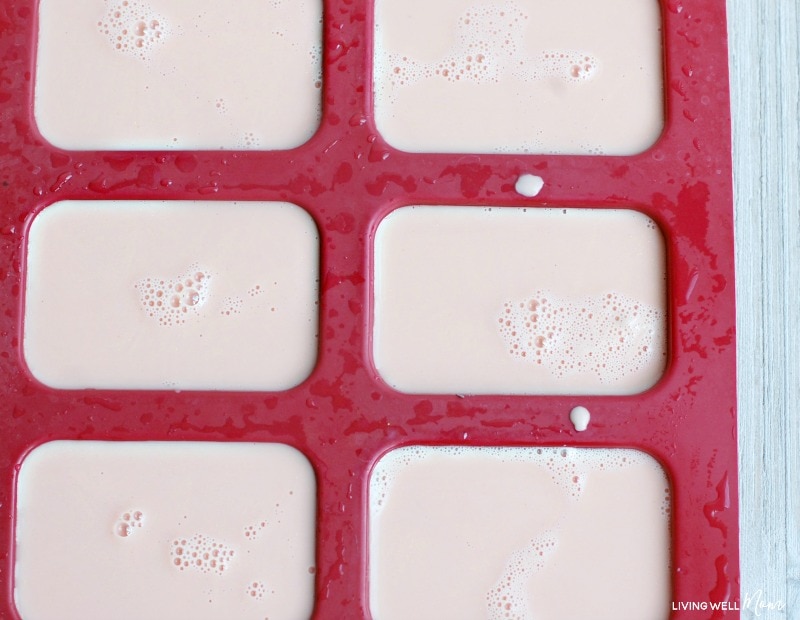 If you want a nice smooth bottom on your soap without bubbles, then spray the hot liquid soap with a 50:50 mixure of isopropyl alcohol and water. Once you do, small bubbles will pop to give you a smooth bottom. Again, this is optional but helps give your homemade goat milk soap for kids a bit of a nicer finish.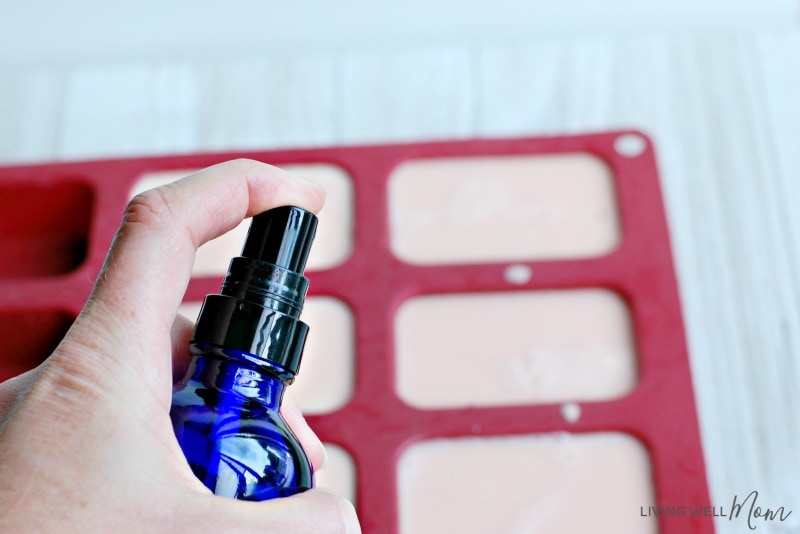 Let your goat milk soap bars cool for a few hours until they are completely solid. You may even want to let them cool overnight.
Once cool, gently pop them out of the mold. Your kids will love helping you get them out of the mold!
Since these goat milk soap bars are made by and for kids, you may as well make them colorful! I added some colorful polkadot ribbon to wrap around each bar – perfect if you are using these as a gift.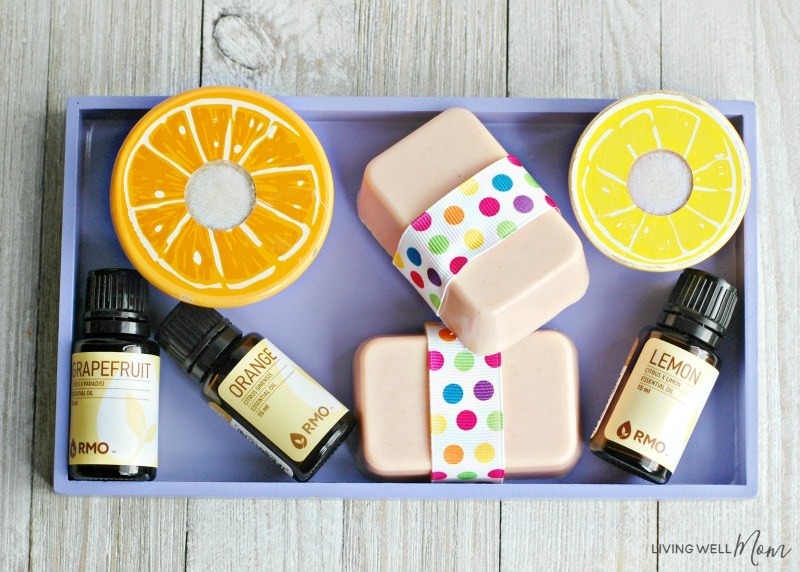 This goat's milk soap base is sudsy and smooth, and smells incredible with this blend of citrus essential oils. Go ahead and toss a bar into your kids bathtub! You can even use this as face soap for yourself! The citrus essential oils are "awakening," which could be great for us moms to have in the shower in the mornings.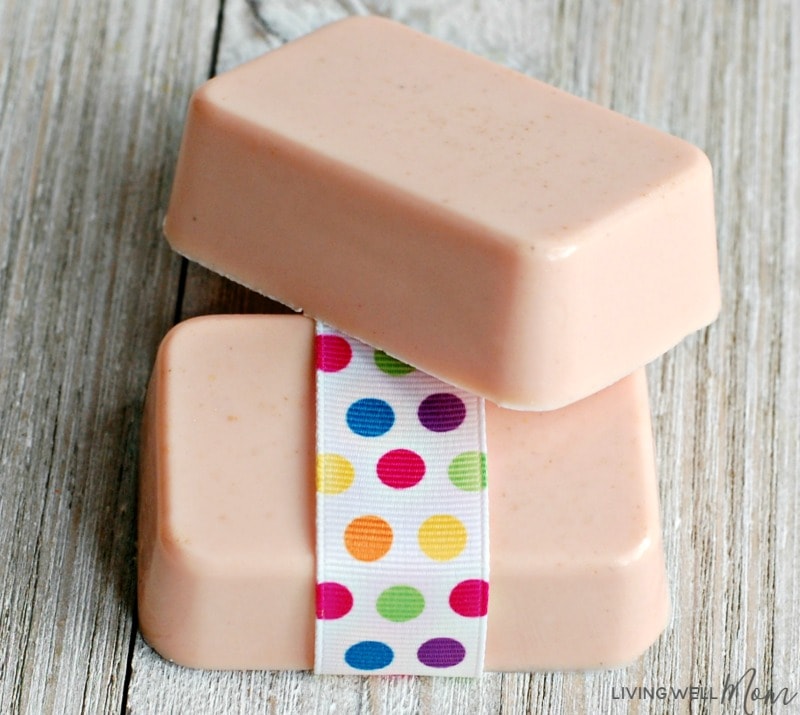 If your kids are anything like mine, they will want to make this homemade goat milk soap for kids recipe over and over again and experiment with different scent and color combinations. Thank goodness it's so easy!
These citrus goat milk soap bars also make wonderful gifts. Try adding one to your family's Christmas stockings or give them away to relatives. Grandma will love some goat milk soap from the grandkids!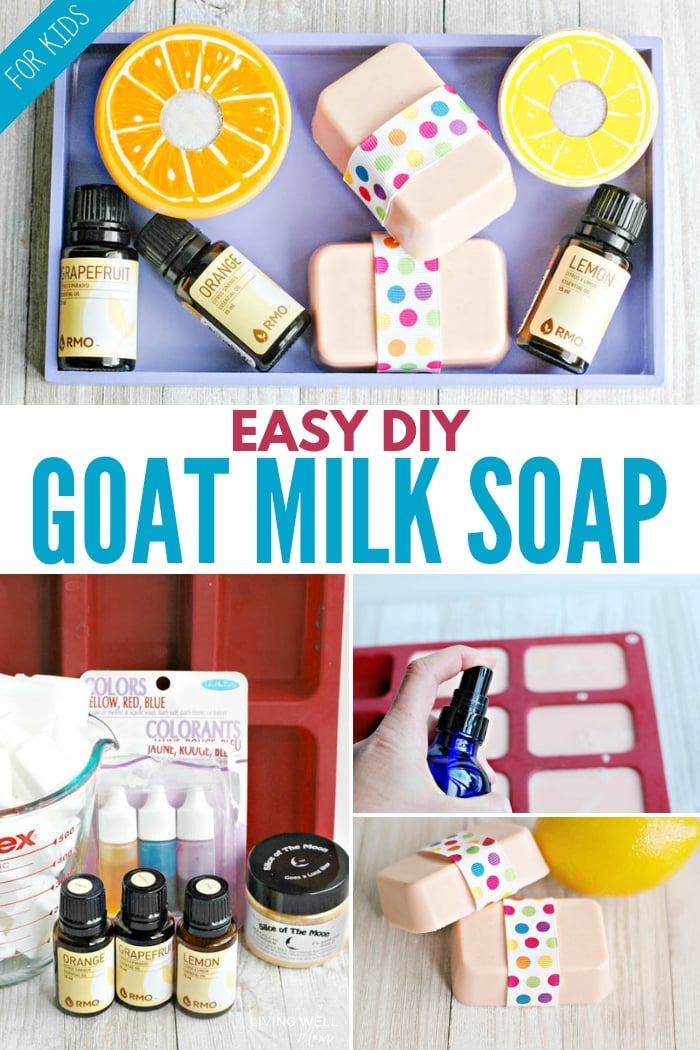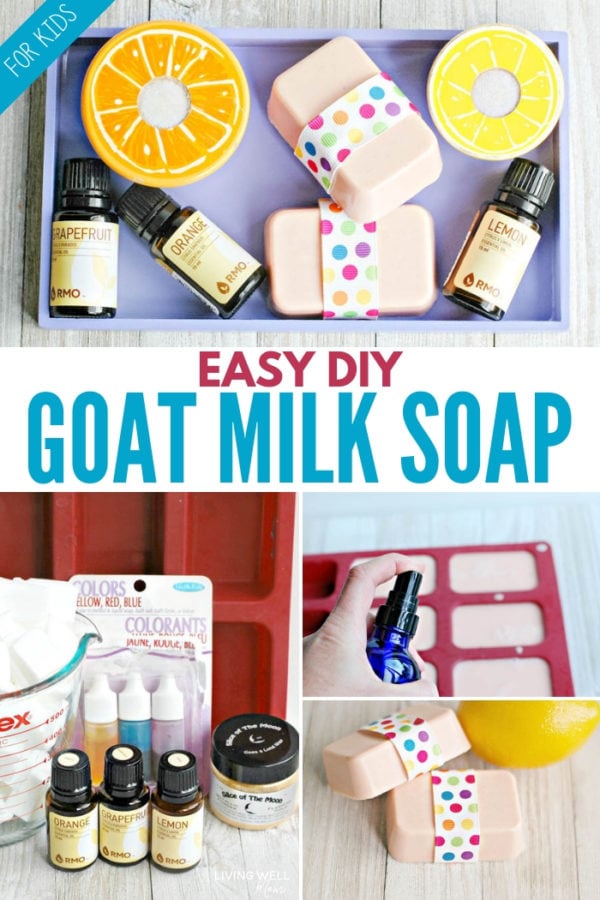 Looking for more ways to use essential oils for or with your kids? Check out these posts:
Which Essential Oil Brand is Best?
For the best results, you will want to choose a high-quality essential oil brand that is 100% pure and offers third-party testing for quality control. Read this post for more info on how to choose essential oils that work for you and your family (beyond the brand.)
My favorite essential oil company is Rocky Mountain Oils, followed by Eden's Garden, and Ancient Apothecary by Dr. Axe
.