Got a stinky car? It happens! But you don't have to suffer any longer. I have an easy diy car air freshener tutorial I'm going to share with you today, and I don't want to be dramatic, but it's life-changing!
Imagine your car becoming an oasis of aromatherapy rather than a chaotic carpool wagon. Scented with essential oils, you can reap the benefits of your favorite scents, no matter where you are on the road!
It is so easy to make this DIY car air freshener that even your kids can help you make it! In fact, they may be a large reason why our cars need air fresheners, to begin with! So why not let them help make your car smell better? 😉
Why Make A DIY Car Air Freshener?
If you are anything like me, you may be looking for more projects to keep your kids busy. This one is both fun and purposeful, and in the end, this homemade car air freshener will make your car smell fantastic!
We all want our cars to smell good, right? With as much time as we spend driving, our vehicle should be a place that smells fresh and clean. Essential oils go above and beyond just giving you something good to smell. They can actually improve your mood and decrease your stress too—and where else do we need that more than on the road?
When you use your favorite essential oils, you are taking care of yourself and cleansing the air inside your vehicle naturally – without harsh chemicals.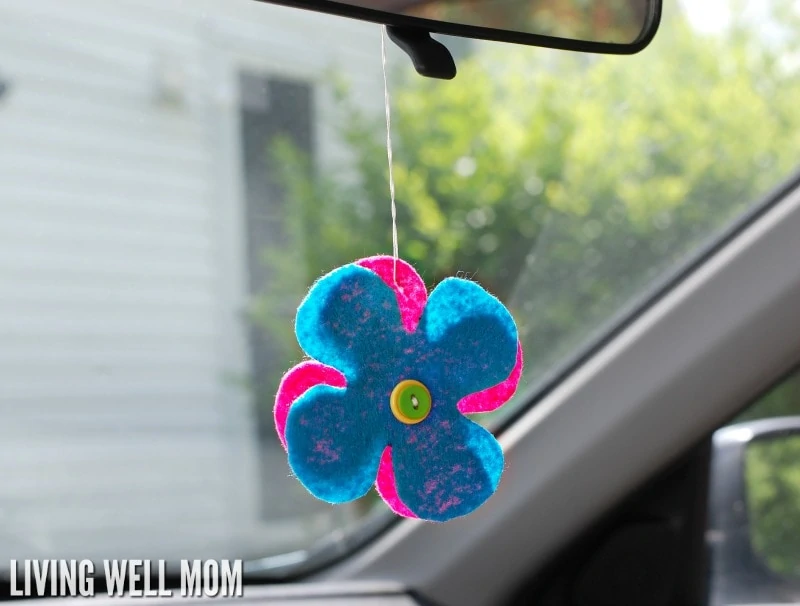 Materials Needed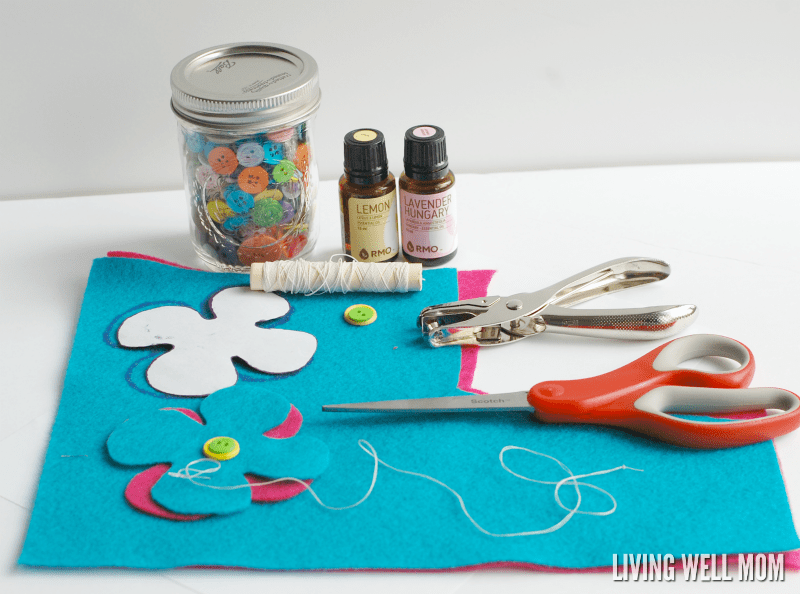 How To Make Homemade Air Freshener
If you have never sewn before, don't be intimidated! This air freshener is incredibly easy to put together. Here's how to make your own.
Print The Template
To start, download this flower template and print it off on your computer. The image size is a 4×6 – so you could print more than one on an 8×11″ if you wanted multiple templates for multiple air fresheners. Once you get the template printed, go ahead and cut out the flower that you will later trace.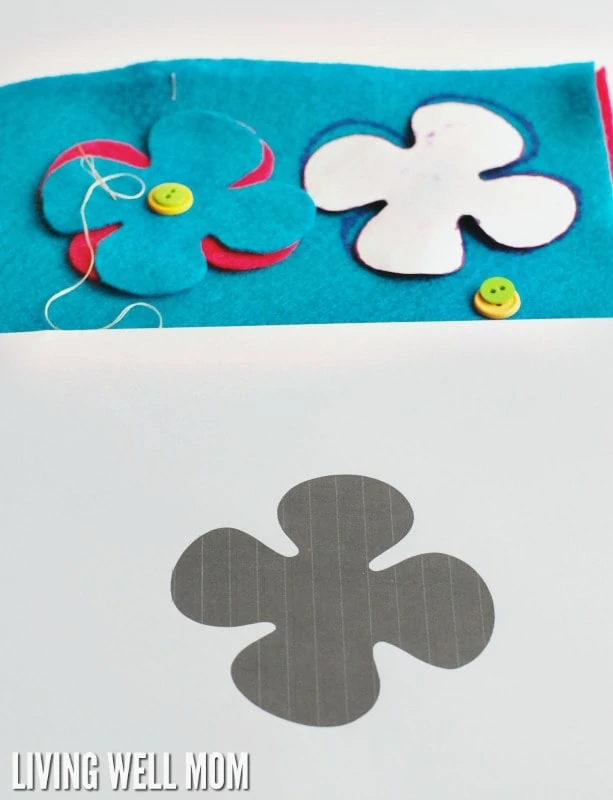 Cut Out Felt Flowers
Pick a couple of different felt colors and trace the flower template onto the felt. I suggest using a permanent marker for this process, like a Sharpie.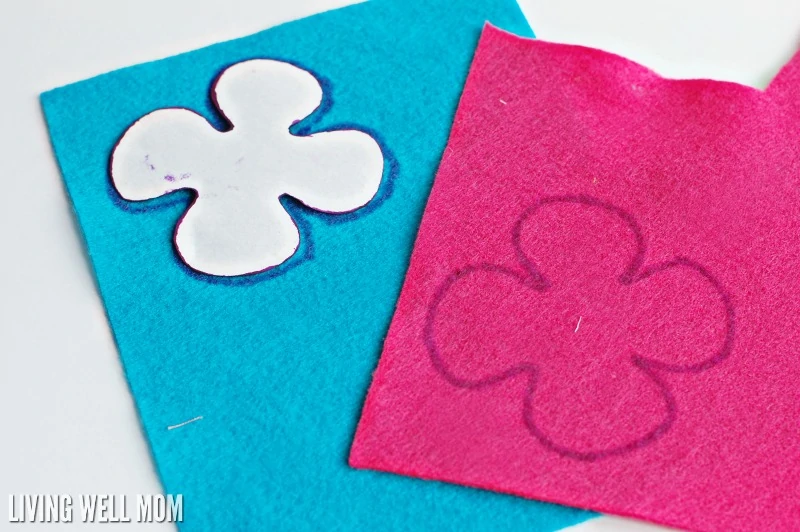 Cut them out, making sure you cut a bit inside the line so that now permanent marker lines end up showing on the edge of your flower.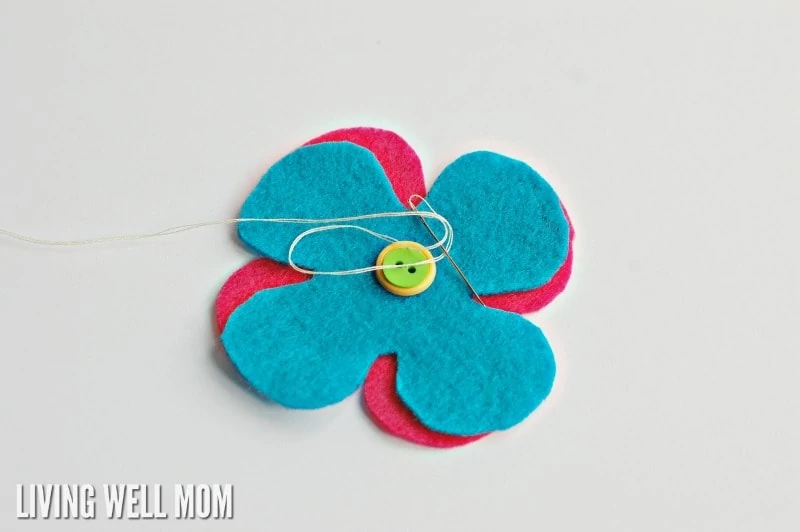 Sew The Felt Flowers Together
Stack the two flowers on top of each other, so that they are not completely lined up – you want the bottom flower color to still show through. Then pick out two buttons (one smaller than the other) and stack those and place them in the center of the flowers.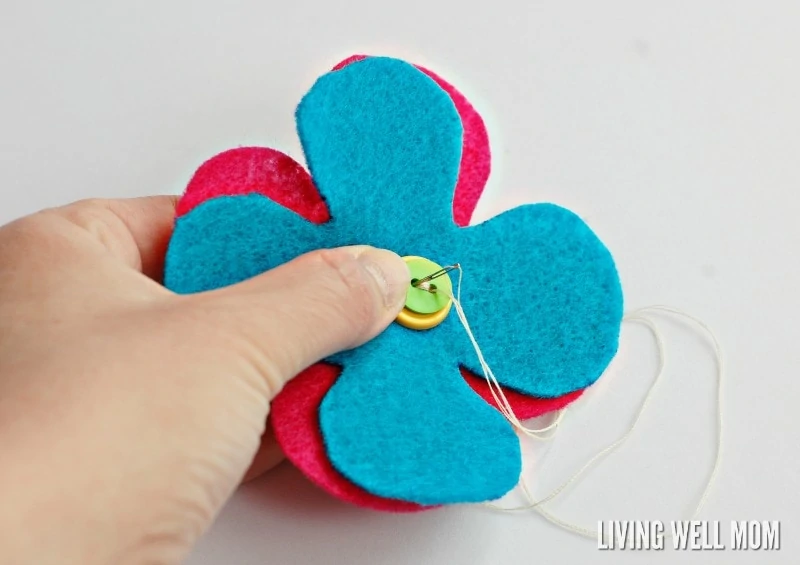 Attach The Button
Get out your needle and thread and sew the buttons to both felt flower petals. If your kids are around and need a lesson on learning how to sew a button, this is the perfect project for them to practice!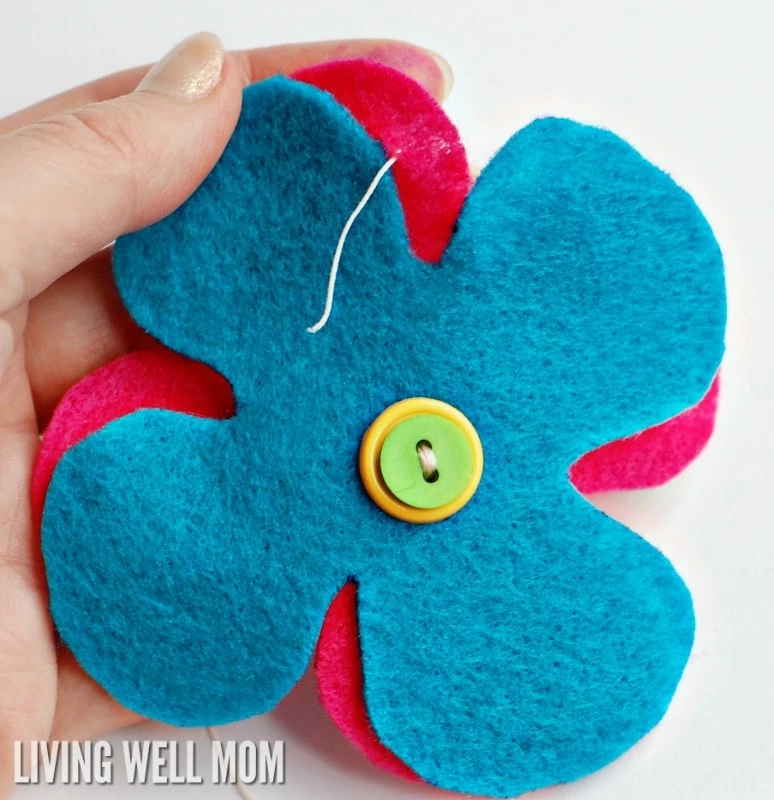 Attach A Hanger
Then take your scissors and make a tiny hole at the top of one of the pink petals.
Loop through the elastic cord. Make it long enough to stretch and hang from your rearview mirror in your car.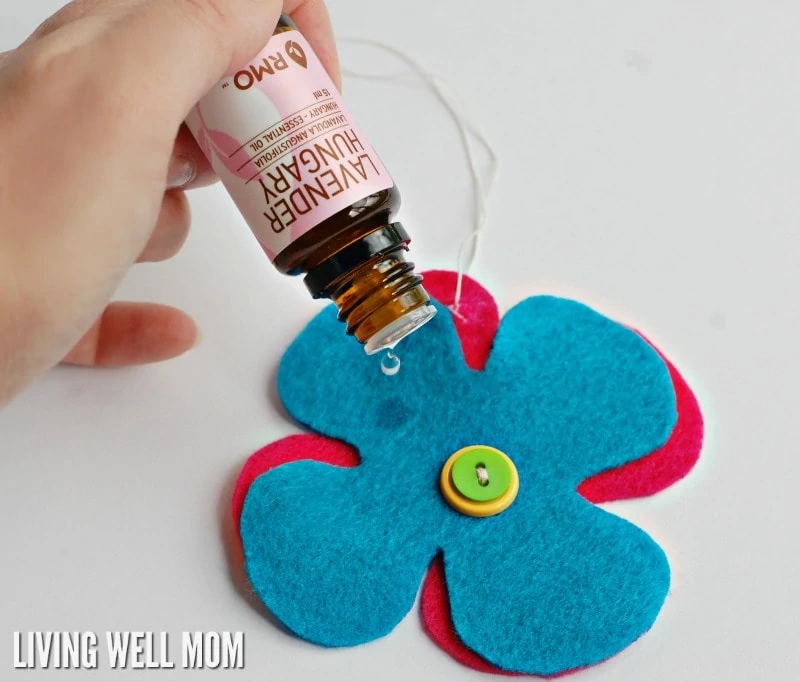 Now it's time to get the bottles of essential oils scents that you want to diffuse throughout your car and work as a natural air freshener. I personally like the combination of lavender and lemon. Add a few drops of your favorite essential oil to the felt. For a burst of energy, add some orange essential oil.
I also have a citrus blend (similar to At Peace) that I have also used. I just leave the bottle of essential oils in my car during the cooler months. If you live in a hot climate, you'll need to store your oils inside your home instead as heat breaks them down and can diminish the properties and decent.
Alternatively, if you have a spray bottle filled with your favorite essential oils, you can spray the felt with it. Here's how you can make an essential oil spray easily!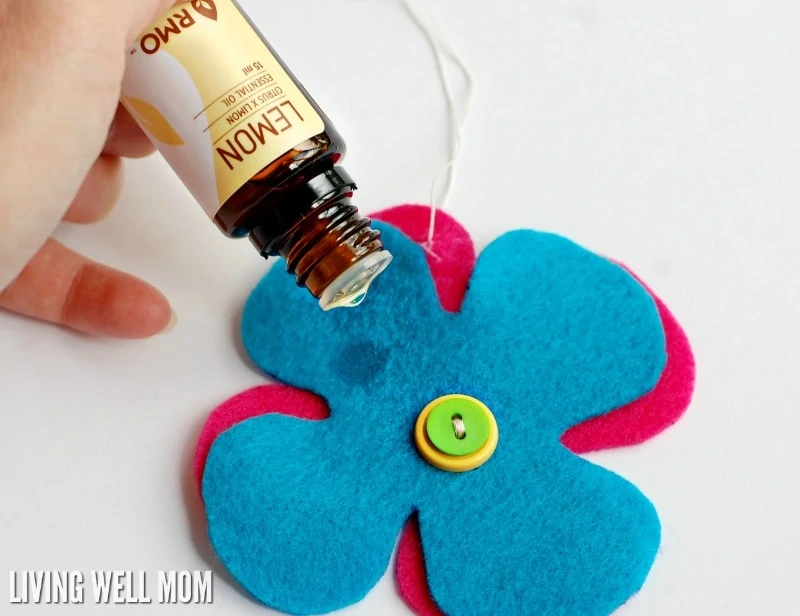 Then every day or every other day, I'll add a drop or 2 onto the felt before I head off for that day's errands or mom taxi trips.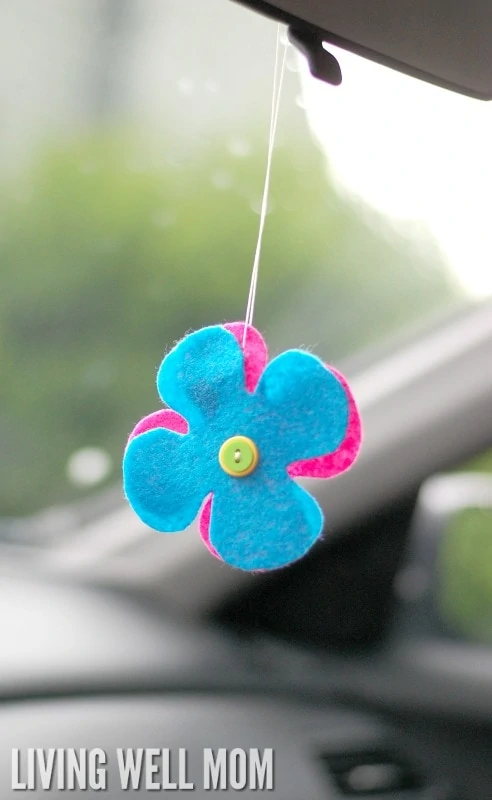 I love the bright colors, and the DIY car air freshener just makes me happy using essential oils to freshen my car. Compared to traditional car air fresheners that are so strong, this is a much better alternative. Plus, you know you are breathing in a plant based oil and not a synthetic scent that could easily trigger headaches and is not the safest to breathe.
I also love that this is so versatile in that you can change the scent whenever you want to! Just pick a different bottle of essential oils and add that to your felt flower for that day.

I'm looking forward to getting out my pine and Christmas blends so that even my car will smell like Christmas when that season arrives!
FAQs
Here are a few common questions I see readers ask about essential oil air fresheners. Don't see the answer to your question below? Leave it in the comments!
How do you make a mason jar air freshener?
This is another one of my favorite ways to freshen any room or small space. Fill a mason jar with baking soda. Then add a few drops of rosemary essential oil or whatever oil you choose. Poke some holes in the lid and screw it on tightly. Place the mason jar in your cup holder and it will fill your vehicle with fresh scents.
This is very similar to my alternate method for making an easy DIY fridge deodorizer!
Instead of sewing the flower, can I use felt balls?
Yes, this is a fantastic idea! In fact, you can use a hot glue gun to make felt balls – no sewing required.
What can I use instead of felt?
If you don't have felt, grab some from the local craft store. Otherwise, a piece of cardboard works too! You don't even have to paint it, just add a few drops of essential oil to it.
Where else can I put the homemade car air freshener?
If you don't want to hang it from your mirror, use a clothespin to attach it to an air vent. You could also place it flat in the bottom of a cup holder or attach it to your car seat.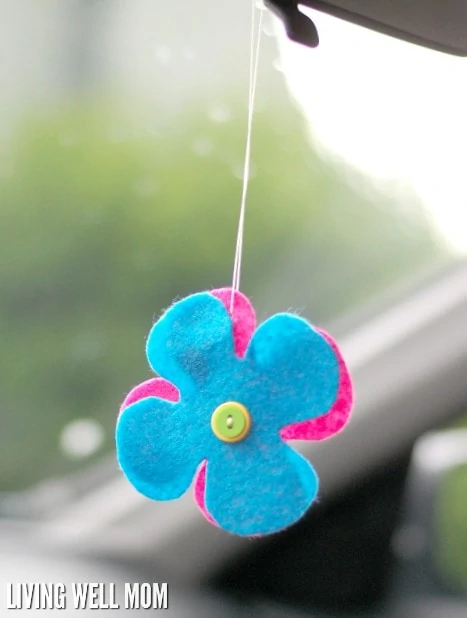 More Ways to Use Essential Oils