It's common to have dry or cracked cuticles during the winter or spring months. To combat this, you can make a lovely DIY cuticle softener. Filled with nourishing ingredients including shea butter along with essential oils, this homemade cuticle cream will help soften and hydrate your cuticles and nails.
This DIY cuticle butter recipe is surprisingly simple to make and is perfect for an at-home manicure! These days I'm doing my nails exclusively at home, and this balm has been a life-saver.
I like to whip up a bunch of these at once to have on hand (literally!). Not only is this DIY cuticle cream excellent for manicures, but it also makes for a wonderful gift too!
Homemade Cuticle Butter Ingredients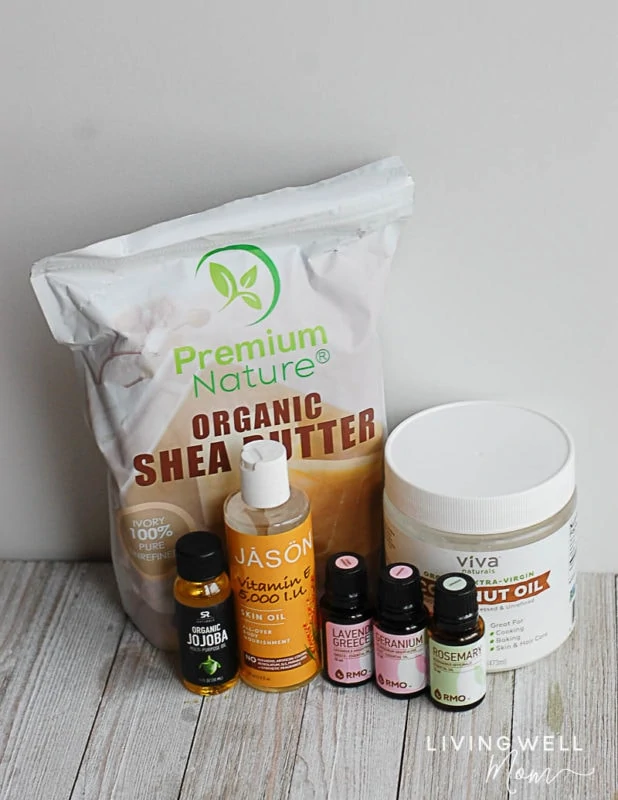 Essential Oils in This DIY Cuticle Softener
You can use your own favorite essential oils in this cuticle salve, however, we picked these oils because they are particularly helpful for this natural recipe.
Geranium Essential Oil is wonderful for balancing skin, whether it's dry or oily. It's helpful for moisturizing and promoting youthful skin. Its anti-inflammatory properties may help calm red, dry, irritated skin as well.
Rosemary Essential Oil contains helpful antioxidants and may help strengthen and boost nail growth.
Lavender essential oil is one of the most popular essential oils for good reason. It has many benefits for skin health and can help support healing and overall skin health.
Check out this guide on The 12 Best Essential Oils for Dry Skin. These are also great choices – especially if you have Helichrysum, Myrrh, or Manuka. You may want to add them to this recipe! If there is an oil that is good for the skin, then it's good for your cuticles as well.
Which Essential Oil Brand is Best?
For the best results, you will want to choose a high-quality essential oil brand that is 100% pure and offers third-party testing for quality control. Read this post for more info on how to choose essential oils that work for you and your family (beyond the brand.)
My favorite essential oil company is Rocky Mountain Oils, followed by Eden's Garden, and Ancient Apothecary by Dr. Axe
.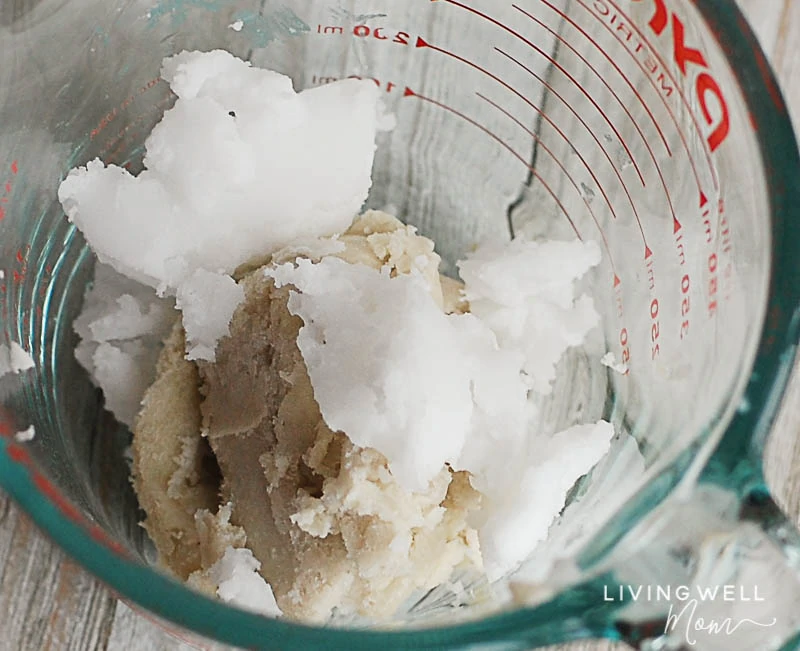 How to Make this DIY Cuticle Softener
You'll need 1/4 cup of shea butter and 2 tablespoons of coconut oil. Place both of those into your glass measuring cup.
Put it in the microwave and heat for 30 seconds, stir, heat for another 30 seconds, and stir until it is completely melted. (You may need a full minute and a half for it all to melt.)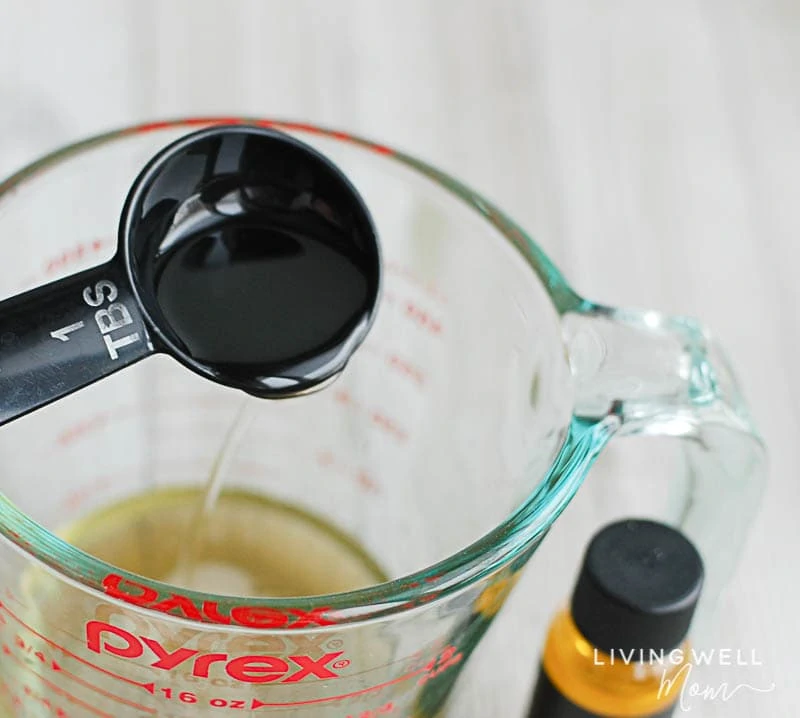 Once your shea butter and coconut oil are in a liquid state, then add 1 Tbsp each of jojoba and vitamin E oil.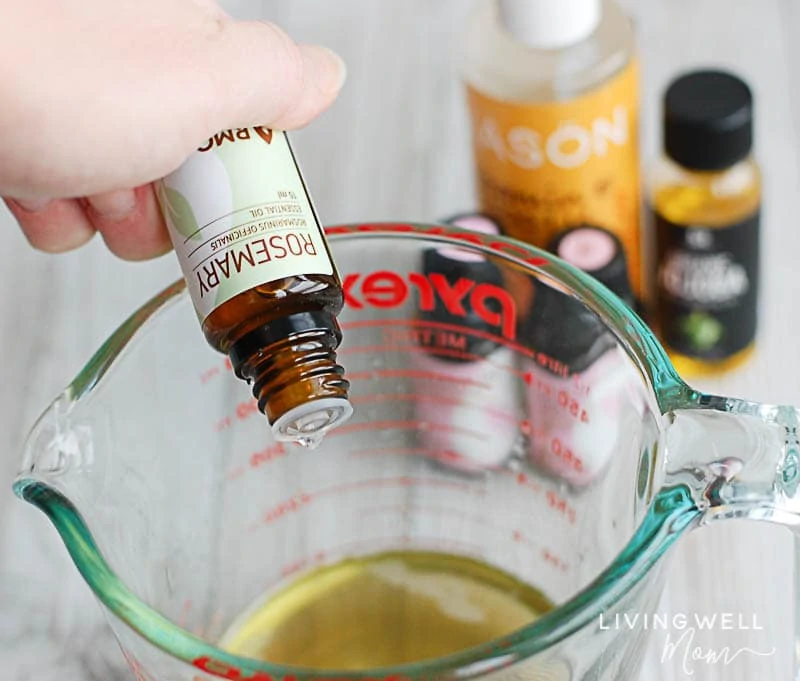 Then it is time to add you're essential oils.
Add 15 drops each of lavender, rosemary, and geranium essential oils. I believe this combination is one of my new favorites in terms of how it smells – it truly is divine!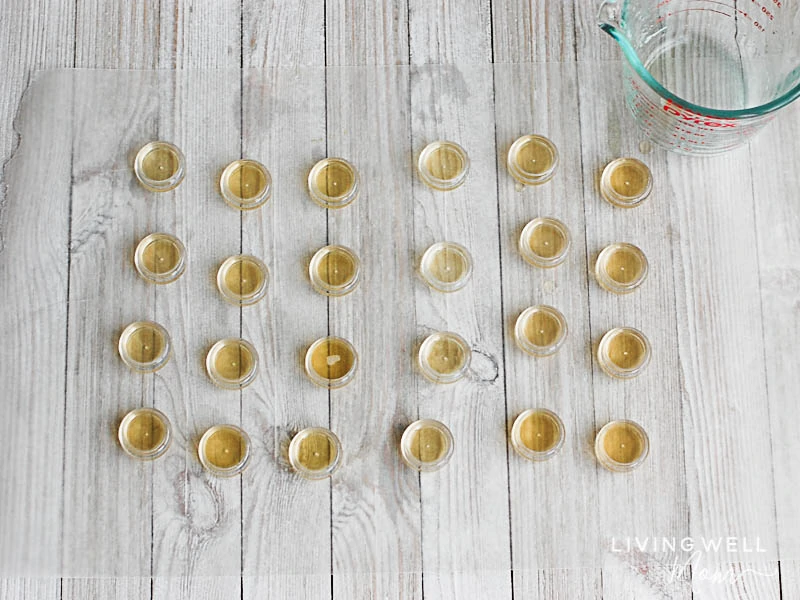 Stir all of the oils one last time and place your empty cosmetic containers on some wax paper. During the pouring stage, you are bound to spill a bit, so the wax paper makes for easy cleanup!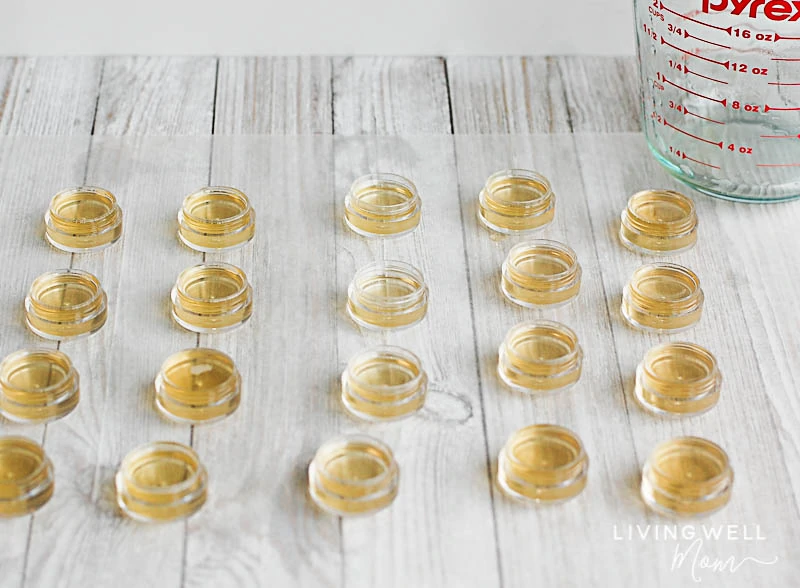 Fill each cosmetic container to the brim and let it cool for a few hours, untouched until it is hardened.
Your homemade cuticle butter with essential oils is ready to use!
Tip: do not leave your cuticle butter in a hot car as it will melt. The natural ingredients are not meant to endure high heat!
Cuticle Oil vs Cuticle Cream
We also have a homemade cuticle oil recipe that uses essential oils.
Which one should you use?
If you are doing a home manicure and want to quickly soften your cuticles with a quick and concentrated moisturizer, then use the oil.
If you are dealing with extremely dry and cracked skin, or have peeling skin around your nails, or even cracked and bleeding skin on your knuckles, then it's time to get out the butter. The cuticle butter is water-resistant and protects your skin longer.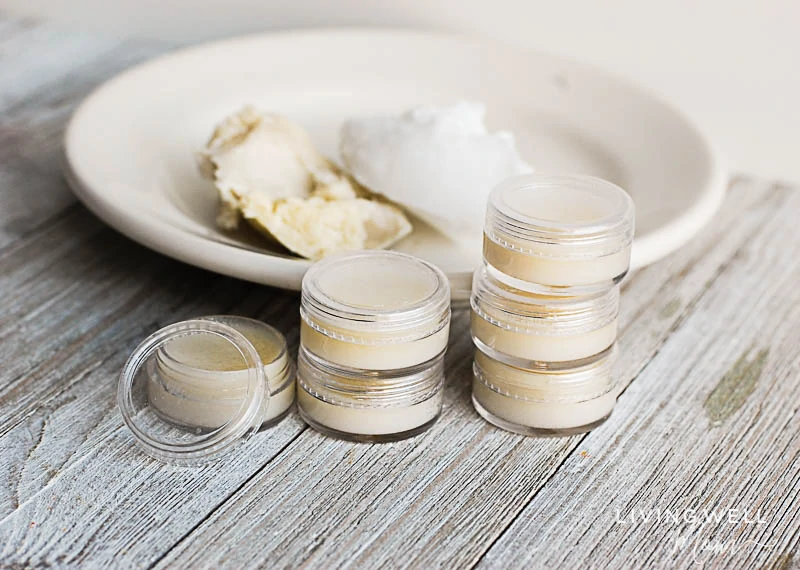 You don't have to limit the use of this homemade cuticle butter to just to cuticles by the way. This combination of essential oils, vitamin E oil, shea butter, and coconut oil is great for all of your skin! If you have extra dry spots on your hands, knees, elbows, etc., rub this oil combination on those as well!
Pin the image below to save the recipe for later.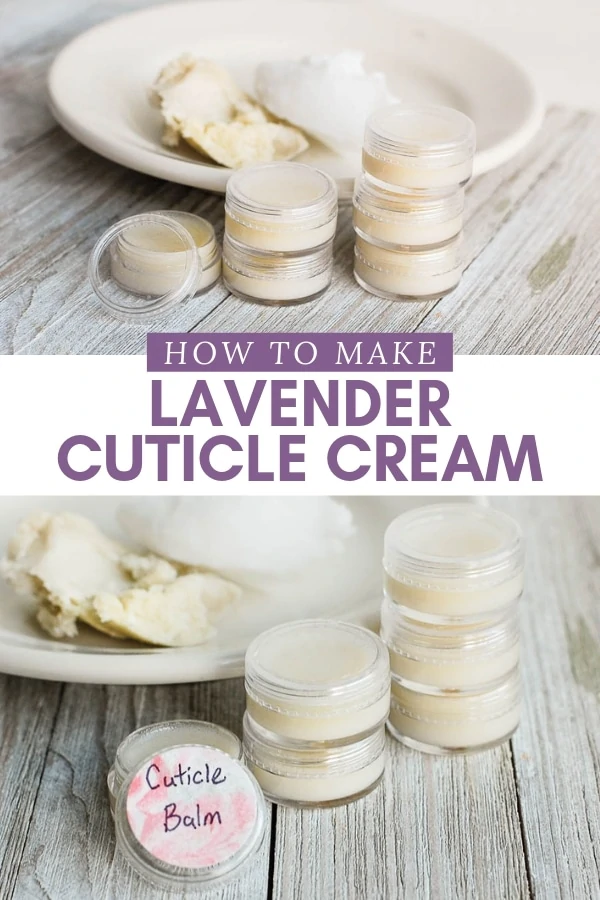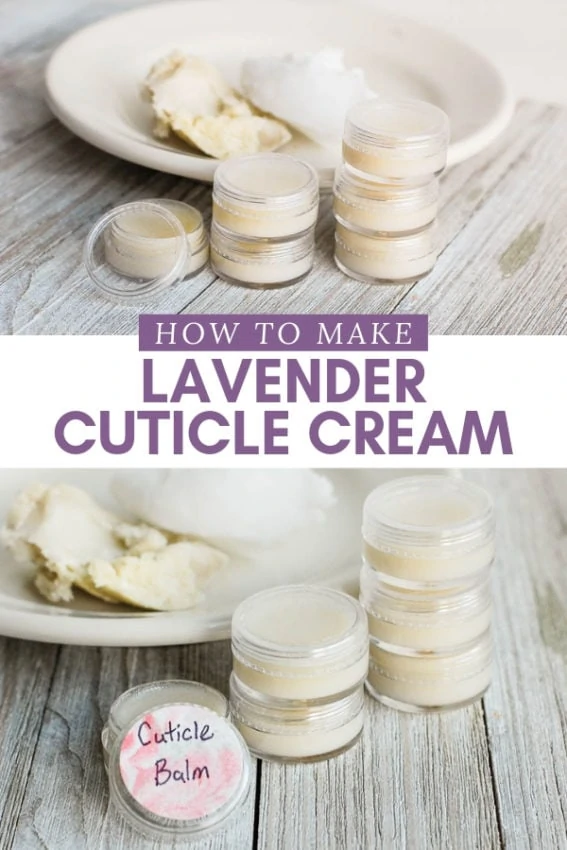 More Posts to Read
Looking for more ways to use essential oils in your nail care, beauty or hygiene practices? Check out these posts:
Print
Homemade Cuticle Butter
This DIY cuticle butter recipe is surprisingly simple to make and is perfect for an at-home manicure!
1/4

C. shea butter

2 Tbsp

. coconut oil

1 Tbsp

. jojoba oil

1 Tbsp

. Vitamin E oil

15

drops Lavender essential oil

15

drops Geranium essential oil

15

drops Rosemary essential oil
Clear Plastic Cosmetic Containers
Glass Measuring Cup
Instructions
Melt the shea butter and coconut oil in your microwave or over the stove in a saucepan. If using a microwave, heat for 30 seconds, stir, then heat for another 30 seconds. Continue with stirring every 30 seconds until completely melted.
Add the jojoba oil and vitamin E oil. Drop in your essential oils and stir well.
Put your empty cosmetic containers on waxed or parchment paper. Pour your oil mixture into each container and let it cool, untouched, for a few hours until it's solid.
Notes
Don't leave in a hot window or vehicle as your homemade cuticle butter may melt!