These strawberry Rice Krispie treats are made with strawberry gelatin for a fun twist on a classic Valentine's Day snack.
Just think of it. Rice Krispies treats. Strawberries. Two of my favorite things.
With Valentine's Day coming up quickly, I decided to combine the two. I played around a little and came up with this recipe for Strawberry Rice Krispie Treats. And they are every bit as incredible as they sound!
Valentine's Day Rice Krispie Treats
When it comes to making yummy and fun treats for Valentine's Day, color is everything! I love the rose-blush and pink shade of these little treats. Plus, these are the perfect treats to share with kids because they are gluten-free and perfect for most people with allergies.
The secret ingredient is Jello – it adds the perfect sweet strawberry flavor and pink color, making these sweet crunchy treats perfect for Valentine's Day. Or any day you want a flavorful twist to Rice Krispies Treats. And they are just as quick and easy to make as regular Rice Krispies treats!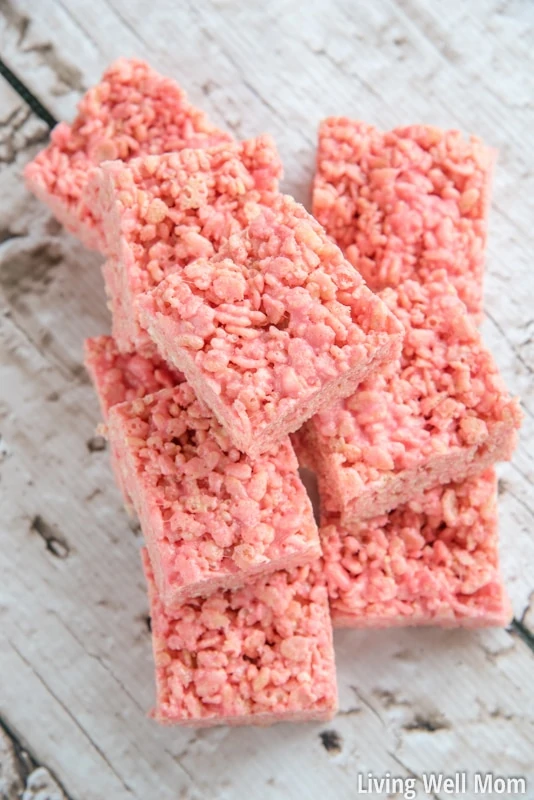 Rice Krispie Treats Supplies & Ingredients
One batch of this makes enough treats to fill one 9×13-inch pan. This yields about 2 dozen treats.
What You'll Need for Strawberry Rice Krispies Treats:
Optional Add-Ins
Here are a few things that I didn't use, but thought about adding later. Try a few of them to jazz up your Valentine's Day treats.
White Chocolate Chips
Multi-colored marshmallows
White Chocolate Drizzle
Sprinkles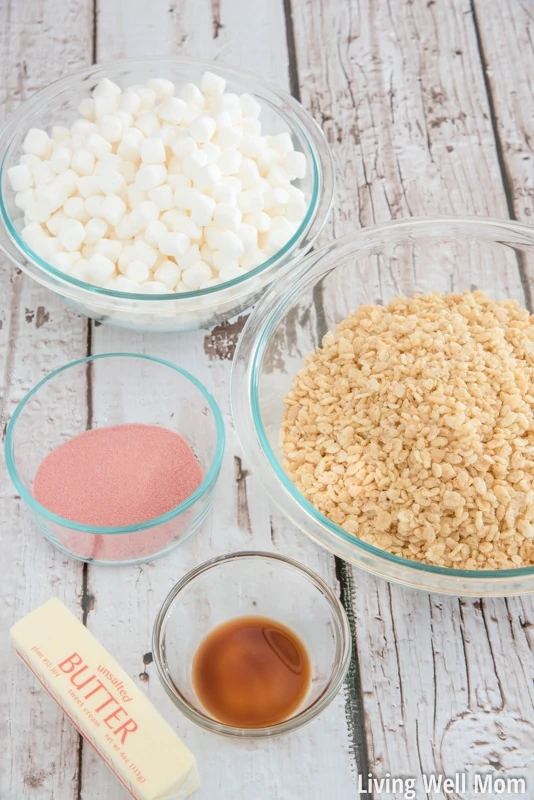 How To Make Pink Rice Krispie Treats
Just follow these instructions and step-by-step pictures and you can make your own strawberry Rice Krispie treats for Valentine's day. Remember, all the instructions are in a printable recipe card at the bottom of this post. These are some photos if you enjoy scrolling and reading extra tips along the way.
First, melt the butter in a large saucepan over medium-low heat. Then, add the bag of marshmallows and let it sit for about 30 seconds or so as it slowly melts. Stir gently. Do not overmix it at this point. Just give it a few gentle stirs so it doesn't stick to the pan.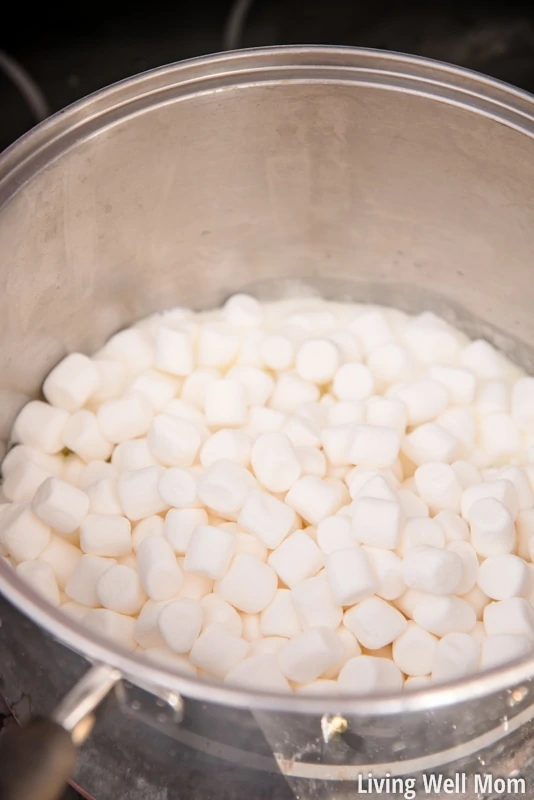 Add the vanilla extract and stir gently again. Keep the heat at medium-low and do not overmix the marshmallows.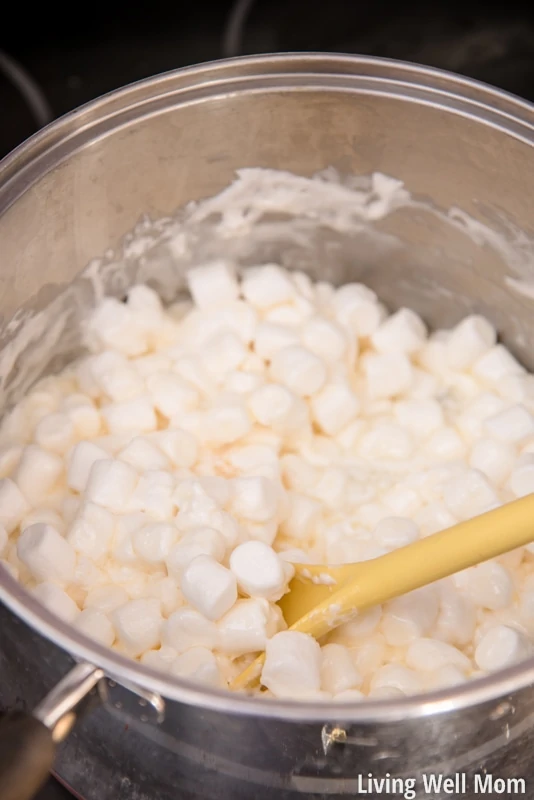 Pour the packet of Jello over the marshmallow mixture. Or half the packet, if you bought the larger 3 oz box of strawberry Jello, like me. (Then save the rest for another batch, because chances are your family will gobble this up and ask for more.)
I tried using the entire package in a test batch and the strawberry flavor was too overpowering. The 1.5 oz amount is perfect.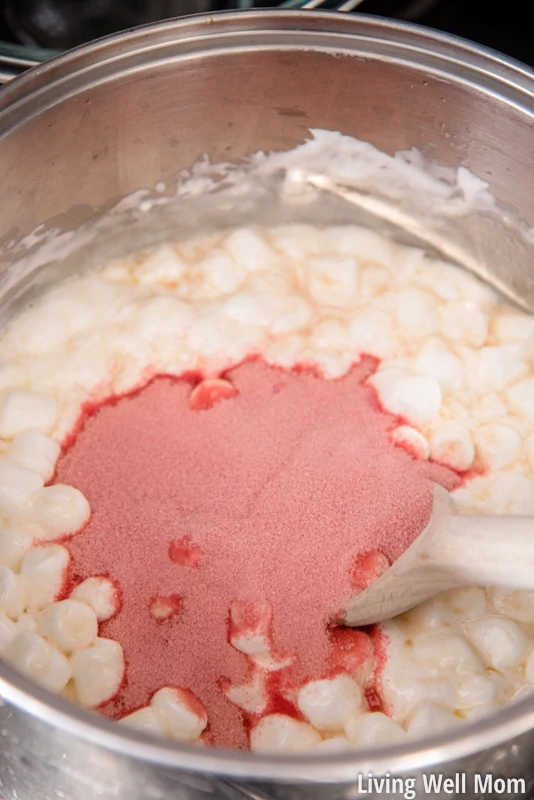 Gently mix everything together. The key to the soft and chewy treats is to mix very gently, almost folding the ingredients together.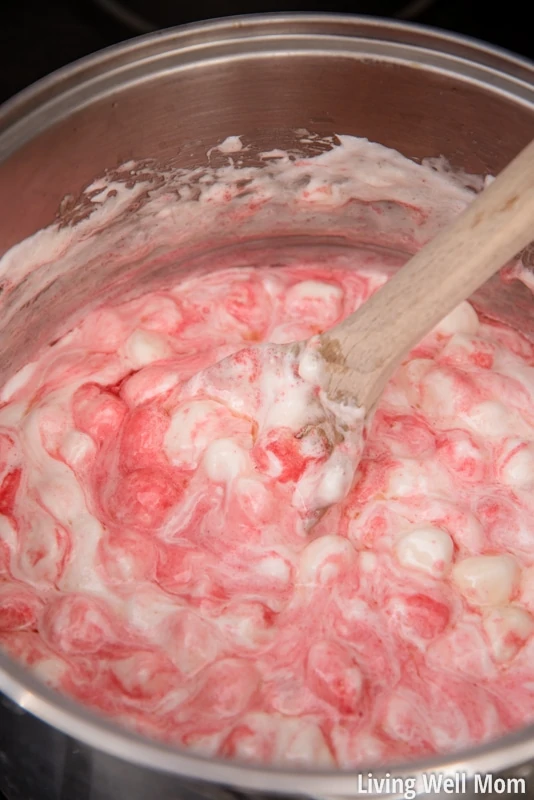 Once the marshmallows are partially melted, remove them from the heat. The secret to soft Rice Krispies treats is not overheat the marshmallows.
Stir until the marshmallows are melted completely and lumps are gone. You can use a whisk too if that helps you mix it all together completely.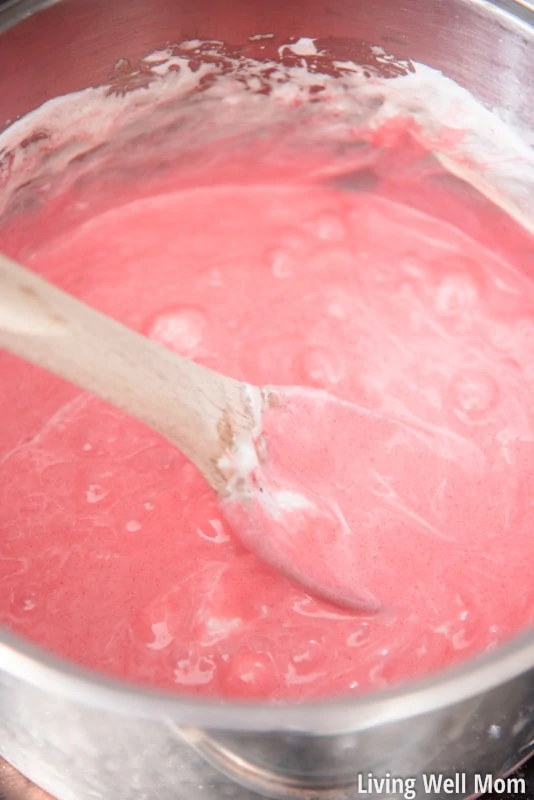 When it is all melted and mixed together, remove it from the heat. Add the Rice Krispies and stir gently.
Spoon into a 9×13″ greased pan and pat down with your hands (butter them first to prevent sticking.)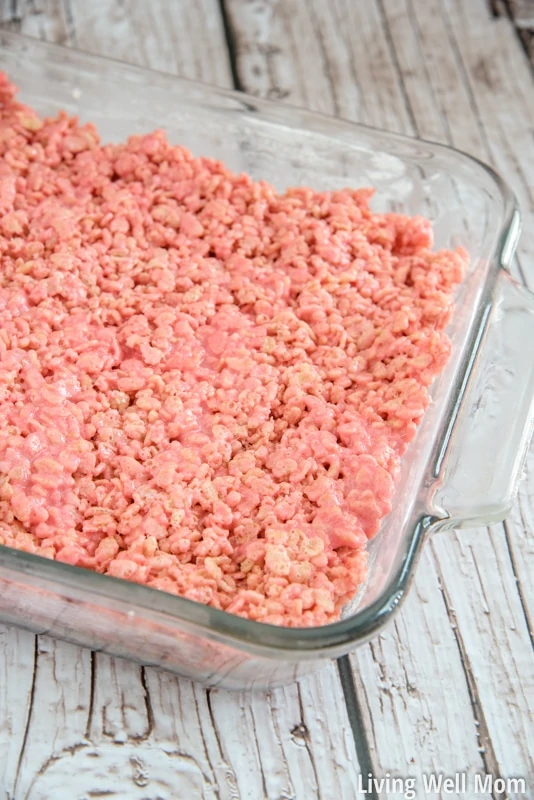 Let cool for a couple of hours (this helps cut down on the stickiness), then cut into bars and enjoy your delicious Strawberry Rice Krispies treats!
Decoration Ideas
I think these look perfect just the way they are. If you want to add a little extra pizazz to them, you can try one of these fun ideas.
Use Valentine's Day-themed cookie cutter (like hearts).
Another idea is to sprinkle some red and white heart-shaped sprinkles on top!
When you are giving them away, don't forget to include a cute little card with them.
Roll the treats into a ball and stick them on skewers for rice krispie treat pops
Try Different Flavors
This is a very basic recipe, so it's really easy to change things up for each season, holiday, or party theme. Just use a different color/flavor of gelatin.
For example. for St. Patrick's Day, use lime! Then, for American patriotic parties/cookouts, do a red, white and blue theme (blueberry, plain, and cherry).
The options are pretty endless. Just browse the gelatin flavors and create your own masterpieces in your kitchen.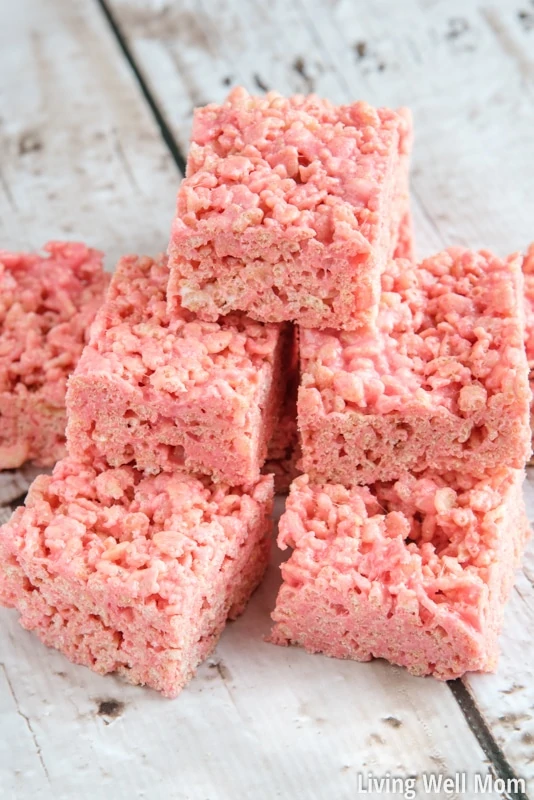 How To Store Rice Krispie Treats
The best way to store homemade rice cripsy treats is in an airtight container in the refrigerator. Place a sheet of wax or parchment paper in between each layer so that they don't stick together.
They will last about a week in the refrigerator.
Pin the image below to save the recipe for later!
More Valentine's Day Ideas
If you enjoyed these strawberry-flavored Rice Krispie treats idea, you should try these Valentine's Day ideas next. They are so much fun!
Easy Homemade Valentine's Day Slime
Print
Strawberry Rice Krispies Treats
A twist on the classic Rice Krispies treats – strawberry flavor!
7 cups

Rice Krispies

1

bag (10.5 oz) mini marshmallows

1.5 oz

package (or half of 1 large

3 oz

box) strawberry gelatin

1/2 cup

butter or margarine

1 tsp

vanilla
Instructions
Melt the butter in a large saucepan over low-medium heat. Add the marshmallows and let it sit for about 30 seconds. Stir gently. Add the vanilla extract and gently stir again. Next add the strawberry gelatin mix and stir gently again. Notice how I keep repeating "stir gently?" This will keep the treats lighter, not "tough." Let the marshmallows partially melt but remove from heat before they are fully melted.
Stir (off the burner) until they are completely melted.
Add the Rice Krispies and gently mix.
Scoop into a 9×13″ greased pan and gently pat down with clean buttered hands. It's VERY sticky!
Let cool/dry for at least 2 hours before cutting into bars and serving.