Want to surprise your kids and play a fun game? Download and print this free tic tack toe valentine. Better yet, laminate it and save it for years to come – plus, use snacks as Xs and Os!
Fun Valentine's Day Game For Kids
With Valentine's Day just a few days away, I'm taking a different approach to this day of fun and hearts with my kids this year. Instead of the usual chocolate and candy, we're going to stick with our theme of eating healthier, more nutritious foods.
But, that doesn't mean our Valentine's Day will be boring or without special treats. Quite the opposite – we're going to have an extra fun Valentine's Day this year with pink and red-colored homemade playdough, a delicious bowl of Rainbow Fruit Salad, and a fun game of Valentine's Day Tic Tack Toe!
Tic Tack Toe Valentine
I am very excited to play this game with my kids! Not only is it something new, but I love that it combines something fun (like Tic Tac Toe) with a seasonal twist (like Valentine's Day). Plus, it's educational!
Supplies Needed For Valentine's Tic Tac Toe
Are you ready to put this valentine's game together?
This is what you'll need before you print the game out.
Note: You can find the downloadable PDF at the bottom of this post!
Tip:
While it's perfectly OK to just print it out on regular paper and then use a pen or crayon to mark the Xs and Os, I suggest laminating it and using a dry erase marker. You will use a lot less paper and printer ink this way!
If you don't want to use a dry erase marker, keep reading – I have a few more ideas you can try.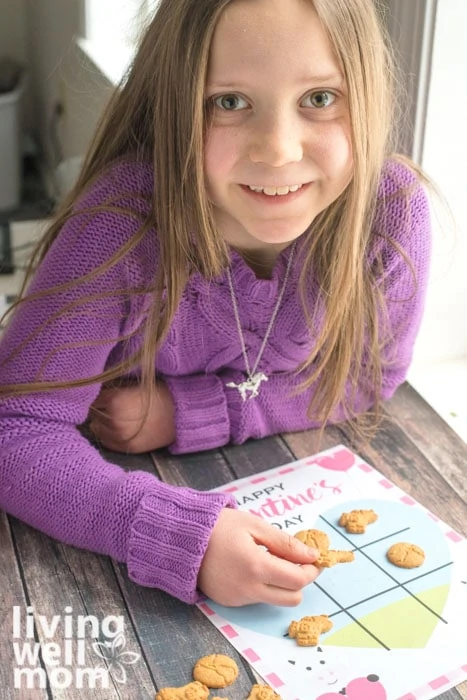 Game Piece Ideas For Tic Tac Toe
There are lots of ways that you can play this game with your kiddos. The easiest way is going to be with a dry erase marker after you laminate the game. This way, all you have to do is wipe it off to start a new game!
There are also a lot of different kids' snacks that you can use as markers too.
Here are some of my favorite ideas:
You can honestly use any snack you like!
Tips: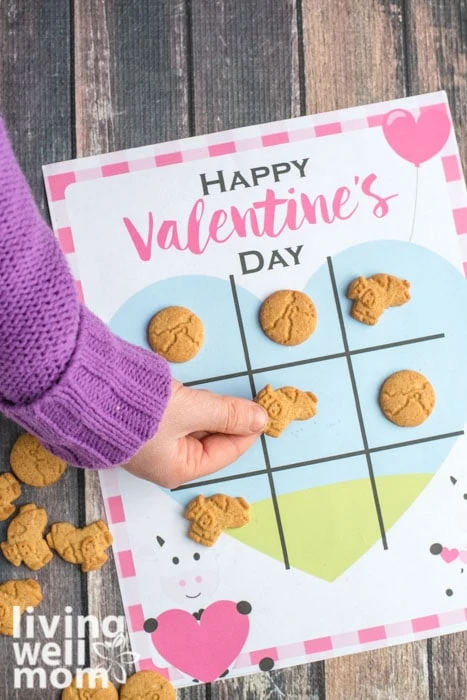 Other Ways To Use This Valentine's Day Tic Tac Toe
Besides using this printable game at home with the kids, there are a few other ways to repurpose this!
Instead of handing out little cards and candies to friends, you should consider giving them their own copy of this fun tic tac toe game. This Valentine's Day game is perfect for printing out and giving away as a fun Valentine to friends; You can also include a small baggie of snacks (like graham crackers or goldfish) to go with it and kids will have a blast!
Download This Free Printable Game Now!
If you think your kids (and yourself) will love this game, hit the link down below to download your own copy of Valentine's Day Tic Tac Toe now and let me know in the comment what you think.
Or better yet, who beat who!
Download your FREE Valentine's Day Tic-Tac-Toe printable here.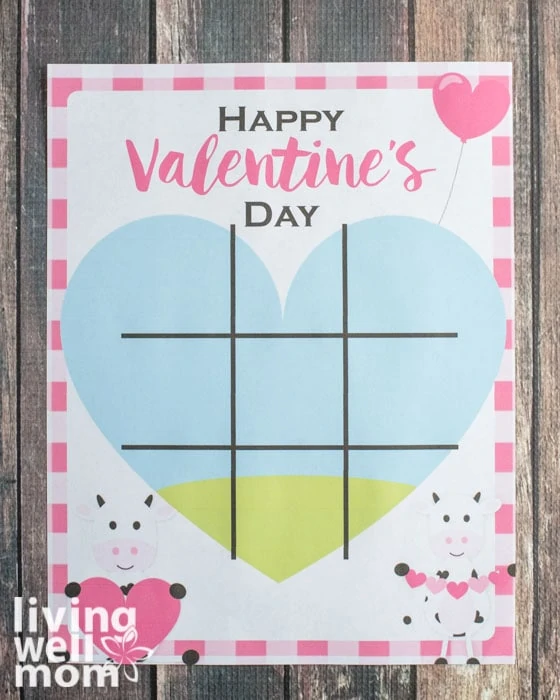 With a little smart thinking, your kids can enjoy a fun Valentine's Day without all the candy and sugar.
Want another fun free printable for your kids? They'll love this I Spy Valentine!
Enjoy!
Pin the image below to save the post for later!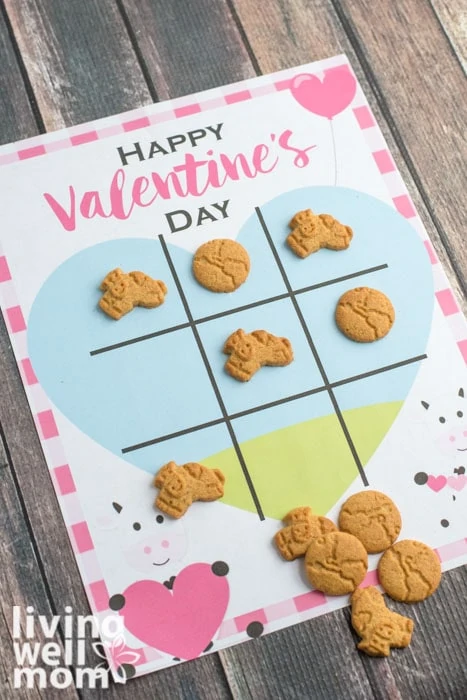 More Free Printables For Kids
Here are some more of my favorite printables for kids!
By downloading this free product, you agree to the terms and conditions listed here. This free product is for single classroom/home use only, by one teacher/family. If you intend to use this for more than one classroom/home, please return to Living Well Mom and download an additional copy each time.