Looking for a fun Valentine's Day card for kids? You'll love these free printable I Spy Valentines! Not only do these cards look pretty, but they will keep your kid busy too, which is always great.
Valentine's Day is just around the corner! I adore all of the cute activities of this time of year. Probably because dark pink is my absolute favorite color and there is so much to be seen! And Valentine's Day activities are a fun way to break the monotony of winter.
This fun Valentine's Day I Spy for Kids card set is a great way to bring some color and excitement into your kids' day! They'll love exploring the cars, planes and bicycles!
Printable Valentine's Day Games for Kids
Have you ever rushed to the store the night of February 13th and fumbled your way through all the cheesy Valentine's Day cards in those cardboard boxes to find a decent option?
Hey, no judgment…me too! But a few years ago, I decided I really wanted to step up my kids' cards for their class party, so I made these I Spy Valentine's day games.
I give these out year after year, and they are always a hit. I love that they provide entertainment without sugar (and so will your kids' teachers!).
While these are fun for many ages, I recommend these fun valentine's day printables to children aged 3-6 who are just building those fundamental math skills.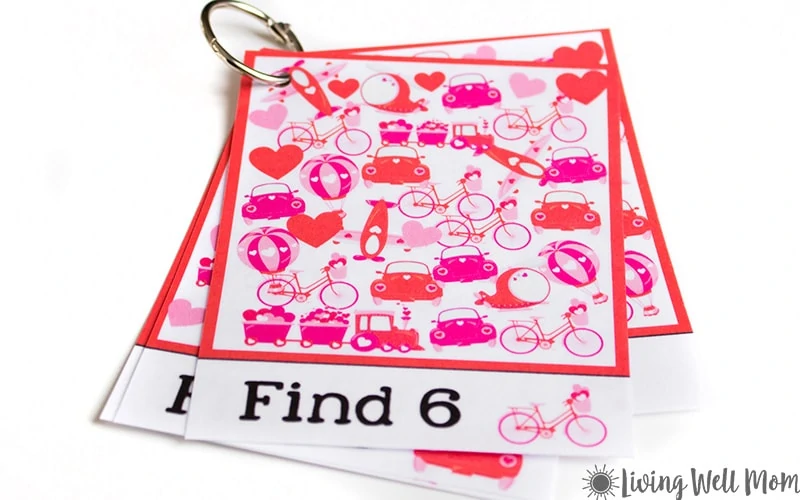 Materials Needed
This printable activity comes with four different pages. If you are printing these valentine's games for a classroom party or a large group, you may want to give a single sheet to each child, rather than the entire set. You could even bundle it with a small pack of crayons if you feel extra generous!
If you are doing this as part of homeschool, I'd recommend printing all four and creating a mini activity book like the one below. Here's what you'll need: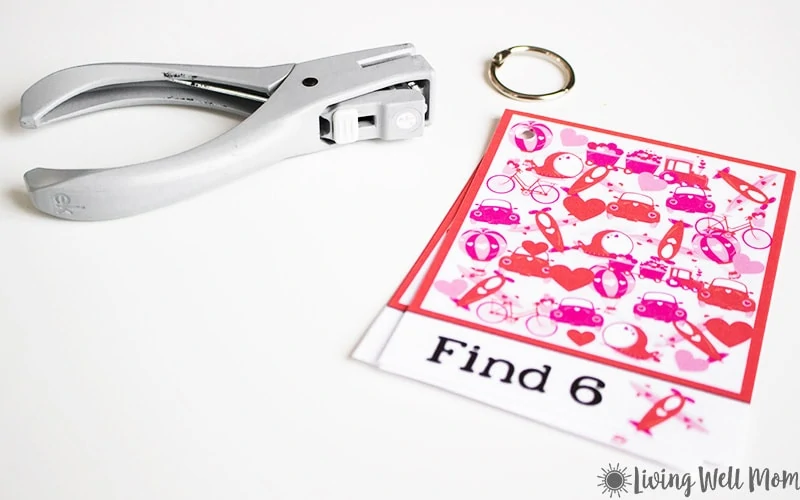 How to Put Together the I Spy Valentines
Putting together this fun activity is simple! First, print the Valentine's Day I Spy cards found at the end of this post.
There are four cards in total, so there will be plenty of I Spy fun to enjoy with the kids!
Next, laminate and cut out the cards. Laminating is an optional step but it will add so much more usage to your cards and let them be used again and again.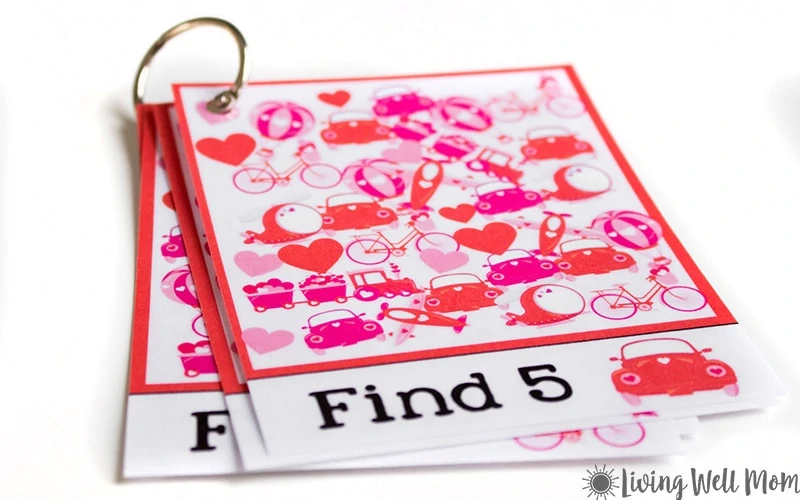 Finally, use the hole punch to put a hole in the upper left corner of the cards. Thread them onto the book ring and you're done!
How to Use the I Spy Valentines
Now let's talk about the good part – how to use these cards! Your kids can have a lot of fun with this fun game, especially if you direct them a bit. Plus, they will secretly be building those early math skills too.
Each card specifies a certain number of items to be found. The number and the target item are both shown at the bottom of the card. This means they are perfect for working on counting skills with a preschooler or kindergartner during the winter months.
After they find the main picture on each card, you can extend the activity by asking your child how many of a different object is on the cards. Or ask them to count all the hearts that they can find on each card!
To extend the activity, you can have your child create an I Spy using Valentine's themed stickers on paper. Let your child create a page for you and you create a page for them. Then have fun exploring all the hidden objects on your pages!
Free Download
Ready to start the fun? Download the Valentine's Day I Spy for Kids freebie here. All you need to do is click directly on the link, then print off the first page. Enjoy!
More Valentine's Day Ideas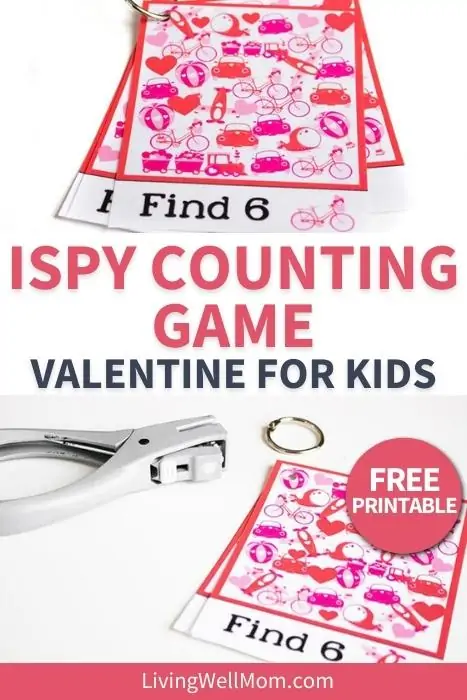 By downloading this free product, you agree to the terms and conditions listed here. This free product is for single classroom/home use only, by one teacher/family. If you intend to use this for more than one classroom/home, please return to Living Well Mom and download an additional copy each time.