Before you know it, road trip season will be here (believe it or not!). Ward off the constant question of "are we there yet?" with this fun license plate game. This free printable travel game will keep your children entertained for hours!
Ah, traveling. It's one of the things I miss the most currently. Somehow, I've even romanticized those long car rides with my children. Anyone else?
Printable License Plate Game
Thankfully, I've figured out the key to making a road trip pleasant for the entire family…keeping the kids distracted and happy! One of the main ways to do that is by using printable activities like this license plate game.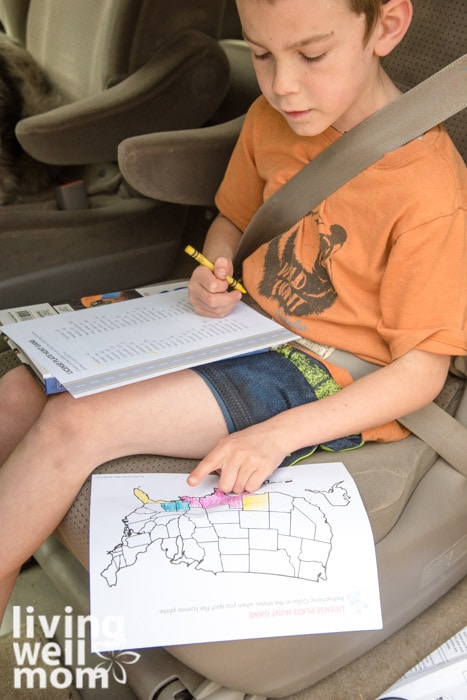 I consider myself to be an expert-level road tripper, and have traveled many, many miles with my family over the years. I've tried a lot of things, but keep coming back to this There are so many reasons why I love this game in particular. Here are just a few:

1. Can be Played for Hours
I like the longevity that this game can offer. Let's face it, depending on where you are driving, it might be quite a challenge for your kids to spot license plates for several states!
There have been several road trips my family has taken where this game provided hours of entertainment—there are precious few things that can say the same.
2. Fosters Cooperation
I also really appreciate that this is one of the few travel games that everyone can play together—even the driver! You can offer each child a coloring page to keep track of what's been spotted, or simply designate one the official scribe.
3. Educational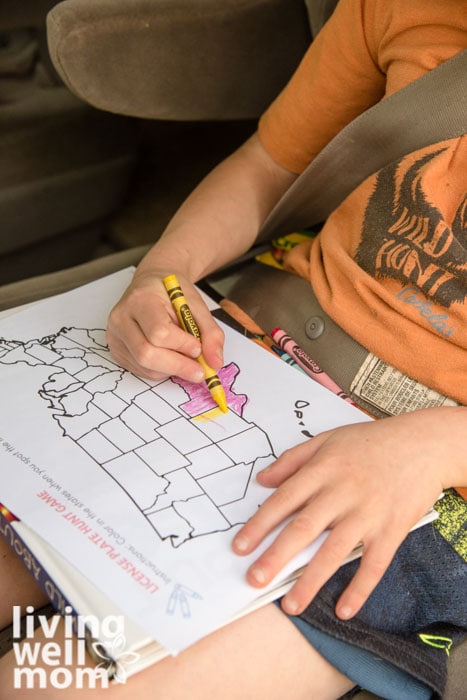 This license plate game printable offers a sneaky way to squeeze in a bit of geography thanks to the blank map.
Additionally, your children will often be excited to read the state's motto or learn something new about the state that's printed on the license plate.
For example, a recent road trip led to a fascinating discussion about how Ohio is the birthplace of aviation, and about the Grand Canyon in Arizona – all from license plates!
4. Age-Appropriate
The thing that makes this particular license plate game is that there are two ways to play.
For Younger Children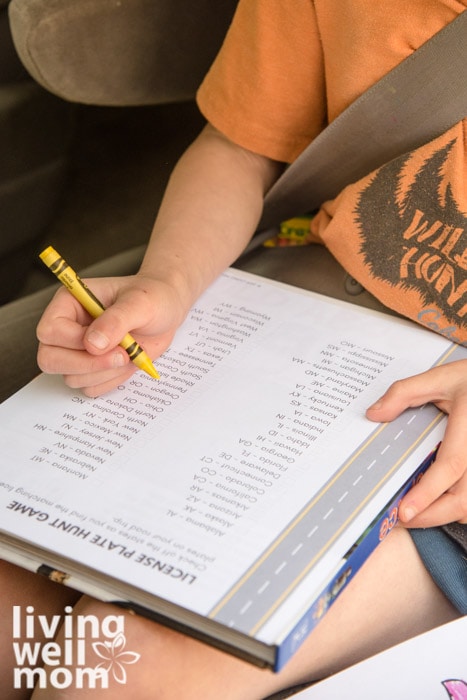 If you are traveling with young readers, they can work on checking off states from the alphabetical list provided. With guidance and direction, they can also participate by coloring in the states too!
For Older Children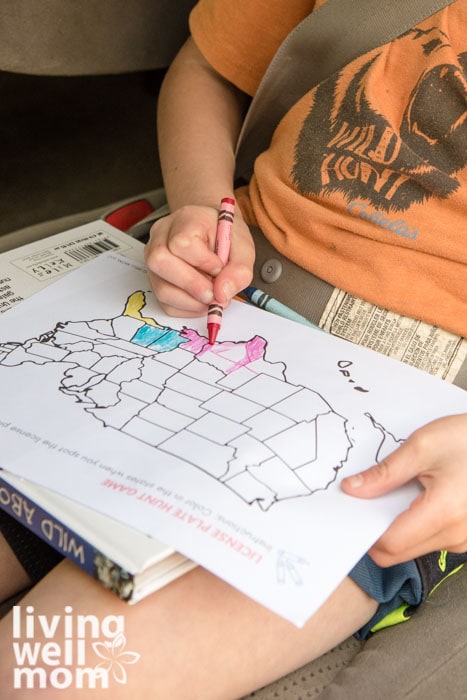 If you're traveling with older kids, or even adults, this license plate game printable is still a fun challenge. The included map has the states outlined but not labeled, so they'll have to choose the correct state before coloring it in. Like I said earlier – it's a fun, educational way to learn geography! 🙂
Rules for the License Plate Game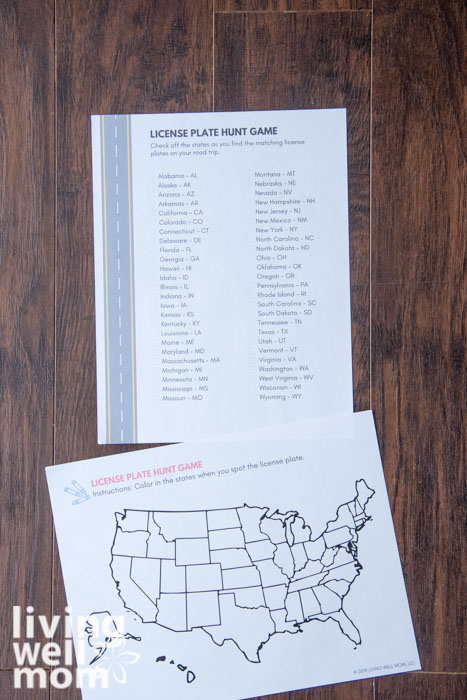 To prevent any game-induced arguments or meltdowns, agree as a family on the rules before playing this game. I know it sounds silly, but trust me on this one! Before playing, you'll need to decide:
How many people need to see the license plate for it to "count"? Is it the honor system where it counts if one child alone sees it? Or do you need to verify with a second set of eyes?
How long will the game last? It's unlikely that this game will keep everyone occupied for a solid eight-hour drive. However, you can decide as a family how long the game will last, whether it's an hour or three.
Are you playing as a team or individually? This game definitely can be played together as a family with everyone contributing. But it can also be a fun competition between kids too if you have older children.
Do parked cars count or do they have to be moving? Some people think it's absolutely fine to hunt for licenses as you drive through a parking lot, while others call it cheating. Decide beforehand where you will lie!

Other Activities to Do In the Car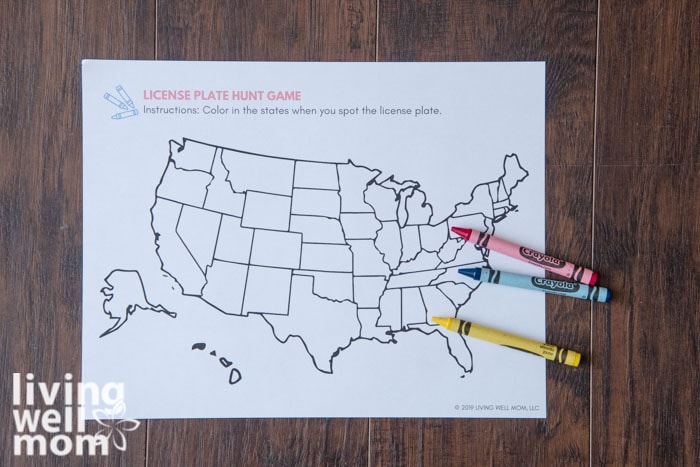 Outside of this road trip scavenger hunt for licenses, there are several other ways you can keep your kids entertained in the car. Here are a few of my favorite (screen-free!) methods.
Pass Out Snacks
Frankly, a lot of road trip fussiness is due to hangry people…at least in my car! That's why I always make sure to keep snacks on hand.
Some of my favorite items to make for traveling are these peanut butter date energy balls, gluten-free apple oatmeal muffins, and these homemade cheese crackers (so good!).
Coloring
Who doesn't like to spend leisurely time doodling and coloring? The fun thing this activity is that you can adjust the difficulty for the age of the child. There are even adult coloring books these days!
Learn how to make a DIY travel coloring kit for kids right here!
Play with Playdough
Another favorite activity to do in the car for kids is playdough! Not only can you easily whip up DIY playdough, but once you pair it with playdough mats like these, it easily becomes an educational activity too.
Grab More Printable Games for the Car
While this license plate game is a favorite for my family, on long car rides we may have to bring even more games to keep everyone happy. My kids particularly like:
Pin it below to find the printable later!