Travel games are perfect for family road trips, especially those long rides in the car for the holidays. This car bingo printable game is great for both younger kids and teens. Next time you hit the road, don't forget to bring this printable holiday bingo game with you on your travels!
Our family is a big fan of road trips. We love traveling to new places, spending time together (even in the car), and visiting family and friends. But no matter how much fun road trips are, kids can get bored pretty quickly on a long drive.
We've learned (the hard way) that things go a lot smoother when we provide our kids with fun activities to do to help pass the time on the road. A while ago, I made my free printable travel binder with road trip games, and that worked so well that I decided to make a holiday version!
Now, for our holiday trips, I use this holiday car bingo printable game to keep the kids occupied and having fun while we're out for a long car ride. When the kids are happy, everyone's happy! The bright colors are appealing, and the activities are so engaging that now our kids can't wait to travel to grandma's house!
By the way, if you want another top-secret tip for keeping your road trip pleasant, I highly recommend you whip up a DIY car air freshener. Use calming oils and see the difference!
What You'll Need To Use This Car Bingo Printable
You really don't need much (which is why it's perfect for the car!). Gather up these supplies to .
Bingo printables
Small bingo markers (see note in the FAQs below)
Travel trays, optional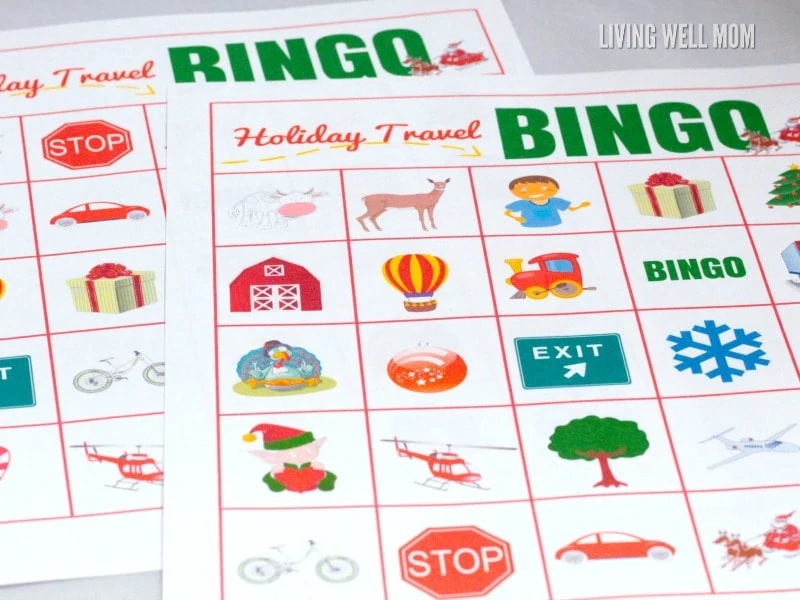 Download your free car Bingo printable here:
How To Prep Your Car Bingo Printable For Your Trip
Before you go on your trip, take a few minutes to prepare and pack your bingo cards. Here's what I recommend doing:
Download (see above) and print your printable road trip bingo game. We used cardstock paper.
You can laminate them for even greater durability.
Choose your bingo markers and put them in a zip lock bag for each child to use during the trip.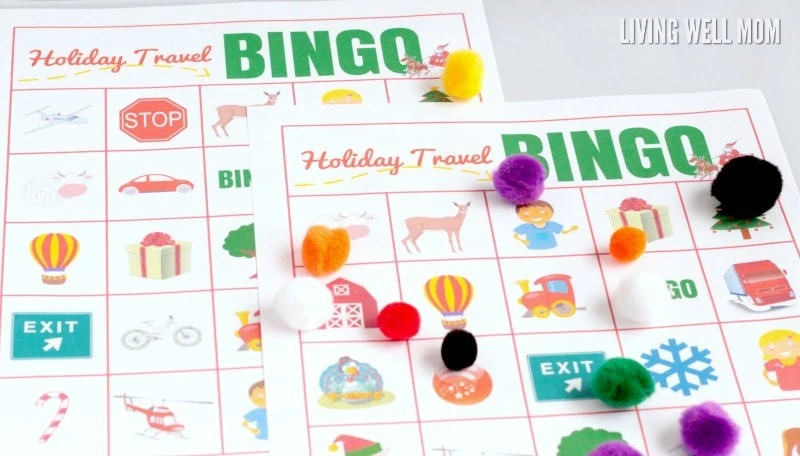 How To Play Printable Holiday Car Bingo
Our printable bingo game has four design variations, with road signs and other fun things to look out for, so that four kids can play at a time. Depending on the order of things you find along your road trip, there can be a wide variety of winning combos!
The game is played the same way as traditional bingo:
Kids get to place one marker on the word "Bingo."
Then, as they see the various items throughout your travels, put a marker on each spot.
The first child to fill a complete row with markers (either vertically or horizontally) wins!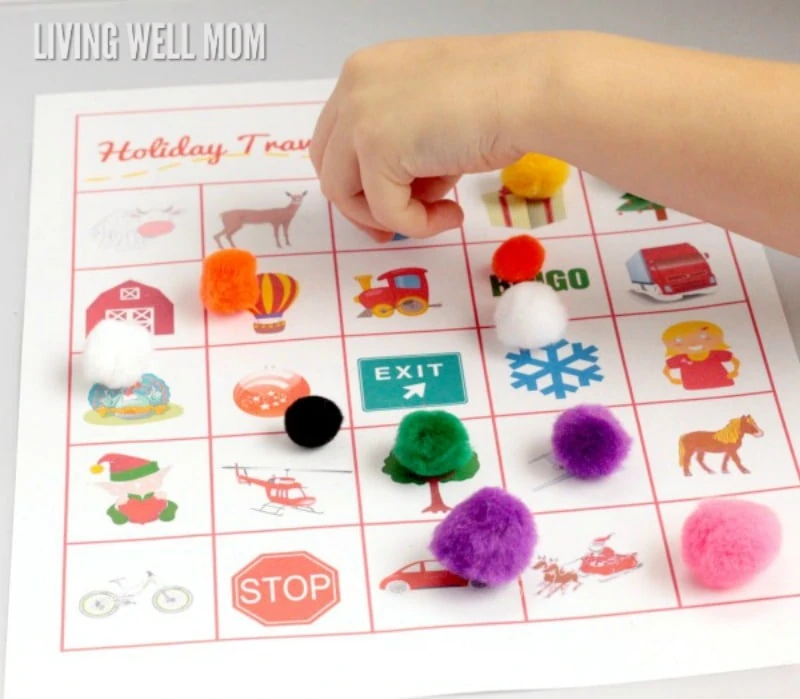 Travel Bingo Game Ideas And Tips
Sometimes games of Bingo can end pretty quickly (not ideal on a car trip!). So, you can make up some house rules to extend the playtime for this scavenger hunt game.
For example, we let the first person who saw the object put it on their card, but not any other kids. This made the game just a bit longer and also helped the kids keep their eyes peeled due to the extra competition.
Also, some of the objects on the card can be open to interpretation (can you score any red car or does it have to be a sedan?), which leads to lively car debates on what objects actually qualify. We definitely encourage these debates in our car!
The holiday car bingo printable game is super simple, but kids will love playing it. My kids wanted to play multiple times throughout our trip. Each game, they switched up who played on what board.
It was the perfect alternative to backseat bickering on your vacation!
FAQs
Here are a couple of questions I see readers ask frequently. I've included them here to help answer any questions you may have. If you don't see your question below, please put it in the comments section so I can answer it for you!
What can be used for bingo markers?
We used pom poms, but you can use buttons, plastic markers, or anything you prefer.
If you use metal travel trays, you could even use magnets as bingo markers!
Another idea is that you could also use a dry erase marker to mark off each item as you find it along your way if you are using laminated cards. Then simply wipe it off with an eraser before playing again!
Are the bingo cards all the same?
No! I designed each of the cards in this holiday travel bingo game to be different. They all use the same images but they are arranged in different orders on each card. That way you never know who will win a round of bingo, keeping everyone busy absorbing the scenery and having fun.
Download your holiday car bingo printable and eliminate sibling squabbles and never-ending "are we there yet" questions on your next road trip!
Download the free printable Bingo PDF by filling out your info and clicking here:
More Road Trip Resources & Free Printables You'll Love
Pin the image below to save the printable idea for later!