Make these green Rice Krispie treats for St. Patrick's Day, Easter dessert, or for a fun birthday party treat. The secret is lime Jell-O!
This isn't just any ol' Rice Krispies Treats recipe – this one includes a fun twist using Lime Jello for added flavor. They are so bright and festive, everyone is going to love them.
Colorful Rice Krispie Treats
My idea for adding jello mix to Rice Krispies Treats and creating Strawberry Rice Krispies Treats was such a hit with my family (and you!) that I had to try it for St Patrick's Day too. And it works just as well.
If you and your kids love Rice Krispies treats, this is such an easy variation and so much fun. It's no harder than making regular crispy treats.
In fact, Lime Jello Rice Krispies Treats are a perfect recipe for inviting your kids to help out in the kitchen. They can stir, pour, and even pat down the rice krispies treats into the pan. Even small children will love helping you "smoosh" the crispy treats into the pan and it will save you from getting your fingers sticky!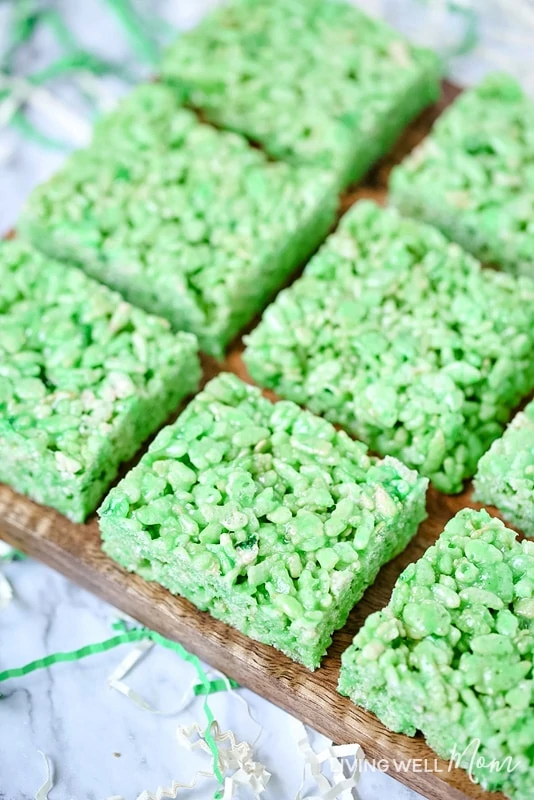 Green Rice Krispie Treats Supplies & Ingredients
This recipe only makes one 9×13-inch pan. Depending on how you cat the treats, it makes about 2 dozen squares. If you are going to be feeding a lot of kids at a party, you might want to double the recipe (or just cut them up smaller).
What You'll Need for Lime Rice Krispies Treats:
Optional Add-Ins
Here are a few things that I didn't use, but thought about adding later. Try a few of them to jazz up your St. Patrick's Day treats.
St. Patrick's Day Sprinkles
Multi-colored marshmallows
White Chocolate Drizzle
Edible Shamrock Decorations
How To Make Lime Jello Rice Krispies Treats
Here are some step-by-step pictures of the entire process so you can see how easy they are to make. I have all the steps in a printable recipe card at the bottom of this post.
First, here are the pictures along with some extra tips that I wanted to share with you.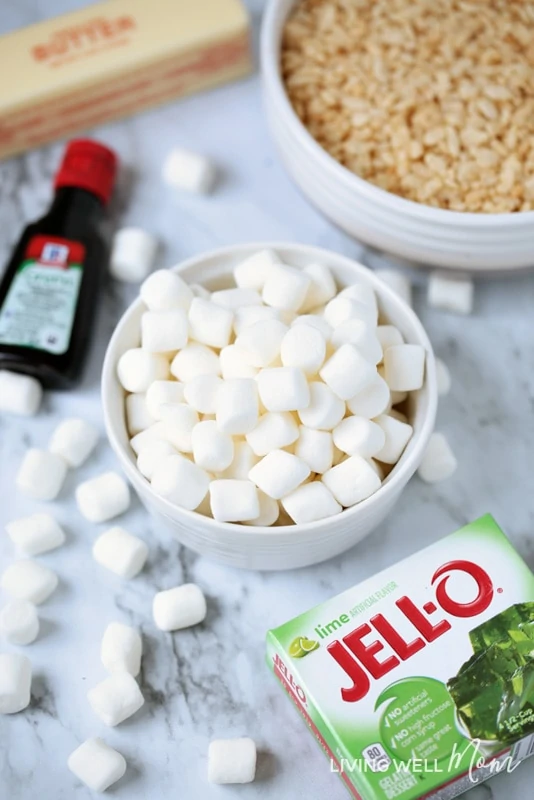 The very first thing you need to do is gather all of your ingredients together. This recipe comes together very quickly, especially if you already have everything you need sitting on the countertop.
Melt the Butter
Then, melt the butter over medium-low heat. Melt it slowly so that it doesn't burn.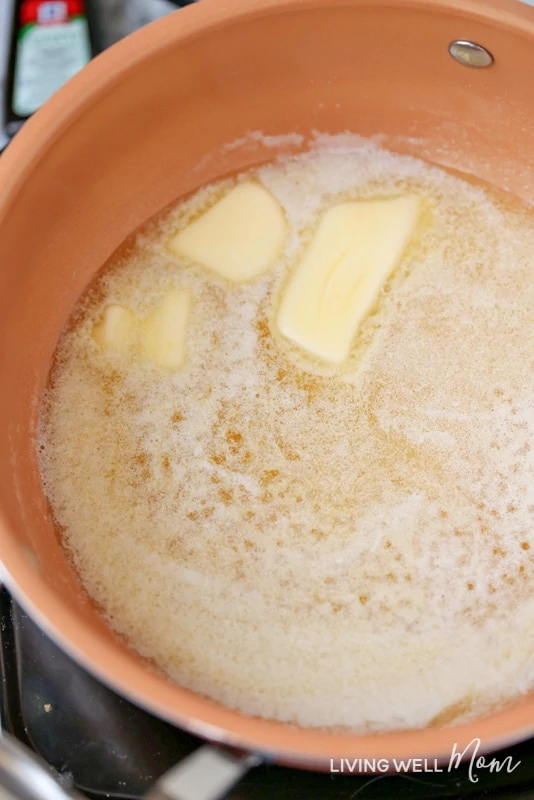 Add Marshmallows
Add the marshmallows. Just let them sit for about 30 seconds with the heat turned down to low.
There's something fun about watching marshmallows melt, isn't there?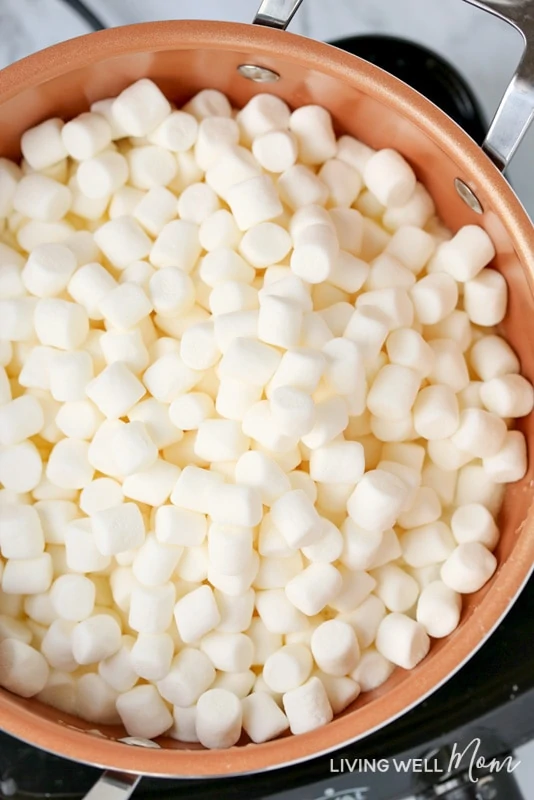 Stir it gently so that it doesn't burn on the bottom of the pan. If you overmix the marshmallows, the treats will have a firmer texture, so be very careful as you stir them.

Add Vanilla and Lime Jello
Next, add the vanilla extract and lime gelatin.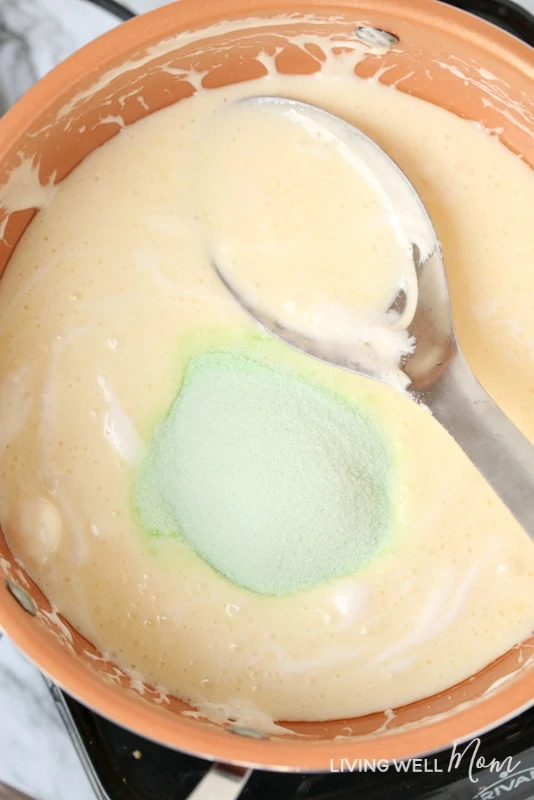 Stir this mixture. Then, remove it from the heat before the marshmallows are completely melted. (Overheating the marshmallows will make them tough, which equals hard Rice Krispies treats.)
Keep stirring – off the stove – until the marshmallows are melted and the mixture is smooth.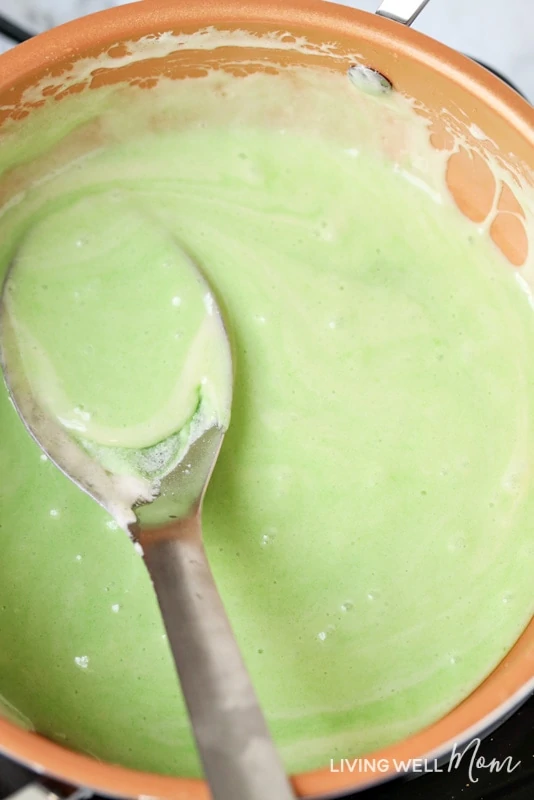 Optional: Add Green Food Dye
Now, do you see how it's light green in the photo above? The lime gelatin gives a nice flavor but it's not super colorful. Especially when you add rice krispies in the next step. If you want, you can add some green food coloring for more color in your Lime Jello Rice Krispies Treats. For a vibrant green color, try my favorite food color.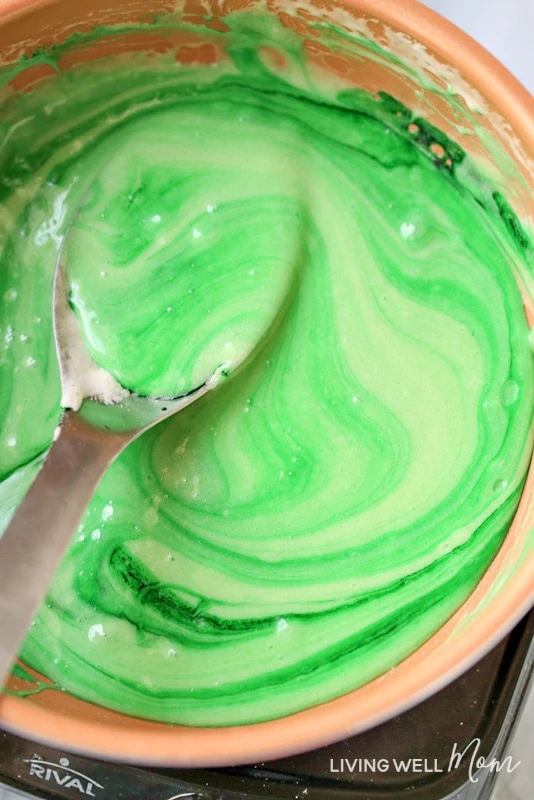 Now that's better! Just look at that bright green color!
Mix in Rice Krispies
Add the Rice Krispies and gently stir to combine.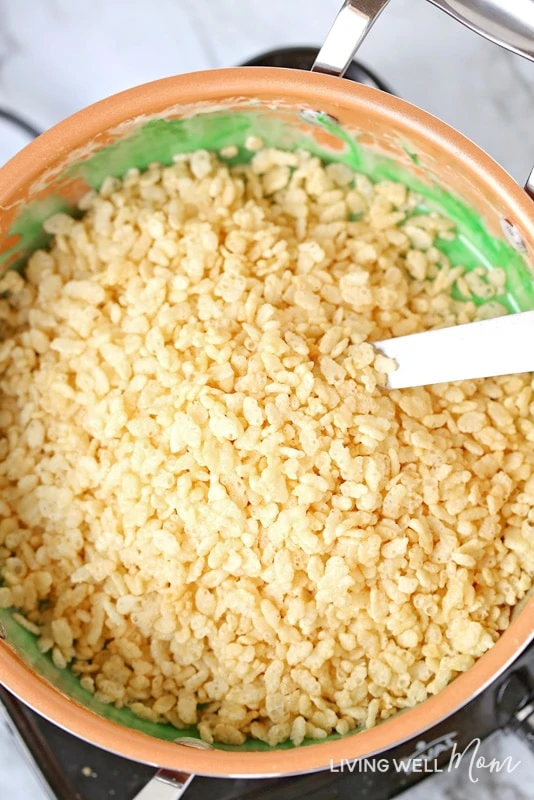 Dump/spoon into a greased 13x9x2″ pan.
Pat it down gently with your hand – just enough to smooth out the big bumps. I recommend greasing your hand and doing it that way – it's too sticky to use a spatula easily.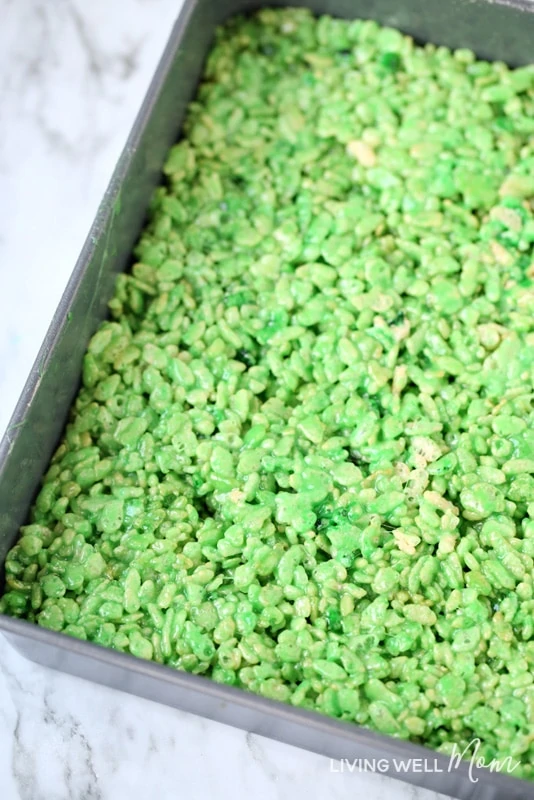 Let Sit
Let your Lime Jello Rice Krispies Treats sit for an hour or two. This allows your treats to cool and firm up while reducing the sticky factor. I prefer to let them sit on the countertop at room temperature, but you can also put them in the refrigerator.
If you chill them, they will have a tougher texture. I like them chewier, that's why I let them sit at room temperature.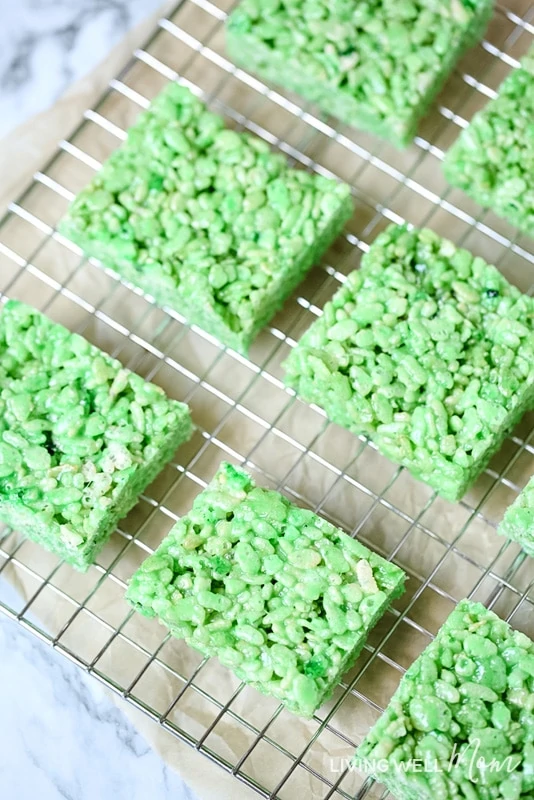 When you're ready, cut into squares and enjoy your Lime Rice Krispies Treats!
At this step, you could also use cookie cutters to cut them into Shamrocks or other festive shapes.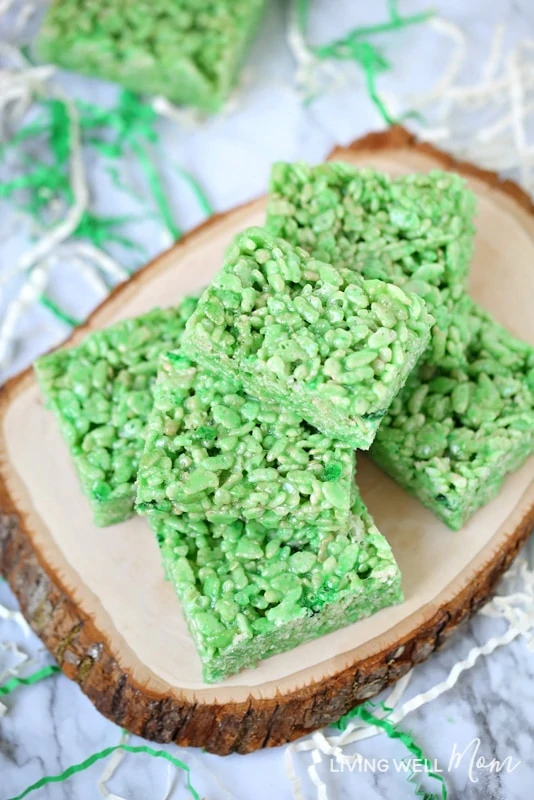 How To Store Lime Rice Krispie Treats
If you want the rice crispy treats to last the longest, you should store them in the refrigerator in a sealed container or plastic bag.
No matter which container you use, place a sheet a parchment or wax paper between each layer so that they don't stick together.
They will last about a week if you store them in the fridge.
Print
St Patrick's Day Lime Rice Krispies Treats
A delightful twist on the classic Rice Krispies treats, St Patrick's Day Lime Rice Krispies Treats are lime-flavored!
Author:
Prep Time:

5

Cook Time:

10

Total Time:

25

Yield:

1

2

1

x
Instructions
In a saucepan, melt the margarine over medium-low heat. Add the marshmallows and let sit for about 30 seconds, turning the heat to low. Gently stir. Add the vanilla extract and lime gelatin and stir again. Let the marshmallows partially melt but remove from heat before fully melted. Stir (off the burner) until completely melted.
Add the Rice Krispies and mix until combined.
Grease a 9x13x2″ baking dish and spoon the Rice Krispies Treats evenly into the pan.
Pat down gently with a greased hand, if necessary.
Let sit until cooled and firm, cut into squares, and serve.
More Rice Krispies Treats Ideas
For more tasty Rice Krispies Treats recipes, check out these recipes:
Pin the image below to save this recipe for later!

© Living Well Mom. All images & content are copyright protected. Please do not use my images without prior permission. If you want to republish this recipe, please re-write the recipe in your own words and link back to this post for the recipe.