Playing with playdough offers many benefits and learning opportunities for young children. If you want to take their skill-building and creativity to the next level, playdough mats can direct their play. Use these printable playdough mat sets to encourage imaginative play and learning!
Do your kids love playing with playdough? Mine have so much fun making shapes and using them to create stories. It's one of the rare activities where they can play side by side (or even with each other) with minimal sibling squabbling. That makes it a big win in my book!
Playdough activities are a great way to entertain young children from toddler age to preschoolers and even early elementary years (kindergarten and first grades). And homeschool students can use them too, as playdoh effortlessly keeps small hands busy and young minds occupied in creative endeavors.
Plus, kids of all ages can enjoy the simple act of screen-free play! My teens and I will even join in. It's incredibly relaxing to work with dough.
There are times when I let my kids free-play with playdough and playdough tools to see what they imagine on their own. Then, at other times, I give them play dough mats to direct their play and help them work on various skills.
What is a playdough mat?
A playdough mat is a piece of paper with simple images on it that encourage kids to create different playdough shapes. They promote learning through play (the best kind for kids!) and keep kids engaged and "working" for hours while they have tons of fun.
What are the benefits of playdough mats?
These tools may seem simple, and they are, which is their superpower! Yet, as parents, we know that often the simplest things provide great benefits and endless fun.
Through play, playdough mats help kids develop and learn many important skills, such as:
Fine motor skills (strengthening small hand muscles)
Hand-eye coordination
Dexterity
Spatial skills
Creativity
Imaginative play
Counting skills
Color recognition
And more!
How do you use playdough mats?
As a parent, setting up playdough mats for your kids is a breeze. Simply print them out, laminate them (this way you can reuse), and let your kids play!
Pro Tip: If you want to save paper, you could print your mats out on cardstock and print a different design on each side of the paper. Then laminate your two-sided mats, and they're ready for play.
For kids, using playdough mats changes a little based on the shapes. Generally speaking, kids create shapes out of playdough to add to a scene on the paper. One example might be adding "apples" to apple trees.
Another way they could use playdough mats would be to cover a shape on the mat. One example of this may be replicating a snail or an ice cream cone by covering the picture with appropriate shapes and colors of playdough.
Homemade playdough recipes
When working with playdough mats, your kids will need some playdough! Sure, you can buy Play-Doh and other versions at the store. But it's really quick and easy to make your own, and you can feel good about keeping unnecessary chemicals away from your kids.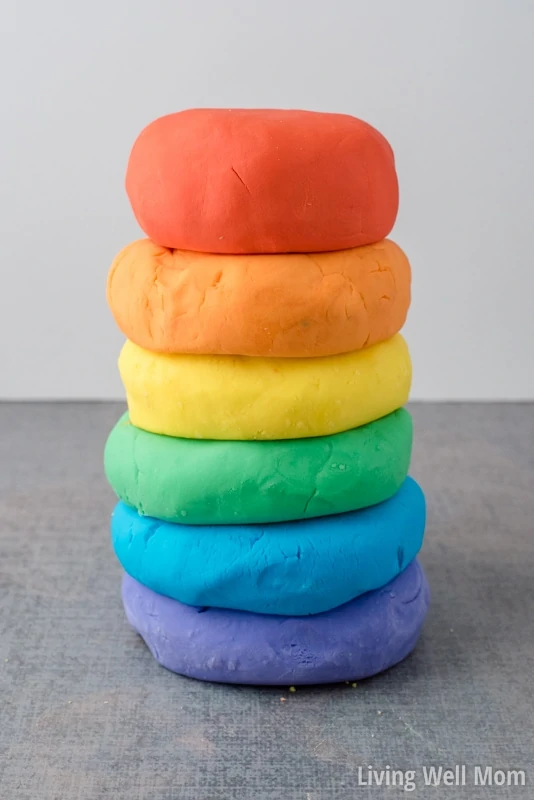 We have several varieties on this site that you can make (they all take less than 10 minutes!). I recommend starting with my Easy Homemade Playdough recipe. It's a great basic recipe that yields super soft playdough that kids can use for any project or play.
If your family needs a gluten-free alternative, try my Gluten-Free Homemade Playdough recipe.
If you're looking for even more homemade playdough ideas, I offer something for everyone! Check out my Patriotic Playdough, Calming Essential Oil Playdough, and Halloween Playdough recipes too. There truly is a dough for every season!
Free playdough mat sets to download
In addition to all the playdough recipes I have available, I also offer several different printable mats! Feel free to check out any that catch your eye and download them.
This sweet treat is sure to inspire creativity and build fine motor skills as kids decorate these pages of cupcakes. My kids find a new way to decorate theirs every time they use these mats, and I've even used a few of their ideas on their birthday cakes!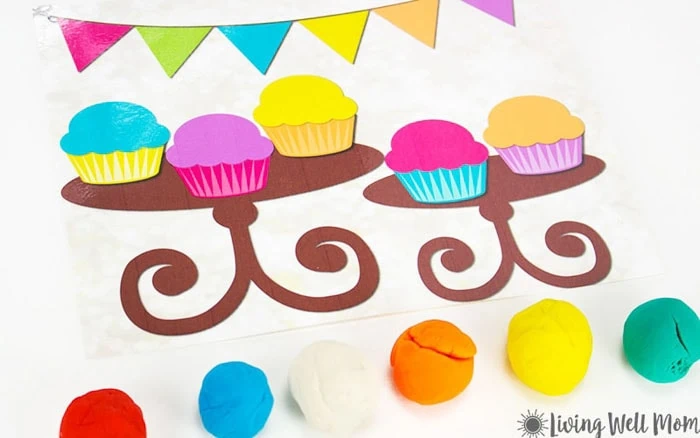 Some mats have an imaginative focus, while others encourage kids to learn certain recognition skills. These shape mats teach and reinforce learning several everyday shapes.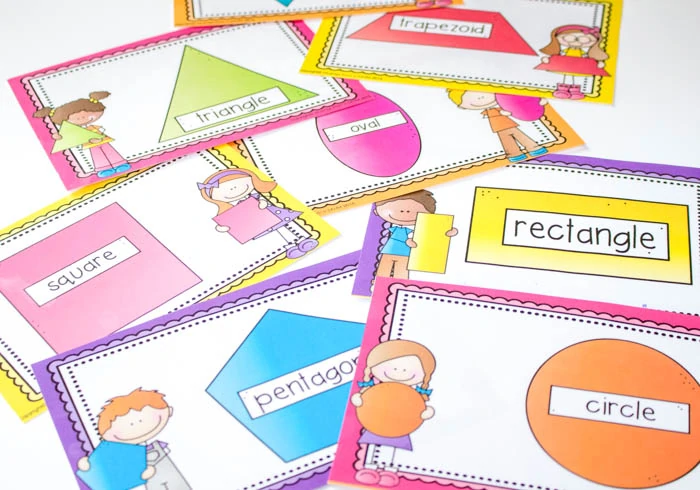 Skip the messy Easter egg coloring (or extend the activity) with Easter egg playdough mats. Your kids will delight in decorating their Easter egg images with their favorite shapes and colors. I always love seeing what egg creations my kids make!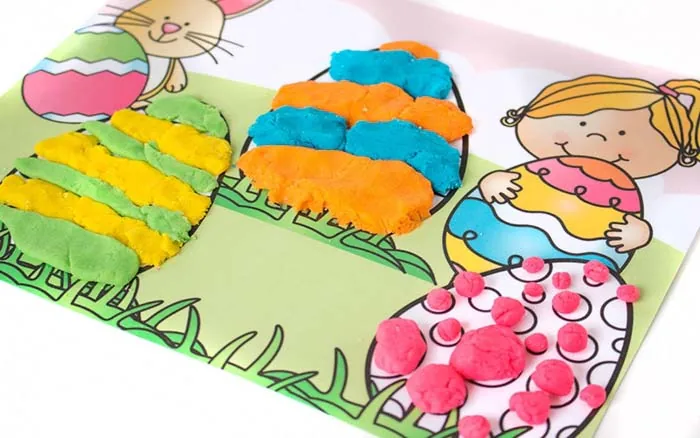 This set is great for promoting strong counting and color recognition skills as kids fill the apple trees with different colored apples. They can even "pick" the apples and put them into the buckets on the pages for a fall activity.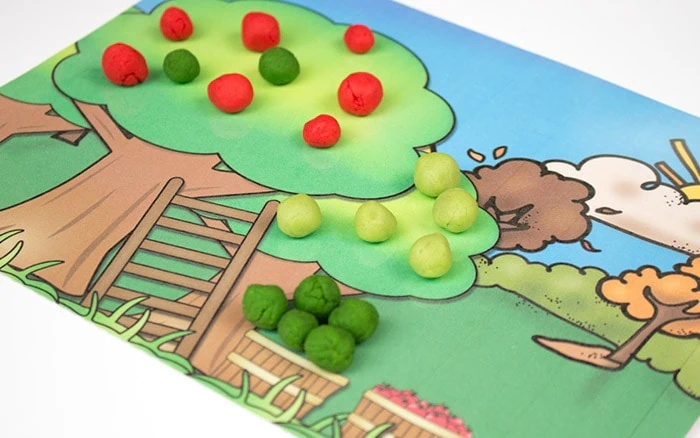 Fall is a great season for play and learning! These pumpkin patch-themed mats are a ton of fun and help reinforce counting skills too.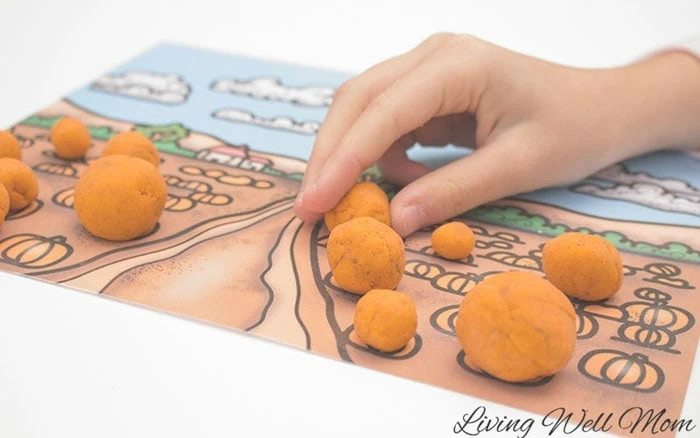 I hope your kids love playing with these free printable playdough mats and creating all sorts of shapes and decorations.
If you want to join in the fun with them, chat while they "work" and encourage them to talk about what they're doing or tell you a story as they create and move playdough around the mats.
After seeing the popularity of these free mat downloads and receiving requests from readers to make even more mats, I created this mega bundle of playdough mats you can purchase.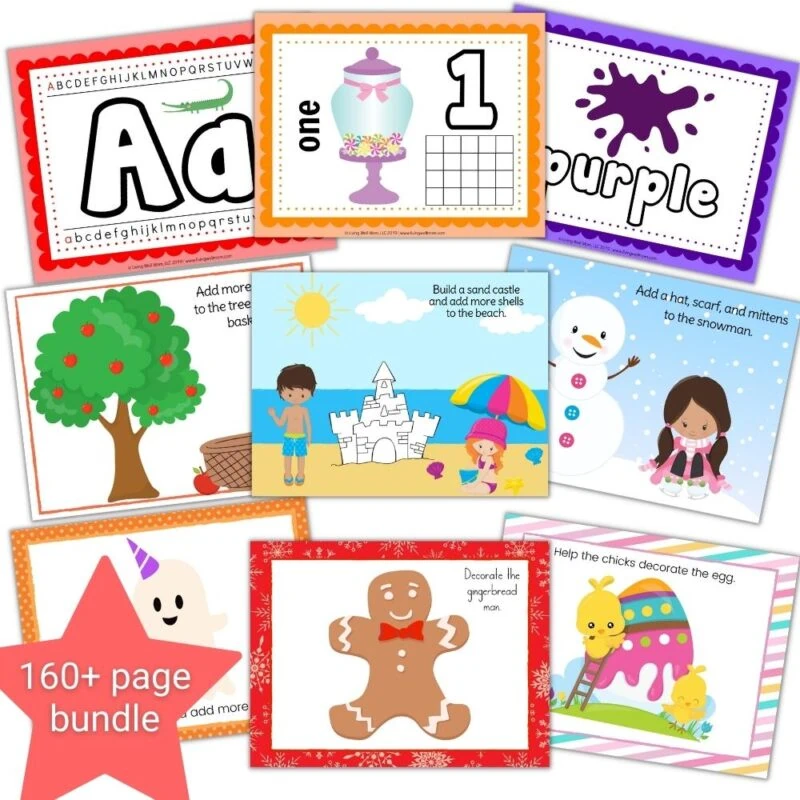 It contains more than 160 mats that are designed to supplement the other mats I already offer. In this bundle, you'll find:
Alphabet playdough mats (uppercase and lowercase letters!)
Color mats
Number mats
Seasonal mats (with scenes that kids can complete)
Holiday mats
And more!
The mega pack of playdough mat sets contains something for everyone and will keep your kids engaged and creative as they continue the learning fun all year long.
Click here to purchase the mega bundle and let your kids enjoy hours and hours of screen-free entertainment!
As you can see, there's no shortage of fun (and learning) when it comes to playdough mats. They certainly have been an invaluable tool for my own family!
More hands-on activities for kids
If you like these ideas, check out some of our other popular posts: